Chris Jericho Versus Kenny Omega: Is There more to This Story?
With rumors circulating for well over a year about Kenny Omega joining the ranks of the WWE, and after a couple of weeks of back-and-forth jabs being thrown via Twitter, it was revealed that the fans will get a dream match for the ages on January 4th, 2018. Chris Jericho and Kenny Omega will face each other at NJPW's Wrestle Kingdom 12 in the Tokyo Dome for Omega's IWGP United States Championship. There are many things floating around the web surrounding this crème de la crème match, but the question that begs for an answer: is there more going on here? This reveal of this match leaves folks like me wondering what truly is happening. Maybe looking into the years leading up to this match will help us answer some of the questions for ourselves. Analyzing the interactions that both NJPW and WWE have had with other companies can help us gain some perspective on their respective business models. And yes, I am bringing up business because a match of this caliber is best for both businesses in my opinion. But first, let us take a look at the tale of the tape.
Despite Jericho stating multiple times over the years that he would only wrestle for WWE, it is obvious now that such is not the case. We have already witnessed an attempted invasion of RAW in Ontario, CA by the Young Bucks, Kenny Omega's running buddies in The Elite, who also call New Japan home. This "invasion" that saw the Bullet Club show up in front of the Citizens Business Bank Arena led to former creative writer and longtime indie wrestling star Jimmy Jacobs, to be terminated for taking a selfie. It seemed innocent enough at first, but the photo taken with Cody Rhodes, Adam "Hangman" Page, and Marty Scurll led directly to the ousting of Jacobs from the ranks of WWE.
We are now aware that the Young Bucks will be one of the headlining acts at Jericho's Rock N Roll Wrestling Rager at Sea. When the short Twitter war between Jericho and Omega began, speculation abounded that they were building to a match that would take place on this cruise ship event that Jericho happens to funding himself. Instead, as seen in the video above, the ante was upped significantly and it has become Alpha vs. Omega at the Tokyo Dome. The Young Bucks call Ring of Honor and New Japan their respective North American and Japanese homes.
Signing The Bucks to wrestle on his cruise is what most likely what set Jericho on this path of working with other promotions, especially NJPW, which ran a pair of events in the U.S. on July 1st and 2nd and just announced that they will return on March 25th. The July events sold out faster than a bullet from a gun and you can expect the same when tickets are announced for a venue almost double the size in March.
One of the rumors that I want to address here is Chris Jericho's contract status. Jericho is NOT presently under contract with WWE. So, this match should be no indication of a feud with the company that was his bread and butter, mainstay for 18 years. One important thing to remember here is that if Jericho competes at WrestleMania in 2018, and I believe he will, the self-proclaimed "Greatest of All-Time" would be only the third wrestler in history to wrestle at both WWE's and NJPW's marquee events. The first to do this was AJ Styles in 2016, followed by Cody Rhodes who participated at WrestleMania in 2016 and Wrestle Kingdom in 2017. I would also like to reiterate that Jericho, in doing this match, is returning to NJPW at its most explosive period in many, many years.
So, what's the big deal about Kenny Omega? I have been asked by many of my personal friends why I subscribe to more than just the monopolized WWE product of the states. My answer is this: I remember the days of territories and how they fed the true talent to the major promotions. I remember, as a kid, getting the opportunity to see dream matches across promotions. This is what this match as well as WWE's acquisition of Styles, Karl Anderson and Luke Gallows is all about to me. Omega himself mentioned in his promo regarding Jericho's challenge that he himself always felt that he would bring NJPW to the world stage. I honestly believe that he will. I also want to give those of you who may not follow as hardcore as I do some insight on who this man, The End, The Omega is.
Kenny Omega is such an avid gamer that he took his ring name and his dubbed his finishing move based on the Final Fantasy video game series. Omega pays homage to the Omega Weapon as well as Sephiroth with his One-Winged Angel. The video game appearances in the squared circle continue as, especially in his earlier years, he would often execute a Street Fighter style Hadouken as part of his repertoire. He has actually competed against Xavier Woods at the World Series of Gaming and frequently uploads gaming clips to his YouTube channel. But there is much more to this NJPW superstar.
For starters, he is straight edge just like Daniel Bryan and CM Punk. He was the first non-Japanese wrestler to win the G1 Climax, New Japan's weeks long round robin tournament. Andre The Giant and Hulk Hogan are the only two other foreigners to win New Japan's biggest tournament (in 1982 and 1983 respectively), but those wins were long before it became the massive event it is today. No matter how you look at it, that's some incredible company to be rubbing shoulders with. Since 2012, winning the G1 Climax is essentially the equivalent to the Royal Rumble as the winner goes on to challenge the IWGP Heavyweight Champion at Wrestle Kingdom, NJPW's analogue of WrestleMania.
Speaking of Wrestle Kingdom, at the 11th edition, Kenny and Kazuchika Okada, who was the IWGP Heavyweight Champion then and will continue his reign until at least Wrestle Kingdom 12, were awarded a 6-star match according to wrestling's premier journalist Dave Meltzer. In what feels like another lifetime altogether, Omega actually wrestled a blow up doll and a little girl in the past, when he called the DDT promotion his home in Japan. Omega himself admitted on Talk is Jericho, that the latter was one of his favorite matches of all time. Yes, you caught that right, Omega already has, at the very least, and amicable relationship with Chris Jericho, which makes their Twitter battle seem even less like a "shoot" in retrospect.
Believe it or not, Omega was part of WWE developmental at one time, wrestling in Deep South Wrestling from October 2005 until August 2006. He stated that he left the company due to the cliquish nature of WWE and its backstage politics, citing Bill DeMott, Jody Hamilton and Bob Holly specifically as difficult to work with. According to Kenny, there were fellow developmental superstars whom became friendly with DeMott outside of work and became DeMott's buddies. When calls came down from WWE for recommendations of who to move up, Kenny stated DeMott would refer his friends, regardless of their level of ability in the ring or out. This left a sour taste in Omega's mouth as he briefly considered leaving professional wrestling and pursued a career in MMA, but it lasted for less than a month. It was a farewell match for AJ Styles in the PCW promotion, which Omega considered to be a temporary return, that he credits with falling head over heels in love with the sport he had almost left behind and he has never looked back.
The announcement of the match between Omega and Jericho has blown open the thoughts in my brain of a subject that I have been considering for approximately two years. The globalization of WWE through the acquisition of smaller promotions throughout the world. In essence, going back to what made wrestling admirable, entertaining, and most of all able to create a sense of competitiveness between regions and promotions. Different cultures and values are what make the promotions of America, Mexico, and Japan so different. But you can even compare many aspects of Combat Zone Wrestling to the WWE product and you feel like you are watching a completely foreign product.
I am basing my thought process on the idea that the return of a system reminiscent of the old territories may be on the horizon. There have been rumors of mergers between companies, in recent memory there was even a rumor that WWE was considering buying Ring of Honor. It turned out to be a discussion about content that never materialized, but it was something that people legitimately believed was possible based on the climate of wrestling today.
It is no shock that the globalization of the WWE brand is at an all time high. We have witnessed growth in the U.K. and India. This is supported by the recently minted United Kingdom Championship with a speculated 5th brand via the WWE Network. We also see this with the WWE Championship ending up on the shoulder of Jinder Mahal in what is, in my opinion, a purely political championship reign. It has included two trips back to the nation of his descent, one oh which resulted in the signing of two Indian women to WWE developmental contracts .
With this level of expansion already taking place it could possibly be in NJPW's best interest to be "with" the WWE or suffer the possible collapse of the promotions all together. It is no secret that Vince always gets what he wants, one way or another. The benefits of such an alliance are already being seen in the various independent companies such as Evolve, ICW and Progress, all of which have formed working relationships as part of the WWE coalition. Not only do they receive recognition from the industry's top brand, but also likely some financial assistance and the occasional promotional crossover matches.
In early 2014, Ring of Honor and New Japan announced a working relationship that continues to this day. In August 2015 it was announced that New Japan stalwart and Japanese legend Jushin Thunder Liger would appear at WWE's NXT Takeover: Brooklyn event. ROH was running an event using New Japan talent the same night as the NXT show, right in the same borough, hosting a Field of Honor event in the Brooklyn Cyclones' baseball stadium.
Details of the transaction that led to the Liger vs. Tyler Breeze match were hush hush. Paul "HHH" Levesque actually denied trying to interfere in the NJPW/ROH relationship, but included an important phrase while making said denial: "I will do what's best for business even if it interferes with another business model, because I have to worry about my own business model." This comment came only a few days after it was announced that Liger would be present at Takeover. To note, ROH had announced New Japan talent for their Brooklyn show months before any of this took place, but we have no idea when negotiations began for the Liger appearance.
This marked the first time that WWE worked with any promotion from Japan in many years. Was this the beginning of the joining of the two mega promotions from two sides of the globe? According to reports, ROH was completely unaware of the booking and in my opinion this is even low by wrestling standards. A legitimate double cross! It should be noted that at the time, as he often is, Liger was under a contract that allowed him to take bookings anywhere but, it should also be noted that NJPW was actively promoting his upcoming appearance in NXT. There was speculation that this booking was partially related to ROH putting out an action figure of Kevin Owens as his ROH persona Kevin Steen, clearly as a way to capitalize on his recent debut on WWE television. Only the Authority knows the answer to this question as I am sure this was discussed behind closed doors and not many were privy to the information, and surely there was much more to it than that.
It has already been confirmed, as I stated above, that WWE had talks with Ring of Honor about their tape library. Other rumors include a possible bid for WWE to buy out Impact Wrestling. Between that rumor and the speculation at the time that WWE was looking to buy ROH, not just some content, that their goal was to shut down both promotions and use their tape libraries as an addition to the WWE Network. That is an unsubstantiated claim at best.
With the recent invasion of the Young Bucks, the acquisitions of various wrestlers such Sami Zayn, Kevin Owens, Neville, Seth Rollins and countless others from the independent wrestling scene, I feel that this would be suicide for WWE, which has grown so large that they need the smaller promotions to feed the roster of today. It's especially important with NXT essentially serving as a third brand behind RAW and SmackDown, not just as a stepping stone between the indies and big stage of the main roster. Is it possible that WWE showing their ability to bully a company like Ring of Honor was a play at trying to get New Japan to play ball with them instead of the promotion that is effectively the second largest wrestling operation in North America? Maybe NJPW and ROH were already thinking about working with WWE since Vince and company were already raiding talent left and right from everywhere imaginable, including them, who are ostensibly the second and third biggest wrestling companies in the world.
In December of 2016, President of Bushiroad (parent company of NJPW) Takaaki Kidani spoke about this exact possible partnership, at least with WWE in the future. He was not opposed to the idea of joining forces. He openly stated, "You are either with WWE or against them." Kidani acknowledges WWE's next generation star shortage and realizes that they have the financial ability to milk from any single promotion that they see fit. Kidani wants to use this as his angle into a WWE cooperative. In 2016 alone, NJPW saw the loss of Shinsuke Nakamura, AJ Styles, Karl Anderson and Luke Gallows. If NJPW is this open about their relationship and continues their already strong relationship with ROH, couldn't all three in essence become key players in a globalized, territorial, wrestling dream come true? It would be especially exciting for those of us old enough to remember the days of grainy footage of the NWA, WCCW, and AWA.
This move would carry the weight of decades of irony. It is so similar, if this is the plan, to what Vince McMahon himself destroyed, with the final realization of his dream coming with the fall of WCW, the final competitor he had left after the territory system was disbanded piece-by-piece.
In a nutshell, WWE would be going away from the McMahon model of monopolization and instead liquidating back into a system of smaller areas that would all be part of a much bigger whole entity. The main difference here is that this would be global instead of limited to North America. This, if true, could go a long way in eliminating the monotony of dry storylines and limited character development that pervades today's WWE product. For this to be successful, each territory would have to be guided by an affiliated promoter or booker but not directly governed by WWE and their creative process. This would allow WWE to not only secure TV time for their own newly integrated territories, but they could also put an even bigger emphasis on social media and the internet as a whole, which is how most smaller promotions disseminate their products anyway.
I think this would offer a reset button to the entire professional wrestling industry worldwide. A much needed change, in my opinion. And in the words of Randy Savage, "The cream always rises to the top!"
(NOAH) WEEKLY NEWSLETTER VOL.43 ~ 14TH JULY 2019
Global Junior Tag League has started! Hisame let's us know what's going on in Pro Wrestling NOAH!

Global Junior Tag League has started! Hisame let's us know what's going on in Pro Wrestling NOAH!
CURRENT TOUR RECAP
After a long break in which it was thought that due to the silence coming from the roster, they had all gone on a short summer break, NOAH returned on the 12th July to hold a show in Tokorozawa.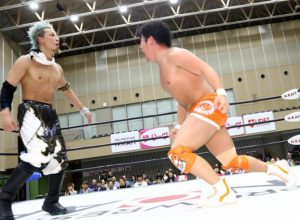 In Global Junior Tag League, YO-HEY defeated Junta Miyawaki (although he did praise him afterwards in a rambling promo), and Chris Ridgeway defeated fellow STINGER, Kotaro Suzuki by making him tap.
Minoru Tanaka vs Daisuke Harada for Global Junior League, was the main event of the evening, and what a match it was. They pulled everything out of every drawer they had, Tanaka worked on Harada's knee, while Harada worked on the neck. The match went to a thirty minute draw, and both spoke afterwards about it. Minoru Tanaka says that he won today, and he will win the league. He also mentioned that he wants to see more junior matches main event shows.
Daisuke Harada said that he would not let "that stranger" win, and he would challenge for the belt again, whether the fans liked it or not.
Takashi Sugiura and Hajime Ohara took on Masao Inoue and Kinya Okada, and there was the usual amusing Inoue\Sugiura interplay. Earlier in the evening, joining in with Marufuji not remembering Kenoh's name, and vice versa, Takashi Sugiura joined in, but changed it so that he couldn't remember Masao Inoue's name. Inoue is a sufferer of gout, and naturally Sugiura targeted his foot by keeping him in the ankle lock after Kinya Okada had tapped, and then when his arms were lifted in victory, he continued stamping on Inoue's foot.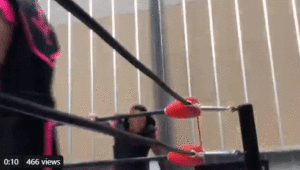 Speaking of Marufuji and Kenoh, Kenoh (when the team of Marufuji, Yoshinari Ogawa, Hiroshi Yamato and Keisuke Ishii took on Kongoh), timed it just right when Marufuji bounced into the ring, landed and turned so that he was there waiting for him, and they both got in each others face. Inamura was chopped to ribbons.
As Go Shiozaki was still absent (he will return to the ring on the 15th), Katsuhiko Nakajima came to the ring carrying both of the tag belts. As he said at the match signing which took place on the 13th June, he was preparing more for the GHC Heavyweight than the singles, and so he started the match off against Kaito Kiyomiya. However, it wasn't Nakajima who took the win, but Kaito Kiyomiya with the Tiger Suplex on Hi69.
EVENT RECAPS
Tokorozawa City Gymnasium, Sub Arena (12th July 2019)
Post match promos – 12th July 2019

Current Global Junior League Scores (as of July 14th 2019)
BLOCK A
Minoru Tanaka 5
Daisuke Harada 3
Yoshinari Ogawa 2
Tadasuke 2
YO-HEY 2
Junta Miyawaki 0
BLOCK B
HAYATA 4
Chris Ridgeway 4
Hajime Ohara 2
Hitoshi Kumano 2
Kotaro Suzuki 0
Hi69 0
NEWS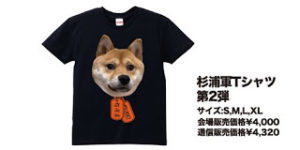 In keeping in the theme of using pets on merchandise (a silhouette of one of Hitoshi Kumano's little French Bulldog appeared on the back of one of his t-shirts, and Akitoshi Saito had a cat t-shirt) continued when NOAH put the head of Takashi Sugiura's beloved Shiba Inu on a t-shirt, complete with dog tags which read "company dog". Naturally, this was a shot at Kongoh (in specific Kenoh, as he is the only one who speaks), who are currently feuding with The Sugiura Army, and the use of the phrase "Company dog" (i.e. someone who does his masters bidding unquestionably, comes goes, fetches, wags tail etc).
The t-shirt will be released on the 15th July at Korakuen Hall, with mail order to follow (a white version is also available).
NAOMICHI MARUFUJI'S COMIC STRIP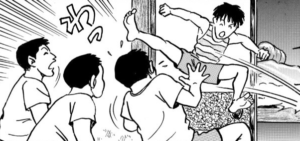 Naomichi Marufuji has started illustrating a comic for "Weekly Pro". The comic is a condensed version of his autobiography, "Heir To The Ark", and starts off with his childhood growing up in Saitama with three older brothers, and wrestling with them which inspired his love of the sport. The comic starts off with two of his brothers arguing about who they are going to be, then they tell little Marufuji that they feel sorry for him, as being the youngest and the smallest, he is going to get it from them (which he did in reality), and Marufuji fighting back by saying that Tiger Mask (Mitsuharu Misawa) is strong.
You can find an ongoing translation on my blog.
TAKAYAMANIA

The main event for TAKAYAMANIA EMPIRE 2 will be Hideki Suzuki and Minoru Suzuki vs Naomichi Marufuji and Masato Tanaka. Event will be held on Monday, August 26 2019 at Korakuen Hall.
Broadcast most likely will be through ABEMA (a Japanese PPV subscription channel, only available to those in Japan).
CURRENT CHAMPIONS
TOUR TIDBITS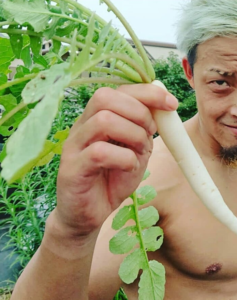 ~ HAYATA'S garden has produced Daikon. YO-HEY celebrated by putting it in his mouth.
~ NOAH held a joint fan birthday party for Kaito Kiyomiya and Junta Miyawaki. Miyawaki turned 22 in June, with Kiyomiya turning 23 this month.
~ Naomichi Marufuji says he has a new gown for Korakuen Hall on the 15th June
~ YO-HEY made a summer vacation to see his family in rural Yabu. One of his young nieces asked him if he was married to HAYATA.
BROADCASTS
NOAH's big Kawasaki Kultz event (and the GHC Heavyweight title, plus the final night of Global Junior League 2019) will air on the 2nd August on G+ at 12.30am JST
NOAH will be broadcast live on Sunday 4th August at 11.30am JST on G+
GIF OF THE WEEK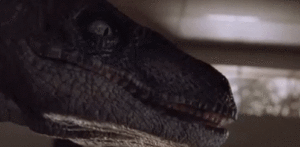 LINKS
GHC Heavyweight tag & single championship signing

Picture credit: Noah GHC, PKDK, YO-HEY
GIF credit: Noah GHC
Tiffany's Takes: Extreme Rules (7-14-19)
It's the last PPV before the SummerSlam ramp up! How did WWE handle it.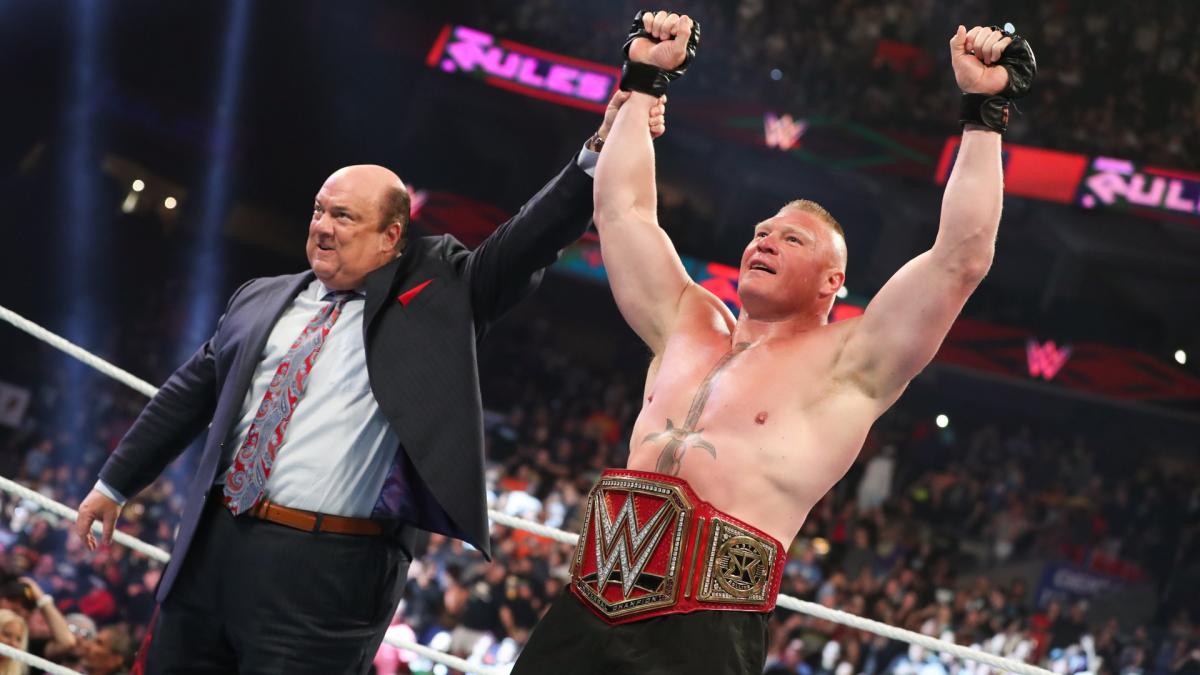 It's the last PPV before the SummerSlam ramp up! How did WWE handle it.
Okay, Baron Corbin and Lacey Evans look like idiots, Corbin especially. PLEASE let these feuds end tonight!
Finn Balor vs Shinsuke Nakamura was better than Tuesday's match on SmackDown, but I can't say it was so good that having it on the pre-show was the ultimate disgrace. Both men were definitely showing more fight than they have been in the past. Nakamura winning the IC belt was definitely a surprise, but I don't picture the reign lasting long, probably just until SummerSlam. This was probably more about justifying the match on the pre-show and setting up SummerSlam.
I don't like Drew Gulak, but I'm glad he got a great pop in his hometown. If your own hometown won't cheer for you, there's a problem. The match against Tony Nese was pretty good, even though I had no real interest in the outcome. Sorry, but they just seem very generic, even thought they're both incredible athletes. Gulak's win wasn't a surprise and they'll both move on to other opponents.
I'm not totally thrilled with Undertaker/Roman Reigns vs Shane McMahon/Drew McIntyre being the first match on the main card. To me, that's a huge match that should main event, which makes me think shenanigans will be going down in the main event. The match was okay, it wasn't a barnburner, but I think a barnburner would be a bit much to ask from Taker at this point. I found it odd that Reigns was the one selling the ass-kicking and not Taker, but I guess no one would buy Taker getting beat up. Elias interfering wasn't a surprise, the fact that Shane and his goons couldn't beat Taker and Reigns 3-on-2 was. Also, Taker being stunned that Reigns saved him from a Claymore Kick was great. RIP Corporation 2.0.
I love Seth Rollins and Becky Lynch as a team and as a couple, but I think we're all ready for them to be doing their own things again. They're super cute, I love watching them be cute together, but I'm ready for them to do their own things for SummerSlam.
I'm glad that the rivalry between the Usos and the Revival has moved away from sophomore pranks to serious business because these are two teams that can absolutely tear the house down . Revival managed to survive, but this feud will go to SummerSlam.
I'm going to be honest, this Aleister Black vs Cesaro match didn't fill me with joy. Cesaro being the one who knocked makes absolutely no sense and is a big let down. The match was great and both guys worked great together, but I can't get over the let down of how the build ended up being.
I REALLY hope Truth finds Maverick and gets the 24/7 title back, but also, loving a tease of Carmella getting more to do than saving Truth's butt. Still, what are the Street Profits doing at the show?
I was a little concerned when they announced that Bayley would be taking on Alexa Bliss and Nikki Cross because it seemed like WWE was dead set on getting Bliss a title reign, no matter what, but the match was really good and Bayley retained, which leaves an opening for someone to step up for SummerSlam. It'll probably be Charlotte, but it could be the other half of the Boss-Hug Connection. As for Bliss and Cross, they'll probably focus on building their feud for SummerSlam, hopefully.
So, the Braun Strowman/Bobby Lashley feud lumbered on in a Last Man Standing match. Okay, that's not fair. The match was actually really good, for once. Strowman and Lashley finally clicked and put on a match that suited both of them. The problem is that this doesn't solve the issues with giving them pushes: You can't justify constant Last Man Standing Matches for them, sooner or later they're going to have to wrestle a regular match and then the momentum they've built stops.
I legit hope Balor re-joins the club HE started, but for now, I'm loving AJ Styles and the Good Brothers teaming up.
With New Day being preoccupied with Kofi Kingston's title run and Usos being on RAW, the SmackDown Tag Division hasn't exactly been setting the world on fire, though that could also be the efforts of the Greenjerks (Daniel Bryan and Eric Rowan), however, this triple threat Tag Team Championship match was really good, thank god, and we have NEW SmackDown Tag Team Champions! New Day have gotten their sixth Tag Team Championship Reign, so now New Day hold two of the three Men's titles on SmackDown!
A couple of weeks ago, AJ Styles won the US Championship, only to have the win turned over on a technicality,so the dream match came to Extreme Rules and was easily Match of the Night! Ricochet retained his title on a technicality on RAW and likely would've tonight if not for the Good Brothers, who made sure Styles won the United States Championship for the third time. This feud will also likely go to SummerSlam, since there's not question Ricochet got robbed.
So the match between Kevin Owens and Dolph Ziggler that was supposed to happen on Tuesday was moved to Extreme Rules at the last minute and it was…quick. Honestly, they spent more time trash talking than wrestling and Ziggler was down after one Stunner. Thanks for coming, Dolph.
The feud between Samoa Joe and Kofi Kingston has been quick, but the match was really good, Kingston has been learning for his encounters with Joe and was able to avoid the Coquina Clutch and retained the WWE Championship. The door is wide open for SummerSlam!
Is it me, or is it not very ladylike to have the name of another woman's love interest across your butt, especially when you're married? Is it just me? So Lacey Evans, aka, Emmie Slattery, and Baron Corbin took on Becky Lynch and Seth Rollins in a winner take all Mixed Tag Match. Rollins and Lynch retained, even after an End of Days to Lynch looked like the end, but Mr. Money in the Bank cashed in and we have a new Universal Champion. For everyone who has bitched and complained about Rollins' reign as Universal Champion, I hope you're satisfied and won't complain when RAW's ratings suck because you couldn't be happy.
That's it for Tiffany's Takes!