The reigning, defending, undisputed, contract-by-date universal champion Brock Lesnar… does not seem to have a viable opponent for the upcoming Royal Rumble. After mowing through Braun Strowman, Samoa Joe and Goldberg, there are only a handful of RAW stars who can go toe to toe with the beast incarnate. However, only one will be able to do the honor of losing to Lesnar at the Royal Rumble.
The Candidates
It may seem like ages ago, but earlier this year at the Extreme Rules PPV there was a fatal 5-way match to determine the number one contender for the universal title at Great Balls of Fire. The five competitors were Samoa Joe, Roman Reigns, Seth Rollins, Bray Wyatt and Finn Balor. Thankfully, Joe came out with a huge victory and got to show his tenacity against the beast in the PPV match that followed.
However, WWE's plan from there as I recall was to have Lesnar face each of the other four competitors of the bout throughout the year; the match with Reigns being at WrestleMania. So far we've seen none of those stars gain a title match from the beast besides Samoa Joe. The remaining competitors all could have been contenders back then, but WWE has been slowly weeding them out.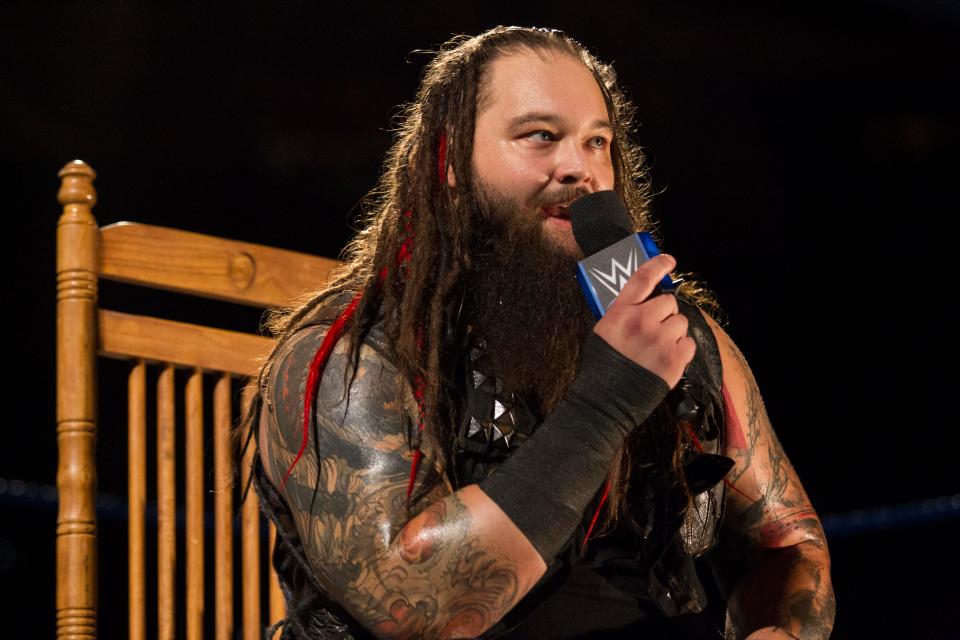 It is difficult to imagine Bray Wyatt challenging for the title these days on account of his horrendous booking and undeniably insane loss streak, but back at Extreme Rules he was a favorite to win the 5-way and challenge Lesnar. Since then he's been subject to Sister Abigail nonsense and midcard obscurity.
Seth Rollins has no concern for the universal title as of now because of his tag title venture with Dean Ambrose. Samoa Joe already had his match, and Finn Balor is not seen as a top guy by WWE management. So that heap of contenders really slipped through the cracks in the past few months didn't it? Instead, the deserving Braun Strowman got to tangle with Lesnar.
The Solutions
Since the above candidates are not favorable in WWE's eyes, they will have to look for other stars or tweak one of the above to fight Brock Lesnar in a losing effort for the title. Part of me finds this useless and a waste of time, but another part of me has two solutions to this dilemma. One creates a huge opportunity for someone on the RAW roster, while the other is a fun idea that's never been done before in WWE.
Solution 1: The Underdogs
Who should fight Brock Lesnar? Legitimately anyone, that's who. I think WWE should host either a battle royal or a tournament to decide Lesnar's challenger. The only catch is, I want the winner to be someone unexpected. My favorite options at the moment are Bray Wyatt or Jason Jordan. That's right, I want one of those guys to have a high profile universal title match with Brock Lesnar at the Royal Rumble. Either of those stars could benefit from this match in different ways. Bringing the beast to his limit through mind games and evil tactics could be what Bray Wyatt needs to be seen as a legitimate player in WWE again, while a well fought contest with Lesnar for Jason Jordan could be a huge career boost.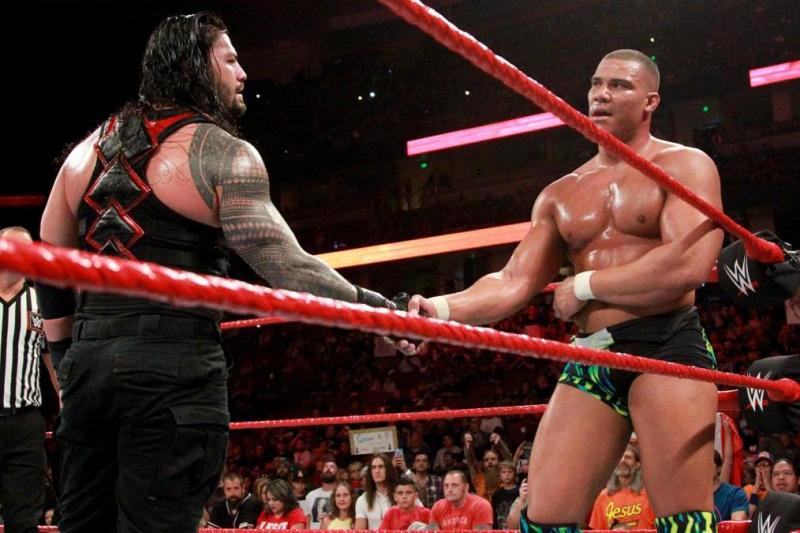 By losing to Lesnar, this could also be a turning point for Jason Jordan. By giving the match to Jason, you automatically have Kurt Angle inserted by default. The history between Angle and Lesnar could lead to a good build, and Jordan could lose the match based on some misunderstanding with Angle at ringside, therefore setting up a Jordan heel turn and a father-son match at WrestleMania. If Brock Lesnar has no legitimate opponent, the least WWE can do is use him as a tool to help further a storyline/career of an upcoming star (Jordan) or a star who needs a wake up call (Wyatt).
Solution 2: A Beast in the Rumble
No challengers for Brock? Fine. Then another idea would be to insert him into the Royal Rumble match. NJPW already toys with something similar to this idea for the G1 Climax, but say WWE sets the stipulation that if Lesnar enters and wins the rumble he can chose his own opponent or not even compete at WrestleMania.
If there is absolutely nobody that WWE feels comfortable throwing Lesnar in the ring with, then all the more reason to make him a frightening force in the Royal Rumble match. He will no doubt have a great run in the rumble even if he gets thrown out, and better yet the one who throws him out could go on to win. Also if Brock wins, Paul Heyman would be able to pick who he thinks would be the greatest challenge for his client, which would be extremely entertaining to view.
The Verdict
Brock Lesnar needs to be a useful tool at the Royal Rumble. If WWE is scrambling to find what to do with him, the solution is to throw him some underdog so that they can grab some of the limelight, or to put him in the actual Royal Rumble match. Whatever it is, Lesnar needs to be used to push forward one or more storylines down the road to WrestleMania.