Top 5: Matches of the Week (Ending 11/12/17)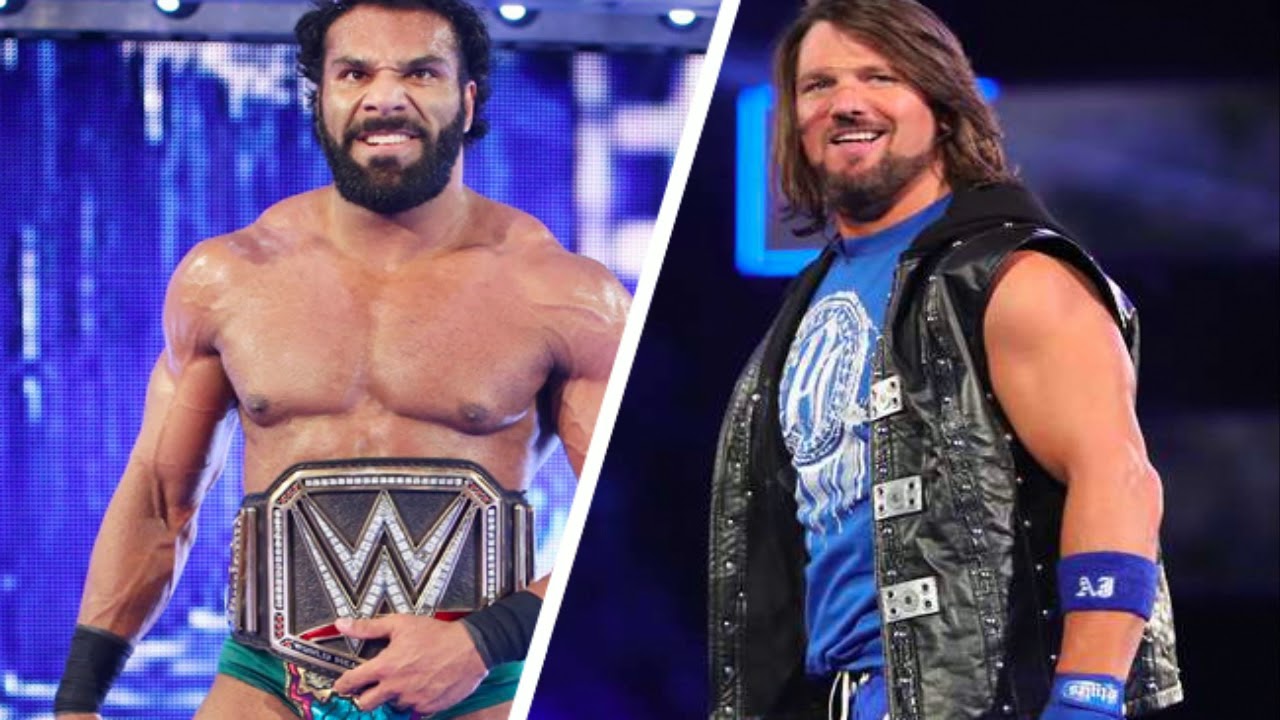 After a week where the decisions were fairly difficult, we came out with decisive winners for our first Month face off and our last week matches.
The match to come out of October for the "Match of the Year" is:
AJ Styles vs Finn Balor @ WWE TLC
As for the match of the week, out of those who voted, Hiroshi Tanahashi vs Kota Ibushi @ NJPW Power Struggle, won by unanimous decision.
So this week there aren't any big Pay-Per-Views, so we've got a fairly even playing field, with one outlier, since internet buzz pushed this onto the radar. Now let's see what matches made the cut this week:
5. ROH: Best Friends vs The Addiction
With the Motor City Machine Guns sitting at commentary, we had these two teams go at it for number one contendership.
The match had solid spots from all participants. Trent got in his comedy spots, while The Addiction slowly got the momentum going their way. However, before they can finish off the Best Friends, War Machine comes out to interfere as payback for The Addiction interfering in their match.
We saw storylines get continued, established number 1 contenders for the ROH Tag Titles and sent the crowd home happy with the faces going over. Best Friends really can't be seen as a super serious threat since they are a quirky/more comedic duo, but they usually deliver in bigger matches.
Ranking: Gold V
4. NXT: Roderick Strong vs Adam Cole
These two have a lot of history, and it's nice that NXT isn't shy to acknowledge feuds that go back into the "Indies". This also was the match that caused William Regal to come out and announce the War Games match.
Looking at the match, it started off quickly with some nice strikes, back breakers and Adam Cole connected on a nice super kick while Strong was between the ropes. If anything takes points away from the match, it's the simple fact that as soon as the match felt like it was coming a head, Fish and O'Reily show up to interfere and end the match in DQ.
Good match, set up the main event at Takeover: Houston, and it utilizes most of the top talent in NXT currently…which keeps fan attention very easily.
Ranking: Gold V
3. Impact: Matt Sydal vs Sonjay Dutt
Well after Bound for Glory, everyone is probably suspect about what's going on with Impact! Wrestling. Thankfully, this episode of Impact was better than the aforementioned Pay-Per-View.
Sydal still moves around as good as he ever has and Dutt has always been known as a good worker. Sydal worked over Dutt's left leg to cut down his high flying ability a bit, and it ended up paying off. After some dives and brawling on the outside, Dutt gets the advantage late and tries to climb the ropes for his big splash, but since his leg is banged up, he climbs the ropes slowly and misses. The match ends with Dutt throwing a punch, having it get caught by Sydal and he spins him around for a pumphandle style package piledriver, into a Shooting Star Press.
With what seems like a match to set up the next X Division challenger, Ethan Carter III decided to stroll out and insult Matt Sydal. Basically saying he chokes in the big matches, and even if he's a good wrestler, he's a choke artist. So this could be setting up a nice feud for the Impact Grand Championship, instead of the assumed X Division attempt.
Ranking: IV
2. Smackdown: WWE Championship Match: AJ Styles vs Jinder Mahal
Now AJ Styles being on the list is no surprise, but Jinder? If it wasn't for the outlier match, this may have been the crown jewel of the week.
Their last match back in May, wasn't bad at all. But this shows that their styles of wrestling mesh very well. AJ's ability to take some big bumps and be very animated, allows Jinder's slower more methodical power game to look better. We saw a few different cool spots from Styles chasing down one of the Singh's and pouncing on him to take him out, Jinder grabbing Styles by the throat as he tried to slip between his legs and the homage to Okada vs Omega II by taking the finisher that's been billed as something you can't kick out of, but having the foot fall on the ropes to break the pin.
Everything you could want was in the match. Good action, a heel that everyone hates, a face that most people love and the fact the face goes over to set up a possible Dream Match at Survivor Series of Brock Lesnar vs AJ Styles.
Ranking: Gold III
1. RevPro Global Wars UK: Tomohiro Ishii vs Keith Lee
So here's the mystical outlier this week. A match that has never been seen before, as well as just being two strong power guys colliding in England.
The match starts off slowly with both men trading powerful strikes, trying to see which one will fall first. Part of the story in this one was the fact that Keith Lee towers over Ishii, so we got to see what the Stone Pit Bull was really made of.
Keith Lee literally throws everything at Ishii hitting the Spirit Bomb and Ground Zero at different points in the match. But Ishii proves to be resilient, hits his sliding lariat and manages to get the mammoth Keith Lee up for his Vertical Drop Brainbuster and picks up the pinfall victory.
The sheer spectacle of the matchup helped to drive some hype around it in "non WWE biased" communities. And for the most part, it did live up to the hype. Given the fact that most people know Ishii to be a man who puts in solid work and seems to be getting better with age, it was a good chance for Keith Lee to expand his global footprint.
Ranking: Gold III
---
Now the RevPro match doesn't have the same kind of availability as the others, however the match is on Dailymotion for anyone who wants to see it. Regardless, given the title implications and the fact that the internet community on a whole rejoiced, my choice for Match of the Week is AJ Styles vs Jinder Mahal.
So now it's up to the rest of the personalities to decide. Remember to give some love to all of our podcasts and find that Keith Lee match, you won't regret it.
The Good, Bad and Ugly: WWE Raw (01/21/2019)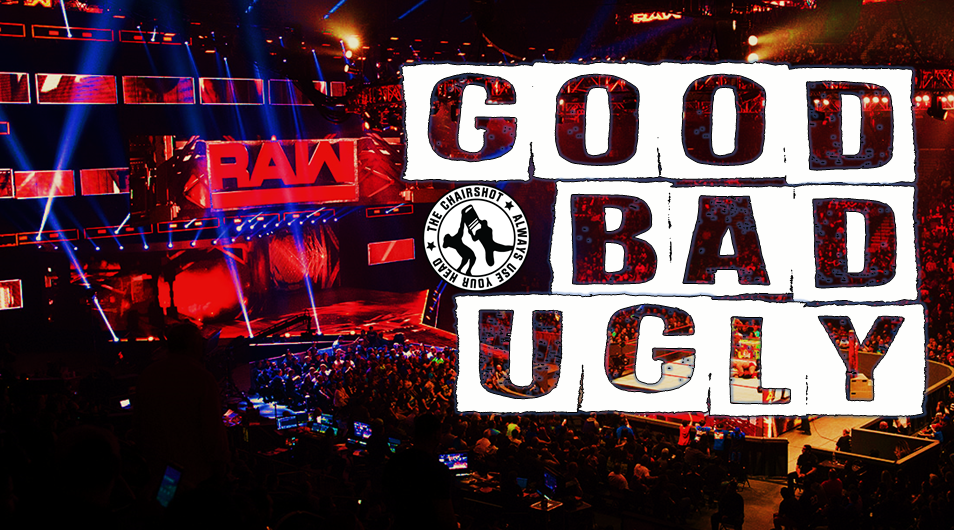 Was the Royal Rumble go-home edition of WWE Raw Good, Bad, or Ugly? Bobby Fernandes checks in with his review!
The Royal Rumble, one of the WWE's premier Pay Per Views is upon us.  The card is stacked.  The rumors of major surprises and unexpected delights are swirling about.  Like always it is a wonderful time to be a fan.  This time of year also marks the start of WrestleMania season, which doesn't get any bigger to the wrestling community.  How can Raw's go-home show give the fans one last big push for the Raw brand into the PPV? Will it build the momentum or leave us all flat?
THE GOOD
Opening Segment w/ Brock Lesnar and Paul Heyman
No time better to have the rare Brock Lesnar open Monday Night Raw.  Facing the people's choice, Finn Balor, who rumor has it, Lesnar requested personally, should be a hell of a Universal Title Match at Royal Rumble.  Very few in the history of professional wrestling can talk like Paul Heyman.  Even when he sucks, which isn't often, it is a real treat for the audience to hear the ECW Mastermind work.  As no surprise to anyone, Heyman hyped Lesnar, but he also hyped Finn Balor.  Lesnar stood there like the goon that he is snickering.  Nothing special in the message, and a little longwinded. 
The surprise however came when the Mr. McMahon came into the picture.  He heeled it up big time, which is awesome.  The crowd was hot.  Another Big Surprise came when Braun Strowman crashed the party.  Strowman is not great on the mic but held his own.  Luckily the hero Finn Balor gave his input as well.  Balor believes he will win, the Balor Club believes it.  Finn Balor is red hot right now and this match at Royal Rumble has the makings of a classic.  But first, it's Strowman vs. Balor.
Finn Balor vs. Braun Strowman
This preview to Lesnar vs. Balor, made for an eye opening match.  As expected, Balor came out hard, but was quickly stopped by the Monster Braun Strowman.  Of course the #1 Contender didn't just lie down.  Balor hit Strowman with a series of strikes and a sleeper hold, before getting tossed into Lesnar, who destroyed Balor.  Balor came back however taking out both Strowman and Lesnar with speed and precision.  Balor had it won with a "Coupe De Grace" before Lesnar interfered ending the match with an F5.  Balor wins by DQ. 
Non-Title Match – Bobby Lashley vs. Apollo Crews
We have two strong, freakishly athletic guys with unlimited potential.  Shockingly Crews "gorilla pressed" Lashley twice hurting his back.  Lio Rush made his presence felt often, doing his job well.  However it proved to be too much, as Lashley hit a spear ending this quick match with a victory.  This was followed with Seth Rollins rolling out.  Rollins has a match with McIntyre and decided to come to the ring a little early getting to have a bit of a stare down with Lashley before continuing to the ring. 
Seth Rollins Promo
Rollins came from the heart, it was a great promo.  He did some amazing work on the mic this week. Rollins has a fire within him.  He is on his A Game and will shine this weekend at the Royal Rumble. This was a quality promo, and resonated well.
Seth Rollins vs. Drew McIntyre
A showcase match.  Rollins has a lot of weight on his shoulders as a trend setter for the rest of the roster, and McIntyre has been nothing but incredible week after week.  Two top guys about to give the fans a fantastic show.  McIntyre added his two cents and did well as always.   This was extremely physical, Rollins and McIntyre laid it all on the line.  Back and forth, this was a Good match.  The energy was right, however was battered with long commercial breaks, which was unfortunate.  The actual time spent on the match however was fantastic.  McIntyre is such a dominating force, but Rollins just rolls on, no matter his opponents, size or strengths.  It is just amazing how adaptable both of them are.  This could have gone either way, Rollins hits a tight rollup and held on for the victory.  Rollins winning this match was huge in the main scheme of things, as McIntyre is no pushover both in the ring and overall in the WWE storyline. 
Dean Ambrose Vignette
Ambrose had a serious tone, it was a tight promo.  He was pissed off, focused and concises, it shows the character in an edgier light.  Good solid promo, and is at his best going into the Royal Rumble. 
Elias vs. Baron Corbin
WWE definitely stands for "Walk With Elias."  Such a huge success and a fan favorite, brilliantly paired with Baron Corbin, one of if not the most hated personas in the WWE.  He is purely cheap, old school, heel heat and it works.  It was brilliant that Corbin's mic was cut at the request of Elias to perform his song.  Corbin stormed the stage after being provoked, but backed off almost getting leveled with Elias guitar.   The match as it always is with these two, was physical, stiff, and looked painful.  Baron Corbin looked Good this week.  Maybe it is Elias who seems to be easy to work with.  Either way Corbin showed up and won a huge win, with a cheap shot to the neck, which is a textbook, heel move and an "End of Days" for the pin. 
The Ascension vs. Heavy Machinery
Where's the beef?  It's here.  This is a freak show of a match.  The Ascension hasn't worked a whole lot, hopefully they have been training.  Heavy Machinery, is huge and bright.  They stand out and there is something strangely fascinating about them.  Otis really worked the hell out of the crowd and it finally paid off.  They killed The Ascension, it was a squash match.  Heavy Machinery Wins via "The Compactor."  Otis is just insane, and I want to see Heavy Machinery in a real match, against someone who could contrast them well.  Either way, it looks like Vince is giving them a shot.  Otis will be a star someday if this pays off. 
Raw Tag Team Championship Match – Roode and Gable (c) vs. The Revival w/ Special Guest Referee Curt Hawkins
The Revival has been pissed off about life lately, and it has carried over to being a viral topic on social media amidst the new AEW signings and moves.  Earlier there was an interesting promo with The Revival and Vince McMahon himself, giving The Revival a Title Match and giving Curtis Hawkins a spot as the referee.  There is a lot of old school wrestling in this one.  All competitors remind the audience of the past styles and characters.  The Revival's completely visible ties to the Brainbusters, and Roode resembling a number of characters, as well as Gable. 
This match was a surprise given recent events.  Michael Cole even took a little shot at The Revival while they were coming out.  The Revival were stiff and controlled a lot of the time until Bobby Roode just went insane and destroyed everyone.  Move after move Roode just dominated.  Dawson and Wilder got back control but constantly got caught cheating by Curt Hawkins and eventually led to a rollup by Chad Gable for the Win!  Roode and Gable Retain!  In a very Good turn of events, The Revival obviously upset, attacked Hawkins who was saved by his "Bro" Zach Ryder.  This is a very interesting way to excite the Tag Team Division.  This could be Good for everyone. 
Ronda Rousey and Natalya vs. Sasha Banks and Bayley
Seeing "The Boss" back on a mainstream title feud has been refreshing.  It is also fantastic to have more Bayley.  Bayley is my pick, however a long shot, to win the Royal Rumble, however it would lead to some strong content and a fan favorite that hasn't been the frontrunner in a long time back on the show more often.  In my opinion, Rousey is losing the belt sooner or later, most likely at Wrestlemania unless WWE is crazy enough to have Banks win at Royal Rumble setting up a possible Natalya heel turn.  Follow that up with a Bayley Royal Rumble victory to ultimately having a Banks (c) vs. Bayley at Wrestlemania would satisfy a lot of the fanbase and be a total shock.  However that isn't the case and a huge longshot that.
Sasha Banks promo was money, and resonated on many levels.  It is satisfying watching Banks play with Rousey.  When Rousey did get a hold of both Bayley and Sasha Banks she exploded on them, making them retreat to the outside.  There was some decent action here, Banks and Bayley worked well and Natalya and Rousey were sharp.  When it was time for Rousey and Banks to finally go at it, Rousey got destroyed ending up in a "Bank Statement."  Rousey regained composer and got the upper hand on Bayley.  After a Bad botched spot, with Bayley and Rousey, they had a little trouble, but Natalya and Sasha Banks rebounded for a strong finish, Sasha Banks makes Natalya tap, in a "Banks Statement" for the victory.  There is a lot of heat going into this one, which may see some surprises on Sunday. 
THE BAD
Promo – Intercontinental Champion Bobby Lashley/Lio Rush
This impressive duo has some gold and clout.  We have a winner here.  Lio Rush has taken the awkwardness away from Lashley, who now only has to focus on kicking ass.  It seems to have worked.  As Lio said, "Lashley is a fighter," he is.  He beat two of the top dogs for the IC Title.  This was also a huge deal due to the fact that someone new would possibly get a shot at the gold.  That man is Apollo Crews.  Crews is extremely impressive.  Much like Lashley, underrated and a superior athletic.  This could be a sick feud but unfortunately a "pose off" was the plan. 
Apollo Crews after this, is officially the Master of making something good out of nothing.  He got the crowd into it when it was failing miserably.  This was pretty corny overall, and of course Lashley attacked Crews but was chased out of the ring.  This feud will be a welcomed one, however this was crap.  Keep them off the mic and keep them wrestling.  If they work and wrestle, we have gold.  The Match itself right after was Good though. 
Moment of Bliss w/ Nia Jax
Alexa Bliss cannot return to the ring fast enough.  We need to get rid of the promos, although Bliss is fantastic otherwise.  Listing all of the people in the Rumble so far was so long and awkward.  Nia Jax is also awkward on the microphone.  Luckily before anything was said by Jax, Ember Moon interrupted.  Moon did well as she is a natural out there.  But then Alicia Fox came out, followed by Mickie James.  We are seeing a trend here folks.  The Women's Division on all WWE/NXT television is rock solid and part of the best we have currently.  These promos are horrible though.  Rene Young had a great idea though, having "Steve Wilkos" come referee.  Solid move if that could ever happen.  This promo needs therapy.  But, Alexa Bliss will be in the Royal Rumble match as she announced her return.  Should have just had her come out as a "surprise."  A real surprise however was South Carolina's Finest, Lacey Evans.  Who stole the spotlight on "Little Miss Bliss."  I expect a decent match out of this interaction. 
THE UGLY
Jinder Mahal and The Singh Brothers vs. Lucha House Party
My God, these are two groups that could be utilized better elsewhere.  This was just a what-ever match.  It seems like the WWE writers just don't know what to do with both of these groups so they just roll the dice and shove them down our throat.  This was a very weird match, nothing special, the same old, which is not very Good.  Lucha House Party picks up the win, but no one cared very much about it. 
Ronda Rousey Promo
It seems as though Ronda Rousey has been going to the Natalya School of Promos.  This is not a Good thing at all.  Tough promo to get though, and a strong candidate to becoming a "Heyman Girl." 
FINAL
Overall
Good!  This Raw was packed full of content.  It had a lot of high points and was entertaining.  WWE is putting forth the effort at a crucial time.  It was a great set up showcasing the stories and having some compelling action that sucked the fans in.  Solid take home show. 
Royal Rumble is now written on the Raw side of town, next is the SmackDown version of the story, which is already incredible.  Not to forget the NXT Takeover as well.  This is going to be a huge weekend coming up. 
Lastly, let us not forget the importance of today.  Happy Martin Luther King Day.  He was a man, whose bravery is near unmatched.  A man I deeply respect, and admire.  No one is perfect, but as courageous he and his cause was for mankind overall, that is something we need to respect and remember. 
(NOAH) WEEKLY NEWSLETTER VOL.19 ~ 19TH JANUARY 2019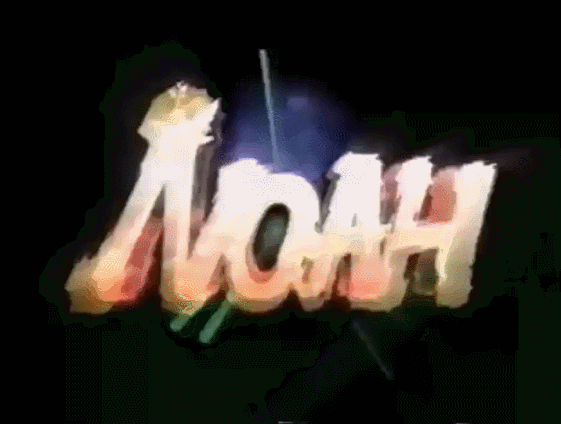 Hisame dropping the NOAH knowledge bombs every week! If you're behind, just curious, or a frequent admirer of the Emerald ways, these Newsletters keep getting better and better.
CURRENT TOUR RECAP
On the 13th January, Yoshinari Ogawa and HAYATA shook hands, and then briefly patted each other on the back for a quick hug. So far nothing more has come of this, HAYATA hasn't turned against RATELS, and Yoshinari Ogawa is absent with flu, but HAYATA does have a singles match with YO-HEY on the 20th, and so we shall see how matters progress from there.
Interestingly, YO-HEY has also spoke of "three people" being traitors.
Hajime Ohara picked up a slight, but scary injury following a kick to the face from Keisuke Ishii, he found that his sight was blurred for a few days, but rest corrected it.
Masa Kitamiya and Atsushi Kotoge (who thinks that "Masa needs a revolution") will face off for the number one contendership for the GHC Heavyweight on the 20th January. Kaito Kiyomiya says he does not care who wins, he will face and defend against the winner.
Naomichi Marufuji will return to the ring on the 2nd February.
NEWS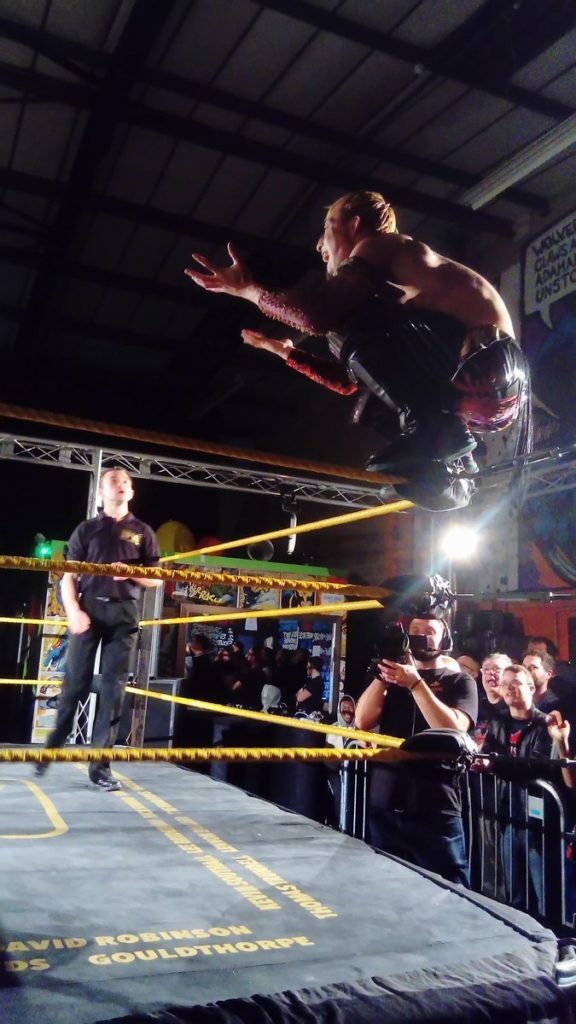 IPW
RATELS came to the UK to compete in IPW'S inaugural junior heavyweight tournament. Keeping to the current situation NOAH, they pretty much stayed apart (with Tadasuke the only one visibly siding with Harada, YO-HEY appearing to go off on his own and HAYATA not appearing with anyone). However, YO-HEY was seen to be standing watching HAYATA'S match with Kid Lykos, and loving it.
The tournament was held between eight wrestlers: Daisuke Harada, Tadasuke, YO-HEY, HAYATA, Chris Ridgeway, James Castle, Ben Basden and Kid Lykos.
In the first round, Daisuke Harada and Chris Ridgeway beat the hell out of each other, YO-HEY was an instant hit with the crowd (who were disappointed that he wouldn't be coming back), James Castle faced Tadasuke and HAYATA had a match against Kid Lykos which involved heel tactics and an attack from Chris Brookes. As far as the Noah matches went in the second round, NOAH naturally did not want to ruin the eventual Harada vs YO-HEY or the YO-HEY vs HAYATA, so we were treated to HAYATA vs Daisuke Harada.
The finals came down to James Castle vs Daisuke Harada, in which Harada was victorious and became the first IPW Junior Heavyweight Champion, he was handed the belt by Doug Williams, and bought it to the ring today in NOAH.
Chris Ridgeway has vowed revenge on Harada, he says that not only will he come to Japan to make him tap out, he would also take the belt too.
A more detailed recap of the event can be found via my podcast episode at either Soundcloud or iTunes (please see links at the end of the newsletter). 
NOAH VS ALL JAPAN\TOKYO SPORTS AWARDS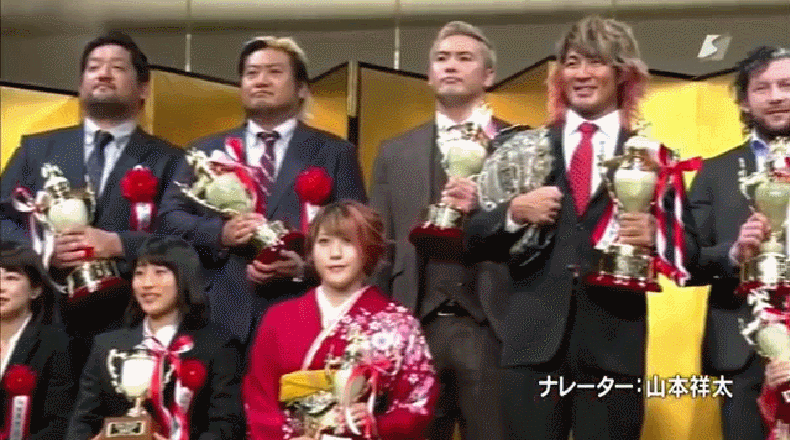 Tokyo Sports are suggesting that as 2019 will mark Jun Akiyama's five years of All Japan presidency, and of course NOAH will celebrate their 20 years in August, there may well be a collaboration between the two for the anniversary, NOAH of course coming from All Japan.
At the annual awards, Naomichi Marufuji picked up the award for "Outstanding Achievement", and Kaito Kiyomiya the award for "Fighting Spirit".
Kaito Kiyomiya (who was described by Suwama as being "dignified, well dressed, with good posture" and "very polite to the seniors"), gave a nervous looking speech:
"I have received the "Fighting Spirit Award". Thank you very much. When I heard I was getting this award, I was very surprised. I am proud to have taken the belt last year, and this year, as champion, as NOAH's face, I would like to run with everyone who supports me. Thank you very much".
Naomichi Marufuji (older and more experienced, and with the benefit of having Misawa ease him into public situations such as these), was more relaxed in his:
"Thank you very much for the "Outstanding Performance Award" of 2018. 2018 was my 20th year, but this year is my 21st. I'd like to make an effort to make a further leap. As New Japan continue to monopolize the MVP Grand Prize, I want to show the best match, so not to lose receiving the assessment"
"COME AT ME YOU BASTARDS"
Kenoh's column Kenoh spoke in his first column of 2019 about his loss to Kaito Kiyomiya for the GHC Heavyweight Championship. He is confident that he can beat Kiyomiya for the title, but he feels there is an element of nepotism and that in his opinion, Kiyomiya is "protected by the company."
Kenoh's worse fears are that Marufuji will challenge for the title when he returns on the 2nd February, and that Kiyomiya will defeat him (Kenoh wants to be the one to do it), and he has sworn he will crush them both if so. Kenoh finished by saying that his goal for this year is to get his revenge on Kiyomiya, that is his "screenplay".
CURRENT CHAMPIONS
TOUR TIDBITS
~ YO-HEY has a new t-shirt
~ Yoshinari Ogawa has been pulled from the NOAH tour from the 19th to the 26th January as he is suffering from influenza.
~ Fifty Funky Powers disco ball was out, proud and rotating at NOAH's show on January 13th. For their entry the lights dimmed and it threw green spots around the hall.
~ NOAH are selling in limited quantities, portrait pictures of Junta Miyawaki, Yoshiki Inamura and Kinya Okada
~ There appears to be a conflict brewing between Kenoh and Katsuhiko Nakajima
~ Tadasuke was noted to be giving Kinya Okada advice during their three way match
~ Kenoh did not take kindly to being asked to join the revolution with Atsushi Kotoge, and kicked him hard after he had asked him. Kotoge also tried to ask HAYATA and Yoshinari Ogawa, HAYATA walked off (refusing to shake hands with him) and Ogawa said "seriously?"
KING SHAMELESS CORNER
None. He's been too preoccupied with his new dog, and the weather has been too cold for him to be rude.
BROADCASTS
The final night of "Navigation For The Future 2019" will be broadcast on Saturday 9th February 2019 at 10pm JST on Samurai.
BOOK CORNER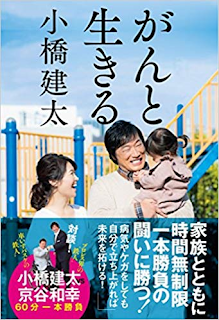 "I will keep doing well until my daughter is adult, and my life will be full of youth, no matter how old she will be"
"Living with Cancer" is a book written in March 2018 by Kenta Kobashi. It has five chapters and details his life from his diagnosis until now. For cancer sufferers and their families, he gives advice and support, while he also details his own battle against it. The last chapter is dedicated to his family, his infant daughter and the fans.
As one reviewer has put it, Misawa taught Kobashi the importance of leaving the ring alive.
The English translation of Naomichi Marufuji's biography "Heir To The Ark" (a work in progress), can be found here
LINKS
Recommendation for 2019: Junta Miyawaki 
Tokyo Sports 2018 Grand Prix Award Ceremony 
Naomichi Marufuji's Outstanding Performance Award for the first time in twelve years "An effort to make a further leap" 
Kaito Kiyomiya's first Fighting Spirit Award as "The new face of Noah" 
UK Expedition Result: Daisuke Harada becomes the first IPW Junior Heavyweight Champion 
POST MATCH PROMOS ~ "Navigation For The Future 2019" Night Four ~ Esupuma Isauma (Kawagoe-shi) (Sunday, January 13th 2019) 
Naomichi Marufuji, Pro Wrestling Grand Prize, Special Prize winner, "I want to see the view that Misawa could not" 
POST MATCH PROMOS ~ "Navigation For The Future 2019" Night Three ~ Act City Hamamatsu (12th January 2019) 
NOAH FROM THE VAULT
APRIL 29 IS KOTOGE'S REVOLUTIONARY ANNIVERSARY  (translated by Dino)
NOAH'S ARCHIVE PODCAST
iTunes 
Soundcloud 
Photos & gifs – credit to Tokyo Sports (group picture), Hisame (YO-HEY), Amazon.co.jp ("Living with Cancer")