Top 5: Matches Of The Week (Ending 11/19)
Last week, we had a much easier Top 5 list, and it showed since the votes were pretty close among 3 of the matches. The winner is no surprise, but was by no means a runaway; AJ Styles vs Jinder Mahal @ Smackdown won the week.
Most of this week's Top 5 will be dominated by WWE programming thanks to the fact there was Survivor Series and War Games this weekend. Hey, good thing about that is they're easy matches to find.
5. WWE: Survivor Series: Charlotte Flair vs Alexa Bliss
Now if this isn't a testament to her improvement, than I don't know what is. Alexa Bliss went from being a great female heel, but garbage in the ring, to actually pretty solid with her wrestling skills. I like to think the fact she stopped doing that terrible Sparkle Splash and started using a DDT as a finisher helps to make her in ring work look smoother.
As for the match, this told a good story. Alexa has beaten every other member of The Four Horsewomen, so she wanted to cross off Charlotte. Early in the match she pulled Charlotte off the apron to injure her ribs and that played a part through the entire match.
This was very back and forth, Charlotte tapped into a different side of herself at some point when she was trying to regain the momentum and it's a little more malicious. I don't know if this is a precursor to a heel turn, or a new rougher Charlotte, but it was very effective. After trading a few signature moves, Charlotte finally manages to put Alexa down with a Figure Eight.
Alexa held her own nicely, both of their personalities were on full display through the match and it had the face going over; what more can you ask for?
Ranking: Gold IV
4. Impact: Global Championship Match: Eli Drake vs Petey Williams
For people who dismiss Impact's overall product, you are missing some solid matches that may never be seen again. The match was set up like a New Japan match where the Eli is cutting a promo and Petey presents himself as a possible challenger, then Eli accepts. Kind of nice to see the gauntlet mentality instead of needing a long running storyline at all times.
During this entire match the announce team reiterated the fact that no one has ever kicked out of a Petey Williams Canadian Destroyer, so if he hits it, he's champ. So the story of the entire match was Petey trying to hit his move, and Eli trying to avoid it.
There were some great sequences, good psychology with the use of Chris Adonis (interfered just enough to not ruin the match) and Eli did a couple more springboard moves than usual. The big moment was when Petey finally hit the Destroyer after teasing it about 7 times, but Eli kicks out. Noticeably rattled since no one's done that before, Petey keeps trying to hit it one more time. Just when it looks like he might do it, Drake wins by countering the Canadian Destroyer into Gravy train.
Eli keeps adding little things to his repertoire in the ring, as to not be stale, and also get across that being the champion is improving his ability. As an overall product, Impact still feels like WCW 2000, BUT, when they have good matches, they easily rival anything ROH, PWG and WWE are doing.
Ranking: Gold III
3. NXT Takeover War Games: War Games Match: Undisputed Era vs SanitY vs Authors of Pain & Roderick Strong
Even though the tweaks to the rules were odd and not totally necessary, it didn't detract from the enjoyment factor, but felt more like a TNA Lethal Lockdown, instead of a War Games match.
As for the match itself, when you throw 9 guys in two caged rings, you're gonna get a lot of spots. SanitY introduced tables and an assortment of weapons into the match, and Killian Dain was truly the MVP. Big bumps, big spots, and the guys played to the crowd nicely so they stayed hot through most of the match.
The finish was a little lackluster and a few of the clump up and bump spots just looked too coordinated, but the match was still very entertaining. Felt more like a WWE match than an "Indy" match. Plus with Undisputed Era going over in this match, it helps to elongate the feud between all three factions, so more of these guys…seems like a good thing
Ranking: Platinum V
2. WWE: Survivor Series: The Usos vs The Bar
Well, this match solidifies The Usos as the best tag team in WWE currently. Basing this off the fact that New Day faced The Shield earlier, and even though the match was alright, it wasn't close to this quality.
This match started off slowly, but had a great and logical build. Numerous near falls, tandem offense and show boating helped to get across the personality of both teams. The ending sequence was a superkick party (I wonder if the Young Bucks will send WWE a cease and desist now), into the Uce Splash.
No amount of me mentioning spots will do this match justice. This was just another match to pad The Usos resume as Tag Team of 2017.
Ranking: Platinum IV
1. NXT Takeover War Games: Velveteen Dream vs Aleister Black
In what was easily the best storyline leading into War Games, this match lived up nicely to the build, and did nicely to make sure both men stayed over.
This match started off slowly with Black wrestling a more technical style, almost like he was toying with Dream. After Dream managed to get some space and land a desperation super kick, it staggered Black enough for the match to start getting competitive. Velveteen Dream really did his best Rick Rude impression through a lot of this match, having Aleister's and his own face airbrushed on his tights, and even pulling out a Rude Awakening at some point.
We saw a great build and there was even a nice mind game spot about halfway through, which helped to build the tension instead of looking like a rest moment. Both wrestlers had their finishing moves countered at different points in the match, and it really got across the struggle from both of them. Dream demanded respect and Black was trying to prove why he's the most dangerous man in NXT.
Even though the match ends with Aleister hitting his Black Mass for the pinfall, there was a nice moment afterwards. Black acknowledged Dream and said his name before exiting the ring, which technically means both men achieved what they wanted, and the crowd was on fire for this entire match and the end segment.
If Aleister isn't at the top of the list to challenge Andrade for the NXT title…than I really don't know who else should go ahead of him.
Ranking: Platinum I
---
So when it comes down to our wonderful Yes! Wrestling personalities adding their votes, the 80% WWE product makes life easier. My choice for match of the week falls in line with how I ranked them, Velveteen Dream vs Aleister Black @ War Games, was a beautifully put together match. I've got nothing more to say, Survivor Series and War Games were both enjoyable shows, so get your free month of the WWE Network and click these shows.
---
Always Use Your Head and visit the official Pro Wrestling Tees store for The Chairshot All t-shirt proceeds help support the advancement of your favorite hard-hitting wrestling website, The Chairshot!

---
Too Soon For Ricochet To Take The Title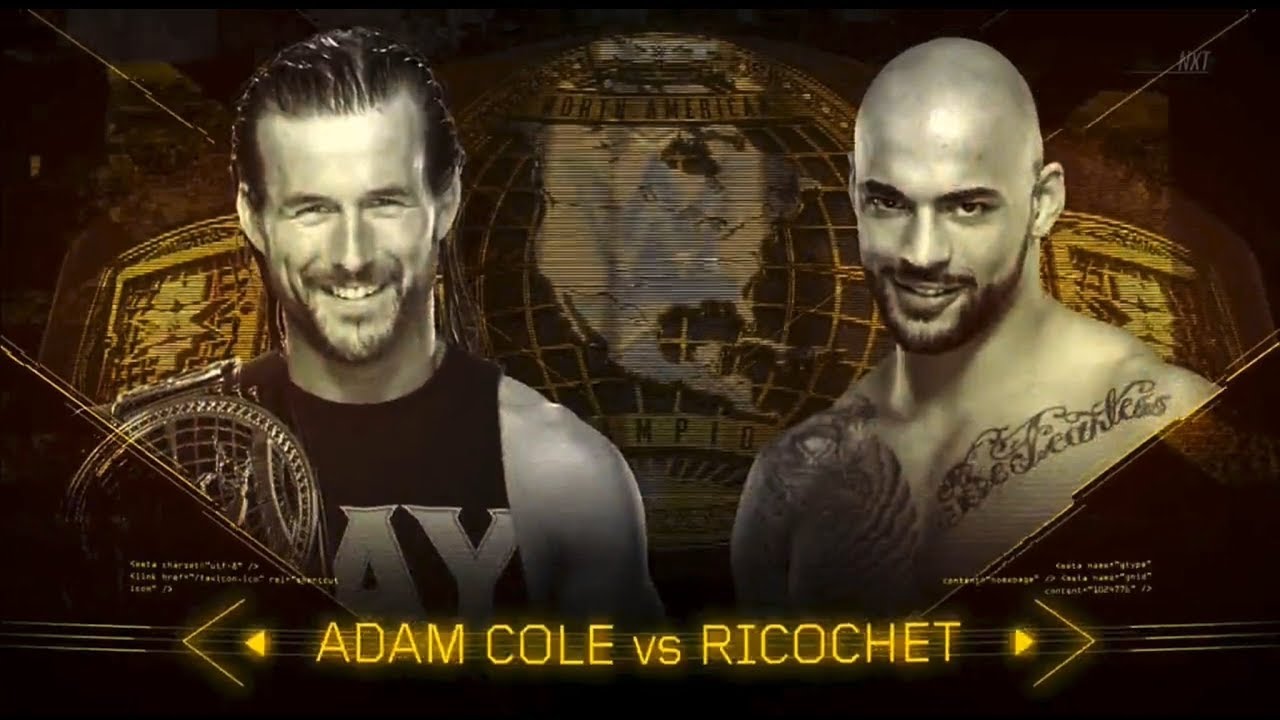 Up until the go home episode of NXT Adam Cole vs Ricochet had the least build of all the matches on the Takeover Brooklyn 4 card.
However, on NXT this week there was a very well-produced video package that has increased my excitement for the match. One thing that stood out is they mentioned this is the first time Cole is defending the North American Championship on a Takeover. Before this I could have seen Ricochet walking away with the title but the more I think about it Cole needs to retain.
Despite consistently defending the title on the live events and even defending at the UK Championship Tournament and in Evolve, Cole has had very few defences on NXT TV. The only one I can think of is his defence against Oney Lorcan. If Cole just walks into Takeover and loses the title after barely defending it, just proves that he's everything Ricochet says he is. Which in my opinion, would make him look pretty weak and seem like an undeserving champion.
If Cole does retain I don't think it will be clean. I can see Cole having the feet on the ropes or grabbing the tights to get the win. This gives Ricochet a legitimate claim to a rematch where he will finally take the title. I think Undisputed Era need something coming out of this show, since I don't see Strong and O'Reilly walking out with the tag titles.
This also allows NXT to avoid a troop that they have been guilty of in the past which is the Indy star who comes in and just takes a championship way to early. This nothing against the wrestlers themselves but they come in and have some good matches they get very little in the way of storylines. It happened with Drew McIntyre, Shinsuke Nakamura and I don't want it to happen to Ricochet.
The heelish nature of how Cole would win wouldn't hurt Ricochet and would give him a story for the fans to invest in. He mentioned in the video package how close he came to winning the title in New Orleans before Cole pushed him off the ladder. This would be another part of that and make Ricochet the underdog.
Ricochet has already lost on NXT, being pinned before Chicago by Lars Sullivan. That loss didn't hurt him because it was part of the story they were telling. Ricochet only lost because Dream turned on him setting up their match and it gave Sullivan a big win to justify challenging Black for the NXT Title. This is similar to what I think should happen because the loss would just be on chapter of an ongoing story.
Ricochet said himself in a recent interview that one of the things he wants to do in NXT is to be part of a story rather than just being put in dream matches like he was when he was on the indies. So if they went the way I think they should I think Ricochet would be up for that.
---
Always Use Your Head and visit the official Pro Wrestling Tees store for The Chairshot All t-shirt proceeds help support the advancement of your favorite hard-hitting wrestling website, The Chairshot!

---
Things I'd Like To See Happen at SummerSlam (But Probably Won't)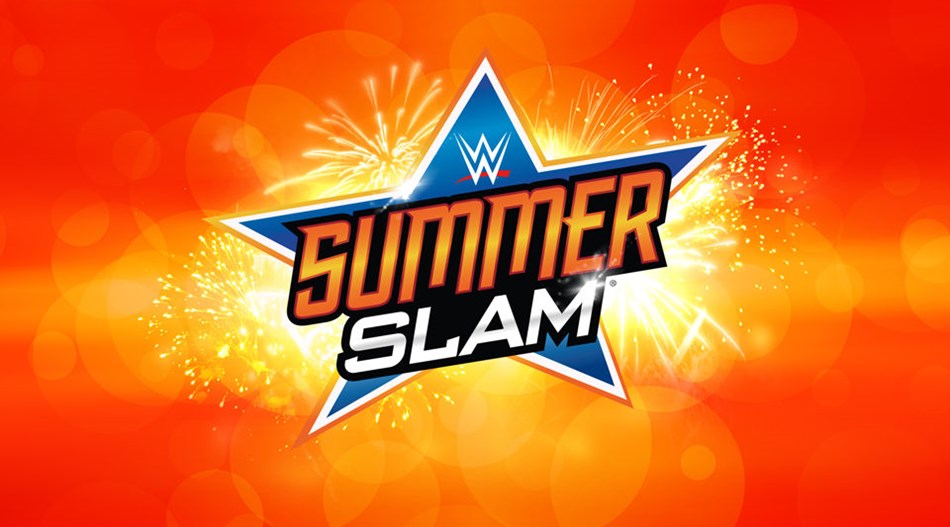 The biggest event of the Summer goes down this Sunday. We all have things we'd love to see happen at WWE SummerSlam. If you're anything like me, you've noticed that most of the things you'd like to see happen end up not happening. A lot of times, things end up working out for the best. At least that's what people tell me anyway.
I find its important to keep my expectations limited. Here are some events I'd like to see happen at SummerSlam that I know probably won't.
Daniel Bryan defeats the Miz
When Bryan returned to the ring, this is the match I wanted to see. Many of you were probably fantasizing about all sorts of dream matches, or matches with IWC favorites. Me, I wanted to see a match that had been built for years. I wanted to see one of wrestling's best current rivalries back in the ring. Forget all the riff-raff, this is why Daniel Bryan needed to come back.
As a Bryan fan, I always root for the guy to win. I'll definitely be rooting for him against The Miz, a guy that I've always found more enjoyable to root against. The thing is, I'm somewhere around 90% sure that Miz is winning. It makes the most sense to continue the rivalry. It's the smart choice. But when you're a fan, you don't care about the smart choice.
AJ Styles vs. Samoa Joe will be a 5 star match
Given the reputations that Styles & Joe have built up with us over the years, expectations will be high surrounding their first WWE PPV matchup. Not as high as they were for Styles vs. Shinsuke Nakamura, but people will still be expecting a 5 star classic. That's not going to happen. The Styles vs. Joe build has been very personal, with Styles being whipped up into a rage by Joe talking about his family.
Don't expect a scientific, cosmetically pleasing match here. It shouldn't be one based on the build. Styles should come out like a raving lunatic, much like he did in the Saudi Arabia match with Nakamura. It'll be more of a good ol' fashioned street fight, which I love, but part of me yearns for a five star classic like they have in Japan.
Peyton Royce does something significant
You knew I had to work this in somehow. Peyton took offense to something Dave Meltzer said on a podcast this week in relation to her look now versus her look in NXT. Most of the WWE roster & other people in the business that have had issues with the DIRT SHEETS over the years joined her in running the bus back & forth over Meltzer's carcass. It was an interesting thing to see everybody that had an axe to grind and people that wanted brownie points with those folks jump in on the guy.
Those who have listened to Dave talk at some point know that he's poor at articulating his points via the spoken word. A lot of writers are, and that's why they write. Dave's reference to Peyton being lighter in NXT was in reference to the breast augmentation she underwent before hitting the main roster. He was trying to be sly about it because some people are sensitive when it comes to fake breasts, but when the alternative was people thinking he meant she was fat, he should have just said it was the boobs. Hey, if you're going to take unwarranted shots at peoples' looks, make sure it's obvious what you're going for.
The best way for Peyton to silence Dave & the critics would be to do something. Anything. She & Billie Kay haven't accomplished a whole lot since their arrival to the main roster. Hopefully they get a chance soon. WWE loves to stick it to the sheets, so hopefully this will encourage them to do something.
The crowd won't be the most interesting part of Brock Lesnar vs. Roman Reigns
Like many of you, I suffer from Lesnar vs. Reigns fatigue. Other Chairshot writers will jump up & down & scream about how they've had the same number of matches as other feuds that people actually like & we're not being fair to Roman's continual failed attempts to win the Universal Championship. The number doesn't matter. If the match isn't interesting, I don't want to see it. Sorry.
Maybe Brock & Roman surprise us and do something other than suplex-suplex-suplex-punch-punch-suplex. Probably not, but stranger things have happened. Unfortunately, or fortunately if you're into this kind of thing, the most interesting aspect of the match will be the Brooklyn crowd's reaction to it. Will they boo both men out of the building? Will they spend the match chanting things having nothing to do with the match? Or will they be too tired to have much of a reaction to anything?
Hopefully we can move past this trend where crowd reaction is the only thing anybody talks about after a major event. It won't be this month, as the Brooklyn hipsters will be sure to take their spot as part of the show.
There is one idea I can think of that might not make this a thing…
Braun Strowman Cashes In…At The Beginning Of The Match.
This would require a couple of things to happen. First, Braun would have to beat Kevin Owens in short order. This would make some people angry, but not me. I like KO, but he doesn't need to be winning the briefcase right now. Braun should be the next champion, and cashing in at SummerSlam would be interesting. However, he's not the kind of guy that should be cashing in during the middle of a hard-fought match, or after one. Doing that would make him look weak, or as weak as a man of his size could. If he's going to interrupt a match, it should be before it happens.
Nobody would accuse Braun of being weak if he had to go through Lesnar & Reigns to get the title. His winning is something that the Brooklyn crowd wouldn't crap all over. At least I think they wouldn't. Smart fans still like Braun, right?
The show will end before 11 PM Eastern.
As somebody that has a job that also writes about these PPV events, I love shows that end early. Money in the Bank got a positive review from me mainly because it didn't overstay its welcome. At this point in my life, I'd rather be in bed than struggling to stay up through a Roman Reigns match at 11:30.
There will be no such luck with this show. Thirteen matches, an Elias concert & who knows what else WWE has in store for us? Midnight is a safer bet. On the bright side, I've already told my other bosses about my Fantasy Football draft delaying my SummerSlam recap, so this doesn't matter as much to me as it would have otherwise.
---
Always Use Your Head and visit the official Pro Wrestling Tees store for The Chairshot All t-shirt proceeds help support the advancement of your favorite hard-hitting wrestling website, The Chairshot!

---
Edge Of A Wrestling Revolution: Why Wrestling Is Seeing A Resurgence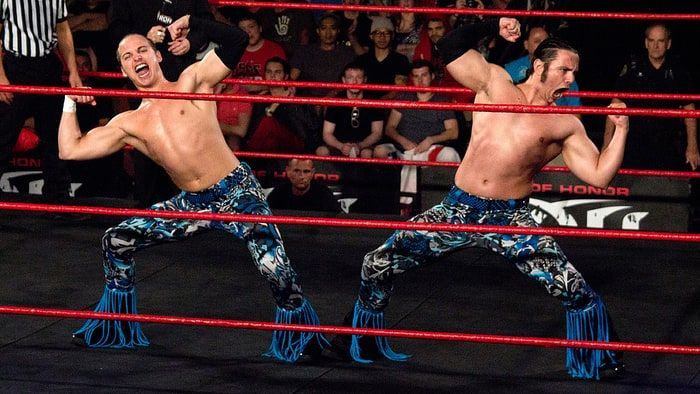 In the past, definitely 8 years and arguably the last decade, wrestling outside of the media magnet known as the WWE has been pretty much dead or dying. The last major competitor and the last remaining promotion from the territory system World Championship Wrestling folded in March of 2001, some seven months before I was born. This leads to a roughly 13-year drought of no promotions on anywhere close of a scale to WWE.
This all ends when AJ Styles' contract with TNA Wrestling (then considered the number two largest promotion in the US) expired and he chose not to renew. In January 2014 Styles made his return to Ring of Honor and with it, he quickly helped build a partnership with Japan's largest promotion, New Japan Pro Wrestling. This partnership has expanded greatly even since AJ Styles left in 2016. Most recently a Supercard put on by the two companies sold out Madison Square Garden in New York City. The last wrestling event that sold out MSG was a Monday Night Raw telecast in November 2009.
Similar to this is Cody Rhodes and The Young Bucks partnering up to create arguably the wrestling weekend of the year beating out WrestleMania by far in my opinion, All In. A non-WWE or WCW show to sell more than 10,000 tickets hadn't happened since 1994, if you exclude Lucha Libre shows and only count shows marketed towards English speaking fans that date goes all the way back to 1986. 32 years without an independent show selling 10,000 tickets and All In sells out 29 minutes and 36 seconds without a single match being announced.
There's more wrestling on TV nationally than ever. In addition to WWE's seven hours of original content every week you get promotions like Ring of Honor, Impact Wrestling, New Japan Pro Wrestling, Lucha Underground, Major League Wrestling, and most recently Ring Warriors who I discussed in my last article, all being signed to contracts to provide at least an hour of content each week to a major tv network available in at least 50% of American homes. Never before has more than 3 major companies be available in the majority of homes every week, now we sit at twice this number.
Those numbers don't begin to include smaller independent companies in the US and abroad such as House of Hardcore and Rocky Mountain Pro which use streaming sites such as Twitch to stream their content. This is a constantly growing medium that is attractive to smaller promotions because it is free to broadcast and popular with fans because it is free to view. Twitch has 15 million daily users and this number is constantly growing since their buyout by Amazon in August of 2014.
Live events have been popping up more frequently as well. In the state of Oklahoma, where I am located, the majority of the companies I work for are there and account for 9 shows. When I first was around independent wrestling there was an average of 2-3 shows a month. This pop in indy wrestling has also been heavy in Texas I can think of at least 10 promotions that have been founded within the past 5 or so years. More independent promotions means more local fans coming to shows, if a casual fan who comes to an independent show gets hooked and starts using these streaming services and sites, attending local shows, and watching the nationally available product as many hardcore fans do it only helps strengthen the wrestling community and help it grow so new content can be developed and produced.
Over the recent years wrestling fans have called out saying "We want a different product." for so many years we had one option and we got tired of it. That's when we saw the rise of Ring of Honor which really started the small promotion revolution and really they influx of international companies to the US with New Japan, now even promotions such as What Culture Pro, Defiant Wrestling, and the Wide World of Sports causing a stir in the US from across the pond. There is an independent company with some sort of streaming service or delivery service for every taste from southern rasslin' such as AML out of Winston-Salem, North Carolina to House of Hardcore and Combat Zone Wrestling bringing hardcore and deathmatches back to wrestling. It's almost hard to be a hater on today's wrestling scene because there is so much good content. Promote the good things that you like and ignore the things you don't and the whole wrestling business gets better.
So hopefully this article makes you want to go out and watch more wrestling live, on cable, online, it doesn't matter but go and enjoy and spend your money on independent wrestling it keeps guys like myself and my fellow Chairshot writer "Sly" Jordan Fox going to see the fans funding us, funding a business we all share a mutual love for, and having a good time with people who enjoy the same crazy things we do. Keep the love of wrestling alive.
Wrestling with the Revolution from the Desk of James Southard
---
Always Use Your Head and visit the official Pro Wrestling Tees store for The Chairshot All t-shirt proceeds help support the advancement of your favorite hard-hitting wrestling website, The Chairshot!

---