Top 5: Matches Of The Week (Ending 11/26)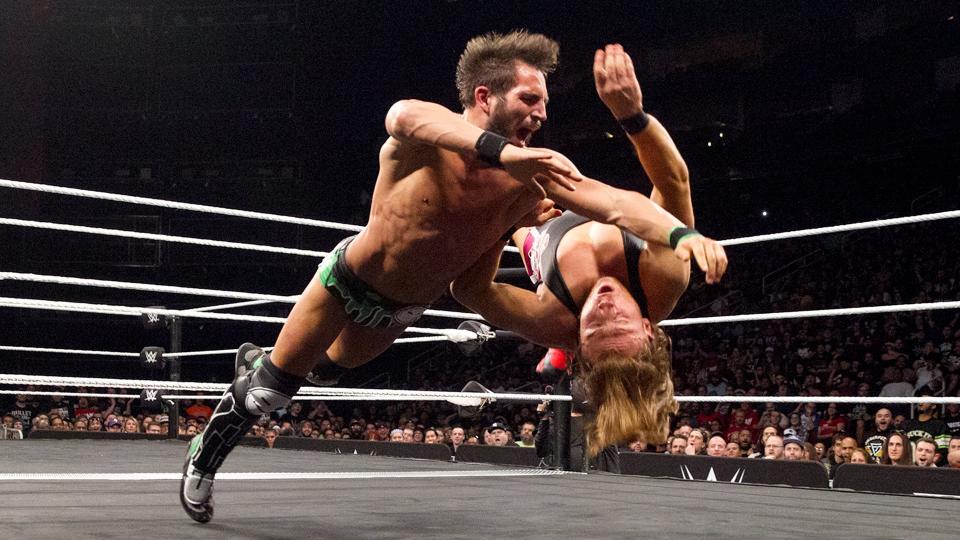 Welcome to another installment of the Top 5 Matches of the Week. Last week, we had a much closer vote than I was anticipating. NXT: Takeover War Games Aleister Black vs Velveteen Dream barely edged out the actual War Games match. If people didn't already have enough reason to watch NXT, that should just add to the bullet points.
The holiday weekend put a crunch on my free time, so I wasn't able to watch as much as I'd like, but this should be a fair assessment of things.
5. Dragon Gate: Memorial Gate in Sendai: Open the Owari Gate Championship Match: Ryo Saito vs "Hollywood" Stalker Ichikawa
This is Jim Cornette's least favorite concept in the world. That's because Owari is the Japanese word for Comedy, so there is an entire belt and division built around pure comedy spots. Hell the winner of the match doesn't matter, because the end is voted upon by the audience. So the champion is the person with the most audience approval.
This match was wonderfully ridiculous, and had most comedy spots that even the Western fan are used to. The ref gets involved, there's obvious cooperation for comedic effect and even moments when the two competitors applaud or show support for the other's efforts.
Ryo Saito ends up going over with a very goofy bunny hop, dead fish belly flop/splash after an assist by the referee. He even wins the audience approval, so even though Ichikawa is an Enzo level wrestler, he is the most decorated Owari Gate champion, so you'd have to figure this is seen as an upset of sorts.
Not everyone's cup of tea, but most of the DDT Pro Wrestling clips see some viral fame, so this falls right in line with that kind of thing. It's not good wrestling, but it's great entertainment if you can remove the "old school" precepts of a worked fight.
Ranking: Silver I
4. Dragon Gate: Memorial Gate in Sendai:  Ben-K vs Susumu Yokosuka
In a rather inconsequential mid card match, this one really sticks out. The entire card was multi-man matches except this, and the comedy match we previously covered.
This was what you would expect from a Japanese style match. It starts off slow and deliberate, but ends with a lot of very stiff and very big moves. Ben-K went for his finisher Ben-K Bomb a few times, but just couldn't pull it off. After a nice strong style spot, Yokosuka hits a high impact sliding lariat for the win out of no where.
At just under 15 minutes, match wasn't terribly long, but it felt like it built nicely and there was no one wasted movement. For people that don't like multi-man matches much, this was a bright spot and shows that Ben-K is a star of the future for Dragon Gate.
Ranking: Gold IV
3. New Japan: World Tag League Day 8: Kazuchika Okada & Will Ospreay vs Tetsuya Naito & Hiromu Takahashi
Well this doesn't bode well for the Tag League, when the main event isn't a tag league match…and blew all of them out of the water this day.
This match is to help build the tension for the respective Tokyo Dome matches at Wrestle Kingdom 12, and as long as you're partially aware of the storyline, this match definitely moved things along nicely. Naito openly mocked Okada, and disrespected Ospreay and his manager Gedo. As for the story between Hiromu and Will, it was a lot of both of them posturing to try and prove they were the elite junior heavyweight.
Every wrestler got most of their moves in, and each wrestler had multiple counter moves, establishing all four as top guys in the two divisions. We see the match end with Hiromu and Naito dumping Okada to the outside, Hiromu distracts Ospreay and Naito hits a beautiful running Destino. He then does one more Destino for good measure while Hiromu keeps Okada away and Naito picks up the pinfall.
While this is well below the level we'll see at Wrestle Kingdom, the match was still good and very entertaining. As a harbinger of things to come, this is a beautiful warning sign.
Ranking: Gold III
2. Raw: Intercontinental Championship Match: Roman Reigns vs The Miz
The whole segment leading up to this was fantastic. Regins being the one to comment about the crowd's Miz flavored chant as well as Roman acting dejected that he might not be a Shield member with a championship and Seth points out ever so positively "look, Miz has one".
Even though the build wasn't traditional, the crowd was white hot for both wrestlers. If the rumors are true where Miz will be off TV soon to go film The Marine 6, he's gonna have to come back as a face or at least tweener with how over he's been the last few months. But the real story is Houston loves Roman Reigns, and it really helped to make the match more enjoyable. People will be hard pressed to hate on the match when the work was solid and the crowd was popping off for both guys.
Reigns going over is nice since a lot of people complained he never worked his way up and was just gifted the WWE Title because of his bloodline. Roman has been doing better character work this year and as long as he remembers to bring the Intercontinental Belt with him, this reign could be something nice. I'm looking forward to Champion vs Champion at WrestleMania 34, ala WrestleMania VI.
Gold: III
1. NXT: UK Championship Match: Pete Dunne vs Johnny Gargano
Neither of these two put on a terrible match, but the question really arises with Gargano's direction. Are they just trying to build him up as the typical underdog face to get the fans to sympathize with him?
Well that question gives away the finish, but the match was still very well worked. The match psychology was nice where it got over the fact that Dunne is a heel (with the biting the fingers spot) and Gargano, even though his a babyface, he's not above taking legal advantage of a situation (when he realized Dunne's mouthpiece was out and super kicked him in the jaw).
Dunne looks like a vulnerable, but resilient champion who will find a way to win. He got clever to Gargano's stuff and cut him off to hit his Bitter End finisher. It wasn't as good as Dunne's matches with Tyler Bate, but in this weird week, it was good enough to top the rankings.
Ranking: Gold II
Hopefully this is a list that most people can find something to enjoy, and aside from the Dragon Gate matches, the rest are pretty easy to find. My choice for match of the week goes to Roman Reigns vs The Miz for the IC Title, hot crowd with the belt on the line and good work, hard for me to overlook it. Plus it made Roman Reigns are WWE Grand Slam champion…so it's even more historic, in a sense.
The rest of The Chairshot personalities get to weight in on these matches, so let's see what happens. We might get another super close vote like last week.
Top 5: WWE Finishers That Actually Finish a Match (The First Time)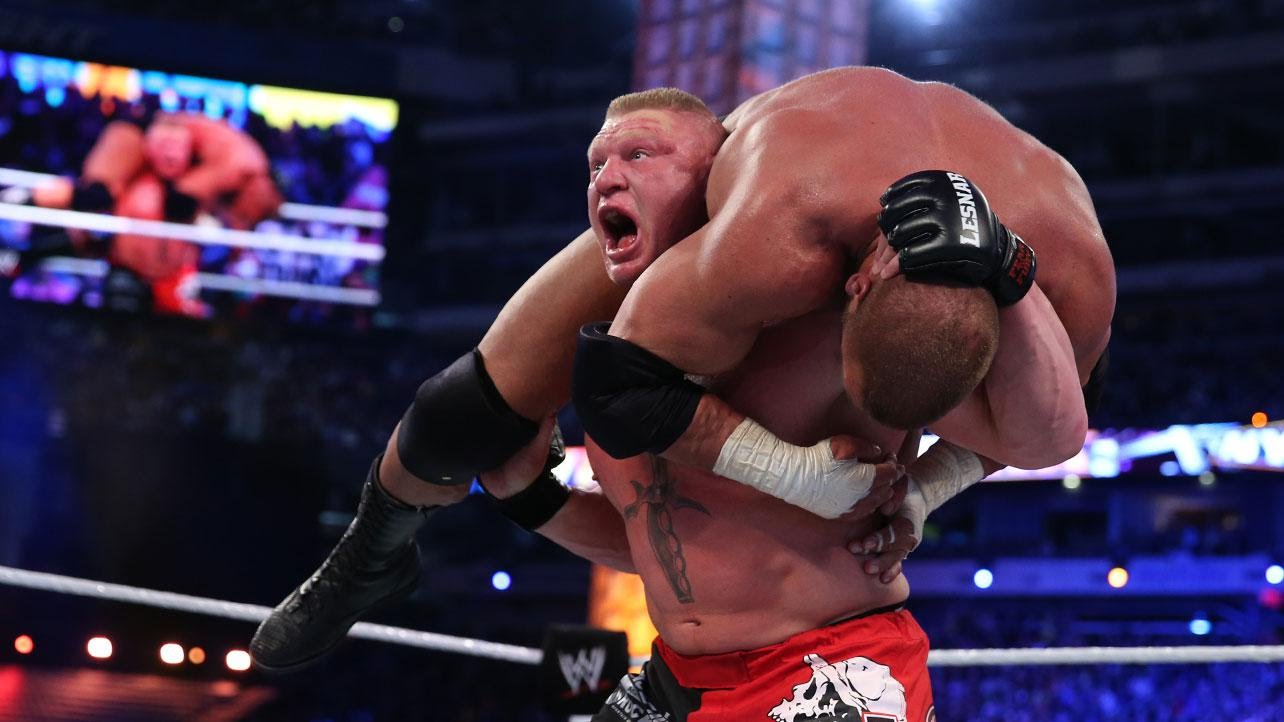 A major criticism of modern WWE is that finishers rarely finish a match when they are executed the first time. These days it takes two to three to put an end to an opponent. Cameron Shank looks at the Top 5 finishers that actually work on the first try!
John Cena normally hits four to five Attitude Adjustments before hitting one off the middle rope and he ends up still not winning the match. There are those select few, however, that actually lay out an opponent for the three count. Here are the top five finishers that actually finish people.
5. F5 (Brock Lesnar)
It may only be putting guys to rest for the last year or so but the names it has beaten is a who's who of men who would kick out of any other finisher. It toppled Samoa Joe at Great Balls of Fire, Roman Reigns at SummerSlam, Braun Strowman at No Mercy, and AJ Styles at Survivor Series. The finisher is likely being protected for a certain someone to kick out of it at WrestleMania, but even though Lesnar's recent run has been heavily criticized, one can't deny it's good to see a finisher that actually finishes big matches.
4. Coup de Grace (Finn Balor)
Despite fans being disappointed with Finn Balor's main event run after returning from injury, he's actually been a strong force on RAW (when he's not losing to Kane). Some of this is due to the strength of his finishing move. Let's face it, a man jumping off the top rope to stomp on your stomach and chest wouldn't be the most entertaining experience. A lot of Finn's move set also focuses on the midsection, which can soften the body up for the most apt name for a finisher.
3. Asuka Lock/Coquina Clutch (Asuka/Samoa Joe)
The only submission to make it on the list comes in the form of Asuka and Samoa Joe's choke, and both use the move to staggering results. If the legs are locked, there is no getting out of it, and if the opponent doesn't tap, they'll pass out instead. It's a devastating finisher with its victims struggling to break free only to find the hold cinched in tighter.  The hold was even a formidable threat against Brock Lesnar in the build up to Great Balls of Fire, and that isn't anything to sneeze at. Asuka also used it well, making Sasha Banks and Bayley submit to it. It if a weapon both women's champions should be weary of.
2. Lumbar Check (Cedric Alexander)
There might be a competition between the other cruiserweights to see who can get the most height after being hit with Cedric Alexander's finishing maneuver. It is possibly the best sold maneuver in WWE today, not to mention it simply looks devastating. It's a wonder how Cedric hasn't won the Cruiserweight Championship in the year and a half its been active, but perhaps this will change with the new cruiserweight tournament on 205 Live. Even if it takes him a while to reach the top, it doesn't hurt to have an effective finisher.
1. End of Days (Baron Corbin)
Not a single soul has kicked out of the End of Days, and while one day we'll likely see someone roll their shoulder off the mat, for now it is something Baron Corbin can hang his hat on. It's a beautiful move as, looking poetic in nature. It is most people's favorite thing about Baron Corbin, even to Baron Corbin fans. It is unfortunate that Baron hasn't seen the success we all thought he'd see, but there is still hope for the big man, and having a finisher like his is only going to help.
Top 5: Jeff Jarrett Moments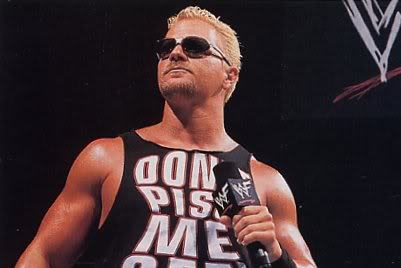 From guitar shots to on-air firings to MMA enthusiasm, Jeff Jarrett is bringing a slew of memorable moments with him to the WWE Hall Of Fame. Steve Cook looks at the best of the bunch in this Top 5!
We all know that Never Say Never is pro wrestling's mission statement. No matter what bridges are burnt between wrestlers, companies & promoters, they can be prepared if there's money to be made.
WWE has been Ground Zero for this in recent years. Pretty much everybody we said would never be back in the company's good graces has been welcomed back with open arms. Bruno. Bret. Warrior. Savage posthumously. The list goes on and on.
The latest addition to the list, however, is a shock even by wrestling standards.
Ain't he great?

Congratulations to @RealJeffJarrett on joining the @WWE Hall of Fame Class of 2018! #RAW #WWEHOF pic.twitter.com/h6GqgzU8mp

— WWE (@WWE) February 20, 2018
Jeff Jarrett, founder of TNA Wrestling & Global Force Wrestling. Even with that small fact in the way, there's also the matter of recent personal issues that led to his departure from Impact Wrestling for at least the fourth time off the top of my head. All of this has been put aside so Double J can take his place in the HOF.
Some wonder if he's deserving. Putting Jarrett's previous issues with WWE aside, his merits as a performer have been debated for decades now. Some think he's a solid hand that can be relied on for a good match & can be a main event guy in the right place. Others think he's never drawn a dime & never had a good match. There isn't much middle ground.
I wasn't a fan of Jeff Jarrett as perennial NWA Champion. I did think he was a solid worker that did a good job in his various personas. I was fine with him as a top heel in WCW & TNA, though not as dominant as he was often portrayed. Here are his Top 5 moments.
5. Getting Fired By Vince McMahon
March 26, 2001 was quite the fateful evening in pro wrestling history. It marked the final episode of WCW Monday Nitro and the acceptance of the WCW brand under the WWF umbrella. It was a fateful evening for Jeff Jarrett as well, as his potential future with the WWF was discussed by Vince McMahon.
Jarrett was cool with this as he was getting paid by Turner for months to come. While on holiday, he came up with something else to do. This segment also makes for a pretty cool story, as for years we've figured that it might have had something to do with Jeff creating TNA Wrestling. It very well may have even if Jeff now denies it. I'm not calling Jarrett a liar, but he's been known to stretch the truth here & there.
4. In Your House vs. Shawn Michaels
Jarrett has had a number of great matches during his career. His TNA run saw some really good stuff with the likes of Kurt Angle, AJ Styles, Raven & many others. The one that stands out in my mind is the final match of his first stint with the WWF.
It was In Your House. It was Jarrett's backyard of Nashville, Tennessee. He was defending the Intercontinental Championship against Shawn Michaels. Since it was 1995, Michaels was near the peak of his physical powers & ability to take crazy bumps. HBK was having outstanding matches with everybody at this point, and Double J could definitely bring it.
It was a star-making performance for Jeff Jarrett. The only problem was that he left the company right afterwards.
3. Vs. Women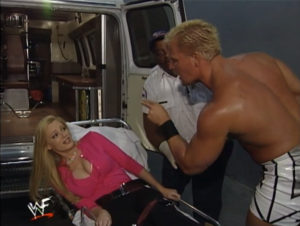 Don't get me wrong. There's no way in the world that WWE would green light a storyline with a male wrestler beating up random women at every opportunity in 1999. It's a good thing wrestling has moved past using this sort of thing to get heat.
However, I will defend the storyline of Jeff Jarrett beating up women leading to a match with Chyna where he got his comeuppance for one simple reason: he was the heel. Tommy Dreamer pile drove women in ECW all the time and those sick freaks in the audience cheered him for it. Here, Jarrett was beating up the likes of Cindy Margolis, Fabulous Moolah & other harmless women for no reason. It got the right reaction. Jarrett got tremendously over as a heel during this time & upped his star power. The only problem was that he left the company right afterwards.
2. With My Baby Tonight
You knew that this song would be playing at some point during Jarrett's induction announcement video. We later found out that the Double J providing vocals for this song was Jeff's Roadie, Jesse James. We still associate it more with Jarrett than the Road Dogg, as it was the focal point of his run as J-E-DOUBLE F HA HA HA J-A-DOUBLE R-E-DOUBLE T.
I for one think it holds up pretty well.
1. Double J Double M A
This was just wonderfully random. Jarrett was feuding with Samoa Joe late in 2010 after turning heel to join TNA's newest top heel faction, Immortal. After defeating Joe in a submission match, Jarrett decided that made him a mixed martial-arts expert. The logic was a bit dubious, but it led to some classic television, like the time he did an MMA demonstration on Impact.
It got even better, as the next week we were treated to footage of Jarrett training little kids at a dojo.
I'm not sure what it says about Jeff Jarrett that my fondest memories of him mostly involve defenseless people getting beaten up. In any event, the Double J Double M A era still ranks as one of TNA/Impact's best.
Official Chairshot Ratings & Review: WrestleCircus The Show Must Go On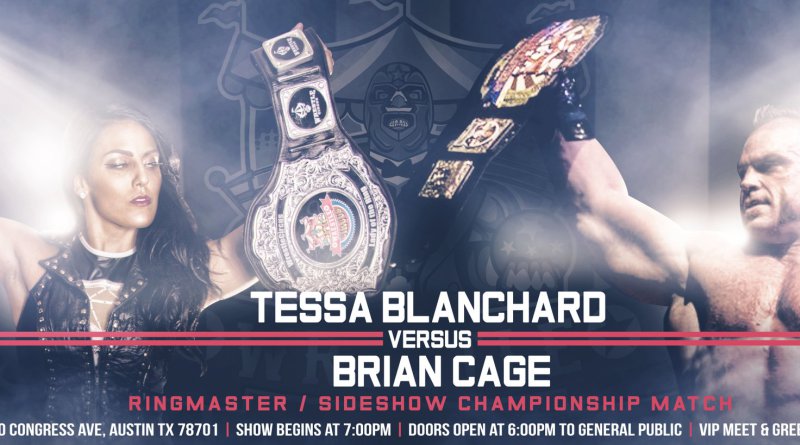 What looks like an independent scene all star show, WrestleCircus returns with The Show Must Go On. Firstly, let me say it's nice to hear the Al Lenhart's health is trending up. No one likes cancelled shows, but someone's health is more important. So this whole show is built on a wonderful premise of hope and future health.
God that last sentence was a little more fluffy than I go for. So…let's get to the card before I break into a sonnet or something.
---
The Chairshot is Hiring Writers and Podcasters! Click here for more info.
---
Jervis Cottonbelly vs Colin Delaney
Hmm, a guy with a mask that has a mustache on it and cotton on his stomach against…a guy in a Spongebob shirt. Kay.
If the entrance didn't scream comedy match, then I don't know what else would. Perhaps a dance scene? Dirty Dancing Chant? A ref bump that has the two men fight over the Eddie Guerrero spot, so much so, when the ref comes to they keep fighting over the foreign object and has the ref hit both of them?
I suppose this match was what fans of both wrestlers expected, but there were too many slow points to even really call it a match. I think there might have been 5 real spots that ended in a roll up finish. So yeah, I'm not Jim Cornette, I just felt the action in this match was too stilted to be considered even average from a random observer.
Rating: 1/4 (Bronze V)
The Dirty Devils vs The Boys
Well Dalton Castle's Boys and Dirty Devils are fighting over the number one contender slot, for the tag titles.
This match was paced very deliberately early on, and had some outside interference from the "Insidious Follower", but was all in all a decent match. The Boys showed off some chops, nice double Eat Da-feet, a few high flying spots, but the Dirty Devils eventually edged them out. After a Brainbuster/Best Moonsault Ever combo, the Devils pick up the pinfall victory.
Rating: ** (Silver V)
Shane Taylor vs Space Monkey
Well Trent was supposed to be Shane Taylor's opponent, but due to injury Space Monkey stepped up.
Now, this was… a special kind of different. Space Monkey started off with mostly comedic spots (He's a Canadian monkey from Space, that only communicates in monkey), but it turned into something eventually. It seemed like Taylor was toying with Space Monkey for a time, but the monkey got some good offense in.
A bunch of nice springboards, dives and flips showcased he was more than a gimmick and some bananas. He showed the heart of at least…a dozen monkeys. Kicking out of piledrivers, 2 big right hands and a multitude of other power moves, the monkey just wouldn't die. A little more offense from the Space primate, including a nice backflip double stomp variation, but still no victory for Monkey. A third big right hand was "Monkey got knocked da eff out".
Pretty good match after a goofy beginning.
Rating: ** 1/4 (Silver IV)
Shane Strickland vs Scorpio Sky
Both men have reputations that precede them, along with a little heat with one another.
This was a nice combination of high spots and hard hits. Sky nearly kills Strickland with a Cutter on the apron, Strickland nearly breaks Sky's arm, along with many others. The best spot of this match was Shane throwing Sky's Manager into him, while seated in a chair on the outside, and hits a Swerve Stomp on both of them amidst the fans.
One more Swerve Stomp gives Strickland a hard fought victory. Great match, could've easily main evented. Gonna be hard to top.
Rating: **** (Platinum V)
Elimination Match: Chelsea Green vs Christi Jaynes vs Deonna Purrazzo vs Leva Bates
Leva Bates enters this match to Zack Ryder's theme, even dressed as him…much to Chelsea Green's chagrin.
This match was actually very fun. A few more light hearted spots utilizing the Green/Zack Ryder connection to allow for double Broski Boots and a few other fun spots. Christi Jaynes is the first out when Purrazzo submits her with a Fujiwara Armbar. Leva Bates manages to get the best of Deonna next via pinfall. Then the fun twist is Chelsea took a rough rider and rolled to the outside for a few minutes.
When she appears from beneath the ring, she's Laurel Van Ness. Hits the Unprettier on Leva and pins her by straddling her and kissing her through the 3 count. Not a bad match at all. Fun spots, technical spots, but a great match for right after intermission.
Rating: *** (Gold V)
Death Match: MASADA vs Brody King
Well this was definitely a fight between two big and angry men, not afraid to use weapons.
Brody showed a lot of toughness by taking Masada's skewer spot, getting them rammed further into his head via DDT and then multiple CHAIRSHOTS in the corner, but he still fought back. A big lariat followed by a Powerbomb on the chair almost won the match for King.
Masada however, catches the chair, breaks the seat out over Brody's head and then uses it in a chair assisted STF variant. Brody never tapped though, he just passed out, so it still makes him look like a badass.
Rating: *** 1/4 (Gold IV)
Jordan Len-X vs El Hijo del Fantasma vs Matt Cross
Well a three way lucha style match, has every chance of being a show stealer.
Matt Cross, much like the commentary team said, is smooth as butter with whatever he does. He was the largest highlight in this match. Jordan Len-X was on the receiving end of the largest "Holy Shit" spot of the match when Cross hits a Frankensteiner and sends him head first into 4 upright chairs.
Nice back and forth the entire match, but some spots looked a little off and the fight in the corner just went a little long. Between trying a Tower of Doom, to some other sunset flip variation, it just lingered a little long, but the pay off ended up being a highlight.
Jordan sneaks in after staying on the outside for a while after his nosedive through chairs. Puts Fantasma's head through a chair and hits a crucifix style GTS for the pinfall victory. Not a bad match at all.
Rating: *** 1/4 (Gold IV)
WrestleCircus Ringmaster Title / WrestleCircus Sideshow Title Match: Brian Cage (c) vs Tessa Blanchard (c)
The opening salvo of crowd chants was actually pretty amusing. Cage and his crew did the slow to start heel thing, and the crowd was heavily behind Tessa.
So Cage dominates the early going, but also plays the part of cocky heel, underestimating his female opponent. Tessa picks up some momentum on the outside after Cage turns his back on her. She goes through about half of the front row, hitting Cage with repeated CHAIRSHOTS. When the action gets back in the ring, most of her offense was built around countering Brian's power offense.
He flung her in the air, she caught him with a beautiful DDT. He tried to Powerbomb her, she hit a Canadian Destroyer. She absorbed plenty of his signature moves, and even landed her top rope Codebreaker (Magnum). This went back and forth, and had many believable near falls for Tessa. Cage finally ends up keeping her down after a Discus Lariat and Drill Claw, but it was such a good fight.
Even through a few awkward spots, the story the match told was very nice, the in-ring work was impressive and it was damn entertaining. If anyone had thought Tessa got her position based on her last name, watch this match, and shut the hell up. Beautiful match.
Rating: ***** (Diamond V)
So even though I opened this article less than enthused after the first match, the show built up nicely. Scorpio Sky and Shane Strickland, the Masada match, and of course the main event were the corner stones of this event. Plus Space Monkey, I mean, I think I invented something like him after a long night of drinking, but I'm still amused.
WrestleCircus put on a very nice show with The Show Must Go On. Comedic matches and spots, brutality, high flying, technical mastery…this show had something for everyone. You don't get many shows that know how to mix multiple styles and still make it seem true to the brand, but hot damn, this was the most fun I've had watching a show, outside of Japan.
I look forward to more WrestleCircus and more Tessa Blanchard.