Friday Night's Main Event – The Top 5 List Of 2017!
New monthly series from TheChairshot.com, as major personalities from the website come together to talk wrestling, make fun of each other, and have a great time in the process!
In this edition of FNME, Chairshot personalities PC Tunney, DPP, Andrew Balaz, Steven Mitchell, and Chris Platt pull back the curtain as all five come to the table with their own ideas about what should be on "The List of 2017."
What is The List of 2017? It's the very best of 2017—no categories, no restrictions. One all inclusive list of the five best things about wrestling in 2017.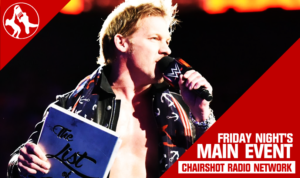 About The Chairshot:
Always Use Your Head.
It's a cool slogan, but to those of us here at The Chairshot, it's much more than that. It's a way of life as a wrestling fan. We don't believe everything we see, hear, or read. We "get it," but we still allow ourselves to get excited…to be entertained.
Does that mean wrestling is perfect? Far from it. But we want to enjoy the product, and we want you to enjoy it, too! So kick back, relax, head on over to TheChairshot.com, and be sure to Always Use Your Head.