Official Chairshot Ratings: Ring of Honor Final Battle 2017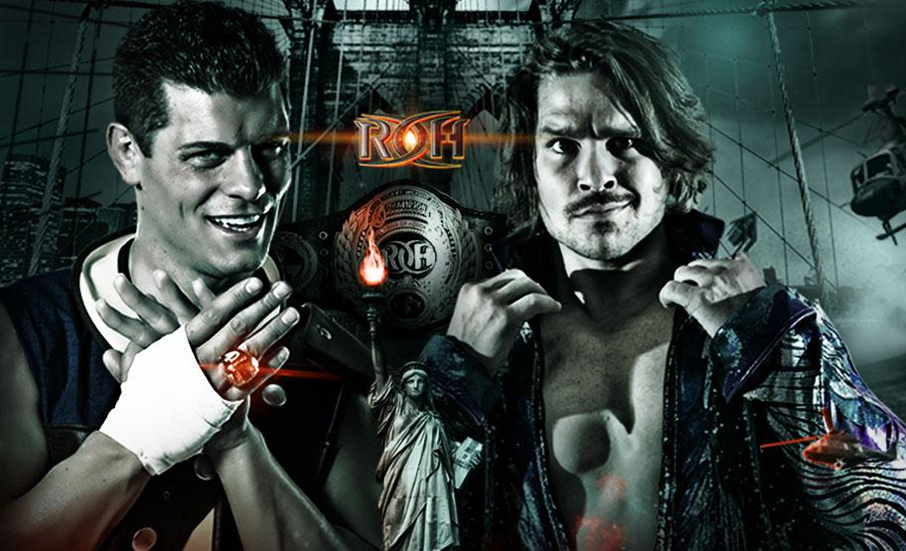 Live from the Hammerstein Ballroom, Ring of Honor hosted their last Pay-Per-View of the year, Final Battle. With what appeared to be a stacked card on paper, as well as high profile championship matches, one would hope this wouldn't disappoint. Well let's get to the matches and see how it all went down.
Also, for ease of understanding, I rated each match using my system and the equivalent Meltzer Star rating. Just so everyone can start getting used to a rough estimate of how my rating system works.
Will Ospreay vs Matt Taven
Started off with early dives, but their timing was off and made the match a little sloppy early. There really wasn't much of a story aside from Taven trying establish himself and end the "Kingdom Conspiracy". The ending sequence saved what would've been a rather bland and sloppy match, a couple false finishes, Taven attempted his "Climax" at least twice, but catches Ospreay in mid Os-Cutter and finally hits the Climax for the pinfall.
Rating: **3/4 (Silver I)
The Addiction vs War Machine
Good grudge match storyline. The Addiction screwed War Machine a few weeks ago, they returned the favor, and the opening salvo of this match definitely had a lot of hatred. The referee allowed for a lot of double team moves, so much so it almost looked like a tornado tag match for most of it. Unlike the previous match, the ending sequence was a little sloppy and the point where everyone gets in a signature move didn't really make sense why Kazarian hits his slingshot cutter, but then is inexplicably too exhausted to pin Rowe. Match ends with a Thor's Hammer into Fallout for War Machine to get the 1,2,3. Overall the match was solid, just the last few minutes got a little sloppy.
Rating: *** (Gold V)
Marty Scurll vs Jay Lethal
Starts off slow with some nice chain wrestling and psychology. A few dives outside, but not many, and there was only one sloppy spot when Scurll caught Lethal on his Lethal Injection attempt for the Chicken Wing. Nice spot where Todd Sinclair gets bumped, Scurll grabs a chair and does the Eddie Guerrero homage by hitting the mat and throwing it to Lethal. Lethal one ups him though by putting the chair around his head and falling down; so when Sinclair comes to, he's just confused. Scurll loses to a Lethal Injection, but wins in the long run since Lethal tried to use the umbrella to hit Scurll, Sinclair gets distracted discarding the umbrella and Lethal hits Scurll with the low blow, leading into the finish.
Rating: ***3/4 (Gold I)
ROH Tag Team Match: Best Friends vs Motor City Machine Guns
They tried, that's all I can say. The Guns did their usual stuff, still looking pretty good but the Best Friends are too gimmicky. A lot of odd comedic moments and The Guns had to play heel basically because Best Friends are just awkward hugging nerds. Sabin wins out of nowhere with a jacknife cover on Trent after taking a piledriver from Chuck…and I guess Chuck took a nap after delivering the move. I don't know, but this was a lame match and it wasn't MCMG's fault.
Rating: *.5 (Bronze II)
ROH TV Title Elimination Match: Kenny King vs Silas Young vs Punishment Martinez vs Shane Taylor
Good match, all of the participants looked good and stayed true to their characters. Shane Taylor got eliminated first, just because he's the least established name but still looked decent. After double teaming Punishment Martinez, Silas Young cracks Kenny King in the head with Beer City Bruiser's beer bottle and eliminates the incumbent champion. From this point it was really close until Punishment did a dive on the outside onto Bruiser and injured his ribs. So due to the fact that Martinez's offense was a little crippled, Young took advantage and hit his finisher, Misery, to become the new ROH TV Champion.
Rating: ***  (Gold V)
Street Fight: Tommy Dreamer & Bully Ray vs The Briscoe Brothers
Nostalgia for ECW from the entrance. Dreamer and Bully do the Sandman entrance, come down, relive some great old school spots. These two teams throw everything at each other, INCLUDING the kitchen sink. Hell they even had a kendo sticks vs light sabers stand off. Either way, this was a good street fight, not a lot of actual wrestling, but a good story being told and great brawling through the entire thing. Bully gets some light fluid and looks to be redoing the flaming table spot, but the Briscoes get the upper hand and put away the veterans.
Rating: ***1/4 (Gold IV)
ROH 6 Man Title Match: The Young Bucks & Adam Page vs Flip Gordon, Titan & Dragon Lee
The synchronized dropkick spot is moronic and the fact that they all did it at least twice and then a 6 way drop kick…that is one of the dumbest spots in current Indy style wrestling. There were high spots, dives, more high spots, oh yeah, and super kicks. This was a typical Young Bucks match but the timing with most of the spots was a little off and that made it a little worse even if you like the gymnastics exhibition style of wrestling. Hung Bucks win with a combination Indy Taker in the center of the ring.
Rating: **1/2 (Silver II)
ROH World Title Match: Cody vs Dalton Castle
Dalton started off staying one step ahead of Cody. He countered a ton of moves and it took some heel tactics and Brandi's interference for Cody to sustain any momentum. But even through a ref bump which saw Cody tap out to Castle's submission hold, the Julie Newmar, Cody hits his Cross Roads…but Dalton kicks out. Not only is he the first person in ROH to kick out of the Cross Roads, he is now the NEW ROH World Champion after hitting a Bang-a-rang for the pinfall.
Rating: ***3/4 (Gold I)
Synopsis:
So on a whole the show was roughly a 3 out of 5 stars, which is above average. It crowned two new champions, established new alliances (The Addiction joined up with Scorpio Sky after the 6 man match), announced an official Women of Honor championship and was over all entertaining. Sure some of the matches weren't technically sound, but I'd say most people enjoyed enough of what they saw to not leave dejected.
Makes you wonder if Kota Ibushi vs Cody at Wrestle Kingdom will just be a normal match, or if they're going to add Dalton Castle to it. I guess we'll find out soon, right?