Top 5: Matches Of The Week Ending 12/10/17
With the results in tow, we can focus on the last last month that feeds into The Chairshot: Match of the Year. The final winner of November was, Moustache Mountain vs Pete Dunne & Mark Andrews @ NXT. 
So what makes this coming vote different is, the overall winner of November voted upon this week. Let's go over the November matches before jumping into this week:
NJPW Power Struggle: IWGP Intercontinental Championship: Hiroshi Tanahashi vs Kota Ibushi
Smackdown Live! : WWE Championship: AJ Styles vs Jinder Mahal 
NXT Takeover War Games: Aleister Black vs Velveteen Dream
NXT: UK Championship: Johnny Gargano vs Pete Dunne
NXT: Moutache Mountain vs Pete Dunne & Mark Andrews
Now that we've revisited last months top matches, let's dive into December and see what this past week manufactured.
5. Raw: Intercontinental Championship: Roman Reigns vs Jason Jordan
So this is the match that everyone thought they didn't want, but ended up winning over most fans, including the live crowd. Jason Jordan is one of the best WWE Superstars in terms of in-ring ability, but hot damn is his character terrible. If this is developing towards a heel turn, then I supposed he's playing whiny entitled Millenial very well, but if not, well then his career will suffer.
The match was over twenty minutes of nice power moves, paced well with some storytelling and even a submission attempt by Roman! But any jokes aside, it's hard to find any issues with the match besides it went on a little too long and the wrestlers aren't exactly fan favorites.
Plus the aftermath with Samoa Joe helped to muddy up the Intercontinental Title scene as well as bleed into a possible angle with the other members of The Shield. All in all, this match built nicely towards possible stories and continues to give us less reasons to boo Reigns.
Ranking: Gold V
4. SmackDown Live: Randy Orton vs Sami Zayn
Much like the Raw match, this sets things in motion nicely, on top of being a decently entertaining match. While the end result was a little obvious, this could lead to something most fans are a little excited for.
Randy has been playing the physical embodiment of Shane McMahon's wrath against Kevin Owens and Sami Zayn. This match had an interesting stipulation with Kevin Owens being handcuffed to the ring rope, but beyond that it was how you'd expect any two heels to try and figure out how to win. Orton dominates most of the match, Owens gets out of the handcuffs and attempts to help Zayn, but Orton still manages a victory through the shenanigans.
Afterwards, the two heels beat down Orton, who we learned earlier will be facing them at Clash of Champions with a partner of his choosing. As they try to soften up Orton before the PPV, Shinsuke Nakamura comes in for the nice save, confirming in the ring that he's willing to partner with Orton, and they pose as the show fades out.
Ranking: Gold V
3. Impact: Eli Drake & Chris Adonis vs Johnny Impact & Petey Williams
These four guys, as well as Alberto el Patron have been keeping the main event scene of Impact Wrestling very tolerable. Petey seems to be the chosen Canadian since Impact has relocated, which is awesome since he hasn't really lost a step and deserves a main event push.
Many of you may have figured that Adonis is in this match to eat a pin, and you good sir or madame would be completely correct. However, Adonis holds his own surprisingly well. He has an early exchange with Johnny which gives his team a quick edge. As the match continues the heels try to take some short cuts, but the faces remain resilient and manage to overcome the cheating. Johnny still uses Starship Pain, and would look more impressive if he connected better on the finish.
After the match, Alberto el Patron comes through the crowd and puts a beating on Eli Drake and stands over him with the title. So Alberto's tirade against everyone is keeping the title picture kind of interesting since it's not a normal black and white dynamic.
Ranking: Gold IV
2. Dragon Gate Fantastic Gate at Korakuen Hall:  Ryo Saito vs Shingo Takagi
Now from a previous match list I did, we know that Ryo Saito is the Open the Owari Gate Champion, which is the comedy championship. This doesn't sit well with Shingo and the rest of the Verserk stable, so this match was a way for Saito to prove himself. If Saito loses, he will be forced to join Verserk as the lowest member, so the proverbial piss boy of the heel stable.
It's worth noting that Shingo Takagi is a former bodybuilder and trained by the same man that trained Evil from New Japan's Los Ingobernables de Japon. That's important since the size disparity is fairly large and Shingo has that same vicious brawling style many of us have come to be aware of.
As the match goes on, it becomes more and more obvious that Takagi isn't taking him seriously. Even goes as far as grabbing the Owari Championship Belt and tearing it apart, then using it to beat Saito with. Even without knowing Japanese, the story is very obviously that Shingo thinks Saito is below him and starts to toy with him.
Arrogance, is the downfall for Takagi. Aside from purposely allowing Ryo to hit certain moves on him, his outside managers start running interference and throwing in many foreign objects. So Takagi goes to hit Saito with a CHAIRSHOT while he's being held, he misses and hits his manager instead. This gives Ryo the opportunity to hit a Dragon Suplex and barely hold on for the pinfall victory.
Should be interesting to see if there's any fallout from the loss to the comedy champion. But I just hope Takagi gets some good storylines, because his ability is definitely on main event level.
Ranking: Gold III
1. NXT: Johnny Gargano vs Kassius Ohno
Well leave it to NXT to continue proving that WWE does Indy style better than the Indies. With Velveteen Dream's injury, William Regal had to find a new opponent for Kassius Ohno, and this turned out to be a great surprise.
Gargano has been on a fairly monumental losing streak and Ohno has been the guy to face if you need to right the ship, and look like a million bucks while doing it. This match was exactly that, a great back and forth fight that had Ohno take an early advantage, and get a few very believable near falls thanks to Gargano's lack of winning lately. But, Johnny showed the typical babyface heart and resiliency to work through an early beating and catch Ohno by surprise. A quick exchange and bouncing off the ropes, Ohno catches him, spins him around and Gargano locks in his crossface submission Garga-No Escape.
This win puts Gargano into the number one contender fatal four way, breaks his losing streak and could snowball nicely into a championship match. One more win and he gets a shot to avenge his loss from Takeover: Brooklyn III against Andrade. So things are looking up for Johnny Wrestling, should be fun to see how far it goes.
Ranking: Gold II
So next week will begin the Match of the Year vote, but first we need to find out who wins from November. My choice for best match of November is, NJPW Power Struggle: IWGP Intercontinental Championship: Hiroshi Tanahashi vs Kota Ibushi , this match had everything you could ask from wrestling.
As for this week, Dragon Gate Fantastic Gate at Korakuen Hall:  Ryo Saito vs Shingo Takagi ,  a well told story in the ring, as well as showcasing an amazing not very well known talent in Shingo Takagi, is what puts this over the top to me.
I look forward to what all of The Chairshot personalities decide upon, and when the match of the year vote starts, that should be really interesting to see how different it is from other places.
New Japan Cup Fallout : Will It Really Be Okada's Revenge at G1 Supercard ?
The New Japan Cup has come to an end, with Kazuchika Okada winning the tournament. Will Okada prevail and cut the Switchblade's new era short ?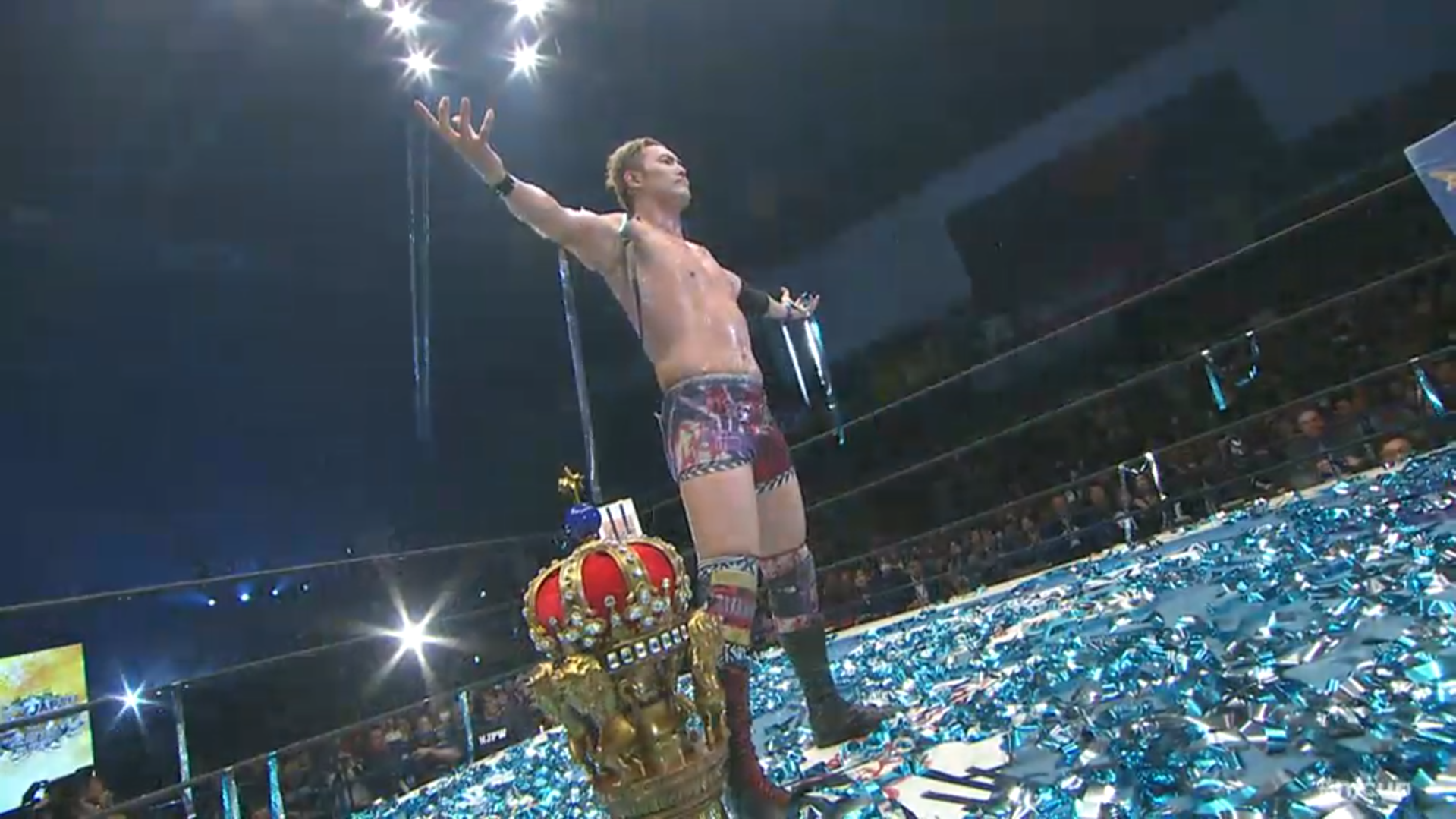 The New Japan Cup has now come to an end, with Kazuchika Okada winning the tournament for the second time in his career. The Rainmaker will look to get his revenge over Jay White in MSG, which is exactly the subject of today's article. Will Okada prevail and cut the Switchblade's new era short ? Let's dive into the matter at hand !
If there is one thing I learned watching New Japan Pro Wrestling, it is to NEVER neglect any possibility. Such a statement has never felt more true since Jay White came back to New Japan at Power Struggle in 2017. Since then, White has kept being the ultimate trump card. First by defeating Kenny Omega for the IWGP US Heavyweight championship. Then, he defeated both Okada and Tanahashi in the G1 Climax, took over Bullet Club, and went on to repeat his G1 upsets over Okada and Tanahashi, at Wrestle Kingdom and New Beginning, claiming the IWGP Heavyweight championship from Tanahashi in Osaka.
What New Japan called the "Switchblade shock" in reference to Okada's "Rainmaker shock" from 2012 is now real, and with Okada marching to MSG with the purpose of finally vanquishing his nemesis, I have to wonder if Okada will actually do it, because if there is one thing I am actually sure of, it is that the outcome of the match between the Rainmaker and the Switchblade is as uncertain as it could be. Sounds paradoxical ? I will explain.
Here's the thing. While the possibility of the rest of this year gravitating around Okada and White fighting over the Heavyweight championship is not something to rule out, I find it hard to imagine that other people will not be involved. I can think of Tetsuya Naito or Kota Ibushi, depending on the result of their soon to come IWGP Intercontinental championship match. I believe this match will help shape up the new direction following the Okada vs White encounter. I have already touched on Kota Ibushi in a previous article, explaining why I could see him take the Intercontinental championship away from Naito, so let's follow that logic. This would leave the leader of L.I.J empty handed in every sense of the term…or does it ? While Naito won't be able to reach his goal of becoming a dual champion, it is doubtful that he will stop looking to take back the Heavyweight championship, the first chance he gets.
This is actually important to consider in the eventual result of Okada vs White and especially what will happen going forward. Naito being the biggest star in New Japan to not hold a championship while haven't taking part in any Heavyweight championship matches since Wrestle Kingdom 12, and with Dominion slowly coming up, we have to think of who would challenge for the Heavyweight championship in Osaka-Jo Hall this year.
With that in mind, we are left with two options. Assuming whoever leaves MSG as Heavyweight champion keeps the title until Dominion, which seems likely, will New Japan add another chapter to one of the most storied rivalries of the last decade, or will we see the continuation of New Japan's new era in a more explicit way, with a never seen before IWGP Heavyweight championship to main event the second biggest New Japan show of the year ? Of course, this is only based off assumptions. Who knows, depending on the circumstances of this upcoming Okada vs White III, we could be up for a fourth encounter even sooner than expected.
To cap off with this opinion piece, let's actually give an answer to the initial question. I do not believe G1 Supercard will be marked by the Rainmaker's revenge over the Switchblade. Let me ask you one question : Do you fully expect Jay White to lose the Heavyweight championship without any defenses, considering the faith New Japan seems to have in him ?
You guessed my stance, I think that feels unlikely. Not impossible, remember what I said about never putting any possibility aside, but unlikely. We could even witness a surprise in Madison Square Garden, but it won't be Jay White retaining the championship, if that does happen.
Let me add that, as a nod to another previous article concerning Bullet Club dominating G1 Supercard, the best way to dominate the event, in terms of results and talk created afterwards, would probably be include Jay White winning. After all, White would be 3-0 against Okada, which says something considering how highly regarded of a wrestler the Rainmaker is.
This is how I now conclude this article. What did you think of the New Japan Cup ? What are your thoughts going forward ? Do you breathe with the Switchblade or will Okada make it rain all over Madison Square Garden ?
Top 5 Matches: Week Ending 3/24/2019
The tournaments continue, so there's still a bunch to go through. What does Andrew sift through to sculpt the Top 5 Matches this week?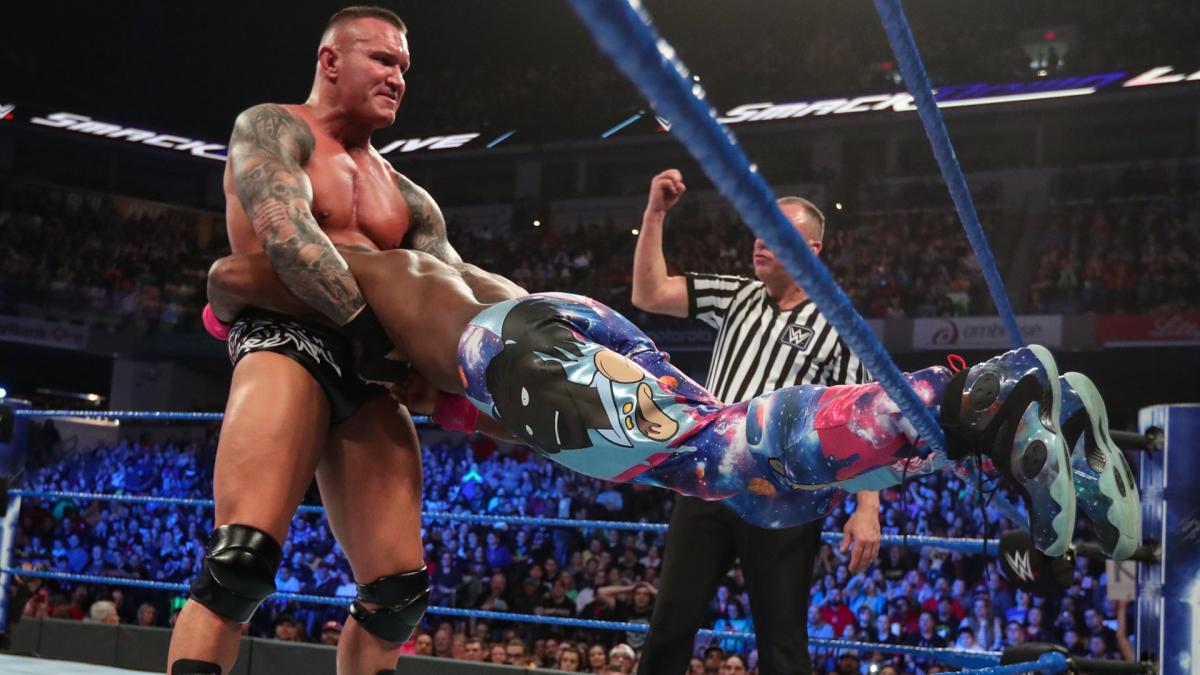 The tournaments continue, so there's still a bunch to go through. What does Andrew sift through to sculpt the Top 5 Matches this week?
Another jam packed week, but let's assess last week first. New Japan Cup: Zack Sabre Jr vs Kota Ibushi, got the win in a very close three way race.
So far in March we've had 3 winners from 3 different companies, and this is one of those nice week's where the Top 5 is comprised of 5 different shows.
No one brand was hands down superior this week, and that's always nice to see. Let's see what the Top 5 is!
5. 205 Live: Tony Nese vs Cedric Alexander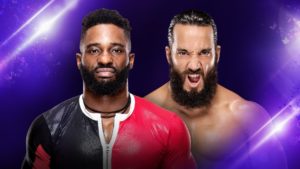 Snippet from Mitchell's Coverage:
The ring count begins and passes 5 before either man sits up. Alexander and Nese crawl at 8, and jump in at 9.5! Both Nese and Alexander glare at each other. Nese vows he's going to Mania, but Alexander says "Over my dead body." The brawl is on as both men throw more haymakers! Nese staggers but comes back, but so does Alexander. Alexander gest an edge but Nese gives him one big left! Nese runs but into Alexander's uppercut! Alexander runs, Nese goes Matrix, but both men block kicks. They both go for superkicks but they get caught on each other. They break free and Nese back kicks, knee lifts and sweeps. But Alexander jumps it to SUPERKICK! Cover, TWO! Both men are down but Indy is fired up!
Alexander and Nese stir and stand in corners. Alexander goes to Nese to chop, and put Nese on the top rope. He climbs up to join Nese, but Nese hops down to enziguri Alexander down! Alexander flounders to the floor but Nese builds speed to FLY! Direct hit from Premier Athlete to Soul of 205! Nese puts Alexander in then climbs up top, 450 splash hits! Cover, TWO!! Alexander still lives and Nese is in disbelief! Nese glares at Alexander in the corner as he staggers over. Nese sits Alexander up, but Alexander keeps Nese from running. Alexander shakes his head but Nese stomps away! THe ref backs Nese off, but Nese brings the knee pad down. Nese goes side to side, but into a SPANISH FLY! Cover, TWO!!
But Alexander doesn't stop, LUMBAR CHECK!! Cover, TWO!? Nese survives a Lumbar Check?! Even Indy can't believe that one! But they do know "This is Awesome!" Alexander gets to a corner as he tries to understand what he's seeing. Nese stirs while Alexander brings his knee pads down. Alexander drags Nese up and wants another, but Nese victory rolls! TWO and Alexander has it, TWO! Nese knees Alexander to the corner! Then side to side, PREMIER KNEE! Cover, Nese wins!!!
Winner: Nese via Running Kneese
Rating: **** 1/4
4. SmackDown Live Gauntlet: Kofi Kingston vs Sheamus, Cesaro, Rowan, Samoa Joe, Randy Orton & Daniel Bryan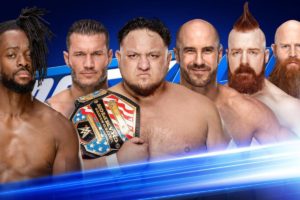 From My Analysis:
Kofi and Sheamus would've been a damn solid match alone, let alone kicking off the gauntlet. The sight gag of more and more faces crowding around the TV to watch was actually cool. The gauntlet played out really well, Rowan purposely getting DQ'd to inflict more damage with weapons made perfect sense as well. Just really really great stuff. Kofi beat the original 5 and then Vince continues to screw Kofi by adding Daniel Bryan at the end. So it's all good story telling, a really good gauntlet and generally just great way to cap off the show. It was a gut punch to people rooting for Kofi, but also another wrinkle to overcome with a few more weeks til Mania.
Winner: Daniel Bryan via Knee Plus
Rating: **** 1/4
3. NXT #1 Contender Match: Matt Riddle vs Ricochet vs Adam Cole vs Aleister Black vs Velveteen Dream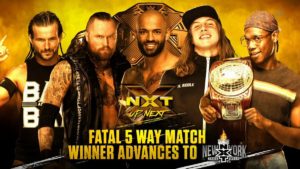 Snippet from Mitchell's Coverage:
Ricochet staggers up and goes after Riddle. He puts the Bro in the drop zone then climbs up. Fans hope they "Fight Forever!" as Cole intercepts Ricochet. Cole climbs up to join Ricochet, but Ricochet resists. Dream adds on, climbing up to join them. They brawl and Aleister staggers over. Riddle follows, and they're all on the second rope! It's a Double Russian Leg Sweep SUPERPLEX! All five men are down again and fans know "This is Awesome!" The referee checks on everyone in turn and they're all okay to continue. Fans build to a rally as the five slowly stir. Cole, Riddle and Ricochet bail out while Dream meets Aleister. Dream and Aleister trade haymakers on their knees. Aleister fires off hand after hand but Dream powers him to a corner. Aleister boots Dream away then hops up, Meteora!
Dream's up but gets a roundhouse and a German! But Riddle sentons the bridge! Riddle drags Aleister up in a deadlift Fisherman Buster! Cradle, but Cole breaks it! Cole drags Riddle up but Riddle fires off fast hands! Riddle misses, gets a SUPERKICK, and Last Ride brainbuster! Cover, but Ricochet breaks it! Ricochet drags Cole up but Cole breaks free. Ricochet fakes Cole out for a boot and an ax kick! He keeps going, fireman's carry but Cole rakes eyes! SUPERKICK to the front, SUPERKICK to the back! Cole brings the knee pad down but misses the Last Shot Wizard to get a Reverse-Rrana! Cole rolls all the way out and Ricochet can't believe it. But Ricochet also sees a prime target, and FLIES with the Sasuke Special! Ricochet wipes Cole out but hurries to get back up.
Dream returns to the ring but so does Riddle. The would-be North American Championship showdown happens as Riddle throws chops. Riddle swings up and around Dream's clothesline to powerbomb, but Dream slips out! Dream wants but Riddle denies the Sidewinder, to wring Dream out for a Bro Trigger! Riddle reels Dream into the BroMission! Dream flails but Cole yanks the ref out! No Disqualifications, but plenty of consequences as Riddle BOOTS Cole! Riddle turns around into BLACK MASS! Aleister turns around into Dream Valley Driver! Dream hurries to the top rope, but Ricochet's right up for a SUPER STEINER onto Aleister and Cole! Ricochet hurries up for his own, SHOOTING STAR onto Riddle! Cover, but LAST SHOT!! Cole covers, Cole wins!!
Winner: Cole via Last Shot
Rating: **** 1/4
Honorable Mentions:
New Japan Cup: Kazuchika Okada vs Tomohiro Ishii
Winner: Okada via Rainmaker
Rating: **** 1/4
New Japan Cup: Tomohiro Ishii vs YOSHI-HASHI
Winner: Ishii via Vertical Drop Brainbuster
Rating: ****
New Japan Cup: SANADA vs Hiroshi Tanahashi
Winner: SANADA via Skull End
Rating: ****
AJPW: World Junior Heavyweight Title: Kotaro Suzuki vs Koji Iwamoto (c)
Winner: Iwamoto via Koko no Geijutsu
Rating: *** 3/4
New Japan Cup: Kazuchika Okada vs Will Ospreay
Winner: Okada via Rainmaker
Rating: *** 3/4
WWE Raw: Seth Rollins vs Drew McIntyre
Winner: McIntyre via Claymore
Rating: *** 1/2
IMPACT: X Division Championship Match: Sami Callihan vs Rich Swann (c)
Winner: Swann via Cradle
Rating: *** 1/2
New Japan Cup: Zack Sabre Jr vs Hiroshi Tanahashi
Winner: Tanahashi via Leg Clutch
Rating: *** 1/2
NJPW: Tomohiro Ishii, Ren Narita, Ryusuke Taguchi & Kota Ibushi vs Tetsuya Naito, BUSHI, EVIL & Shingo Takag
Winner: Shingo via Pumping Bomber
Rating: *** 1/4
NJPW: IWGP US Title Match: Juice Robinson (c) vs Chase Owens
Winner: Juice via Pulp Friction
Rating: ***
NJPW: Taichi & Zack Sabre Jr vs Hiroshi Tanahashi & Will Ospreay
Winner: Taichi via Gedo Clutch
Rating: ***
NJPW: Mikey Nicholls, YOSHI-HASHI & Hirooki Goto vs Hikuleo, Bad Luck Fale & Jay White
Winner: White via Blade Runner
Rating: ***
2. AJPW Dream Power Series: World Tag Team Championship Match: Strong BJ (c) vs Violence Giant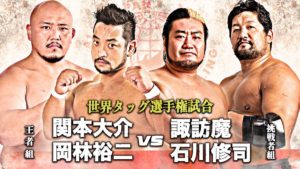 From Mathew's Review:
Shuji and Daisuke would be the ones to start off our match here with an incredible display of power as the two were unable to budge and they would tag in their respective partners. Suwama and Yuji were both also very hard-hitting as they would now fight outside of the ring as these two teams are making it personal. Strong BJ has been doing great work during this rivalry with the Violence Giant and they would even give Suwama a big beatdown but the former ace would even try his best to fight them off, even when he was on the corner and would kick Yuji to show his fighting spirit. Suwama would hit a Dropkick to save himself for a little bit and would tag in Shuji for the hot tag and Shuji does indeed come in hot with his Lariats, knees, anything he can throw along with the kitchen sink.
Yuji would brawl with Shuji to deliver some chops while Shuji would give him a couple of forearms and a headbutt to try and daze him but Yuji is pumped up and slams him down with a few Lariats. Once Yuji would hit another Lariat to Shuji, he would kick out at one that time around before getting hit with another one with a two count. What's it gonna take to take Shuji down for good? Yuji would get to the top rope to hit the Splash and it looks like this could be it but Suwama would break the pinfall to save his partner. Strong BJ would have them up for the Torture Racks but they would get down for Suwama to hit a Back Suplex while Shuji hits a Dragon Suplex. Shuji is alone with Yuji again and would hit another Dragon Suplex and a Running Knee to get him out for another two count, he was so close! Shuji would pick Yuji up real quick for the Fire Thunder and goes for the pin as Daisuke breaks the pinfall this time around as Suwama would get Daisuke out of the ring. Shuji knew what he had to do to try and end it as he hits the Giants Slam and pins Yuji to win back the titles! Hell of a match and definitely topped their previous encounter at BJW. I would love to see Violence Giant get a fair and dominating run with this reign, can't wait to see where this goes now.
Winner: Ishikawa via Giant Slam
Rating: *****
1. NJPW New Japan Cup Finals: Kazuchika Okada vs SANADA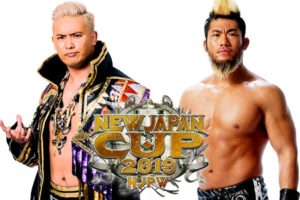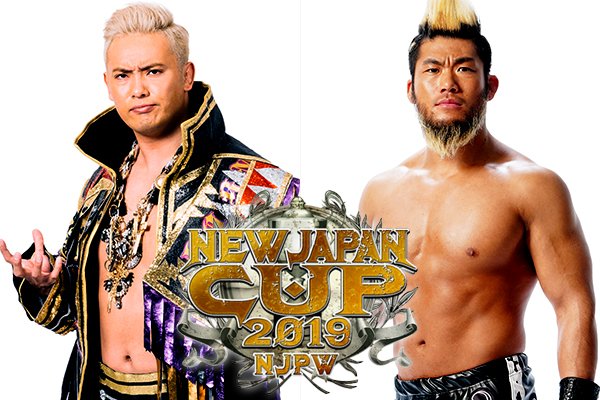 From My Analysis:
WOW! This was a fantastic match that felt like it told the story of their perception. SANADA was on the receiving end of Okada's offense for the first about third of the match. SANADA hit a few desperation moves, Dropkicks, Misawa Feint into Cannonball off the apron, even a big Rolling Forearm to stop the Rolling Rainmaker at one point. Hell SANADA even pulled out the Tiger Suplex, so there was a lot of Misawa nods from SANADA's offense, and I'm not sure if there's a deeper story. SANADA and Okada took turns trying one another's moves, but never successfully pulling off either. The crowd was solidly behind SANADA for most of the match, and it seemed to play well for Okada to pull out a few more arrogant moves, like a Draping DDT from the barrier. This was great, and SANADA wasn't as desperate to throw Moonsaults at Okada, but he still wasn't able to land one. SANADA did attempt a Shiranui (most likely to get in position for Skull End), but Okada stopped it, hit a Jumping Tombstone, and Okada lands the Rolling Rainmaker and classic Rainmaker to win the Cup! What I meant by a story of their perception, is that Okada was easily on top early in the match, and then SANADA proved himself over and over to be more of an equal than many probably assumed.
Winner: Okada via Rainmaker
Rating: *****
Thoughts:
Well I'm in a quandary this week. We have two 5 snowflake matches and they were both tremendous in different ways. Strong BJ vs Violence Giant was just a hard hitting, King's Road, stiff match of big guys doing the best big guy stuff along with great story telling and selling. SANADA and Okada was more relatable for many, but the level of storytelling in that match was so damn great, along with a great wrestling match.
I kinda want to abstain from voting, but that's a cop out. So I'll vote for Strong BJ vs Violence Giant. Not only was it on par with Okada versus SANADA, but it did so as a tag team match. It's harder to have a high quality tag match since it's four people as opposed to two and you have to hope everyone stays on the same page. And boy did they!
This should be interesting to see who wins the week, since I'd say it would be the favorite to win the month. Well, Always Use Your Head, and join in with the fun and let your vote be heard!