Top 5: Non-WWE Stories Of 2018
2017 is almost over. Most people like to look back at the year that was, coming up with lists of the best wrestlers, best matches, best stories & things like that. I've always been more of the type to look ahead. What are we going to be talking about in 2018? What should we expect to happen? Who should we be keeping an eye on?
I will be answering these questions over the next two weeks. This week, we'll discuss the Top 5 non-WWE stories to watch in 2018. Next week will be all about WWE.
5. Lucha Underground Season 4
We were unsure about the future of Lucha Underground. Would there be a Season 4? Last month we finally found out that the answer was "yes" & tapings would start "sometime soon". February is the current rumor of this first non-WWE story.
Lucha Underground started off really hot, but the buzz has died down over the last couple of seasons. There were plenty of high points in Season 3, but the length of time between taping & airing gave the show a lame duck kind of feel that had been lacking in previous seasons. Also, folks like Prince Puma & Rey Mysterio leaving don't exactly help the buzz factor. We'll see what rabbits LU can pull out of their hats for a Season 4 expected to come in somewhere half as long as Season 3. We'll also see how long it takes to air the finished product, and if that saps the buzz out of the show.
4. Aro Lucha: Southern Style Lucha Libre?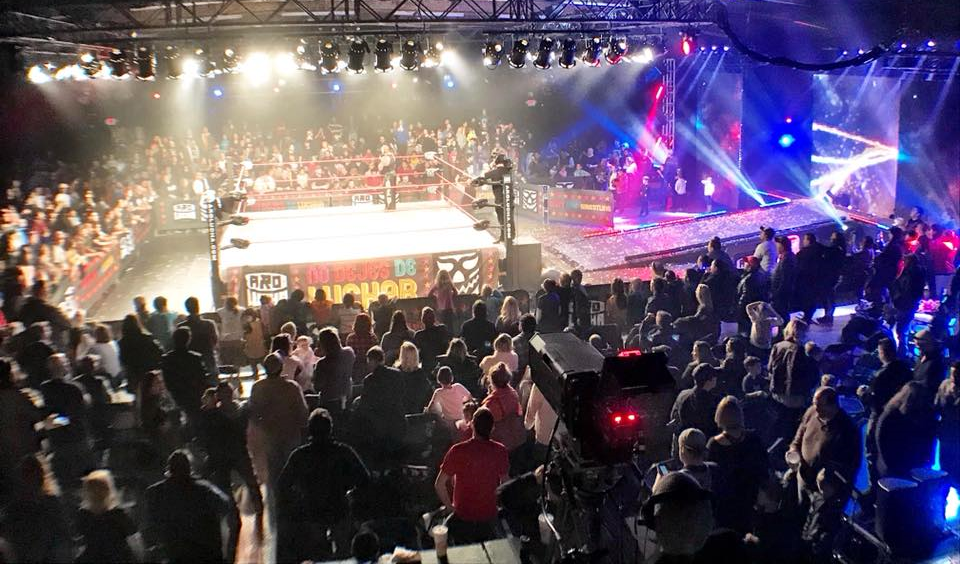 It was only a matter of time before Konnan found another lucha libre company to work with after he lost the AAA political battles. He carries a lot of influence with certain people & always finds a way to rise to the top somewhere. Enter Aro Lucha, a startup lucha company based out of Nashville, Tennessee. Ron & Don Harris, longtime wrestlers & former TNA financial backers, are among the co-founders, Konnan is the head writer & Vince Russo is a script consultant. Which, given Vince's past with luchadores, seems like an interesting choice.
The pilot tapings, held at the former TNA Asylum in Nashville, featured many recognizable names. Rey Mysterio, Johnny Mundo/Impact, Hurricane Helms, James Storm, MVP & Pentagon Jr./Dark/Penta 0M among many others. Heck, my old friend Rebecca Hardy was on the show, I should ask her what's going on with these folks. Probably not.
The taping was received well by the crowd, which was larger than Aro Lucha was expecting. Will this early success lead to more for this non-WWE story in 2018?
3. The NWA Rebuild
Billy Corgan & Dave Lagana have a twenty-year plan for the return of the National Wrestling Alliance into the hearts & minds of all wrestling fans. This plan will likely face some bumps in the road, but they've already shown some gains early on in their stewardship of the company.
Tim Storm was a name that nobody except people that looked up the NWA Championship on Wikipedia knew. He's 52 years old & has wrestled for a long time…but not all that much outside of the Texas independent scene. Once Corgan purchased the NWA, he & Lagana began the work of building Tim Storm into a champion that people outside of Texas cared about. They got him into new environments & gave him a forum to express himself. The Ten Pounds of Gold YouTube series followed Storm to Los Angeles, Nashville, his high school & finally Philadelphia, where his title reign came to an end at the hands of Nick Aldis…managed by Memphis wrestling legend Austin Idol?
We'll see where the NWA goes in 2018, but the rise of Tim Storm in the latter months of 2017 has to be considered a good sign of things to come for this non-WWE story.
2. Dalton Castle: Ring of Honor Champion
Since his arrival in 2015, the Party Peacock has established himself as the most charismatic wrestler to set foot in Ring of Honor since anybody can remember. Back when ROH started in 2002, an androgynous character like Dalton likely would have been booed out of the building by wrestling fans conditioned to dislike anybody that didn't come off like a real man, brother. Times have changed, and Castle's antics were tremendously popular from the start. His Freddy Mercury-esque persona was fresher than anything else ROH was doing that wasn't borrowed from New Japan Pro Wrestling.
The ROH World Championship has recently been dominated by wrestlers better known outside the company. Jay Lethal & Christopher Daniels got their start in ROH, but made their names in TNA. Cody brought name value from his time in WWE, along with his famous family that he can't mention but everybody knows about. Dalton Castle is something that Ring of Honor can call their own. He's very much in the tradition of Gorgeous George, "Exotic" Adrian Street & Goldust. Those men were big draws in their time, but their companies never made them the focal point.
Dalton Castle is now the focal point of Ring of Honor, outside whoever might be in from New Japan, of course. It'll be interesting to see how he adjusts to his new role, and what it might mean for the future of major singles championships. Can a character like Dalton Castle work as a top babyface? We're about to find out.
Honorable Mention: The Continued Saga of Impact Wrestling
You know that Impact Wrestling is going to have more ups & downs than the coaching career of Marvin Lewis in 2018. It's like that every single year with this company. Wrestlers will come & go. New creative forces will come in, then depart. New ownership might show up. New TV deals might be made. The show could change networks and/or time slots.
You never really know what's going to happen next with Impact Wrestling…you just know that it's going to be unexpected, and the company isn't going to die. It's always interesting to watch from the sidelines.
Honorable Mention: Cody Rhodes & The Young Bucks going "All-In"
.@CodyRhodes confirms he and the Young Bucks are self-financing the 10k seat "All In" show, says they want @ringofhonor involved and that he wants to put the ROH World Title on the line against @WWEDanielBryan in the main event: https://t.co/Ih7QtzkA5g pic.twitter.com/8kJX3ZHYWr

— SiriusXM Busted Open (@BustedOpenRadio) November 28, 2017
Cody Rhodes and The Young Bucks are set on a course to present their own wrestling show, currently dubbed "All In" and are planning to draw 10,000 fans to an arena in North America. This started out as a Dave Meltzer pseudo-challenge, but it's turned into it's own little circus with rumors of names from CM Punk to Daniel Bryan and New Japan to Ring Of Honor. Going to be a very interesting one, for sure.
1. New Japan's American Future
It's no secret that New Japan Pro Wrestling is targeting the North American marketplace. Bringing in Chris Jericho to battle Kenny Omega for Wrestle Kingdom 12 is a sure-fire way to get attention over here. Bullet Club merchandise has taken over Hot Topic, & you almost see as many of their t-shirts at WWE events as anybody else's these days. Omega, the Young Bucks & Cody Rhodes are proving that you don't need WWE to make big money in this market.
Mark Cuban, whose AXS TV network carries NJPW programming, says that New Japan isn't true competition to WWE due to the language barrier. I don't think anybody that isn't a hardcore puroresu fan will sit here and tell you that NJPW World is going to get more subscribers than WWE Network. However, New Japan continues to gain more American interest with each Bullet Club t-shirt sale & each Tweet on social media. Jericho may not be back in New Japan after January 4, but his presence will bring new eyeballs that might return even if he's gone.
Whether New Japan is "competitive" with WWE or not, they want their piece of American pie.
Top 5: WWE Raw Superstars That Should Go To Smackdown In 2018
The brand split has given us two distinct rosters with their own faults. While both shows could stand to mix the rosters up, today we look at five Raw superstars that should come to Smackdown Live within the next year.
5. Apollo Crews (Titus Brand)
Since coming to RAW, Crews was able to find a mentor in Titus O'neil, and did get a few wins under his belt. With Reigns and Lesnar holding both singles titles, the best opportunity for gold lies with the tag team championships, and that doesn't seem probable at this point. A switch to Smackdown Live, not only for Crews, but Titus Brand, would open up opportunities. Smackdown's tag team division is the best it has been in a while, and with a new U.S. champion getting crowned Crews can be a viable challenger for the victor.
4. Bayley
With both Asuka and Paige top contenders for Alexa Bliss' Woman's Championship, and Sasha and Nia waiting in the wings, Bayley doesn't have much she can do. Smackdown Live's Woman's division is in need of new competition, with Becky Lynch and Ruby Riott being the freshest competitors to challenge Charlotte. Reports are coming out that WWE is giving up on Bayley, but a switch to the blue show could open up
3. Samoa Joe
Unless he wins the Intercontinental Championship, there doesn't seem to be anything for Samoa Joe to do on RAW until Roman eventually gets the Universal Championship. Even then the likely candidate to be a worthy challenge to the Big Dog is Braun Strowman. A move to Smackdown Live would give the main event scene a big player heading into WrestleMania and could provide for some memorable dream matches. Joe is one of the few NXT call-ups that still has a good bit of his aura still intact, but moving to SmackdownLive could provide much more prominent role.
2. Bo Dallas and Curtis Axel
While a trade to the blue brand might not do much for the Miztourage, a change of scenery could do them justice. Bo and Axe are two talents most fans believe to be underutilized, as Axel is the son of Curt Henning and Bo is a former NXT Champion. The Smackdown Live tag division is flourishing at the moment, and while the two may not be challenging for the titles, at least Harper and Rowan can have another team to destroy outside of Breezango.
1. Finn Balor
Like Joe, Balor will have to wait a while before getting the chance at one of the two singles titles on Monday nights. A plethora of challengers awaits Roman Reigns with both his I.C. and Universal Championships, and while Balor could be one of those challengers, it is unlikely he will take one of them. A brand change could open up a possible run at AJ Styles, as Balor has a victory over him. Not to mention, like Joe, the plentiful amount of dream matches that could come of this.
Official Rundown: The Chairshot 2017 Match of the Year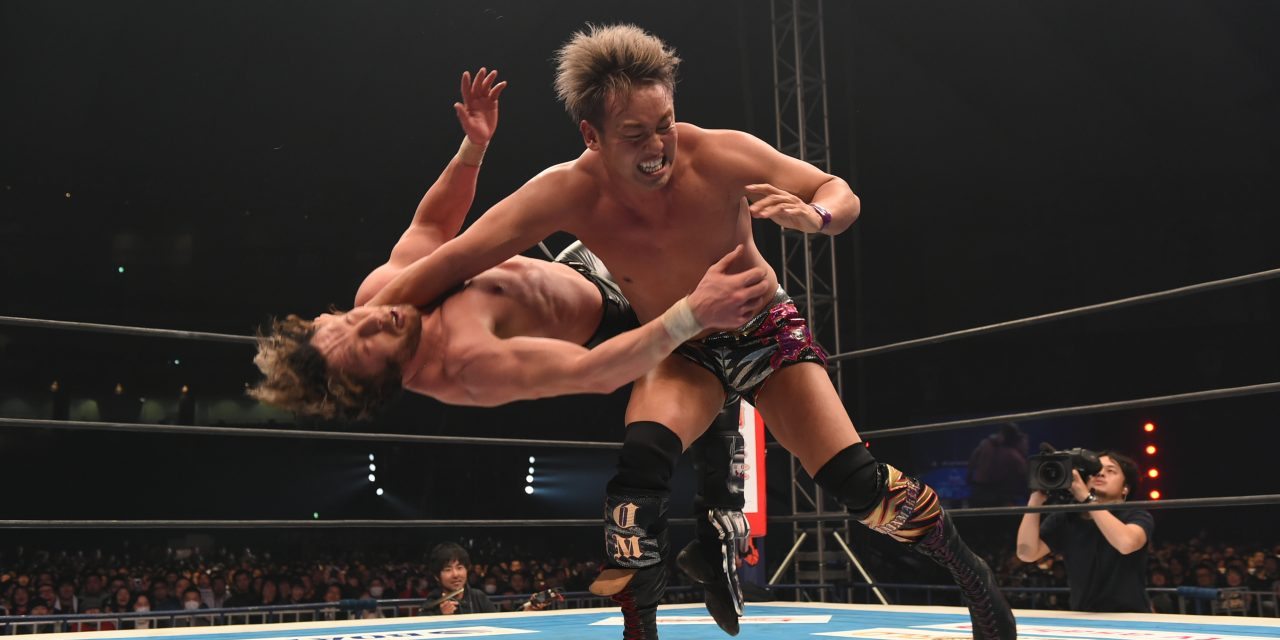 All of the voting is done, and we finally know the winner of the Inaugural Chairshot Match of the Year. We'd like to thank everyone who participated across multiple groups, we saw a total of 400 people express their opinion in the results. Each of the five matches brought something a little different to the table, and in most groups we had a difference of merely 3 or 4 votes between first and second place. However, one group tipped the scales significantly for the match that ended up winning.
So let's see where each of the Top 5 ended up in the final rankings: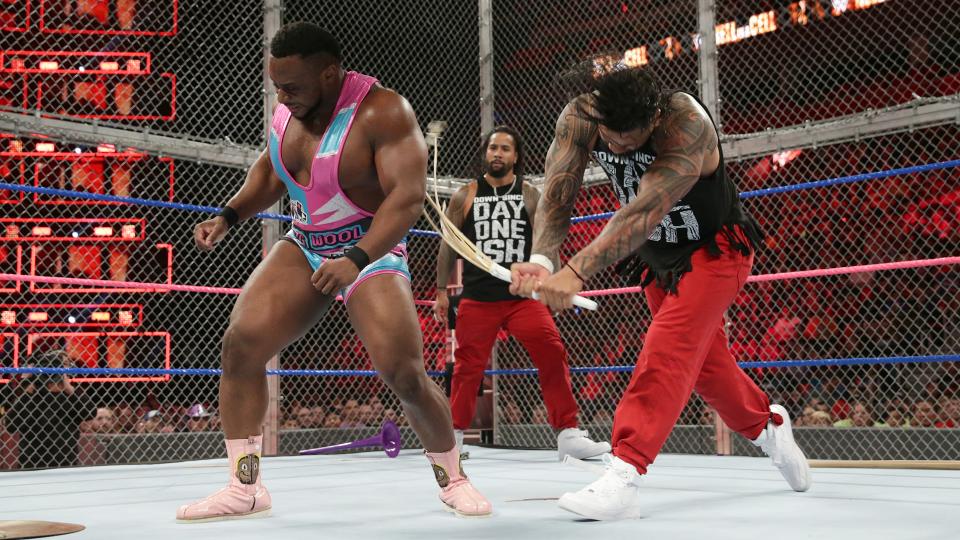 (t) 5th – The Usos vs The New Day – WWE Hell in a Cell – 17 votes
While many people enjoyed this match, the in ring quality wasn't quite up to par with the other options, as well as people preferring one of the other matches between these two teams. Given the year both teams had, and how The Usos are most people's tag team of the year…tying for 5th in this vote isn't really an insult.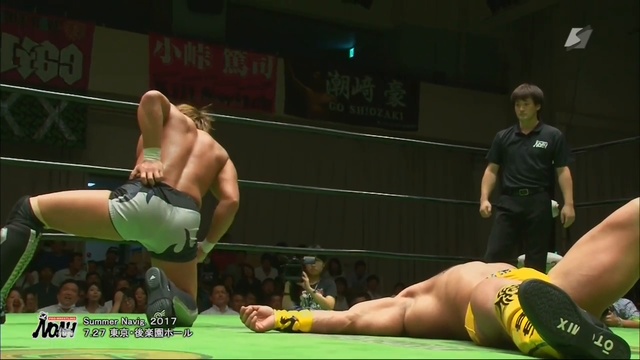 (t) 5th – Katsuhiko Nakajima vs Brian Cage – NOAH Summer Navigation – 17 votes
This match suffered from the lack of overall exposure to the general crowd. Brian Cage's popularity in Lucha Underground helped to put this on some people's radar but, Japanese companies not named New Japan still have issues garnering more fans. This match showcased a lot of Brian Cage's ability not seen on Lucha Underground. So the fact it at least tied for 5th, instead of getting no traction, is a small testament for word of mouth still doing work in the social media age.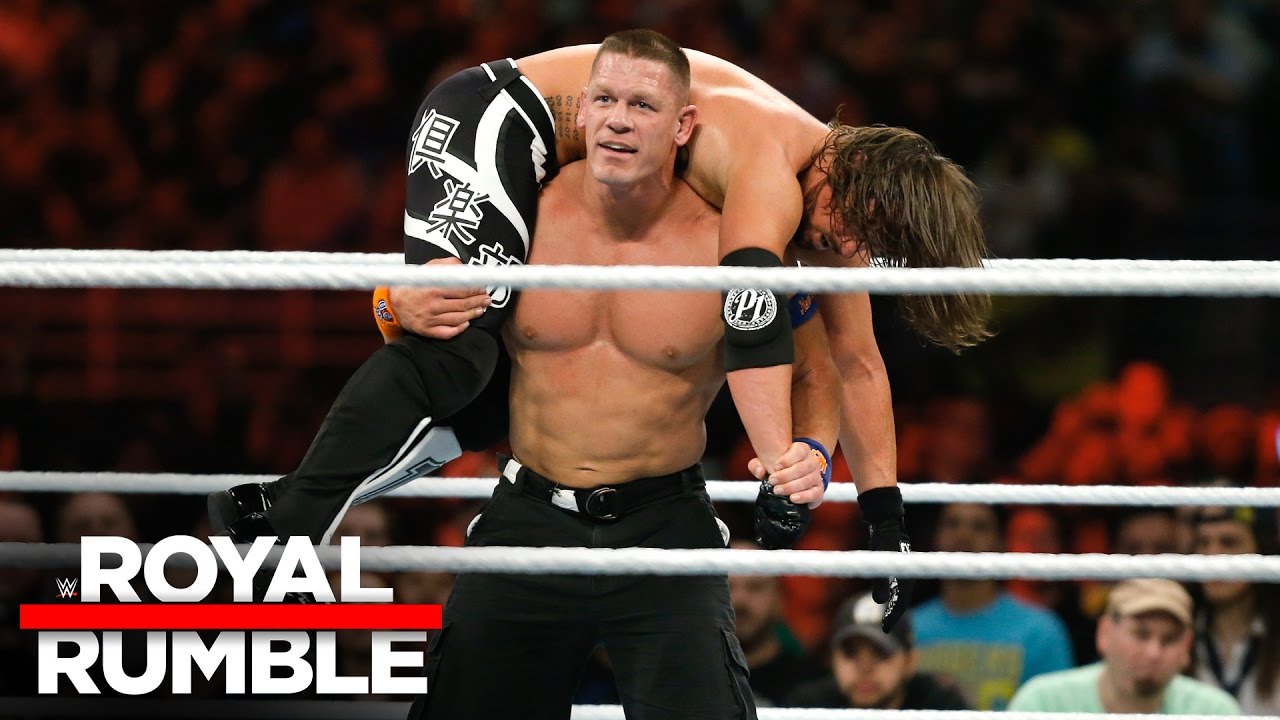 3rd – John Cena vs AJ Styles – WWE Royal Rumble – 56 votes
The WWE's Match of the Year, finishes third, with a respectable number of votes. A very good match for WWE standards, had the uphill battle of following Wrestle Kingdom 11, and put up a good fight. Cena ties Ric Flair's record 16 Heavyweight Title reigns with this match, but it sadly didn't measure up to the caliber of our top two matches this year.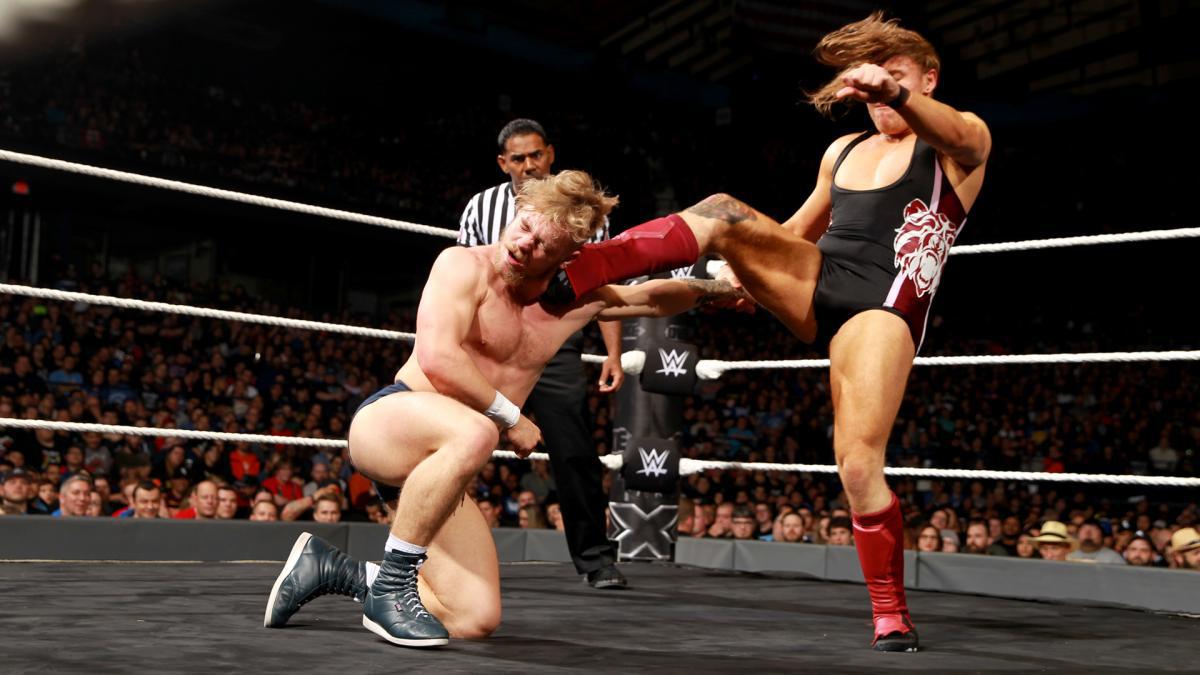 2nd – Tyler Bate vs Pete Dunne – NXT Takeover: Chicago – 91 votes
When this match ended and Meltzer's ratings gave it less than 5 Stars, the internet wrestling community collectively lost their minds. NXT as a brand is highly beloved since it's basically the WWE's version of a Indy promotion, with better production values. The match was quite good and even won the vote in a few of the groups we extended the poll into. Definitely a well deserved Top 5 entrant, but still fell to the match that won over many critics and decisively won our vote.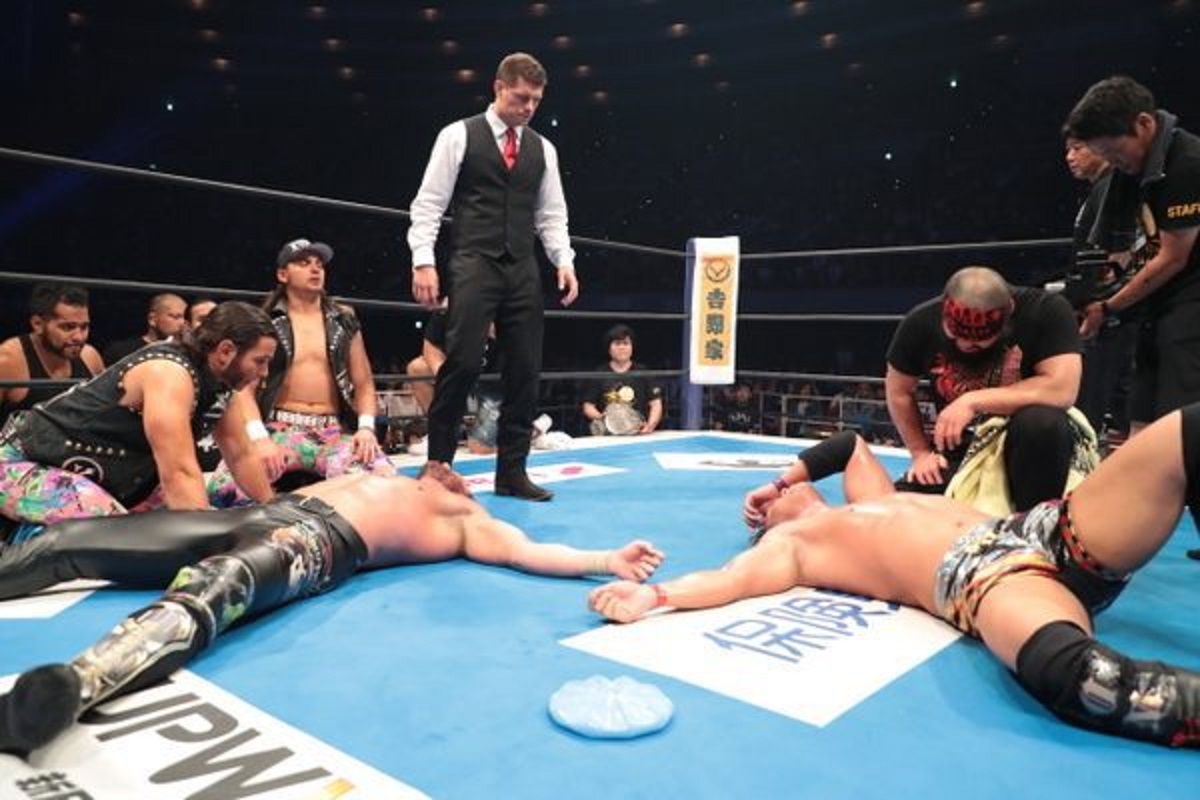 1st – Kazuchika Okada vs Kenny Omega – NJPW Dominion – 219 votes
Was there really any doubt? These two have put on enough classic matches this year to basically have a Top 10 of matches just including them. Not only did this match surpass their first bout, which was Kim Kardashian's backside levels of breaking the internet, it immediately drew comparisons to Steamboat vs Flair thanks to the 60 Minute Broadway, which isn't seen often, much less for the Heavyweight Championship. Regardless of where you lie on your feelings between the best match of the trilogy, or what trilogy is the best, or who the better wrestler is, the main fact is; without these matches capturing your interest, you wouldn't have a basis for argument in the first place.
This vote caps off 2017 nicely as the year of New Japan. It became more visible to the public even before Jericho's announcement and gives fans a plausible number 2 to try to rally behind. Would it be nice to see WWE step up their game a little? Yes it would, but it probably won't happen yet. Should you be hopping on the Japanese Wrestling Hype Train and look into NOAH, Dragon Gate and All Japan? Definitely yes, at times those three companies put on matches that were better than New Japan and have stars that can easily compete with your favorites in NJPW.
Use your internet connection to educate yourself further…and Always Use Your Head.