Top 5: Wrestling Comebacks
I'm generally not a fan of the rain. It makes driving more difficult. It makes me want to stay indoors & get fat. It delays baseball games and makes working somewhere else the next morning much more difficult due to lack of sleep.
But I am a huge fan of Rain the wrestler. Going back to her days teaming with Lacey as the Minnesota Home-Wrecking Crew & her time in TNA as Peyton Banks, I've always had an appreciation for the Radiant One. She's tough as nails, a solid worker in the ring, an effective heel and a beautiful woman, which admittedly was what I noticed when I first saw her.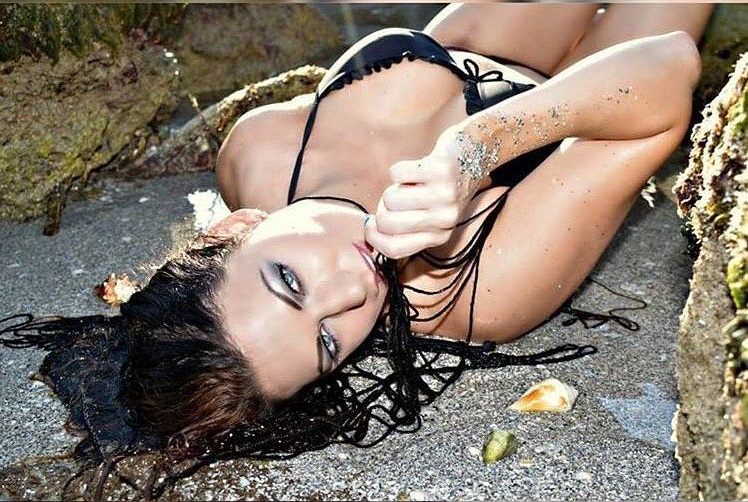 Her toughness & desire has been on full display over the past couple of years. She originally retired from wrestling in January 2014 due to years of wear & tear & needing a break to handle other matters. A month later, on Valentines Day, she was involved in a horiffic car accident due to a texting driver ramming her car head-on into a tree. She nearly died in the accident & had several surgeries to get well again. Now, Rain has used the accident as motivation to get back into the ring & settle some unfinished business in the world of wrestling. She recently came back to Ring of Honor & is getting bookings all over the place.
In honor of Rain's comeback, I thought now was as good a time as any to list the Top 5 Comebacks in wrestling history.
5. Bob Backlund
Mr. Backlund basically dropped off the face of the earth after the end of his WWF Championship reign on December 26, 1983. He left the company several months later & didn't do much of note for several years. Some Japanese appearances & rare one-offs for small American promotions were all we saw from Backlund until his return to the WWF in 1992. At first, Backlund was lost in the shuffle & seemed out of touch with the current WWF. In the summer of 1994, he got his groove back when he turned heel on Bret Hart after a match on WWF Superstars.
The Mr. Bob Backlund persona was born, and Backlund's career had new life. He reached the top of the mountain again at the 1994 Survivor Series, winning the WWF Championship from Hart, a title he claimed he had never lost.
Backlund lost the title to Diesel three days later, but he still completed one of the great comebacks in wrestling history.
4. Hacksaw Jim Duggan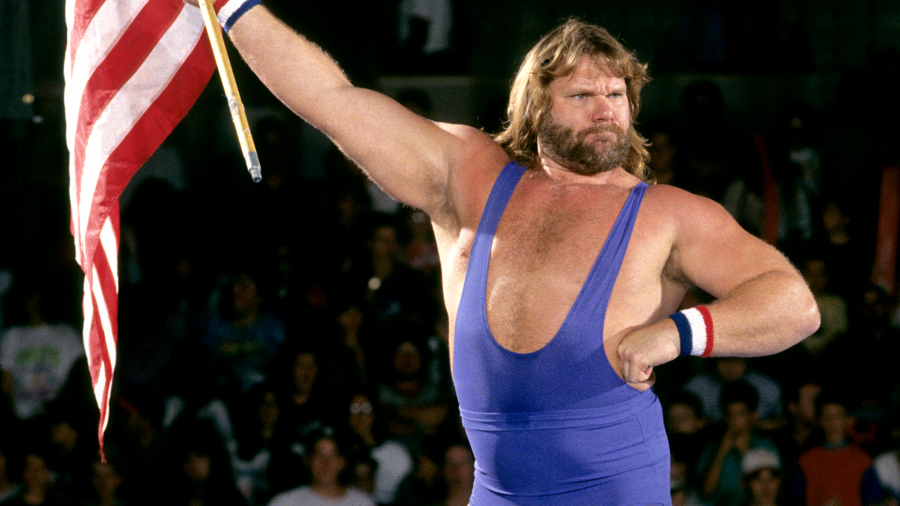 In 1998, ol' Hacksaw faced the toughest opponent he'd ever faced: kidney cancer. It was an advanced case, but fortunately it was detected in time & Duggan got the treatment quickly enough to defeat the disease. He was back in WCW rings months later & still competes on the independent circuit on occasion today.
3. Shawn Michaels
Shawn Michaels had already had a Hall of Fame level career in 1998 when he was forced to retire due to a back injury. He came back four years later and had another Hall of Fame level career. The back injury was suffered during a casket match with Undertaker at the 1998 Royal Rumble, so when he started feuding with Undertaker at WrestleManias it didn't bode well for his second career.
2. Harley Race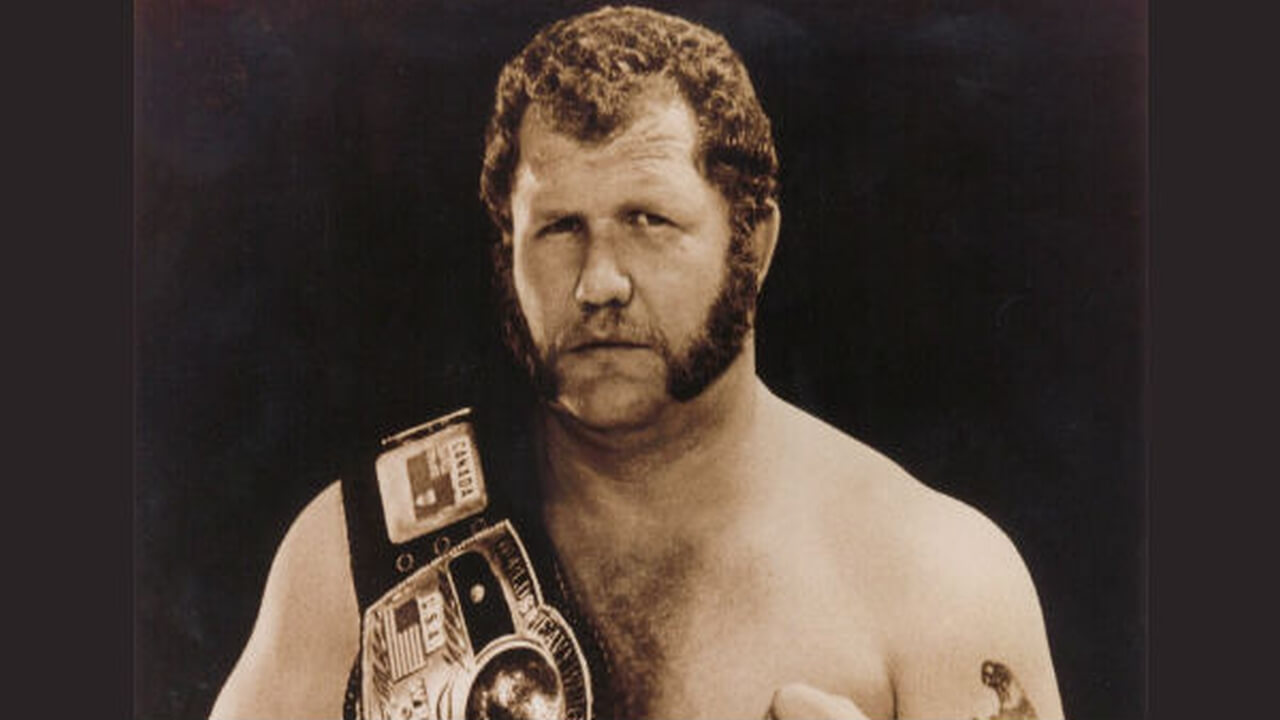 The eight-time NWA World Heavyweight Champion almost never got a chance to get his first championship. Very early on in his career, in 1960, Race was involved in a car accident that resulted in the death of his wife & a leg injury that led to doctors considering amputation. Gust Karras, the promoter that had started Harley in the business, came to his rescue & forbade the doctors from taking Harley's leg.
They still said that Harley would never wrestle again, but they underestimated the desire of Harley Race, who returned to the ring after several months of physical therapy. Soon after his return he would form a successful tag team with Larry "The Axe" Hennig, and then he would make his trek towards the NWA Championship thirteen years after he was never going to be able to wrestle again.
Honorable Mention: Kurt Angle
A multi-time world champion and member of several different Hall Of Fames, Kurt Angle is among the greatest to step foot both in a ring and on a mat. At 48 years of age (he just turned 49 last weekend!), Kurt Angle returned to a WWE ring as an honorary member of The Shield, substituting for an ill Roman Reigns at the WWE TLC pay-per-view event.
1. Ric Flair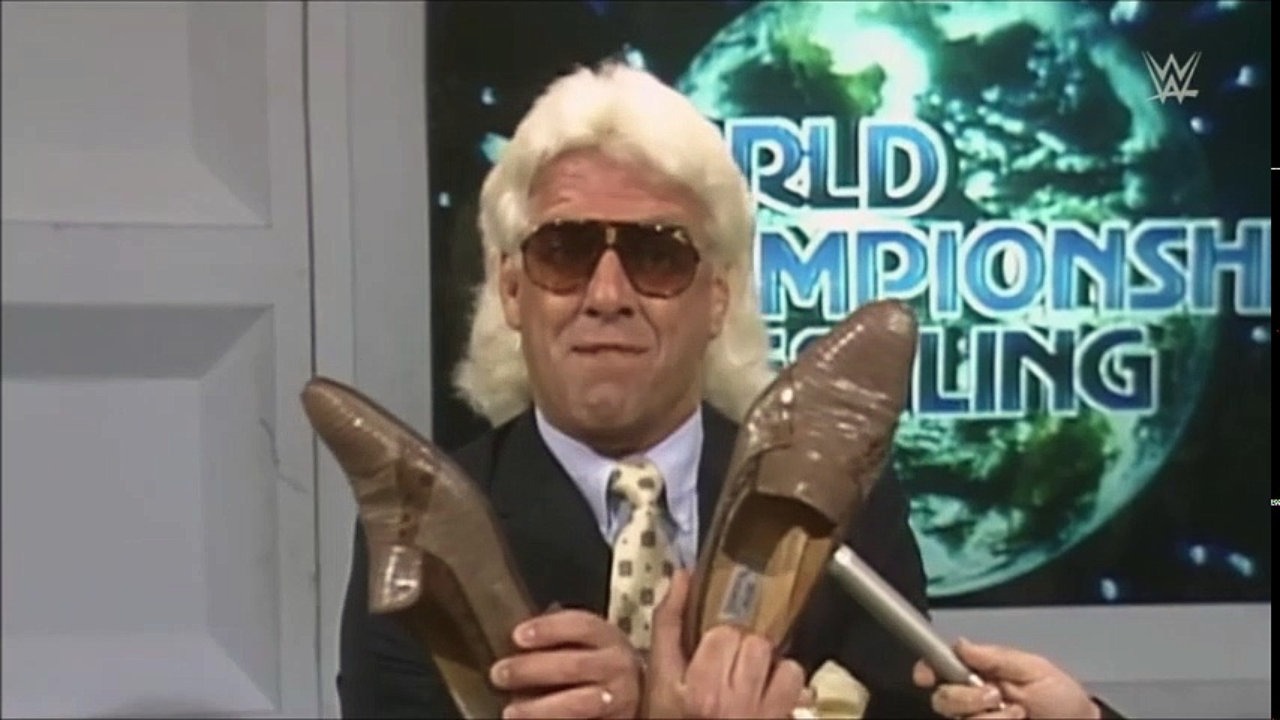 Ric Flair's career supposedly ended on October 4, 1975. He was involved in a plane crash with several other wrestlers that broke his back in three places. Flair had been getting over to a large extent in Jim Crockett Promotions' territory & was showing potential as a tag team partner of Johnny Valentine, whose career was ended in that plane crash. Flair had just begun a feud with Wahoo McDaniel, one of wrestling's biggest stars and a man that taught Flair a lot about being a star & how to chop people. All of that was thrown out the window with the plane crash. Doctors told Flair he would never wrestle again. He returned in eight months and picked up right where he left off.
Almost six years after the plane crash, Flair beat Dusty Rhodes to win his first NWA World Heavyweight Championship. Flair had his last match almost thirty-six years after the plane crash.
---
And here's another shot of Rain, because she WAS the inspiration for this Top 5 list!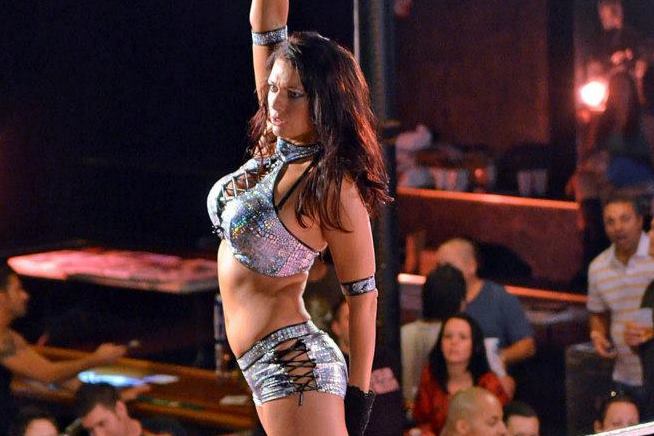 ---
Always Use Your Head and visit the official Pro Wrestling Tees store for The Chairshot All t-shirt proceeds help support the advancement of your favorite hard-hitting wrestling website, The Chairshot!

---
How "All In" Is Changing The Wrestling Scene
They said it could never happen, that a bunch of "indie" wrestlers could have there own event and sell out, for lack of a better term, but it's happening. All In is sold out, and they're only getting started.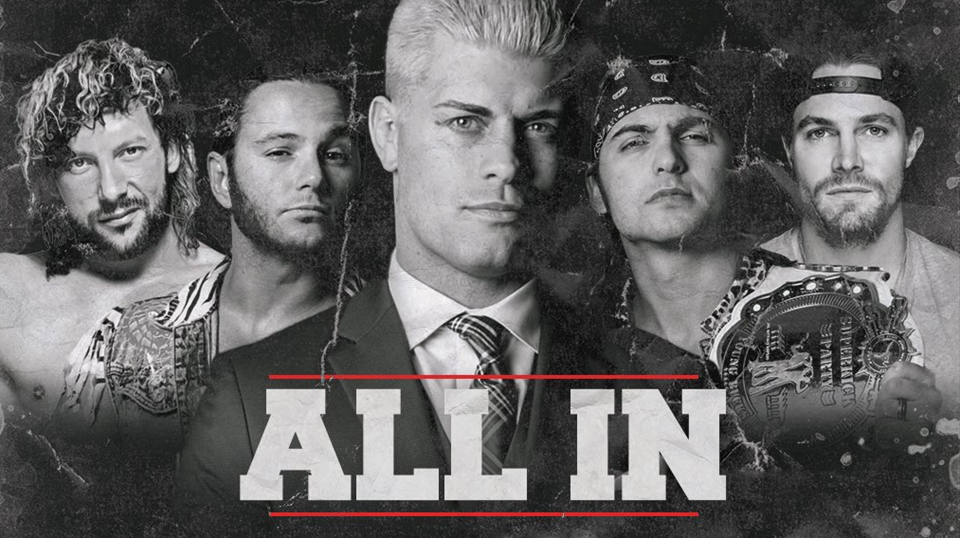 They said it could never happen, that a bunch of "indie" wrestlers could have their own event and sell out, for lack of a better term, but it's happening. The Young Bucks, Cody Rhodes, Kenny Omega and company have sold out All In in under 30 mins and are now getting ready for the biggest event in wrestling that doesn't have the letters WWE in front of it. On September 1st, 2018 at the Sears Centre in Chicago. 
Fans for 10 to 20 years ago couldn't even have thought up that a bunch indie wrestlers could start such a revolution in wrestling where fans of all kinds would be watching not only the WWE, but Ring of Honour, Impact, NJPW, and in the eyes of the fans and wrestlers alike have them commit with such a big business company like the WWE. To even imagine that these same wrestlers would put on their own show, with their own money and have it sell it would never have been imaginable…till now. While people may credit Cody Rhodes for drawing the average wrestling fans eyes to ROH or NJPW which is partially true. It is really The Young Bucks who with their Youtube channel, t-shirt sales, partnering with HotTopic, having their own Funko pops and just being damn good wrestlers have created this competition against the WWE.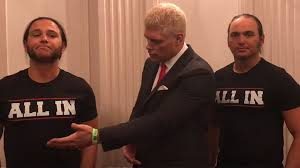 Yes, I said it and I believe that it is true. The Young Bucks, wherever they go, whoever joins The Elite,  what promotion they are on they become instant competition for the WWE. Now, having made a successful attempt and turned their dreams into reality with ALL IN they have put their metaphorical flag in the ground and stated that there is such thing as a career outside the WWE, there is such thing as a career after the WWE, as Cody has shown time and time again. You can make waves in another country and still have the buzz around you like you're wrestling in North America like Kenny Omega and Marty Scrull have shown.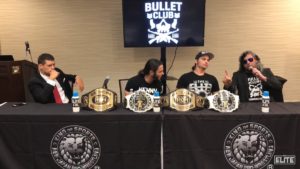 With the success of ALL IN with the likes of DDP, Kevin Nash, Hulk Hogan all appearing and tweeting about it has finally shown that the WWE has competition. It's not in the form of another promotion, but in the form of a bunch of guys who love wrestling as much as the fans do. And if you've seen any of these wrestlers wrestle you know how good the show will be and why the WWE finally has met its match.
---
Always Use Your Head and visit the official Pro Wrestling Tees store for The Chairshot All t-shirt proceeds help support the advancement of your favorite hard-hitting wrestling website, The Chairshot!

---
Top 5: Wrestling Weddings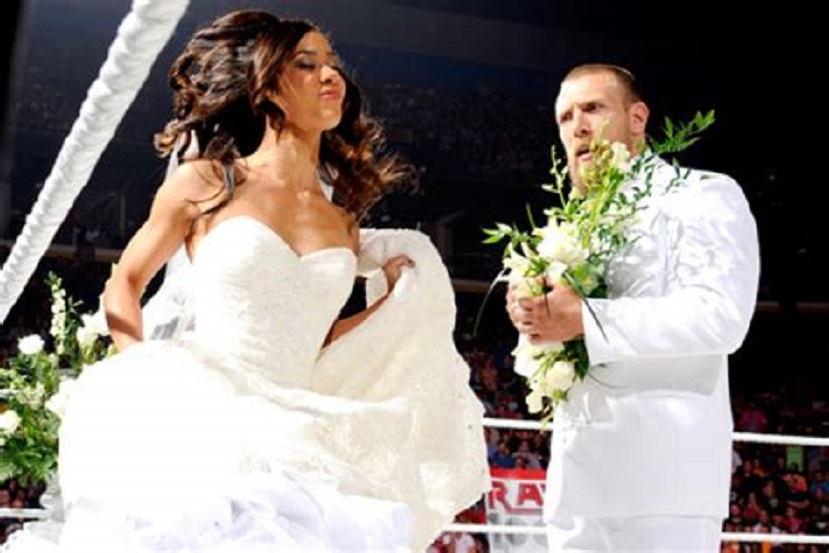 The Royal Wedding was the talk of the world last weekend. Either you were all wrapped up in Prince Harry, Meghan Markle & all the drama surrounding them, or you couldn't care less & kept complaining about people talking about them. Once upon a time, I would have been among the latter crowd, but these days I find myself interested in things like royal weddings. The Crown got me interested for the most part, but Netflix isn't the only thing playing a role.
I happen to find the concept of royalty interesting. I wouldn't call myself a monarchist, but I do yearn for the days when leaders at least tried to act dignified & polite. Maybe they weren't behind the scenes, but they attempted to set an example for the public to follow. Today's leaders are the complete opposite.
I also find myself enjoying weddings more than I once did. As each day passes, the likelihood of my getting married diminishes. I could be bitter & whine about everybody else finding love while I walk along the boulevard of broken dreams. My teenage & 20s self would go along with this plan. Instead, I find joy in other peoples' happiness. There's something beautiful about a wedding. It contains all the promise of tomorrow & new beginnings. There's none of the cynicism & foreboding of dark times ahead.
Well, that isn't always true. It certainly isn't true in pro wrestling. Wrestlers often try to find love amongst themselves, and sometimes we end up with weddings scheduled as worldwide television events. Since they're wrestlers & happen to be complete psychopaths, things typically go off the rails. There's no real promise of tomorrow & new beginnings for these poor souls. All we can hope is that their suffering entertains us.
These are the top five weddings in wrestling history.
5. Betty Hanson & George Wagner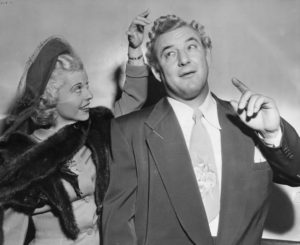 Wagner was an undersized but talented wrestler early into his career when he met Betty. They decided to get married at one of George's shows, and when it drew a bigger house than normal, they took it on the road to other venues. The story says that this is when Wagner figured out that pro wrestling would benefit from more entertainment, and began developing a more charismatic & flamboyant ring persona. Eventually, Gorgeous George was born, and the business was never the same.
4. Elizabeth & "Macho Man" Randy Savage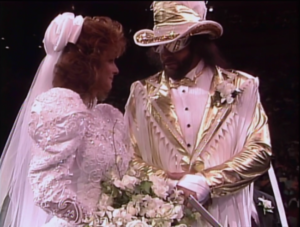 The Match Made in Heaven co-main evented SummerSlam '91 alongside the Match Made in Hell. The ceremony itself was relatively uneventful, and to be honest went a bit long for everybody's liking. What we remember is what happened at the reception, when Jake "The Snake" Roberts presented the newlyweds with a king cobra.
This led into one of the classic feuds of my youth, and one of the classic syndicated TV segments of all time with Jake's snake taking a bite out of Randy's arm. Unfortunately, Randy & Elizabeth's love didn't last much longer than his feud with Jake did.
3. Billy & Chuck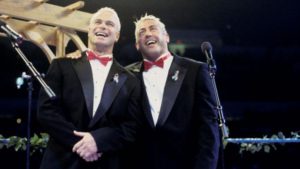 Who says WWE isn't progressive? Back in 2002, SmackDown hosted a commitment ceremony involving their top tag team. Billy Gunn & Chuck Palumbo had been working the whole "tag team partners that are frequently secretly fond of each other" gimmick. One thing led to another, and a commitment ceremony was scheduled for an episode of SmackDown. GLADD got on board with it because they were very gullible…everybody knew this wasn't going to go off without a hitch. Sure enough, Billy & Chuck got cold feet & blamed their stylist Rico for getting them into the mess. Then we found out the minister was actually Eric Bischoff, and it was all a set-up for a 3 Minute Warning beatdown.
For a segment that seemed like it had no potential for anything good, it actually went all right.
2. Lita & Kane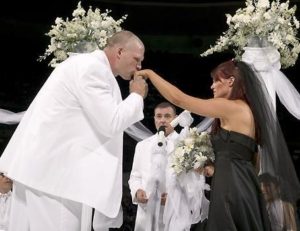 There was all kinds of ridiculousness leading into this, since it was a love storyline in mid-2000s WWE. Kane decided he was in love with Lita. Matt Hardy took offense. Kane beat up Matt a bunch, kidnapped Lita & impregnated her, then beat Matt in a match where the winner got to marry Lita. Could you imagine WWE trying to do this now? Stuff like this is why I'm glad PC & PG are things.
At least the wedding was an entertaining piece of business. Kane wore white & Lita wore black. The priest had a unique ear piercing. The best man & flower girl were little people. Eric Bischoff read from the Bible. Kane declared that Lita would always be his property. Lita said she would always love Matt Hardy. SO MUCH HILARITY!
WWE posted the wedding allegedly in full on YouTube, but left out the best part…Trish Stratus as Maid of Honor.
Honestly, Trish should be enough to make this number one now that I'm thinking about it. Totally second-guessing my decision here.
Honorable Mention: Edge's Weddings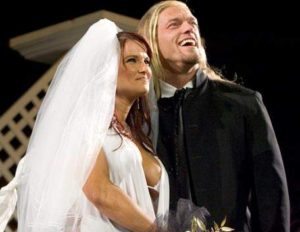 If anybody in wrestling history would be involved in multiple in-ring weddings, it would be Edge. The guy reached main event status once he accepted the fact that he was a manwhore. First it was Lita. The whole business with her & Matt Hardy sky-rocketed his stock, and even though his attempted wedding with her ended with Kane tombstoning the priest, the message was sent.
After Edge's relationship with Lita ended, he moved on to Vickie Guerrero. We figured that Edge's feelings for Vickie had more to do with her status as SmackDown General Manager than anything else. We were proven right at the wedding reception. Triple H showed a video of Edge cheating on Vickie with the wedding planner, Alicia Fox. Somehow the marriage lasted for months afterwards, but the result was divorce.
Fortunately, his real-life marriage with Beth Phoenix is going better.
Honorable Mention: Joyce & Uncle Elmer
"Rowdy" Roddy Piper's attempt to break up the wedding didn't work, but Jesse Ventura's commentary of the ceremony remains one of the great performances by an announcer in television history. Just fantastic stuff by The Body.
1. Stephanie McMahon & Test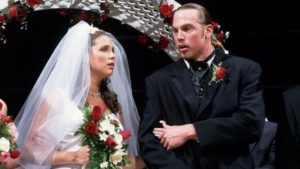 Remember The Union? It was a short-lived union of people you oughta respect, Shane. They won a match and got the right to book matches for themselves. Test, instead of putting himself in a wrestling match, opted to book a date with Vince McMahon's daughter, Stephanie. Probably a smart move for a young wrestler. What better way to get on the boss's good side than by treating his daughter well? It didn't work out great. Brother Shane took offense to the relationship, leading to a memorable "Love Her or Leave Her" match at SummerSlam 1999.
Once that business was settled (and once they figured out what to do after Vince Russo left for WCW & took whatever idea he had for all of this with him), the engagement began. Plans were made for a wedding on a live episode of Raw. Test was so confident things would go well that he even demanded a match with Triple H earlier in the evening. He won there, but Triple H would have the last laugh at the end of the night.
Triple H stole Test's thunder & emerged with Stephanie McMahon's hand in marriage. Eventually, Stephanie revealed that she was actually on Hunter's side, and Test was left with…well, not much really. His career never reached the heights it could have had he been a storyline McMahon family member.
It was during the McMahon-Helmsley Era storyline that unfolded afterwards that Stephanie McMahon & Paul Levesque fell in love for real. Had things gone another way, with Stephanie married to Test, not married at all, or somebody other than Triple H getting the nod, who's to say that they would have ever gotten married in real life?
Where would Triple H have gone as a WWE Superstar had they not gotten together? Would he have 14 world championships to his credit? Probably not. It's safe to assume he wouldn't be where he is on the corporate totem pole. He never would have had any say in talent development or acquisition. NXT certainly wouldn't be a thing, at least not in its current form.
Had Stephanie McMahon stayed sober at her bachelorette party, WWE would be a much different place. That's why her wedding to Test that was botched due to Triple H marrying her beforehand has to be number one on any list of wrestling weddings.
---
Always Use Your Head and visit the official Pro Wrestling Tees store for The Chairshot All t-shirt proceeds help support the advancement of your favorite hard-hitting wrestling website, The Chairshot!

---
What Will WWE Do When Randy Orton Returns From Injury?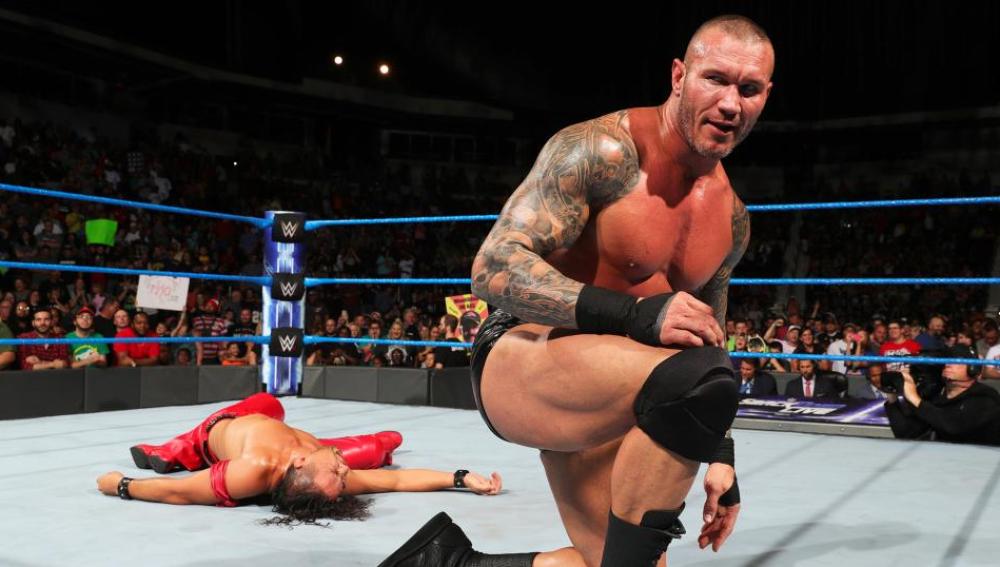 I wanted to write a column on what WWE will do with Randy Orton as the company is running at full speed toward Money in the Bank. Unfortunately, Orton's knee beat me to it. According to multiple sources, Orton underwent knee surgery for a torn meniscus, forcing him out of action since the Backlash pay-per-view.
It was also revealed Orton has needed surgery on his knee since 2017, but there is no word when he will return to action. Injuries have played a role in his career in recent years, as the 13-time world champion has been a fixture in SmackDown Live's mid-card on Tuesday nights.
While John Cena is the gold standard every superstar is measured, I have wondered why the third-generation superstar doesn't get the recognition he deserves as a veteran of the ring wars. it also remains to be seen if Orton, whose last world title run was at WrestleMania 33 when he defeated Bray Wyatt for the strap.
Ironically, it was Wyatt who ended Cena's record-tying 16th world title run.
Despite winning the United States Title by beating Bobby Roode at Fastlane this year and becoming the 18th Grand Slam Champion, it's fair to say "The Viper" has been in purgatory, with no path to the WWE Title. Unlike John Cena, who could still jump into the main event picture on both Raw and SmackDown Live, the last world title run by Orton might be his last as other superstars like AJ Styles, Shinsuke Nakamura, Samoa Joe and now Daniel Bryan, have all surpassed the popular veteran.
Upon his return to action, will Orton have the same kind of impact on this company as he has in the past, putting younger talent over while remaining a favorite to "strike" at any time? As a fan, Randy Orton has been underused as a performer this year.
Known for his ability to sell as both a fan favorite and top heel, Randy Orton is best when he gets heat from the fans. Like Rusev, Bray Wyatt and Brock Lesnar, it does not take away from the support he receives from WWE's Universe.
There hasn't been an official press release from WWE about Orton's return, but he could be back in as little as two months, which could put him back on the road toward SummerSlam. Whether he remains part of the United States Title is also up in the air.
If WWE wants to maximize Orton's strengths, they could shuffle the deck and move him over to Monday Night Raw, similar to Cena's role as a free agent. Since the Universal Title picture is up in the air, with Brock Lesnar hiding with the title in tow, would Orton's return to heel status be what is best for business?
---
Always Use Your Head and visit the official Pro Wrestling Tees store for The Chairshot All t-shirt proceeds help support the advancement of your favorite hard-hitting wrestling website, The Chairshot!

---