Top 5: WWE Main Roster Feuds of 2017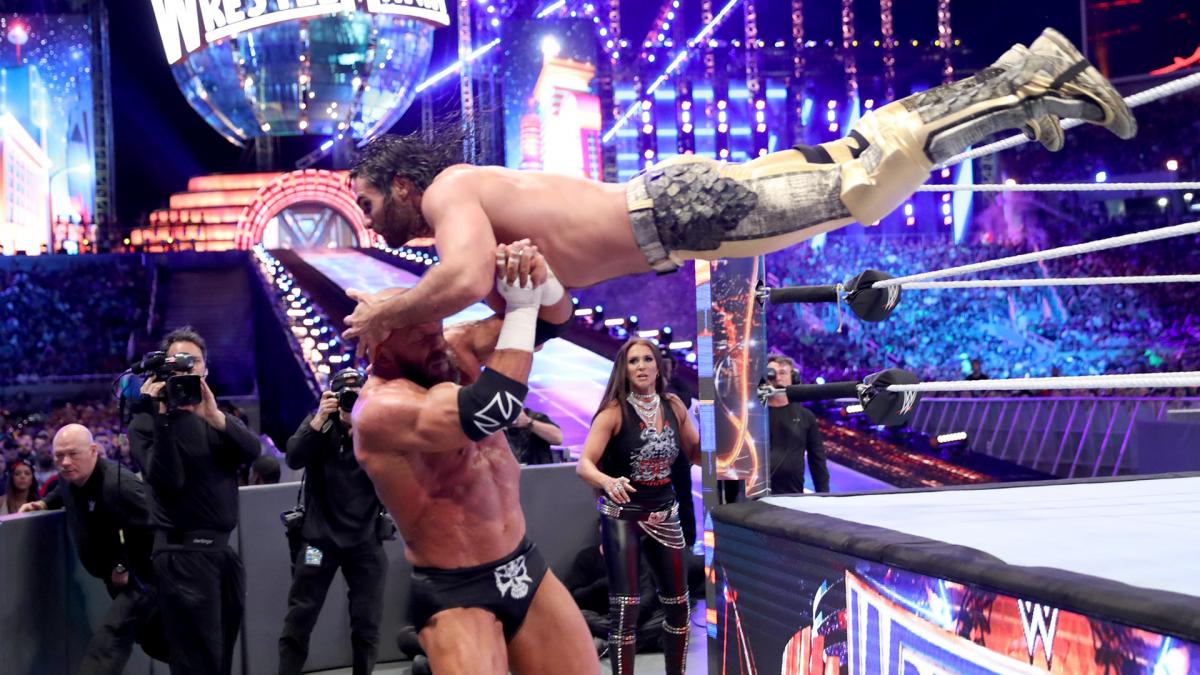 2017 produced many moments that will live on in our memories for a lifetime. At this stage, WWE is clearly giving the most comprehensive attention to their product since 2005. There was an aura of effort I saw in 2017, and I hope that expands into 2018 full force as WrestleMania 34 looms.
I think we would be remiss though if we did not recognize the storylines that kept us coming back to the product over the last calendar year. These rivalries moved WWE through a long year of surprises, changes and payoffs. Here are my top five feuds of 2017 in ascending order:
5. AJ Styles vs. John Cena
I put this so low on the list because it only withstood for about a month or two of 2017. This feud began way back in summer 2016 and managed to result in many main event matches in it's incredible timeline. Royal Rumble 2017 would be the last high profile match between AJ Styles and John Cena to date, and that match alone is enough to make their rivalry one of the best of the year. Not to mention that the match also resulted in John Cena matching Ric Flair's 16 world title wins (but not really, but whatever). With so much weight behind it, this storied feud culminated in 2017 and firmly makes the list for best rivalries of 2017.
4. Seth Rollins vs. HHH

HHH cost Seth Rollins the Universal title back in the summer of 2016, and Seth spent the better part of eight months trying to bring HHH out of the fray and into the ring. This was a long feud that had a decently underrated payoff, as they clashed in what was in my opinion the best in ring contest on the WrestleMania 33 card. My favorite part of this feud was when Rollins went so far as to invade an NXT Takeover special mid show in order to call out HHH. Overall, an untimely and unfortunate injury really gave this feud the suspense it needed, as Rollins would overcome a knee injury in the knick of time to compete at WrestleMania and pick up the win. This feud was rocky at points, but it was gold.
3. Braun Strowman vs. Roman Reigns
This rivalry kept RAW going for months upon months. I personally thought the matches in this feud were the least impressive part though. How both men interacted and how they were both always up for a fight made this really fun to watch in 2017. Moments like Roman ramming an ambulance into a wall with Strowman inside and Strowman tipping over an ambulance with Reigns inside really brought this rivalry outside the box and kept it fresh too (albeit the amount of ruined ambulances). I would absolutely howl in laughter whenever Braun would say "I'm not finished with you!" and I would also lose my mind when Braun would find new creative ways to beat up Roman. I think I watched a gif of Braun throwing an announcer chair at Roman for at least 20 minutes. In short, they both went above and beyond in this still somewhat never ending feud. Also beating up Roman is funny.
2. Kevin Owens vs. Chris Jericho
The festival of friendship. Need I say more? This best friendship turned bitter rivalry is exactly what fans want to see out of WWE storytelling. Although the in-ring bout at WrestleMania did not involve the Universal title and may not have lived up to the hype, the moments leading up to the match were spectacular. Jericho and Owens worked so well together in the first few months of 2017 and dished out some of the most entertaining promos in years. I would even specifically tune in to backstage interviews if they involved KO and Y2J just because of their antics such as never getting Tom Phillips' name right and so on. As I said, the payoff may have not been there, but this feud had payoffs all along the way, especially with the festival of friendship.
1. The Usos vs. The New Day
This is truly a historic time in WWE. A tag team feud reached such incredible heights in 2017 as the Usos and The New Day both delivered in a slew of PPV matches throughout the year. Each match was spectacular and well thought out, showing that both teams hold some of the best minds in the business. When SummerSlam ends and everyone is talking about the kickoff match, you know it was something really special. The Usos resurrected in 2017 as one of the greatest tag teams in the industry today, and The New Day maintained their role as a top babyface draw. Even through all the title hot potato, this feud consistently intrigued wrestling fans throughout it's timeline.
Top 5: WWE Raw Superstars That Should Go To Smackdown In 2018
The brand split has given us two distinct rosters with their own faults. While both shows could stand to mix the rosters up, today we look at five Raw superstars that should come to Smackdown Live within the next year.
5. Apollo Crews (Titus Brand)
Since coming to RAW, Crews was able to find a mentor in Titus O'neil, and did get a few wins under his belt. With Reigns and Lesnar holding both singles titles, the best opportunity for gold lies with the tag team championships, and that doesn't seem probable at this point. A switch to Smackdown Live, not only for Crews, but Titus Brand, would open up opportunities. Smackdown's tag team division is the best it has been in a while, and with a new U.S. champion getting crowned Crews can be a viable challenger for the victor.
4. Bayley
With both Asuka and Paige top contenders for Alexa Bliss' Woman's Championship, and Sasha and Nia waiting in the wings, Bayley doesn't have much she can do. Smackdown Live's Woman's division is in need of new competition, with Becky Lynch and Ruby Riott being the freshest competitors to challenge Charlotte. Reports are coming out that WWE is giving up on Bayley, but a switch to the blue show could open up
3. Samoa Joe
Unless he wins the Intercontinental Championship, there doesn't seem to be anything for Samoa Joe to do on RAW until Roman eventually gets the Universal Championship. Even then the likely candidate to be a worthy challenge to the Big Dog is Braun Strowman. A move to Smackdown Live would give the main event scene a big player heading into WrestleMania and could provide for some memorable dream matches. Joe is one of the few NXT call-ups that still has a good bit of his aura still intact, but moving to SmackdownLive could provide much more prominent role.
2. Bo Dallas and Curtis Axel
While a trade to the blue brand might not do much for the Miztourage, a change of scenery could do them justice. Bo and Axe are two talents most fans believe to be underutilized, as Axel is the son of Curt Henning and Bo is a former NXT Champion. The Smackdown Live tag division is flourishing at the moment, and while the two may not be challenging for the titles, at least Harper and Rowan can have another team to destroy outside of Breezango.
1. Finn Balor
Like Joe, Balor will have to wait a while before getting the chance at one of the two singles titles on Monday nights. A plethora of challengers awaits Roman Reigns with both his I.C. and Universal Championships, and while Balor could be one of those challengers, it is unlikely he will take one of them. A brand change could open up a possible run at AJ Styles, as Balor has a victory over him. Not to mention, like Joe, the plentiful amount of dream matches that could come of this.
Official Rundown: The Chairshot 2017 Match of the Year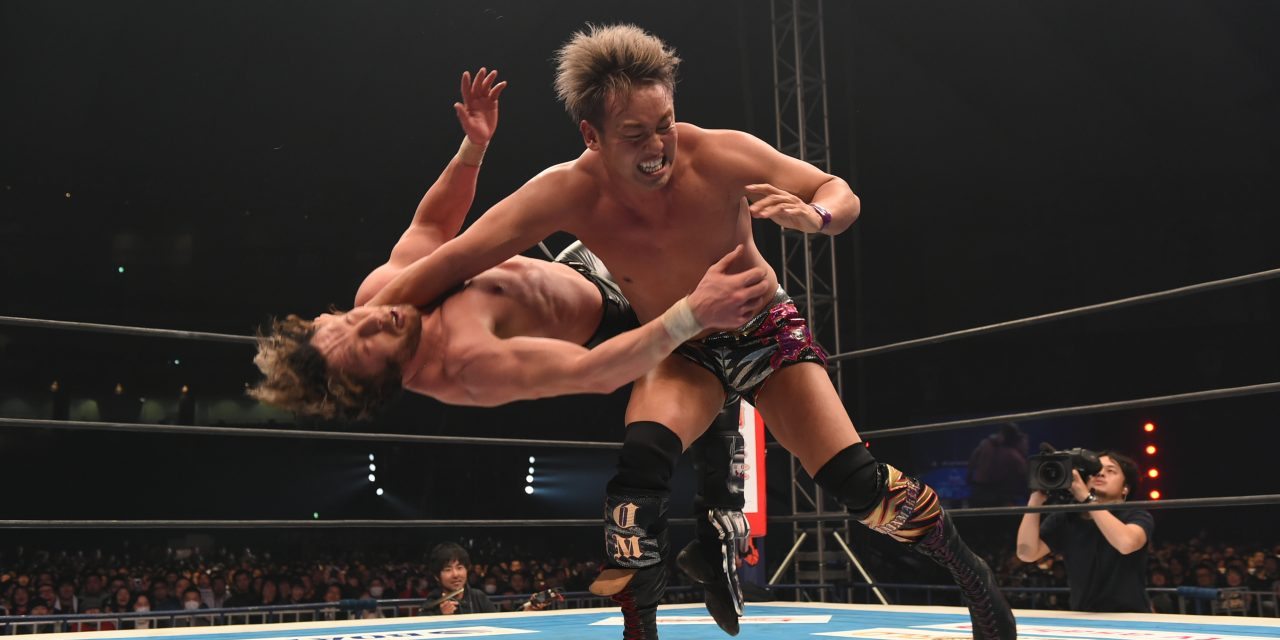 All of the voting is done, and we finally know the winner of the Inaugural Chairshot Match of the Year. We'd like to thank everyone who participated across multiple groups, we saw a total of 400 people express their opinion in the results. Each of the five matches brought something a little different to the table, and in most groups we had a difference of merely 3 or 4 votes between first and second place. However, one group tipped the scales significantly for the match that ended up winning.
So let's see where each of the Top 5 ended up in the final rankings: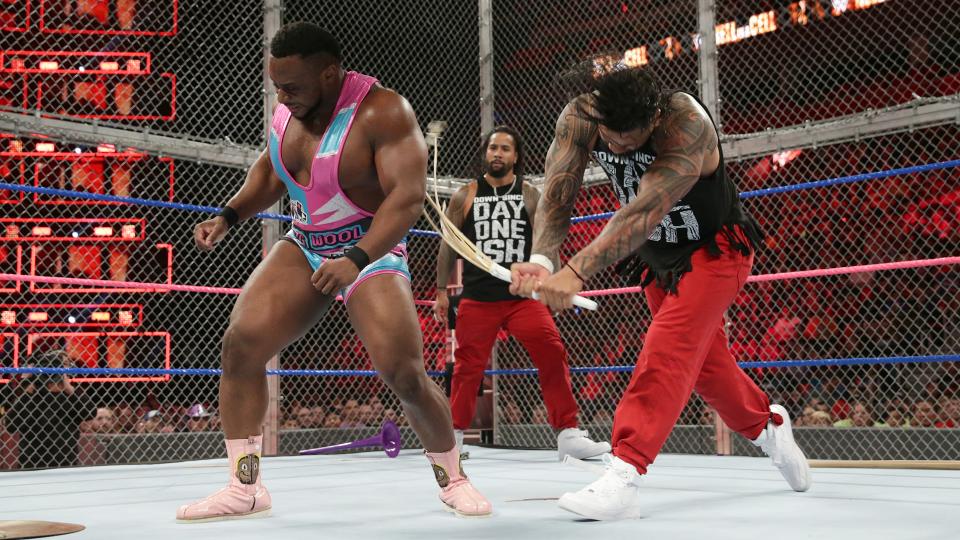 (t) 5th – The Usos vs The New Day – WWE Hell in a Cell – 17 votes
While many people enjoyed this match, the in ring quality wasn't quite up to par with the other options, as well as people preferring one of the other matches between these two teams. Given the year both teams had, and how The Usos are most people's tag team of the year…tying for 5th in this vote isn't really an insult.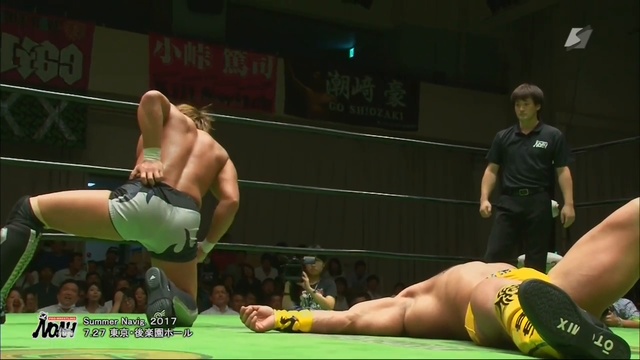 (t) 5th – Katsuhiko Nakajima vs Brian Cage – NOAH Summer Navigation – 17 votes
This match suffered from the lack of overall exposure to the general crowd. Brian Cage's popularity in Lucha Underground helped to put this on some people's radar but, Japanese companies not named New Japan still have issues garnering more fans. This match showcased a lot of Brian Cage's ability not seen on Lucha Underground. So the fact it at least tied for 5th, instead of getting no traction, is a small testament for word of mouth still doing work in the social media age.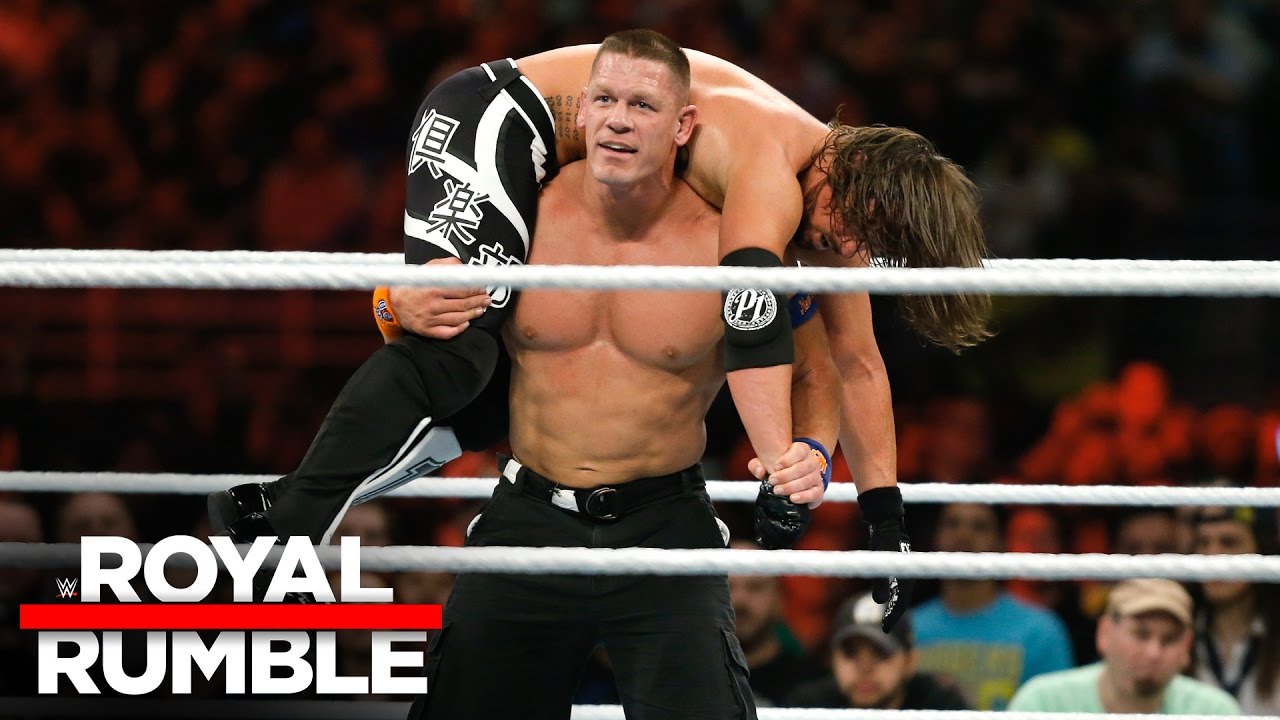 3rd – John Cena vs AJ Styles – WWE Royal Rumble – 56 votes
The WWE's Match of the Year, finishes third, with a respectable number of votes. A very good match for WWE standards, had the uphill battle of following Wrestle Kingdom 11, and put up a good fight. Cena ties Ric Flair's record 16 Heavyweight Title reigns with this match, but it sadly didn't measure up to the caliber of our top two matches this year.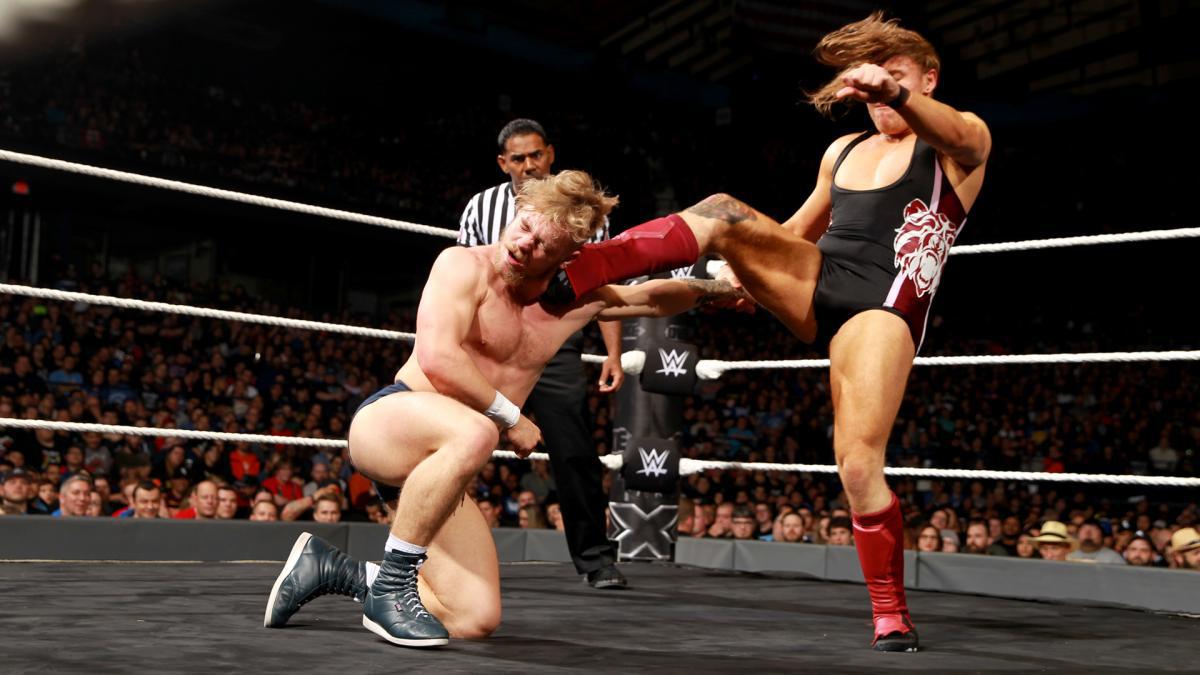 2nd – Tyler Bate vs Pete Dunne – NXT Takeover: Chicago – 91 votes
When this match ended and Meltzer's ratings gave it less than 5 Stars, the internet wrestling community collectively lost their minds. NXT as a brand is highly beloved since it's basically the WWE's version of a Indy promotion, with better production values. The match was quite good and even won the vote in a few of the groups we extended the poll into. Definitely a well deserved Top 5 entrant, but still fell to the match that won over many critics and decisively won our vote.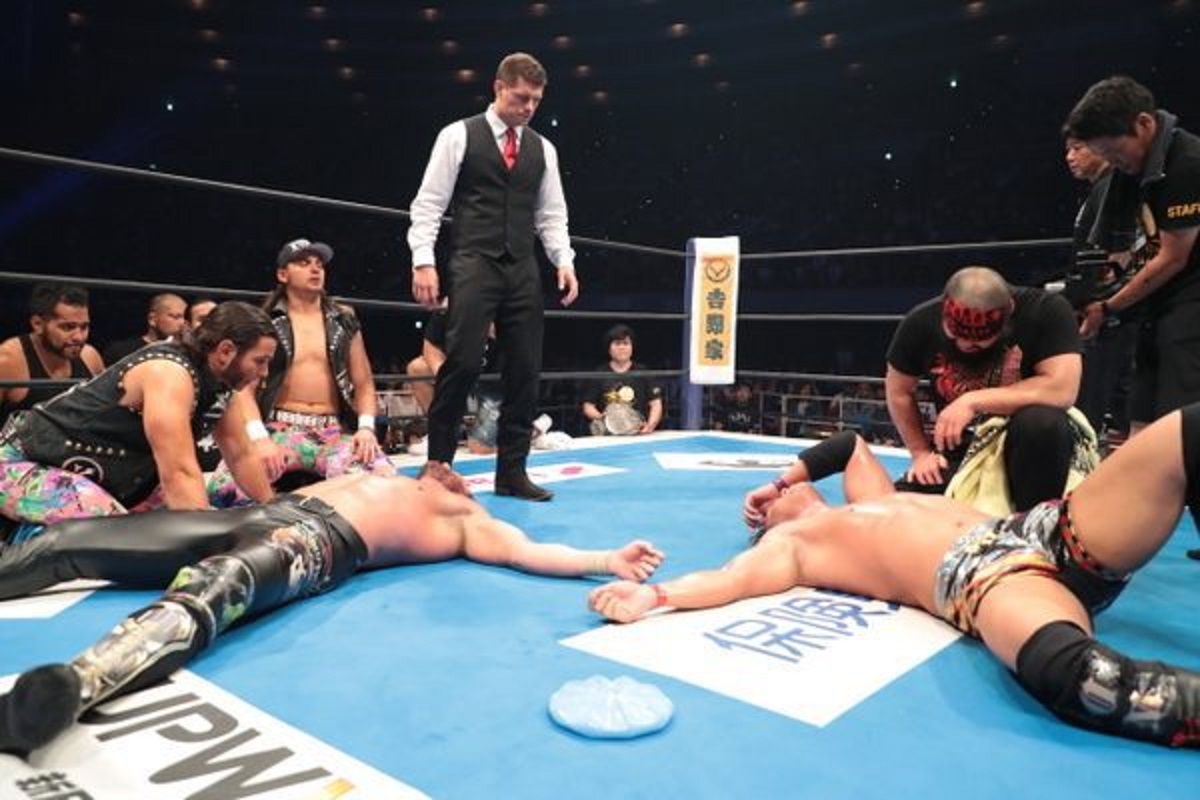 1st – Kazuchika Okada vs Kenny Omega – NJPW Dominion – 219 votes
Was there really any doubt? These two have put on enough classic matches this year to basically have a Top 10 of matches just including them. Not only did this match surpass their first bout, which was Kim Kardashian's backside levels of breaking the internet, it immediately drew comparisons to Steamboat vs Flair thanks to the 60 Minute Broadway, which isn't seen often, much less for the Heavyweight Championship. Regardless of where you lie on your feelings between the best match of the trilogy, or what trilogy is the best, or who the better wrestler is, the main fact is; without these matches capturing your interest, you wouldn't have a basis for argument in the first place.
This vote caps off 2017 nicely as the year of New Japan. It became more visible to the public even before Jericho's announcement and gives fans a plausible number 2 to try to rally behind. Would it be nice to see WWE step up their game a little? Yes it would, but it probably won't happen yet. Should you be hopping on the Japanese Wrestling Hype Train and look into NOAH, Dragon Gate and All Japan? Definitely yes, at times those three companies put on matches that were better than New Japan and have stars that can easily compete with your favorites in NJPW.
Use your internet connection to educate yourself further…and Always Use Your Head.