2017 was a year full of amazing performances, and performers, throughout professional wrestling. The Chairshot's own Greg DeMarco and Patrick O'Dowd came together to determine who deserved the honors for their efforts. That decision is never easy, but the fellas came together to select wrestling's Man Of The Year, Woman Of The Year, and Team of The Year.
The Chairshot Team Of The Year: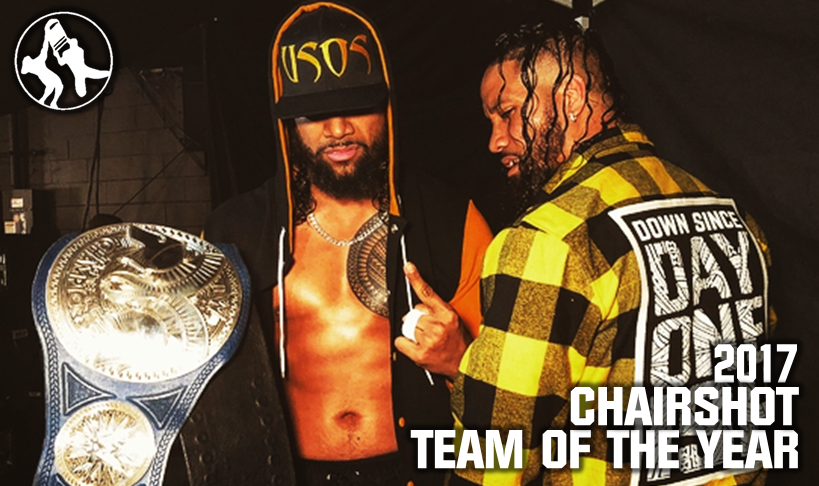 Tag Team wrestling has had its ups and downs in wrestling history, but for WWE it definitely saw an uptick in 2017. Between the return of the Hardys, the establishment of The Bar, and The Usos vs The New Day, the brand split has benefited tag teams in wrestling's largest promotion.
For the independent and international scene, tag team wrestling continues to be strong, led by The Young Bucks who are easily the most recognizable and successful tag team not in WWE.
With all those amazing teams performing in 2017, one team stood out among the crowd, and that was The Usos. Despite not appearing on the main card of either WrestleMania or SummerSlam, the brothers continually delivered the best matches of the year. Their SummerSlam Kickoff match went over 19 minutes, clocking in as the second longest match on the entire show (and by many accounts, the best). The proved their worth not just in the ring, but on the microphone as well. They consistently delivered great promos in the ring, on the way to the ring, and in other settings such as Talking Smack.
As Patrick O'Dowd put it on the final Greg DeMarco Show of 2017, The Usos aren't just the best tag team in the world, they are the greatest tag team of their generation. And they are also the 2017 Chairshot Team Of The Year.
Others under consideration: The Bar (Sheamus & Cesaro), The New Day, The Young Bucks.