Bobby Lashley Is Now Done With Impact Wrestling, Headed To WWE?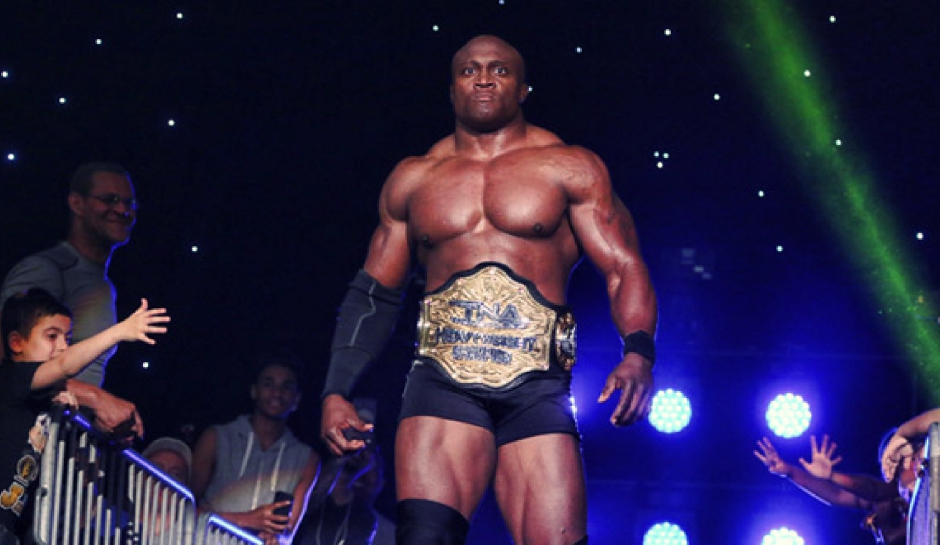 Bobby Lashley has been with Impact Wrestling for the last few years on top of working on his MMA career with places like Bellator MMA. What Lashley has done in both companies is admirable, but when his deal came up, it made sense for Bobby to leave Impact. Most expected him to go, but it was not for lack of success. Lashley was able to be a top name for the company the entire time he was with them.
Lashley might be 15-2 in the world of Mixed Martial Arts, but he's one of the most decorated Impact Wrestling performers in history. He had an amazing 2016 where he won every title he was eligible for. He's a 4-time World Champion with the promotion and has an extensive background that shows his skill as a performer. When you need someone to wrestle as a big guy at a top level, Bobby Lashley is good to call.
Many thought he was done with pro-wrestling when he left the WWE years ago. He had been someone the company really liked, and one of the few black stars they saw as a clear main event talent. Vince McMahon took a liking to him very quick into his run with WWE, which ultimately led to him becoming the ECW World Champion as well as the WWE United States Champion, all within short periods of time.
Bobby Lashley's deal was coming up and his wife now, then girlfriend Krystal, was not happy in WWE. Both decided to part ways from the promotion with neither looking to go back. However, the relationship was never terrible between the two sides. This had left the door open for Lashley to return to the WWE if he ever desired to do so. With now, seemingly being the perfect time.
Bobby Lashley Has Finished Up With Impact Wrestling
During the recent set of
Impact Wrestling tapings
, Bobby Lashley was written out of the show. This was similar to what happened with EC3, but not quite to the exact same way. Like EC3, Lashley's deal is up and he does not plan to stay with the company. So Bobby has decided not to sign a new deal and has instead decided to possibly jump to WWE.
WWE has extreme interest in Bobby as well. The company is expected to lose Brock Lesnar this year, and due to this, they need someone to come in that is similar to the Beast Incarnate. Though, he may not have Paul Heyman by his side. The thought is that Lashley will come in when Lesnar leaves, which is expected to be sometime near WWE SummerSlam. His contract had been extended a bit during negotiations over the UFC 200 show he took part in.
Since Lesnar is leaving, WWE needs another top guy who can come in with the same type of abilities that people love about Brock. However, they need to do it at a cheaper value. Enter Lashley, who might be more athletic than Brock but has a career that is almost a carbon copy of his with a "let me copy your homework","okay, but reword your answers" type of philosophy.
The Creepy Similar Careers Of Bobby Lashley And Brock Lesnar
Due to Brock leaving, having Bobby come in to take his place makes sense. It could also be interesting to see if WWE pulls the trigger on a match between the two that could give fans an explosive end to Brock's WWE career. Lashley has a similar story to Lesnar. They both went on to have a pretty good MMA career, though much bigger for Brock. However, Lashley took out time to be in the United States Army.
Both have had vastly different careers, but Lashley has been considered to be a black version of Lesnar for years. WWE even saw the same potential years ago, which is why they loved having him. Like Lesnar, Bobby Lashley only stayed in WWE a few years with good success before departing.
Though unlike Brock, Bobby never had the same opportunities to be thrust to the top as he did….mostly because they learned from their mistakes with Lesnar. Where Brock was given the WWE Title and the main event of WrestleMania and wins over the biggest stars of the Attitude Era, Lashley was given the ECW Title, worked with Vince McMahon, and only beat top stars of the current era.
While his career is literally the same as Lesnar in every way…there are exceptions and key differences. Lashley did not work for the UFC with his MMA career. He never main evented WrestleMania, or win the WWE Championship. He did not leave over not being able to handle the schedule however. He might be 41, but he's still able to go better than Brock full-time or part-time. Without the success, he's also cheaper. This is the best thing Lashley brings, with all the skill that Lesnar had. In a more athletic format. And that is freaky to even consider.
[Featured image by Impact Wrestling]
Mitchell's Raw Talk Report! (4/19/21)
Raw Talk will Feel the Glow!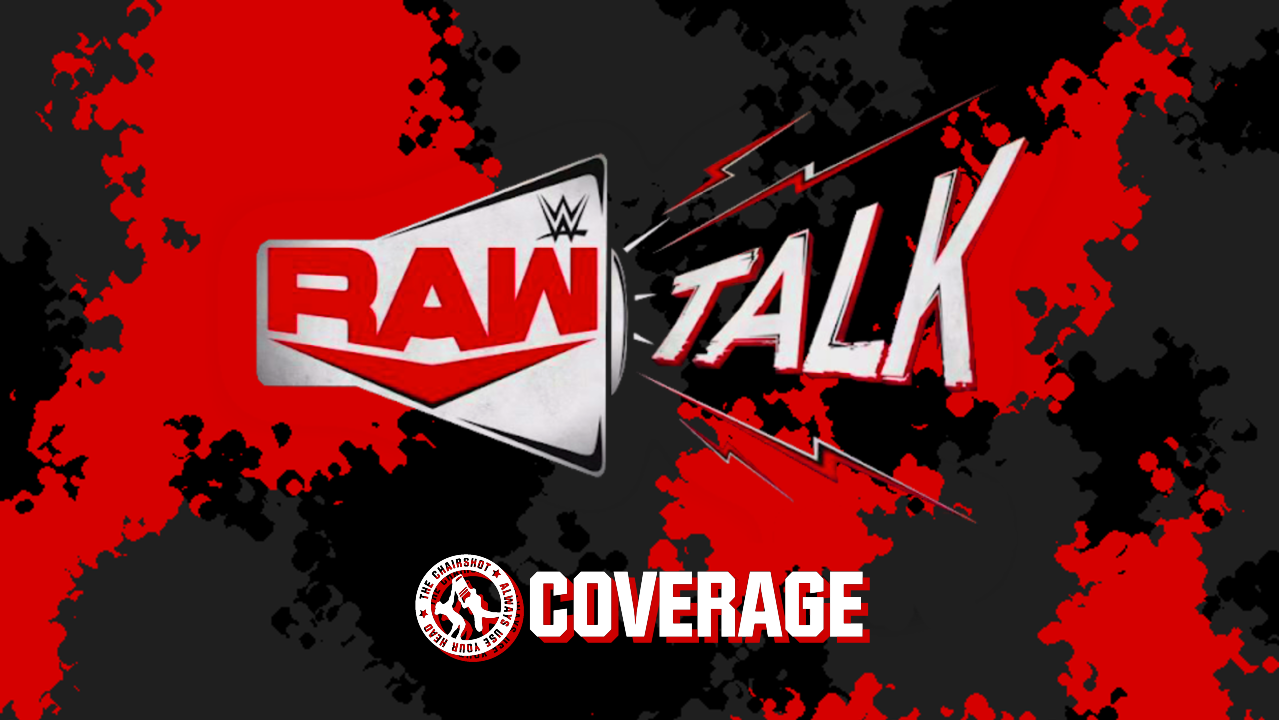 Raw Talk will Live Forever with the Ravishing Glow!
After another big week, Damian Priest, Naomi, Lana and Montel Vontavius Porter will all be joining in for some Raw Talk!
Kevin Patrick welcomes us back to the show!
"A night of upsets, deception and surprising allegiance." We're heading for WrestleMania Backlash and there's so much going on! Welcome to the ThunderDome, Kevin and "Antonio Banderas" are here. Well Xavier Woods is learning the guitar so he brought out his new baby girl to give her some love. He didn't quite inspire Kofi, but Kofi's had so many matches. It's like the Viking Raiders said last week, you might lose the match but you never lose the fight. And Elias has something going, so maybe Woods gets after Ryker.
Meanwhile, Drew McIntyre is on a rocky road going after Bobby Lashley at Backlash, but he has to get by T-bar & Mace. Woods has felt the "wrath" of T-Bar 7 Mace, too. You don't take them lightly. But McIntyre has overcome so many obstacles before, even the whole locker room, but now he has to go after these towering titans. Sheamus then had an open challenge, Humberto Carrillo came out confidently, but got pulverized. Sheamus said last time what eh showed tonight, that he's scratched and clawed to stay at the top. Carrillo is incredible, but Sheamus has the experience edge. Carrillo felt what Sheamus fights like, and that Brogue is just rough.
Kevin wants to then ask about how Raw ended. Charlotte VS Asuka, Rhea plays a role in how it ended, and Charlotte took her frustrations out on the official. How much of a lack of respect is that? You never put your hands on officials because you're taking out the part of the match that is the rules, and then things are just chaos. So to do something like that, you're past anger and rage. Charlotte stomped away on a person not trained for the physicality. Corey Graves speculated the road ahead for Charlotte, but Woods says this makes sense, in her mind. She has had millions of people rally behind her, only to turn on her.
And then she calls the newer stars, the ones making names for themselves, "rats and snakes!" But then she's the one who does that? Kevin isn't so sure. But can he get a drumroll please? Of course. Woods gives us the drum roll and Kevin lists tonight's guests: the Vice President of the Hurt Business; the Archer of Infamy who got another win over The Miz; and the Ravishing Glow, who got a big win over the WWE Women's Tag Team Champions. But that said, we start with Montel Vontavius Porter!
MVP joins Raw Talk!
MVP says Kevin downgraded on cohosts. How's that? Just an observation. Woods says that he can't stand MVP but as a grown man, he will see that what MVP has done helping Bobby Lashley get that air of confidence, they are unstoppable. Congratulation, even though Woods doesn't like it. Well the saying goes, you don't have to like it but you do have to live with it. MVP is sure Woods learned that from being in the Hurt Lock. Or, no, that was Kofi. Woods says there won't be time in the ring tonight so there will juts be time talking her. Kevin feels like a third wheel. MVP says Kevin better have questions because he has much better things to do than hang out with "video game boys."
Kevin goes back to WrestleMania in Raymond James, just 9 days ago. What were MVP's thoughts on that match? It was all expected that the All Mighty, the Chief Hurt Officer, would walk in champ and walk out champ. MVP told McIntyre he would lose consciousness, his dignity, and the match. But what was it like to be there with fans? Woods intercepts that question by asking what "Chief Hurt Officer" even means. You don't understand? MVP skips that to have an intelligent conversation. He doesn't want to explain something obvious to people who don't have the intellect. Well, Woods almost has his PhD in psychology. Well MVP has a PhD in criminology so there. Just go google it.
Kevin asks about T-Bar & Mace. This is a safe space, tell the world about what's going on here. For the last time, and MVP will speak slowly: Bobby Lashley is the CHO of the Hurt Business and he recently had the Hurt Business downsize. There is no recruiting, and MVP and Lashley have no idea why T-Bar & Mace are doing this. MVP respects McIntyre, though he doesn't like him, but he is excited in seeing what T-Bar & Mace are doing to McIntyre. But there is NOTHING the Hurt Business has to do with that. Woods respects that. Does MVP respect T-Bar & Mace and what they're doing? If those two want to make an impact, not that MVP isn't speaking for them, but he gets that they are operating under "by any means necessary."
So things are really rosy for MVP and Lashley right now, huh? McIntyre is coming back for the world title and MVP is poking the beast. MVP laughs and says McIntyre looked angry while he was unconscious. Woods says Kevin is talking to someone with an ego so you can't really get through. And Lashley has been dominant, so you can't argue against that. MVP sings Everything's Coming Up Roses. These aren't rose-tinted glasses but from MVP's perspective, yes, things are looking good. Business is going exceptionally well. Kevin thanks MVP and MVP says the pleasure was all Kevin's. MVP takes his leave and we go to break.
Raw Talk returns and Kevin discusses MVP talking down to Woods. Woods says MVP obviously came in with no intention of listening to the other side so there was nothing they could do but let MVP talk. Wait, Adam Pearce walks in? And discusses something with them quietly. Woods is surprised, "A hundo?!" This is about Charlotte Flair's actions for assaulting the official! Woods says it so we can hear: Charlotte Flair has been suspended indefinitely, with a $100,000 fine! That's a LOT of money. They thank Pearce for that breaking news, and they repeat that Charlotte has been suspended indefinitely for what she did to the referee.
WWE is clearly making an example of Charlotte after she tried to make an example of the ref. Kevin asks what "indefinitely" means and how long that translates to. Pearce is the one to decide that. That little surprise is leaving us all reeling, so Raw Talk takes another break before getting back to their guests. ONE, HUNDRED, THOUSAND.
Naomi & Lana join Raw Talk!
The Ravishing Glow is here and they are feeling it! The beat about to drop so bring it! Don't take a bump now. BOOM! Kevin admits he just can't. How are they feeling? Great! Well they look great, they are coordinated like a real team! That is what Woods loves! Naomi says Lana picked these out but yeah they're great. What a great win over the women's tag team champions. Would they have gotten it done without Dana & Mandy, though? Of course! This isn't the first times they've pinned the champs. This also isn't the first time they got screwed over. What goes around come around.
Lana reminds us that Reggie ruined their tag title match, and where Nia is already bigger and Shayna is already more technical, Reggie was an even further unfair advantage. But they were contenders before, they'll be contenders again. A win is a win and they'll take it. So they deserve another shot? Of course! They are ready to be Women's Tag Team Champions. Woods knows what this is about. Lana & Naomi are ready to be future… Well of course future. But… Let's get this together, hold on. They are your future women's tag team CHAMPIONS~!
Woods likes that. They slid into the #1 spot after pinning the champs, but Woods also loves that they're proving they're more than just "sports entertainers." Y'all have been crushing it on the TikTok! And that has helped them mesh together, work together, get the chemistry going. Do they feel that bond has been created in and out of the ring? Absolutely. Dance brings people together, so these two have formed a bond through dancing and TikTok dancing. The New Day have always been inspirational because they have fun and kick ass. They can do it all, from TikTok to dance to fight, and becoming the future Women's Tag Team champions!
Naomi says people underestimate them because they see the dancing, the fun, and just feel they can't be serious, or don't take them serious. Naomi disagrees, she's been there, and trust her that she can get serious. Ready to snatch people bald. Yes, dancers have more body control. They might just moonwalk up out of here. But over 20,000 were dancing at Mania, so what did that feel like? Being out on stage was emotional because they missed the fans. Lana realized this is nothing without fans. You can keep going, but it's not the same. The fans are everything and they do what they do for the connection with the fans. There's nothing like it!
Kevin brings up, having seen it shared on social media, all the work Lana has put in to have her moment alongside Naomi. They want to be future champions, but have they had that moment where they thought, "This is me, I can do this." Lana says yes, she personally dealt with people doubting her just because she wasn't wrestling for 20 years before the WWE. But she was putting in 40 hours a week getting in shape at just 10 years old. Dancers have discipline, work ethic, perseverance when you're told, "You're too fat, you're not pretty enough," this and that. But it's instilled in them, that discipline and resiliency and adaptability. Why not even create WWE TikTok Championships? Kevin wants to know what TikTok is. Woods says he'll explain after the show.
Woods has one quick question before they go. There was a moment months ago where Woods and Naomi hadn't seen each other in so long and finally got to talk. This tag team with Lana, getting the fans back, what is the journey back like? It gave Naomi a new perspective, and made her much more appreciative of being here and being around and staying positive. A lot of the time, things don't go the way you want, but you're blessed to still be here. Naomi working with Lana is special, too. That entrance at Mania was difference because they were side-by-side. Just focus on moving forward.
Lana says what Naomi has taught her is self-confidence. And if you don't believe in yourself, have someone who will tell you to believe in yourself. Inspirational! The future champions head out as we go back to break!
Damian Priest joins Raw Talk!
Woods rocks out to the theme and so does Priest. Woods hasn't heard this with headphones and now that he's got the ear piece, that bass is kicking! Kevin says it's awesome to have Priest here after his awesome win over Miz tonight. But not awesome: that cheap champagne. Priest does interrupt Miz's "moment," and then tasted their champagne. It was just trash. Anyone who followed Priest back in NXT knows he's a champagne guy, but that was just not good. And Miz & Maryse can't get the good stuff? C'mon. Only the finest of "cham-pag-nas."
But does Priest realize that he got in between the It Couple? Maryse threw down the challenge, Miz was reluctant, and then Priest beats Miz in front of Maryse! He might be causing a divide between them. Well, after last week, Maryse helped Miz get one over on Priest, perhaps because Miz is lacking a little something. And then this week, Priest proved it. Bring Maryse along, this is just what Priest does. If they've got beef at home, that's on them. He didn't start it, but he'll finish it. Woods jokes, is Priest a homewrecker?
Kevin asks Woods how impressed he was to see Priest & Bad Bunny win at WrestleMania. That was crazy! It blows Woods' mind. They talked before that it's wild to have Bunny here at all, and then they debut on the main roster and get into all this, what has this feeling been like? Especially with WrestleMania and now Priest's path. Priest knows Woods can relate to this. You can be successful and achieve things and it's awesome, especially when it' syour dreams. Now do that with your friend, and how you can feed off each other's energy and have a blast. THat's Priest & Bunny and that was great at Mania. They ha dfun, ha da great entrance, they won! It's everything you want in the business!
The only thing missing, and Woods has his guitar now… What's up? Wasn't he gonna play PRiest out or something? Well Woods has to learn the tabs and stuff. Priest thinks they should form a band. Woods would do that! What does Priest play? Oh he's the front man, bruh. Nice! Well, they'll have to have different pieces, a little bit for everyone. That can even be the band name, "A Little Bit for Everybody." They'll work on it. Kevin admits he'd never even be able to do what the superstars do, so how impressive was Bunny's dedication? Miz even admitted to it.
Priest says Bunny wasn't even supposed to be successful in music, the way he went about it. He was told to dress a certain way, speak a certain way, sound a certain way, but it still didn't work so he just figured, "Why am I doing this? I'll do things my way." At least he'd have fun. And then boom, he's hitting it big. Wrestling was another dream of Bunny's, because every since he was a kid, he saw it. He thought it was unachievable, but then he's given this chance and he works hard to get his dream. And he put in the work! Priest watched Bunny get lumped up and even bloody during training, but also get up and say, "Let's go again." That's what you don't see and probably couldn't get. So Priest was so happy when Bunny shocked the world! That was awesome. And when it's one of your friends, it's even better.
Woods wants everyone to understand Priest's journey. How long has he been wrestling? 17 years. So having this worldwide experience, from the indies to NXT to Raw and Bunny, beating Miz, what is next? All this knowledge and experience, what does Priest do next? Moments. Moments people talk about the next day, week, year. Things that withstand the test of time. #LiveForever. He's not a vampire. People get that confused but he' snot. Priest just wants his name to live forever, do things that are meaningful and people are happy to have witnessed and they pass down the stories. And he wants the titles, the main events, everything else. Maybe he won't get all of it but it'll be one hell of a ride trying. Oh, and the celebrations.
Kevin says Priest sure left his mark on Miz. He is top class, and thanks Priest for his time. And on behalf of "Antonio Banderas," aka Xavier Woods, and the classy crew, take it easy and see you again soon! Woods gets in an "OoOoOoh~!" before the show ends.
---
My Thoughts:
This was a very fun episode of Raw Talk, especially with Pearce making a surprise appearance to give us the kayfabe news of Charlotte's "suspension" and "fine." I feel like the "indefinitely" part is so they can keep her out of #WrestleManiaBacklash and have her go after the champion on the road to Money in the Bank in June. It's a bit of a shame because I literally said in my Raw article that I thought we were getting a Raw Women's Championship Triple Threat but I guess not. They uncomplicate things by just removing Charlotte, so now it's just Rhea VS Asuka, unless Charlotte defies the suspension. That'd be pretty cool, actually.
MVP had a good segment, where he keeps up the mystery of his connection to Mace & T-Bar, and he sure tries to get at Woods just because Woods questioned the nickname, "Chief Hurt Officer." If we ever get New Day going against just MVP & Lashley, as in Kofi getting another chance at the world title, I feel like there should be an intellectual showdown between Woods and MVP. Lana & Naomi had a good segment, though they said a lot of what Lana said in the past and what everyone already understands about having fans live in attendance.
Priest had the best segment, which makes sense since he was third. His motivation is the same whether he's Face or Heel, but saying it in a Face way makes his mission to #LiveForever more relatable. Also I do like that he acknowledged the confusion about his gimmick being vampire. I wonder if Priest gets to be Sheamus' first real opponent for the US Championship. That is going to be an awesome match from some big, strong strikers/brawlers.
News From Cook's Corner 4.19.21: Spring Cleaning 2021
Spring cleaning happens everywhere, and Steve Cook points out his highlights of the recent news!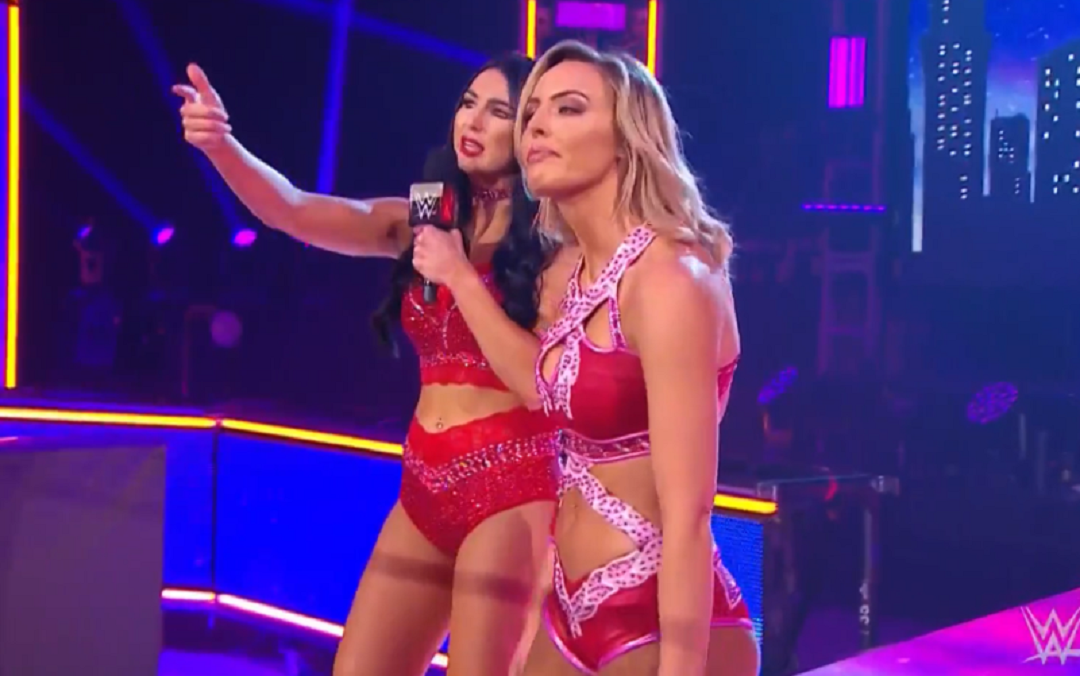 Hi, hello & welcome to News From Cook's Corner! Tomorrow will mark one year since this column has made its glorious return. All in all, I think I'd give this year of News From Cook's Corner a solid "C". Not my best, but not my worst either. Considering the year that's taken place for all of us, I'd be willing to bump it up to a "C+" based off of degree of difficulty. A rough year for wrestling, a pretty full plate at work…not really the best time to produce your best writing.
Thing is, I know I can do better. I'm glad my work draws whatever interest it does, and I appreciate everybody that reads & likes my stuff, but I'm a greedy son of a gun. I want more. Gonna try and make that happen by the time the second anniversary of the third News From Cook's Corner run rolls around. How am I going to do that?
Well, hopefully I'll figure it out by then.
For now, let's run through some rasslin news!
Spring Cleaning
That's what we used to call it back in the day. Every year in the time following WrestleMania, WWE would release a number of wrestlers from their contracts & wish them well in future endeavors. The practice stopped during the 2010s largely for two reasons…
1. WWE wanted to have every professional wrestler in captivity under contract.
2. Linda McMahon was trying to get elected to political office, and her family's company firing a bunch of people didn't make her claim of being a job creator look very good.
Sure, people would leave or get released from time to time, but we went years without that day where the axe fell and it seemed like people would never stop getting fired. Not a great time to be a wrestler without much going on in WWE,
We talked about Samoa Joe in the Fave Five column and nothing else has been reported on that front. Except that everybody is talking about how much they would love to finally see a rematch between Joe & CM Punk, and Punk seems like he'd be up for it. I kind of wonder if they could put that together themselves and make some money off of it, or get one of these other feds to book it. FITE re-tweeting a Bleacher Report article about it tells me they're seeing if they can get involved in something with these guys. I mean, their new owners are promoting boxing shows built around Jake Paul, and it seems to be working, so why the hell not?
Billie Kay & Peyton Royce
Back when the Iiconics split up, everybody told me that Peyton was in store for big things because Vince McMahon liked her and was going to give her a singles push. Nothing that happened after the split indicated that anybody associated with Vince or Creative had any interest in Peyton Royce. She went to a tag team with Lacey Evans that didn't make anybody forget about Peyton's old tag team, then once Lacey went out of action there was nothing for Peyton to do. She gave an emotionally-charged promo on Raw Talk that got some people talking, but it didn't lead to anything.
Billie was supposed to be left behind after the team split, but got a bit more run on SmackDown with a gimmick where she would distribute her resume to everybody. Dunno if they were trying to send her a message or not, but she got the darn thing over. Fightful reported that Kevin Dunn didn't understand Billie's appeal, which is one of those things that isn't surprising at all because it's Kevin Dunn & the only thing he understands is bad television.
It's kind of a theme with these releases. A good percentage of these people were in tag teams that split up for reasons that ended up being irrelevant. Singles pushes that never went anywhere because somebody lost interest.
Mickie James
Mickie was one of those girls back in the day that history tries to overlook now in a desire to emphasize how today's women's wrestling is the best ever. It seemed like her in-ring career was just about done anyway, and WWE probably has enough people to train and whatnot, so the release doesn't come as a huge surprise. A shame to many, as we all like Mickie.
Like a good number of people released by WWE lately, Mickie has a significant other employed elsewhere. Does she follow Nick Aldis to the NWA? Billy Corgan's company sure could use a boost, as not many of their other recent additions have generated a ton of interest. Not saying Mickie turns the tide for them, but she's damn sure a bigger draw than Tyrus. Mickie vs. Serena Deeb sounds good to me, as does Mickie vs. Thunder Rosa, and I'm sure Kamille could learn something from her. Book it, William!
Chelsea Green
Chelsea finally made her main roster debut back in November and was set to be part of Team SmackDown at the Survivor Series until a wrist injury during the match changed those plans. She had a couple of start-stops like that just when it seemed like her time.
Could still be her time somewhere else though! She's already taking outside bookings and I'd guarantee that we'll see her on one of the other TV wrestling promotions before 2021 ends. She's got history with Impact and friends there too, so that seems like the best fit. That said, I think she'll have her choice of where to go.
Tucker
Making lemonade. pic.twitter.com/5Jvvmol88o

— TUCKy (@REALLeviCooper) April 15, 2021
I never heard anybody say one word about this cat until he popped up on Twitter day of his firing smoking joints and ripping Vince. Now he's everybody's favorite! Not hating on the guy though, I thought he was solid enough in Heavy Machinery, and it was obvious they had nothing for him after that split. What wasn't as obvious was they had nothing for Otis either.
Anyway, Tucker's better off somewhere that somebody might at least book a match for him.
Wesley Blake
Remember that big hullabaloo over Jaxon Ryker's tweet last summer? It got the Forgotten Sons taken off of TV and everybody wanted Ryker to get the hook. I never saw it happening, simply because Ryker's tweet wasn't anything that the WWE front office would have disagreed with in private. Sure enough, Ryker still has a job while the rest of the Forgotten Sons have been released.
Blake was in a well-regarded tag team with Buddy Murphy that got Alexa Bliss over as a star before moving on to the Forgotten Sons. He'll be teaming with somebody somewhere.
Bo Dallas
Bo was already making plans for life after wrestling. Maybe he'll do some well paying indies or something, but I doubt we see him on a large stage again. Besides, all his family's stroke is with WWE.
Kalisto
Kalisto was one of those guys that showed a lot of talent before arriving in WWE, and he had a solid run early on too. Not so much in the past couple of years, and I read something from thecubsfan that made a lot of sense. Expectations for Kalisto will be high now, but there's no guarantee he'll live up to them. Dude's spent the last several years un-learning the stuff that fans outside of WWE liked about him. He won't magically become Octagon Jr. or Samuray del Sol again, like people might expect.
So if people lower those expectations, I think they'll be happy with what they see from him in AAA or wherever else he ends up. A US indy tour seems inevitable since that's where he made his name to begin with.
In closing, it should be noted that getting fired by WWE isn't the end of the world. Everybody here has feasible options they can move on to, and the door's always open for a comeback. Heck, Drew McIntyre was let go by WWE some years ago, and he improved himself to the point where he eventually became WWE Champion.
I don't even mind WWE trimming their roster, just don't give me the "budget cuts" excuse. WWE can afford anybody they want at a price that doesn't hamper the almighty profit margin too much. If fans, or WWE tries to justify firing people with "budget cuts", don't buy it.
Just say you don't want these people around anymore. You have no use for them. Be honest!
I'm also not going to make any suggestions on who should be fired, as WWE will just keep them around forever. People tell me they still see money in Velveteen Dream…I'm not sure what kind of money they'd see in him at unless the FBI puts out a reward for his capture.
Announcing News!
Last week I sat here and explained to you how it doesn't matter who commentates on shows, what actually matters is the content of the shows. Sometimes, it feels like people in the business read my columns, then set out to prove me wrong. This is a ridiculous, self-serving belief since it assumes that people in the business read this shit, but it's just a feeling I get on some occasions, such as this one.
WWE completed their current announcing picture not long after last week's column, putting Pat McAfee next to Michael Cole on SmackDown. It makes sense, McAfee is quite the talker and has football commentary experience, and also has a fanbase that he can implore to watch SmackDown. I feel like an opportunity has been missed considering his in-ring performance against Adam Cole, but McAfee doesn't seem into doing that full-time, and seems quite happy talking for a living. Wouldn't we all?
Then we have Impact Wrestling making a big announcement. Mauro Ranallo will be calling the main event of their Rebellion show, which pits Impact Champion Rich Swann against AEW Champion Kenny Omega in an apparent unification match. You always have to add "apparent" in front of "unification match" given the past hundred years of pro wrestling history. It's nice to see Mauro return to pro wrestling, and it's not like he's had a problem getting work since leaving WWE.
Is Mauro going to make anybody buy Rebellion? Will Pat get more people to watch SmackDown? I'm leaning towards "probably not" on both. Yet it seems like that's what these promotions think will fix things. Maybe I'm wrong. They'll do their best to prove it.
AEW did a little bit of cleaning too
I feel that I need to go ahead and mention this as well, since we already covered WWE firing a bunch of people, and WWE fans will get mad if I don't mention other companies letting people go. More importantly than all that, I just find this particular story fascinating for some reason.
Ivelisse hasn't been seen in AEW since February. There had been some speculation that she had gotten into trouble backstage due to some issues with Thunder Rosa. Some tried to say there were no issues, but people that watched their match on Dynamite knew better.
Ivelisse: I don't know why I got released.

Also Ivelisse: pic.twitter.com/rvvzE2geEA

— Soundwave (@LocalSoundwave) April 14, 2021
She didn't appear too often on Dynamite after that, but got a solid push on Dark. Ivelisse won fifteen straight matches on Dark, whether as a single or teaming with Diamante. Lost her last one, and hasn't been seen since. What's up with that?
According to Ivelisse on social media & during an interview with Lucha Libre Online, it's due to heat with a coach & with Thunder Rosa. Rosa & Ivelisse have had bad blood since their days in Lucha Underground, and apparently Rosa ran her down to anybody in AEW who would listen. See, I don't completely doubt that. I don't know if Thunder Rosa was giving everybody her unsolicited opinions, but if somebody asked her what she thought of Ivelisse, she probably gave an answer.
I imagine that'd be the nice thing about being under NWA contract instead of AEW contract. One can be a little more truthful.
You feel bad for anybody getting fired, and Ivelisse has the potential to be a star somewhere. Unfortunately, it seems like she keeps getting in her own way, and it also seems like she doesn't realize that she's part of the issue. Not saying she hasn't been wronged in some of these situations, it's the wrestling business and not many of these people are wearing halos.
It's a lesson a lot of us could stand to learn. If the same bad things keep happening to us, maybe there's something we can do to make things better.
That's all I got time for right now. Thanks for reading, and until next time, keep your stick on the ice.