Is It Cedric Alexander's Time Now In WWE?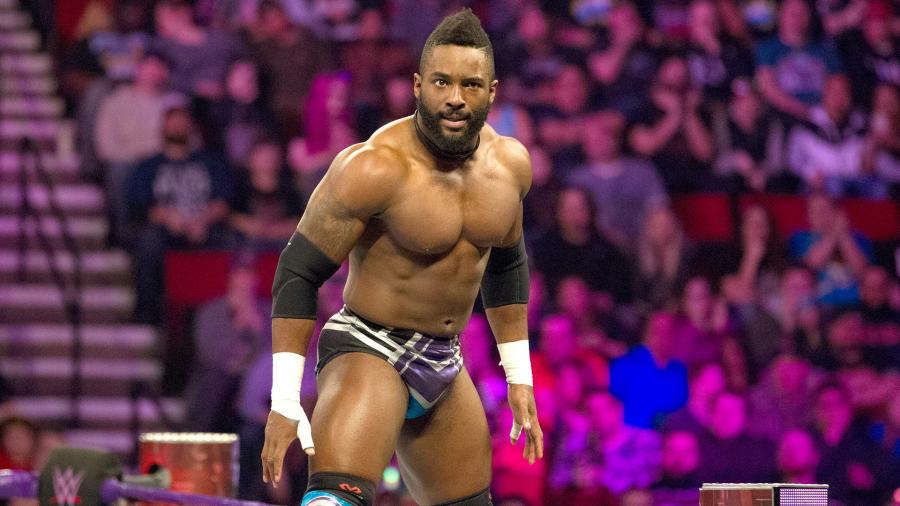 During his time in Ring of Honor, Cedric Alexander first began to earn a name for himself as one half of the tag team the C and C Wrestling Factory, alongside Caprice Coleman. He was the younger member of the team, and fans could tell right away that the pair was something very special. He impressed in the ring, but it wasn't until he completely abandoned the character he initially portrayed that he got to demonstrate to fans the character depth of which he is capable. Fans may have forgotten that in one fateful match, he defeated Moose by using a wrench and, after aligning with Veda Scott, Cedric the face was gone and Cedric the heel came to life. With Veda Scott as his mouthpiece, his character became someone that would do everything and anything he could to make sure he won. You can be liked, or you can win; now, Alexander wanted to win. After this complete about-face, the highly competitive Alexander showcased something very different. Gone was the overly cheerful persona that fans had come to know, replaced with someone that was tired of losing and being passed over, and had snapped. It was a change that was needed, and a long time coming.
Once he left Ring of Honor, Alexander had little opportunity to be seen by a broader audience since he wasn't in a promotion that is featured on broadcast television, though he had some success in Evolve and other independent promotions. The next time fans got a chance to see Alexander on a widely available platform, it was during the WWE Cruiserweight Classic tournament in the summer of 2016.
Alexander was much leaner and appeared even more mobile than before. He had shed about 20 pounds and his body had become much more defined. He had tremendous matches during the tournament, but one match, in particular, made everyone stand up and take notice. When Alexander and Kota Ibushi squared off against one another, it was a hard-hitting affair full of risks and nearfalls. Despite losing the match, Alexander left to the cheers from the fans, and as he began to walk back to the dressing room, Triple H came out and embraced him with a congratulatory hug that showcased his appreciation for Alexander's performance not only in that match but throughout the tournament.
When the tournament drew to a close, TJ Perkins was crowned the inaugural Cruiserweight Champion. Alexander was announced as being part of the Cruiserweight division that would soon officially debut as part of the roster for Raw. Upon his debut, Alexander was paired up with Alicia Fox, and while the pairing didn't showcase how good of a wrestler he was because he was caught in a 'love triangle' with Noam Dar, it did give him a vehicle to be seen on television. Eventually, his character affirmed that he didn't want to fight for Fox and instead said 'you deserve each other'. It was an awkward angle because the duo of Fox and Dar persisted in pursuing Alexander when Cedric couldn't have cared less. The angle appeared to be more like punishment and wasn't the least bit engaging. That wasn't the worst of it, though, because Alexander also suffered an injury that had him sidelined for months towards the end of February, taking him out of action for nearly a quarter of 2017. An injury often can halt momentum, and after his return, Alexander wasn't granted a meaningful storyline or feud that he could sink his teeth into.
Which leads us to today. He was embroiled in a feud, alongside Rich Swann, against The Brian Kendrick and Gentleman Jack Gallagher. While we should be excited about the feud and that Alexander is being used, it feels like it is still doing him a bit of a disservice. It all came about at Alexander's expense, when Gallagher assaulted him and turned heel, in the process befriending The Brian Kendrick. Once again, Alexander is in the role of a vulnerable and unsuspecting face, making him look naïve and mistreated. During his time in Ring of Honor, fans witnessed a character that progressed, someone that took all he was going to take and he would no longer take it anymore. Now over a year after joining the Raw roster, where has Alexander character truly gone? When we remove the injury, we are left to wonder will we see the character that emerged in Ring of Honor. Really, Jack Gallagher has been given the character that Alexander had so fully embraced in ROH.
It could very well be that the ultimate plan for Cedric is that he will take all the disappointment he can, and unleash the inner angst that fans know he is capable of showcasing. How long will it be? What more will it take? Will it even happen at all? Right now, Alexander is booked to showcase how talented he is in the ring, but other than that, why should fans in the WWE care about him? The sad truth is he hasn't been granted the depth that others in the division have and he has not had the opportunity to sink his teeth into something compelling and meaningful.
When Neville was the Cruiserweight Champion, he had feuds with the likes of TJ Perkins, Jack Gallagher, Rich Swann and Austin Aries, and yet during that time, Alexander wasn't among those to contend. Now, maybe he originally was and then those plans were scrapped after his injury. Some may argue that he is a relatively big fish in a small pond; his value in the ring has long been seen by many around the industry, including Triple H. In 2015, Alexander was ranked #85 on Pro Wrestling Illustrated's top 500 of the year, and he was #116 the following year. However, his ranking dropped to #206 this past year, and how much of that has to do with his on-screen character development or lack thereof? Much like the other cruiserweights, he is forced to work in 5 to 10-minute matches. It is difficult to tell a story in that little time or give the audience reason to care.
Recently Alexander's role alongside Swann took another embarrassing turn when in reference to being called a 'clown' by Kendrick and Gallagher, Alexander and Swann came down the ring both dressed in clown attire and sporting painted clown faces. On one hand, we can look at that decision as Alexander having fun with his character, and that he is unselfish and doing what is asked, of him. It is more important to carry out the storyline rather than simply sitting idly by and not be used.
Alexander has come such a long way since his days as the younger protégé led by Caprice Coleman. Many wrestlers will say that their ultimate aspiration is to be brought into WWE. It as though competing for them is a bucket list item, leading to a level of notoriety that will always remain on their professional resumes. Fans can see that Alexander is a talented in-ring performer capable of delivering compelling and exciting matches like he did in the Cruiserweight classic. However, now those that see him compete on 205 Live are seeing something far removed from what he can do, except for very brief moments. Fans do get hints that he has an incredible array of skills, and is capable of performing moves in the ring that leave others double his size in complete awe. His commitment to lose 20 lbs and get himself in the best shape of his life suggests that Cedric is dedicated to making the most of this opportunity. He has the capability to do things that will incite a reaction from the audience and make them want to see more. However, much like the other cruiserweights, they aren't allotted the same time to develop their character both inside and out of the ring.
For over a year, Cedric has been presented as someone who is always excited and there to entertain. It is almost as if his character is too happy about where he is. Could a heel turn be all that far-off from happening? Time will tell, but all that we can see is what is presented before us: a talented wrestler that isn't given nearly enough amount of time to develop, having just a few minutes to showcase that he is capable of doing some incredible things. A program with Neville would have been terrific, an opportunity to see his in-ring prowess and how intense he could be the self-proclaimed king of the cruiserweights. However, that was not to be.
So here we sit waiting for Cedric. We wait to see what exactly the long-term plans for his character and time with 205 Live will be. There hasn't been any indication why he doesn't hold a more prominent role with the company, other than the injury that stalled his momentum. For fans like of Alexander like myself, we are tired of waiting to see him elevated.
Feel free to follow me on Twitter @TheMarcMadison and Instagram @themarcmadison
Feel Free to like my Facebook page Pro Wrestling Post
Feel Free to check out my blog The Wrestling News Hub Magazine include interviews with ROH top prospect tournament entrant, Curt Stallion, Sebastian Suave, Ring of Honor's Frankie Kazarian, "All Good" Anthony Greene, 'The Green Machine' Mike Orlando, Josh Briggs, ROH top prospect finalist John Skyler and current rising Ring of Honor star Flip Gordon with interviews with Tyson Dux, Ivelisse and Madman Fulton (former WWE NXT superstar Sawyer Fulton) and former WWE referee Jimmy Korderas still to come.
King's WrestleMania Rewind: Eddie Guerrero vs. Rey Mysterio (WrestleMania 21)
In the next WrestleMania Rewind, Chris King takes us back to WWE WrestleMania 21, and Rey Mysterio vs Eddie Guerrero in a battle of tag team champions!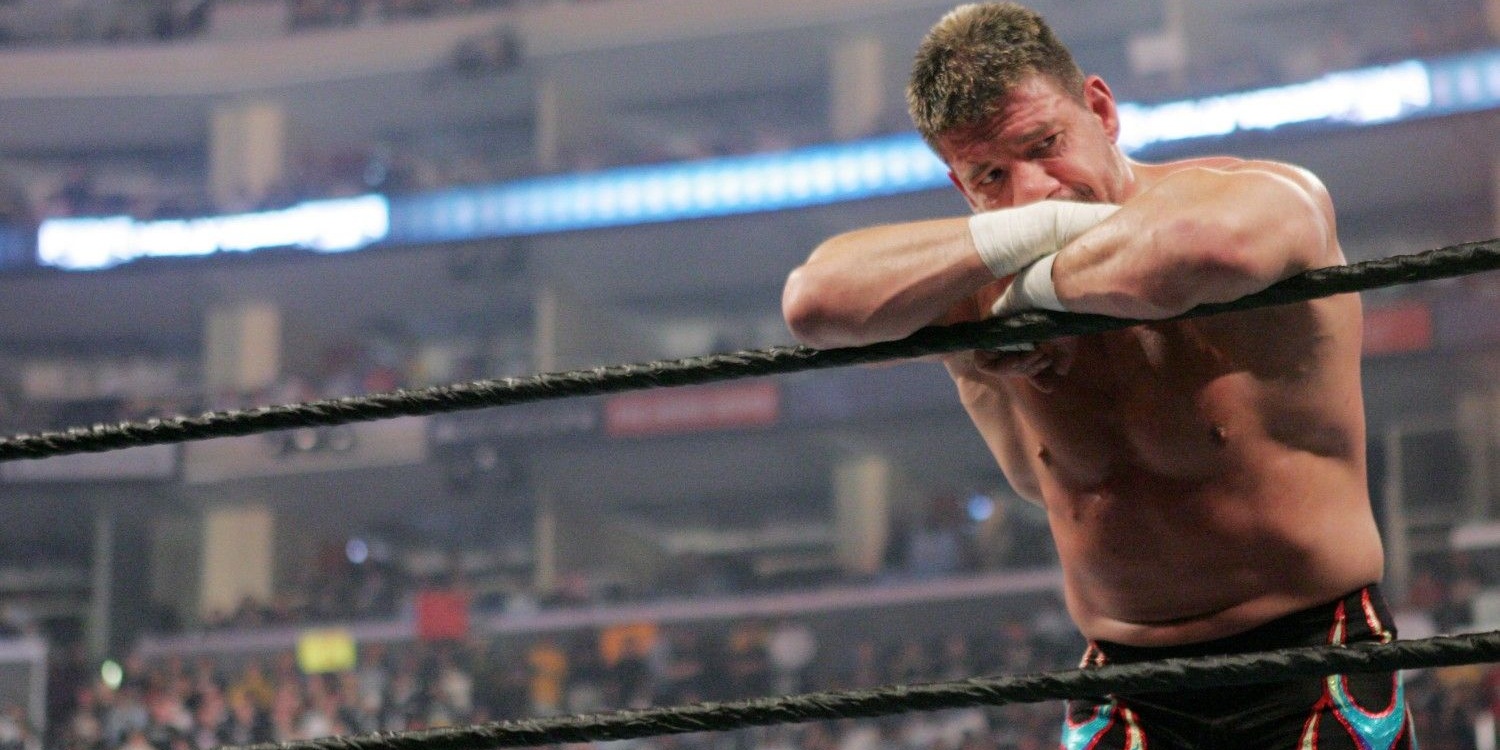 In the next WrestleMania Rewind, Chris King takes us back to WWE WrestleMania 21, and Rey Mysterio vs Eddie Guerrero in a battle of tag team champions!
Chris King is back with his third edition of WrestleMania Rewind. This week he's bringing us back to some 'Latino Heat.' We're rolling back to WrestleMania 21 where Eddie Guerrero faced longtime friend and rival Rey Mysterio.
This would be Guerrero's last Mania match caused by his unfortunate death. Over on SmackDown, Mysterio and Guerrero would become the tag team champions at No Way Out where they defeated MNM.
Chavo Guerrero would get into the head of Latino Heat by making him believe Mysterio was trying one-up his tag team partner. Chavo went as far as to tell his uncle to stop using the Guerrero name.
Guerrero would finally give in to his nephew's manipulation and went on to challenge Mysterio to a one-on-one match at WrestleMania 21. I For the first time in history, both tag team champions would face each other. Guerrero vs. Mysterio was the first match on the stacked card. Both partners threw everything at each other including the kitchen sink in a battle of one-up-manship.  In an incredible high-octane match that saw both superstars delivering counter for counter, Mysterio pulled off the win with a surprise pin roll up.
A few months later, what once was a friendly battle turned into a nasty fight involving the custody of Mysterio's real-life son Dominik Mysterio. After several torturous weeks, both former tag team champions would face off in a ladder match with the custody of Dominick on the line. I forgot how amazing this rivalry was and it's definitely worth a watch. Sadly, we would lose Latino Heat in November of 2005. There will never be another Eddie Guerrero. Viva La Raza!
King's WrestleMania Rewind: Stone Cold VS. Scott Hall (WrestleMania X8)
Chris King is back with another WrestleMania Rewind, looking at the NWO's Scott Hall battling Stone Cold Steve Austin at WWE WrestleMania X8 from Toronto!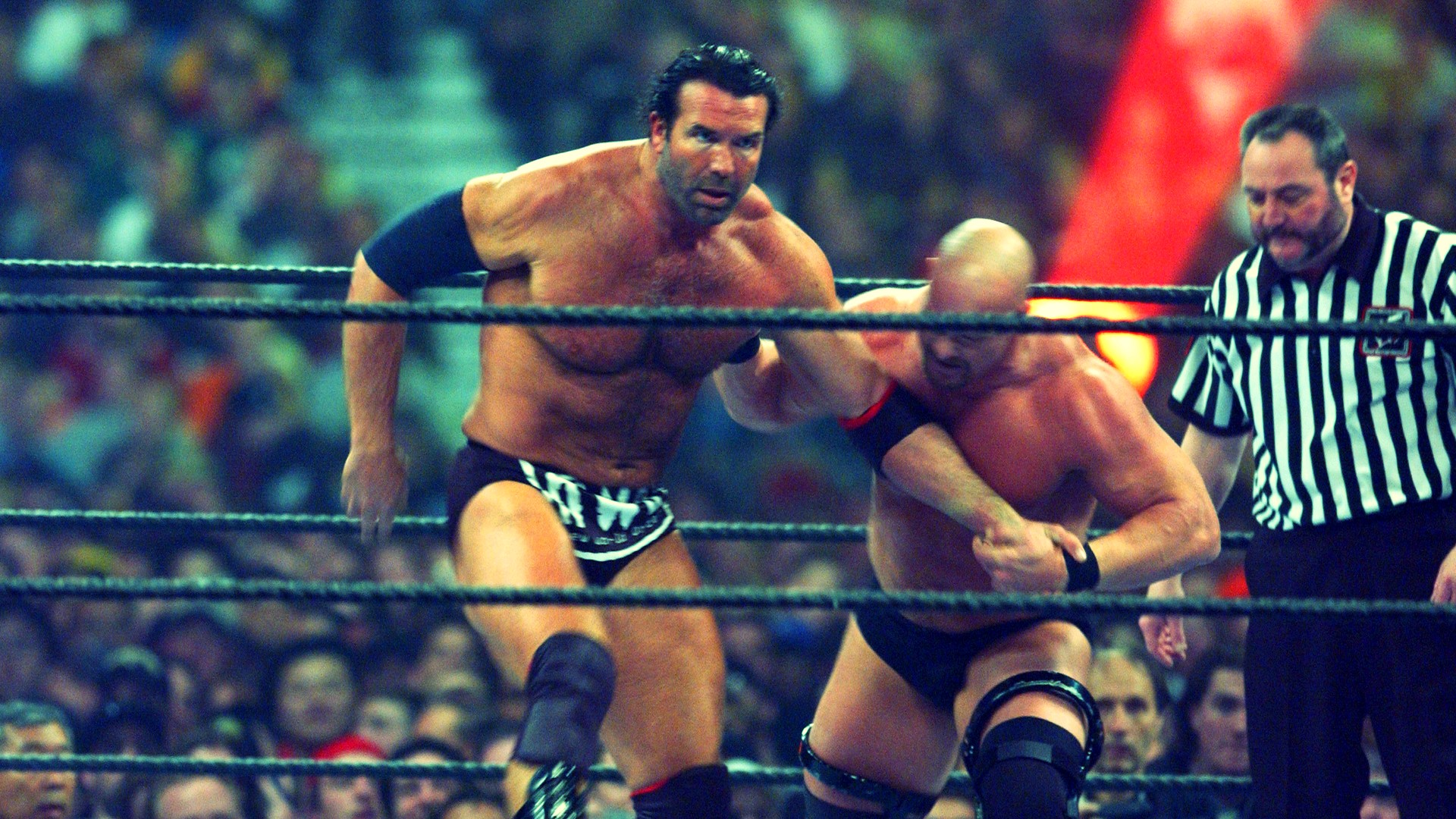 Chris King is back with another WrestleMania Rewind, looking at the NWO's Scott Hall battling Stone Cold Steve Austin at WWE WrestleMania X8 from Toronto!
Chris King is back this week with another edition of WrestleMania Rewind, where he is rewatching all the past Mania matches and feuds. This week you're in for a treat as we look back at 'Stone Cold' Steve Austin vs. Scott Hall at WrestleMania X8.
In late 2001, Vince McMahon bought out his competition WCW and acquired the rights to a plethora of talent including Booker T, Eddie Guerrero, Chris Benoit, and the iconic trio known as NWO. Hulk Hogan; Kevin Nash, and Scott Hall were hell raisers, and what better way to make a name for yourself than take out the two top superstars in the WWE The Rock, and Stone Cold?
The NWO cost Austin his chance at becoming the Undisputed Champion at No Way Out during his match with Chris Jericho. Adding insult to injury, the NWO spray-painted 'The Texas Rattlesnake' with their brand logo just like they did in WCW. As you can imagine, Austin was pissed and out for revenge against the group and primarily Scott Hall.
Hall would challenge Stone Cold to a match at WrestleMania 18. Both superstars beat the living hell out of each other leading up to this highly-anticipated match for who runs the WWE.
The glass broke and Stone Cold made his iconic entrance, and black and white NWO covered Halls' entrance alongside Kevin Nash. With the odds stacked against 'The Toughest S.O.B' could Austin or NWO prove their dominance? Sadly the NWO  broke up that very night when Hulk Hogan came to the aid of his adversary The Rock after their 'iconic' dream match. Stone Cold would ensure the victory with the Stunner. Hall would perform an Oscar-worthy sell over the finisher.
What a time to be a wrestling fan in the 2000s when nothing was impossible for WWE. Who would've thought WCW would go out of business and Hogan would make his long-awaited return to WWE?