Did WWE Fix 205 Live In One Night?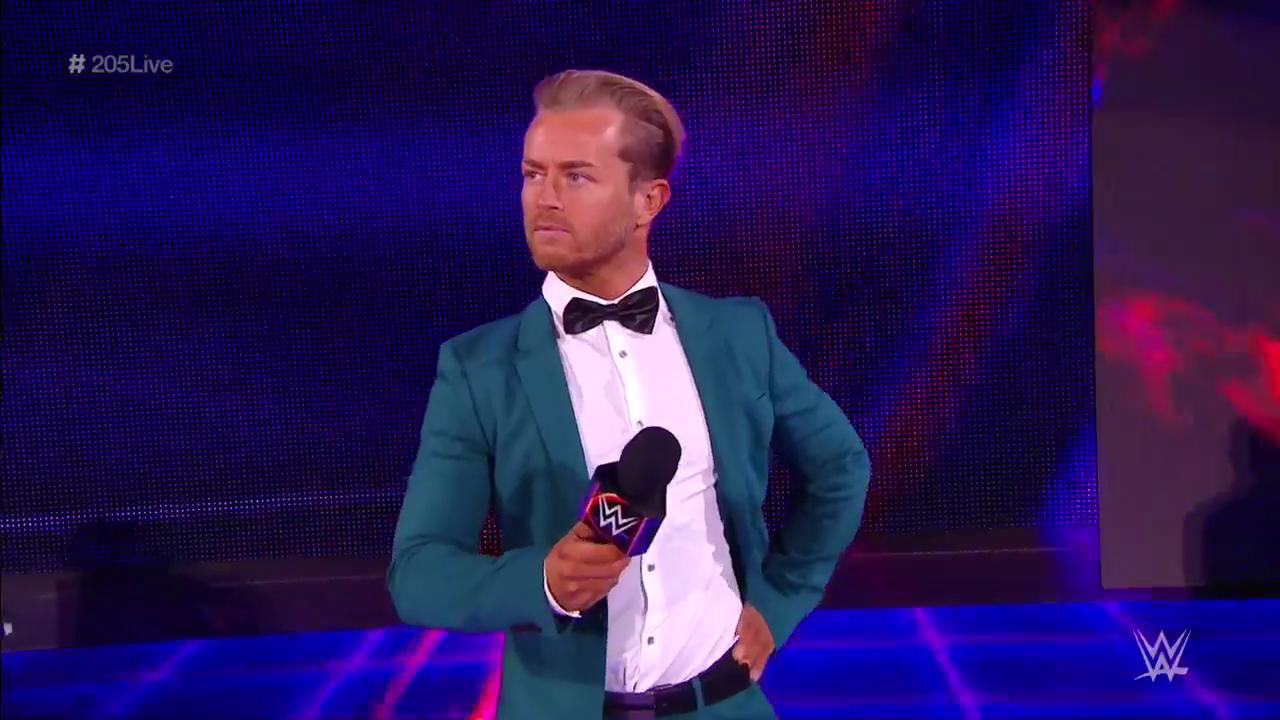 WWE 205 Live kicked off in a big way on Tuesday night (see the full report here), as Smackdown General Manager Daniel Bryan introduced Drake Maverick—the former Rockstar Spud—as the brand new General Manager for the purple brand.
Holding down the GM role in your company debut is no easy task, but Maverick is the man for the job. Losing a name the knowledgeable Philadelphia/Royal Rumble crowd knows very well did not help.
Side Note: I have no problem with Drake Maverick. Its WWE, a place where Lance Cade had to become Garrison and Shane Helms had to become Gregory. And right now there can only be one Rockstar in the company, and he just won the Royal Rumble.
Very relieved Shinsuke was able to duck out of the way of those letters in time. pic.twitter.com/AJC7RYHbQI

— TDE Wrestling (@totaldivaseps) January 31, 2018
And that's okay, because Drake Maverick delivered in his first promo, despite the crowd wanting to hate his new name.
Party like a Rockstar. pic.twitter.com/dBVsgFCWs4

— TDE Wrestling (@totaldivaseps) January 31, 2018
Just what did Drake Maverick deliver in his first promo? Let's see…
Energy – this brand is all about energy
Attitude – change the name, he's still Rockstar, ma' Lords and ma' Ladies
Competition – the Cruiserweight Championship is immediately back to being about competition
Build – the Cruiserweight Championship Tournament is going to culminate at WrestleMania 34 in New Orleans
New Life – Tyler Bate wrestled on this episode of the show, and Roderick Strong debuts next week
And that continued throughout the show. 205 Live has a purpose now. It has meaning again. The roster is hungry, and the new General Manager isn't afraid to assert himself.
We have so much potential. Who else can show up? Pete Dunne? Adam Cole? Ricochet? Can we get some Trios Championships as well? The possibilities are endless.
But is that enough?
The title of this article is "Did WWE Fix 205 Live In One Night?" and that remains to be seen. The next two months are money. You have a 16-man tournament that the hardcore fanbase will love. It culminates at WrestleMania, and I won't be shocked to see them get a spot on the "main card," even if it is right before the main event.
But that doesn't define success for 205 Live. What happens after WrestleMania? That defines success for 205 Live. And in my opinion, they're off to a great start.
---
Always Use Your Head and visit the official Pro Wrestling Tees store for The Chairshot All t-shirt proceeds help support the advancement of your favorite hard-hitting wrestling website, The Chairshot!

---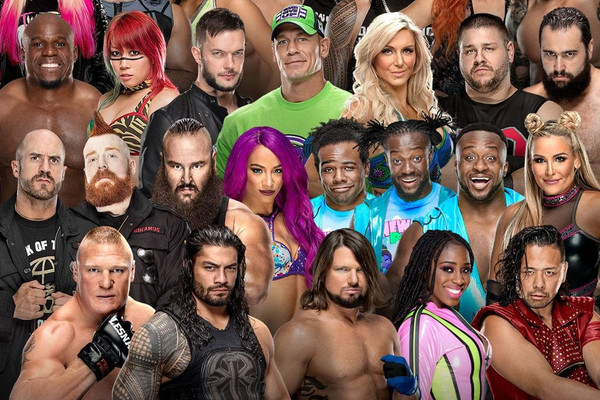 WWE in the past four years has been signing talents from all over the world and from every promotion that has amazing talent in an effort to steal those talents and to prevent this promotions to make any good quality wrestling. NJPW and ROH have been the biggest targets on talent that WWE takes from, names like Finn Balor, Luke Gallows, Karl Anderson, AJ Styles, Shinsuke Nakamura, Adam Cole, and just name a few have been signed to the WWE machine but the biggest problem WWE has is that what to do with all that talent.
Starting in NXT has been proven to be the best way to start your journey in WWE and the biggest example of this was Mike Kanellis, who started on the main roster instead of NXT and after just a few months of his debut he was relegated to low card position in WWE.But starting in NXT does not guarantee success in WWE, because like I mention before WWE and all it's brands currently have to much talent and wrestlers like Balor,Roode, and others are lost in the shuffle and not to mention that Balor and Roode had very good runs in NXT.
Despite WWE having a full roster, they are looking to sign ore talent and their biggest targets are Kenny Omega, Cody and The Young Bucks In a desperate way to stop NJPW's plans to expand into the american market and stop the rise of the independent scene it currently has by the success this men have right now. Also, another factor WWE would like to try to sign this amazing wrestler in the case of The Young Bucks is to boost the profile of the WWE tag division that in it's current state is really bad.
Despite all this good wresters WWE has in its roster right now, the booking has become dreadful and some of the worst wrestling right now and maybe wrestlers like Finn Balor, Shinsuke Nakamura, Bobby Roode and others should consider jumping ship to another promotion that could book there talent in a better way.
---
Always Use Your Head and visit the official Pro Wrestling Tees store for The Chairshot All t-shirt proceeds help support the advancement of your favorite hard-hitting wrestling website, The Chairshot!

---
Levin's SmackDown Live Review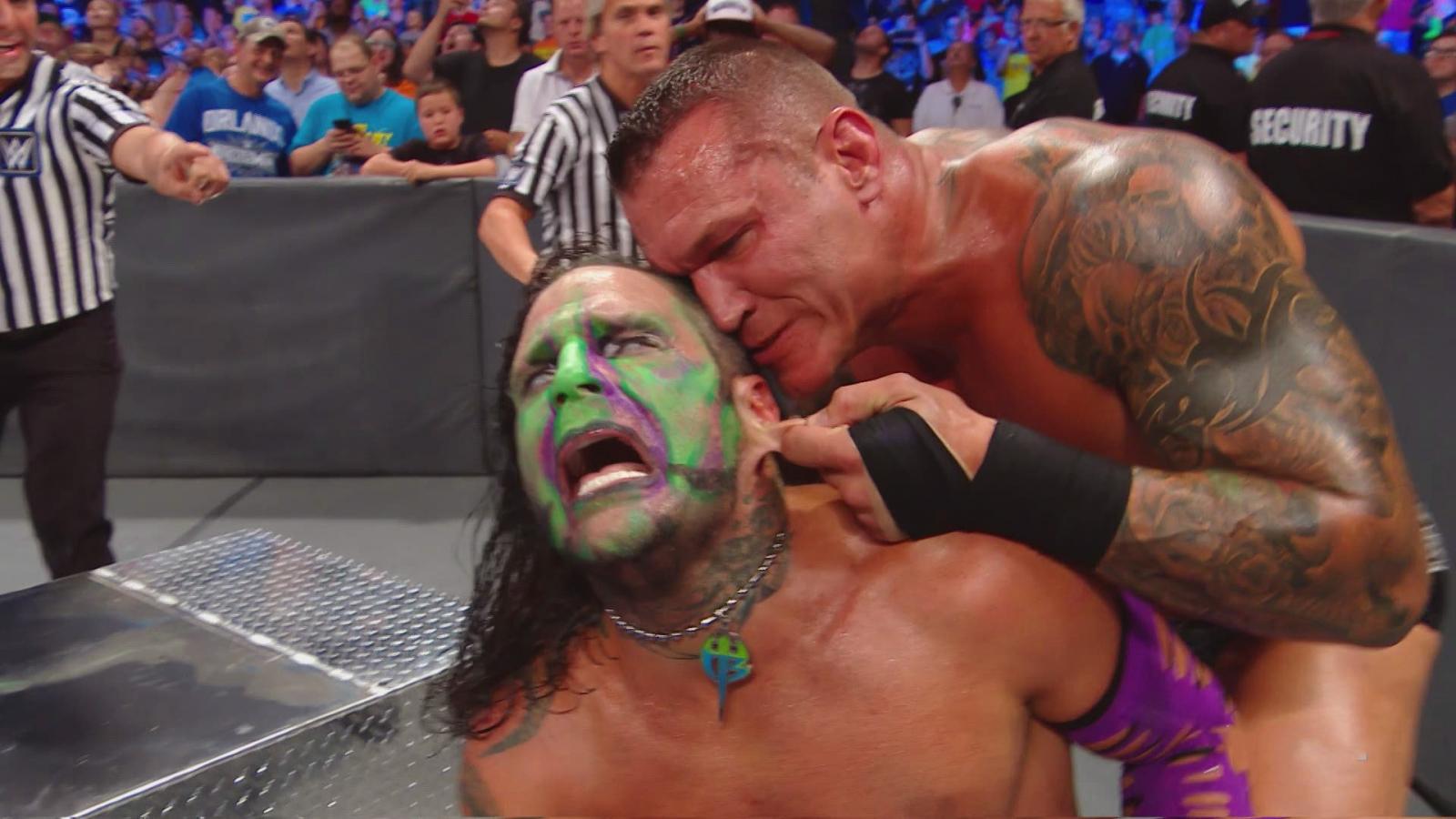 You figured the aftermath of the Extreme Rules pay-per-view would be "must-see" television on SmackDown Live. With Jeff Hardy demanding a rematch for the United States Title with Shinsuke Nakamura and a potential confrontation with Randy Orton, the show was very much something I was looking forward to.
Let's not forget WWE still had to wade through the waters of A.J. Styles' win over Rusev. Would the company continue to book this feud moving forward? There was Carmella and her stooge James Ellsworth and the Asuka "situation." Would the Empress of Tomorrow exact her revenge?
And if that wasn't enough, Daniel Bryan has officially signed his new deal with WWE, which means he could be booked as a contender for Styles' WWE Title. Where did The Miz fit in all of this, while he was busy playing softball during the MLB All-Star festivities and missed the show on Sunday night?
I waited anxiously for answers. Was I satisfied with the results? No exactly. Here are a few thoughts about SmackDown Live.
A.J. Styles vs. Cien Almas
The two superstars meet for the first time in WWE and does well for himself. The two crossed paths in Japan, renewing an old rivalry. The former NXT star has shown in recent weeks he could be part of the blue brand's title picture. Almas was able to answer the WWE champion's arsenal.
If WWE is going to push Almas toward the main event picture, this was the showcase he needed. Almas may have submitted to the calf crusher, but this is a feud I would love to see moving forward.
It also remains to be seen when WWE may book Styles to finally drop the company title.
The Demise of Rusev Day?
More like the beginning of the end of the relationship between Rusev and Aiden English. After watching the exchange between English and Lana, discussing how bad Rusev's sidekick felt about costing him the WWE Title at Extreme Rules, I hope this does not lead to a confrontation between both performers.
This would be a huge blow to Rusev's chance to remain in the main event picture. It may also put an end to the "Rusev Day" phenomenon.
Becky Lynch vs. Mandy Rose
While I am huge fan of Lynch, maybe even a slight crush on the Irish lass, the continual weekly bouts with Lynch and Sonya Deville have to stop. There is no movement in the women's division. If anything, moving Sasha Banks to Tuesday nights might be the best thing for this division while Charlotte Flair is still out of action.
I will say this, the match between the two women may have been the best we have seen, with Rose showing she can hold her own with a former women's champion. But still, "Make this stop!"
Now, Lynch sets her sights on Carmella and the SmackDown Women's Title.
Paige and Carmella
I love Paige. Leave it to the SmackDown Live general manager to stir the pot. Lynch gets her shot at Carmella in a non-title match. If she beats the champion, she gets another match at SummerSlam. It makes you wonder what the heck the company is doing with Asuka.
Samoa Joe vs. Tye Dillinger
Seriously! Dillinger is a classic example of moving to the main roster too soon. Joe should be part of the main event picture. You have to wonder when that might happen as WWE has yet to fully push the wild Samoan.
If Joe is not used effectively, where he deserves a chance to face Styles (see a theme here?) but his health and a crowded title picture may screw him out of a match.
The Miz Eulogizes Team Hell No!
The best part of Tuesday nights is the appearance of the "A-Lister." Offering a eulogy for the demise of Daniel Bryan and Kane, who suffered a broken ankle in the loss to the Bludgeon Brothers was class Miz.
Oh, and congratulations on winning the MVP of the celebrity softball game on Monday night. Sorry, back to the moment at hand. We even got an N'Sync reference which was classic.
The Miz remains the class of Tuesday nights.
After proclaiming Bryan's career is dead, you know what happens next. The setup for SummerSlam has begun.
Yes! Yes! Yes!
Kofi Kingston vs. Eric Young
There was a time when Eric Young was one of the best in the business and one of the more underrated wrestlers. Now, he is the leader of Sanity. I'm not sure if I like this faction, but they are growing on me.
Kofi Kingston could be part of the main event picture, but he is mired in the current situation with The New Day. I'm still waiting for WWE to dissolve this trio and give Kingston, Big E and Xavier Woods their own angles. The match between Kingston and Young could be a solid mid card feud, but that won't happen.
A wheel barrow neck breaker gives Young the win.
Jeff Hardy vs. Shinsuke Nakamura (for the United States Title)
In the opening segment, Hardy said he was BROKEN because he did not have the United States Title around his waist and invoked his return title match clause. It was a good match, but not great.
Hardy takes the fight to the champion immediately. But this match slows down as expected. Nakamura continues to play the role of villain well, getting heat from the fans in attendance (who were mostly quiet until the Bryan-Miz segment). I'm curious what this match would be like if Hardy was healthy.
He admitted he has been banged up for some time prior to the Extreme Rules pay-per-view.
Insert Randy Orton. The Viper beats the hell out Hardy until he defends himself. Ultimately, Orton stakes his claim as the top heel on Tuesday nights.
---
Always Use Your Head and visit the official Pro Wrestling Tees store for The Chairshot All t-shirt proceeds help support the advancement of your favorite hard-hitting wrestling website, The Chairshot!

---
WWE Possibly Doing an All Women PPV? Yes, Please!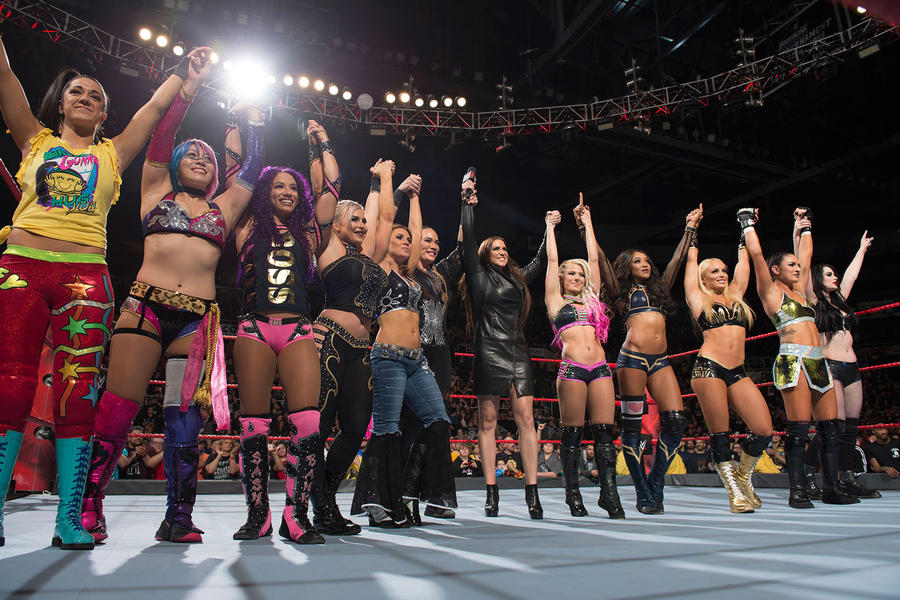 So, rumor's been going around that WWE's planning to do a PPV strictly for the Women's Divisions of RAW and SmackDown and all I can say is: FINALLY! WHERE DO I SIGN UP FOR TICKETS?!
Ever since the start of the Women's Revolution, it's become more and more obvious that the women need a show of their own because as the Women's Divisions grow on the Main Roster, there's less and less room for them on the PPVs and TV and it's a problem that's not going to get better with time.
A major promotion doing an all women PPV isn't new. TNA has done them before for their Women's Division, however, WWE has never before invested the time in exploring such a thing, or had a big enough Women's Roster to do it with, now they have both.
Why? Well, the RAW and SmackDown Women's Divisions have a lot of talent, but are still seriously outnumbered by the men's roster and so don't get as much TV time as they should and when they do get TV time, if they aren't involved in the title situation, they're usually in a multi-person tag match.
So, what are WWE's options here?
1. A Regular PPV. They could just take an already existing PPV like Unforgiven or No Mercy and just have an all-female card. Problem is making it feel special instead of WWE just copping out.
2. A Brand New PPV. This is the one I like the best, instead of resurrecting an old PPV: Give the women a PPV of their own that is named for them. The name I've been kicking around today is 'WWE: Revolution' and having the poster be of the two Women's Division rosters.
3. A Network Special. This is the one I can honestly see WWE doing in the spirit of the UK Tournament or the Greatest Royal Rumble. One idea that a lot of fans seem to like is 'Queen of the Ring', which would, of course be an all women's version of King of the Ring.
One issue I can see arising from doing an all women PPV is having enough matches to fill a three hour PPV/Special slot plus the Kickoff Show. There's about twenty women between RAW and Smackdown, now that sounds like a lot, but WWE had a card of about 35 people divided up into twelve matches, including the Kickoff Show, and there was still a lot of talking to make the time stretch and that was with seven title matches. So how would they fill in the gaps for the Women's Division when each division only has one title belt to compete for?
1. Include NXT. The NXT Women's Division is looking really good right now and a good case could be made to include the NXT Women in an all women WWE PPV/Special.
2. Include some legends. If WWE were to do something like they did with the Women's Royal Rumble and bring back some past Women's Division stars and Legends and set up some dream matches it would not only generate a lot of interest in the show but definitely fill the roster up.
3. Have Title Tournaments. This would really only work if WWE was planning on introducing secondary and tag titles to the Women's Divisions. The finals for those matches would be great additions to a Women's PPV.
4. Include the Mae Young Classic. I doubt very seriously that this will happen, but it would be a great addition if this PPV goes off to maybe have the Mae Young Classic final match on the card.
Again, it's only rumored that WWE's considering a Women's Division PPV, but I think it's an idea whose time has come and is long overdue. Since 2015, the revamped Women's Division has shown that they are more than capable of carrying a card, never mind a PPV on their own and it's time they were given the chance to prove it.
---
Always Use Your Head and visit the official Pro Wrestling Tees store for The Chairshot All t-shirt proceeds help support the advancement of your favorite hard-hitting wrestling website, The Chairshot!

---