Top 5: Interesting Statistics About The WWE Royal Rumble
The WWE Royal Rumble is just around the corner, and this match more than any other is built around numbers, and thus statistics. WWE will undoubtedly put out another amazing Royal Rumble numbers video, but there are always some interesting numbers they won't show you.
5. The Main Event?
Out of the previous 30 Royal Rumble events, a total of six (20%) of them did not end with the Royal Rumble match itself.
4. Triple H Plays The Game
The Game has some odd and impressive statistics under his belt when it comes to the royal rumble. Until Chris Jericho's performance at last year's event, Triple H had the longest cumulative time spent in the match at just over 4 hours. The Cerebral Assassin is also the only superstar to be the runner up of two consecutive rumbles, and boasts the longest time between rumble wins. Triple H also was a part of 7 WrestleMania matches involving the royal rumble winner, the most in WWE history. A close second however is
3. Winners Turn Into Losers
14 of the 23 Royal Rumble victors go on to win their desired championship at WrestleMania. That's just over 60%, which isn't bad. However, this does not include the two winners who never made it to WrestleMania, either due to injury or loss of the opportunity, as well as the four rumbles that took place before it was a launching pad to Mania, and Ric Flair's loss at WrestleMania 8 and Triple H's loss at WrestleMania 32 since their Rumble wins did not guarantee them matches at the Show of Shows. With that being said, 14 out of 31 winners go on to win a world championship at WrestleMania. That's just over 45 % of Rumble winners.
2. The Main Event? (Part Two!)
15 out of 31 winners went on to main event WrestleMania. In that case, more rumble winners main event the Showcase of the Immortals more than they actually win their WrestleMania match. Of course, we must keep in mind the eight winners that didn't get a championship opportunity at all!
1. Unlucky Numbers
There are, of course, many winners of the Royal Rumble. However, despite their being more winners than entry numbers, almost half of the numbers have never been partnered with a winning superstar. Excluding the 40-man Rumble, the numbers 4, 6, 7, 9, 10, 11, 12, 14, 15, 16, 17, 20, 21, and 26 have not held a winner.
Tiffany's Takes: WWE Money in the Bank 2019
Brock and Bayley win big–do you feel as you won as fan of this show?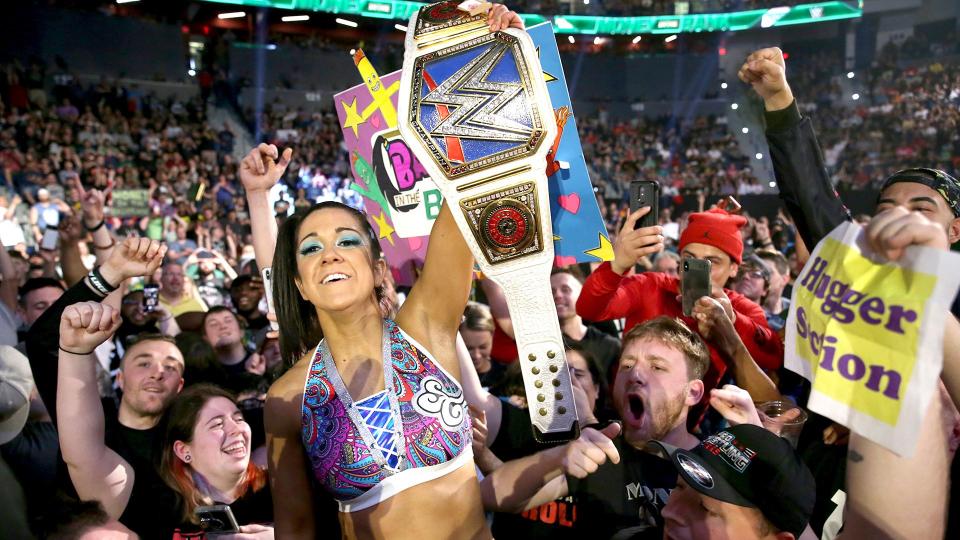 Tiffany checks in on WWE Money In The Bank 2019 as Bayley and Brock Lesnar leave Hartford the big winners. How did Tiffany take MITB?
It's one of the most momentous nights of the year! Sixteen superstars have the chance to stamp their ticket to the top in the Men's and Women's Money in the Bank Ladder Match!
WWE Universal Championship: Could someone tell me why that match wasn't saved for SummerSlam?! Rollins vs Styles has been a longed for dream match, but the build has been a little…lacking, but it was a FABULOUS match that should've been the main event of a Big Four show, not Money in the Bank.
I did love the show of respect between Styles and Rollins. This match was refreshing because they kept it as a dream match instead of manufacturing a grudge between them. Styles was the heel, but it wasn't a personal thing and they still respected each other. Next contestant.
WWE Championship: Well, it looks like Kofi's moment is going to last a little longer. Kevin Owens did EVERYTHING he could think of to take the title off of Kingston, but Kingston withstood all of it and it took one moment and Kevin Owens was pinned for the three count. The feel good moment lives on.
WWE Cruiserweight Championship: This was an okay match, but it wasn't great, which is a shame since it was the first time the Cruiserweight Championship had been on the main card in a very long time. I honestly thought WWE was going to have Daivari win and defend it at Super Show Down in Saudi Arabia, so as to have a champion of Arabic descent on the card, but I guess we'll have to see, maybe Daivari will get another chance.
WWE United States Championship: I don't know just WHY WWE insists on keeping the matches between Joe and Rey so short, but it's becoming a thing. This match was squirrelly. Rey Mysterio is the New United States Champion and a Grand Slam Winner, but Joe, with a nasty cut under his eye and a possible broken nose, clearly had his shoulder up at three. Joe attacking Rey is actually understandable, but it's looking more like 22 year old Dominick is going to have to cover for his dad.
Women's Championships: I actually had a very long, profanity-filled rant typed up about how this whole thing went down, but thankfully it wasn't needed. I don't have a problem with Charlotte as a person or as a performer, but I do have a problem with her constantly being in the title picture, either as the champion or as a contender because it suffocates the division. Yes, Daddy Ric Flair was a 16-time World Champion, but those reigns were spread out over a career of over thirty years, not stuffed into a four year Main Roster run.
Bayley cashing in and becoming the first Grand Slam Champion of the Women's Division and NOT Charlotte was a stroke of genius. Bayley has been NXT Women's Champion, RAW Women's Champion, Women's Tag Champion, and SmackDown Women's Champion. I'm still disappointed that Becky 2 Belts didn't get a longer run, but I'm not going to argue with Bayley being champ instead.
Shane McMahon vs Miz – Steel Cage Match: I'm puzzled by this match. It was okay, but it felt like no one knew what was going on or what the rules were. Shane won, but more by accident than design when he slid out of his shirt, that Miz was trying to use to pull him back into the cage, and fell to the floor. It wasn't a satisfying end to this feud, it was an odd one, but not satisfying.
Roman Reigns vs Elias: I had really hoped something constructive was going to come out of this squash, but that was not to be. Elias did the classic villain thing of wasting time because he thought the hero was down and out only to get his ass kicked by the enraged hero. Reigns powered through a backstage El Kabong to squash Elias like a bug in less than five minutes. That happened.
Lars Sullivan and Lucha House Party: I know a lot is going to be said about this and while I don't agree that WWE was playing up the revelation that Lars Sullivan made a lot of racist, sexist, and generally shitty comments in the past, I do think it was really bad optics to have him beat up three Hispanic wrestlers.
Daniel Bryan and Erik Rowan vs The Usos: This wild card is confusing me. The Usos, who are on RAW, had a title match against the SmackDown tag team champions that got turned into a non-title match that the Usos won and became the #1 Contenders for the SmackDown Tag Team Championship in a clean win. Did I miss something? Why don't we just redo the Shakeup and call it 'Trader's Remorse' or something.
Men's Money in the Bank Ladder Match: That end was bullshit and every guy in that match other than the winner deserved so much better.
Women's Money in the Bank Ladder Match: YES! Bayley is here to save us! I really thought Mandy Rose and Sonya were going to steal one but Bayley saved the day! Seriously, I was so happy for Bayley. She's been used very badly for a good chunk of her main roster run. Having her win and getting that moment was wonderful and a great feel good moment.
Overall Thoughts: So, how was Money in the Bank 2019? Other than that ending, which I will NOT being discussing here, you do NOT want my opinion right now, it was a really good show. There were a lot of surprising and feel good moments to be had. I loved how the Women's Championship marathon played out. I'm disappointed Becky wasn't given a longer run as a double champ, but Bayley as SmackDown Women's Champ is the breath of fresh air the division needs.
The end was bullshit and a disgrace. That's all I'm going to say. That's it for Tiffany's Takes. I'll be back tomorrow with my RAW takes!
(NOAH) WEEKLY NEWSLETTER VOL.35~ 19TH MAY 2019
Hisame brings us updates on all our NOAH favourites! RATEL'S, AXIZ and Kongoh! Also a nice update on YO-HEY's unique state of mind.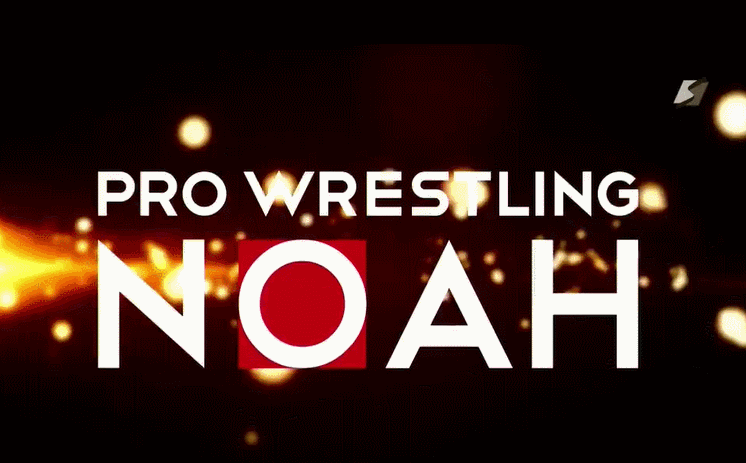 Hisame brings us updates on all our NOAH favourites! RATEL'S, AXIZ and Kongoh! Also a nice update on YO-HEY's unique state of mind.
CURRENT TOUR RECAP
"Under blue skies" NOAH held an event on the 18th May, which was only two events, and was held for their new sponsors, and 500 people on the roof of the Sekichu store in Saitama.
Sekichu are a hardware store who seem to specialize in home cleaning products, they also seem to have some kind of association with both All Japan and DDT too, and Jun Akiyama was there on the day wrapped against the spring cold in a Sekichu jacket.
The day was "non canon" and featured only ten wrestlers (plus the injured Naomichi Marufuji who was on commentary and gave autographs), everything was lighthearted with Go Shiozaki wearing a Sekichu company logo box on his head, and Taniguchi apologizing for knocking down a company display (which he was thrown into by Shiozaki). At the end of the event the fans got the chance to pose with the wrestlers, and it seems that the mascots did the same, and AXIZ also leaned on Hitoshi Kumano and almost squished him.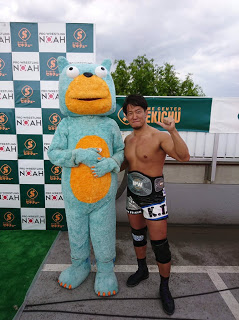 On seeing Daisuke Harada posing with one, IPW'S Ben Basden said "@IPWUK do you really want this representing your company? Fly him over to England already, he clearly has nothing better to do."
The next day, the 19th in Gunma, was when the real events of the show happened, especially on the junior front involving RATELS and their enemies Stinger.
YO-HEY had said that he would be making an announcement in Gunma, and he stepped into the ring to do it after the match (which Stinger had lost via a lariat from Tadasuke on Junta Miyawaki). YO-HEY told Yoshinari Ogawa and Kotaro Suzuki that for Global Junior Tag League, he would indeed be teaming with HAYATA and going for the third consecutive win, but he would be doing this as a member of Stinger. Getting the win in any league, equals a challenge for the belt, but while normally this would mean either another team and another team alone getting it, in this situation it would mean the belt would be half Stingers, and half RATELS. Ogawa didn't like this, and he and Kotaro attacked YO-HEY, stamping on his chest after Ogawa had knocked him down with an elbow.
HAYATA ran to the ring and threw himself over YO-HEY to protect him, and as he was pulled off of him, Daisuke Harada and Tadasuke ran in for the assist, the four of them did their tandem kick and threw Stinger out of the ring.
Afterwards, RATELS helped YO-HEY up.
Daisuke Harada asked the crowd what YO-HEY was? Was he RATELS? Or was he Stinger?
The crowd had no hesitation in unanimously saying that he was RATELS.
YO-HEY removed his Stinger t-shirt, and the four of them did their handshake, before Tadasuke carried a grinning YO-HEY from the ring on his back (I think YO-HEY'S lungs were probably a little overworked after the exertion), and Harada welcomed him home…although he did say that despite the fact that the four of them were going to start again from scratch, YO-HEY should not think that he was going to go easy on him.
YO-HEY later posted on Twitter that RATELS had forgiven him for his betrayal, and were kind.
"I'm home".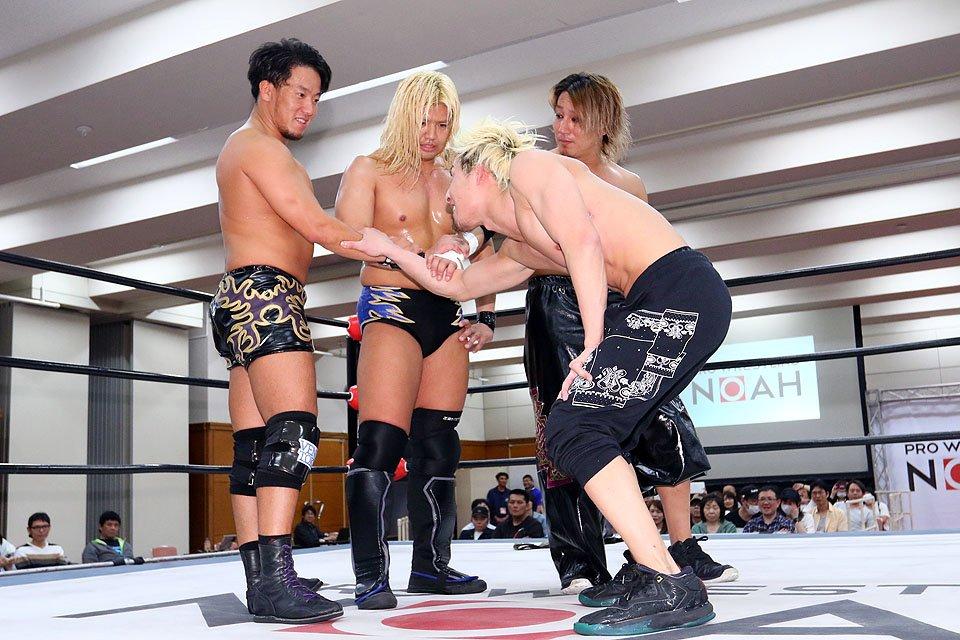 So, now Stinger are a man down and both teams stand at four against two, it will be interesting to see if Naomichi Marufuji joins Stinger. After all, he is feuding with Daisuke Harada, Yoshinari Ogawa and Kotaro Suzuki are old friends (and heels), and in NOAH the line between the interaction in matches and units between juniors and heavyweights is one that is often crossed. 
Elsewhere, Kongoh got another win when the four of them (Kenoh, Masa Kitamiya, Atsushi Kotoge and Yoshiki Inamura) defeated the team of Kaito Kiyomiya, Shuehi Taniguchi, Minoru Tanaka and Akitoshi Saito, with Kitamiya evening the score against Taniguchi with the Saito Suplex. Naturally,
Kenoh started screaming afterwards about the usual things.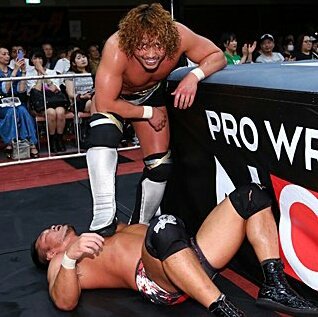 Katsuhiko Nakajima had another one of his classic beating up on Takashi Sugiura with a smug look on his face pictures taken. Nakajima, unfortunately, has failed to realize that this all spurs Sugiura to revenge, which is usually taken in a brutal way in title matches.
Global Junior Tag League starts on the 28th May 2019 at Korakuen Hall.
EVENT RECAPS
Post match promos – Esupowaru Isanuma, Saitama
18th May 2019 – Sekuchi Ageo Store Event
19th May 2019 – YAMADA Green Dome, Maebashi, Gunma
NEWS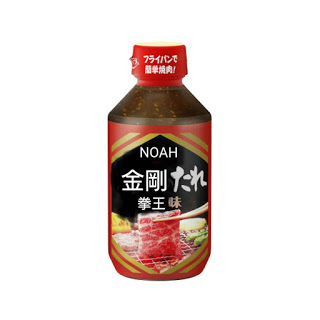 "KONGOH SAUCE"
Two of the NOAH seniors, Naomichi Marufuji and Takashi Sugiura in particular, are baiting Kenoh. As you know Sugiura called the name "Kongoh" tacky, with Kenoh calling him a "stupid old man".
Marufuji, however, seems to have gone a step further to wind him up, after reading an article in "Puroresu Weekly" and photoshopping a bottle of brown sauce which he labelled as the flavor of Kenoh's gut.
Kenoh said he was looking forward to kicking Marufuji (who thought he was a funny guy) on his return on the 28th, Marufuji said sarcastically for
Kenoh to be gentle.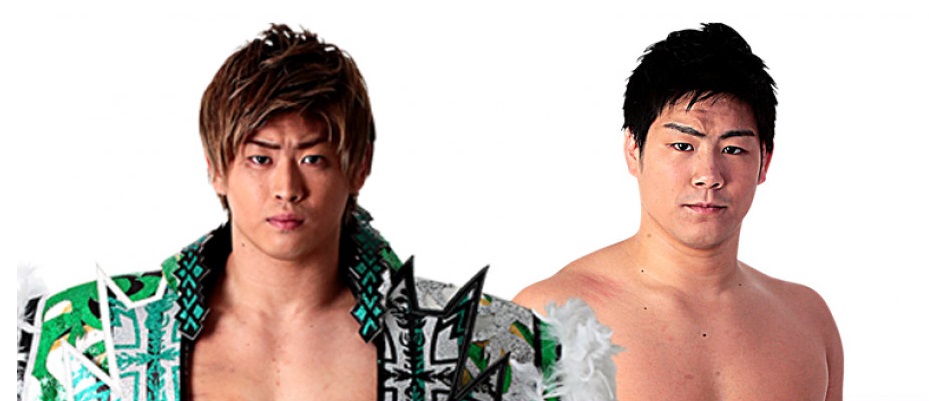 BIRTHDAY PARTIES
Takashi Sugiura will celebrate his 50th birthday on May 31st, NOAH had announced plans to have a fan birthday party for him on the 25th, but not given any further details, and the announcement appears to have vanished from the site.
Kaito Kiyomiya will turn 23 on July 17th with Junta Miyawaki turning 22 on June 14th, NOAH will hold a fan party for them on the 13th July, details to be announced.
Naomichi Marufuji will turn 40 this year in September, so no doubt NOAH will also announce a fan party for him.
CURRENT CHAMPIONS
TOUR TIDBITS
~ YO-HEY signed autographs from both himself and his lung.
~ Daisuke Harada has sworn that he will have a main event for a title match
~ Naomichi Marufuji has been bed bound due to his injury, and spent a lot of time (in between Twitter posts and hospital visits) watching Dragonball Z. He said he watched about twenty episodes.
~ Akitoshi Saito was interviewed on his thoughts of Global Junior Tag League, a league which naturally he is not part of. Heavyweights have never been asked their picks and opinions for it before, so it could be a good way for the Juniors & the Heavyweights to go to war, especially as the juniors were not asked for their opinion over Global Tag League.
~ Kaito Kiyomiya said in an interview that when the twelve year old him heard that Mitsuharu Misawa had died, he cried throughout the day.
~ As part of his rehabilitation, YO-HEY says he has been taking walks in the park.
BROADCASTS
The first night of Global Junior League will be broadcast live on G+ on May 28th 2019 at 6.30pm JST.
The 9th June show (the Misawa Memorial from Korakuen Hall, Tokyo and the second to last night of Global Junior Tag League) will be broadcast by G+ on Thursday 13th at 8pm JST.
LINKS
Global Junior Tag League mini interview: Hitoshi Kumano 
Global Junior Tag League mini interview: Hi69 & Minoru Tanaka 
Global Junior Tag League mini interview: Hajime Ohara
Global Junior Tag League mini interview with Akitoshi Saito
Katsuhiko Nakajima interview on the late Silver King
Ten years after Misawa's death in Hiroshima, champion Kaito Kiyomiya "looks at a new scenery"
Champ talk with Katsuhiko Nakajima 
PICTURE CREDITS: Daisuke Harada, Noah GHC, PKDK, Naomichi Marufuji 
Newsletter written by Hisame