Kenny Omega Extends NJPW Contract For Another Year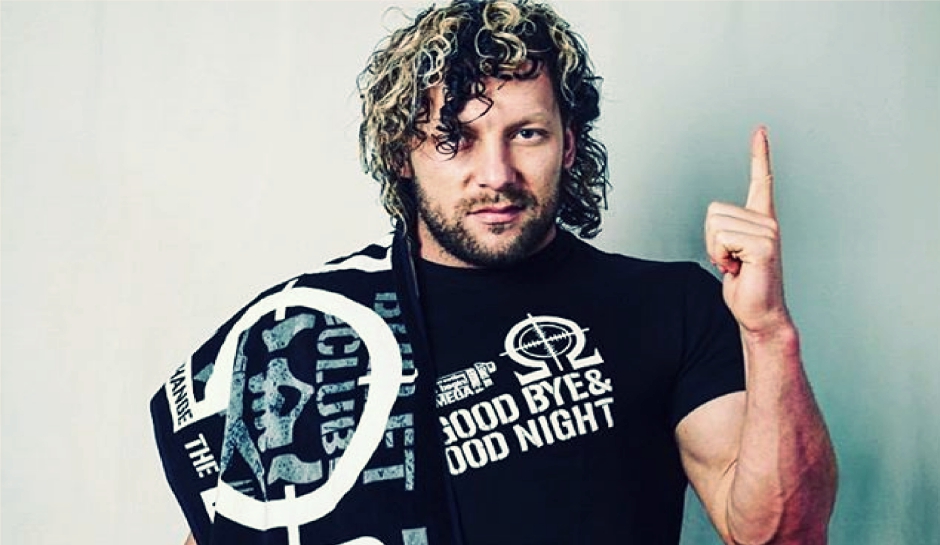 Kenny Omega just came off of a great showing at Wrestle Kingdom 12 against Chris Jericho, where the IWGP United States Champion was able to defeat the Alpha to prove his better nature. What Jericho and Omega did for New Japan Pro-Wrestling was huge, and they alone brought in major subscribers to the New Japan World stream service. A little over 20,000 in fact, and this should be celebrated.
Kenny Omega consistently proves himself to be a valuable asset to NJPW, and it is made clear by his use in the company most of the time. However, he has yet to win the only title that he actually cares to have. While Omega may say he loved being the first IWGP United States Champion, he will also tell you he'd rather have the IWGP Heavyweight Championship.
Who can blame him? He's earned the title and NJPW has yet to give it to him, which is sad to see for sure. What Kenny Omega has done for the company is massive and cannot be overlooked. However, he is also not dumb enough to continue to wait on something he'll never see when he could go win World Titles somewhere else that gives him a fair shake at it. So, does he know something we don't here?
Kenny Omega Signs New Deal With NJPW
According to
The Wrestling Observer
, Kenny Omega decided to re-sign with New Japan recently, with the deal only being for one extra year. It will expire in January of 2019. While the actual amount he is making was not specified, it does appear that he made a hefty sum to stick around. The feeling among most experts regarding NJPW is that they would be willing now more than ever to have Omega become the World Champion.
The reason has to do mostly with parody. Often times when people are used in the title mix a lot, especially someone more than any other…fans start to need something fresh and new to keep their interest. Without interest being there, people tend to sort of fade out from what could normally be a good program with someone. All because one person has been seen too much.
Kazuchika Okada has been the IWGP Heavyweight Champion longer than any champion in the history of the title. His reign is stuff of legend, and he should be commended for all his hard work. However, fans are tired of Okada and it's showing. Most Japanese fans wanted to see Tetsuya Naito defeat him at Wrestle Kingdom, but New Japan extended the reign rather than start a new one with Naito.
Kazuchika Okada Is Becoming What John Cena Became To WWE
There is a theory that Okada has reached John Cena-hatred levels in Japan and around the world if this continues. Meaning, fans may like him but they'll get tired of always seeing him at the top and boo him instead. This happened just recently at
New Years Dash
and other events Okada has been to since WK12. That means now more than ever Kenny Omega becoming the champion, even for a short while, is likely.
New Japan is like the WWE in that they see something working and making money, so they want to squeeze as much out of it as possible. What WWE never did with Cena was let him pass a year-long WWE Title reign, though they were close sometimes. An injury may have even prevented one. Only CM Punk has seen such a mark in the modern-era.
WWE knows Cena was too big to fail, but that confidence meant that they could have him lose and still be at a top spot. Whereas New Japan does not seem to grasp this with Okada. They ultimately seem to feel that Okada is the reason for New Japan's success while Kenny Omega has been the ultimate reason for the attention they have gotten since AJ Styles departed for WWE. They seem to like Kenny, but they don't seem to trust him. It's clear he needs to be their World Champion at some point in 2018 to keep Okada fresh, however.
Mitchell's Talking Smack Report! (4/17/21)
So much gold this Talking Smack!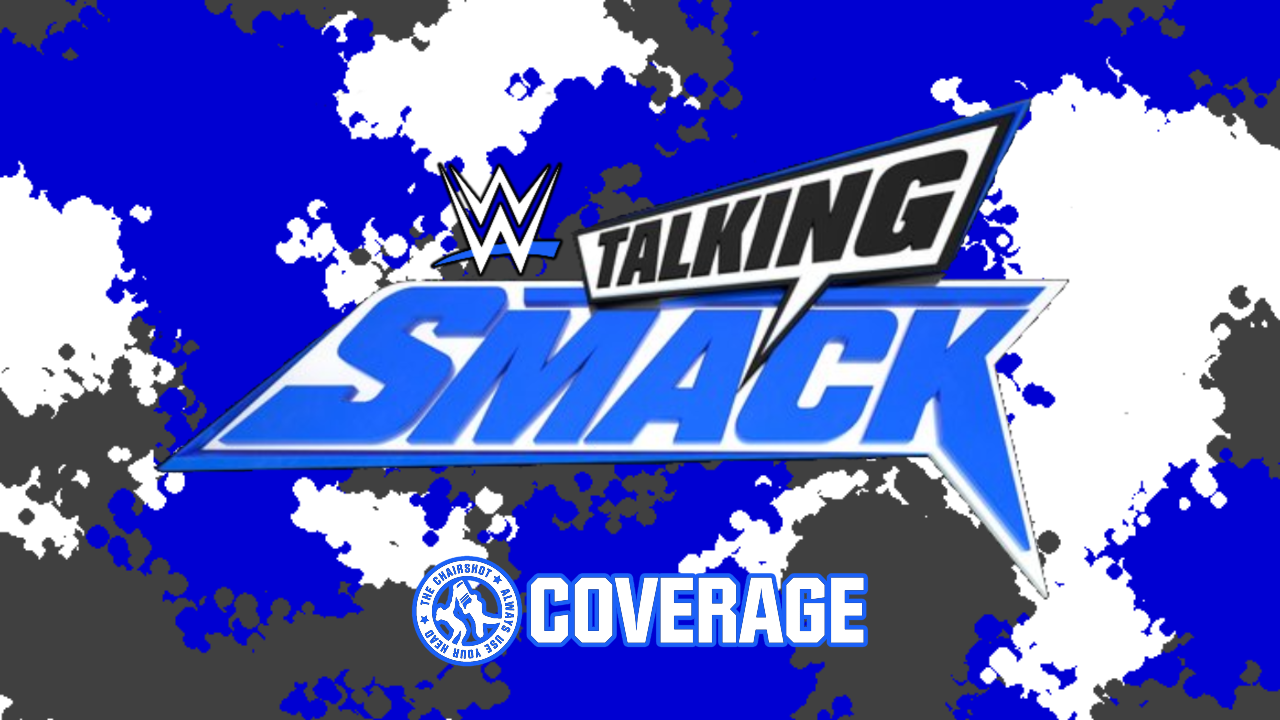 It's a championship edition of Talking Smack!
The SmackDown Women's, SmackDown Tag Team AND WWE Intercontinental Champions are all here for a post-WrESTleMania Talking Smack!
Kayla Braxton welcomes us back to the show!
The first episode since the electric two-night WrestleMania, and it will be very special! Gold was flying everywhere, switching hands, so this is a CHAMPION'S EDITION Talking Smack! In case you forgot, Kayla and Paul Heyman are here. But he just keeps staring rather than speaking. He should be in a great mood. He is in a fantastic mood! Well fantastic. We have a lot of champions here today, such as the SmackDown Tag Team Champions who retained their titles, Dolph Ziggler & Robert Roode, the NEW SmackDown Women's Champion in Bianca Belair, and the NEW Intercontinental Champion, Apollo Crews. Kayla wants Heyman to be nice, and he gets offended. He is a national treasure and a legend, yet she's telling him how to behave.
She laughs at "national treasure," he points it out, and he points out how she didn't catch "legend." But he asks her about the new WWE opening reel. Heyman spotted Freddie Blassie in there, who is dead. He spotted Hulk Hogan slamming Andre the Giant, who is dead. Why is Heyman not in there somewhere? He's had iconic WWE moments. WrestleMania 30, The Streak is conquered, and Heyman does his shocked face. Why is that not on the thing? Must be a good reason. Why isn't Roman Reigns pinning Edge AND Daniel Bryan in THE WrestleMania 37 main event, defending his Universal Championship, not on that opening reel? But Kayla wants to make this all about Heyman staring. Because it's uncomfortable.
Well what he's staring at is this hair in her nose. There's no hair. Heyman will take a pic. She blocks him with a hand, he says she's doing the "Talk to the Hand," and she welcomes their first guests, the Dirty Dawgs!
Dolph Ziggler & Robert Roode join Talking Smack!
Roode points out there's something in Kayla's nose. She doesn't want them encouraging Heyman. Heyman congratulates the champions, Ziggler says they should be congratulated more. Kayla says she was going to, before Roode made that comment. She welcomes them to the show and congratulates them more. Ziggler says it has been a long time for some people, but they're just here to say something real quick. The Street Profits kept saying it was "takeback season," but now they can take their asses to the back of the line! Tell them where they're going, Roode! To bed. Well, they went to bed, but they didn't sleep. But until next week, they're heading out. It's been a pleasure!
Well alright… There's certainly more to come out of their next guest. Heyman tells Kayla if she wants to go to the Dirty Dawgs' after party, she can go. He carries this show anyway!
Bianca Belair joins Talking Smack!
We return with the EST, the NEW SmackDown Women's Champion, and Kayla says she's been on Talking Smack more than just about anyone else, but finally it is as a champion! Has it set in yet? It is still setting in. Being in that moment with Sasha Banks, where she got a bit emotional, then she got to celebrate with her family and husband, and then eventually watched the match back, and now getting side plates, it is setting in slowly with every step. It is still surreal but it is SO real! Her celebrating on SmackDown was great, but while she did tell Montez Ford & Angelo Dawkins they wear gold in this house, she surely saw Ziggler & Roode still with the tag titles.
Bianca knows The Profits plan on getting those back, and they will get them back. Bianca showed respect to Sasha before and after winning, but how does she plan on elevating her title? Bianca will always respect Sasha because they made history together, and that was the one she wanted to face. But now that Bianca has the title, she'll be a fighting champion to prove over and over she's the EST and that she never doesn't run from competition but craves it. She learned from Heyman the last time they talked, is that every week is your audition. Never stop, and she'll never stop! Sasha can get her rematch right away to prove this was not a fluke but this was supposed to happen.
Kayla says Bianca is a champion, she has a target on her back, but there are more contenders than just Sasha. If Bianca could fantasy book, so to say, who would she face? Bianca heard Bayley talking, they can circle back to that. But Bianca has beaten Bayley, has beaten Sasha, and would love to pin the other two Four Horsewomen to prove she is the forefront of this new generation. That's pretty tempting, huh? Kayla would love to let Bianca keep going but clearly Heyman is being very polite in waiting. It's not just politeness, it's respect and admiration. Heyman has nothing but respect and admiration for her.
Heyman says it isn't just the opponents she has to beat. It is the expectations for herself she has to defeat. She has to rise above those, because now that she is champion, it is on her to carve out her own legacy. This could be the run that takes her to MITB, Backlash, SummerSlam and Survivor Series, or this could be a career that goes down in history that no one can ever deny! The greatest career, not just male or female, Black, White, Asian, Hispanic, or even human and Martian! This is a CHAMPION! But the problem is, again, now you are, as Kayla pointed out astutely and surprisingly, Bianca has a target on her back.
Sasha will not let go of her grudge. Bianca has everything Sasha's life revolves around. Imagine what you'd do if someone took that from you. Just the mere thought brings up anger, but that is Sasha 24/7. And in Natalya, Tamina, Nia Jax, Shayna Baszler, Bayley and even those on Raw who might come over to SmackDown because Bianca was victorious in a WrestleMania main event. This is Bianca's time. It could be a short time or for all time, but the EST should understand what she's up against, and defy the odds. Have a better tomorrow than today and so on.
Heyman wants her to come back here every bit more the legend she is dESTined to be! She is already so far beyond than any rookie she's seen, and it is an honor for him to sit next to her. She thanks him for that, Kayla thanks Bianca for her time, and Bianca takes her mic like a real champion! But there's still one more champion left, after the break!
Apollo Crews and Commander Azeez join Talking Smack!
The NEW WWE Intercontinental Champion says it is a new day! He woke up champion because it isn't a dream! Take a picture of this moment in time! Not Heyman, though. Apollo tells Azeez he can stand down so Heyman can get his picture. Big smiles! Heyman will make sure to post it online, so long as Azeez allows it. Apollo allows it, Heyman can put it on Instagram or Twitter, whatever the kids are using these days. Kayla says it is Champion's Edition so they had to have Apollo here after winning the title at WrestleMania. Apollo's had prior attempts against Big E, it didn't work out then but it- Hey, why the negativity? This is a positive moment!
What does he have here? The Intercontinental Championship. He says they don't need to worry about the past. What matters is what he has now. He is presently the Intercontinental Champion so we talk about that now, not before. Kayla is doing her due diligence but alright. She notes Commander Azeez is by Apollo's side now, but what can he tell us about Azeez? Apollo makes it clear, the Nigerian Drum Fight had no rules, no disqualifications, and it is not Apollo's fault Big E didn't plan ahead. Azeez lets out a shout of salute and it startles Heyman a little. Azeez got kicked out of the Nigerian Elite Guard for not following the rules. But lucky for Azeez, Apollo hates rules and loves aggression! So Commander Azeez is here now, "SIR!" Heyman gets startled again.
Kayla starts to ask Apollo as the new Intercontinental Champion- Wait, say that again. The new Intercontinental Champion. Apollo smiles as she says that. So as such, what is next for Apollo? How does he plan to reign? First, he has to continue celebrating! Nigeria had many parades! Even the Nigerian President wants to meet Apollo! What's next as champion? Anything! More challengers! It doesn't matter who they are! Let us not get one thing wrong! Understand: Apollo doesn't care who, he will fight them and defend this title with his life! Hear him! Kayla and Heyman hear him, and Heyman hears the congressional subcommittee going on with her.
Heyman now turns to talk with Apollo, and Heyman is nervous around Azeez. Heyman said this to Bianca about Sasha coming back for the title. So Big E is coming back for this title. Azeez gets mad, but Heyman says he doesn't like Big E either. New Day, old day, yesterday, Heyman doesn't like any day Big E is involved with. But Big E is a tough man with a legit gripe. Big E wants the title back. The question to Apollo will be a little different than his talk with Bianca: When Big E comes calling, what the hell is Apollo gonna do about it? Well they know each other, and many might not know but Heyman gave Apollo his first big opportunity, and Apollo won the US Championship on Raw. Heyman says the honor was all his.
But Apollo asks Heyman a question back. In fact, Apollo will ask Big E this, too. "Do I look like I am scared of you? If you think for one second, that I'm going to run away from you or that I'm scared of you, you are a FOOL!" Big E does not have what it takes to take what Apollo has. And don't worry about Azeez. Azeez is only here to pull Apollo off Big E. At WrestleMania, they went to war, and Apollo took a part of Big E's soul. Apollo fully intends on keeping it. Understand his words. And now to continue the celebration~! Azeez! SIR! Fire up the jet! They're heading out! Kayla, Heyman, you go ahead and keep those pics, post them everywhere! See you around! Let's go!
Heyman finally breathes easy and then scolds Kayla for pissing their guests off. Kayla is pretty sure it's not her. There's still more Talking Smack to come, after one more break!
Talking Smack returns and Kayla gives the floor to Heyman.
Heyman is still Special Counsel to the Universal Champion, so Kayla will let him talk. Heyman says he was thinking during the commercial, "how every single champion that came out here has to be envious of Roman Reigns. Because Roman Reigns was THE main event at WrestleMania for the fifth time. And if you think back to some of the greatest battles in WrestleMania history, some of the greatest moments in WrestleMania history, is there a moment now more iconic, is there a champion defense more definitive, is there a performance that is more dominant, than Roman Reigns taking former World Heavyweight Champion and Hall of Famer, Edge, dragging him on top of former WrestleMania main-eventer and multi-time World Heavyweight Champion, Daniel Bryan, stacking them, and pinning them both?"
Heyman asks if you've eve seen anything like that at the conclusion of a WrestleMania. We're talking about a champion with no peers, no equals, and no precedent for someone this dominant in WWE! A superstar of superstars, way above everyone else. This isn't just hyperbole Heyman gives us. He IS the End All Be All, the Sun of the WWE Universe. WWE is Roman Reigns, and that isn't going to change any time soon. Think about the ENORMITY of the visual of the stacked pin! And do you really think that'll change? That there's someone man enough to change that? Look at what Roman does to everyone around him!
Did you ever think there was life after Lesnar for Heyman? Did you ever think Jey Uso could be the singles star main eventer Andre the Giant Memorial Battle Royal winner? This isn't just the Era of Roman. This is something so great, head and shoulders above everybody else, you will tell your grandkids about this time in WWE. We are now in season TWO of Roman's dominance. Season one's finale was Roman stacking Edge and Bryan, and they will do everything they can to make season two better.
"Because the main event, 50-some-odd weeks from right now, of next year's WrestleMania, will feature the greatest box office attraction in WWE history. The single most dominant sports entertainer you've ever seen in your life. The Reigns-ing, Defending, Undisputed, Uncontroverted, WWE Universal Heavyweight Champion, then, now and forever, including next year's WrestleMania, Roman… Reigns. And I assure you, that's not just a prediction. That… is a Tribal Chief guaranteed spoiler." And with that, Talking Smack signs off.
---
My Thoughts:
A very good Talking Smack, and I actually like that Ziggler & Roode didn't want to stick around long because they wanted to celebrate. But stuff like that is why Talking Smack should still be put on for Fridays, not Saturday mornings. Put it on right after SmackDown, let 205 Live be after this, and chances are, Peacock will still suck at uploading the episode to the on demand section like it did this morning. But at least no one would have to pretend, "Oh this is Saturday, so how do we kayfabe us being in the same outfits or just not having done anything since 'last night'?" WWE still acts like the audience isn't bright enough to see through that.
Bianca's segment was good, though she herself always seems to have a hard time accepting that she's accomplished so much for being so confident in herself. Heyman had great promos here and with Apollo, and Apollo had a great promo himself. I like how Apollo flipped the switch from deadly serious to very celebratory, that just fits so perfectly to me. And Heyman of course had a great promo in reference to the one champion that didn't show up on Talking Smack, and he does make some good points. You hardly ever see a Triple Threat ending like that, where Roman called his shot the Friday before and did it just like that in the match, even if he did have help.
But I hope that at some point, someone points out that Heyman is calling Roman the "End All Be All," but now Rollins is doing that, too. That needs to be part of the story that makes those two butt heads, and neither even has to turn. If there was ever a time WWE could do a Heel VS Heel and it'd be a smash hit, it's Seth Drippin' Rollins VS Tribal Chief Roman Reigns.
Mitchell's Raw Talk Report! (4/12/21)
Raw Talk faces the Nightmare!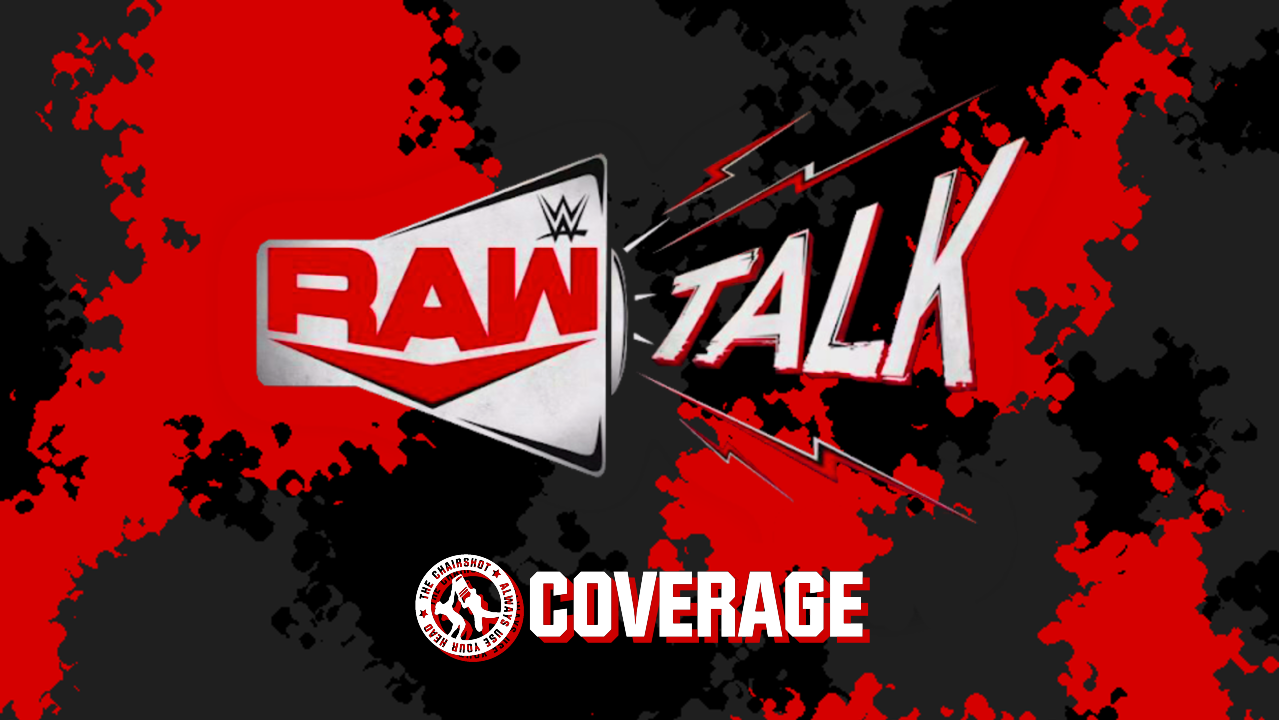 It's Raw Talk, Fella!
After a massive Monday Night After Mania, the NEW Raw Women's Champion and NEW WWE US Champion are here for some Raw Talk!
Kevin Patrick welcomes us back to the show!
A Monday full of surprises capped off WrestleMania's two nights in Tampa! Kevin welcomes us into the NEW ThunderDome, and is honored to have us here watching. What a great weekend! But Kevin is without his wonderful cohost, Xavier Woods, who had a bad weekend but a good Raw, so let's recap everything real quick. Drew McIntyre came back strong in a Triple Threat with Randy Orton and Braun Strowman! Orton hit his RKO but McIntyre hit his Claymore, BOOM! McIntyre, the Scottish Warrior, wins and is headed to #WrestleManiaBacklash, May 16th, for a chance at Bobby Lashley! But then Mace and T-Bar had their say with their double slam! This leaves so many questions for us as Raw has a shocking end!
Then, of course, the return of Bray Wyatt. But what's going on? It's all very creepy. Then Charlotte Flair returned a bit like a "petulant child," complaining about missing WrestleMania, and then when the Raw Women's Championship was on the line in a Mania rematch, Charlotte goes and spoils it all. Charlotte throws Asuka around, beats her down, then boots Rhea down! The Raw Women's Champion hits the deck as Charlotte has a big impact. Rhea will be here to talk all about that, as well as the returning Viking Raiders, but first, the NEW WWE United States Champion!
Sheamus joins Raw Talk!
The Celtic Warrior is doing good, and he's here "saving the day." Hopefully Kevin understands that this is eating into Sheamus' celebratory drinking time. Gotta make the most of it. Kevin congratulates Sheamus, and he's US Champion again. The belt is a bit stubborn but they got it on camera. Kevin touches it, and the Irishmen are very proud for Sheamus. A hat-trick for Sheamy, he got this title back a third time. Kevin met Riddle in the elevator, and Riddle showed the busted lip. Both men were battered and bruised but the Bro complimented Sheamus. Sheamus takes us back to that Brogue Heard 'Round the World, or even 'Round the Universe!
Sheamus says Riddle should just stop talking all that nonsense. That was executed with perfection. McIntyre is #1 contender to the WWE World Champion with his knock-off, that Claymore, but there's nothing like the original Brogue! Kevin says Sheamus is in such a great mood. And Sheamus wonders how Kevin Patrick ended up a man with two first names. Is that his real name? Yeah, it's real. Wow, two first names. Kevin asks if Sheamus was starting to doubt himself, given it's been five years without a title. Well there are times when you ask yourself, "Where's this going?"
Sheamus hasn't gotten an opportunity in awhile, at least not the world title, and he wondered when the next win would come. But you watch the Premier, y'know, football/soccer, NBC Sports, all that. When's the next win? When's the next meal? And then when that happens, it's just plain sailing. Sky's the limit for Sheamus, he'll keep going and going. Nice Peacock plug, huh? But what was it like, to be honest, walking out to Raymond James Stadium, with fans finally in attendance? One year, one month and one day since the WWE Universe had been there for the shows.
Sheamus says it just goes to show that we missed them, they're such a huge part of it. The fans are just a pivotal part and always have been. The superstars feed off the energy and excitement, the chants and all that. Sometimes they dictate how the match goes, but honestly, 25 thousand felt like 80 thousand. They were just as excited as everyone else was, and now after getting a test, maybe we get more as the world gets back to normal. Raw, SmackDown, etc. And they can watch the NEW United States Champion tear it up, knock people's heads off, slapping them around the gaff.
Where's Kevin from, again? Sheamus is from the hardest part of Dublin, better than the Southside where McGregor's from. Kevin's from the Northside. Maybe talk this over a pint. Sheamus would be if he didn't have to do this. But who does he want next? Anyone! He's been having banger after banger match, so anyone else who wants to have one, bring it on! Sheamus doesn't care about pecking orders, just someone step up! He'll make ya a bleeding legend! If you can last more than five minutes, you're on his way. Is that an open challenge? Even the cameraman can try if he wants! Sheamus won't pay the medical bills, though. The cameraman shakes the camera to signal, "No, thanks." Sheamus says they don't make them like they used to. But he and Kevin fist bump and Sheamus says they can catch up again later over a Guinness.
Xavier Woods joins Raw Talk!
The cohost is here! He had to shower off from the match he had! His back got beat up with backbreakers, but he and Kofi still won and so Woods had to rest up and get ready for Raw Talk! Kevin appreciates Woods, and Woods shows off his hair. But he wasn't sure if he was cohosting because no one told him! But that happens sometimes, because anything can happen in the WWE! Kevin wants to say something first. It didn't go New Day's way against Styles & Omos, but can't they talk about being at Mania with fans? The Power of Positivity! Woods has been wrestling for 17 years now, and has been part of the WWE and part of many WrestleManias. Being able to be at the event where fans were back for the first time in a year felt incredible!
When they all went out on stage for the National Anthem, just seeing people, hearing them, there is nothing like it. Woods is trying to learn bass guitar to get that back, but that energy is unmatched, and Woods cannot wait until things are back to jam-packed stadiums! Hugs, high-fives, and talking to friends! Speaking of, two friends of Woods' are here. It's THE VIKING RAIDERS!
Erik & Ivar join Raw Talk!
Woods says we needed their theme back so badly. How are they feeling? How's the body? Ivar's neck is good, if that's what you mean. But he is feeling really good. They had a great return match, so how does it feel to be back after months apart? Seven months is a long time, and an eternity when you're hurt. Erik says it was really crazy. They spent seven YEARS as a team. Some might not know, 2014, Erik's motorcycle accident should've killed him but somehow he survived. His arm was repaired, he had pins and screws, but he came back after six months and they took over the world and now WWE. Then they run hard, Ivar got hurt, out for another seven months.
They've done this before, they know how to do this, but it just feels so good to be back! And given it's Raw After Mania, it is a reset and they can step up. What can we expect from the Vikings now? Well, they showed and reminded some people. Woods, Ivar is pretty sure the tag division was reminded. Woods is excited for them. Seven months was a long time, so now the Vikings have something to prove. Woods says being in the tag division, we have a division that can be splintered, but the Vikings are a real team. The New Day talks about it a lot. They weren't just thrown together to get some nice wins. They are a real team, brothers in arms! They love and care about each other, just like the Vikings.
That feeling of being out there with your partner, winning and having momentum, what do they want now that they're back? Before going there, Erik wants to take a step back. Erik tells his wife, Sarah Logan, that they joke about Ivar being his work-wife because he's the one he sees more than anyone else second to her. Ivar is also very handsome. But without Ivar, and New Day knows what it was like when they were separated, they expect to see that person, and then they remember they're not here. It's like you're in a familiar setting but without the familiar people. It's the deep end of the pool and not knowing how to swim out. But now that they're reunited, they have a huge chip on their shoulder.
They were watching what was happening. This is the second WrestleMania they were just watching. Erik doesn't want to be on the sidelines. He wants to have the ball and score with it! He wants to be in the action! Winning, losing, doesn't matter, he's never lost the fight. That's a T-shirt right there. Erik would rather be out there fighting and losing than sitting in catering, watching others in front of 40 thousand. They were on stage for America the Beautiful, not the National Anthem, but they didn't want to correct Woods. But they were all out there. New Day ran past them full of energy, and the Vikings felt that. Goosebumps just thinking about it. But they didn't get to do what they do.
So what threat are Styles & Omos in for? Well they're like any other team. The Vikings don't do anything special. They have the winning formula by being who they are, and they will run right through everyone! No offense to New Day, but it's what they do. They don't change. Ivar wants to throw back to Woods bringing up them being a team. There are great similarities between New Day and Vikings, same story but told a little different. The New Day came together as a unit and fought to get what they got. The Vikings did it, too, just outside of WWE. In Mexico, in Japan, in Europe, and make a name for themselves to be noticed, then go through NXT to get to Raw.
It is exciting to be a team. They're not here without each other, same as the New Day. It is exciting to be here with another true team, and to know that New Day's team and the Vikings' team might meet. Woods can't wait. Gentlemanly handshake, and Kevin says it's great to have them back. A round of applause as the Vikings head out!
Rhea Ripley joins Raw Talk!
The NEW Raw Women's Champion has made history already, and Woods rocks out to her theme song. A big congratulations for her WrestleMania win against Asuka! Woods says he was losing his mind from excitement. They had her on Raw Talk before, she was very focused and intense. Seeing her on that stage, against Asuka, winning against 25 thousand, any insight into how that felt? It was incredible. Being on stage, on night one to hear the performances, it brought a tear to her eye. It was a special moment. And then fighting on night two, being with the band that sings her theme song, that's a dream come true. It was electrifying to say the least.
Rhea's still buzzing. She hasn't been able to talk to her family yet but she hopes to get their thoughts and feelings because it'll pump her back up. Woods can only imagine they're just as fired up. The entrance, that was awesome. Rhea battled her way through NXT to get to Raw, and now only does she have a shot at the title, she has the band that does her music! Does it feel different? Definitely! The song sounded different but New Year's Day is a band she's listened to for years. They were so humble and being there with them is a highlight of her life. Super rad, super cool, and winning the title was amazing.
Rhea took her opportunity, challenged Asuka and Asuka accepted. They went to Mania, Rhea took the fight to Asuka and now the title is hers. It won't go anywhere any time soon, either. Kevin asks Woods what the most impressive thing was. It was how Rhea kept focus and kept cool. There wasn't a time where Rhea was shook, and everyone's first Mania, the nerves can get to you. She was cool as ice. Rhea says she was lucky, she got her emotions out on night one and was ready for night two. She could compose herself and keep it together. Now, let's talk Raw tonight. Charlotte was a bit of a brat, but we'll talk her going after Rhea after the break.
Raw Talk returns and Kevin reintroduces Rhea. There was a WrestleMania rematch with Asuka, but Charlotte had to return and attack her. Was that disrespectful? Of course it was. Charlotte wants to come out and run her mouth? Really? And then act like Rhea won't do anything about it? Then you go and ruin the rematch? Really, Charlotte? Charlotte's so mad that Rhea took her opportunity, planned her strategy, and did just what Charlotte would've done! Charlotte wants to put Rhea down in all these different ways. But the thing is, she's just jealous. She's jealous of Rhea Ripley because Rhea Ripley is the up-and-comer, which Charlotte doesn't like. Charlotte doesn't want to be second to someone, and is scared that she's getting old and will be replaced. That's why she went and ruined the match.
Rhea is sick and tired of Charlotte. Charlotte can run her mouth, attack from behind, but in the end, Rhea is the Raw Women's Champion and is here to stay! She might be new, she might not be as experienced, but she loves this business! She has trained for this moment her entire life! Charlotte doesn't get to put Rhea down. Not anymore! Rhea is sick and tired of Charlotte, and is done with Raw Talk now. She's sick and tired of talking about Charlotte, and storms off set. Well, thank you for your time, Rhea…
Rhea does have a point about Charlotte, though, calling Rhea the snake but attacking out of nowhere. Woods breaks it down: we've seen Charlotte jump into situations to make people respect her. Charlotte must feel disrespected, because she loves the spotlight and believes it should be all on her. Seeing how Charlotte has been since NXT, this all makes sense to Charlotte. But then we have Rhea, who has been doing so much to get where she is, that makes her a target for Charlotte. Rhea is the one that Charlotte sees a lot of herself in and that might be terrifying. That leads to one thing: Charlotte going after Rhea. This is the smart game, really. And saying Charlotte's too old? Whoa.
But truly a big week for the Women's (R)Evolution! New champions from Raquel Gonzalez in NXT to Bianca Belair SmackDown to Rhea on Raw, all great stuff! And on behalf of the legend that is Woods, Kevin signs off for Raw Talk!
---
My Thoughts:
A very fun Raw Talk After Mania, and I like that it was recorded live enough that Woods wasn't even there for the first segment because he wasn't done refreshing after his match. Sheamus and Kevin had a good segment together as one Irishman to another, and I do hope that Sheamus brings back the Open Challenge like John Cena. That would get ratings up as they are desperately in need of, and can be a great way to perhaps get Keith Lee back on TV. The Viking Raiders had a really good segment, relating their story to the fans who may not have known it. War Machine to War Raiders to Viking Experience to Viking Raiders, this team being back is great for Raw and its tag division, and I would love to see these guys face New Day and Styles-Omos.
Rhea Ripley was a great double segment, technically speaking. The first part relating the joy of WrestleMania and how awesome that moment was for her, and then the sudden shift when they brought up Charlotte, it was a bit sudden, but Rhea shows she can have range. She can be someone we relate to because she's still a normal person, but then she can have the fire and the anger to match a veteran like Charlotte. There's a reason Rhea was inaugural NXT UK Women's Champion, then got to dethrone Shayna Baszler to be prime NXT Women's Champion, and has dethroned Asuka now to also get into a feud with her and Charlotte.