Mia Khalifa and pro wrestling have intertwined quite a bit over the past few weeks, and we haven't shied away from the topic here at The Chairshot. You can see more about that here, here, here, and finally here.
UPDATED:
Here is video from the event as well…
Joey Ryan confronts @miakhalifa over her controversial comments about pro wrestling at @sabotagewomen in Austin, TX. pic.twitter.com/lyBRVi60NI

— Joey Ryan (@JoeyRyanOnline) January 20, 2018
ORIGINAL:
It all came to a head (pun not intended…promise!) at Friday night's Sabotage Wrestling event in Austin Texas. Mia went live on Instagram from the event several times, each feed garnering over 5000 views. But the moment so many had been waiting for–Mia Khalifa and Joey Ryan in the same ring, happened.
Here are the initial pics, taken from Mia's Instagram, of the interaction: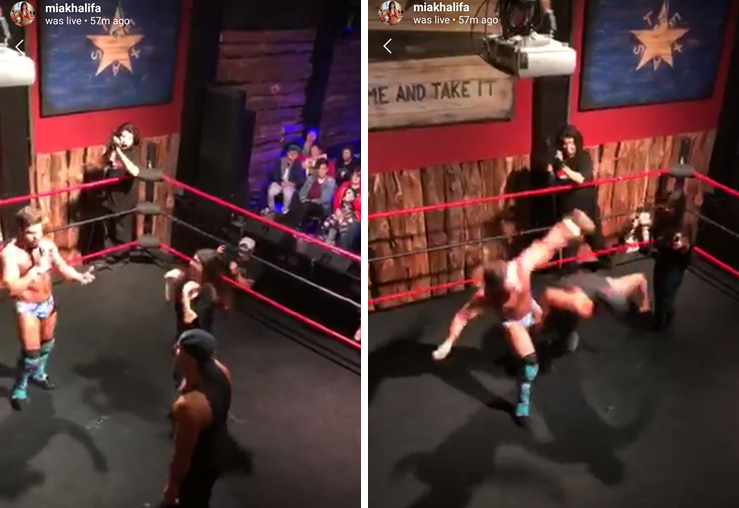 While Mia Khalifa didn't quite fall victim to Joey Ryan and the usual shenanigans, her companion did, and sold it like a champ.
The end result was a great spot for the fans, some amazing publicity for Sabotage Wrestling, and (hopefully) a greater appreciation for Mia Khalifa. The former pornstar knew exactly what she was doing, proving what we suspected all along–she's a far greater wrestling fan than her initial comments let on!
We will update you when we have more pics from tonight's Sabotage Wrestling event, featuring (sort of) Mia Khalifa!
For more, follow The Chairshot on Twitter!