Mia Khalifa Loves Pro Wrestling; Hurricane Helms Gets Worked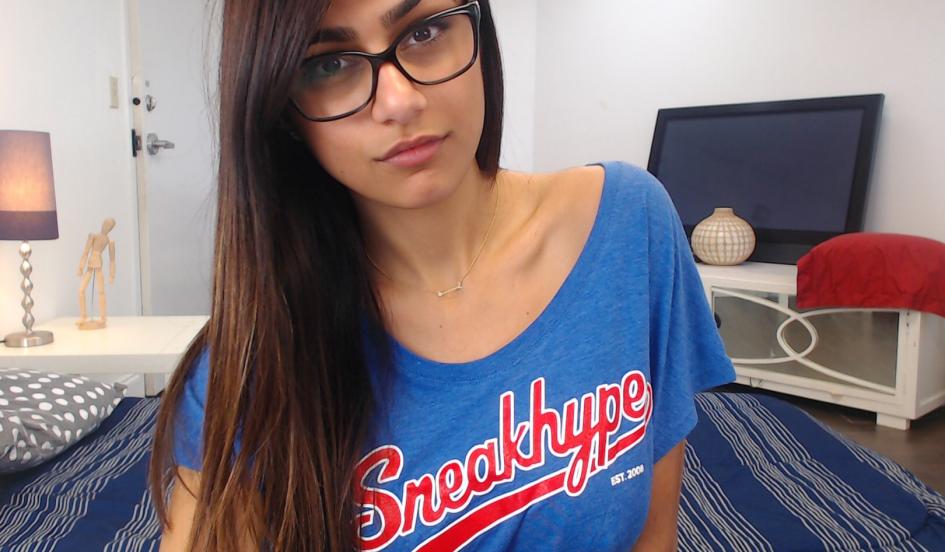 Mia Khalifa, who made wrestling news a few weeks ago when she trashed Ronda Rousey and her professional aspirations, contributed to The Chairshot's most read article by accepting an invitation to attend January 19's Sabotage Wrestling event in Austin, Texas.
Well already a master of self-promotion, Khalifa was back at it when she tweeted about the upcoming appearance.
I WILL BE HERE ON JANUARY 19th. @thunderrosa22 invited me so I can see how "fake" wrestling really is, and I can't waif to laugh in all their faces 👎🏼 #notimpressed pic.twitter.com/Uis1wiTfrD

— Mia K. (@miakhalifa) January 8, 2018
Spelling mistake aside, Mia's tweet takes a direct shot at wrestling, a clear indication that she will have some involvement on the 19th. Need more proof that she'll get involved? Look at the bearded man on the poster. That's right, none other than the master of self-promotion himself, Joey Ryan.
Joey Ryan is no stranger to getting non-wrestlers involved, getting Macaulay Culkin involved with Hornswoggle at Bar Wrestling in December. If you don't think he's got a plan, you don't know Joey Ryan.
But it gets better, because former WWE/WWF/WCW Cruiserweight star Hurricane Helms reacted to Mia Khalifa and her recent tweet, and wasn't too kind to Thunder Rosa for inviting her to the show.
Didn't I lay this chick to rest? 😁She thrashes Wrestling and, by proxy, everyone in it and it's fans, so of course some Indy talent would offer her a free ticket. Lol 🤷🏻‍♂️ Got to love pro wrestling. https://t.co/JgaFeiGlGx

— Hurricane Helms (@ShaneHelmsCom) January 8, 2018
Way to get worked, bro.
Sean Waltman also chimes in. And even though he doesn't approve, he obviously knows what's up–he ain't getting worked.
That ought to sell some tickets.👎

— Sean Waltman (@TheRealXPac) January 8, 2018
To her credit, Thunder Rosa (Kobra Moon on El Rey Network's Lucha Underground, a show The Hurricane obviously doesn't watch) handles the backhanded comment in a perfect way.
Bruh you just give me an idea on what to put on my Twitter description…. "Some Indy Talent"…. Thunder Rosa! https://t.co/IjGQUGFi0W

— Thunder Rosa/Kobra Moon (@thunderrosa22) January 8, 2018
If you are anywhere near Austin, Texas on January 19, get to this show. You won't regret it.
Saturday's ROH Honor Rises Match Card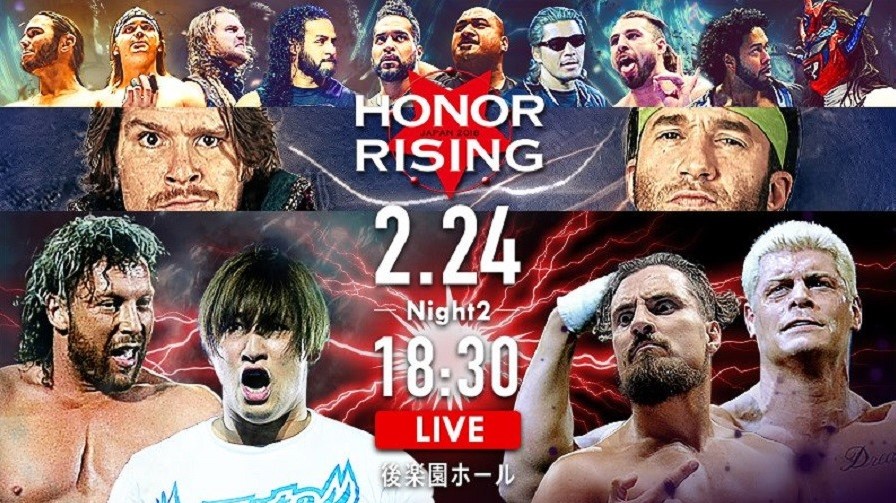 New Japan Pro Wrestling Honor Rising begins night two of their events on Saturday at Korakuen Hall in Tokyo, which are combined events with Ring of Honor.
The show will stream live on NJPWWorld.com with English commentary. Here is the lineup for Saturday's show:
ROH champion Dalton Castle vs. Trent Beretta.
Kota Ibushi & Kenny Omega vs. Marty Scurll & Cody Rhodes.
Cheeseburger & Delirious & Jushin Liger vs. The Guerrillas of Destiny & Bad Luck Fale for the Never Openweight 6 Man Tag Team Championship.
David Finlay & Juice Robinson & Jay Lethal vs. HIKULEO & Chase Owens & Yujiro Takahashi.
Ryusuke Taguchi & Flip Gordon vs. BUSHI & Hiromu Takahashi.
Chuckie T, & YOSHI-HASHI & Jay White vs. The Young Bucks & Adam Page.
Toa Henare vs. The Beer City Bruiser.
This will see Cody and Omega on opposite ends of a tag match, setting up their upcoming match. The two men have set records for that shoe in terms of ROH ticket sales. It's nice to see that the build is being thought out and built up.
My Thoughts:
I believe this is a great card on paper. Alsovery rarely does NJPW put on a bad in ring product. The destruction of Omega' s version of the Bullet Club appears to have been done well. Subtle teasing leading up to the Omega and Cody showdown is a great touch. As far as the other matches on the card Dalton Castle will be defending his title against Trent Berreta. I expect the match to go well however we know what the main draw is to this card.  The Bullet Club is imploding and everyone wants to see what will happen next. 
Please continue to follow us and share our articles. Checkout the podcasts and more. You can see all the latest content @theCHAIRSHOTcom. Follow @Awesomephinatic for news updates and fantastic opinion. Remember when it comes to rumors…. Always Use Your Head!
Ronda Rousey News And Notes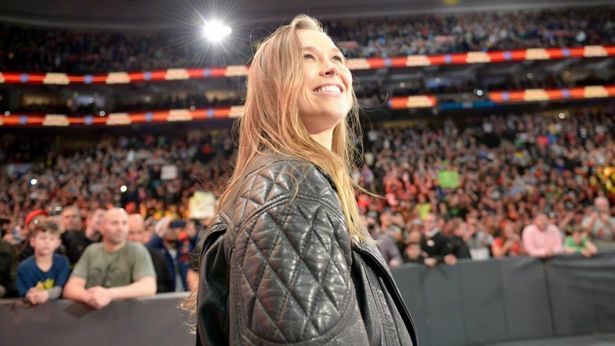 Per PWInsider, Ronda Rousey has been at the Performance Center and in Stamford this week preparing to start her run in WWE. She is not expected to wrestle until WrestleMania. According to most outlets she is slated for a mixed tag match at Wrestlemania. With her contract signing happening on television this Sunday, most expect her Wrestlemania angle to start there. Rumoured names to team with her include The Rock, Kurt Angle and Braun Strowman, it is yet to be determined who it may be.
In addition Rousey is also being inducted into the International Sports Hall of Fame. The Former UFC Women's Bantamweight Champion Ronda Rousey, has broken down many barriers and is a global star.
The 2018 Class will also include the following:
UFC heavyweight champion Bas Rutten, The Amazing Race host and bungee jumper Phil Keoghan and world powerlifting champions Dr. Terry Todd and Dr. Jan Todd.
My Thoughts:
I believe it's absolutely fantastic that she is being inducted into a Hall of Fame. She put Women's MMA on the map and hopefully does the same with WWE. I'm glad that she has been training at the Performance Center. As far as a partner at Wrestlemania The Rock is the best name. This is largely unlikely due to his movie career and insurance issues. I look for it to be either Strowman or Angle and I lean Strowman.
Please continue to follow us and share our articles. Checkout the podcasts and more. You can see all the latest content @theCHAIRSHOTcom. Follow @Awesomephinatic for news updates and fantastic opinion. Remember when it comes to rumors…. Always Use Your Head!
Speculation On Lesnar's Future After WWE WrestleMania 34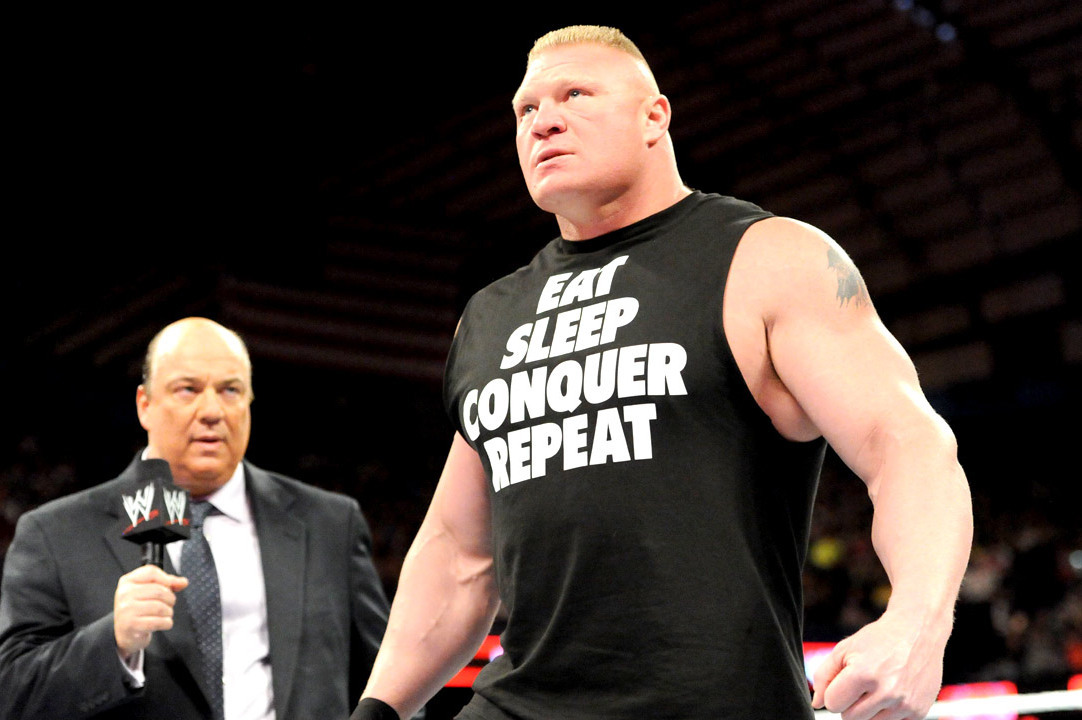 The most successful crossover MMA/Wrestling name may leave WWE after Wrestlemania. According to a report by Dave Meltzer, because he won't be under contract with WWE by then and there's no guarantee he'll have re-signed. The tickets for this year's SummerSlam have already been released and they feature the following superstars:
Ronda Rousey, Braun Strowman, AJ Styles, Sasha Banks, Roman Reigns, The Usos, Seth Rollins, Shinsuke Nakamura, Randy Orton, Samoa Joe, Charlotte and Naomi.
Brock Lesnar is not featured on a ticket.
That's not all, Paul Heyman spoke on a possible return for Lesnar to the octagon, here is what he had to say:
"I think Brock Lesnar does whatever Brock Lesnar wants to do," said Heyman. "If Brock Lesnar wants to fight in UFC, Brock Lesnar will fight in UFC. If Brock Lesnar wants to fight in WWE, he will fight in WWE. Ask Braun Strowman, ask Randy Orton, ask 'The Undertaker,' Brock Lesnar does what Brock Lesnar wants to do."
Lesnar, who would still have to honor a suspension from USADA, following a drug test turning up positive for clomiphene prior to his last fight. He was suspended by USADA but may be ready for a return according to his friend and advocate in the WWE, Paul Heyman.
My Thoughts:
Before you go celebrating if you are not a Lesnar fan or weeping if you are, take a breath. This isn't like negotiating a Ziggler contract this is high stakes negotiation with a major name. While Lesnar isn't exactly seen as a lovable wrestling name, he does lots for the business. With a new TV deal in sight WWE will likely have more money than ever before. Lesnar knows this, so as he does he uses his leverage. Everything above to me smells of high stakes poker and this will all come down to if WWE values Lesnar as the same draw as before. It's possible with HHH doing the negotiation this time around he may ask Lesnar to take a pay cut. So at this time I wouldn't put to much stock into anything I hear, this is all leverage for a new deal.
Please continue to follow us and share our articles. Checkout the podcasts and more. You can see all the latest content @theCHAIRSHOTcom. Follow @Awesomephinatic for news updates and fantastic opinion. Remember when it comes to rumors…. Always Use Your Head!