Official Chairshot Ratings: Royal Rumble 2018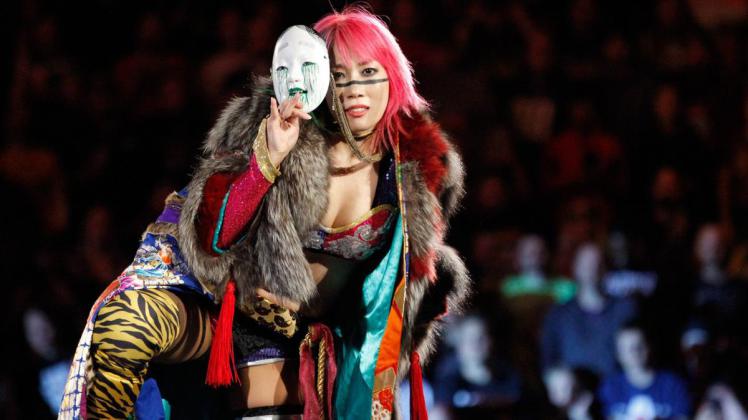 Well now we've got an interesting situation at hand. I was trying to be objective and keep notes while over my buddy's house for our annual Rumble Party (Twitter: @Griever2112 – Follow him, he's good people). So between drinking, eating and attempting to be social with a laptop…well atop my lap, hopefully my notes held up.
I did miss the first couple Pre-show matches, so this will start at the official "KICKOFF MATCH" and move into the main card.
United States Championship Kickoff Match: Bobby Roode(c) vs Mojo Rawley
With Bobby Roode being as over as he is (due to music or what have you), it's a little insulting to be on the Pre-show, but yes I can figure that two rumbles would make the time crunch very tangible.
To most people's surprise, Mojo Rawley answered the Open Challenge, and I'm not mad. Mojo has shown a lot of good potential with this new heel persona, and this match was mostly just a diluted version of their tournament match, but still decent for a Kickoff.
Bobby Roode needed the victory to start building credibility and Mojo continues to put on good showings as a fairly new "re-imagined" character.
Rating: ** (Silver V)
WWE Heavyweight Championship 2v1 Handicap Match: AJ Styles(c) vs Kevin Owens and Sami Zayn
Kicking off with the WWE Championship is a little surprising, but it might play into the Rumble later.
So this started off very slow, a couple quick mind game tags don't help the match quality early on. Instead of focusing on one, Styles did a little damage to each guy slowly. That strategy worked for the most part, however, the ending was controversial and gives and excuse to drag out the story. Styles did pull off a nice Asai DDT at some point
Sami tries to tag in Kevin, misses, and Styles throws Zayn out of the ring. When KO comes in to try and soften up Styles with a Pop Up Powerbomb, Styles counters it with a body scissors, and the pinfall. This allows the heels to claim the wrong man got pinned, but a segment after the match proved that Shane McMahon didn't really care.
Rating: *** 1/4 (Gold IV)
Smackdown Live Tag Team Championship 2 out of 3 Falls Match: The Usos(c) vs Chad Gable & Shelton Benjamin
So Chad Gable is a proven workhorse, The Usos put on fantastic matches and Shelton Benjamin is still very good, so this match has a lot of potential.
We get a nice long match before the first pinfall. The Usos block Gable's rolling German Suplex twice, kick out of Benjamin's Paydirt and each team tries to dodge the others' signature moves. Eventually the Usos hit a few super kicks on Gable, keep Benjamin away and hit the big Uce Splash for the first pinfall.
At that point, Benjamin and Gable play the heels and go to take out one of the brothers before the second fall starts. They hit their tandem powerbomb, bulldog move and go in to take advantage of a 1 on 2 situation. But much to their chagrin, as soon as the bell rings, Benjamin gets rolled up, Gable is stuck climbing to the top rope, so they lose 2 falls to 0.
I don't see how Gable and Benjamin can come back from this without a goofy plea to the powers that be. So here's to hoping someone else gets a shot at The Usos, maybe Bludgeon Brothers?
Rating: *** (Gold V)
30 Man Royal Rumble:
So this was a surprise within itself that the classic rumble was relegated to the middle of the card. I have no issues with it aside from the fact that myself and friends figured it would hurt the following tag match, and yes it did. But that's for the next match, not this one. So Rusev and Balor kick things off, crowd chants Rusev Day and they both last for a while. A few fun moments were Andrade 'Cien' Almas showing up and further cementing his main event ability. Copo de nieve es un gran fan del El Idolo.
Heath Slater becomes a heel punching bag when an eliminated Baron Corbin lays him out on the ramp, and that becomes a comedy storyline until Sheamus tries to toss him in for a cheap elimination, but Slater eliminates him instead. When Kofi is thrown over, he lands one foot on Xavier Woods and then Big E brings over a big plate of pancakes as a foot coaster, until they cheerleader lift him back in.
Fast forward to the final 6, Mysterio, Orton and Cena represent the old guard and Nakamura, Reigns and Balor are the newer guys. As they square off, we see for a change that the old guard goes out and we're left with Reigns and Nakamura as final 2. Everyone was watching with bated breath on if Philly was gonna riot and murder puppies after a Roman win, or if the internet will collective rejoice for Nakamura.
And as we know, Nakamura and Reigns have a good back and forth but Nakamura comes out on top and the peasants rejoice.
Rating: *** (Gold V)
Raw Tag Team Title Match: The Bar vs Jason Jordan & Seth Rollins
The crowd was dead following an hour plus of Rumble stuff and a winner they didn't want to kill.
So this saw a weird spot with Jordan getting slammed into the post and playing up head trauma of some sorts and being literally useless all match. Rollins was basically in a handicap match, puts up a damn good fight, but fails. Jordan had an amusing moment when he makes it back to the corner at the right moment to get a hot tag and win the match, tags in, gets dizzy, tags right back out, says he's done and just sits on the stairs while Rollins gets dragged back into the ring and destroyed.
Well this either leads to the team implosion and cements the Jordan heel turn, or we see Jordan play up CTE or something to try and gain sympathy from Rollins, all in a way to slow burn his heelish ways.
Rating: * 3/4 (Bronze I)
WWE Universal Heavyweight Championship Triple Threat Match: Brock Lesnar vs Braun Strowman vs Kane
Yay, chairs and tables and destroyed announce tables, also known as, everything they usually do with power guys.
This match happened, Brock potatoed Braun, Kane tried, Braun got relegated to the outside of the ring and Kane got F5'd through a table and Brock pins him in a match that no one was surprised about.
I've got nothing for this aside from maybe Elimination Chamber turns into a number 1 contender match and that's where Reigns gets his win. I don't know, I'm trying to hope this leads to something.
Rating: ** (Silver V)
30 Woman Royal Rumble:
I need the Spice Girls to cue up some Girl Power. This is historic, not only was it the first Women's Rumble, it main evented the Royal Rumble, give me a Hell Yeah.
The match begins with Sasha and Becky, so that kinda already makes you a little nervous that two fan favorites are out so early. But the rest of the entrants were very fun and a nice combination of nostalgia, returns and showing some classic women can still go. One big comedy spot was Vickie Guerrero saying "Excuse Me' like 90 times, getting all the women to stop and gang up on her and eliminate her fairly quickly.
Torrie Wilson, Kelly Kelly, Michelle McCool and Lita looked pretty terrible tonight. Ms. Jacqueline did her thing, Beth Phoenix had a nice power spot with Nia, Molly Holly looked amazing and Trish Stratus didn't look like she missed too many steps and got the illustrious number 30 entry. Ember Moon also entered as a nice feel good moment since she only had one arm, plus the face off again with Asuka was a nice pop.
So the final four was odd since it was the two Bellas, Sasha and Asuka, but Sasha took charge of the Bellas in a very heelish way, until the Bellas took the opportunity to eliminate her. Nikki eliminates Brie, while her and Asuka go out to the apron and swing back and forth. Asuka drops, the crowd gasps, and then when Asuka kicks her legs out from under her…the peasants rejoice again.
Now no one asked Asuka who she wanted, both champions just came in the ring with her and Asuka was like a kid in a candy store of potential victims. Ronda Rousey debuts in full Roddy Piper, doesn't say anything, infers a beef with Charlotte…but then leaves.
I guess this is one of those "Tune in Monday/Tuesday to see what happens", but it seemed a little unnecessary.
Rating: *** (Gold V)
So yes the two Rumbles may have been a little spotty but over all they were fun, and the women's rumble definitely came off as a more entertaining match. I also can't complain since I won the two Rumble pools for the first time in the 12 years my friends have been doing this. So a little extra cash and my Empress of Tomorrow winning her title shot makes for a good night.
Sleepy time everyone, time for me to pass out.