Top 5: Dark Horse Men's WWE Royal Rumble Contenders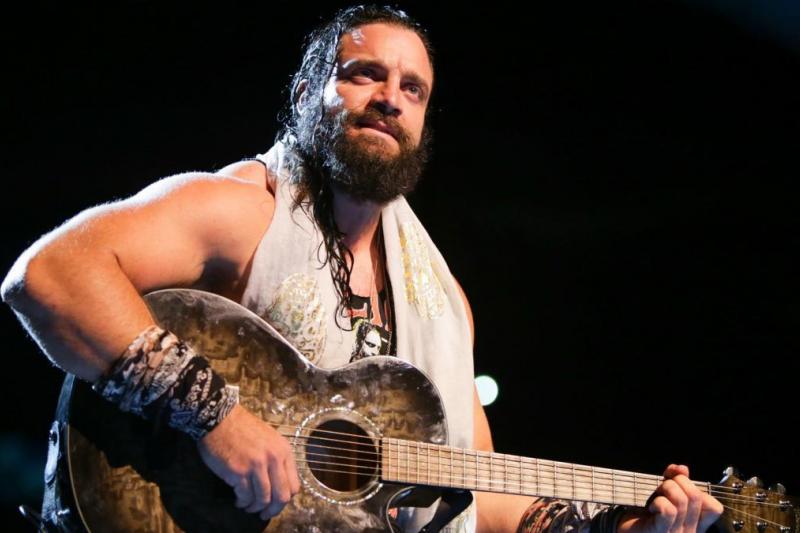 As much as we love the Men's Royal Rumble Match every single year, the one thing it lacks is an element of surprise. We usually have a pretty good idea of who's winning. It's usually an established star that's been building towards a title shot for some time now, or a safe choice that people can easily buy into winning even if they've hit a rough stretch lately.
WWE typically doesn't have dark horses win the Royal Rumble. Randy Orton wasn't one of the top names mentioned before last year's Rumble, but that was strictly due to his booking. His victory didn't make people go OMG WHAT A SURPRISE or anything like that. He was a safe choice based on his history. This week, I'm going in the opposite direction and listing the Top 5 Dark Horses that you might not expect to win this Royal Rumble.
For the purposes of this list, I'm considering dark horses to be people outside the top ten consensus picks in various worldwide casinos. When I wrote this column, the top ten was as follows:
Shinsuke Nakamura
Roman Reigns
Daniel Bryan
John Cena
Braun Strowman
Dolph Ziggler
Finn Balor
AJ Styles
Baron Corbin
Kevin Owens
I'm pretty sure at least half of those people won't be in the match, but that's who the gamblers are betting on.
5. Goldberg (33-1 via Skybet, 66-1 via Paddypower)
This is the only non-regular performer making the list. You can bet on plenty of non-regulars, as the top ten shows. The only name that makes me pause for a moment is the man that won the Universal Championship during last year's Road to WrestleMania & was an entrant in last year's Royal Rumble.
This year, Bill Goldberg's involvement seems confined to the WWE Hall of Fame. Ten years ago, Ric Flair doubled as a Hall of Fame headliner & an active competitor at WrestleMania. Goldberg could easily follow in the Naitch's footsteps & win the Rumble as a surprise to get the WrestleMania main event slot.
4. Kofi Kingston (50-1 via Skybet, 100-1 via Boylesports)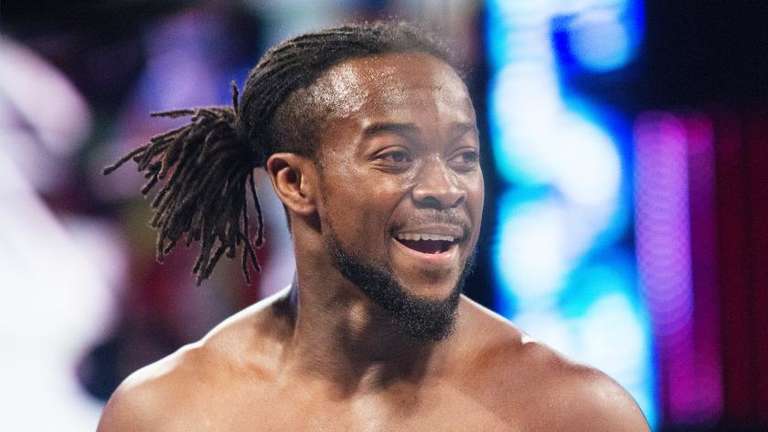 Kofi is celebrating his tenth anniversary with WWE. Traditionally, it's been tough for people to last ten consecutive years on WWE television. As a singles competitor or as one-third of The New Day, Kofi has been an underrated consistent presence on whichever brand he's on at the time.
One of Kofi's best moments of every single year is his performance in the Royal Rumble. He comes up with new ways to avoid getting eliminated before eventually doing so. Lasting the whole match seems like a fitting addition to his litany of accomplishments. Xavier Woods got a spot in the US Championship Tournament. Big E got chosen for the Mixed Match Challenge. Is it Kofi's time to shine?
3. Jinder Mahal (25-1 via Skybet, 40-1 via Paddypower)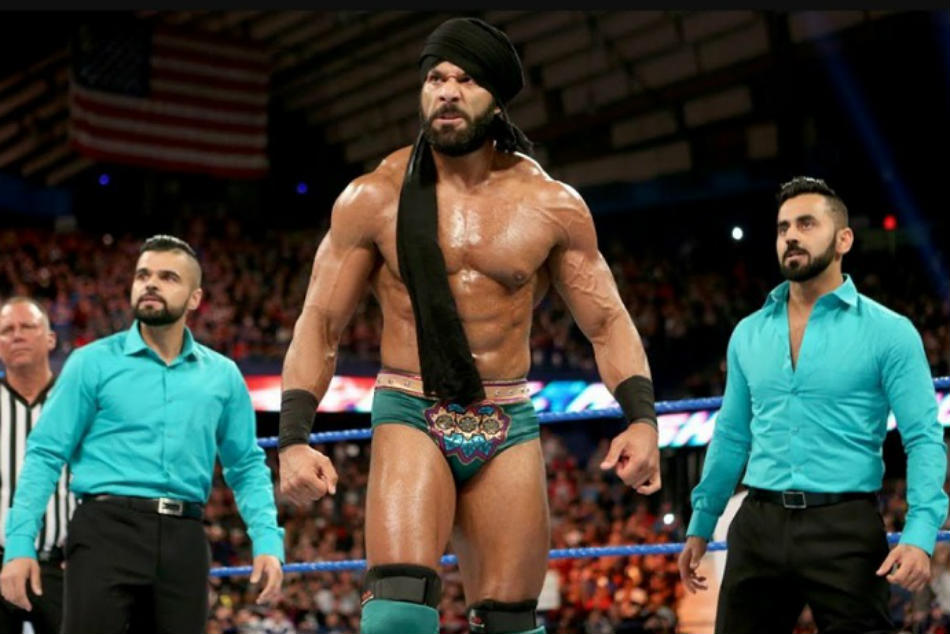 The Modern-Day Maharaja has had a bit of a struggle since losing the WWE Championship to AJ Styles. He failed to reclaim that championship, then came up short against Bobby Roode in the finals of the US Championship Tournament. Jinder obviously still has a taste for gold, but he needs to re-establish his place in the title mix.
His recent shift down the card makes people that didn't believe in him as a main event talent feel they were right. They thought Jinder was only on top because WWE wanted to get over in India. Once WWE found other things to focus their attention on, Jinder became yesterday's news. A victory in the Royal Rumble Match would silence the doubters & prove that Jinder will not be hindered on a consistent basis.
2. Elias (20-1 via betway, 66-1 via Paddypower)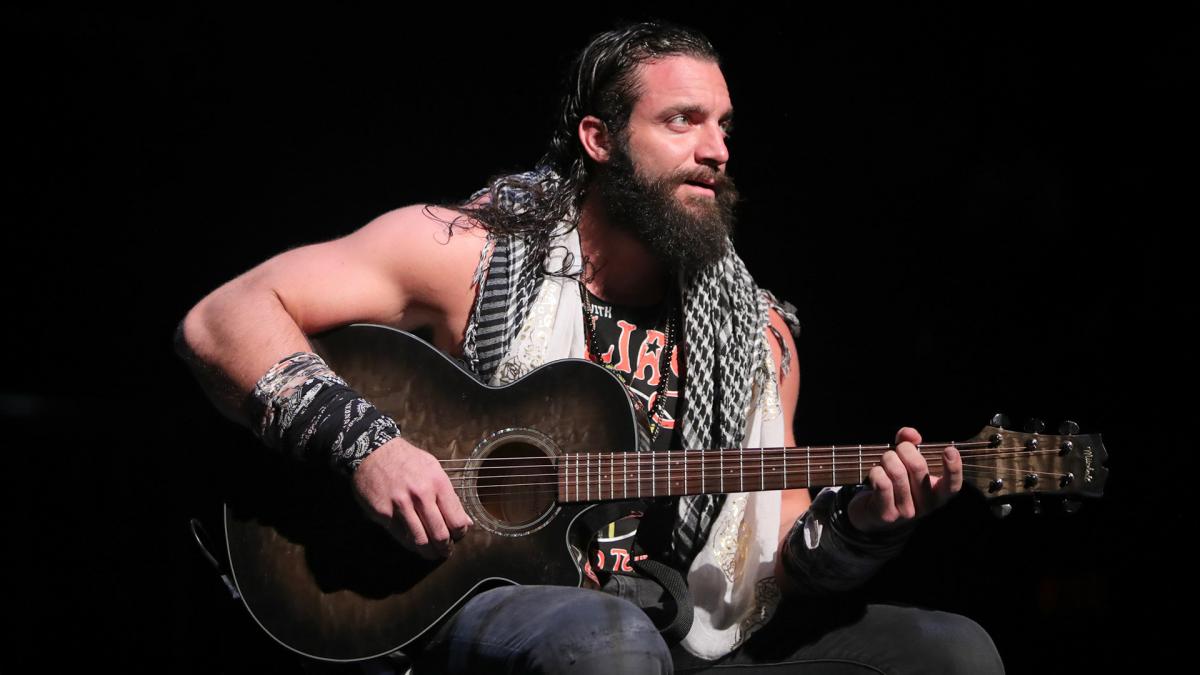 Talk about strapping a rocket to somebody. The Drifter has caught fire since his arrival on Monday nights, to the point where he's now getting one over on John Cena in a confrontation. He also earned a spot on Chris Jericho's list. Elias gets good heat & the veterans seem interested in working with him. A win in this match on Sunday night could catapult him to the next level and make him one of WWE's future legends.
If Monday night showed one thing, it's that WWE doesn't really have that much confidence in many of their current stars. Elias is one guy that got the spotlight, and he made the most of it. Why not give him the ball & see how far he goes?
1. The Miz (28-1 via Skybet, 40-1 via betway)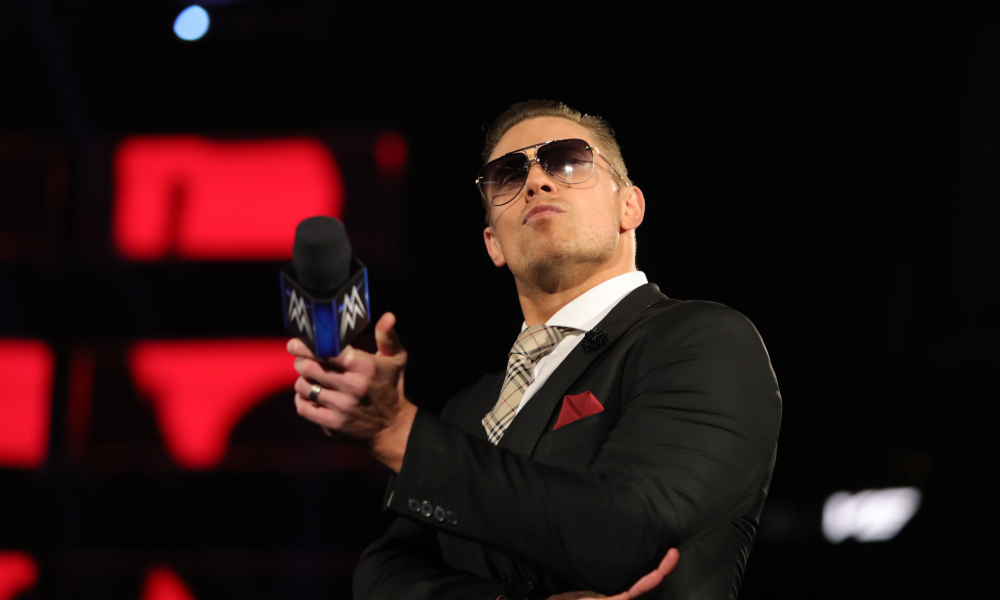 Miz was named Rolling Stone's 2017 Wrestler of the Year, and while most of us probably voted for Okada or Omega or whoever, we didn't knock it. The dude delivers more often than not in the ring & on the mike. He continues to elevate the importance of anything he's involved in. He just became an eight-time Intercontinental Champion on Monday night at Raw 25. A return to WrestleMania's main event and a chance to make up for his disappointing showing at WrestleMania XXVII could push Miz another level towards wrestling immortality.
I joked on Friday Night's Main Event (podcast) about how Roman Reigns vs. Brock Lesnar could have been another Ultimate Challenge pitting the Intercontinental Champion against the Universal Champion. Why not do it again? Heck, if you wanted to tie in the Miz/Daniel Bryan staredown from Monday night, Miz could opt to challenge for the WWE Championship. Should AJ Styles still be champion, it'd be another chance for Miz to target an Internet favorite, while annoying Bryan with his presence on Tuesday nights.
Top 5: Best WWE Survivor Series Teams
Did your favorite team make the list?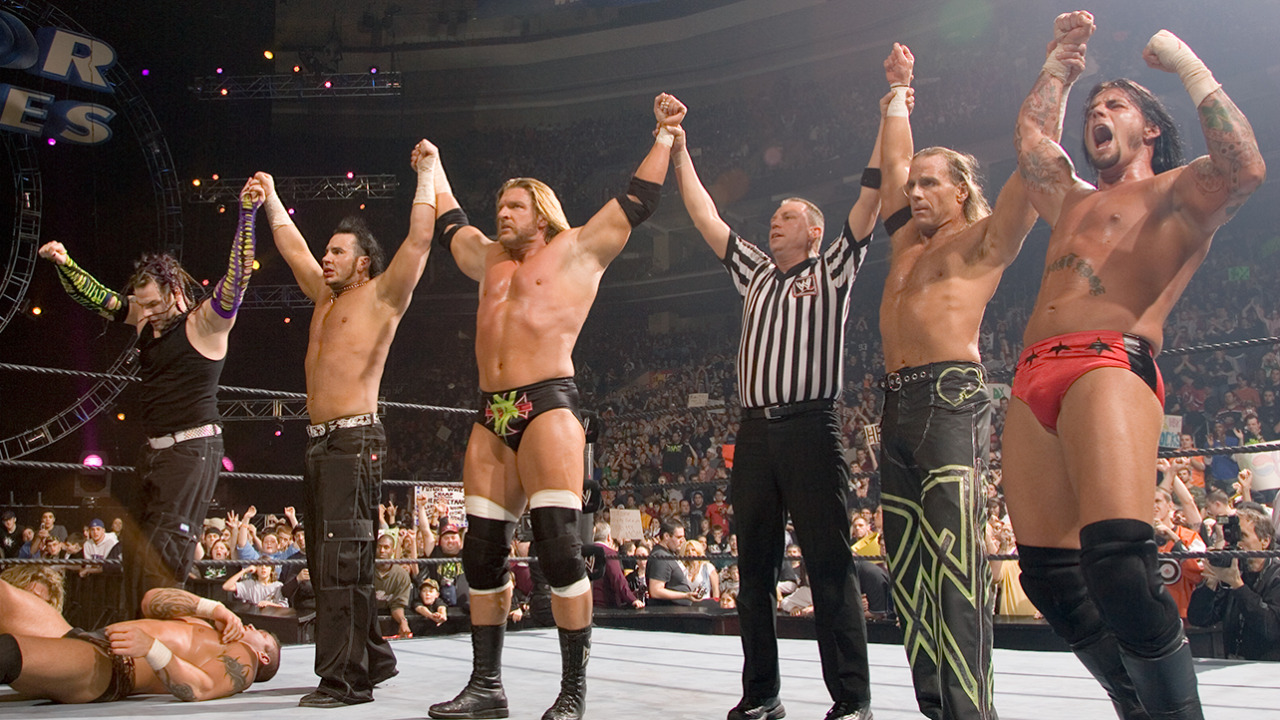 Steve Cook takes a look at the Top 5 Survivor Series teams in WWE history!
Last week, we started our look at Survivor Series by ranking the five worst teams in the history of the event. Since we suffered through that together, it's only fair that we set aside some time this week to look at the best of the best. These are the teams that stand the test of time & were truly awesome collections of talent. The teams you can't believe happened, and would go crazy if you saw them today.
These are the Top 5 Best Survivor Series Teams.
5. Bobby Heenan, Andre the Giant, Haku, Arn Anderson (1989)
Early editions of the Survivor Series featured a lot of talent managed by Bobby "The Brain" Heenan. At the time, pretty much every single heel wrestler had somebody managing them. WWF was a manager-heavy promotion until Vince Russo decided that the only managers could be women low on talent & high on sillicone enhancements. For my money, the best version of the Heenan Family that appeared in the Survivor Series was this one. Andre the Giant, Arn Anderson & Haku are all legends of the business in their own way. Heenan was the greatest manager of all time.
The only thing keeping this team from ranking higher was Tully Blanchard's drug test.
4. Eddie Guerrero, Big Show, John Cena & Rob Van Dam (2004)
Eddie Guerrero & Kurt Angle had issues with each other throughout the year of 2004, so it only made sense for them to pick teams to meet at Survivor Series. While Kurt was wasting his time with the likes of Luther Reigns & Mark Jindrak, with Carlito thrown in because why not, Eddie actually found some talented guys to stand with him. John Cena wasn't BIG MATCH JOHN yet, but he was well on his way. RVD's credentials speak for themselves, as do Big Show's. A team with this much firepower behind it should beat anybody in its path, and Team Guerrero ended up with three survivors in their match with Team Angle.
They would have had four if Kurt didn't use the ropes on a rollup to eliminate RVD. Which was foolish on his part because Eddie took that as a challenge & used the ropes on a rollup to eliminate Jindrak. You couldn't out-cheat Eddie Guerrero.
3. Ultimate Warrior, Texas Tornado & Legion of Doom (1990)
Wrestling had a ton of warriors running around during the late 80s. The Road Warriors were ruling the tag team scene. Kerry Von Erich was known as the Modern Day Warrior, due to his World Class theme song provided by Rush. Ultimate Warrior started out as the Dingo Warrior, but changed to Ultimate because Vince McMahon wanted the best Warrior of all.
All of wrestling's best-known warriors would eventually join forces at the 1990 Survivor Series. Sure, Von Erich was known as the Texas Tornado during his WWF stint, and Hawk & Animal had adopted their other moniker as their tag team name. But we all knew that these men were Warriors.
2. Randy Savage, Ricky Steamboat, Jake Roberts, Jim Duggan & Brutus Beefcake (1987)
As we noted while ranking the Top 5 Worst Survivor Series Teams, Honky Tonk Man wasn't exactly the best when it came to putting teams together. He was a master, however, of getting people that otherwise might not get along to be on the same page. Savage & Steamboat had one of the legendary feuds of all time earlier in 1987. Roberts had been a thorn in both Savage & Steamboat's side, and had more issues with Savage a few years later. There's only one thing that could have possibly brought these three men together…a mutual hatred of the Honky Tonk Man.
Steamboat had lost the Intercontinental Championship to Honky not long after WrestleMania III. Savage wanted the title back no matter who had it, and ended up getting cheered by the fans due to various interactions with Honky & his buddies in Jimmy Hart's camp. Roberts had neck problems for years thanks to Honky's guitar going upside his head in the Snake Pit. Even if these three guys didn't like each other, there was at least some level of respect there. Nobody respected the Honky Tonk Man.
Add in two perpetually over babyfaces in Hacksaw & the Barber, and Savage's team was quite the force to be reckoned with.
1. Shawn Michaels, Triple H, CM Punk, Jeff & Matt Hardy (2006)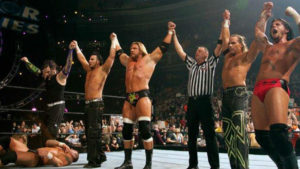 Edge & Randy Orton had formed the team of Rated-RKO to challenge DX for supremacy on Raw soon after Michaels & Triple H were done fooling around with the McMahon family & their various associates. DX & Rated-RKO formed teams for Survivor Series, and it's still amazing how one-sided the endeavor was. You would have thought that Edge & Orton could have found three guys to put up some kind of fight, and maybe Johnny Nitro, Mike Knox & Gregory Helms could have been better help on most nights.
DX brought the big guns. The Hardy Boyz were long-standing rivals of Edge & their brand of extreme went along fine with DX's degenerate antics. Young CM Punk was part of ECW & catching the attention of the WWE Universe. It was a collection of talent that was sure to run over anybody in its path.
Of course, years into the future it would be hilarious to think of Punk palling around with anybody on Team DX.
Did your favorite team make the list? Did Steve leave someone out? Let us know on social media @theCHAIRSHOTcom and always remember to use the hashtag #UseYourHead!
WWE Week in Review: November 5-11, 2018
As WWE leaves the controversy of Crown Jewel in the rearview mirror, all eyes turn to Survivor Series. What happened this week?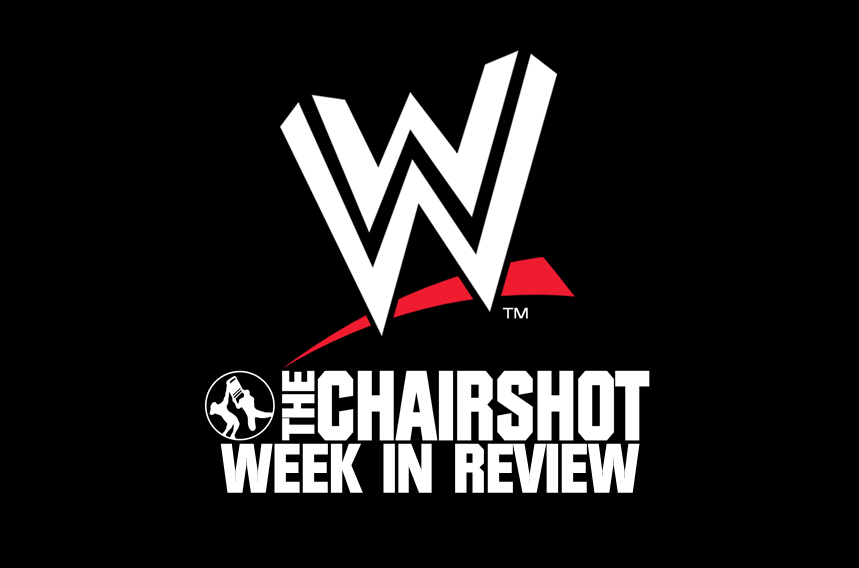 As WWE leaves the controversy of Crown Jewel in the rearview mirror, all eyes turn to Survivor Series. What happened this week?
On RAW, Baron Corbin deals with the fallout of his actions at Crown Jewel. The RAW Men's and Women's Survivor Series Teams begin to take shape. A dangerous new team forms in the Women's Division. Team Boss Hart Hugs' bid to earn spots on the Women's team runs up against the ruthless Riott Squad. Seth Rollins tries to defend the tag titles on his own, and Kurt Angle tries to take back his spot on RAW.
On SmackDown, the fallout of Crown Jewel and build of the Men's Survivor Series Team leads to some very surprising bedfellows. The SmackDown Women's Team is announced, but there are some sour grapes that comes with the announcement. Becky Lynch fires back at Ronda Rousey, and deals with an insane challenger, and a dream match takes place.
On NXT UK, Pete Dunne takes on Danny Burch in a match you have to see to believe. Dakota Kai and Toni Storm go one on one in a bid to put their names in contention for the Women's Championship. The Coffey brothers explain the shocking turn of events last week, and Pete Dunne and Mark Andrews' old friend, Eddie Dennis makes his debut, but will bitterness spoil the reunion?
On 205 Live, Buddy Murphy takes on Mark Andrews in a cross-promotion pride match. The new team of TJP and Mike Kanellis try to gel against the Lucha House Party. Cedric Alexander tries to get back to his winning ways, and gets a surprising offer from Lio Rush.
On NXT, all eyes are turning to War Games. Johnny Gargano explains his actions against Aleister Black. Dakota Kai takes on the dangerous Taynara Conti, Mia Yim's dream finds a challenger in the EST, and Lars Sullivan looks to take out his rage on Velveteen Dream.
So, what happened? Let's find out!
RAW
 WWE Universal Championship: Brock Lesnar was not at RAW this week, but he will be at RAW next week.
Braun Strowman vs Baron Corbin: Baron Corbin sought to explain his actions at World Cup, saying that he'd been trying to teach Braun Strowman a lesson in respect. He'd cost Strowman the match as retaliation for Strowman attacking him last week, though, it has to be said, Corbin deserved it. Corbin then said that he hoped that Strowman would understand that he needed to respect the authority of Corbin.
Fat chance.
As you can well imagine, Braun Strowman was NOT in the mood to be understanding after being robbed of the Universal Championship. He wanted to get his hands on Corbin, and Corbin's 'crack' security squad and the heels on RAW were no match for the irate Monster Among Men, and Corbin was eventually chased out of the building.
RAW Women's Division: One of Corbin's announcements for Survivor Series involved the Women's Division and introduced Alexa Bliss as his 'Administrative Assistant' and as non-competing team captain.
Bliss addressed the Women's Division, stating that she doesn't want RAW to lose to SmackDown again this year and wants to see 'killer instinct', so the auditions for the RAW Women's team starts tonight with Sasha, Bayley, and Nattie facing the Riott Squad starting as soon as the segment is over.
Nattie, Sasha, and Bayley were full of confidence in their pre-match interview. Nattie revealed that she'd brought her dad's sunglasses, dedicating the match to her dad's memory.
The match was really good. Both sides wanted to impress Alexa Bliss and showed a lot of aggression. It looked like Nattie was going to get her team another victory when Ruby Riott came up with Jim Neidhart's sunglasses and BROKE them in front of a devastated Nattie. The match ended in a no-contest, but if Alexa Bliss was looking for killer instinct, the Riott Squad showed a lot of it.
Ronda Rousey, who will be meeting Becky Lynch at Survivor Series, cut a promo on her fiery opponent. Showing a surprising amount of arrogance, Rousey basically dismissed Lynch as a threat, stating that Lynch had her respect. She poo-pooed Lynch's road to WWE, citing a childhood that sounds more like signs of a very dysfunctional family life, like her mom waking her up by trying to break her arms. She also mocked the various careers Lynch had while learning to wrestle, including being a flight attendant. She said that Lynch might call herself the Man, but Rousey is the Baddest Bitch on the Planet and tells Lynch to bring all her anger to Survivor Series because she wants a challenge.
At this point, Rousey was interrupted by her #1 Contender, Nia Jax. Nia thanked Ronda for getting her fired up for Survivor Series and warns Rousey that she'll need that fire because Nia's waiting…champ.
Nia took on her friend, Ember Moon, in a one-on-one contest. Ember seemed to have learned something from last week's encounter because she managed to get more offense in, and the two ladies put on a pretty good match. However, like last week, Ember proved no match for Nia's size and strength and the Irresistible Force had her hand raised in victory.
The real surprise came after the match was over. Nia had been having staredowns with her cousin, Tamina Snuka, for weeks and, as usual, Tamina showed up once the match was over. However, Tamina attacked Ember, not Nia. Nia seemed shocked for a moment and then joined in the attack, leaving Ember in the ring. The RAW Women's Division now has a dangerous new partnership brewing.
RAW Tag Team Division: Last week, the Lucha House Party made their debut against the Revival, defeating the Top Guys, despite the Revival dominating the match. Not surprisingly, the Revival were NOT amused by the Lucha House Party's antics, calling them an embarrassment to tag team wrestling and vowed to send them back to 205 Live.
Seth Rollins vs Dean Ambrose: Despite their falling out two weeks ago, Seth Rollins and Dean Ambrose are still the RAW tag team champions. On Monday, Seth Rollins went to the ring wearing all three belts: Intercontinental Championship and both tag belts.
Rollins addressed the controversial Universal Championship match at Crown Jewel and said that Brock Lesnar holding the title again was a slap in the face to Roman Reigns, who fought so hard to win it, and to everyone in the locker room, being very critical of Baron Corbin's role in the debacle.
Turning his attention back to his own problems, Rollins admitted that he'd wanted to come to Manchester with the belts AND the World Cup Trophy, but that didn't happen. He addressed his former partner, Dean Ambrose, who had still not explained his actions two weeks ago. Rollins admitted that he couldn't defend two titles at once, which seemed to imply that he was going to vacate the Tag Team Titles since he no longer had a partner.
At that point, he was interrupted by Corbin, who was clearly not happy about Rollins comments about him. Despite Rollins clearly not having a partner anymore, Corbin says that Rollins and his invisible partner will defend the tag titles against a rising team: AoP!
Despite the fact that AoP are both much larger than Rollins, who isn't a small man, and aren't the best wrestlers in the world, this was a great match. Rollins was able to make AoP look great without letting himself get squashed. The outcome of this match was never in doubt and we have new Tag Team Champions.
After the match, Dean Ambrose finally appeared and made his way to the ring. Sitting next to Rollins, he commented that Rollins wanted to know WHY Dean turned on him. As Rollins got to his feet, Ambrose dropped him with another Dirty Deeds, still with no explanation.
In a post-show interview, an angry Rollins said that he was done trying to get answer out of Ambrose by asking. Now, he was going to beat the answers out of his former friend. Good luck with that, Seth.
Dolph Ziggler vs Elias: Fresh off his shocking defeat at the hands of Shane McMahon at Crown Jewel, Ziggler looked to regain some momentum, especially since he'd been added to RAW's Survivor Series team. Addressing his loss, Ziggler claimed that he'd been the victim of a vast conspiracy to screw him over yet again.
Before he could finish putting on his tinfoil hat, he was interrupted by Elias, who was very over with the UK crowd. Elias claimed that he wanted to play a song that two members of Oasis had liked and had promised to reunite if he did. He also took the time to insult Ziggler and his excuses, calling him a loser.
Ziggler wasn't interested in Elias' musical ambitions and challenged Elias to a match.
The match was really good. Ziggler and Elias worked really well together and put on a great match. Despite the best efforts of Ziggler, Elias would put the Show-Off away with his patented Drift Away for the win.
Jinder Mahal vs Apollo Crews: Apollo Crews has been looking to gain some momentum since leaving Titus Worldwide and has come up a little short in his attempts. This week, he faced Jinder Mahal, another RAW star who has been coming up short in his bids for momentum.
The match was good, but very boring. Apollo Crews would pull out the win with a standing moonsault.
Bobby Lashley (with Lio Rush) vs Finn Balor: Finn Balor and Bobby Lashley have been feuding for the last few weeks, egged on somewhat by Lashley's hype man, Lio Rush.
This week's match was pretty good. It's still not really clear just what Lashley and Balor are feuding about, but the matches are always good, except for the constant annoyance that is Lio Rush.
Rush did prove his worth to Lashley this week by helping him get a win over Balor by causing enough distraction that Balor took his eyes off the ball and chased him, which gave Lashley the opening he needed.
Survivor Series: Before being chased out of the arena by the furious Braun Strowman, Corbin made several announcements for Survivor Series, including announcing the first member for the RAW Men's Team: Dolph Ziggler, Drew McIntyre, and Braun Strowman. Corbin expressed the hope that once Strowman understood and accepted why Corbin screwed him out of the Universal Championship, he'd understand that he's the best man for the RAW Men's Team. Again, this was BEFORE Strowman chased him out of the building.
Corbin also said due to his status as RAW General Manager, he would not be competing in the match, but would be the team captain.
Kurt Angle, who is the REAL General Manager of RAW, came out and said that competing at the World Cup had lit a fire in him and he wanted into the Survivor Series match. Corbin refused, mocking Angle, so Angle offered him a deal. They would have a match on RAW and the winner would not only be on Team RAW but would be team captain. Corbin agree, but that had been before he'd had to run for his life from Braun Strowman.
Drew McIntyre vs Kurt Angle: Since Corbin was forced to vacate the premises, his spot in the Team Captain match was filled by Drew McIntyre.
The match was great. Angle and McIntyre worked very well together and were able to put on a really good match despite Angle's age and injuries. Despite Angle's best efforts, he would be forced to tap to his own Ankle lock by Drew McIntyre. Given that Stephanie McMahon is going to be back next week and that McIntyre was a substitute for Corbin, Angle could still get his wish to be on Team RAW, but time will tell.