Top 5: Dark Horse WWE Women's Royal Rumble Contenders
We're all about equal rights here at The Chairshot. If I'm going to make a list of Dark Horse Men's WWE Royal Rumble Contenders, it's only right to take a look at the Women's Royal Rumble Match as well. As it turns out, there aren't as many folks that gamblers & casinos are buying into as contenders. Five women are getting odds lower than 10-1:
Ronda Rousey
Asuka
Paige
Nia Jax
Becky Lynch
Rousey & Asuka seem like the only two that are actually considered contenders to win. This says a lot about how Asuka has been booked throughout her time with WWE & NXT, and about how everybody really believes that Rousey will be there. Paige won't be competing. Jax is getting some support due to her size & the fact Asuka didn't actually beat her. Lynch is from Ireland so she'll always get some betting action from Europeans.
Here are five contenders that just might shock the world…
5. Kairi Sane (33-1 Skybet)
We don't know if NXT will have representation in this match or not. If they do, Sane would be one of the top picks from that roster to make some noise. Her win in the Mae Young Classic definitely turned heads, and adding a Rumble victory to her resume would be very impressive.
4. Tamina (33-1 betway, 40-1 Skybet)
There's no denying that Tamina has excelled in multi-woman matches in the past. Back at Survivor Series she was responsible for the departure of Nia Jax from the Women's Elimination Match. If Jax is high up in betting because people think she'll be tough to throw over the top rope, Tamina should be considered a favorite as well.
Tamina's status as a second-generation wrestler is a double-edged sword, even more so than it is for most of her peers. Charlotte Flair had to work twice as hard as everybody else to get where she is, but she was always going to get a certain amount of fan support because her dad's the Naitch. Ric has always gotten a positive reaction from the WWE Universe, even during his hard times. Jimmy Snuka once had a similar connection, but his reputation took a tumble when a murder case he was involved in back in the 1980s gained more public attention in the 2010s. Tamina is likely nearing the end of her career and a win here would be a nice way to start a farewell push, but one wonders if fans would get behind it.
3. Naomi (18-1 betfair, 25-1 Skybet)
At this time last year, Naomi was establishing herself in the SmackDown Women's Championship picture and beginning a feud with Alexa Bliss. She won the title at Elimination Chamber, gave it up for a few weeks, and won again at WrestleMania. She's been a little quiet since losing the title to Natalya at SummerSlam, but she can look back to last year for some positive vibes.
Naomi has been supportive of Charlotte Flair lately, but it surely wouldn't take long for some bad blood to develop if Naomi won the Royal Rumble Match. She's one of the few women on the SmackDown side that people would see as a legitimate contender to Charlotte's throne. I don't see it happening, but it certainly can't be ruled out.
2. Ruby Riott (28-1 betway, 33-1 Skybet)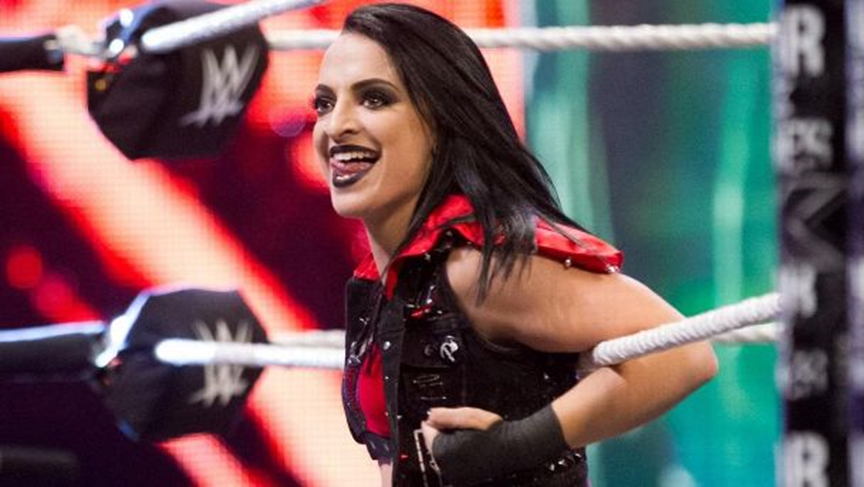 Make no mistake: Ruby is the member of the Riott Squad that WWE has hopes for. She cuts the promos, she gets the Titantron graphics, she even got the group named after her. The Squad has seen mixed results since making their way to SmackDown Live. A Rumble victory for Ruby, Liv Morgan or Sarah Logan would certainly establish them as a force.
A feud with Ruby & Charlotte Flair would be a mix of polar opposites. Charlotte grew up in the rich section of the Queen City with parents willing to give her anything she wanted. She was a preppy star cheerleader & athlete. I don't know as much about Ruby's background, but it's a safe bet she didn't have a silver spoon in her mouth. She certainly wasn't born in the business, nor was she billed as "genetically superior" at any point in her indy wrestling days. A win in the Royal Rumble Match would be a start in Ruby rising to Charlotte's level.
1. Sonya Deville (off the board)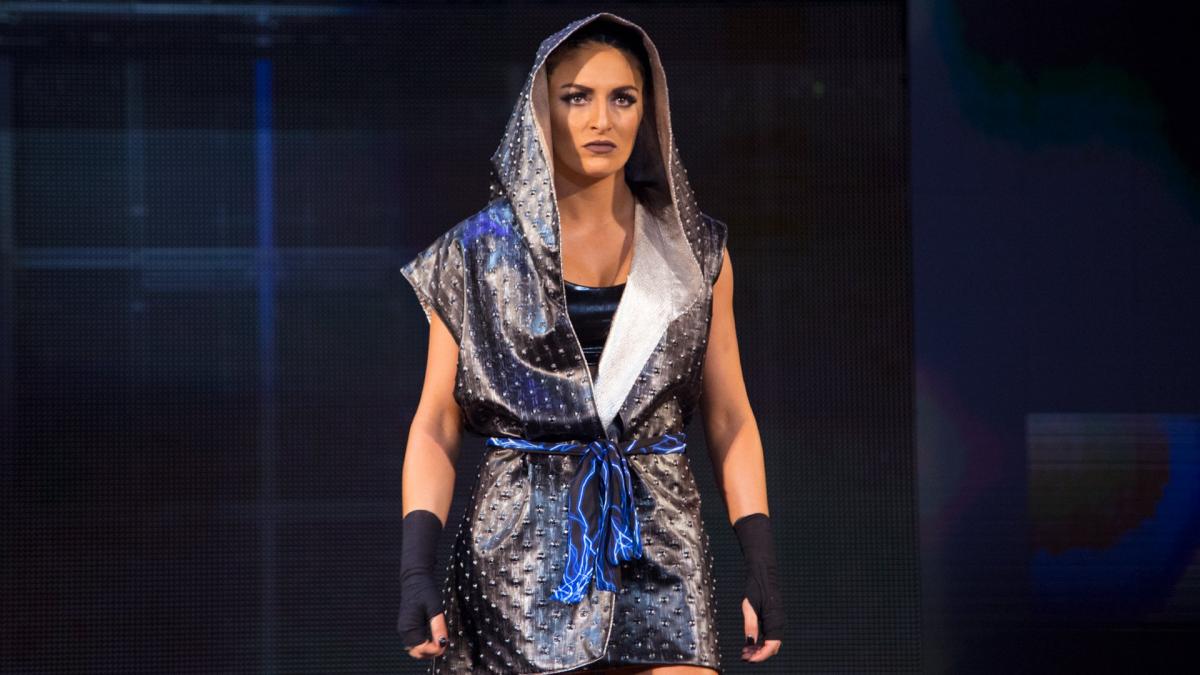 Ten years ago, Mandy Rose would have been poised to be the breakout member of Absolution. She fits all the attributes that WWE liked in the Divas of that era. Sonya Deville would have been a good hand used to try & get the other ladies over. 2018 is a different world with more opportunity for female Superstars to take opportunity by the horns. Deville has stood out from the rest of WWE's recent female debuts & even scored a dominating victory over Sasha Banks on the 1/16 edition of Raw.
As we get closer to Sunday, I would at least expect Deville to get added to the board. Ronda Rousey is getting all the attention from MMA/WWE fans, but Deville is actually on the show already. And as Chairshot readers know, she's already being secretly pushed.
The Jersey Devil would certainly be an unexpected pick to win the first Women's Royal Rumble Match. Doing so would definitely put her on the map.
Rob: Kurt Angle Does Deserve Better
Kurt does deserve better–but it's not what you think.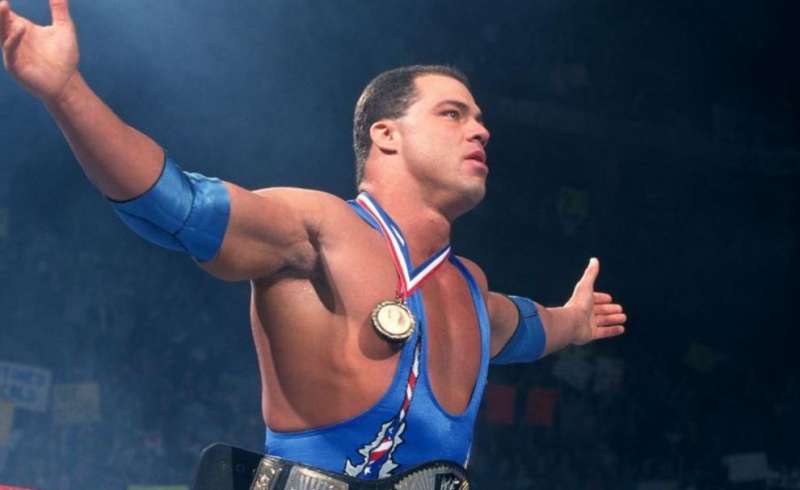 Rob Bonnette takes a dive into the final match for Kurt Angle at WrestleMania 35 and the choice of Baron Corbin as his opposition.
So we're less than two weeks away from WrestleMania 35 and as of right now Kurt Angle is still slated to face Baron Corbin in his farewell match on the show, which a lot of you are still upset about.  To a lot of you guys Kurt deserves a better opponent than Baron Corbin, because Baron Corbin sucks and all.  The name bandied around the most is John Cena, which makes sense given their history together and that Cena currently doesn't have a match on the show right now.  But I'm here to say that's not a good idea, and that you guys need to stop complaining about who gets to be Kurt's last opponent.  Now a few weeks ago I was right on board with having Kurt go out against one of his old rivals – Cena, Rey Mysterio Jr, or even Shawn Michaels if he felt like it. But after seeing Kurt's farewell tour the last few week and how he's struggled against Apollo Crews, Chad Gable, and this week Samoa Joe I am firmly entrenched on the other side of the fence of that argument.  The last thing we need is to see Kurt Angle out there trying to have one last big match in front of all those people.  And he doesn't need that, either.
But you're right, Kurt does deserve better – better than to be hung out to dry in a fifteen minute match against someone desperately trying to carry him across the finish line in 2019.  Have you seen him the last few weeks?  he was gassed in five minutes with Chad Gable and this week he could barely get up and over for a few simple suplexes against Samoa Joe.  Joe, who people were saying looked past his prime last year against AJ Styles and is usually protected in multiman matches, had to carry Kurt on Monday night.  To his credit he did a good job and we actually got a decent match, but that's exactly what's going to happen if Kurt gets a 'better opponent' than Baron Corbin at WrestleMania.  Do you really want John Cena full of ring rust to have to struggle to get Kurt through 15 minutes of not being to turn his head, or help with simple bumps, or even lift him up for some of his basic stuff?  By the time you read this Kurt will have struggled through six to eight minutes of AJ dumbing down his own offense to look pedestrian enough for Kurt to get a sympathy win over him on Smackdown, and next if I heard right it's gonna be Rey Jr.  Yeah, good luck.  I get the whole 'Kurt's greatest opponents tour' thing and that's fine, but that's for TV segments and not the biggest show of the year where looking bad will just be embarrassing on a whole other level.  He does not deserve to go out like Willie Mays at the end of his career or Dan Marino not even able to drop back to hand the ball off to a running back.  If you really love the guy you'll want him to go out looking as good as possible.
Which brings us to Baron Corbin.  Corbin is a real heel, someone who goes out to get booed and not to win snarky cool points from smart fans like Kevin Owens or who you refuse to boo because you relate to them too much, which is something that we could sure use more of today.  He's a full time wrestler so he's not rusty, and has enough energy and athleticism to help Kurt do things like…..pick him up for the Angle slam properly.  He also has a year long clip reel of back and forth with Kurt to play on the big screen for everyone who only comes to/watches WrestleMania every year.  As poetic as it would be for Cena to be Kurt's last opponent since Kurt was his first, if the goal is to give Kurt some kind of victory lap/greatest hits moment in either victory or defeat then Corbin is the way to go in my opinion.  Now may we get some kind of moment between he and Cena afterwards?  Sure.  But a match?  Come on, you guys can't be serious.  And look, I know that Ric Flair got Michaels to retire him and Shawn got the Undertaker….but go watch those matches, will you?  Ric at 58 years old was moving around better than Kurt is now.  I just watched that match and there were a few spots where Shawn clearly helped him but he mostly handled himself and could do his signature stuff without looking like he was dying in there.  Kurt is not there at all now.
In short, this sums up what I think is the right way to go for Angle at WrestleMania for his farewell match:
Folks just want a chance to shout "YOU SUCK" during Angle's music, see his pyro and than chant "THANK YOU KURT".

His opponent at #WrestleMania and the match itself is immaterial.

Give the old guy a break & just let him slap the Ankle Lock on Baron and go home.

— Will Mahoney (@HeelWillMahoney) March 19, 2019
That's it.  He can win or lose against Corbin and get all of that in.  Lose?  Yes.  Corbin can use the win to get more heat going forward and more material for his delusional heel promos.  Kurt can still put the ankle lock on him afterwards.  Very few people go out with a win.  Flair didn't, Shawn didn't, Austin didn't, etc.  So don't be surprised if Corbin gets the official victory and then Kurt gets his licks in after the bell.  Don't rule it out.  But anyhow, back to the matter at hand.  Kurt can't go out there like he could even a year ago.  If you want to see a final good performance from Kurt Angle at WrestleMania go watch the mixed tag match he and Ronda Rousey had against Triple H and Stephanie.  It was some great, fun sports entertainment and he did a good job there in his spots.  Don't go pushing it and hoping for some throwback to 2006 with Cena or someone else more 'on his level'.  Really, look at this will ya?
Y'all still out here thinking Kurt Angle can go at #WrestleMania?! #RAW pic.twitter.com/RgVv9yh4co

— Will Mahoney (@HeelWillMahoney) March 26, 2019
You want to see him fold up like that going over for an Attitude Adjustment from Cena, and then Cena have to roll off of him at the two count because Kurt probably wouldn't be to kick out on his own afterwards?  Really?  Look, Kurt is an all time great and arguably the best amateur to pro wrestler ever.  But he's real limited in what he can do, and should probably have done this two or three years ago if he was going to get a top level kind of match.  But now it's time to send him off in a way that does not make him look bad, and that's in a quick five minute deal with someone the crowd will have no problem booing against him.  That guy is Baron Corbin, as much as you think he sucks – which, if you do we got T-shirts here you can buy that say just that.
Rob: Was There A Better Way?
Rob looks at the impending Raw Women's Triple Threat at WrestleMania. Could it have been set up better? Would people be any happier?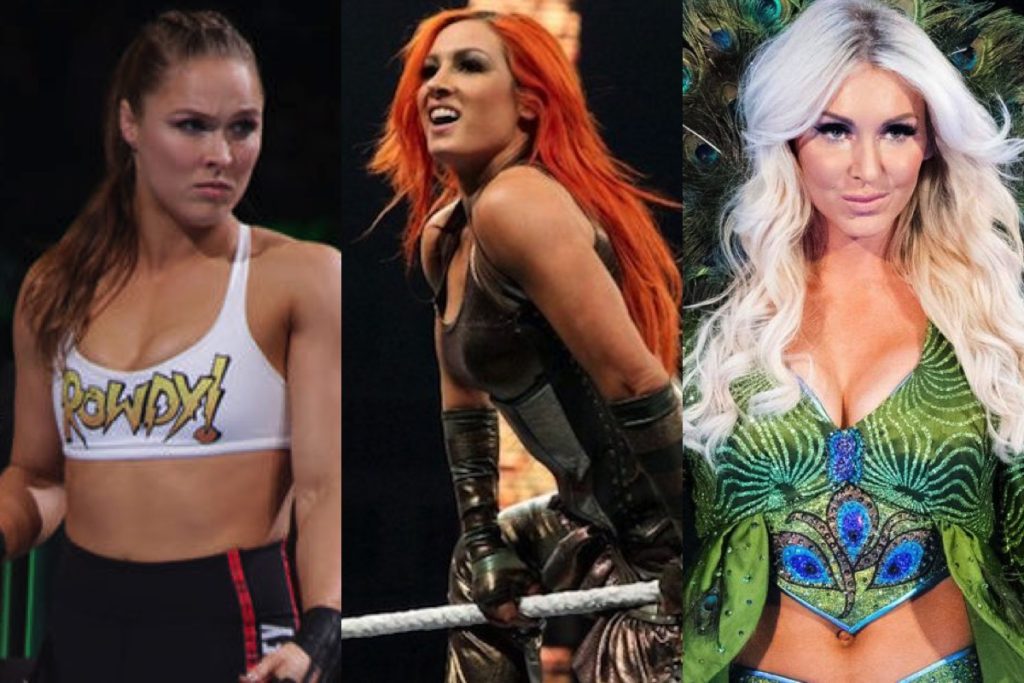 Rob looks at the impending Raw Women's Triple Threat at WrestleMania. Could it have been done better?
A lot of people got really mad on the internet over the last two weeks about the buildup to the RAW Women's Title match for WrestleMania, some to the point of saying they've now lost interest in the match.  Now while I think that's doing way too much, I agree that things got real convoluted real fast.  From Becky taking Lana's spot in the Rumble to Vince just abruptly swapping Charlotte in for Becky to the worst attempt at walking on crutches I've ever seen to Ronda leaving the RAW title in the ring and saying just kidding a week later to Becky winning her way into the match again when Ronda got Charlotte DQed at Fastlane.  And that's not even mentioning the bizarre road Becky and Ronda went down on Twitter.  This thing has taken a lot of weird unnecessary twists and turns, and we still have three weeks to go!  So what went wrong, is it any worse than years past, and is there anything that could have done differently?  Let's see.  But first, a major concession.  Once Becky got punched in the face by Nia Jax and concussed, and blew up twice as much as she'd been already, this was going to be a triple threat and not the originally planned Charlotte vs Ronda one on one match.  Ronda obviously wasn't coming out and no, they weren't going to take Charlotte out either.  I'm sorry all of you who have been demanding a one on one between Becky and Ronda, that was never going to happen.  If that's the reason you're upset then I got nothing for you and you can stop reading now if you want.  Now that we have that out the way……
What's the history?
Since going to monthly pay per views in 1996, the Royal Rumble winner has only had a clean, unfettered path to the title match at WrestleMania 38 percent of the time.  That means the rest of the time there are obstacles thrown in his or her way, their decision on who to face is delayed by some circumstances, or they end up losing their opportunity entirely and not getting the match at all.  And let me tell you, some of those roads have been filled with some trash.  There was the time Vince won the Rumble and lost his title shot to Steve Austin a month later (I mean, we all knew Vince wasn't going to WrestleMania to wrestle for the World Title).  A year later the Rock won the Rumble, was forced to defend his prize a few weeks later and lost it, then got it back in time for WrestleMania.  Chris Benoit won it in 2004, RAW Sheriff Austin changed the rules so you could pick either champion, Chris picked HHH, Shawn Michaels interrupted the contract signing and took Benoit out to to sign his own name to face HHH because they were still beefing, then Austin made it a Triple Threat (sound familiar?).  Randy Orton's first win was followed by him being diagnosed as insane, attacking the McMahon family one at a time, then goading Triple H into demanding a match with him later.  Those are just a few examples of how wacky things can get.  So no, we're not out in left field here and it's actually somewhat par for the course.  They got two and a half months to get through and in the name of doing that sometimes they come up with a bunch of weird stuff.
So step by step, what could they have done differently?
Royal Rumble
Becky loses to Asuka, enters the Rumble at number 30 by taking Lana's spot when she can't go out there, and wins by throwing out Charlotte.  This is the root of all that went awry.  So what to do instead?  After talking with the boss here, Greg DeMarco, a few possibilities came to mind.  One, have Charlotte win the Rumble and go forward from there (my choice) or sticking with the finish that happened but have Charlotte successfully protest the result the next night on RAW and be named the winner over Becky (Greg's idea).  My final answer here is a mix of the two: Becky 'wins' the rumble, Charlotte protests on RAW, Vince makes a match to determine the winner at the Elimination Chamber show which Charlotte wins.  That accomplishes the necessary task of throwing some adversity Becky's way in a much more sensible path than what did happen, Becky winning and Vince two weeks later just taking her out and putting Charlotte in.  It also gives Charlotte some stronger talking points (namely, that she beat Becky so it's settled), which she was lacking after racking up two losses to Becky last fall and a Rumble loss.
Ronda and Becky
We got a few mostly one sided face off promos, some tweeting back and forth that either did Ronda or both women no favors depending on where you stand, Becky walking to the ring on crutches at the Chamber show, dropping them and attacking both Ronda and Charlotte, Ronda demanding Becky be added to the match, Ronda snapping on Becky and beating her down (and Becky not selling it much afterwards……ugh), and then Ronda interfering in Becky and Charlotte's match to get Charlotte DQ'ed so that Becky could get back in the match.  So what to do instead?  Given what I just suggested, Ronda can just mind her business while slowly turning until after Becky loses to Charlotte at the Chamber show then start taunting Becky for losing since they have unfinished business and all.  Becky gets pissed at the taunting, attacks Ronda again, Ronda demands Becky get added to the match just she did in the story we got.
Ronda and Charlotte
This part has really been lacking in development.  Both women have reason to be pissed at each other.  Charlotte snapped on Ronda at Survivor Series and attacked her with a chair and kendo stick, then Ronda cost she and Becky the triple threat at TLC.  And yet neither of those has barely been mentioned.  They haven't reached any kind of final settlement of their issues, and yet we're left thinking now that there's no reason for any kind of match between the two when in fact there is.  Once Charlotte beats Becky to get the title match, she can immediately go in on Ronda during her promos, and say that 'you cost me the Smackdown title so I'm coming to take yours instead'.  Not hard at all, really.  Ronda of course doesn't back down and fires back when she gets her mic time.
Charlotte and Becky
I spelled out the first part, but what about after match at the Chamber show I suggested?  Easy.  Charlotte keeps taunting Becky during her promos and keeps inciting her to come after her.  Becky gets pissed and snaps on her like I suggested she do with Ronda.
Getting Becky back in the match.  
Here's where it's time to get creative.  Enter Nia Jax.  Becky and Nia still have beef of course, but let's throw in a wrinkle here: it's revealed that Charlotte paid Nia off to punch Becky in the face and take her out of the Survivor Series match.  This completes the Charlotte heel turn and gives Vince or whoever a reason to give Becky a reprieve.  Becky vs. Nia at Fastlane or on an episode of RAW if they want to keep the Women's Tag Team Title feud thing going (or they can do that angle on RAW after Fastlane).  Becky beats Nia, gets back in the match at WrestleMania.
Boom, Triple Threat match all set up.
So how was I able to come up with this when they didn't?  Well, I have the benefit of hindsight, had a whole weekend to think it up and do research with no distractions, and a few people to bounce ideas off of.  I'm not writing six hours of live TV every week plus three pay per views (Rumble, Chamber, Fastlane) in real time underneath the eye of a boss who's known to change things at the last minute.  Sometimes they're gonna muck things up the same way we all make mistakes at our jobs, in our classes, etc.  At the end of the day if we a great match with a finish that sends most people home happy then we're not going to focus on the buildup again until it's time to compare it to the next time a match buildup goes awry.  It is what is and these things happen sometimes.