Top 5: Japanese Wrestling Stars In America
This week features arguably the second-biggest wrestling show of the year: New Japan Pro Wrestling's WrestleKingdom 12 in the Tokyo Dome. Okada vs. Naito & Alpha vs. Omega have the wrestling world buzzing with anticipation. It should be a big time event.
Now, for every American wrestling fan that's pumped over this show, there are many others that have no real idea what's going on in the Land of the Rising Sun. Not all of us are likely to hop on NJPW's streaming site or turn on AXS TV when the show airs in installments on that channel. Many American fans' only exposure to Japanese wrestlers has come through WWE, or the Big 3 promotions back in the day.
Andrew Balaz recently looked at Japan's top non-New Japan stars of today. This week, I thought it would be fun to look at the Top 5 Japanese Wrestling Stars In America.
Honorable Mention: Mr. Fuji
While Fuji is Hawaiian-born, he is Japanese-American. He was the Orient's top representative in the WWF for parts of three decades. Whether as a wrestler or as a manager, the devious one was always up to no good.

5. The Great Kabuki
Though billed from Singapore, the Japanese-born Great Kabuki was responsible for most of the tricks & tactics that other folks on this list would use later on to become huge stars in America. Kabuki was the first to use the mist. He was an early practitioner of the superkick. He was one of the first to wrestle while wearing face paint. Kabuki debuted his gimmick in World Class in 1981 & was managed by the man that came up with it, Gary Hart.
4. Kaientai
TAKA Michinoku & Sho Funaki had a lengthy run in the WWF, part of which took place during the Attitude Era. They had two main runs people fondly remember them for. One was when they helped Mr. Yamaguchi-San try to chop chop Val Venis's pee-pee. The other was when TAKA would lipsynch over Bruce Prichard's Japanese movie villain voice talking about how eeeeeeevil he & his tag team partner were while Funaki would punctuate the promo at the end with an "Indeeeeeeeed." Funaki stayed with WWE for years after TAKA's departure & eventually came back as part of the Japanese announce team. It only made sense, as soon after TAKA left he became a backstage interviewer & billed himself as Smackdown's #1 announcer.
3. Tajiri
The Japanese Buzzsaw was a sensation upon his arrival in Extreme Championship Wrestling in 1999. His matches with Super Crazy wowed ECW fans. He transformed from a quiet young Japanese boy into a more Kabukiesque performer that used the Asian mist. He was most known for his lethal kicks, which were amplified by his slapping his thigh. He's the first guy I remember doing that, and a generation of wrestlers followed in his footsteps. Tajiri went to the WWF after ECW's demise & had a successful run during much of the 2000s using his ECW persona.
2. The Great Muta
Muta was the first Japanese wrestler to be pushed as a legitimate main event threat in America. He took WCW by storm in the late 1980s & immediately got over with fans as a big deal. Had he been in America more often, he would have gotten a run as WCW World Champion at some point. Muta often wrestled under his given name of Keiji Mutoh in his home country. He always appeared as Muta in WCW, including during a run as a member of NWO Japan.
Honorable Mention: Asuka
The Empress of Tomorrow will make the top five of this list someday. Once she claims singles gold & runs roughshod over the main roster, and has a lengthy run on top of WWE's women's division, she'll rate very highly. Right now, she's on the verge.
Honorable Mention: Shinsuke Nakamura
Nakamura is in the same spot Asuka is. He has the ability to make his name resonate the same way others on this list do years after their American runs. He isn't there yet.
1. Jushin Thunder Liger
If you ask a hardcore American wrestling fan that's never really gotten into wrestling from other countries to name one New Japan Pro Wrestling star from over the years, they would name Liger. He revolutionized junior heavyweight wrestling in Japan in the late 80s & early 90s, then appeared off and on in WCW throughout the 90s. His matches with Brian Pillman made American fans take notice that wrestlers didn't have to be 6'4 & 300 pounds to deserve their attention.
Without Liger paving the way, WCW probably doesn't create a cruiserweight division. Guys like Chris Jericho, Dean Malenko, Eddie Guerrero, Rey Mysterio & countless others don't get a chance to showcase their talents on a major stage & revolutionize in-ring workrate in American mainstream wrestling. WCW doesn't have something new & different on the undercards to help take attention away from the WWF & create a legitimate wrestling war.
King's WrestleMania Rewind: Charlotte Flair vs. Asuka from WrestleMania 34
Chris king is back with one of the most underrated matches in WrestleMania history–Charlotte Flair vs. Asuka!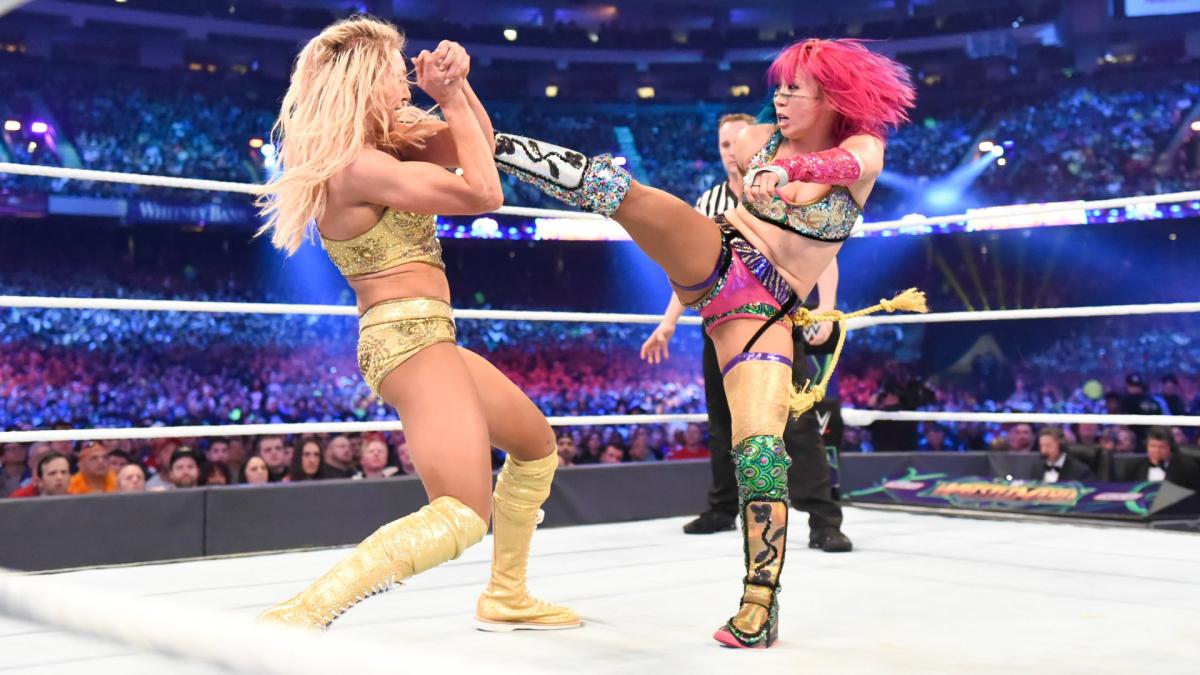 Chris king is back with one of the most underrated matches in WrestleMania history–Charlotte Flair vs. Asuka!
We look back at Charlotte Flair vs. Asuka at WWE WrestleMania 34. 'The Empress of Tomorrow' put her unprecedented and historic undefeated streak of 914 days on the line against 'The Queen's' SmackDown Women's Championship.
For years, this was considered a dream match while Asuka dominated the roster in NXT, while Flair won numerous championships on the main roster on both Raw and SmackDown. The Empress made her long-awaited debut on the September 11th episode of Raw and began to tear through the competition.
Asuka outlasted all twenty-nine other women in the historic first-ever Women's Royal Rumble match to challenge for the title of her choosing. At Fastlane, she made her choice.
The WWE Universe was so excited for this match myself included. Both superstars delivered a fantastic performance on the Grandest Stage of Them All executing counter after counter. Asuka showed off some nasty-looking kicks to her opponent, and Flair hit a thunderous Spanish Fly off the top rope. Flair was seconds away from defeat at the hands of The Empress but she locked in Figure Eight and Asuka was forced to tap out.
I can't even begin to explain how shocked I was at this outcome, as nearly everyone expected The Empress to continue her undefeated streak and walk away with the women's title. This controversial decision was the downfall of Asuka's momentum. She would ultimately win the SmackDown Women's Championship at the 2018 TLC pay-per-view in the triple-threat ladder match.
Fast forward to this year when Asuka has recently returned with her Japanese-inspired persona Kana. Kana is dangerous and ruthless and is heading into a championship with Bianca Belair at WrestleMania 39. The Empress has regained all her momentum and is highly favored to walk away with the Raw Women's Championship. Let's hope that Asuka and Belair can tear the house down and deliver an A+ grade match both women are fully capable of.
King: Dominik Mysterio Needs To Do This At WrestleMania
Chris King is here with what WWE should do with Dominik Mysterio at WrestleMania in his long-awaited match against his father Rey Mysterio Jr.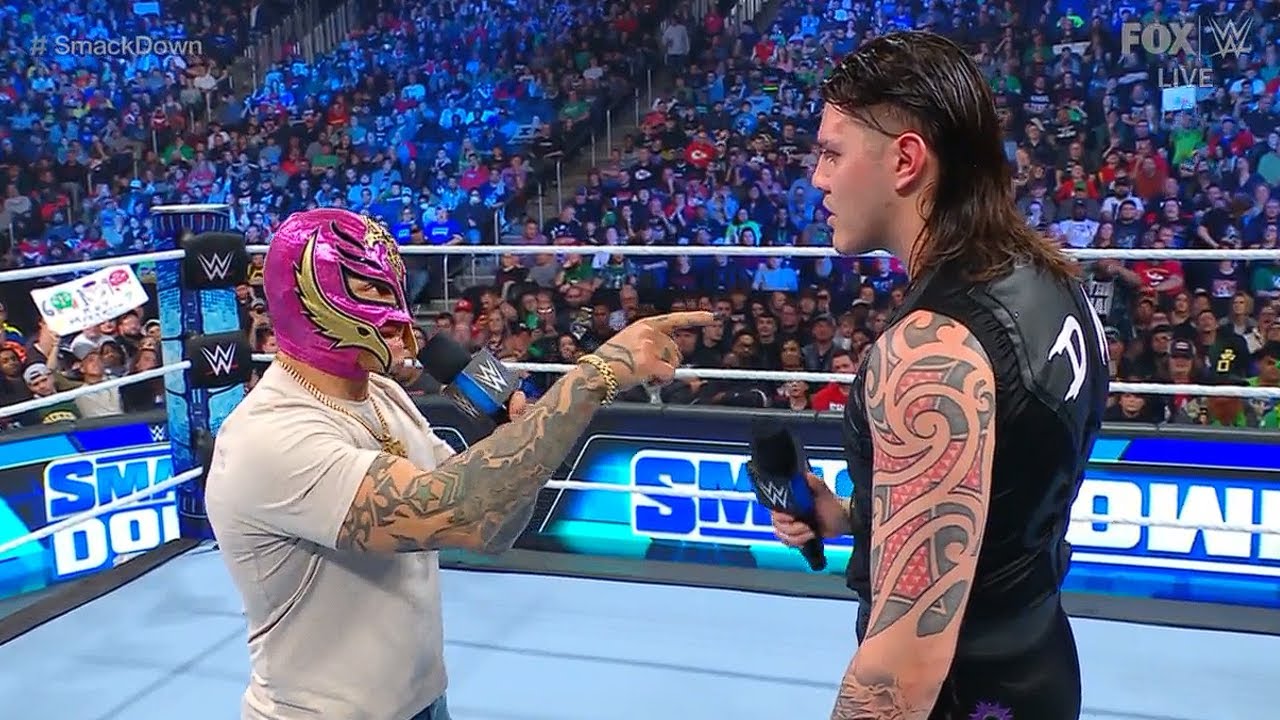 Chris King is here with what WWE should do with Dominik Mysterio at WrestleMania in his long-awaited match against his father Rey Mysterio Jr. 
On this week's episode of Friday Night SmackDown, Rey Mysterio finally snapped and beat some sense into his disrespectful punk-ass kid Dominik. The member of the Judgement Day came out to push his father again for a match on the Grandest Stage of Them All, this time with his mother and sister at ringside. The ungrateful punk told his mom to "Shut Up," as a father even I wanted to jump through the screen and whoop his ass.
Back in October of last year, Mysterio made the emotional decision to possibly quit the company but, instead, Triple H persuaded the Lucha libre superstar to move over to SmackDown to avoid his son. This came after Dominik shockingly turned on his father at Clash at the Castle. Mysterio did everything he could to refuse his despicable son's challenge for Mania but, a man can only be pushed so far. Mysterio will be inducted into the 2023 WWE Hall of Fame and I expect Dominik to embarrass his father during his speech to further this personal feud.
Yes, the WWE Universe hates Dominik and wants to see him get the ever-loving crap kicked out of him but, this feud is missing a special ingredient to capitalize on the biggest heat possible. Throughout this feud, Dominik has made mention of the legendary Eddie Guerrero on several occasions going back to the "iconic" 2005 feud.
I know WWE might not want to go this route but, Dominik MUST come out to Eddie Guerrero's theme at Mania. The disrespectful punk needs to come out in a lowrider to garner nuclear heat. It doesn't matter if The Judgement Day comes out and causes interference for Dominik to get the win, all that matters is that both superstars get the biggest payoff of this nearly year-long feud. Just imagine the Roman Reigns heat after he defeated The Undertaker and multiply that by ten. Dominik portrays the perfect heel and he truly is the missing ingredient that The Judgement Day needed to grow and evolve into a top faction.