Top 5 Matches: Week Ending 1/28/18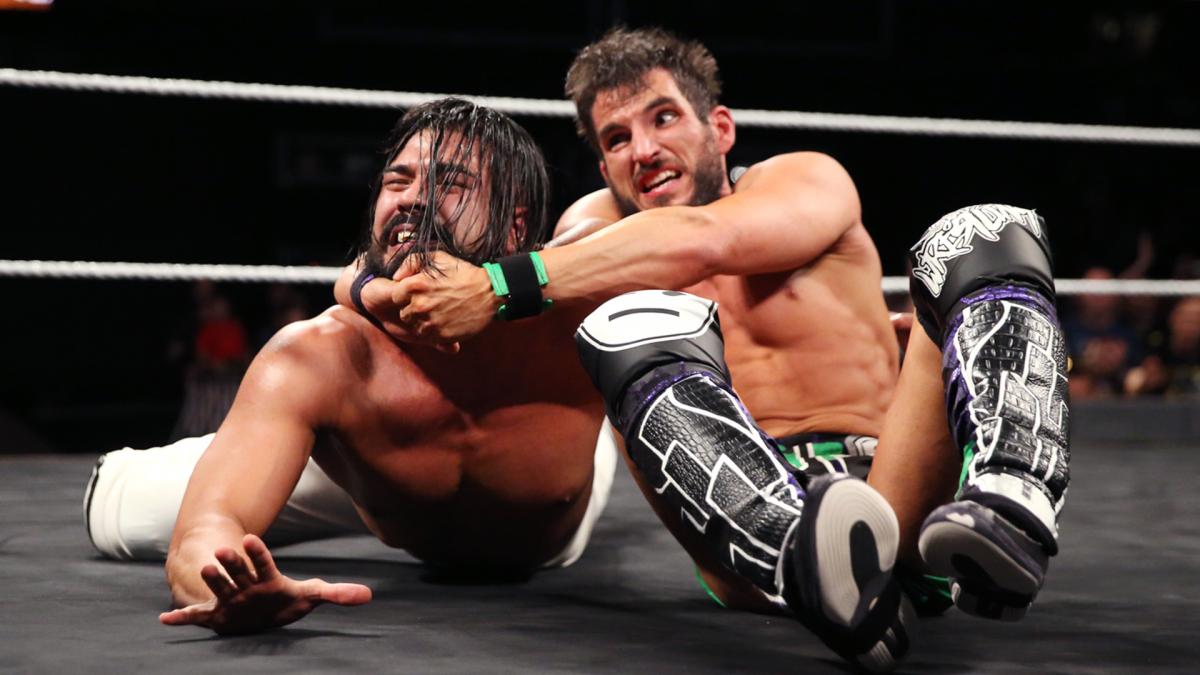 Okay so I'm actually surprised with the results of last week. Since our Chairman Mr. DeMarco has opened up the Match of the Week Voting to you all, the lovely fans/readers…we had an upset. Tim Storm vs Jocephus NWA Empty Arena Match, won last week's vote. You all make me so proud, give yourselves a round of applause.
But last week, is last week…and this week is insane. We have usual TV, Impact Genesis, 2 NJPW The New Beginning events, NXT Takeover and Royal Rumble. My head may explode, but this was definitely a fun overall week, and you will see a good number of Honorable Mentions for a change. So let's get to this monster of a list.
5. 205 Live: Mustafa Ali vs Cedric Alexander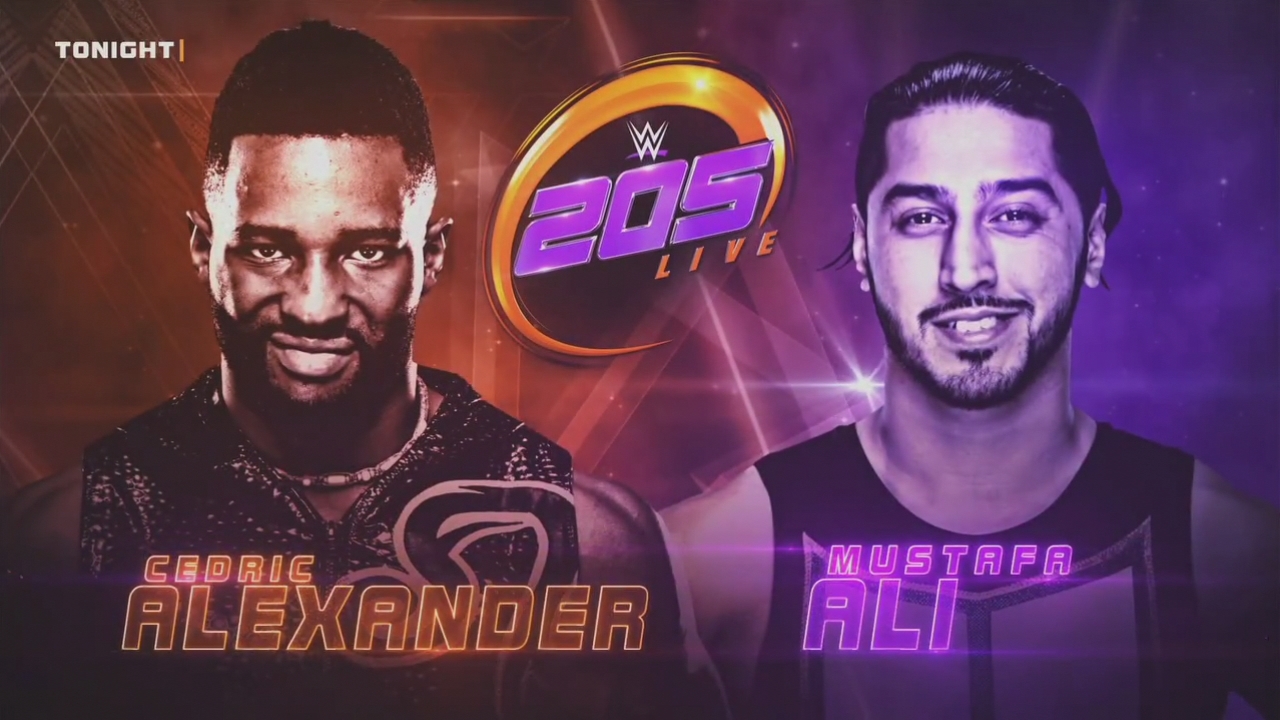 Yes everyone, last week there was an NWA match, and this week 205 Live finally cracks the Top 5. Enzo's release looks like it inspired the whole roster to put that extra little bit in.
So two friends face off to see who deserves a shot at the vacant title. This match was reminiscent of the CWC matches that excited so much of the fan base. Finally allowing them take some of the kid gloves off and do high impact moves at a fast pace, appealed to everyone, even the live crowd.
A bunch of big innovative counters end up in Cedric catching Mustafa, and landing his Lumbar Check for a clean pinfall. Only real complaint is that Cedric's facial expressions didn't exude "determined no matter what", it was more frustrated and willing to take whatever route necessary. But that nit pick aside, it actually made me watch 205 Live, so I'll add that as the last positive for this match.
Rating: *** 1/2 (Gold II)
4. NJPW The New Beginning Sapporo: IWGP Jr Heavyweight Tag Team Match: The Young Bucks (c) vs Roppongi 3k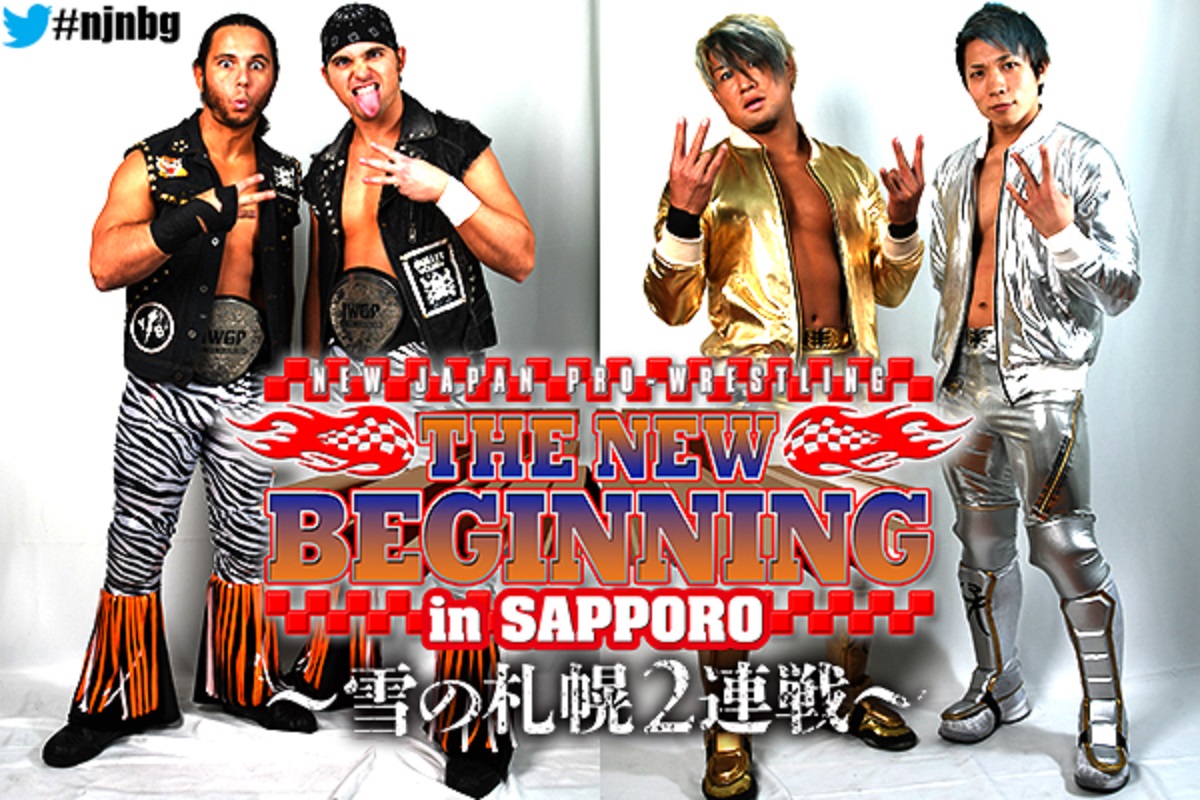 Now if you listen to any Podcasts I've been on, or seen some previous articles, I'm not a fan of The Bucks. But, I will always give props to any match regardless of my feelings about the participants.
This match was more methodical than their Wrestle Kingdom match, and I gained a new respect for Matt Jackson, because he sold like he was auditioning for an Oscar. Storytelling was great, the callbacks to the match a month ago worked well, and I don't think I can gush more about this match. Roppongi showed the exuberance of youth and the Bucks were throwing a lot at them, but due to Matt's back injury that reduced the overall effectiveness of their offense.
Roppongi 3k ends up winning when Yoh scores a nice roll up. So there's still room to continue the feud, but both teams did a lot to cement themselves as the top of most tag divisions anywhere.
Rating: **** (Platinum V)
3. NJPW The New Beginning Sapporo: IWGP US Title Match: Kenny Omega (c) vs Jay White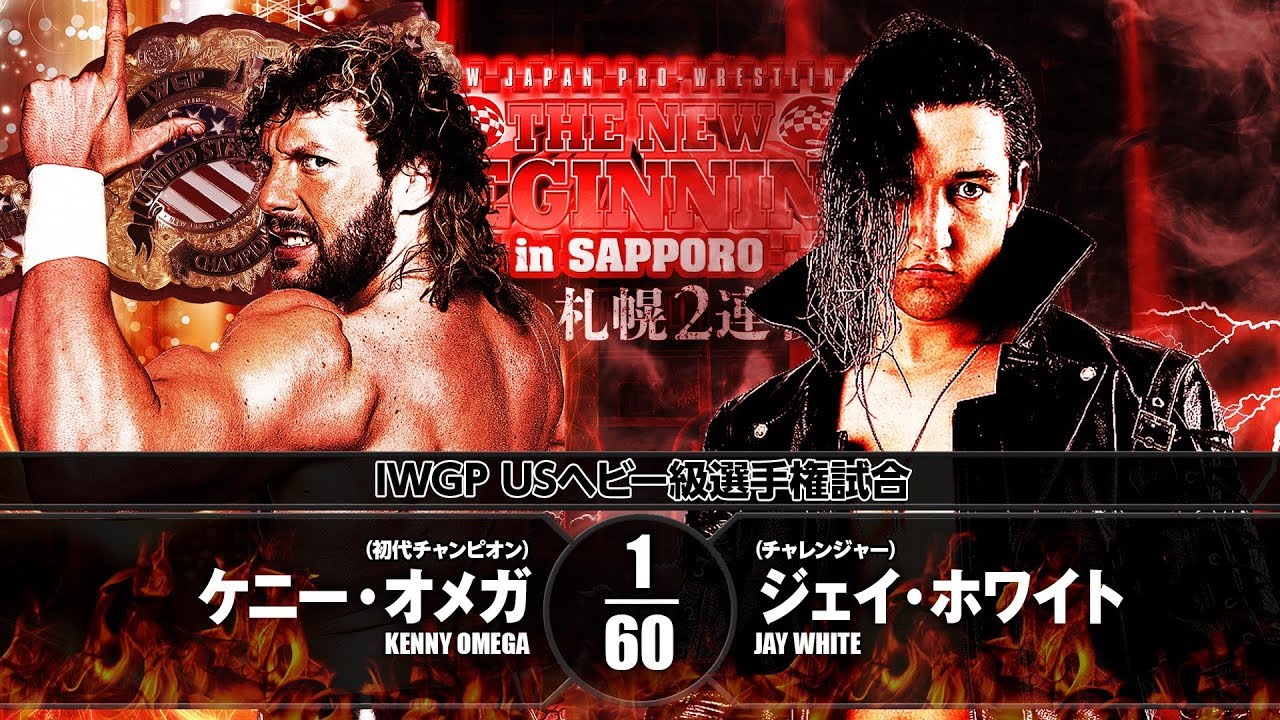 Jay White joined Chaos purposely to help destroy The Bullet Club. He failed against Tanahashi, so can he prove himself against the IWC's favorite child?
Omega treated this match similarly to the Juice Robinson match, where he "big brother'd" the younger wrestler for a while in the early goings. After a small flurry by White, Omega took control of the match. Big V-Trigger knee strikes, cross legged fisherman's neck breaker, a Kotaro Crusher, but still White kicked out. Especially cool when White lifts only his shoulder to avoid a pinfall, I don't think that's ever been done before. Omega gets a little perturbed, but never looses confidence he'll pull out the victory.
His confidence gets the best of him, cause even a visibly exhausted Jay White, slips out of the One Winged Angel and hits a Blade Runner in a very smooth transition.
So yes most know that Adam Page came down to challenge Jay White, Omega kinda ruined the moment, Cody took offense…and…may have kicked him out of Bullet Club. But to the world's delight, Kota Ibushi slides in to save his former partner from the beat down, and after a tense moment, they embrace and imply that the Golden Lovers are back.
Rating: **** 1/2 (Platinum III)
Honorable Mention with explanation:
NXT Takeover Philly: Extreme Rules Match: Aleister Black vs Adam Cole
Now many may have had this rated higher, but my problem with it comes from a lot of spots were off and looked bad. A few being: Why would Black lean down into the chair when on the top rope? Why would Adam Cole land on his feet next to the announce table and then decide it was a good time to sit down and take a double foot stomp? Maybe the chemistry was off with these two, but this one barely missed Top 5, and on paper it was expected to be amazing.
As for the match, it starts off slow with a lot of points to get their personalities over and not a lot of action. Black refuses to use weapons early, Cole tries to take advantage of that, but gets punked out many times before catching Black on an errant Asai Moonsault. From there we finally get around to weapons being used, and it was mostly back and forth. The extended periods of time acquiescing to the crowd for tables and setting up the future spot didn't do much for a match that started a little slow to begin with.
But hell, the pay offs of all the big spots got the crowd to pop, so I guess that's something. Black wins when Cole decides to not cover him and try to go for a CHAIRSHOT, and gets caught by the Black Mass.
The match saw reDragon interfere and then SaNitY interfered to even the odds. So at least it extended the story between SaNitY and The Undisputed Era, but aside from that, it was kinda there.
Rating: *** 1/2 (Gold III)
2. NJPW New Beginning at Sapporo: IWGP Intercontinental Championship Match: Hiroshi Tanahashi (c) vs Minoru Suzuki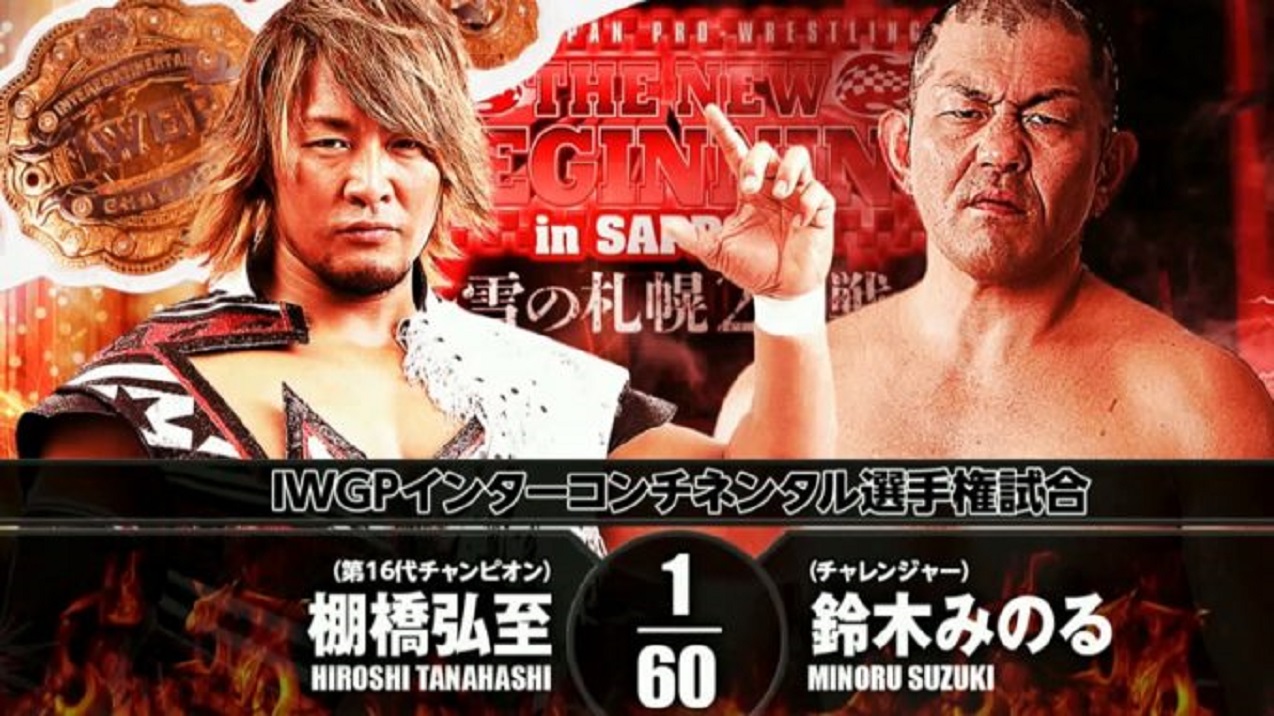 First thing to notice is Suzuki's hair started growing back, so he's got the Devil Fruit design, just not long enough for that ponytail thing. After that, we've got the story of Tanahashi having mounting injuries and Suzuki being a sadistic submission specialist.
Before the match starts, Red Shoes tells Suzuki-Gun to leave and Minoru is again on his own. But the match begins as you'd expect, Suzuki focusing on the injured limbs and Tanahashi trying to fight through the pain and keep Suzuki away. This match was hard hitting, methodical and surprisingly only went out of the ring once. Cyrus enjoyed Suzuki's use of CHAIRSHOTS on Tanahashi before bringing the match back in the ring.
Tanahashi showed amazing resilience in this match, coming as far as to sequence his Slingblade, into his first standing High Fly Flow, but not the finishing High Fly Flow. He hits his bad knee when he landed the first one, and that was the opening Minoru needed. Now, this wasn't just normal taking advantage of an opening. Suzuki chained knee bars, heel hooks, figure four leg locks, everything and anything to keep tearing at that bad knee.
Suzuki even went as far as to hit his Gotch Piledriver…but refuse to pin the champion, in favor of tearing his knee apart more. The scene was hard to watch, some people use submissions as a rest hold, but Suzuki uses it like a professional torture artist. Tanahashi stayed every defiant and wouldn't submit, but when Suzuki reapplies the kneebar in the middle of the ring and Tanhashi can't make it to the ropes, red shoes makes the executive decision and stops the match.
So Minoru Suzuki is your NEW IWGP Intercontinental Champion, and Tanahashi finally has a good storyline reason to take a few month off. It also gives Tanahashi the easy return story of "I never lost the match, the ref stopped it". I'm looking forward to how the Intercontinental scene looks with a new champion.
Rating: ***** (Diamond V)
Honorable Mentions:
NXT: Number 1 Contender Match: Johnny Gargano vs Velveteen Dream
Rating: *** 1/4 (Gold IV)
Raw 25: Intercontinental Championship Match: Roman Reigns (c) vs The Miz
Rating: *** 1/4 (Gold IV)
Royal Rumble: WWE Championship 2v1 Handicap Match: AJ Styles (c) vs Kevin Owens and Sami Zayn
Rating: *** 1/4 (Gold IV)
Impact Genesis: Knockouts Championship Match: Laurel Van Ness (c) vs Allie
Rating: *** (Gold V)
ROH: War Machine vs Coast 2 Coast
Rating: *** (Gold V)
1. NXT Takeover Philly: NXT Championship Match: Andrade 'Cien' Almas (c) vs Johnny Gargano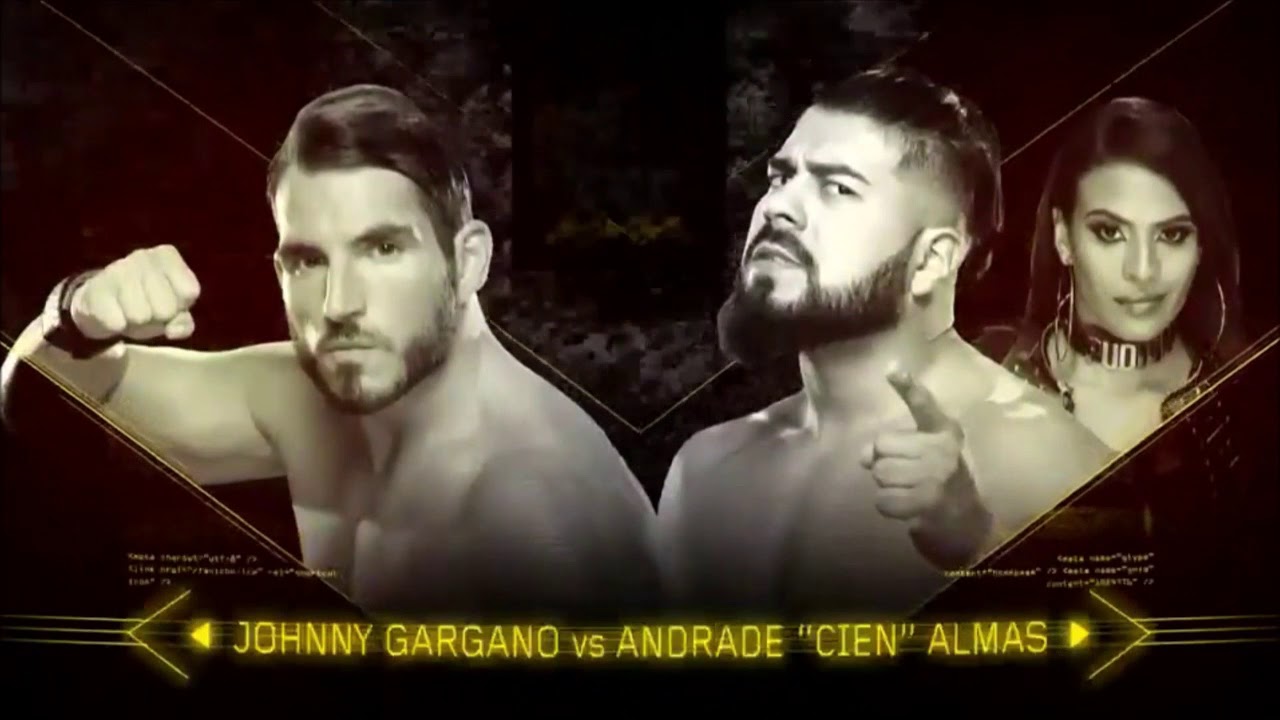 Underdog Gargano in the biggest underdog city not named Cleveland. This match was electric from the entrances, and the lead in was tremendous also.
No brief summation of this match could do it justice. What I will say, is both men kept the pace fairly quick even when they were supposed to be exhausted or dazed. This match structure was similar to that of Kenny Omega vs Kazuchika Okada and delivered in a similar fashion.
As many guessed, Candace Larae got involved to neutralize Zelina Vega, eventually (which is why it comes in a shade under what Omega/Okada was in my book). But the way the match finished up was brutal. Almas kept focusing on Johnny's head and the penultimate move, was a running double knee on the apron into the ring post, leaving Gargano looking like he forgot how to smell color. The champ retaining in a long, fast paced, hard fought match does a lot to help reaffirm that he's no longer the uninspired enhancement talent he was, about eight months ago.
Yes yes yes, I kept watching and saw the Ciampa attack at the end. Which is very smart, because it puts some distance between the two (similar to how New Japan does it), instead of milking it dry. It should go without saying, but this is the best match I've ever seen under a WWE umbrella. Major kudos to Andrade Almas and Johnny Gargano for locking up Match of the Year before February.
Rating: ***** 3/4 (Diamond IV)
This was a crazy week, lots of quality in every show, but come on…I'm picking Almas vs Gargano as my match of the week. If you thought I was picking anything else, you're drunk go home. I'll call you an Uber – be safe friends.
To make your opinion heard in this vote, comment on Facebook, Twitter or e-mail Andrewbalaz@thechairshot.com.
Top 5 World Championship Reigns In The WWE Modern Era (1984 to Present)
See the lists developed by PC Tunney, Greg DeMarco, and Patrick O'Dowd as they determine the five best world championship reigns in the modern era of WWE!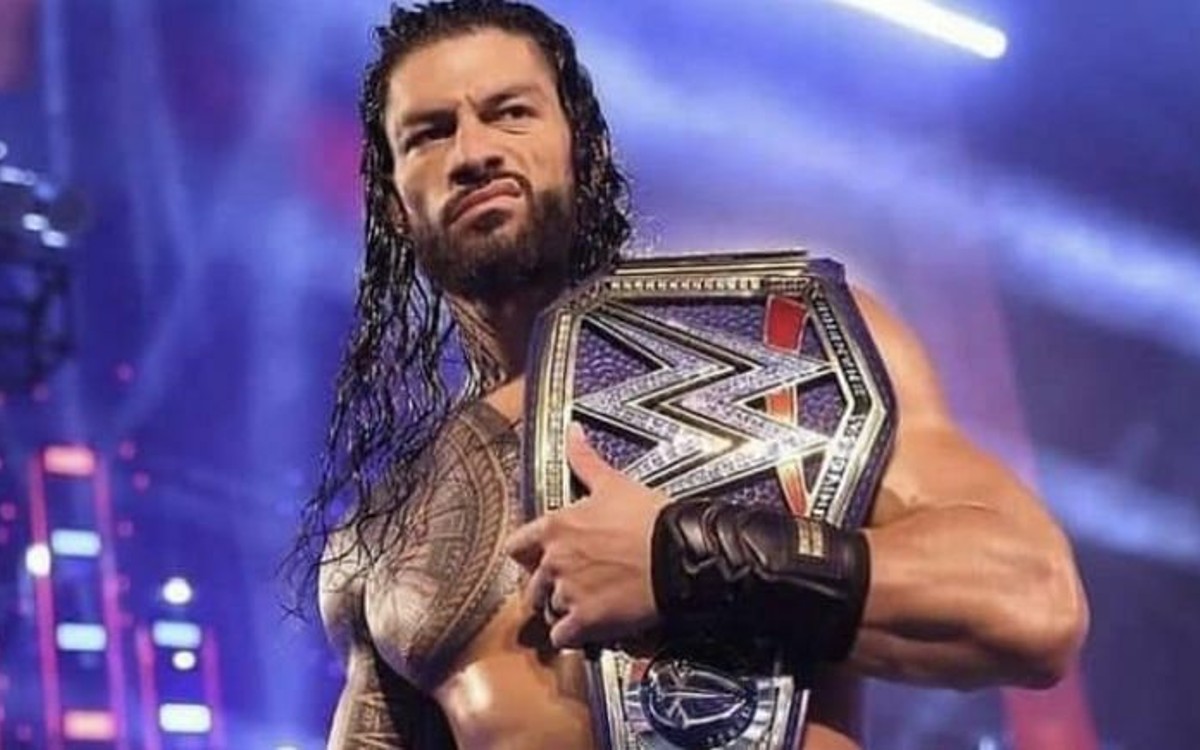 See the lists developed by PC Tunney, Greg DeMarco, and Patrick O'Dowd as they determine the five best world championship reigns in the modern era of WWE!
Wrestling is one of the most fun topics under which we can rank nearly everything. A simple Google search will reveal entire websites devoted to rankings–wrestling or otherwise.
PC Tunney devised an idea, and I developed a name. Thus, the Impromptu Wrestling Convo (aka, The IWC) was born. The first topic? Top 5 World Championship Reigns In The WWE Modern Era.
PC Tunney, Patrick O'Dowd, and myself each came up with our Top 5, and came together to reveal them on this special podcast (see it above, and below). Definitely give it a listen. But here you can also read our composite list, and see who ranked in our Top 5.
Grading Criteria:
Points were assigned for the rankings: 5 points for #1, 4 points for #2, and so on.
Ties would likely have been left as ties, but (luckily for me) there were no ties in the Top 5, making that part easy.
Any reign starting with Hulk Hogan's first was eligible to be included.
And now, the list!
Powered by RedCircle
Top 5 World Championship Reigns In The WWE Modern Era
5. Brock Lesnar, 2014
Starting with his dismantling of John Cena at SummerSlam (which was supposed to be Daniel Bryan), Brock Lesnar had a reign that included an incredible triple threat match with Seth Rollins and John Cena at the 2015 Royal Runble, and of course the WrestleMania 31 main event clash with Roman Reigns that ended in Seth Rollins' iconic cash-in. This reign is mainly notable for how it starts and how it finishes, as there was but one bright spot in the middle.
4. John Cena, 2005
Not the longest John Cena world title reign, but Cena's run as WWE Champion started at WrestleMania 21 and ended with the first ever Money In The Bank cash-in at New Year's Revolution. This cemented Cena as the top dog in WWE, complete with a move to Raw in the draft, and the emergence of "Super Cena."
3. CM Punk, 2011
454 Days that no one will ever forget, CM Punk dominated WWE television in a reign that was ultimately cut short by The Rock. Punk didn't main event WrestleMania 28, facing Chris Jericho before the "Once In A Lifetime" clash between The Rock and John Cena. This ended at the following Royal Rumble at the hands of The Rock, who would go on to lose that title to Rumble winner John Cena at WrestleMania 29.
2. Roman Reigns, 2020
The present-day WWE Universal Champion nearly tops the list, but what remains to be seen is just how long he holds the title, and how it ends. Roman Reigns is on a monumental ride, with no signs of slowing down. We will see if the emergence of a new megastar ends this journey, or if Hollywood comes calling first. Either way, this will end up being acknowledged as one of the all time great championship reigns.
1. Hulk Hogan, 1984
Hulk Hogan began his 1,474 day reign as WWF Champion on January 23, 1984, defeating The Iron Sheik in Madison Square Garden. Hogan would kick off the Rock-N-Wrestling Era, launching WWE into a stratosphere not seen by any other wrestling company, ever. Outside of an 83 week stretch, no one could touch WWE, and that stretch was fronted by Hogan himself. His reign ended in controversy (something about Andre The Giant selling the championship to Ted Dibiase, evil twin referees, and a tournament at WrestleMania IV), but it still goes down as the greatest ever.
Others getting mentioned:
Jinder Mahal, 2016 (yes, that was mine)
Brock Lesnar, 2017 (by PC Tunney)
Randy Savage, 1988 (Patrick O'Dowd's)
John Cena, 2006 (by Tunney)
To see how each talent was listed, and by who, I made this chart. Keep in mind, a "5" means they were #1 on that person's list, a "4" is #2, "3" is #3, "2" is #4, and a "1" is #5.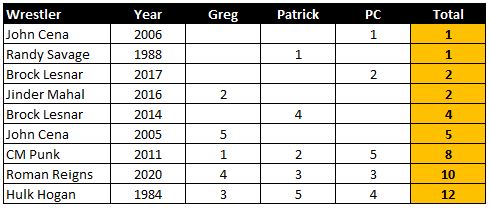 What are your thoughts? Drop them in the comments below, or on social media! Also, give the podcast a listen, it's streaming throughout this article.
News From Cook's Corner 1.17.22: Gory Self-Mutilation
AEW tried to catch lightning in a bottle for the second time. Did it work? What other news struck last week?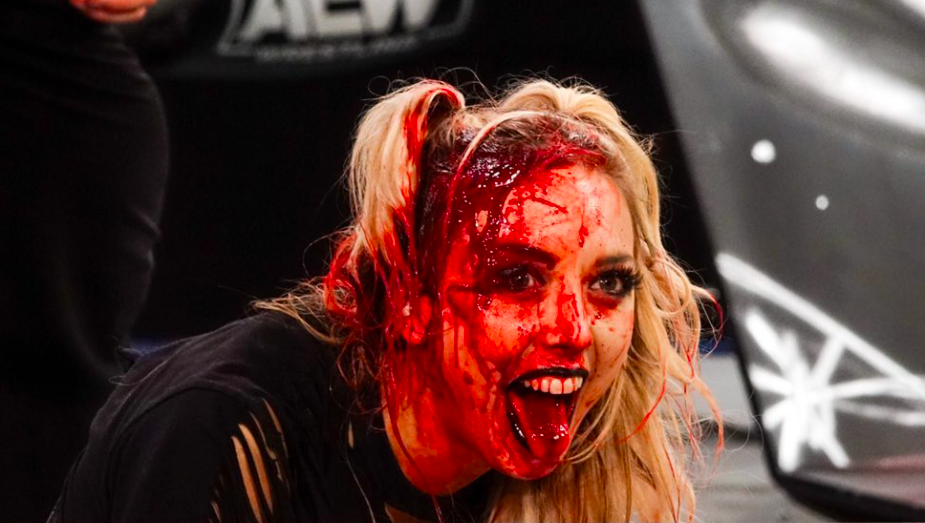 Hi, hello & welcome to News From Cook's Corner! We've got a short column for you this week, which most of you were probably expecting when the Cincinnati Bengals actually on a playoff game. Nah, I didn't party too much, just had an allergic reaction with my eye again. We've done this before. This time I'm pretty sure it had something to do with cleaning my bookshelf and rearranging my books. Hadn't done that in awhile, so there was a ton of duct. Sitting down and looking at a computer screen sucks, so we have to limit it as much as possible.
There's still a couple things that warrant discussion though, so let's get to it.
WWE On The Offensive
Looks like this week's top stories are about WWE trying to do things to undermine wrestling promotions. We start with Major League Wrestling, who has filed a federal anti-trust lawsuit against WWE claiming that WWE has interfered with their ability to make various media rights deals.
Some of the highlights:
-Former WWE executive Susan Levison allegedly warned an executive from VICE that Vince McMahon was "pissed" they were airing MLW programming. MLW claims that WWE had leverage over VICE due to the Dark Side of the Ring series often being focused on WWE subject matter.
-MLW alleges that when WWE found out about their agreement with Tubi, WWE threatened to stop doing business with Fox. The fallout from the Tubi agreement falling through led to a drop in ticket sales & event cancellations & delays.
-As an example of WWE's anticompetitive behavior, MLW cited AEW being held out of two arenas in the Cincinnati market due to pressure from WWE. Jon Moxley wrote in his book that the Heritage Bank Center on Cincy's riverfront refused to book AEW due to WWE influence. I don't know the other, could be the BB&T Arena across the river on the campus of Northern Kentucky University where WWE has held house shows. AEW wound up running the Fifth Third Arena on the campus of the University of Cincinnati, and outdrew the Raw taping held at the HBC just prior.
-Apparently starting in early 2020, WWE started trying to poach MLW wrestlers that were under contract, and aired footage of an MLW wrestler without MLW's consent. (Somebody would have to fill me in on this one, I haven't the slightest idea who this would be.) MLW also claims that WWE sought to prevent wrestlers from working with MLW by refusing to hire wrestlers that had worked there, and that one MLW wrestler demanded to be released early from his contract so he could join WWE.
Do I think that at least some of these allegations are true? Having followed pro wrestling for over thirty years and having read up on the history of WWE…you betcha!
I don't think there's a question that WWE has resorted to any means necessary to drive potential competitors out of their market. They've been doing this since taking most of the territories' top stars back in the mid-1980s. It's been a monopoly for nearly two decades for a reason. The main question I have: Will a judge actually care, or will they throw it out of court because it's silly pro wrestling?
How do you think WWE slips under the radar on things that other media companies & sports leagues actually have to deal with? People have been trained to not take WWE seriously. As much as people like us obsess over the rasslin' business, people that don't "get it" are happy to ignore it. Vince McMahon can do any darn thing he wants, and the reaction from folks outside the wrestling bubble will be non-existent. It's wrestling! To outsiders, the whole damn thing is an outlaw mudshow.
AEW = Gory Self-Mutilation
The Toronto Sun did an article on All Elite Wrestling over the weekend, talking about their status as a competitor to WWE. They asked WWE for comment & got one:
"If you look at the gory self-mutilation that bloodied several women in the December 31 event on TNT, it quickly becomes clear that these are very different businesses. We had an edgier product in the `Attitude' era and in a 2022 world, we don't believe that type of dangerous and brutal display is appealing to network partners, sponsors, venues, children, or the general public as a whole."
A few notes here:
1. I've been doing this stuff longer than I care to admit, and I never thought of asking WWE for comment on something. Should I start asking people for comments on topics I'm writing about? I doubt I'd get any answers, but it might be worth a shot.
2. This has been WWE's strategy when asked about AEW for some time now. We remember Vince McMahon using the phrase "Blood & Guts" to describe the promotion on a conference call. They know that people get squeamish about blood, especially when it comes to blood coming from women. The Fabulous Moolah never busted anybody open on television, and she trained most of the women for years. People aren't used to seeing it, and they often get uncomfortable with things they aren't used to seeing.
3. Most people find other people bleeding pretty gross. There's a reason why deathmatch wrestling is a niche produxct. People that love it really, really love it, but it's a very small percentage of the marketplace.
4. WWE's belief is that advertisers & media companies aren't big on blood, so they make sure to mention AEW's apparent lust for the red stuff whenever the subject comes up. Their hope is that advertisers will shy away from advertising with AEW, and media companies won't give AEW big money when their current deal with WarnerMedia is up.
5. Thus far, whenever Tony Khan is criticized on something, he doubles down on it. So there's a pretty good chance that we're going to see even more matches with female bleeding. AEW's female workers seem happy to do it.
🐇🔪🖤 pic.twitter.com/WswDnqeKQ5

— The Bunny 🐇 (@AllieWrestling) January 15, 2022
6. WWE could be called out as being hypocritical on this front, but there aren't many people that will hold them accountable.
It'll be interesting to see how this goes. All I know for sure is that the smack talk between these two promotions and their fans is just beginning. Think it's tocic now? Wait a couple of years.
Welp, that's all for this week. Thanks for reading! Join me later in the week for some Divisional Round picks. Until then, keep your stick on the ice.
In Memoriam: Pete was a longtime reader from back in the day. From my dealings with him he was a kind person that knew how to use his head. When you've written things on the Internet as long as I have, you learn that's a rare thing. From what I've read from people that knew him in real life, he was the same way off the computer. Sadly he passed away from cancer on Friday night. Pete was always about serving others, as he was a U.S. Air Force veteran & a regular blood donor. He will be missed.