Why Chris Jericho Is The Absolute GOAT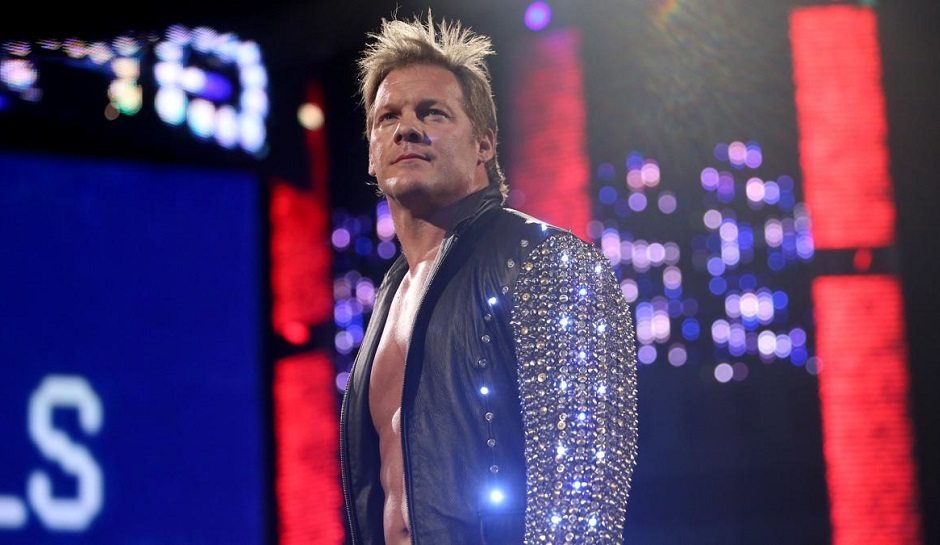 As a kid growing up watching WWE throughout the Attitude Era, if you asked me who the greatest wrestler of all time was I would undoubtedly have said Stone Cold Steve Austin. The man who defined the most popular era in wrestling history and the reason we tuned in every week. But put 20 people in a room and ask them who the G.O.A.T is … you would likely get 20 different answers. Ric Flair, Hulk Hogan, HBK and The Undertaker are just a few of the names that are regularly mentioned, but what actually makes somebody the Greatest Of All Time?
(Outside of being Jinder Mahal, of course.)
Is it how much money they made the company? How many championships they won? Their in ring ability and technical prowess? Their character? Ability to entertain and captivate? In my eyes its a mixture of all of the above, and its exactly why I believe Chris Jericho should hold the mantle of being the G.O.A.T.
A little bit of history first. Jericho made his wrestling debut way back in 1990, making a name for himself around Europe and Mexico but it wasn't until he joined ECW in 1995 that he started receiving widespread attention. It was during this time that he caught the eye of WCW where upon signing he developed into the brash, whiny and cocky kid that we loved to hate … Europe and Mexico may be where he honed his craft, but WCW was where he truly became Chris Jericho.
WCW had a tendency to not realise what they had until it was gone, and Jericho became their latest in a loooong list of missed opportunities when he signed with WWE in 1999. In what I will always see as the one debut to have the single biggest impact on the company, Jericho debuted on RAW by interrupting The Rock as he was cutting a promo on the Big Show. If you want to get noticed what better way to do it than by going toe to toe with the face of the company? He instantly became must see TV, and that's one of the best things about him, over 20 years in the business but still to this day he is just as relevant as that first night in 1999.
Im going to take a look at some of the reasons why I firmy believe Chris Jericho is the G.O.A.T :
Always reinventing and evolving
One of the things that sticks out for me with Jericho is how much time he takes off, which you may think is a bad thing but its more the way he does it and what happens when he returns. Take John Cena and Brock Lesnar for example, when they take 6 months off they don't bring anything new to the table after returning, they're still just Cena and Lesnar. They go straight into the title picture and its just more the same old rubbish that pisses off the fans. But when Jericho comes back he isn't labelled a part timer because he reinvents himself and mixes things up. Here's some examples :
In 2007 after 2 years away, he came back with a new finisher – The Codebreaker – which he still uses to this day. Its a move which has become synonymous with the name Chris Jericho.
He then became even more arrogant and condescending than ever before, always wearing a suit, talking slowly and quietly with patronising tones. He was one of those heels who the crowd actually cared about hating.
More recently he went back to the Jericho of old by wearing the flashy jackets and being more of a rock star than ever before. The Ayatollah of Rock 'n' Rolla was back and better than ever.
Now we have arguably his finest creation and the stand out highlight of the last 12 months – The List of Jericho. The fans love it, it's something we can join in with and is funny literally 100% of the time. Also, calling somebody a 'Stupid Idiot!' really isn't that good is it? It's hardly insulting at all. But Jericho? He somehow made it every bit as good as The Rock calling somebody a Jabroni, Goldberg telling you that 'You're Next!', or Edge introducing the 'You Suck' chants for Kurt Angle.
The Scarf. I know what you're thinking … 'how is a scarf a reinvention?' and to be honest at the start i was thinking the same thing. But it was because Jericho made it so. He made a simple scarf part of his character, not just his look. It became something he would back and forth with other wrestlers over and it was another wildly entertaining and funny quirk.
Japan. After mastering North America, Jericho returned to Japan, where he's become an out of control, disrespectful heel in the mold of another great gaijin, Stan Hansen.
His ability to keep things fresh and still be relevant after such a long time should be a wake up call for a lot of the newer guys on the roster, Jason Jordan for example, who hasn't even begun to find himself yet. If this guy can get a reaction to A SCARF then what exactly is your excuse?
An incredible CV
When you look at the names mentioned in the GOAT conversation, you start to see a trend emerging. They all had great singles runs and were great champions. Jericho has more than earned his spot alongside those names by winning a whole heap of championships down the years – Hardcore Champion, European Champion, U.S Champion x 2, Intercontinental Champion x 9, World Heavyweight Champion x 3 and who could forget when went down in history as the first ever Undisputed Champion by defeating The Rock and Stone Cold Steve Austin in the same night. He was also the fourth ever Grand Slam Champion and while in WCW won the Cruiserweight Championship 4 times and was the WCW TV Champion on one occasion. You can certainly say he has been there, done that and got the championship belt to prove it.
He has also been a part of some very memorable and super entertaining tag teams, winning the Tag Team Championships on 7 different occasions teaming with Edge, Chris Benoit, Big Show, The Rock and Christian. It just goes to show Jericho's versatility, not only was he was able to carve out many successful solo runs but continued to achieve at the highest level as part of a team, even if those teams did end up capitulating and feuding with each other!
The company have clearly never lacked any faith in him despite his ventures outside of WWE sometimes taking precedent, his band Fozzy for example, and always recognised his passion, drive, commitment and ability to let him still be one of the top guys.
He's all about the future
There comes a time in every WWE superstars career where they have to make way for the next bright young talent to take their opportunity, and Jericho is no stranger to this. He is a company man, he will always go out of his way to put somebody over if its in the best interests of WWE. He has been instrumental in helping to put over the likes of Dolph Ziggler, Braun Strowman, Shelton Benjamin, Cena, Owens and even Fandango in one of the biggest Wrestlemania upsets in history!
The most impressive thing for me in all of this is that he is still putting on these great matches to put other talent over at the ripe old age of 47 ! We saw this most recently at NJPW's Wrestle Kingdom 12 show, the first time in a very long time that Jericho had competed in another companies ring, in an exhilarating match against Kenny Omega. Now strictly speaking, Omega doesn't need Jericho to put him over as he's already one of the best in the world right, but what Jericho did do was put NJPW over. Sure they're a company on the up, but without many household names to speak of Jericho brings huge star power and helped to get a lot more eyes on the company than they ordinarily might have. If you haven't seen this match or its build up yet do yourself a favour and find it online, Jericho was able to throw off the shackles of PG Era WWE and was able to be the non conformist, potty mouthed, deceiving and cheating heel that we all knew he had in him.
A huge advantage that Jericho has over other veterans is that over the years he has come to understand that sometimes a loss can be instrumental to building bigger crowd reactions in the long run and be beneficial for everybody involved as it gets the fans more invested in the rivalry. He doesn't feel the need to always be on top, to always win his feuds or to look like the stronger man if it comes at the expense of better talents. Nothing makes him happier than helping to secure WWE's future, the company that have given him so much over the years, by making the next top guy look good. He brings with him a crafty, wily veteran instinct into every match and doesn't just give the other guy the win, but actually teaches them during the match and essentially trains them while on the job. He is right up there with Kane as one of the most sought after workers in WWE, as going face to face with him is an experience which makes everybody better in the long run.
One of the best talkers ever
Listen to any Jericho promo today and you would never think that it was once a very  different story. There was a time when he was more Sycho Sid (I beg you to click this link) than Paul Heyman on the mic, but hard work, determination and the willingness to learn from those around him helped him to become one of the greatest talkers in WWE history. Although he honed the majority his ability in WWE you have to give a lot of credit to WCW, where he had to cut a tonne of 30 second advertisements informing the viewers of events in the local area. If it wasn't for these videos his personality may well have gone unnoticed.
During his time with WCW, he cut one of the most infamous promos of all time which really put him on the map. He took to the microphone to mock the legendary Dean Malenko, whose superior technical knowledge had him dubbed as the 'Man of 1,000 Holds'. Jericho referred to himself as the 'Man of 1,004 Holds' while unravelling an impossibly long list in the middle of the ring. Although nearly every other hold of the 1,004 were variations of arm bars, he opened an awful lot of eyes with this promo, playing the role of an arrogant, delusional heel to perfection. Before long, Jericho's reputation as one of wrestling's best trash talkers was cemented and we have been treated to some fantastic verbal spars with The Rock and HBK, and hilarious moments with Booker T, Kevin Owens and Stephanie McMahon to name a few.
One tough S.O.B
Jericho is known for being the same outside of the ring as he is inside of it – tough as nails and willing to stick up for what he believes in. He has had some well documented real life issues with fellow WWE stars and once notoriously took on Goldberg in a backstage altercation. He and Sin Cara clashed while on tour in Europe for unknown reasons and he recently went face to face with Brock Lesnar at Summerslam, out of concern for his friend Randy Orton, and lived to tell the tale. So not only does he clearly have big brass balls but he's also honourable to boot.
He has never backed down from a challenge, evident from his personal differences with other superstars, but also in terms of his career. He had a nice, cushy midcard place in WCW but gave that up to try and crack the big leagues in WWE. A massive gamble considering he had only been WCW TV Champion once before, and a Cruiserweight before that. What we've seen plenty of times in other sports is that moving up weight classes can be a terrible idea and have a huge dampening impact on a career. But nevertheless, Jericho stepped out of his comfort zone and made a break for it, and what a decision that turned out to be – it was a mere 2 years later that he was entrusted to become the first ever Undisputed Champion.
Always one for innovation, Jericho was the man responsible for creating the Money In The Bank ladder match and has appeared in the match 5 times since its inception in 2005. A veteran of many TLC, Elimination Chamber, Cage and Ladder matches he is no stranger to high risk matches full of spots and bumps. For a guy well into his 40's he can still go in the ring with the absolute best, evident from his flying crossbody off of the top of a Steel Cage onto Bray Wyatt as recently as 2014 and allowing Dean Ambrose to slam him down onto hundreds of tacks in the Ambrose Asylum match. He has credited DDP Yoga as a primary reason for why he is still going after suffering a herniated disc injury in 2011 while competing on Dancing With The Stars, and claims to feel better than ever. Hopefully with this kind of support he can keep going well into his 50's, I just don't want it to become desperate and embarrassing like when Ric Flair was still trying to wrestle in 2011/12. Jericho's legacy is too great to tarnish, I hope he recognises once enough is enough and finally gets inducted into the WWE Hall Of Fame.
---
There's absolutely no doubt in my mind that Chris Jericho is the Greatest Of All Time. Do you disagree? Do you know what happens when you disagree that Chris Jericho is the G.O.A.T? You know what happens when you say somebody else is?
Do you?
Non believers …. YOU JUST MADE THE LIST !!!
As ever, please comment and share !
Cook's Top 5: Miz Moments
Cook brings the most must see Top 5 of the week! Is it obvious or a MIZtery?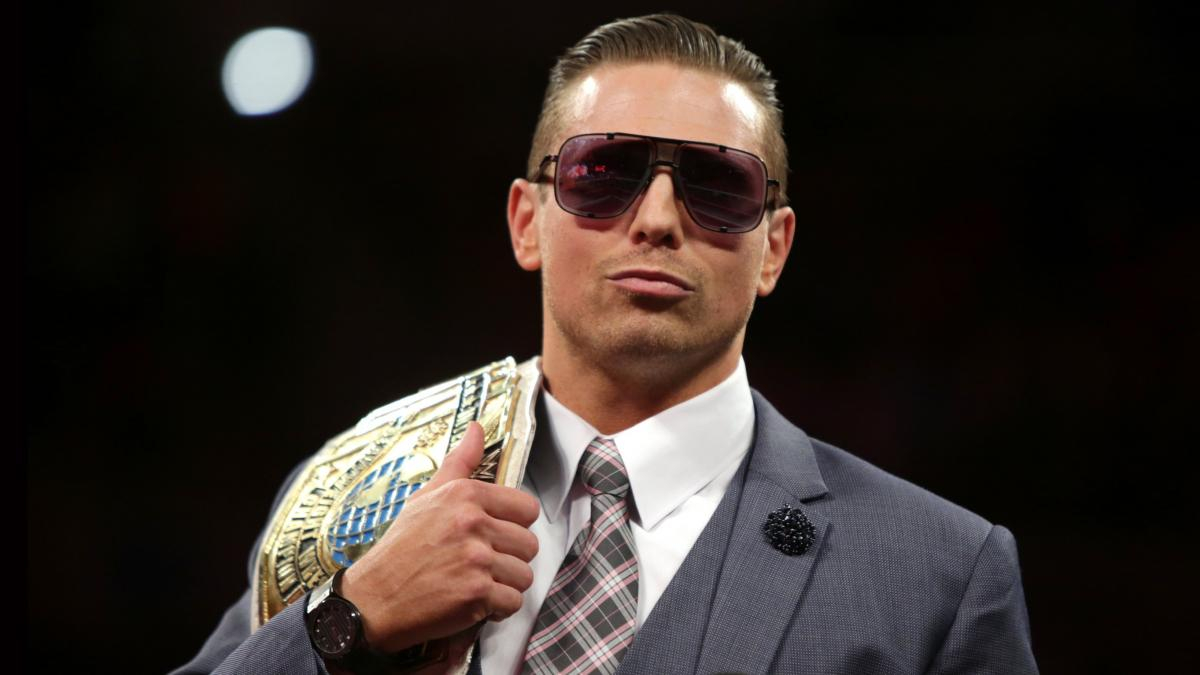 This week is all about our new WWE Champion, The Miz!
Let's be honest, Miz might not hold the Championship for too long. He's got a big match with Bobby Lashley next week. We wish him luck, and maybe something unlikely will happen resulting in Miz holding on to the title longer than anybody expects. Still, I feel the need to get this particular edition of the Top 5 out there as soon as possible.
Here are the Top 5 Miz Moments!
5. Main Eventing WrestleMania
The match itself…not so great. Miz was obviously the third most important person in the match. He also suffered a concussion. But the guy still main evented WrestleMania and beat John Cena, which is something that not too many other people can say. This will remain Miz's biggest WrestleMania match unless they get Bad Bunny to wrestle him this year.
4. A Ladder Match with Dolph Ziggler
Miz & Ziggler have quite a bit in common. Both hail from the Cleveland area. Both prefer to think of themselves as being from Hollywood. They're both egotistical characters that make up for what they might lack in size with ego. They've been in WWE forever with limited changes to their character, pretty much on the same level of the card. Naturally, they get along pretty well & have good chemistry.
2016 saw the best incarnation of their on-screen issues, with Miz & Ziggler trading the Intercontinental Championship back & forth. The Ladder Match ending the feud at TLC is considered by most to be Miz's best match. I don't have a ton of other options off the top of my head, so we'll go with that.
3. The First MITB Cash-In
You always remember your first. At this point in time, much like here in 2021, Miz wasn't seen as the most believable choice to be WWE Champion. However, the man had a briefcase, and, importantly, this was back before the briefcase gimmick was completely run into the ground. So when Miz ran down at the end of Raw to cash in on Randy Orton, it got a tremendous reaction.
People were either really happy or really angry. I was on the angry side of the spectrum, especially since I had a cold and was writing a news column during all of this. Man, I remember when the week or so a year I would a cold was the only time I really felt like crap.
What can I say, Miz has grown on me over the years.
2. Feuding with The King
A lot of old school wrestling fans found it hard to believe that The Miz had become WWE Champion when more deserving wrestlers from their childhood never had been. Heck, Jerry Lawler, a God of Memphis rasslin who piledrove Andy Kaufman into oblivion, had never even gotten a shot at that title, even though he'd worked for WWE for nearly twenty years. Seemed wrong to a lot of people, but nobody expected that wrong to be addressed.
Lawler was celebrating his sixty-first birthday the week after Miz defeated Randy Orton for the WWE Championship. One thing led to another, and Lawler got his very first WWE Championsgip opportunity. In a TLC match! They got the fans believing that Lawler could win the title…until that pesky Michael Cole kept Lawler from climbing further up the ladder.
It was nice to see the King get another important run on WWE television long after we thought it was possible. A large part of the reason it was possible? The Miz. He portrayed himself as just beatable enough that the title change could happen. Also held up his end of the bargin in the promos, which was never easy for Lawler's opponents.
I know everybody likes a title change, but this was the best work Miz did during his first WWE Championship reign by a wide margin.
Honorable Mention: Marrying Maryse
You knew I had to mention this, right?
1. Talking Smack to Daniel Bryan
I've always been a Daniel Bryan guy. Back when he was Miz's "rookie" on NXT, I thought the idea that Miz would have something to teach him was a bit outrageous. It was an interesting pairing though, and the Miz/Bryan relationship/rivalry has provided plenty of compelling moments over the years.
None moreso than the night where Miz did something that a lot of people didn't think was possible: make himself seem right & Daniel Bryan seem wrong. The way Miz defended himself in this tirade was pretty much impossible to argue with. Maybe Miz doesn't wrestle the way that hardcore wrestling fans would like, but he is pretty much the prototypical WWE Superstar of his era. He always works hard, is never hurt, and you don't have to worry about him embarrassing himself or the company.
This promo raised Miz's character to another level at the time, and definitely added some fuel to the fire for Bryan's eventual return. If you want to see one Miz promo that sums up who he is & was, this would be it.
Bodeen's Top 5 Moments: WWE Elimination Chamber 2021
Bodeen Green is back with your look at his Top 5 Moments from WWE Elimination Chamber!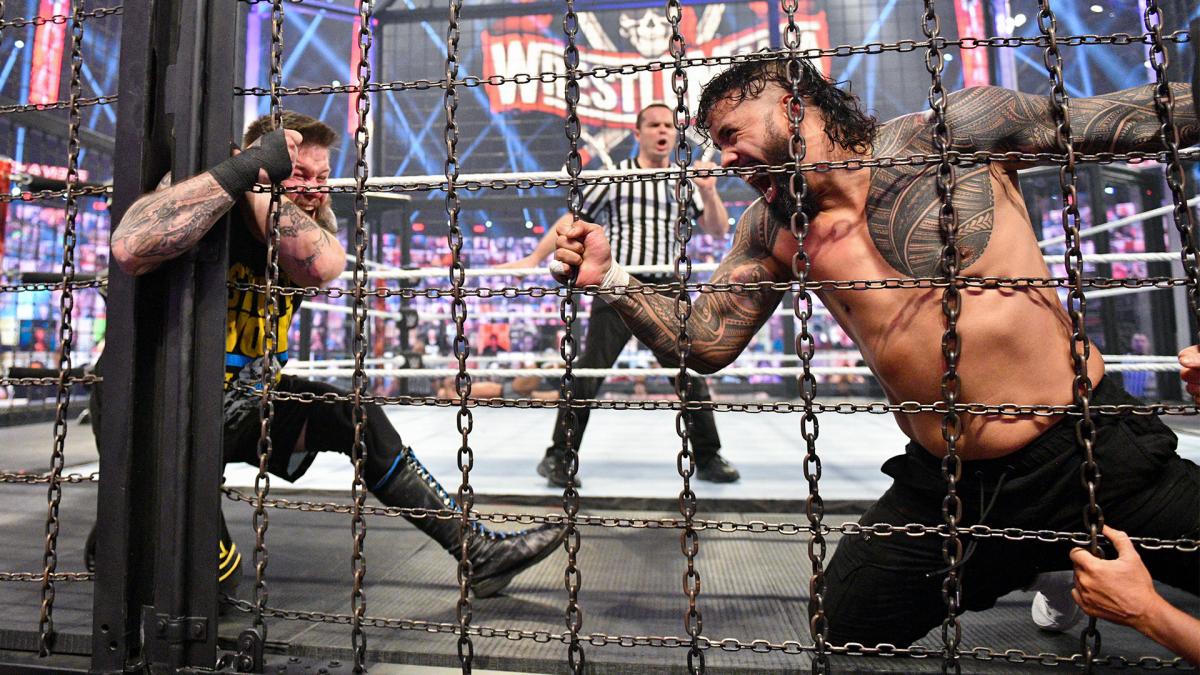 Bodeen Green is back with your look at his Top 5 Moments from WWE Elimination Chamber!
Due to the short build between the Royal Rumble and Elimination Chamber, there was a general lack of excitement from fans heading into the Elimination Chamber Pay-Per-View, especially with the lack of established matches on the card. Despite this, the Elimination Chamber was still a solid show to watch, mainly due to both chamber matches being fun to watch, with the last chamber match, having a shocking but awesome twist.  So as we leave the Elimination Chamber and take yet another step forward on the Road to WrestleMania, let us look at the top 5 moments that stood out on this short but solid show.
5. Riddle becomes United States Champion
Heading into this match, it seemed highly unlikely that Riddle would beat the United States Champion, Bobby Lashley. Even though the match was a triple threat match and Riddle did not have to pin Lashley to win the title, fans had seen Riddle lose to Bobby time and time again, making it seem the only real threat to Lashley's title reign in the match was Keith Lee. However after Lee was taken out and John Morrison won a match on the pre-show earlier in the night, things seemed somewhat possible for Riddle.
All three men looked good in this match, as Lashley dominated the start of the match, helping fans get their breath back from the opening Elimination Chamber. This would force Riddle and John Morrison to team up on Lashley, despite being teamed up on Lashley would fight back and seemed to have things won as he put the hurt lock on John Morrison, only for Riddle to attack Lashley with the crutch belonging to MVP and pin John Morrison to become United States Champion
Yet again, special credit has to be given to MVP as a manager, he serves a purpose and actually looks like he's being effective in helping Lashley. An example of this was MVP encouraging Lashley to stay outside the ring to recover as Riddle and Morrison treaded blows inside the ring.
4. The Tribal Chief reigns supreme for now
Instead of defending the Universal Championship inside the Elimination Chamber, Roman Reigns would use his power to face the winner of the SmackDown Elimination Chamber match, straight after the match. This was yet another great heel move from Roman as it once again showed how much power he has backstage due to his bloodline and role as a main-event player.
After Daniel Bryan survived a brutal chamber match, Roman Reigns would come out straight after the match, giving Daniel Bryan little time to recover. Roman would go to spear Daniel, only for Daniel to reverse it into the Yes Lock, making the impossible seem possible, only for Roman to counter and punish Daniel, locking in the guillotine for the win.
After holding the Universal Title, Roman would be hit with a spear by Edge, who seemed to copy Roman from earlier on SmackDown as he whispered in Roman's ear, before pointing to the WrestleMania sign, giving fans his answer on who he's gonna face at WrestleMania.
3. An Awesome finish
After The Miz won the Money In The Bank briefcase at Hell In A Cell against Otis, it seemed like every Pay-Per-View he would give Drew McIntyre a threat, stating he was going to cash in, however as time went on, it seemed more unlikely he would ever successfully cash in the Money In The Bank briefcase and win the WWE Championship from Drew McIntyre.
Each after he pulled out of the Elimination Chamber match, it still seemed unlikely Miz would cash in successfully, especially with it being so close to WrestleMania. However, after we saw backstage footage of The Miz talking to MVP backstage before the Elimination Chamber match for the WWE Championship, things started to become interesting.
After McIntyre had won the Elimination Chamber match to retain his WWE Championship, Bobby Lashley would come out and dominate Drew, leaving The Miz to cash in on Drew, allowing Miz to win the WWE Championship, putting a massive twist on the Road to WrestleMania.
2. McIntyre survives the Elimination Chamber   
The Elimination Chamber match was filled with heaps of sub feuds, especially with the WWE Champion, Drew Mcintyre who had old rivals in Randy Orton and AJ Styles, as well as a new feud with his former best friend Sheamus, despite this, Drew would keep a level head and dominate everyone in the match, before eventually hitting a claymore on AJ Styles to win the match and retain his title before The Miz would cash in.
Jeff Hardy and Randy Orton would start the match before Drew would come in and dominate both men. Kofi Kingston would come in next and hit Orton with a roll-up to score a shock elimination. Orton would RKO both Hardy and Kofi, allowing Styles to have an advantage as Omos helped destroy his pod, so Styles could enter early in the match. Kofi would be eliminated by Sheamus, as well as Hardy who was eliminated by Drew.
AJ, Sheamus and Drew would trade blows, with Sheamus hitting Drew with a Brogue kick, only for Styles to hit the Phenomenal Forearm on Sheamus to eliminate him. With Drew now battered and broken Styles would attempt a Phenomenal Forearm on Drew, only for Drew to hit a Claymore Kick in mid-air to survive and win a great Elimination Chamber match.
1. Daniel Bryan goes the distance 
Despite the Elimination Chamber match for the WWE Championship being a great match I personally found the opening chamber match earlier in the night much more enjoyable. It felt much more smooth and natural than the later chamber match with all 6 men involved looking strong with Daniel Bryan, being the clear MVP of the match as he entered the chamber first with fellow dark horse Cesaro and went on to win his third Elimination Chamber match.
Cesaro and Daniel would start things off slow as they entered the match first. King Corbin would then come out, followed by an irate Sami Zayn who could not believe we entered forth. Corbin would be the first eliminated after Cesaro put him the Sharpshooter. Kevin Owens and Jey Uso would then come out with Owens eliminating Sami. As Sami exited the ring Jey would trap Kevin's arm in the Chamber door, superkicking him then eliminating him.
Cesaro would then mount a comeback only for Jey to ruin his momentum as he superkicked Cesaro and hit a splash to eliminate him. Jey would then attempt a splash of a wounded Bryan, only for Bryan to get his knees up and hit Jey with the running knee to win the Elimination Chamber match.
These were my top 5 moments from the Elimination Chamber. What were your top 5 moments and what did you think of both Elimination Chamber matches? Let us know in the comments below.