8-Match Tag: WWE Network Evidence That Looks Can Be Deceiving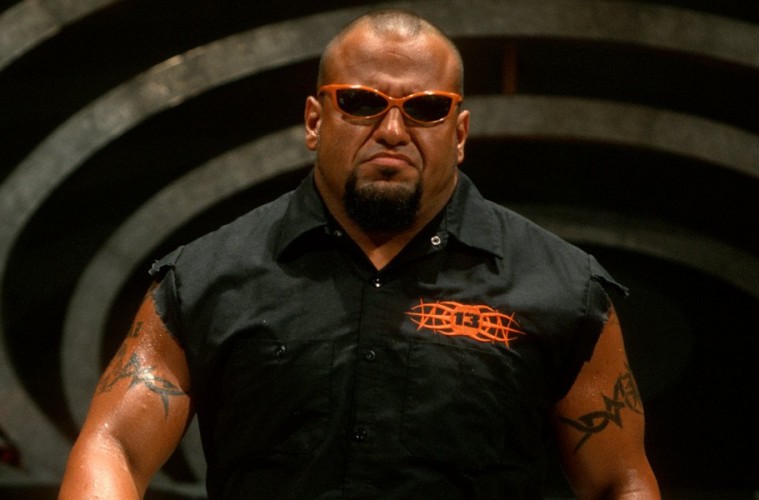 Welcome back, ladies and gentlemen, to 8-Match Tag. I'm Sean. You're not. This little house party jointly thrown by the Comer Codex and The Chairshot is your sensible portion of themed prime cuts from the WWE Network's finest reserves, an eight-course meal conceived to introduce new wrestling initiates to the finest facets of the squared circle and satisfy a seasoned fan's refined palate.
Professional wrestling is a visually nuanced storytelling medium. Despite some leeway for creative malleability with ideal pieces in place, such as a daring booker and the right performers to deliver a match's narrative, there's a certain inherent logic to pushing some workers based on their appearances. That being said, many observers could and would readily argue that Vince McMahon's sweaty McBoner for any Big McLargeHuge that strolled past Titan Tower in the 1980s gave way to ingrained physique prejudices responsible for several generations of fans looking at certain individuals through some unfortunately strict blinders. Sometimes, the right man or woman in the right place at the right time chiseled at cracks they uniquely created in that aesthetic glass ceiling until it shattered. In other instances, the Cult of McMahonism dismissively waved off brilliant in-ring artists whose forms didn't evoke daydreams of Superstar Billy Graham, Hulk Hogan, Ultimate Warrior or "Macho Man" Randy Savage.
I present to you, the jury, these eight gifted performers whose bodies of work would give any skeptic grounds to question everything they have ever accepted about kinesiology, agility, strength and the core definition of "fitness."
As (almost) always, in no particular order and paired individually with an essential-viewing recommendation from WWE Network itself…
1. TAZZ/TAZ
Pete Senercia stands an unremarkable 5 feet 9 inches tall. That distinctly average stature gives him an insignificant height advantage over his trainer, WWE Hall of Famer Johnny Rodz, but it left him awkwardly dwarfed by the vast majority of his wrestling peers. You would have enjoyed ample company if you wrote him off as being built too similarly to a fire hydrant for anyone to take the Brooklyn-born brawler remotely seriously as a plausible champion. In turn, he would have made you eat your words and love every bite.
In his prime, Taz was a tenacious 250-pound pit bull with a legitimate judo black belt, an Empire State Heavyweight Championship won as a young amateur wrestler and the jaw-dropping strength to hang with the likes of Chris Benoit, Sabu, Rob Van Dam and more among ECW's stiffest, most physically gruelling performers. Every single night, he earned his nickname's absolute believability as "the Human Suplex Machine," often chucking men standing a full ahead above him halfway across the ring. What he lacked in inches, he made up in psychology and explosive power.
WHAT TO WATCH: TAZ vs. BAM BAM BIGELOW – ECW LIVING DANGEROUSLY, MARCH 1, 1998
(NOTE: For the record, Bigelow himself was an astonishing super-heavyweight whose 390-pound body could twirl effortlessly through flawless cartwheels and a gorgeous moonsault.)
2. CESARO
Yes, Cesaro. Hear me out.
When you picture John Cena, Big E and Mark Henry, you appropriately invoke an understandable description of men with bodies sculpted to bear the burden of Atlas himself upon their own shoulders. Every lean, outsized muscle ripples beneath tightly stretched skin, every inch of which might as well be tattooed with their personal-best bench presses and curl routines. Cesaro stands an impressive 6 feet 5 inches and weighs in at a sizable 232 pounds himself, but if forming an impression based purely on his physique's definition, your average onlooker might never remotely dream that his functional athleticism could easily rival the lifting capacity of all three men listed above.
The key word? Functional. Cesaro himself has stated he doesn't place a great deal of stock in how much dead weight he can press, row or squat. Not only has he twirled the mammoth Great Khali's 7-feet-1-inch body suspended in the air for around 30 consecutive seconds without scarcely straining himself and scoop-slammed all 400 pounds of The Big Show over the top rope, but the Swiss Superman routinely dives through the ropes with the smooth trajectory of Sin Cara or Kalisto and has even developed an admirable take on Rey Mysterio's 619. This bastion of perfect muscular efficiency possesses an unparalleled mastery of every fiber and nerve that pairs phenomenally with a genius wrestling IQ.
WHAT TO WATCH: 2 OUT OF 3 FALLS, CESARO vs. SAMI ZAYN – SAMI ZAYN: NEVER BE THE SAME (WWE NETWORK COLLECTIONS)
3. KASSIUS OHNO
Paired once upon a time with Cesaro (then wrestling under his given name, Claudio Castagnoli) as one-half of the Kings of Wrestling, WWE.com recently featured the knockout artist once known as Chris Hero in an eye-opening featurette memorable for stating exactly what I myself am only recently rising to appreciate: Ohno's uncanny muscle memory allows him to continue nipping up, executing immaculate front flips, diving on a run into the ring through the bottom two ropes and executing other feats capable of making body-obsessed fans want to meekly apologize for even quietly thinking his 280-pound, fairly soft body has no place inside an NXT or WWE ring.
Rumors circulated after Ohno's release from his initial NXT run in 2013 that he had run afoul of WWE brass by refusing to address criticism of his appearance. Just exactly what measure of truth that chatter held remains up for debate, but to be fair, he indeed was not quite the svelte young man who had first made his bones in Chikara, Ring of Honor, Combat Zone Wrestling and elsewhere around the world years prior. It didn't help that Ohno has always favored wearing his hair long and pairing it with a full face of scruff. Also, he did continue to put on weight after leaving.
Remarkably, he somehow did so without sacrificing an iota of nimble maneuverability. His cyclone kick is a thing of beauty. He gets air and velocity beneath a running senton that would make Bray Wyatt and Samoa Joe proud. Let the record show, you sometimes never know just what a man can do between the ropes until the bell rings.
WHAT TO WATCH: NO DISQUALIFICATIONS, KASSIUS OHNO vs. HIDEO ITAMI – NXT, SEPTEMBER 6, 2017
4. SAMOA JOE
Is he same prodigy who tore through a 21-month ROH World Championship reign followed by a 17-month undefeated streak in TNA? No. Samoa Joe is older, arguably heavier and barely a stitch less athletically remarkable than he was more than 10 years ago. He also happens to be a more seasoned in-ring storyteller.
Can you imagine standing outside the ring and trying to steel yourself for moment a 280-pound slab of beef rockets through the top and middle ropes in your direction? At 38 years old, Joe can still nail that exact spot every single time. That's hardly all there is to him though. There's the slick step-up enziguri. Throw in the unfathomable rate at which he covers ground across the ring. Don't ever doubt that he can still go for 30 minutes or more on any given night. Finally, never underestimate his own judo, jiu-jitsu and wrestling pedigree.
He might not, as the late Dusty Rhodes once said of himself, "look like the athlete of the day is supposed to look." He doesn't need to, either. The man is flexible, fast and superbly conditioned by years of boxing, martial arts and wrestling tutelage. The Samoan Submission Machine defies every last notion of what a fine-tuned physical punishment machine should resemble. After all, the man has been stretching and wearing out leaner men since I was in college.
WHAT TO WATCH: NXT CHAMPIONSHIP MATCH, FINN BALOR © vs. SAMOA JOE – NXT TAKEOVER: DALLAS, APRIL 1, 2016
5. BIG BOSS MAN
The late Ray Traylor has never and might never receive the appreciation his surprising versatility merits. That reality followed him his entire career.
Jim Cornette once told a story of the day Traylor arrived to work under Rhodes' booking in Jim Crockett Promotions. Fresh from his earliest training, Rhodes paired the 300-pound-plus man soon to be known as Big Bubba Rogers with Tully Blanchard, a technical maestro who stood only 5 feet 10 inches and weighed a modest 200 pounds. For a finish, the 6-foot-6 Traylor insisted on taking Blanchard's slingshot vertical suplex finisher. Cornette and Rhodes doubted the giant, stocky former prison guard's ability to play his part in pulling the move off…right up until he actually did it.
Think about it: that wasn't even his final form. Shortly after a 1990 face turn in the World Wrestling Federation, the Big Boss Man would drop a boatload of weight and develop the ability to zip under the bottom rope like Shawn Michaels, throw a gorgeous standing crescent kick, bump like Curt Hennig and throw punches like a heavyweight prospect. He was a physical marvel from the beginning who never stopped learning and became leaner, meaner and more mobile, agile and hostile than even the American Dream and Cornette would have likely supposed he could have.
WHAT TO WATCH: BIG BOSS MAN vs. THE BARBARIAN – WWF ROYAL RUMBLE 1991, JANUARY 19, 1991
(NOTE: OK, I can't help but fudge my format a bit. Alternately, I would also throw in his Wrestlemania VII Intercontinental Championship match with Hennig or his SummerSlam 1991 feud-ending Jailhouse Match with The Mountie. I tend to favor the Barbarian match for this list mostly because it displays just how effectively Traylor could bump and sell and make anyone look like a million bucks, but all three are fine examples of everything fun he brought to the table.)
6. KEVIN OWENS
The Prizefighter once earned an unsavory reputation early in his career for a stubborn refusal to work himself into the kind of presentable trim that would allow him to work without a shirt. Cornette has often cited that exact obstinate state of mind as a driving reason he wanted Owens gone from ROH as soon as possible.
I'm a Cult of Cornette disciple through and through, but even then, that perception has never struck me as anything less than baffling hypocrisy from a man once wowed by the aforementioned Traylor's own spryness. Granted, Owens has worked himself into greatly improved condition since arriving first in NXT and then WWE, but he was jaw-droppingly fast and smooth in the air even then. From his cannonball splash and masterful swanton to a rarely deployed top-rope moonsault after executing a jumping 180-degree turn, Owens' 266 pounds don't do justice to just how primed his body is for the ring.
Here's what really gets me, though. It isn't merely the acrobatics. You simply don't look at a raw-boned fellow like KO and expect his endurance. From one match to the next, he rarely needs a prolonged "rest" spot or comes across as blown-up or sloppy. He hits a high, steady gear from the start and just never takes his foot off the gas. In any given era, he would be a walking, talking sack of money.
WHAT TO WATCH: KEVIN OWENS vs. JOHN CENA – WWE ELIMINATION CHAMBER, MAY 31, 2015
7. BROCK LESNAR (RUTHLESS AGGRESSION ERA)
No. Nope. No way.
Yes, the South Dakota-born Beast Incarnate is every ounce as strong as you would expect from gawking at him. Let it surprise no one that, in only his second UFC bout, he caved in Heath Herring's eye socket and quite literally chased the Texas Crazy Horse right out of the sport. Prior to that, this is the man who repeatedly ragdolled The Big Show from one corner of the ring to the other with a symphony of suplexes. We get it. He is a comic-book monster come to life.
However, nothing and no one built of hate, steel, hellfire and muscle in such massive quantities as Lesnar can actually jump flat-footed from the arena floor to the ring apron, vault over the top rope and land a Shooting-Star Press off the top rope. You know, that aerial move made famous by cruiserweight star Billy Kidman? Cruiserweight, as in, "weighs under 205 pounds?"
Human beings just don't work that way, right?
Right?
WHAT TO WATCH: WWE CHAMPIONSHIP MATCH, KURT ANGLE © vs. BROCK LESNAR – WRESTLEMANIA XIX, MARCH 30, 2003
(NOTE: Yes, I know he missed the Shooting-Star Press and could have damn near broken his absolutely everything. Two things: one, go ahead and marvel at the fact he finished the damn match and needed scarcely any time off after to heal; and two, verified accounts have him hitting that move consistently while training in OVW.)
8. THE UNDERTAKER
As if I would have chosen anybody else.
I can sum this up with a then-ongoing debate I once carried on with my good friend Jeremy many years ago. Watching TNA at one point, he marveled at Sonjay Dutt's version of The Undertaker's rope-walk. Wrench the arm. Walk up to the top turnbuckle. Walk along the top rope to the center and jump down with a fist drop on an opponent's shoulder.
"He does that even better than The Undertaker," Jeremy suggested.
"No, he really doesn't," I retorted.
"What makes you say that?"
"Let me ask you something, Jeremy: is Sonjay Dutt nearly 7 feet tall and around 300 pounds?"
"Good point."
More than that, The Undertaker could flatout go. Even when he reached the mileage point of being able to break out his running vault over the top rope only at WrestleMania, you never truly appreciated his freakish endurance until you saw him paired with someone who, on paper, should have run circles around him. His staggering wind comes into greater context when one theorizes that he picked up more than a nifty late-career finisher from his many years as an ardent MMA and boxing fan. The Dead Man may have very well been a pioneer of wrestlers training like legitimate combat-sport athletes. I wonder if years worth of colleagues were simply scared to try and tell him, "You know bodies your size aren't meant to do MOST of what you do, right?"
WHAT TO WATCH: WWE HEAVYWEIGHT CHAMPIONSHIP MATCH, KURT ANGLE © vs. UNDERTAKER – WWE NO WAY OUT, FEBRUARY 19, 2006
---
We're going home, kids. Thank you all for joining me once again. If you have love, hate or respectful disagreements to share, drop me a line on Twitter @comercodex any time. Dig what you read and want to know what else I get up to when I'm not spilling my guts about the Sport of Kings here? I'm on Twitch nearly every evening from 6 p.m. CT at Twitch.tv/comercodex playing all manner of PS4 games to rush through my backlog.
I'm Sean. You're not. Never dull your colors for someone else's canvas. Time to tag out.
---
Always Use Your Head and visit the official Pro Wrestling Tees store for The Chairshot All t-shirt proceeds help support the advancement of your favorite hard-hitting wrestling website, The Chairshot!

---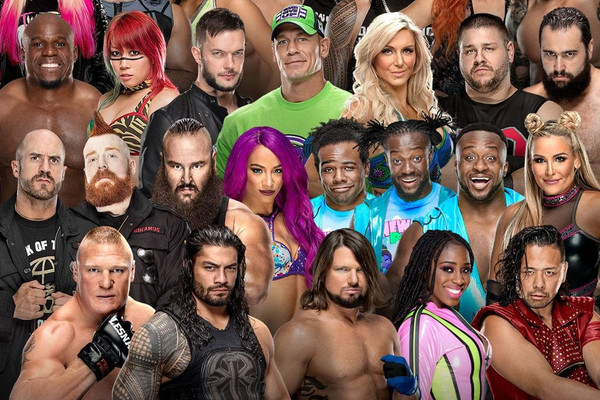 WWE in the past four years has been signing talents from all over the world and from every promotion that has amazing talent in an effort to steal those talents and to prevent this promotions to make any good quality wrestling. NJPW and ROH have been the biggest targets on talent that WWE takes from, names like Finn Balor, Luke Gallows, Karl Anderson, AJ Styles, Shinsuke Nakamura, Adam Cole, and just name a few have been signed to the WWE machine but the biggest problem WWE has is that what to do with all that talent.
Starting in NXT has been proven to be the best way to start your journey in WWE and the biggest example of this was Mike Kanellis, who started on the main roster instead of NXT and after just a few months of his debut he was relegated to low card position in WWE.But starting in NXT does not guarantee success in WWE, because like I mention before WWE and all it's brands currently have to much talent and wrestlers like Balor,Roode, and others are lost in the shuffle and not to mention that Balor and Roode had very good runs in NXT.
Despite WWE having a full roster, they are looking to sign ore talent and their biggest targets are Kenny Omega, Cody and The Young Bucks In a desperate way to stop NJPW's plans to expand into the american market and stop the rise of the independent scene it currently has by the success this men have right now. Also, another factor WWE would like to try to sign this amazing wrestler in the case of The Young Bucks is to boost the profile of the WWE tag division that in it's current state is really bad.
Despite all this good wresters WWE has in its roster right now, the booking has become dreadful and some of the worst wrestling right now and maybe wrestlers like Finn Balor, Shinsuke Nakamura, Bobby Roode and others should consider jumping ship to another promotion that could book there talent in a better way.
---
Always Use Your Head and visit the official Pro Wrestling Tees store for The Chairshot All t-shirt proceeds help support the advancement of your favorite hard-hitting wrestling website, The Chairshot!

---
Levin's SmackDown Live Review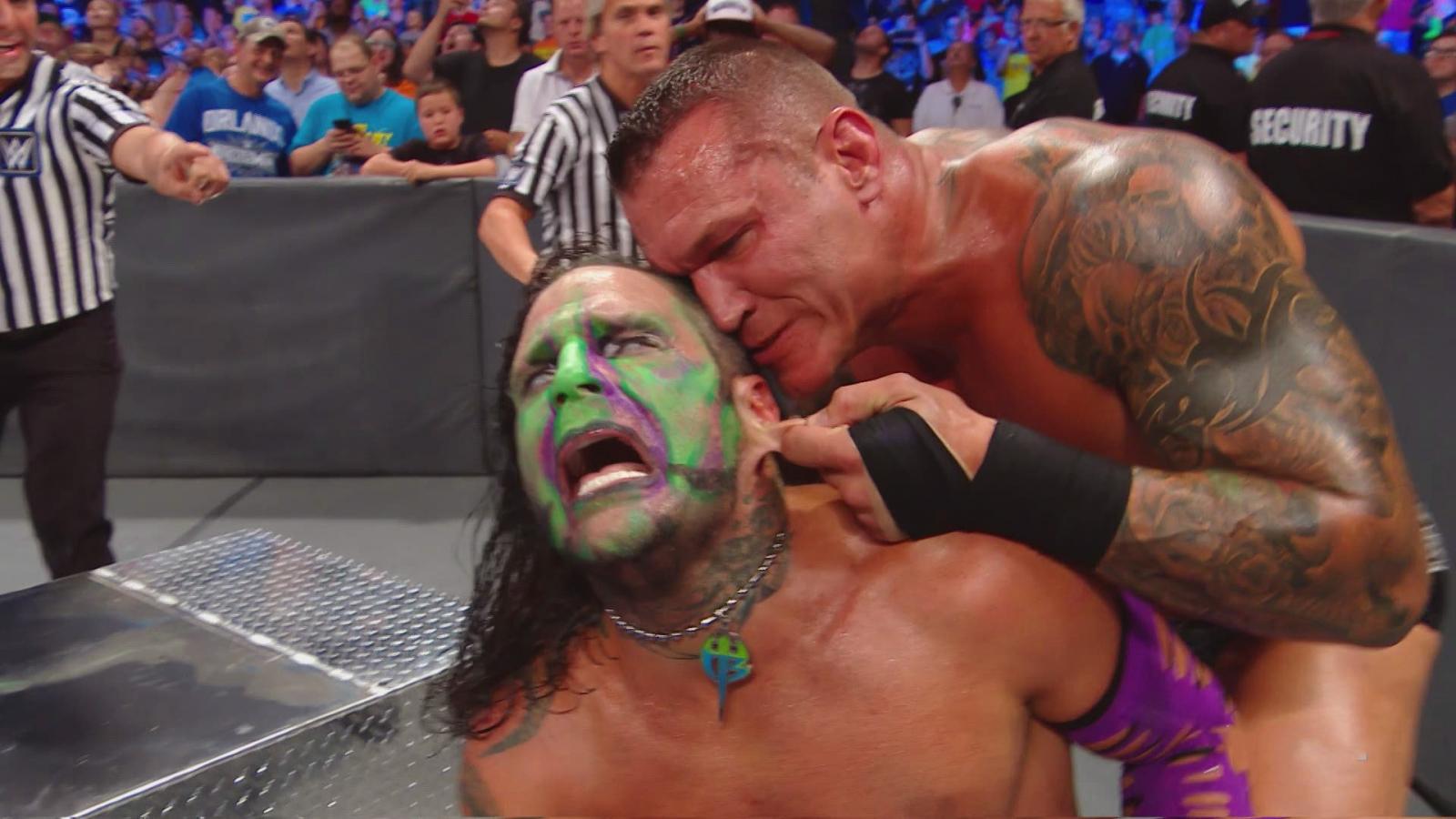 You figured the aftermath of the Extreme Rules pay-per-view would be "must-see" television on SmackDown Live. With Jeff Hardy demanding a rematch for the United States Title with Shinsuke Nakamura and a potential confrontation with Randy Orton, the show was very much something I was looking forward to.
Let's not forget WWE still had to wade through the waters of A.J. Styles' win over Rusev. Would the company continue to book this feud moving forward? There was Carmella and her stooge James Ellsworth and the Asuka "situation." Would the Empress of Tomorrow exact her revenge?
And if that wasn't enough, Daniel Bryan has officially signed his new deal with WWE, which means he could be booked as a contender for Styles' WWE Title. Where did The Miz fit in all of this, while he was busy playing softball during the MLB All-Star festivities and missed the show on Sunday night?
I waited anxiously for answers. Was I satisfied with the results? No exactly. Here are a few thoughts about SmackDown Live.
A.J. Styles vs. Cien Almas
The two superstars meet for the first time in WWE and does well for himself. The two crossed paths in Japan, renewing an old rivalry. The former NXT star has shown in recent weeks he could be part of the blue brand's title picture. Almas was able to answer the WWE champion's arsenal.
If WWE is going to push Almas toward the main event picture, this was the showcase he needed. Almas may have submitted to the calf crusher, but this is a feud I would love to see moving forward.
It also remains to be seen when WWE may book Styles to finally drop the company title.
The Demise of Rusev Day?
More like the beginning of the end of the relationship between Rusev and Aiden English. After watching the exchange between English and Lana, discussing how bad Rusev's sidekick felt about costing him the WWE Title at Extreme Rules, I hope this does not lead to a confrontation between both performers.
This would be a huge blow to Rusev's chance to remain in the main event picture. It may also put an end to the "Rusev Day" phenomenon.
Becky Lynch vs. Mandy Rose
While I am huge fan of Lynch, maybe even a slight crush on the Irish lass, the continual weekly bouts with Lynch and Sonya Deville have to stop. There is no movement in the women's division. If anything, moving Sasha Banks to Tuesday nights might be the best thing for this division while Charlotte Flair is still out of action.
I will say this, the match between the two women may have been the best we have seen, with Rose showing she can hold her own with a former women's champion. But still, "Make this stop!"
Now, Lynch sets her sights on Carmella and the SmackDown Women's Title.
Paige and Carmella
I love Paige. Leave it to the SmackDown Live general manager to stir the pot. Lynch gets her shot at Carmella in a non-title match. If she beats the champion, she gets another match at SummerSlam. It makes you wonder what the heck the company is doing with Asuka.
Samoa Joe vs. Tye Dillinger
Seriously! Dillinger is a classic example of moving to the main roster too soon. Joe should be part of the main event picture. You have to wonder when that might happen as WWE has yet to fully push the wild Samoan.
If Joe is not used effectively, where he deserves a chance to face Styles (see a theme here?) but his health and a crowded title picture may screw him out of a match.
The Miz Eulogizes Team Hell No!
The best part of Tuesday nights is the appearance of the "A-Lister." Offering a eulogy for the demise of Daniel Bryan and Kane, who suffered a broken ankle in the loss to the Bludgeon Brothers was class Miz.
Oh, and congratulations on winning the MVP of the celebrity softball game on Monday night. Sorry, back to the moment at hand. We even got an N'Sync reference which was classic.
The Miz remains the class of Tuesday nights.
After proclaiming Bryan's career is dead, you know what happens next. The setup for SummerSlam has begun.
Yes! Yes! Yes!
Kofi Kingston vs. Eric Young
There was a time when Eric Young was one of the best in the business and one of the more underrated wrestlers. Now, he is the leader of Sanity. I'm not sure if I like this faction, but they are growing on me.
Kofi Kingston could be part of the main event picture, but he is mired in the current situation with The New Day. I'm still waiting for WWE to dissolve this trio and give Kingston, Big E and Xavier Woods their own angles. The match between Kingston and Young could be a solid mid card feud, but that won't happen.
A wheel barrow neck breaker gives Young the win.
Jeff Hardy vs. Shinsuke Nakamura (for the United States Title)
In the opening segment, Hardy said he was BROKEN because he did not have the United States Title around his waist and invoked his return title match clause. It was a good match, but not great.
Hardy takes the fight to the champion immediately. But this match slows down as expected. Nakamura continues to play the role of villain well, getting heat from the fans in attendance (who were mostly quiet until the Bryan-Miz segment). I'm curious what this match would be like if Hardy was healthy.
He admitted he has been banged up for some time prior to the Extreme Rules pay-per-view.
Insert Randy Orton. The Viper beats the hell out Hardy until he defends himself. Ultimately, Orton stakes his claim as the top heel on Tuesday nights.
---
Always Use Your Head and visit the official Pro Wrestling Tees store for The Chairshot All t-shirt proceeds help support the advancement of your favorite hard-hitting wrestling website, The Chairshot!

---
WWE Possibly Doing an All Women PPV? Yes, Please!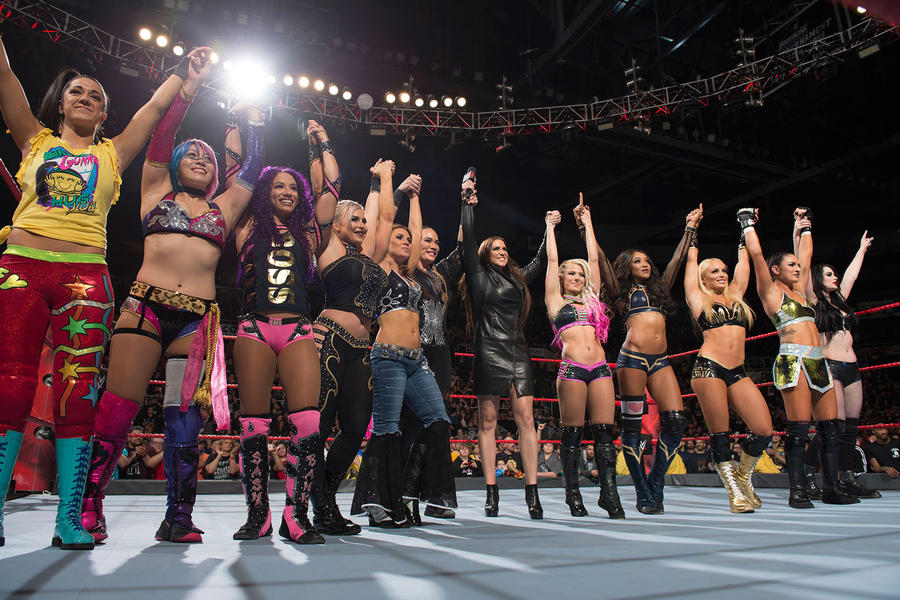 So, rumor's been going around that WWE's planning to do a PPV strictly for the Women's Divisions of RAW and SmackDown and all I can say is: FINALLY! WHERE DO I SIGN UP FOR TICKETS?!
Ever since the start of the Women's Revolution, it's become more and more obvious that the women need a show of their own because as the Women's Divisions grow on the Main Roster, there's less and less room for them on the PPVs and TV and it's a problem that's not going to get better with time.
A major promotion doing an all women PPV isn't new. TNA has done them before for their Women's Division, however, WWE has never before invested the time in exploring such a thing, or had a big enough Women's Roster to do it with, now they have both.
Why? Well, the RAW and SmackDown Women's Divisions have a lot of talent, but are still seriously outnumbered by the men's roster and so don't get as much TV time as they should and when they do get TV time, if they aren't involved in the title situation, they're usually in a multi-person tag match.
So, what are WWE's options here?
1. A Regular PPV. They could just take an already existing PPV like Unforgiven or No Mercy and just have an all-female card. Problem is making it feel special instead of WWE just copping out.
2. A Brand New PPV. This is the one I like the best, instead of resurrecting an old PPV: Give the women a PPV of their own that is named for them. The name I've been kicking around today is 'WWE: Revolution' and having the poster be of the two Women's Division rosters.
3. A Network Special. This is the one I can honestly see WWE doing in the spirit of the UK Tournament or the Greatest Royal Rumble. One idea that a lot of fans seem to like is 'Queen of the Ring', which would, of course be an all women's version of King of the Ring.
One issue I can see arising from doing an all women PPV is having enough matches to fill a three hour PPV/Special slot plus the Kickoff Show. There's about twenty women between RAW and Smackdown, now that sounds like a lot, but WWE had a card of about 35 people divided up into twelve matches, including the Kickoff Show, and there was still a lot of talking to make the time stretch and that was with seven title matches. So how would they fill in the gaps for the Women's Division when each division only has one title belt to compete for?
1. Include NXT. The NXT Women's Division is looking really good right now and a good case could be made to include the NXT Women in an all women WWE PPV/Special.
2. Include some legends. If WWE were to do something like they did with the Women's Royal Rumble and bring back some past Women's Division stars and Legends and set up some dream matches it would not only generate a lot of interest in the show but definitely fill the roster up.
3. Have Title Tournaments. This would really only work if WWE was planning on introducing secondary and tag titles to the Women's Divisions. The finals for those matches would be great additions to a Women's PPV.
4. Include the Mae Young Classic. I doubt very seriously that this will happen, but it would be a great addition if this PPV goes off to maybe have the Mae Young Classic final match on the card.
Again, it's only rumored that WWE's considering a Women's Division PPV, but I think it's an idea whose time has come and is long overdue. Since 2015, the revamped Women's Division has shown that they are more than capable of carrying a card, never mind a PPV on their own and it's time they were given the chance to prove it.
---
Always Use Your Head and visit the official Pro Wrestling Tees store for The Chairshot All t-shirt proceeds help support the advancement of your favorite hard-hitting wrestling website, The Chairshot!

---