8-Match Tag: The Ballad of Shawn Michaels vs. The Undertaker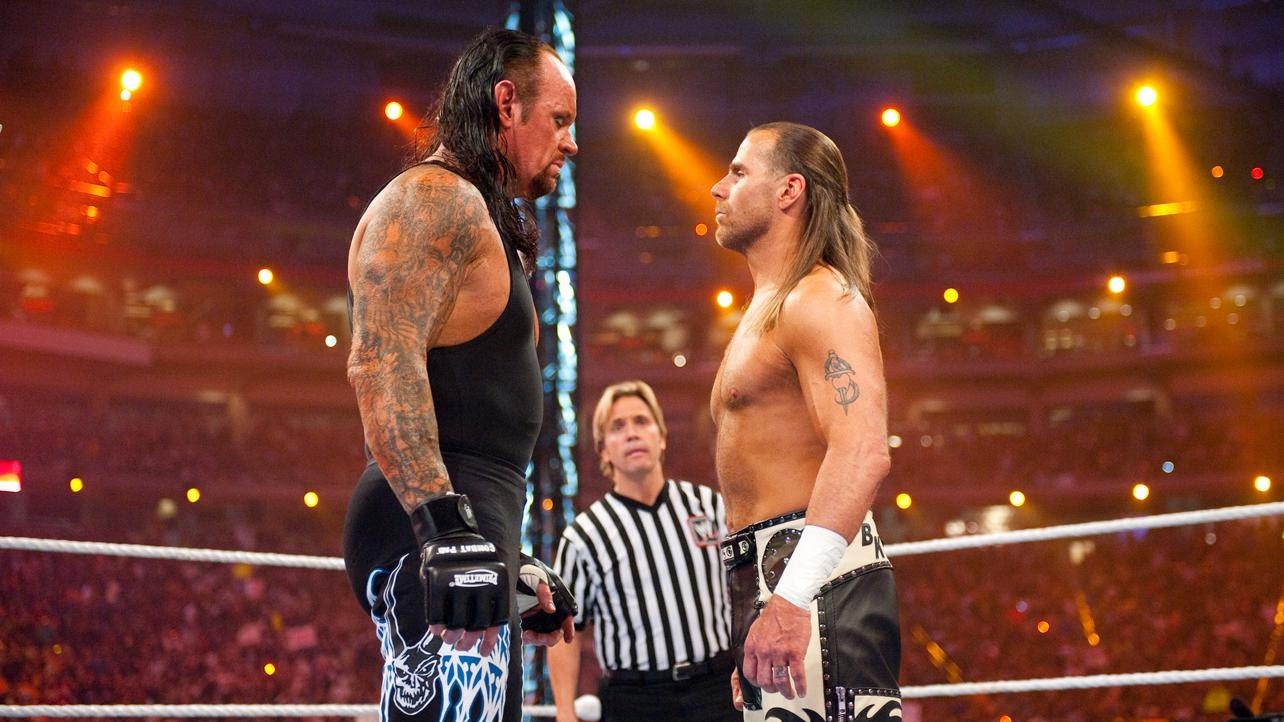 I'm Sean. You're not. Welcome back to 8-Match Tag, my personal compendium of short-and-sweet personal playlists for new and well-read wrestling fans alike from the archives of WWE Network.
Let's now journey just barely more than 20 years into the past and observe the eight essential milestones comprising a legendary feud that stands up today as a touchstone defining the finest hours in the careers of two storied icons. This cyclical saga's sun dawns and sets with a show-stopping, controversial supernova of charisma holding an ultimately relentless rival's destiny in the palm of his hand. The battles falling between the catalyst and culmination of their conflict brought out nothing less than each man's best, despite nine years passing without their paths crossing and a combined 15 years separating the trailblazing first salvos and bittersweet punctuation of their story.
If I somehow haven't made this evident, we now chronicle one of my all-time favorite arcs ever to emanate from any era or company in professional wrestling history. This is the ballad of Shawn Michaels and The Undertaker.
---
WWF SUMMERSLAM – August 3, 1997
WWF CHAMPIONSHIP MATCH
The Undertaker © vs. Bret "The Hitman" Hart, w/ special guest referee Shawn Michaels
As the now-former World Wrestling Federation approached SummerSlam in August 1997, few could have foreseen back-to-back marquee matches altering the path for the company's ensuing 20 years atop the professional wrestling landscape.
In one, a catastrophically botched Owen Hart piledriver nearly crippled "Stone Cold" Steve Austin's and set the stage for the Texas Rattlesnake's pivotal 1999 neck surgery and the eventual onset of spinal stenosis which would combine to bring the curtain down on the career of wrestling history's single most popular, impactful and profitable star.
In another, WWF Champion the Undertaker's second reign with the belt met the challenge of Bret "The Hitman" Hart. Since 1996, Hart's storylines had blurred backstage acrimony and frustration with a bizarre heel turn that saw Bret booed without mercy in the United States and heralded as practically a conquering national hero in his native Canada. Michaels often dove without hesitation into the center of Hart's all-too-real professional frustrations and offering an increasingly loathsome character foil, but on this night, he would shape all three men's oncoming paths. After extensive antagonization, the Heartbreak Kid stepped up as special guest referee just as Hart had declared that, should he fail to wrest the WWF Championship from the Deadman, America would see the last of the Excellence of Execution.
There was just one additional catch: HBK called Hart's bet by announcing that he too would never again wrestle on U.S. soil if he showed blatant favoritism to the champion.
It truly is a crying shame Hart worked so relatively few major matches opposite the Undertaker. Both displayed a consummate commitment to hard-hitting, physically grueling matches executed to closely resemble a believable donnybrook – yes, even the one portraying a wrestling zombie. This was absolutely no exception. The pair demanded minimal suspension of disbelief. Their pacing rarely allowed the tension to waver for a second. Best of all, the match's entire narrative wove Michaels' stakes seamlessly into Hart and the Undertaker's own, advancing several stories concurrently without one ever seeming poised to overshadow the others. In the end, Hart's animosity toward Michaels boiled over in the form of a single finely aimed loogie landed squarely in HBK's face. Michaels offered a receipt in the form of a swing-for-the-fences blast with the steel chair he had only just confiscated from the Hitman – a blow which jacked the Undertaker's skull when Hart deftly slipped out of the way. Bret went for the cover. His arch-enemy reluctantly counted the fall.
The fallout is the stuff of legend, almost enough so to overshadow one of the most timelessly watchable main events in the company's history. Hart's fifth and final reign as WWF Champion would come to an ignominious end three months later against Michaels himself at Survivor Series in the sea-changing Montreal Screwjob, after which the Hitman would end his storied career with a WCW tenure lasting from 1997 until a tragic concussion forced him into retirement in 2000.
As for Michaels? Before holding the WWF Championship for a third and final time, he would embark on a collision course that would eventually lead him through Hell and back.
---
WWF IN YOUR HOUSE: GROUND ZERO – September 7, 1997
Shawn Michaels vs. The Undertaker
"Shawn Michaels, you're going to have to look me in the eyes, and you are going to have to pay for your crimes," the Undertaker prophesied in the wake of SummerSlam.
Unsurprisingly, Michaels wasn't exactly impressed.
"You're either with me or against me. Take your pick," HBK declared. "The Undertaker is going down in a blaze of fire."
Michaels boldly defined that line in the sand by proudly raining down two thunderous blasts with a steel chair onto the Deadman's cranium on "Monday Night Raw", both of which made the assault at SummerSlam look like tee ball batting practice. Naturally, the Undertaker sat bolt-upright and seared a hole in Michaels and HBK's two newly joined D-Generation X companions Hunter Hearst Helmsley and Chyna with his cold, dark eyes. Appropriately, Michaels and the Undertaker were then tabbed to close In Your House: Ground Zero – a main event somewhat ironically preceded by Bret Hart defending his newly won WWF Championship against The Patriot, match inspired by Michaels previously costing Hart a televised match against the red, white and blue contender.
The Undertaker was a gigantic, heavy-hitting mauler with a relentlessly methodical offensive approach and uncanny agility that seemed fascinatingly misplaced on a man standing 6 feet 10 inches tall and weighing in over 300 pounds. Michaels' electrifying personality and brash bravado complimented legendary high-flying assaults and no shortage of technical wrestling proficiency – not entirely unlike Hart in many ways except his once-notorious toxic attitude. In hindsight, it should have come as no surprise that these two well-traveled veterans would display instantaneous chemistry far outstripping the theoretical limitations of their differences. Whereas Hart tried to scientifically dissect the Undertaker, Michaels opted to remain abusive and elusive. When he finally had nowhere left to run, HBK proceeded to sell a brutal hammering at the Deadman's hands.
This was no mindless brawl. It was the prelude to two masters of in-ring psychology diving a level deeper into their bags of tricks. Of the eight milestone matches involving these two men, it baffles me how rarely this first significant confrontation falls under the radar. Before a conclusion marred by interference, Michaels and the Undertaker had made their point: we hadn't seen anything close to the best of either of them yet. This encounter was violent, wild and more than entertaining enough by a solid margin to top Ground Zero's bill without a single championship on the line. Still, it left unfinished business neither man could abide. Desperate times called for desperate, unheard-of measures.
---
WWF IN YOUR HOUSE: BAD BLOOD – October 5, 1997
HELL IN A CELL
Shawn Michaels vs. The Undertaker
A mere ring could not contain the volcanic animosity between these two. When last they met in a one-on-one confrontation, their fight culminated in the WWF locker room spilling onto the arena floor to separate the Undertaker from Michaels, Helmsley and Chyna after an inconclusive no-contest. For their efforts, the assembled would-be peacemakers were wiped out by the Undertaker leaping cleanly over the top rope and flattening them all like bowling pins decked out in late-1990s street clothes. Finality would call for something unprecedented in the annals of the World Wrestling Federation.
It's one of those moments wrestling fans of nearly any age in the late 90s will never forget. Some were closely familiar with War Games, a covered chain-link cage covering two rings and entrapping rival teams of four or five men who entered one at a time. This was an evolved beast, a mammoth roofed enclosure lowered over both the ring itself and most of the perimeter outside it. The structure's objective? Seal two fierce enemies locked at their breaking points inside and leave no means for any third party to enter the fray.
Jim Ross, one of the company's most esteemed announcers, often referred to it as "the Devil's Playground" with reverent hyperbole. In the beginning, it was simply known as Hell in a Cell.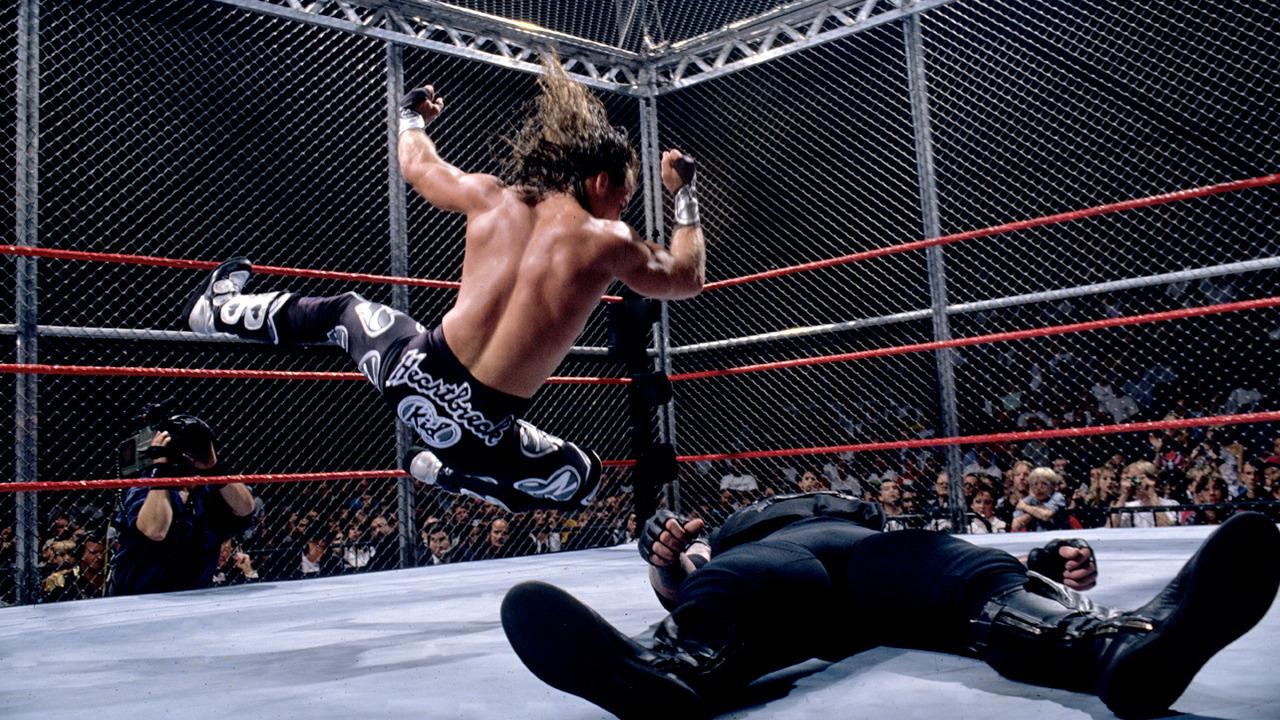 Before WWE watered down the gimmick into an annual pay-per-view event that hasn't always featured feuds suited to its violent legacy, Hell in a Cell was the nuclear option. When disdain outlived wrestling's most torturous stipulations (cage matches, bullrope matches, street fights, etc.) and left two enemies with no other path for conclusively settling a grudge…Hell would await. That was the bar set by Michaels and the Undertaker in St. Louis that evening. Without Helmsley, Chyna or "Ravishing" Rick Rude by his side and a remorseless reaper in black standing across the ring from him, Michaels struggled to survive while the crowd relished seeing the Deadman finally beat vengeful blood from HBK without realistically expecting an interruption. The Showstopper sold a beating for the ages while the Undertaker himself got over Michaels' own tide-turning offense and experienced cunning to maintain the war's unpredictability, especially when Shawn eventually finagled an escape from the titanic torture chamber.
Naturally, if a man can get out…a demon could find its way inside. With the Undertaker poised to impact a dent shaped like Michaels' cranium in the mat with a Tombstone, the lights went black. Flames erupted. The Deadman's nemesis and former manager Paul Bearer strode down the aisle with a Goliath clad head-to-toe in red and black behind him. The beast tore the door from its hinges, stood face-to-face with the Undertaker and promptly destroyed him with a Tombstone of his own, leaving Michaels to limply cover him for a three-count. Kane, the Undertaker's presumed-dead younger brother, had come to settle old accounts.
For the time being, the book had been closed on HBK. However, it wouldn't take long for one consuming feud to entangle itself with another.
---
WWF ROYAL RUMBLE – January 18, 1998
WWF CHAMPIONSHIP CASKET MATCH
Shawn Michaels © vs. The Undertaker
By the 1998 Royal Rumble, circumstance had upped this seemingly ceaseless rivalry's ante an additional order of magnitude. In an instant destined to live in infamy amidst the WWF Championship's hallowed history, Michaels had controversially stolen one last reign atop the mountain from Bret Hart at Survivor Series the previous November. In the meantime, the Undertaker had seemingly made amends with his brother after months of being challenged to a face-off apparently decades in the making. That left the Deadman seemingly free and clear to pursue a third WWF Championship in another specialized encounter he had previously pioneered: a casket match.
In order to win, one man would have to dump the other into an oversized casket situated at ringside and close the lid. No count-out, disqualification, pinfall or submission would otherwise end the match. Keep that in mind. One day, I just might count down my favorite occasions during which that loophole bit the Undertaker squarely on his cold, dead ass.
While a satisfyingly and typically brutal affair between two men seemingly incapable of working a patently unwatchable match together, this main-event spectacle bears unfortunate historical significance beyond being the final clash between Michaels and the Undertaker for nine years. At one point, Michaels took a seemingly routine spill over the top rope and slammed his back against the perpendicular edge where one of the casket's sides met its lid. On an initial viewing without context, the impact doesn't appear terribly traumatic – painful, but one wouldn't think it anything to write home about.
Beneath the surface, that spot herniated two discs in Shawn's back and completely crushed another. Despite retaining his championship when Kane and Bearer emerged to seal the Undertaker inside the casket and set it ablaze after the match, Shawn Michaels would not wrestle a one-on-one match again until dropping the belt to "Stone Cold" Steve Austin at WrestleMania XIV months later. Putting Austin over would give way to a four-year retirement and the universally accepted belief that HBK would never set foot as an active competitor inside a ring again.
---
WWE ROYAL RUMBLE – January 28, 2007
THE ROYAL RUMBLE MATCH FINALE
Fate was not yet finished with this tale. Not by a long shot.
I refuse to pretend the closing triad of matches finishing this feud once and for all were already planned three years before the first of them took place. Every so often, things simply fall into order that way. In 2002, Shawn Michaels returned to WWE a drastically changed, redeemed man. Over the course of five intervening years, he rode what was to be a one-off career finale against former friend and DX running mate Triple H at SummerSlam into five years of stellar matches that surpassed even some of his most thrilling matches of the 90s as a standard-bearer for the company, including a brief reign as World Heavyweight Champion and an unforgettable WrestleMania XX main event war with Triple H and Chris Benoit. During that same time, the Undertaker returned to his ominous "Deadman" persona at WrestleMania XX after several years as a no-nonsense biker with a penchant for beating down anyone who dared slide a toe into his yard.
As the field dwindled in the 2007 Royal Rumble match with a punched ticket to a WrestleMania 23 championship match hanging in the balance, time stood still. The bloodied Undertaker sat up. An exhausted, rubber-legged Michaels, appropriately clad once more in the green and black of D-Generation X, kipped up to his feet. For the first time in almost 10 years, they locked eyes across an empty ring – two defiant, battle-hardened Texans renewing their war before a suddenly unglued San Antonio crowd. For seven more minutes of gapless action, both turned back the clock to 1997 and delivered quite possibly the most thrilling Royal Rumble conclusion the match has ever seen. Each narrowly averted elimination over the top rope several times. The Undertaker flattened Michaels with a downright sadistic chokeslam. HBK appeared to turn the tide with pinpoint-perfect Sweet Chin Music. As he found his feet and moved in for one more superkick to seal a record-setting third Royal Rumble victory, the Undertaker ducked under and ousted Michaels for his first.
In Detroit at WrestleMania 23, it was Michaels who would close out the Showcase of the Immortals in a fantastic WWE Championship match against John Cena. Earlier in the evening, the Undertaker would take the World Heavyweight Championship from Batista in an astounding match whose quality was purportedly elevated by both men resenting a perceived backseat taken to Cena and Michaels, complete with Batista allegedly screaming "Let's see them top that!" as he returned backstage. However, Michaels and the Undertaker perhaps had not yet realized what their performance in January had already insinuated: their story wasn't finished after all.

---
WRESTLEMANIA 25 – April 5, 2009
Shawn Michaels vs. The Undertaker
As the road to WrestleMania's diamond-anniversary celebration drew nearer to its ultimate destination in Houston, HBK walked tall with the backbone of a rejuvenated man with a new-found mission after winning his freedom from a demoralizing period of indentured servitude to John "Bradshaw" Layfield. In the midst of the personal identity crisis that plagued him as the well-heeled Texan held Michaels' financial soul in the palm of his hand, he was once briefly confronted by his greatest adversary with a succinct, pointed message: "It is sometimes hell trying to get to Heaven."
With his freedom restored, Michaels trained his gaze toward a WrestleMania homecoming with a single point to prove: he was still the Showstopper…the icon…the headliner…the quintessential main event. As far as he was concerned, there was but one way to leave no doubt. Once more, he would have to do what many declared "impossible" and etch his name upon unbroken ground.
As far he was concerned, he was destined to bury the Undertaker's unparalleled undefeated WrestleMania record. He would forever be acknowledged as the "1" in "16-1." A legion of champions, giants and legends had fallen at the Deadman's feet on the Grandest Stage of Them All. However, the Phenom had never bested Mr. WrestleMania where his unbridled, unrivaled talent had always shone brightest.
In the weeks leading to WrestleMania 25, Michaels reminded the Undertaker time and again that his ever-present psychological warfare had never worn down a fighting spirit or warrior's will quite like his own. Instead, Michaels repeatedly laid the Deadman flat on his back with his most devastating blow, Sweet Chin Music. If veteran spectators hadn't known better, we could have sworn HBK had accomplished the unthinkable and planted his own seed of doubt within the Undertaker's head.
"That might have been the one to end it on," Michaels would tell a WWE interviewer years later. "If that wasn't perfect, that's as close as you can get."
After over 30 minutes of drama and impeccably paced storytelling by which all headlining WrestleMania bouts henceforth should be measured, Shawn Michaels and the Undertaker had declared they were no longer two proud men vying for one-another's professional respect. The years had meticulously shaped them into two consummate artists who had risen above and beyond having each earned such respective admiration. Triple H and Randy Orton faced the unenviable mountain that year of having to follow a match for the ages. Both have since conceded, the it was a fool's errand. Without a single wasted motion, Michaels and the Undertaker imbued every spot and sequence with a deliberate structure. One expression and mannerism after another shaded in each man's path toward victory and defeat.
This was wrestling artistry. However, it was not how this story was fated to end.
---
WRESTLEMANIA 26 – March 28, 2010
CAREER VERSUS STREAK
Shawn Michaels vs. The Undertaker
You know something? Absolutely nothing I could conceivably write here would encompass the ascent from WrestleMania 25's undeniable masterpiece to this poignant chapter better than this. I tried for hours.
When WWE gives enough of a damn, nobody builds a big-fight feel quite like them.
Two years earlier, Shawn Michaels penned the final in-ring WWE chapter of his idol, mentor and friend, "Nature Boy" Ric Flair. It ended with Flair rising to his feet, dukes up, demanding that HBK hold nothing back and finish him as only the Showstopper could. There is a poetic parallel to Michaels, a weathered and crumpled man, pulling himself up the Undertaker's body to slap the Deadman across the face and deliver his opponent's signature throat-slice taunt. That Phoenix evening did not surpass their furor from a year prior, despite being a no-disqualification affair. If these two men were to share a ring this way only one last time, they were nevertheless determined to leave an unforgettable impression.

Oh, by the way? This time, they went on last.

Still…the all-encompassing end of an era would have to wait another two years.
---
WRESTLEMANIA 28 – April 1, 2012
"END OF AN ERA" HELL IN A CELL MATCH
Triple H vs. The Undertaker
Special Guest Referee – Shawn Michaels
Two years had passed. At the very WrestleMania which celebrated Shawn Michaels' induction into the WWE Hall of Fame in 2011, his closest friend met his indomitable rival for the second time at the Showcase of the Immortals. Triple H had declared their match a meeting to determine who was truly WWE's "last outlaw" of a generation rapidly aging out of professional wrestling's rigors. In some sense, it was obviously also a matter of avenging the fall of his compatriot's career a year prior. He battered and abused the Deadman to such a horrendous degree that, despite succumbing to a deftly timed Hell's Gate choke sunk in by the Undertaker out of instinct and desperation, it was only the Cerebral Assassin who walked out under his own power.
It took weeks on end of assaults on the Game's pride for the Undertaker to finally receive the rematch he demanded. He could not abide the image of his limp body being carted from the ring to serve as his enduring legacy. Time and again, Triple H turned to his duty as a newly minted WWE executive to justify his refusal to potentially cripple WWE's most valuable competitor. When at last he conceded, he invoked a stipulation threaded deeply throughout both men's careers, the only way to bring closure to this journey: Hell in a Cell.
Fittingly, there was a man who had met both the Undertaker and Triple H inside the sadistic cage and lived to fighter another day. His own career had been defined by each competitor. He had been there from the beginning of this acrimony which had united all three indelibly in WWE history.
Shawn Michaels would be there at the end.
"Remember when I told you Shawn was better than you?" the Undertaker said as he stood face-to-face with the King of Kings, adding a pregnant pause. "He is."
However, the Deadman also issued a warning to Michaels, once perhaps seasoned with memories of how their war had begun: if he compromised the purity of the match's decision, he would truly end the Heartbreak Kid once and for all.
That isn't to say Triple H wouldn't attempt to turn the tables that evening in Miami. He rained down unholy, bone-breaking violence upon the Undertaker and demanded that HBK stop the match. To his credit, Michaels resisted…right up until he seemingly separated the Undertaker from his senses with Sweet Chin Music and scurried into the ropes as Triple H failed to get a decisive three-count. The battle waged on until a spent Triple H leaned into a turnbuckle and defiantly saluted the Undertaker with a classic D-Generation X chop to his crotch, saying without words, "You'll have to finish me yourself."
He did. In the end, it was the image Shawn Michaels and the Undertaker, side by side, helping Triple H to the back which will always punctuate this end to an era.
---
There was no feud like it before. There will be none like it again. Thank you for joining me. If you have any comments or would like to point out some error, feel free to follow @ComerCodex on Twitter and let me know. Until next week, it's time to tag out. I'm Sean. You're not. Never dull your colors for someone else's canvas.
Cook: Don't Bet Against Greatness
It's a mistake that's easy to make, but it's an equally important lesson to remember. As Steve Cook says: don't bet against greatness.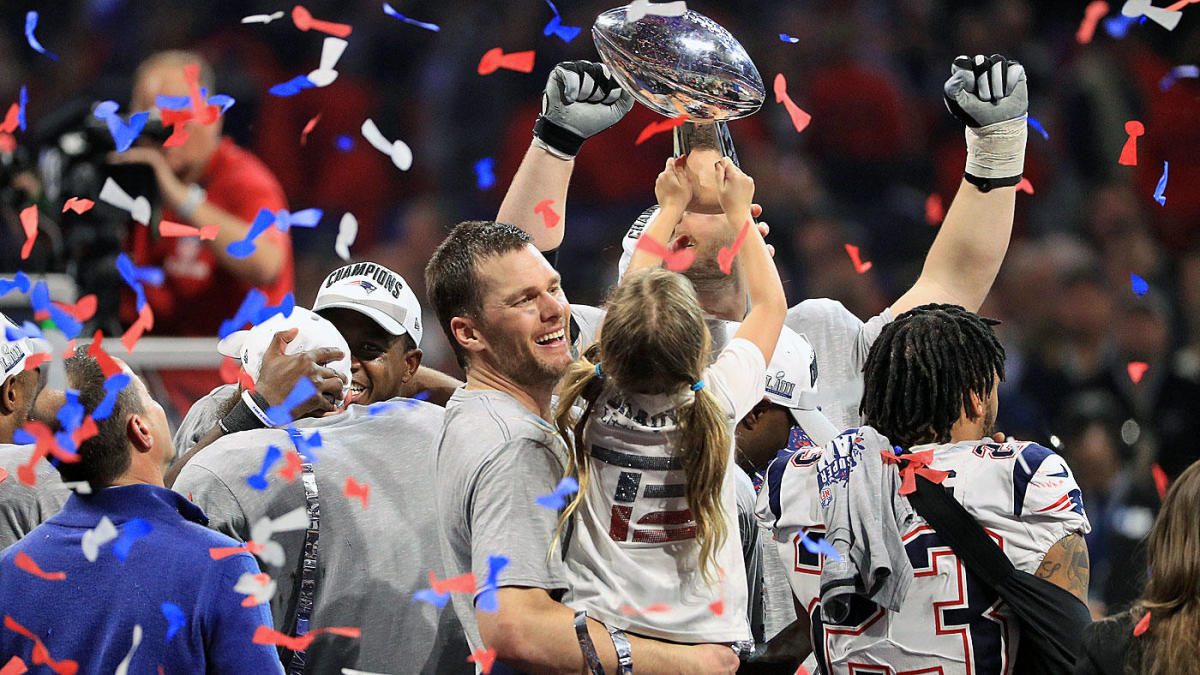 It's a mistake that's easy to make, but it's an equally important lesson to remember. As Steve Cook says: don't bet against greatness.
It would take at least a thousand columns like this one to explain the biggest mistakes we pundits make. I use the phrase "we" because I'll never sit here and tell you I'm infallible. I make more mistakes than I care to remember. Today, we'll talk about one that I'm guilty of pretty often.
Too often, we don't give greatness the benefit of the doubt.
We jump to quick conclusions when the greats of a genre do things that don't seem in character, or are different from what we're used to. We don't consider the idea that maybe these people, who have already accomplished many things in life, might actually have a better idea what they can do to improve their future than we do.
Hard to believe, I know. This past weekend saw great success for two of the most successful people in the world of sports & entertainment. They serve as perfect examples of my hypothesis.
Example 1: Tom Brady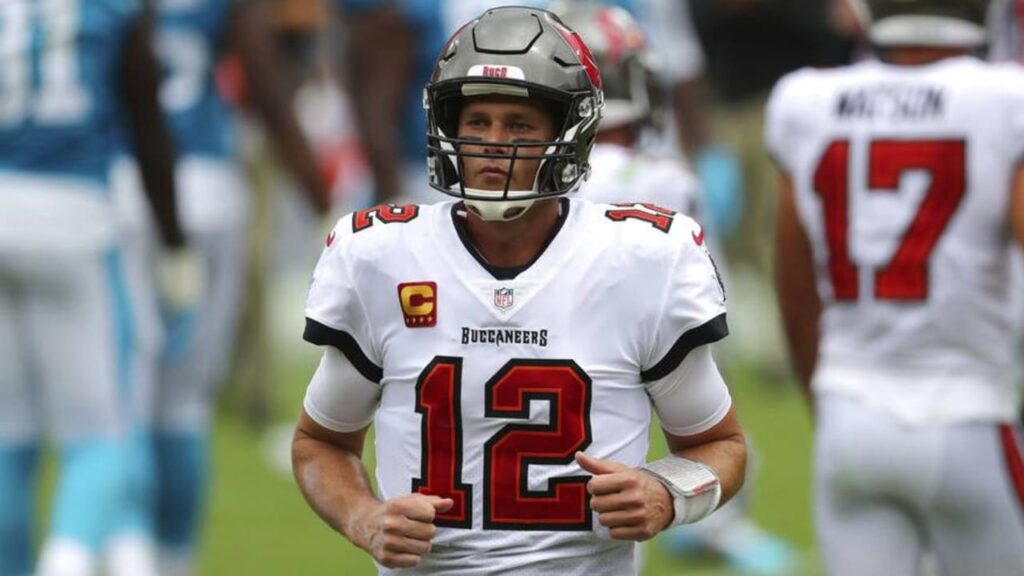 For years, I have resisted the idea of calling Tom Brady the Greatest Quarterback of All Time. I never like crowning current stars the greatest of anything, as it disrespects the people that came before them. Unless they just accomplish so damn much that it'd be silly to deny them the honor. Sometimes, people get GOAT status that don't really deserve it. They seem to be on pace to get there, but never make the jump.
Tom Brady made that jump a long time ago. There isn't really a metric people can use to sell him short at this point. He's at or near the top of every significant passing category in league history. There's also the number of Super Bowls won, and number of rings/titles/championships always wins any sports argument, regardless of the sport. It can't really be denied at this point.
The one thread people had to hang on to? Bill Belichick. The Patriot Way. Brady & Belichick formed a dynasty together. The other players & assistant coaches always changed, but Tom & Bill were always there. Which provided a bit of drama over the past few years whenever we needed something to talk about. Who was responsible for the success? The answer was obviously a little bit of both, but it was always a big debate.
Brady went to Tampa, and some folks thought it might not work. Many talking heads went on about how Tom was just going to Tampa because he wanted out of the cold weather. He just wanted to have fun for the last couple years of his career. They didn't think that he could do these things and also win championships.
He's one game away from doing just that. Are you going to bet against him? I'm not!
Example 2: Vince McMahon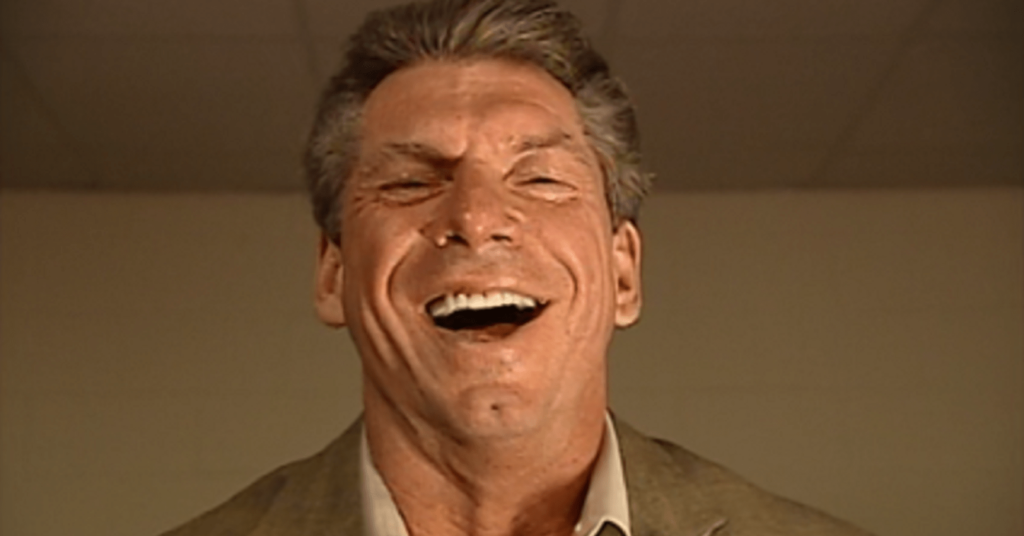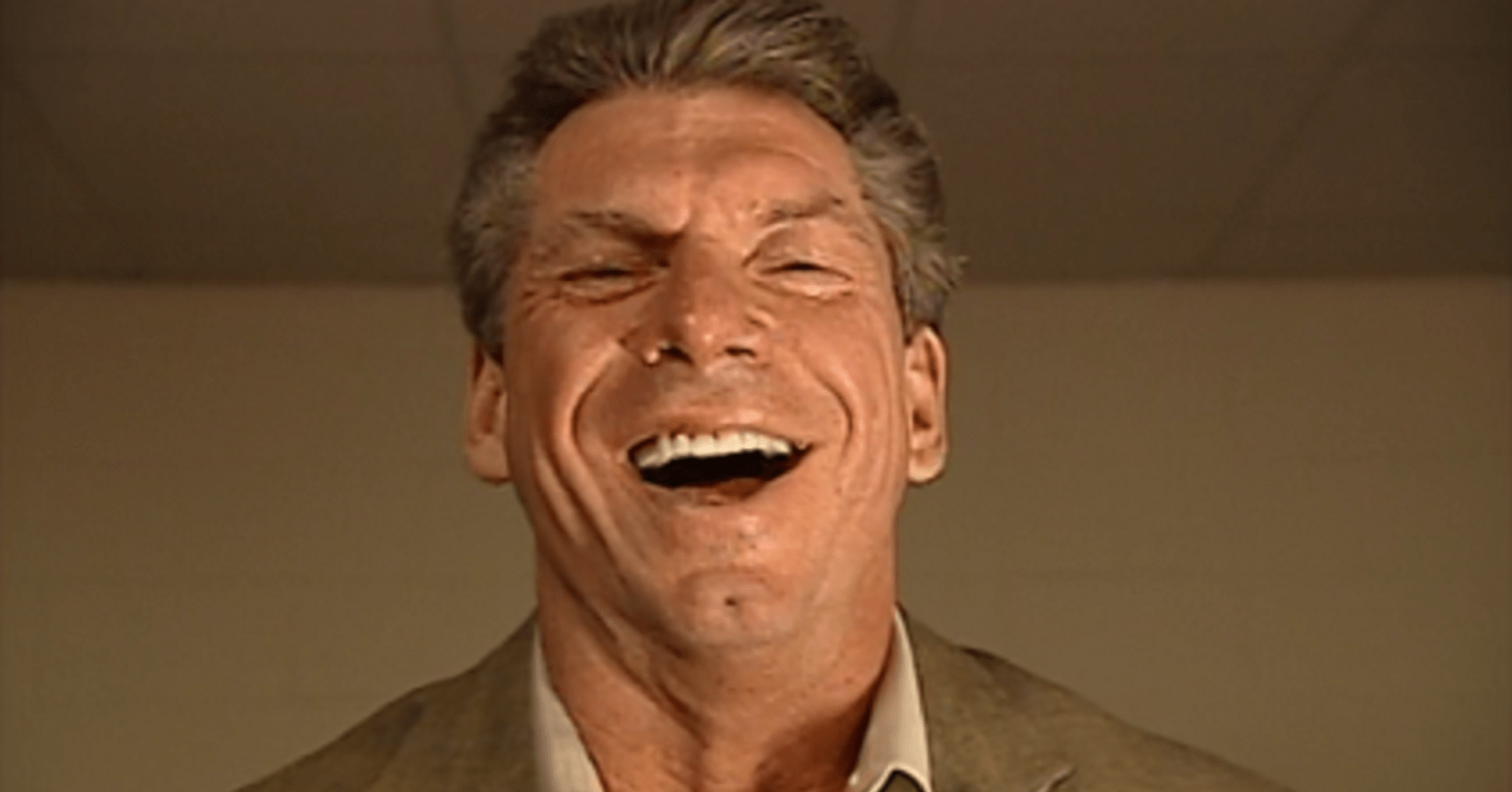 How many articles have you read questioning McMahon's mental acumen? Especially over the past several years as he's advanced in age? It seems like everybody has dismissed the old man as a fossil that needs to step aside and let the kids run things.
We think we have evidence for this theory from WWE television. I'll admit it, Raw most weeks is thoroughly unwatchable. You may disagree, but I'm the one typing this thing up. SmackDown is a little bit better, but Raw's ineptitude overshadows it for the most part. Then there's NXT, which most people seem to agree goes downhill the more that Vince pays attention to it.
A good percentage of the Internet wishes that Vince would step aside and not be all over everything.
This places us on the opposite side of most investors, who don't watch the shows religiously, if at all, and don't get inside knowledge from the dirt sheets & message boards. What they know is that Vince McMahon is the most successful promoter in wrestling history, and that he knows how to make a lot of money. Which, most would argue, is a lot more important than the quality of the shows one produces.
McMahon has shown an ability to make the right business moves at the right time. 1984 was the right time to go national and wipe out the territories, cable television expanding wrestling program reach made it only a matter of time. Vince was the first one to jump.
The late 1990s when the company was at a mainstream acceptance high was the right time to go public. You didn't see him trying it in the early 1990s when he was fighting off various scandals and the company was at a mainstream acceptance low. Once people forgot about the steroid & sex stuff and saw how popular the Superstars of the time were, it was time to buy in.
Streaming was the wave of the future when WWE Network started becoming a thing. It was the culmination of nearly thirty years of Vince McMahon collecting nearly every bit of wrestling footage he could. He wanted to own wrestling & create his own history, then he wanted to get everybody else's history too. He got most of it. There's stuff sitting in the WWE archives that still hasn't seen the light of day, and maybe it never will. Everybody and their brother has some kind of streaming service now. WWE was there before most, and now they got the chance to cash in from a media company trying to bolster their own streaming service.
Now, McMahon's business record isn't perfect. We know about the WBF & the XFL (twice). We remember how WWE wasn't the original name. The early 90s scandals have been mentioned. And as major UFC and boxing events have shown, Vince was too quick to give up on pay per view. Left some money on the table there.
Every businessman makes mistakes. Its how they recover from those mistakes that matters. McMahon always comes out of his smelling like roses. There's never really a long-term negative effect afterward. Vince got Dwayne Johnson to buy the XFL. His attempt to compete in bodybuilding led to no hard feelings. We all eventually got used to saying & writing "WWE".
All those things we get mad at about Vince? They don't keep most of us from watching his programming. Which is why WWE is so valuable to media companies. WWE has an audience that it can't scare away, no matter what it does. People will follow them from USA to Fox to Spike TV to the WWE Network, whatever's got some of that sweet content.
So the next time somebody wants to tell you that Old Man Vince is out of touch and doesn't get it anymore…ask that person the last time they deposited a billion dollar check. If it was sometime in the last week, then they might have a point.
I might not be in love with most of the wrestling Vince McMahon produces these days. Are you going to bet against him making money off of it? I'm not!
Do not bet against greatness. More often than not, you will lose.
Andrew's Top 5 Matches: Week Ending 1/24/2021
Well even on a quiet-ish week, all of the bigger NA companies get a version of representation and even AJPW found their way into the Top 5! Let's see what we're working with!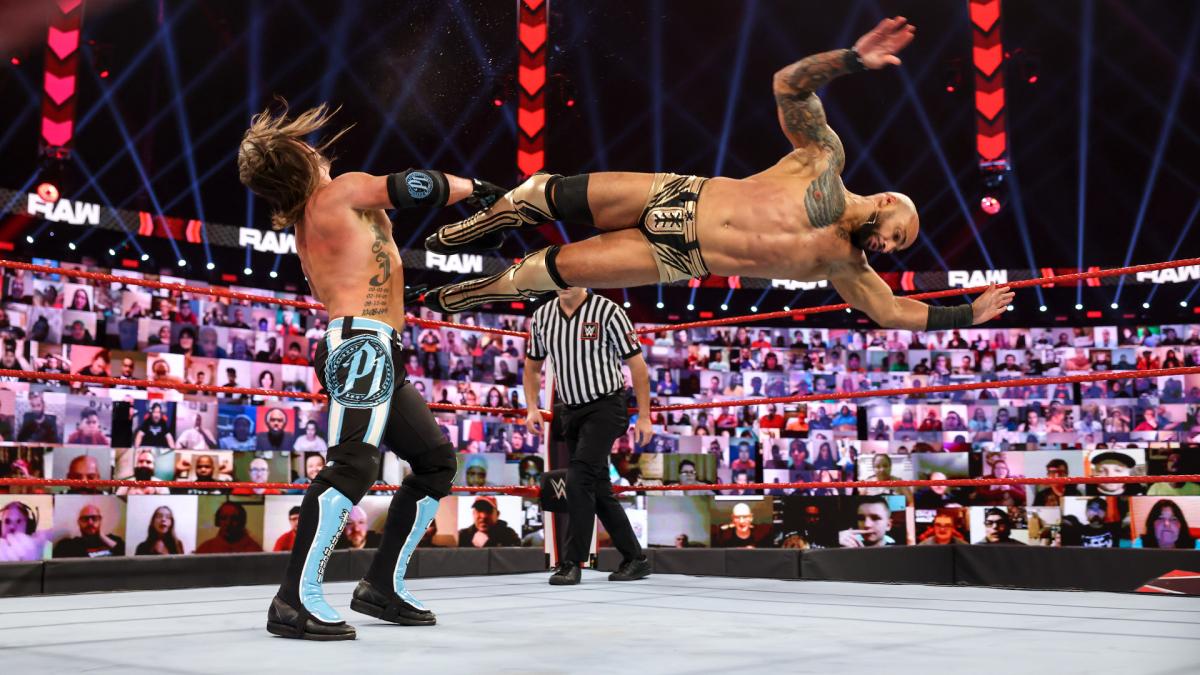 Well now, we didn't have much that really stood out on North American television, but we did get a few additions from All Japan Pro Wrestling!
Last week's voting was pretty cut and dry, NXT UK: NXT UK Championship: Walter (c) vs A-Kid, managed to control the voting narrative. Now we get this week, and it's definitely a little more interesting.
Which match will get the most support? Let's find out!
Quick Top 5:
AJPW New Year Wars Final Round: Triple Crown Championship: SUWAMA (c) vs Shotaro Ashino
Rating: **** 1/4
AJPW New Years Wars Final Round: World Junior Championship: Fuminori Abe vs Koji Iwamoto (c)
Rating: *** 3/4
WWE Raw: Ricochet vs AJ Styles
Rating: *** 3/4
IMPACT! Private Party w/Big Money Matt Hardy vs Beer Guns (James Storm & Chris Sabin)
Rating: *** 1/2
NXT: Fight Pit: Tommaso Ciampa vs Timothy Thatcher
Rating: *** 1/2
Honorable Mentions:
NXT UK: Dave Mastiff vs Rampage Brown
Rating: *** 1/4
NXT: Imperium vs Lucha House Party
Rating: ***
WWE Raw: Asuka vs Alexa Bliss
Rating: ***
AEW Dynamite: MJericho vs Sammy Hager vs Santana & Ortiz
Rating: ***
NXT: KUSHIDA & Leon Ruff VS The Way
Rating: ***
4t. NXT: Fight Pit: Tommaso Ciampa vs Timothy Thatcher
The ref checks on Thatcher but Thatcher grabs at Ciampa over the ref's back! Ciampa uses the leverage for WILLOW'S BELL!! But Ciampa can't win off a cover, he wants to know if that knocked Thatcher out! The ref starts a count, Thatcher is still conscious but he has to get up before 10! The count is 5, then 6! Thatcher uses the cage and drags himself up at 9.9! But Ciampa CLOBBERS him, underhooks, but Thatcher spins out to throw EuroUppers! Ciampa forearms, they're brawling back and forth with fury! The fans are fired up as Ciampa CHOPS but Thatcher tackles him into steel!
Ciampa throws elbows, has a facelock, and he RAMS Thatcher into steel! FAIRYTALE ENDING!! And then a SLEEPER HOLD!! Ciampa wants Thatcher to pass out, but Thatcher fights up! And scoops Ciampa to RAM him into the steel! Thatcher gets Ciampa in a sleeper hold of his own, but Ciampa uses the corner to go up! Thatcher shoves Ciampa into the corner! Thatcher CLUBS Ciampa over and over and over, then has the leg trapped in the girder! HANGING STRETCH MUFFLER!! Ciampa shouts in pain, he TAPS! THATCHER WINS!!
Winner: Thatcher Hanging Stretch Muffler
4t. IMPACT! Private Party w/Big Money Matt Hardy vs Beer Guns (James Storm & Chris Sabin)
Fast paced as expected, but early on we see Tony Khan and Jerry Lynn walk out to sit at ringside and watch the match. Storm didn't slow down too much, which is surprising since aside from his brief stint back in Impact at the end of 2020, we saw him tagging with Eli Drake in much slower, less workrate dependent matches.
Private Party were their usual high flying, fun having, break dance inspired flourishes to some offense we've seen for years. Beer Guns had a cool tandem move with Sabin Sunset Flipping from outside in, Quen rolled right into the Backstabber from James Storm. Lots of signature spam, a few dives, highlighted by a nice Fosbury Flop from Quen.
Sabin looked to be setting up for the finish, when Jerry Lynn hops the familiar guardrail, grabs Sabin's foot while Matt Hardy distracted the ref; and Private Party hit Gin & Juice for the heel tactic upset! Interestingly, Private Party still comes off as great babyface kids who are being swindled by scummy adults. So they aren't playing heel, but everyone around them is doing it for them.
Winner: Private Party via Gin & Juice
2t. WWE Raw: Ricochet vs AJ Styles
Ricochet is frustrated but Omos is relieved as Styles survives. Ricochet fireman's carries but Styles fights out. Ricochet mule kicks a leg then back flips into the DEAD LIFT GERMAN! Bridging cover, TWO! Ricochet grows further frustrated but he watches Styles stand. Ricochet runs out from the corner but Styles dodges. Styles runs in, Ricochet elbows back, QUEBRADA into a LARIAT! Styles gets Ricochet up, SNAP BRAIN BUSTER!! Cover, TWO!! Styles fireman's carries Ricochet for USHIGOROSHI! Cover, TWO! Omos says it's alright but Styles is still surprised Ricochet survives!
Styles goes to a corner, goes to the apron, and takes aim. Styles springboards, but Ricochet hits the RECOIL!! Both men are down, Ricochet crawls to the cover, TWO!! Styles survives and Ricochet is beside himself! Ricochet goes to the corner, climbs up top, but Styles trips him up! Ricochet lands hard on his stomach and flops to the apron! Omos coaches Styles as Ricochet drags himself up. Styles goes to the corner, brings Styles up, but Ricochet hotshots! Ricochet aims, slingshots, but into Styles' suplex, that rebounds off the ropes! Into the STYLES CLASH!!! Cover, Styles wins!
Winner: AJ Styles via Styles Clash
2t. AJPW New Years Wars Final Round: World Junior Championship: Fuminori Abe vs Koji Iwamoto (c)
Iwamoto has finally started to blossom as the Ace of the current Junior Division. Fuminori Abe on the other hand, is a freelancer who can do anything and everything. This should be a great test for the Junior Ace, since Abe can hit you from every conceivable angle.
There's a brief period of feeling out we saw the versatility of Abe. He delved into a little bit of his comedic side with the long set up on a Penalty Kick to the back, but he also snapped off some great Frankensteiners and high spots. He also worked over the upper body well to try and go for his signature Octopus Hold, but Iwamoto was able to get the rope break.
Iwamoto's saving grace was his Judo background. A few Dropkicks to get distance and just catching Abe with multiple Judo Throws, set up beautifully for the Koko no Geijutsu, because it is also a fast snapping Judo Throw, but he uses the ropes for the added momentum to make it a finish.
Smooth as butter, and only rated under a 4 because of how fast the match was. If it had a longer build or another back and forth, this could've been epic. But it was still a damn great match.
After the match Cima challenged via video.
Winner: Koji Iwamoto via Koko no Geijutsu
1. AJPW New Year Wars Final Round: Triple Crown Championship: SUWAMA (c) vs Shotaro Ashino
Suwama's hand picked opponent because of their similarities. Ashino being the former ace of Wrestle-1, a disciple of Keiji Mutoh and an accomplish amateur style wrestler; this all rings true with Suwama. So we get part two of the Mutoh's favorite son challenge!
This match did have a few of the same issues as their first one, since a slower mat based style doesn't resonate well with no crowd or a muted crowd. Suwama did keep up with Ashino for the most part, and the match had many similar elements as the first match. Ashino worked over the Ankle and went for the Ankle Lock; where Suwama showed he could counter most of it and apply his own submissions.
Smartly, Ashino did his best to avoid the Last Ride Powerbomb, which is how he lost his first challenge, and force Suwama to dig deeper. Ashino was explosive with German Suplexes, but he fell into the SANADA trap. Ashino drags Suwama to position him from the corner, even commentary is confused since Ashino is no high flier, but Ashino goes for the Mutoh Moonsault, and hits nothing!
After the miss it felt like Ashino was looking for something he didn't have to take down Suwama. Suwama did have to pull off numerous Backdrop Drivers and finally the Backdrop Suplex Hold to retain the title. A very solid defense that built off the previous matchup, and would've been much better if the mat wrestling didn't feel like it dragged because of the world situation.
Kohei Sato comes out after to challenge.
Winner: Suwama via Backdrop Suplex Hold
Thoughts:
Now I'm really intrigued at how this vote will shake out. A few matches from the lesser view AJPW, a match from Raw, a crossover with AEW & Impact and a gimmick match from NXT.
My vote personally will go to Private Party vs Beer Guns, because this is the first interaction that really does feel interesting for the invasion/war/crossover/takeover whatever story. Great use of former Impact talent, great screwjob and ideally should lead to bigger things. Plus it's nice to see a younger/undercard team like Private Party getting their star elevated a bit.
Do I think any of these matches touch the first week of the year? No, not at all. But they weren't stinkers, so let's make the month interesting before Royal Rumble!