CheapShots: Chamber/RAW Fallout And Rousey Debut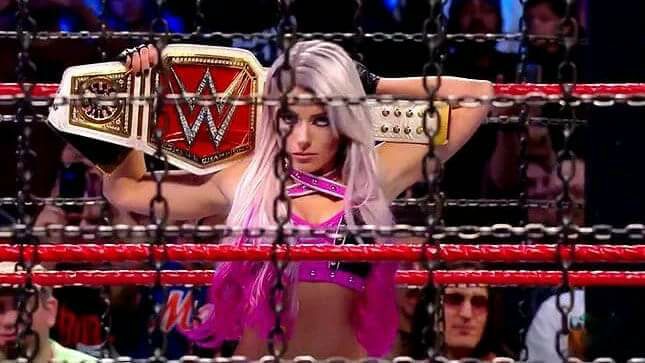 Cheap Shots are unfiltered, uncensored opinions, and those opinions reflect only the author!

"Mad Man" piloting a fly by of Monday Night Raw. Come aboard, if I like you, I'll throw you a parachute. Pay no attention to the flashing promo signs. I can't do anything about them. Someone from creative was making up for last week. I'm staring at you Stephanie. In fairness, The Chamber can be excessively physical. I guess I can see it being used as rest in a couple of cases. Though most fell into the usual formula.
Did someone steal my DeLorean and transport us back to an episode of Smackdown Live over a year ago? Minus the bad Lucha costume, I was having flashbacks. Of course Little Miss Math Class was talking trash. That's what she does with backup. Alone, she's scared and barely looks qualified to be there. Mickie stood like a statue while Alexa went back into mean girl mode, baiting Asuka to come out. The Rising Sun Ace eventually did; earning a 3 on 1 beating. as Nia Jax completed the heel trio. The Legit Boss and Human Elmo; minus the hugs this week, ran in to even things up. Yay, six-person tag. Baby faces won "clean" when Asuka twisted Mickie like a pretzel. However, more seeds were planted between Sasha and Bayley. when the hugger wouldn't accept a tag. Asuka has Nia on Raw in a PPV rematch next week.
Welcome to the next of a zillion promos! The sheep were a bit confused on occasion last night. "Wait, we're not supposed to react to him like this." Points to creative as John Cena cut a "What am I gonna do for Mania?" promo. Naturally, marks lost their minds when he brought up The Undertaker. Don't blink, Cena said someone told him the match was impossible. For now, he's a bigger tease than a stripper. Ended things by saying he was headed to SmackDown to find a Mania Match. Let's hope he's killing time.
Now I start to shred WWE booking! Miz cut the same promo he always does when Angle wouldn't tell him outright who his Mania opponent was for IC Gold. "My movies, my wife, I'm a star!" Fake movies, plastic wife, no you're not. Angle puts him in back to back matches to see who "might" take him on. First Rollins, wouldn't it be cool if The Falcon Arrow actually won a match? Then Balor, Miz lost to both and he still doesn't have a concrete challenger. HEY VINNIE, you've got over a month worth of programming to fill. What's wrong with a tournament?
Oh look, another promo! This was "supposed to be" another face to face between Lesnar and Reigns, YAWN! Except, Lesnar and Heyman weren't there? Roman Reigns cut the best promo I've ever seen from him; spoon-fed or not, he felt it. Marks were lost and speechless. It was very cool to see! He said Brock didn't care about the boys, the art form, or the fans. The Beast is only business while he grew up in it. "My family is this business…I don't respect that b****!" I've been screaming about this ever since they brought him back. Someone actually got permission to say it! A ton of us have waited a long time for Roman to sound interested. Monday night, he finally did.
Quick aside, Vince can you PLEASE fire Slater and Ryno? Split their salaries between the ladies on the roster. Now, what the Hell is Bray Wyatt? He makes The Dingo Warrior sound coherent, The guy came in on a level with Kane. Booking him like this in the territories would lead to a pink slip. Yet, sheep still light up cell phones like he matters? Kid, Matt Hardy was somewhere else; doing the scary you forgot, and NOW you wanna tell us you do more than stall talent out?  It's bad enough when RAW bookings don't matter, but PPV bookings too? He beat you son, go sit down. Speaking of wasted potential; I'm sorry Titus World Wide, Orlando was a country away last night.
Heel on heel shade is very rare when it comes across as organic. I tend to agree with Elias in this instance. Marks comparing Corey to Bobby Heenan should slow down. The Brain was naturally funny when he wanted to be. It feels like Graves or his writer is trying too hard. There is a mean under current to him, which makes no sense given his medical issues.
Elias continues to push buttons. After calling Graves out, The Guitar Man knew Braun had bad intentions. Resourcefulness had to be high for Elias to avoid an ambulance, and it was. The musician was just physical and smart enough to escape using a strategically placed fire extinguisher which allowed him to get away from the big man. Payback will have to wait.
Deep breath everybody, final descent into what was arguably the most useless segment of the show. (GASP)! Steph, I'm booking, do I need to write for you too? Let's back up to The Chamber. Did Angle honestly need to be there to pull this off? He sounded like he was a snitch in high school. Ronda has read scripts and done movies. Change Kurt's lines, give her a script for RAW. Have her come to the PPV alone, with you and Triple H in the ring. Have her sign the contract CLEAN! I know, I have a better chance of walking than seeing a clean contract signing. At the very end, Ronda takes the mic: "I have questions about the integrity of WWE. I will get them answered on RAW…" Fade to black.
You could've saved yourself a week of scripting. The suplex, slap, and horrible dialogue get moved to Monday. No one believes it out of your mouth anyway. What does A Mad Man know? I know that was a mediocre RAW with too much hype and an average finish. Hope y'all enjoyed this fly by. Our next departure from fly over country takes off soon!