Chris Deez's WWE Elimination Chamber Predictions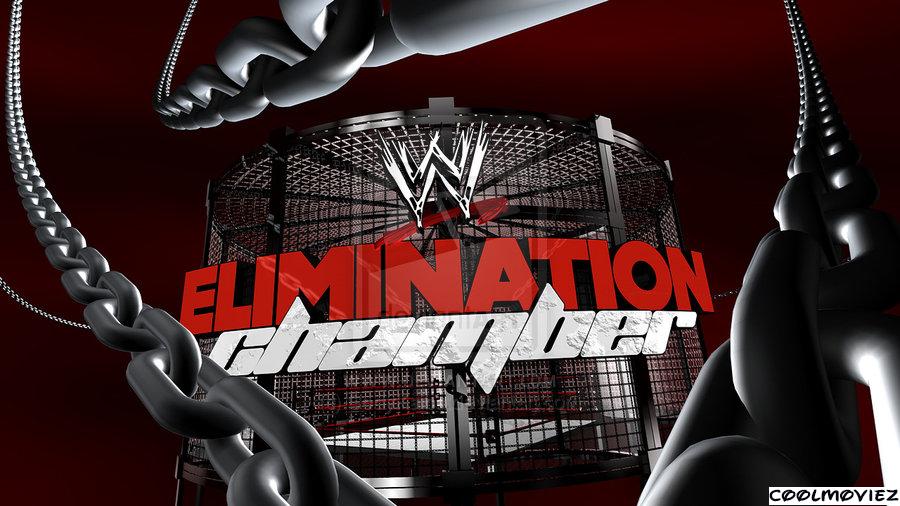 It doesn't feel like more than 5 minutes ago that we sat through one of the greatest weekends in WWE PPV history as we were treated to the incredible NXT TakeOver Philadelphia and the history making Royal Rumble within 24 hours of eachother, yet here we are again with WWE's next offering Elimination Chamber. With this being the last RAW exclusive PPV before WrestleMania, we should see multiple rivalries and title challenges set in stone. The match card may be small, but there is a lot of potential for this to be a real sleeper hit of a PPV. Lets take a look…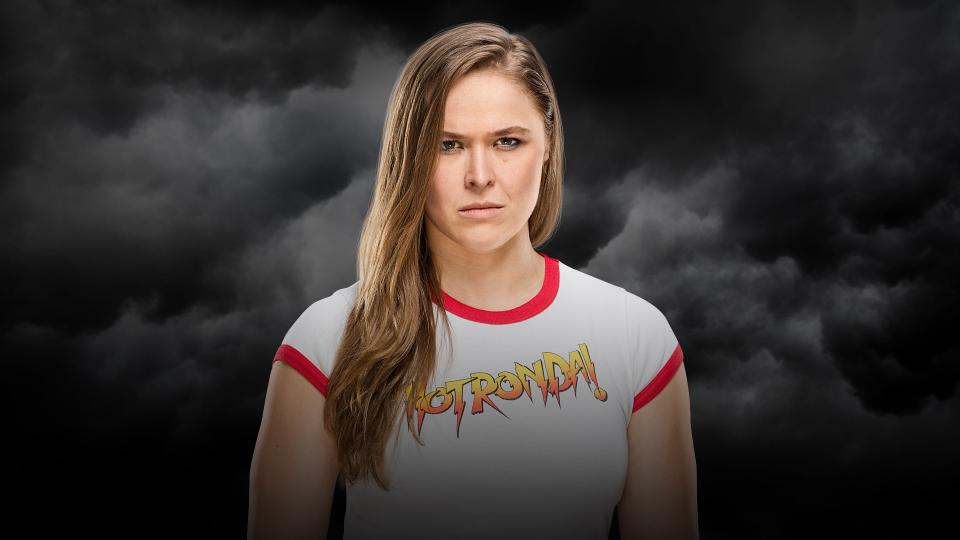 Ronda Rousey Contract Signing
Ronda Rousey joining WWE was one of the worst kept secrets in the companies history, and although I may be on my own here, I applaud WWE for the way they introduced her at the Royal Rumble. The moment was iconic and was a huge talking point but not to the point where it took anything away from Asuka's historic moment and performance. Nobody looked weak, all 4 women stood tall in the ring and the arrival opened us up to a whole world of theories and possibilities. The announcement that Rousey would be signing her WWE contract in ring on Sunday night makes a huge deal of sense, as this is one of the most barebones match cards I have ever seen for a PPV so close to WrestleMania.
We could see any one of a number of things go down – A stare-down or confrontation between Rousey and another superstar, the introduction of a manager to help cover the cracks in her character (or lack thereof) or the more obvious (and my personal prediction) of a confrontation with Stephanie McMahon. This one makes the most sense as at this current moment in time it seems unlikely that Rousey will be going after one of the belts… these storylines have pretty much written themselves already. Consider this – Steph wants retribution for The Rock and Ronda embarrassing her and HHH at WrestleMania 31… HHH still hasn't forgotten about Braun Strowman beating him down as the curtains dropped at Survivor Series… how about a good old-fashioned tag match?
Prediction: The contract signing goes south quickly. Stephanie and Ronda end up scrapping to set up their Wrestlemania bout.
Bold Prediction: Rousey hesitates while signing, asks for someone to come and check over the contract… "LADIES AND GENTLEMEN" …
The Bar (c) v Titus Worldwide –RAW Tag Team Championship
If you had told me a year ago that Titus Worldwide would be challenging for the tag titles at a PPV two months before WrestleMania I would've spat in your face and called you a scoundrel. How on earth is this match even taking place, and how on earth do WWE expect us to care? Sure, TW have picked up a few unexpected cheap victories recently, but if Titus and Apollo come out of this as the new champs I will eat my own face. As much as I complain that the Raw tag team scene doesn't have enough diversity and variety, this is surely not the way to go when a team as legitimately badass as The Revival are sitting around doing nothing.
Prediction: The Bar win because Vince McMahon will have truly gone mad if they don't.
Bold Prediction: WWE realise we don't want the same match with the same guys every damn week and call up either AOP or SAnitY.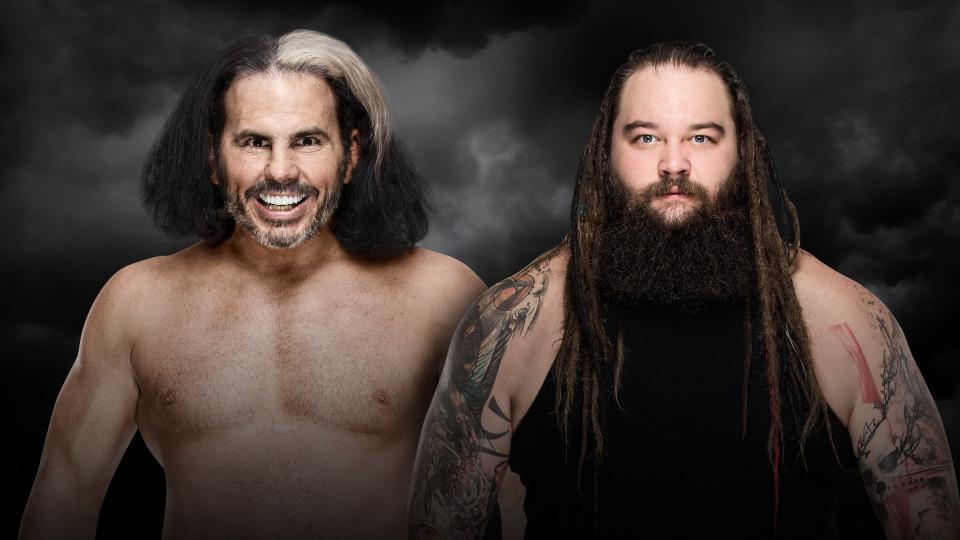 Matt Hardy v Bray Wyatt
Hmm… does anyone even care anymore? The Woken Matt character had so much promise but has very quickly lost all steam. WWE have reduced a gimmick with such potential into 'the guy who had a funny laugh' and that's about is really. The crowds have been less and less behind him with a really noticeable absence of cheers, and any remaining fans are surely only there because of the fond memories from his run with the character in TNA. That was when he was able to run with the character and was allowed to make his own creative choices, but WWE have given us such a watered-down version that it's hard to really get invested anymore.
I was once the biggest fan of Bray Wyatt, but lacklustre feuds with Seth Rollins and Finn Balor, and the same promo every week have really done him a lot more harm than good. This is a guy who not so long ago was WWE Champion, defending the belt at WrestleMania against the legend Randy Orton… less than a year later he's dressed up in drag pretending to be his dead sister. I'm praying we get to see Jeff returning as Brother Nero either during or after the match to generate some real interest, and if the rumours circling the internet concerning his return to health are anything to go by… the WWE Universe may become BROKEN very soon.
Prediction: Matt Hardy wins clean in an uninspiring match.
Bold Prediction: Jeff Hardy/Brother Nero returns to help Matt win.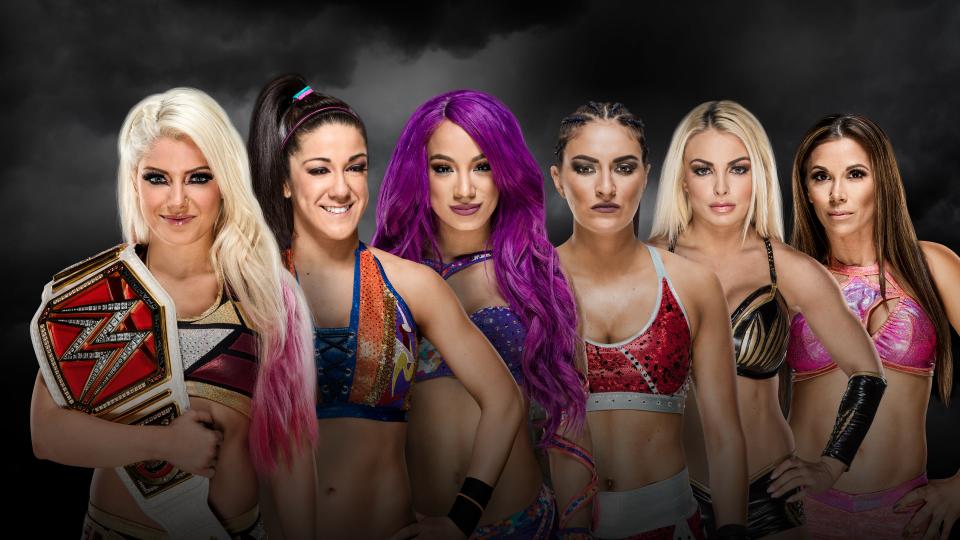 Women's Elimination Chamber – RAW Women's Championship
WWE have really delivered on their promise to create history and push the women to the forefront of the company over the past year. So far we have seen the first ever Women's Money in The Bank, which was unfortunately horribly booked, and more recently the first ever Women's Royal Rumble match which was surprisingly good even though the women of the past completely outshone the current crop of superstars. Next stop on the Women's Revolution train is the first ever Women's Elimination Chamber match. We will see Bayley, Sasha Banks, Sonya Deville, Mandy Rose and Mickie James battle it out in the demonic structure attempting to dethrone the current Raw Women's Champion and Goddess of WWE, Alexa Bliss.
The timing of this title match is a little strange and makes it far too predictable to most fans as to who will come out victorious. This is exactly why I'm going to buck that trend and go with Bliss dropping the title to Sasha Banks inside the chamber. Why? Because Asuka is going to beat Nia Jax on Sunday which means Nia is out of the title picture altogether. We were teased with cracks forming in the relationship between Bliss and Nia but that storyline just seemed to fade away into nothing, so now would be a great time to revisit the fractured friendship. With the belt on Sasha I can see a rivalry starting between her and Bayley, her long time best friend, with plenty of teases to Bayley turning heel along the way.
Prediction: Sasha Banks wins by pinning Bliss or Bayley.
Bold Prediction: Rousey or Nia somehow enter the match, laying out Banks after she wins and staking their claim for a Mania challenge.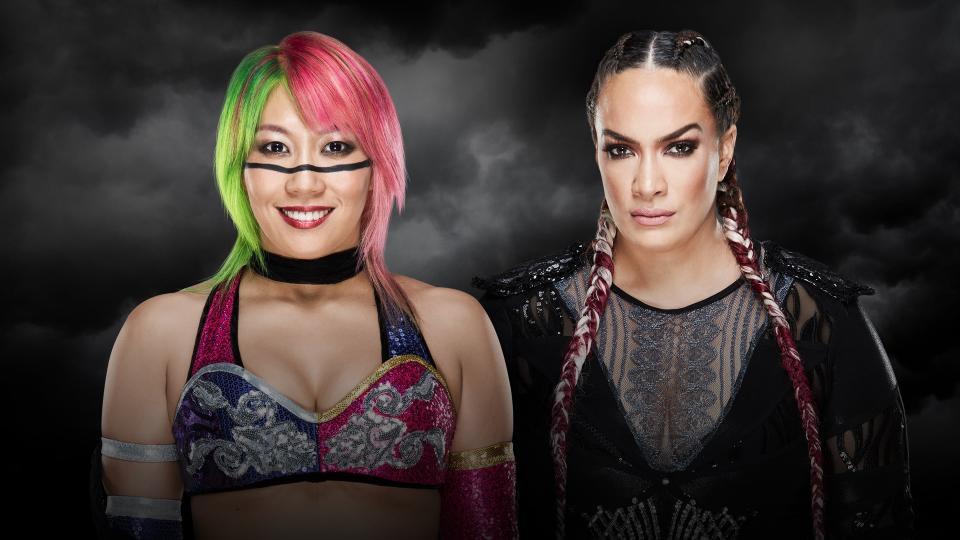 Asuka v Nia Jax
WWE have backed themselves into a corner here. Nia is the only woman on the RAW roster who can offer a legitimate challenge to Asuka, but there is no chance in hell Asuka will be losing this match and having the streak broken. Unless WWE throw a curveball and have Jax win by count-out or DQ, meaning the title match at Mania becomes a triple threat and thus preserves Asuka's undefeated streak. And before you say 'but Jax winning means Asuka loses the streak', you should probably remember that Asuka has lost a battle royal during her time in NXT… to EVA MARIE of all people, yet is still down on paper of undefeated.
The main topic of discussion in the women's division is still focused on who Asuka will challenge at WrestleMania. I would expect us to find out straight after this match, and I'm expecting Asuka to choose Charlotte on SDLive. If the match on Sunday goes to plan there will be no-one left on RAW for Asuka to face, so switching brands makes the most sense and would give us a fantastic contest between the two most talented females in the company and finally gives Charlotte a legitimate challenger, something sorely lacking on the blue brand.
Prediction: Asuka wins a very poor match and challenges Charlotte.
Bold Prediction: Rousey (are you noticing a theme here?) interferes and takes out Asuka, causing Jax to lose by DQ and setting up a Mania match. At this point I'm pretty sure I have Rousey in about 4 matches so far!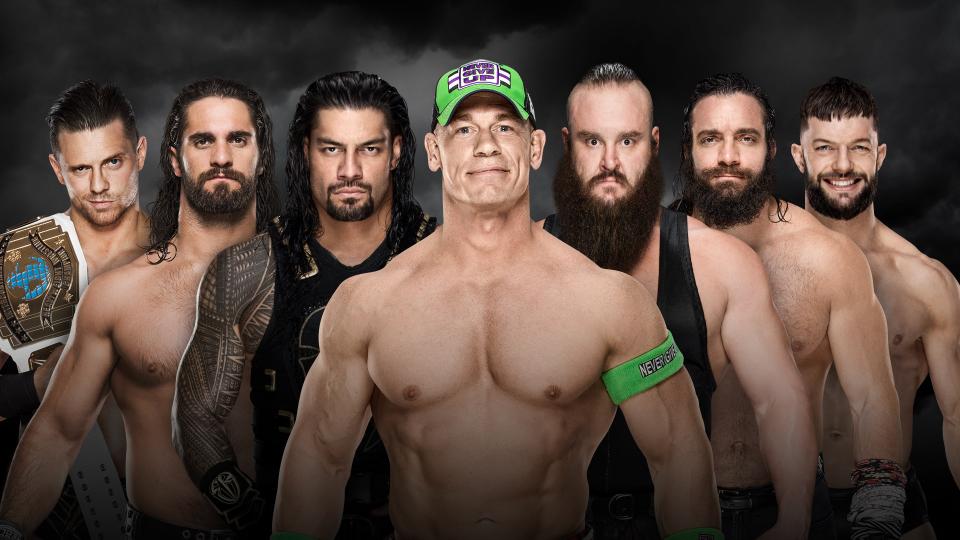 Men's Elimination Chamber – Winner faces Brock Lesnar at WrestleMania for the Universal Championship
Roman Reigns will win the Elimination Chamber match and you can bet your house on that. No last minute booking shift is going to change that, and it has been set in stone for nearly a year now since Lesnar defeated Goldberg for the championship and Reigns defeated The Undertaker at WrestleMania 33. The simplest and most direct route for Roman to obtain the title opportunity is by winning the chamber match, and requires the least amount of creative booking on WWE's part. 
This match is surely going to be an early contender for match of the year when you consider the calibre of the talent involved. All 7 men would be very legitimate champions, but one of them stands quite literally head and shoulders above the rest. Braun Strowman will undoubtedly be the star of this match and I would expect him to cause some real destruction to carry on his trend of tearing everything apart from recent months.
This match opens up a lot more opportunities than just the UC scene. Depending on who eliminates who, we could very well see the continuation of Elias v John Cena, the start of either Strowman or Finn going after The Miz's Intercontinental Championship… and we still have Samoa Joe to return into of those scenes. At the end of the day though I'm still expecting Roman Reigns to win this one, we know he will be facing and dethroning Lesnar at Mania regardless. I sort of don't even mind anymore.. at least Roman would be around full time, it would just be lovely to have a little less predictability all the bloody time. If I'm booking this match, I would reward Rollin's consistently fantastic performances by having him win the chamber match, pinning Roman to do so, and over the next 2 months it somehow turns into a triple threat match at Mania.
Prediction: Roman Reigns wins because… Roman Reigns.
Bold Prediction: Strowman destroys the Elimination Chamber, all 4 pods, rips apart one of the walls and eats all of the steel.
Third Prediction: Roman… Reigns.
---
Always Use Your Head and visit the official Pro Wrestling Tees store for The Chairshot All t-shirt proceeds help support the advancement of your favorite hard-hitting wrestling website, The Chairshot!

---
Now Is The Time For WWE To Experiment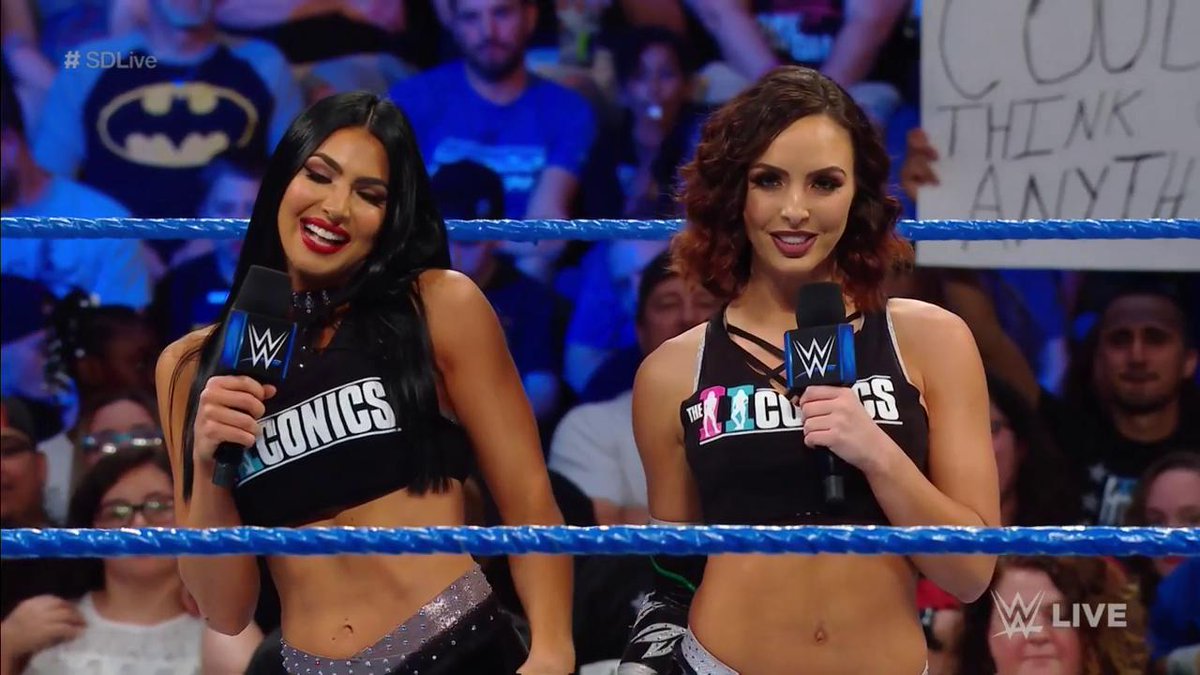 Few people will doubt my bonafides as a fan of WWE. I've been watching almost nonstop since the summer of 1990. I lasted through the sex scandals & the lean years of the mid-90s. I stuck with the company through the doldrums they went through after everybody else went out of business. I've been around for John Cena's entire career & I'll make it through Roman Reigns' as well.
With all of that being said, my fandom has ebbs & flows. My interest level in WWE falls right around this time every single year. Once the calendar flips over to September, other things start competing for my attention. The TV ratings & other metrics used to determine level of interest in WWE indicate that I'm not the only one. There are a lot of things competing for our attention as we head into autumn.
Of course, there's the beast that is the NFL. No matter what type of a hit the league has taken from becoming a political hot-button topic, they still dominate the landscape. Sunday Night Football & its status as the top-promoted game each week pretty much kills the wrestling PPV business. Monday Night Football puts a dent in Raw's most weeks. Add in the college flavor, and that's a good percentage of people's weekends booked.
Baseball is heading into its postseason. Not such a big deal where I live, but most of WWE's major markets have baseball teams that are involved. Fans of the Sawx, Yanks, Cubs & other top teams are all into that right now.
The NBA is still pumping out storylines & trade speculation. It's becoming a year-long thing. I mean, Jimmy Butler is pretty far down my list of compelling figures in the association, but people are still going crazy over his potentially leaving Minnesota.
Hockey's almost back. That takes up most of Canada's free time. Speaking of which, I need to write about the Predators at some point.
Heck, when we think about legendary sports figures making unexpected comebacks, anything Shawn Michaels can pull off will pale in comparison to what Tiger Woods is doing. Golf is becoming a thing again, folks.
There isn't just sports. I'm not big into TV series until after they go off the air, but my best friend watches too many of them to count. The fall season starting inevitably leads to him complaining about how there's way too much stuff to watch & not enough time.
No matter what WWE does this time of year, American interest goes down. It never fails. They could be running five-star matches every single week. Wouldn't matter. Some of their wrestlers could be cutting some of the greatest promos ever, which would be replayed for decades afterward like they were Dusty Rhodes or something. Wouldn't matter. They could bring back every legend under the sun to try & get attention. America's attention would still be elsewhere.
WWE's next three major shows are a bit outside the box. Super Show-Down takes place on Saturday, October 6 in Melbourne, Australia. Evolution is an all-woman show being held on October 28 at the Nassau Coliseum. Then we've got Crown Jewel, the second all-man show taking place in Saudi Arabia this year. That'll be on Friday, November 2. Three brand new extravaganzas. Two are taking place outside the United States. One is a brand new concept to WWE. All three make sense to me, especially during this time of year.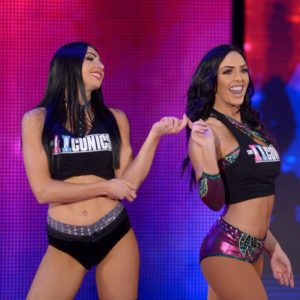 If Americans aren't as interested in WWE during this period of the year as they are during WrestleMania season or the summer or whenever else, why not try to engage other markets? Australia has seen yearly tours from WWE since 2002, but they've never held a PPV event in the Land Down Under. They do enough business on these tours to keep coming back, and we've seen the pipeline of female Australian talent start to bear fruit with the likes of Emma & the Iiconics. I see no reason not to give Australian WWE fans a major event of their own.
I'm not as cool with the House of Saud as many of my colleagues at the Chairshot. I'm not as sold on Triple H's ability to effect change in the Kingdom & convince Mohammad bin Salman to let WWE's female competitors wrestle in Power Ranger outfits someday. I watched very little of the Greatest Royal Rumble event. I only watched the Rumble match because I like Rumble matches, and Styles vs. Nakamura because I thought that was a big deal at the time. I can't comment on the propaganda aspect because I avoided it.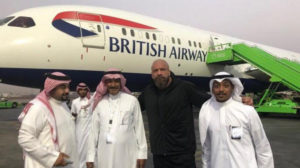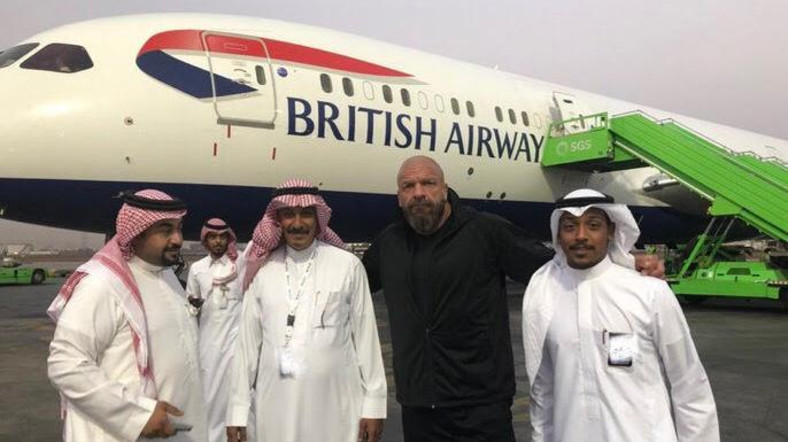 I get the capitalistic part of it, and recognize that there isn't a wrestling promoter that ever existed that would turn down the money that WWE got paid to run events in the country. If anything ever fit my podcast catchphrase "It is what it is", this would be it. WWE can run events there. Nobody's forcing people to watch them, at least not here anyway. I don't know if this is like the North Korean wrestling shows where people were forced to attend or not.
What better time to run shows in an unpopular country here than a time of the year when we're not paying attention? Makes sense to me!
There's been some word around the campfire that Shawn Michaels will make his big in-ring comeback in Saudi Arabia. The Saudis have even implied that Hulk Hogan will be on this show, which given their social record would make sense. I can see the argument against both of these returns happening on this show, but I can also see the returns building the hype for something more, like an eventual HBK match at WrestleMania. I think of it as an experiment. If Michaels can't go anymore, a match on this show isn't a big enough stage to kill his legacy. If it works out and he wants to do more, his eventual return on American soil will draw more money.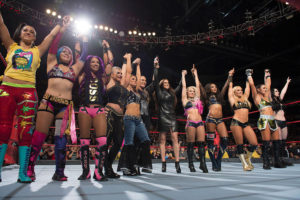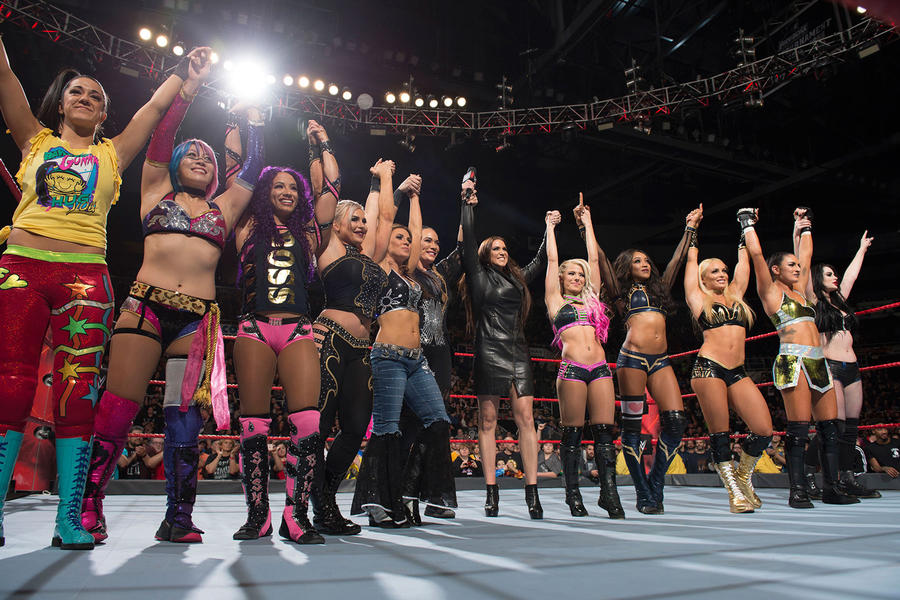 Then we got Evolution sandwiched in the middle of the Australia & Saudi Arabia events. #GiveDivasAChance has come a long way, no doubt about it. How many times have we commented about the NXT women stealing the show, or the Horsewomen getting the strongest reactions, or Alexa Bliss & Carmella being the best heel champions on the whole roster? The women getting their own show to themselves is long overdue, even if the reverse sexism people want to try and make hay out of it. Tough luck, guys. Go find some male vs. male customs to watch instead.
If you're going to try a new PPV concept, why not iron it out this time of year? Nobody expects WWE to get this right the first time around. We'll have some awkward dream matches. There will be Bellas involved. I'll love it for that, most online people won't. Some key performers like Alexa Bliss & Sasha Banks are currently injured and hopefully that won't mess things up too much.
If it does…hey, it's in October! Nobody's watching anyway. If the show bombs we can blame it on the competition from everything else in the world. Football, baseball, TV, the upcoming mid-term election, whatever.
This is the perfect time of the year for experimentation. I applaud WWE for taking advantage of it, even if I won't fully pay attention.
---
Always Use Your Head and visit the official Pro Wrestling Tees store for The Chairshot All t-shirt proceeds help support the advancement of your favorite hard-hitting wrestling website, The Chairshot!

---
WWE Hypocrisy With Women's Wrestling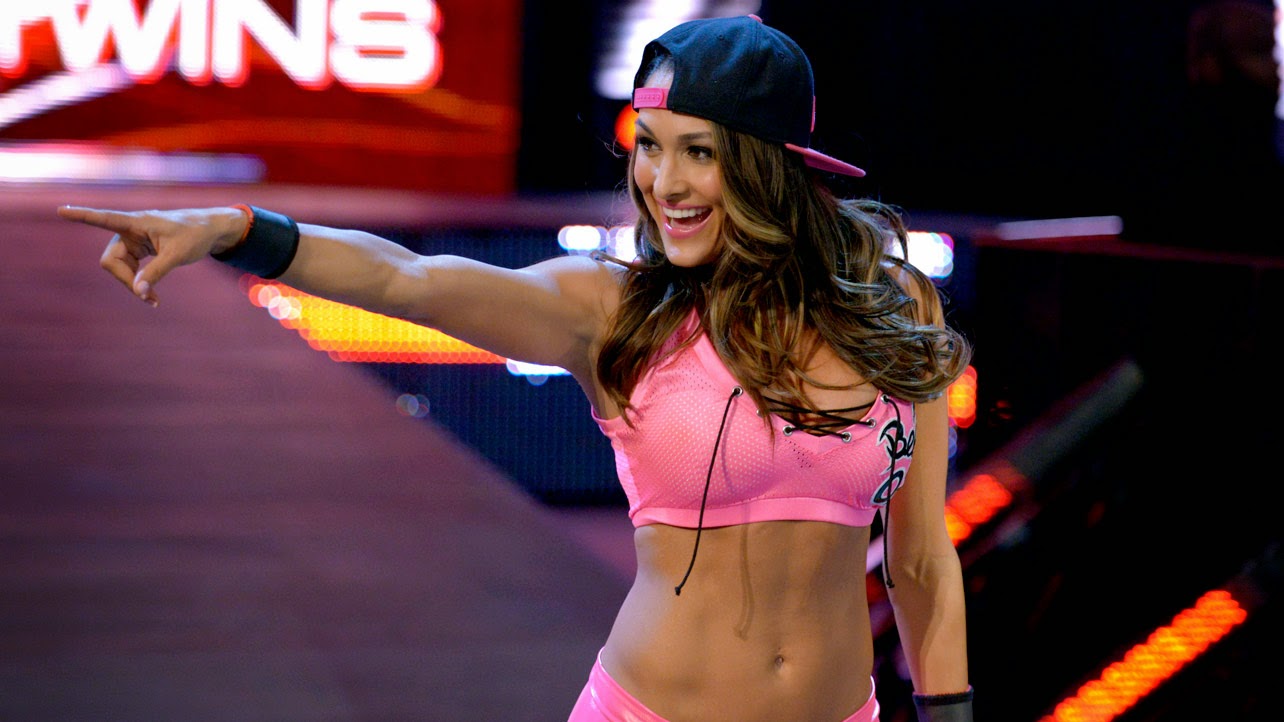 WWE has a rocky history with their involvement with Women's wrestling. For a long time, women in WWE were looked only looked like eye candy for the male audience of the WWE programming and in a lot of ways women are still looked like eye candy for some WWE higher ups of the promotion run by Vince McMahon.
The look of a wrestler has always mattered in WWE no matter the gender, but women in WWE have always in a way had it harder than  men in a lot of ways. Vince McMahon has always preferred blonde female wrestlers with big breasts with lacking wrestling ability. Let's remember the case of AJ Lee, a higher up in WWE told her that she was not attractive despite the fact is that Lee is a beautiful woman but she did not have the WWE look and instead The Bellas who have the WWE female look they want were pushed over her.
WWE likes to give credit to The Bellas as the starters of the ''women's revolution'' with Stephanie McMahon as the mastermind but this is far from the truth. All the credit to this women's revolution should be thanked to Triple H and the 4 Horsewomen of WWE, whom with outstanding performances let the way to the current state of women's wrestling in WWE and bring hope to the future to women's wrestling in WWE.
Despite all the progress WWE has made in terms of women's wrestling there are still some things that haven't change. For example, Vince McMahon likes blonde wrestlers in a big way or the fact some female wrestlers have to make a breast augmentation surgery, so they could be pushed is still in WWE. The last match that not included a Blonde wrestler in a WWE women's title match was October of 2014 in a match between Paige and AJ Lee. Making clear Vince McMahon and WWE creative have a type.
WWE accepting doing the Saudi Arabia show is throwing to the garbage all the progress made in women's wrestling since 2015. The fact WWE is going to make shows in a country were women are not allowed to performed is bad already but the worst offence is the fact they do propaganda saying Saudi Arabia is this progressive country when in reality women are still treated as second class citizen and some of the progress they are making is still being tried to reverse back to some of the laws and rules against women they had.
The biggest mistake WWE could do in their history is promoting the Saudi Arabia show Crown Jewel in the first ever female PPV Evolution and the fact this is most likely to happen makes Evolution become from a celebration of women's wrestling to a mediocre apology to the women in WWE.
WWE calling themselves moral compasses is just wrong when we can still see in the current state of the promotion that there is a lot to work to be done to improve women's wrestling in WWE instead when WWE Is making the right steps it makes 10 steps backwards with Crown Jewel for the sake of money when they like to tell the fans they are doing this for social and cultural change which is far from the truth. Maybe with Triple H in charge we will see more change for the positive in all divisions of WWE specially for the women.
---
Always Use Your Head and visit the official Pro Wrestling Tees store for The Chairshot All t-shirt proceeds help support the advancement of your favorite hard-hitting wrestling website, The Chairshot!

---
Fake Sport, Real Numbers: WWE Wins & Losses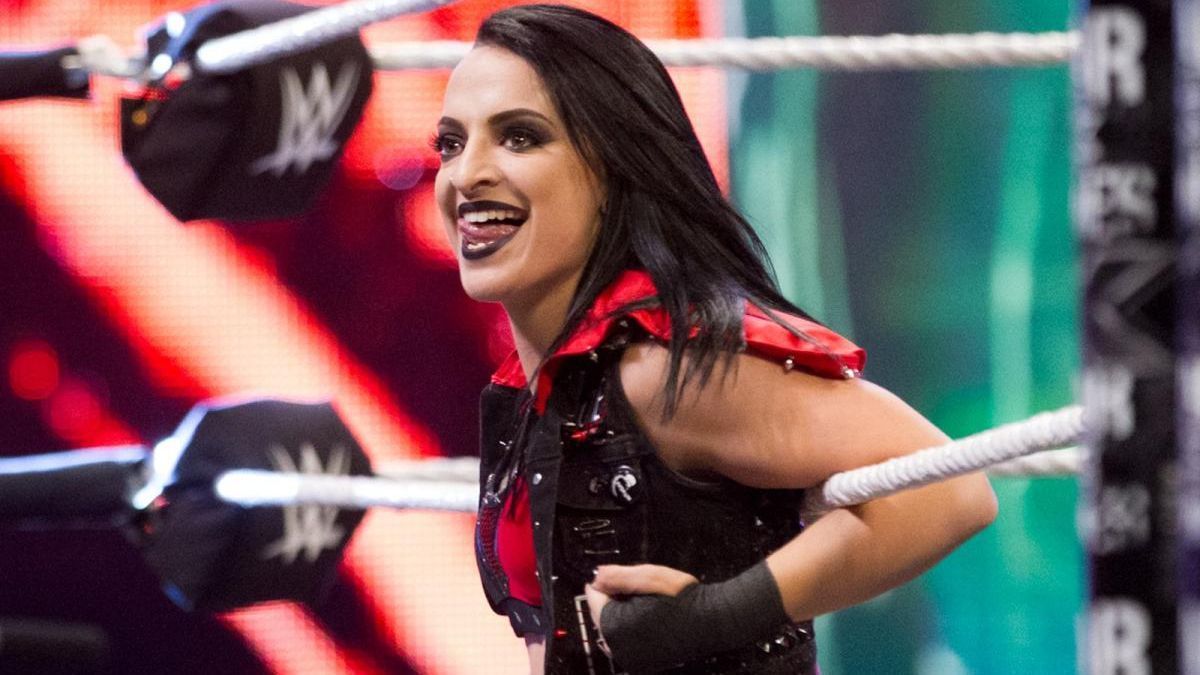 Samoa Joe has a worse record than Sarah Logan? Five tag teams have the same winning percentage as Curt Hawkins? Dean Ambrose is just a guy already? Silly wins and losses! If you only mattered in WWE!
Note: All records mentioned below pertain to the period since WrestleMania 34.
What do you know, these win/loss records aren't completely detached from reality! For example, now that Raw Women's Champion Ronda Rousey has dispatched with Alexa Bliss, it appears she's the target of Ruby Riott, who happens to be, by record (11-4), the rightful number one contender. Indeed, Riott and her whole Squad have some of the more respectable records on Raw. We can assume those will suffer as all three women will likely be fed to Rousey one-by-one in the coming weeks, but if they can step up their extracurricular chaos-making, they'll pose believable threats to the champ. After Riott, the standings don't offer many challengers to Rousey. Perhaps Nia Jax will demand some reciprocity for the title shot she offered Rousey earlier this year. Sasha Banks and Bayley have the popularity to cut in line and make Rousey back up her claim of being a fighting champion, and fans would probably ignore the fact that they are a combined 13-24.
The records below spark plenty more questions about the state of WWE a week after its Hell in a Cell event. . . .
ODD MAN OUT
Roman Reigns is the Universal Champion, poised to carry the belt over one shoulder and WWE's flagship show on both. Seth Rollins is a weekly highlight with the workhorse title, the WWE Intercontinental Championship. Meanwhile, fellow Shield member Dean Ambrose is newly returned from nearly a year on the DL, and at 2-2 hasn't exactly enjoyed any comeback momentum. Even if he does manage to pick up some wins soon, is he likely to set his sights on his brothers' championships? A better use of the Lunatic Fringe might be matching him up against Braun Strowman once The Monster Among Men and Reigns take a break from the dance they're destined to do forever.
If WWE's recent attempt to make a villain of Becky Lynch has only fortified her fanbase, its similar shot at making Braun a bad guy has left the WWE Universe confused. Somehow the company's biggest brute has produced the heel turn equivalent of a limp handshake. Months of Ambrose absorbing Strowman's superhuman beatdowns could be just the thing to turn the fans against him. His various attempts to murder Reigns over the last year and a half only made the crowd fall in love with him because they generally wouldn't mind seeing Reigns crushed in an ambulance. But they mostly like Ambrose.
SOLITARY
The Usos are 1-6 in the WWE tag team division, but 6-2 outside of it. Time for an amicable break-up to pursue singles glory? Or for Jimmy Uso to sharpen his announcing, and pencil, skills?
FALL FROM GRACE
Sixteen active current or former world champions are sitting at .500 or better, but 12 have sub-.500 success. Of course, pointing out that statistic risks burying the lede; on a roster of about ninety active competitors, 28 can say they've been a world champ. That's just world titles. And most of those reigns occurred this decade. And, obviously, that number doesn't include former roster members, and former champions, like CM Punk or AJ Lee or Alberto Del Rio or the returning Rey Mysterio, who have also captured world championship gold in recent years before leaving WWE. What's worse, that so many people have been tested out in the top spot over the years, or that so many are portrayed as losers now?
NO WINS SITUATION
Five active tag teams have yet to win a two-on-two tag match since WrestleMania. Toss in the Good Brothers and the Usos, and that number rises to . . . two. If we've been paying attention, the takeaway is this: If you're a singles wrestler, there's a decent chance you'll climb to the mountaintop; if you're in the tag team division, there's a decent chance you'll be stabbed to death by your sherpa over a poker dispute before you ever get to the mountain.
KO-MIZ-ERATING
Former WWE world champions Kevin Owens and The Miz are a combined 10-28. You're literally better off picking Lana to win a match.
Finally, Would You Believe . . . ?
. . . New Day are downright dominant as a tag team (6-1), but no better than .500 in matches outside the tag division?
. . . Rollins and Finn Balor have combined for fifty matches on WWE television since WrestleMania? And Owens has been part of 22 (and, yes, has only won five)?
. . . Jinder Mahal has the same record as Liv Morgan?
. . . Sheamus has just one more win than R-Truth, including singles and tag team matches? And even though he's wrestled in five more matches? What's up with that, fella?
THE FULL LIST!
| | | | | | | | | |
| --- | --- | --- | --- | --- | --- | --- | --- | --- |
| RAW | W | L | % | | SMACKDOWN LIVE | W | L | % |
| Ronda Rousey | 5 | 0 | 1.000 | | Kane | 1 | 0 | 1.000 |
| Nikki Bella | 2 | 0 | 1.000 | | Jimmy Uso | 5 | 1 | .833 |
| Roman Reigns | 16 | 5 | .761 | | Zelina Vega | 4 | 1 | .800 |
| Braun Strowman | 17 | 6 | .739 | | AJ Styles | 11 | 4 | .733 |
| Bobby Lashley | 11 | 4 | .733 | | Becky Lynch | 10 | 4 | .714 |
| Ruby Riott | 11 | 4 | .733 | | Asuka | 7 | 3 | .700 |
| Seth Rollins | 17 | 8 | .680 | | Charlotte Flair | 11 | 5 | .687 |
| Apollo Crews | 2 | 1 | .666 | | Andrade Almas | 10 | 5 | .666 |
| Nia Jax | 6 | 4 | .600 | | Brie Bella | 2 | 1 | .666 |
| Sarah Logan | 7 | 5 | .583 | | Cesaro | 2 | 1 | .666 |
| Ember Moon | 11 | 8 | .578 | | Shinsuke Nakamura | 8 | 5 | .615 |
| Natalya | 9 | 8 | .529 | | Daniel Bryan | 11 | 7 | .611 |
| Rezar | 1 | 1 | .500 | | Jeff Hardy | 12 | 8 | .600 |
| Curtis Axel | 3 | 3 | .500 | | Eric Young | 4 | 3 | .571 |
| Brock Lesnar | 1 | 1 | .500 | | Randy Orton | 4 | 3 | .571 |
| Dean Ambrose | 2 | 2 | .500 | | Naomi | 5 | 4 | .555 |
| Mojo Rawley | 4 | 4 | .500 | | Rowan | 2 | 2 | .500 |
| Dash Wilder | 2 | 2 | .500 | | Luke Harper | 3 | 3 | .500 |
| Scott Dawson | 2 | 2 | .500 | | Xavier Woods | 5 | 5 | .500 |
| Finn Balor | 12 | 13 | .480 | | Maryse | 1 | 1 | .500 |
| Elias | 5 | 6 | .454 | | Jey Uso | 1 | 1 | .500 |
| Bobby Roode | 6 | 10 | .444 | | Big E | 4 | 5 | .444 |
| Baron Corbin | 7 | 9 | .437 | | Rusev | 7 | 9 | .437 |
| Drew McIntyre | 3 | 4 | .428 | | Samoa Joe | 5 | 7 | .416 |
| Liv Morgan | 6 | 8 | .428 | | Carmella | 4 | 6 | .400 |
| Jinder Mahal | 6 | 8 | .428 | | Alexander Wolfe | 2 | 3 | .400 |
| Bo Dallas | 2 | 3 | .400 | | Lana | 3 | 5 | .375 |
| Dolph Ziggler | 4 | 6 | .400 | | Killian Dain | 2 | 4 | .333 |
| Alicia Fox | 2 | 3 | .400 | | The Miz | 5 | 11 | .312 |
| Alexa Bliss | 7 | 11 | .388 | | Aiden English | 1 | 3 | .250 |
| No Way Jose | 3 | 5 | .375 | | R-Truth | 1 | 3 | .250 |
| Bayley | 6 | 11 | .352 | | Peyton Royce | 2 | 6 | .250 |
| Sasha Banks | 7 | 13 | .350 | | Karl Anderson | 1 | 3 | .250 |
| Titus O'Neil | 1 | 2 | .333 | | Kofi Kingston | 2 | 7 | .222 |
| Chad Gable | 2 | 5 | .285 | | Mandy Rose | 2 | 7 | .222 |
| Kevin Owens | 5 | 17 | .227 | | Billie Kay | 2 | 8 | .200 |
| Mickie James | 2 | 9 | .181 | | Shelton Benjamin | 1 | 5 | .166 |
| Dana Brooke | 1 | 5 | .166 | | Sheamus | 0 | 2 | .000 |
| Akam | 0 | 2 | .000 | | Luke Gallows | 0 | 3 | .000 |
| Matt Hardy | 0 | 3 | .000 | | Big Cass | 0 | 4 | .000 |
| Fandango | 0 | 1 | .000 | | James Ellsworth | 0 | 1 | .000 |
| Tyler Breeze | 0 | 4 | .000 | | Primo Colon | 0 | 1 | .000 |
| Curt Hawkins | 0 | 5 | .000 | | Shane McMahon | 0 | 1 | .000 |
| Goldust | 0 | 1 | .000 | | Sin Cara | 0 | 5 | .000 |
| Heath Slater | 0 | 1 | .000 | | Sonya Deville | 0 | 7 | .000 |
| Konnor | 0 | 1 | .000 | | Tye Dillinger | 0 | 3 | .000 |
| Kurt Angle | 0 | 1 | .000 | | | | | |
| Rhyno | 0 | 1 | .000 | | | | | |
| Sami Zayn | 0 | 6 | .000 | | | | | |
| Sunil Singh | 0 | 1 | .000 | | | | | |
| Viktor | 0 | 2 | .000 | | | | | |
| AoP | 10 | 0 | 1.000 | | New Day | 6 | 1 | .857 |
| Roode & Gable | 2 | 0 | 1.000 | | Bludgeon Brothers | 5 | 2 | .714 |
| Ziggler & McIntyre | 8 | 3 | .727 | | Rusev Day | 2 | 2 | .500 |
| Deleters of Worlds | 8 | 4 | .666 | | Team Hell No | 1 | 1 | .500 |
| B-Team | 6 | 5 | .545 | | Bar | 2 | 5 | .285 |
| Revival | 4 | 7 | .363 | | Good Brothers | 1 | 4 | .200 |
| Fashion Police | 1 | 4 | .200 | | Usos | 1 | 5 | .166 |
| Slater & Rhyno | 0 | 6 | .000 | | Colons | 0 | 1 | .000 |
| Titus Worldwide | 0 | 6 | .000 | | Sanity | 0 | 1 | .000 |
| Ascension | 0 | 7 | .000 | | | | | |
You can find more of Sam's work at https://thesamethingwrestling.blogspot.com!
---
Always Use Your Head and visit the official Pro Wrestling Tees store for The Chairshot All t-shirt proceeds help support the advancement of your favorite hard-hitting wrestling website, The Chairshot!

---