Chris Deez's WWE Elimination Chamber Predictions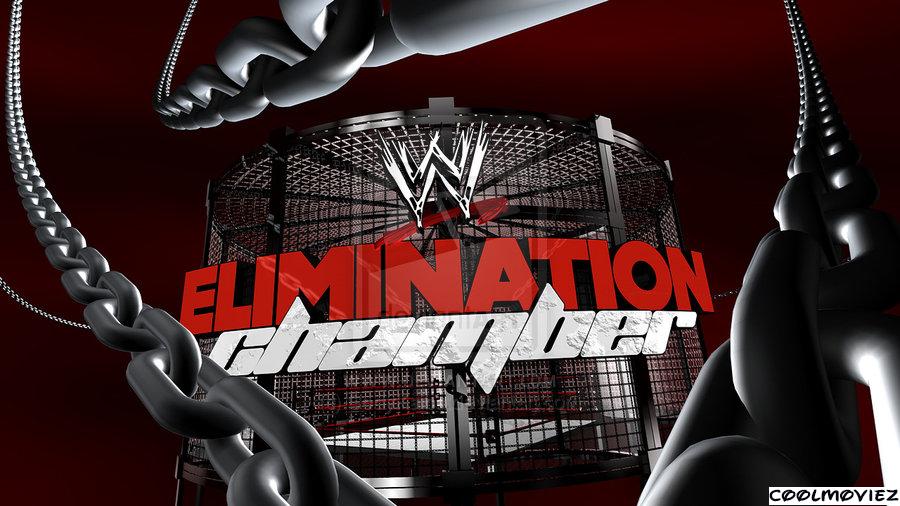 It doesn't feel like more than 5 minutes ago that we sat through one of the greatest weekends in WWE PPV history as we were treated to the incredible NXT TakeOver Philadelphia and the history making Royal Rumble within 24 hours of eachother, yet here we are again with WWE's next offering Elimination Chamber. With this being the last RAW exclusive PPV before WrestleMania, we should see multiple rivalries and title challenges set in stone. The match card may be small, but there is a lot of potential for this to be a real sleeper hit of a PPV. Lets take a look…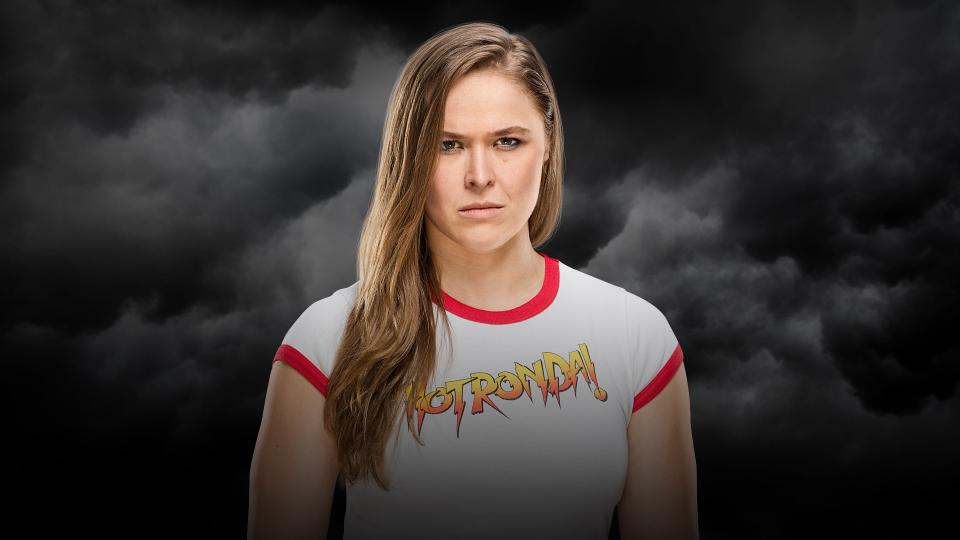 Ronda Rousey Contract Signing
Ronda Rousey joining WWE was one of the worst kept secrets in the companies history, and although I may be on my own here, I applaud WWE for the way they introduced her at the Royal Rumble. The moment was iconic and was a huge talking point but not to the point where it took anything away from Asuka's historic moment and performance. Nobody looked weak, all 4 women stood tall in the ring and the arrival opened us up to a whole world of theories and possibilities. The announcement that Rousey would be signing her WWE contract in ring on Sunday night makes a huge deal of sense, as this is one of the most barebones match cards I have ever seen for a PPV so close to WrestleMania.
We could see any one of a number of things go down – A stare-down or confrontation between Rousey and another superstar, the introduction of a manager to help cover the cracks in her character (or lack thereof) or the more obvious (and my personal prediction) of a confrontation with Stephanie McMahon. This one makes the most sense as at this current moment in time it seems unlikely that Rousey will be going after one of the belts… these storylines have pretty much written themselves already. Consider this – Steph wants retribution for The Rock and Ronda embarrassing her and HHH at WrestleMania 31… HHH still hasn't forgotten about Braun Strowman beating him down as the curtains dropped at Survivor Series… how about a good old-fashioned tag match?
Prediction: The contract signing goes south quickly. Stephanie and Ronda end up scrapping to set up their Wrestlemania bout.
Bold Prediction: Rousey hesitates while signing, asks for someone to come and check over the contract… "LADIES AND GENTLEMEN" …
The Bar (c) v Titus Worldwide –RAW Tag Team Championship
If you had told me a year ago that Titus Worldwide would be challenging for the tag titles at a PPV two months before WrestleMania I would've spat in your face and called you a scoundrel. How on earth is this match even taking place, and how on earth do WWE expect us to care? Sure, TW have picked up a few unexpected cheap victories recently, but if Titus and Apollo come out of this as the new champs I will eat my own face. As much as I complain that the Raw tag team scene doesn't have enough diversity and variety, this is surely not the way to go when a team as legitimately badass as The Revival are sitting around doing nothing.
Prediction: The Bar win because Vince McMahon will have truly gone mad if they don't.
Bold Prediction: WWE realise we don't want the same match with the same guys every damn week and call up either AOP or SAnitY.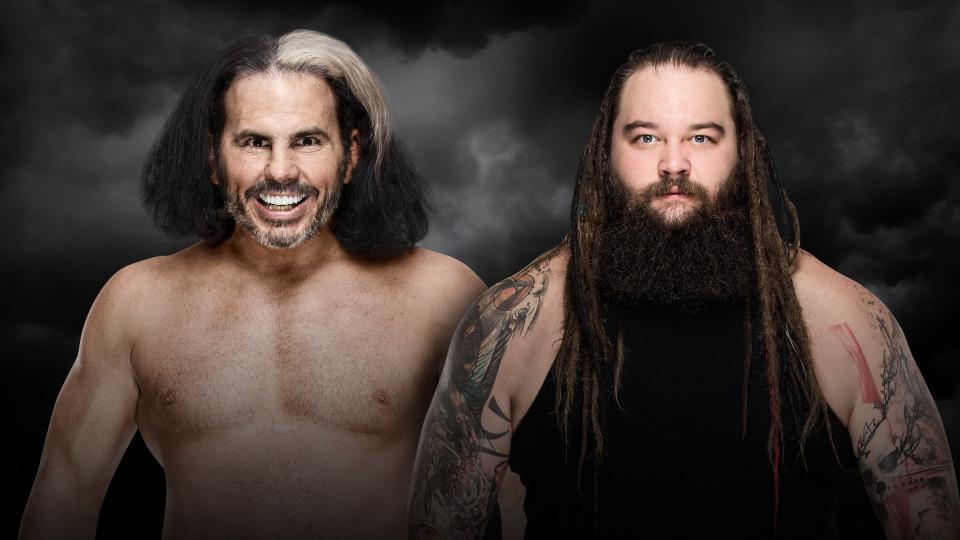 Matt Hardy v Bray Wyatt
Hmm… does anyone even care anymore? The Woken Matt character had so much promise but has very quickly lost all steam. WWE have reduced a gimmick with such potential into 'the guy who had a funny laugh' and that's about is really. The crowds have been less and less behind him with a really noticeable absence of cheers, and any remaining fans are surely only there because of the fond memories from his run with the character in TNA. That was when he was able to run with the character and was allowed to make his own creative choices, but WWE have given us such a watered-down version that it's hard to really get invested anymore.
I was once the biggest fan of Bray Wyatt, but lacklustre feuds with Seth Rollins and Finn Balor, and the same promo every week have really done him a lot more harm than good. This is a guy who not so long ago was WWE Champion, defending the belt at WrestleMania against the legend Randy Orton… less than a year later he's dressed up in drag pretending to be his dead sister. I'm praying we get to see Jeff returning as Brother Nero either during or after the match to generate some real interest, and if the rumours circling the internet concerning his return to health are anything to go by… the WWE Universe may become BROKEN very soon.
Prediction: Matt Hardy wins clean in an uninspiring match.
Bold Prediction: Jeff Hardy/Brother Nero returns to help Matt win.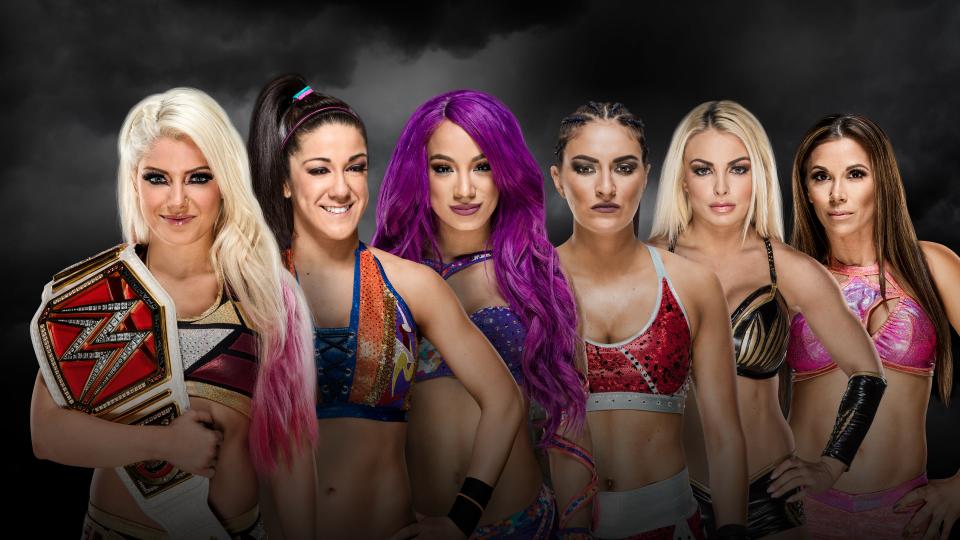 Women's Elimination Chamber – RAW Women's Championship
WWE have really delivered on their promise to create history and push the women to the forefront of the company over the past year. So far we have seen the first ever Women's Money in The Bank, which was unfortunately horribly booked, and more recently the first ever Women's Royal Rumble match which was surprisingly good even though the women of the past completely outshone the current crop of superstars. Next stop on the Women's Revolution train is the first ever Women's Elimination Chamber match. We will see Bayley, Sasha Banks, Sonya Deville, Mandy Rose and Mickie James battle it out in the demonic structure attempting to dethrone the current Raw Women's Champion and Goddess of WWE, Alexa Bliss.
The timing of this title match is a little strange and makes it far too predictable to most fans as to who will come out victorious. This is exactly why I'm going to buck that trend and go with Bliss dropping the title to Sasha Banks inside the chamber. Why? Because Asuka is going to beat Nia Jax on Sunday which means Nia is out of the title picture altogether. We were teased with cracks forming in the relationship between Bliss and Nia but that storyline just seemed to fade away into nothing, so now would be a great time to revisit the fractured friendship. With the belt on Sasha I can see a rivalry starting between her and Bayley, her long time best friend, with plenty of teases to Bayley turning heel along the way.
Prediction: Sasha Banks wins by pinning Bliss or Bayley.
Bold Prediction: Rousey or Nia somehow enter the match, laying out Banks after she wins and staking their claim for a Mania challenge.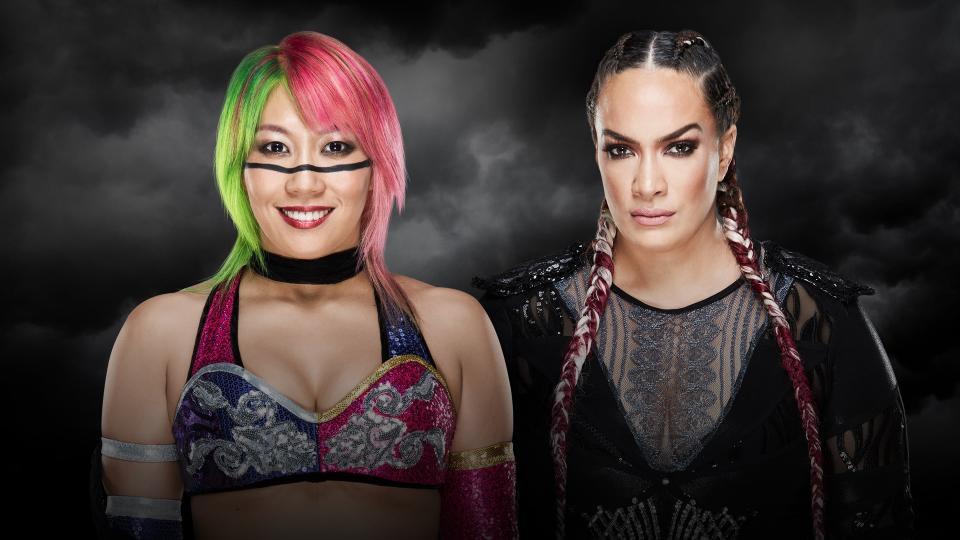 Asuka v Nia Jax
WWE have backed themselves into a corner here. Nia is the only woman on the RAW roster who can offer a legitimate challenge to Asuka, but there is no chance in hell Asuka will be losing this match and having the streak broken. Unless WWE throw a curveball and have Jax win by count-out or DQ, meaning the title match at Mania becomes a triple threat and thus preserves Asuka's undefeated streak. And before you say 'but Jax winning means Asuka loses the streak', you should probably remember that Asuka has lost a battle royal during her time in NXT… to EVA MARIE of all people, yet is still down on paper of undefeated.
The main topic of discussion in the women's division is still focused on who Asuka will challenge at WrestleMania. I would expect us to find out straight after this match, and I'm expecting Asuka to choose Charlotte on SDLive. If the match on Sunday goes to plan there will be no-one left on RAW for Asuka to face, so switching brands makes the most sense and would give us a fantastic contest between the two most talented females in the company and finally gives Charlotte a legitimate challenger, something sorely lacking on the blue brand.
Prediction: Asuka wins a very poor match and challenges Charlotte.
Bold Prediction: Rousey (are you noticing a theme here?) interferes and takes out Asuka, causing Jax to lose by DQ and setting up a Mania match. At this point I'm pretty sure I have Rousey in about 4 matches so far!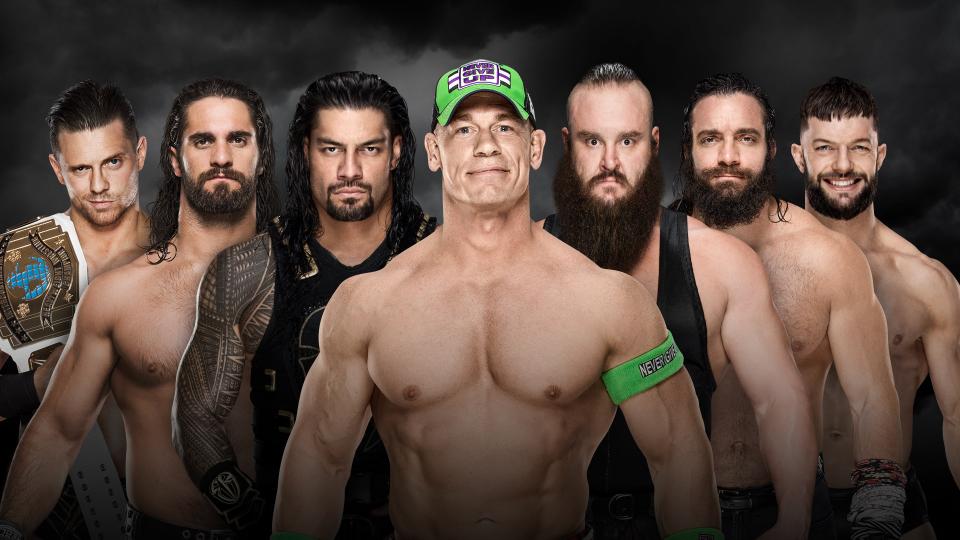 Men's Elimination Chamber – Winner faces Brock Lesnar at WrestleMania for the Universal Championship
Roman Reigns will win the Elimination Chamber match and you can bet your house on that. No last minute booking shift is going to change that, and it has been set in stone for nearly a year now since Lesnar defeated Goldberg for the championship and Reigns defeated The Undertaker at WrestleMania 33. The simplest and most direct route for Roman to obtain the title opportunity is by winning the chamber match, and requires the least amount of creative booking on WWE's part. 
This match is surely going to be an early contender for match of the year when you consider the calibre of the talent involved. All 7 men would be very legitimate champions, but one of them stands quite literally head and shoulders above the rest. Braun Strowman will undoubtedly be the star of this match and I would expect him to cause some real destruction to carry on his trend of tearing everything apart from recent months.
This match opens up a lot more opportunities than just the UC scene. Depending on who eliminates who, we could very well see the continuation of Elias v John Cena, the start of either Strowman or Finn going after The Miz's Intercontinental Championship… and we still have Samoa Joe to return into of those scenes. At the end of the day though I'm still expecting Roman Reigns to win this one, we know he will be facing and dethroning Lesnar at Mania regardless. I sort of don't even mind anymore.. at least Roman would be around full time, it would just be lovely to have a little less predictability all the bloody time. If I'm booking this match, I would reward Rollin's consistently fantastic performances by having him win the chamber match, pinning Roman to do so, and over the next 2 months it somehow turns into a triple threat match at Mania.
Prediction: Roman Reigns wins because… Roman Reigns.
Bold Prediction: Strowman destroys the Elimination Chamber, all 4 pods, rips apart one of the walls and eats all of the steel.
Third Prediction: Roman… Reigns.
The Good, Bad and Ugly: SmackDown Live 12.11.18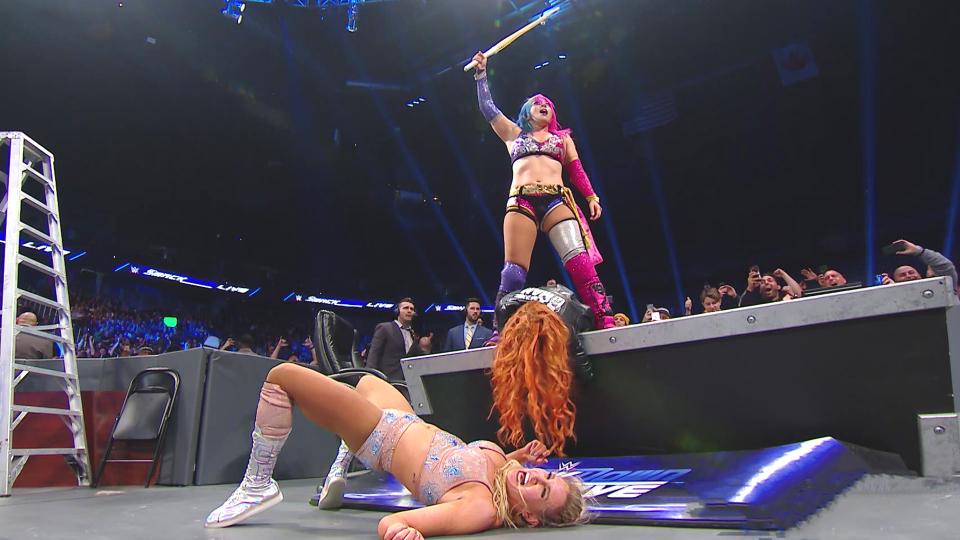 Does the TLC Go Home of SmackDown continue to build excitement, or does it go the way of Raw and help us all get to sleep earlier? Bobby let's us know how things are shaping up.
With Tables, Ladders and Chairs coming up this weekend, we had a semi-sweet Monday Night Raw.  The actual in ring action looked decent.  SmackDown is always looking bright, and tonight shouldn't disappoint.  What surprises are ahead on the Pre-TLC SmackDown?
The Good
Opening Promo w/ Daniel Bryan to Non-Title Match (WWE Champion) Daniel Bryan vs. Mustafa Ali
Daniel Bryan is solidifying his heel persona by continuing his onslaught on the general public and acting as wrestling's Smokey the Bear.  Shaming his once devoted fans, causing everyone to react in some way.  Daniel Bryan continues to pile on that his old self is now dead, and all of the fans are idiots.  Cheap pops and heat continued on.  Until luckily it was interrupted by Ali.  Mustafa Ali is a great talent.  He didn't do much of the talking here.  He mostly fell victim to Daniel Bryan spewing his agenda.  Ali went on to ask Daniel Bryan what's up with his new attitude, only to be disrespected with a slap to the face.  We saw a little action which gave us a taste of what is to come.  Daniel Bryan looked sharp.  His strikes were well done and was full of energy.  This evil, snapped gimmick is working well for him.  He wore down Ali,working the knee.  Old school, clean wrestling.  Ali had minimal offense but stuck to his high spots.  Even with the multiple interruptions and heavy commercials, this was a Good match.  After some incredible feats, Ali misses an inverted 450.  Daniel Bryan went on to tear Ali apart, making him tap to the "Heel Hook." Daniel Bryan Wins, a hot opening match. After the match, overkill set in, with Daniel Bryan viciously attacking Mustafa Ali up the ramp.  This wasn't needed but acted as a callous to Daniel Bryan's changeover to a heel. 
Randy Orton Promo
Orton wielding a chair went about showing off his previous torture of Rey Mysterio, questioning why anyone would want to have a chair match with a guy like him.  Just as he was about finished, Rey Mysterio attacked him out of nowhere, hitting Orton with a chair and a 619, causing Randy Orton to flee.  Not a bad promo.  Short and effective. 
Rusev and Jeff Hardy vs. Samoa Joe and Shisuke Nakamura
Rusev being involved is Good for business.  These four are some of the best in the business.  Rusev has the abilities to carry the WWE as the Heavyweight Champion. Much like a Bobby Roode, he has had moments of being overlooked, however that can change at any moment like we saw on Raw.  Pairing Shinsuke and Rusev is genius and a guaranteed winner.  WWE just has to let them work and it will be fantastic.  After being interrupted by an untimely dance off from Carmella and R-Truth, Shinsuke Nakamura brutally attacked Jeff Hardy from behind.  Samoa Joe continued the assault on Hardy.  This wasn't brilliant considering the talent here, but it was entertaining enough.  As the crowd showed everyone, Rusev when finally given the opportunity, delivered and looked Good in there.  He is a great talent all around.  After a devastating kick to the face, Rusev covers Nakamura for the Victory! 
Asuka vs. Charlotte
Going into this, how could it be Bad?  It really can't right?  First thing, it is a great Main Event, also,having Becky Lynch come out after the contenders were already in the ring was also great.  Charlotte looked completely flawless and confident.  This was very physical.  Asuka not to be outdone did some outstanding work.  Asuka kept after "The Queen" working her arms and beating her down. Charlotte and Asuka went back and forth most of the match.  Charlotte finally trapped Asuka into a "Figure 4" but getting reversed.  The two went back and forth fighting every second. This match was action packed.  Asuka repeatedly kicked Charlotte in the face, until Charlotte hits a spear.  After landing on her feet from a blocked moonsault, Charlotte then kicked out of a roll up from a countered "Figure 4".  Asuka hit the "Asuka Lock" that was countered sending Charlotte and Asuka to the floor. Charlotte then when psycho, Getting Disqualified for using her Kendo Stick.  Before Charlotte could go too far, Becky Lynch got her back, only to get attacked by Asuka.  Asuka went crazy with the Kendo Stick staking her claim of dominance.  Asuka Win!    
THE BAD:  N/A
THE UGLY
New Day Rap Battle:  Usos vs. The Bar
This style of promo has potential.  It can be really Ugly or really Good.  Depending how much cheese is involved vs.actual humor.  The New Day came out looking dapper and ready for the festivities. They are always ready to party.  The Bar had their Run DMC track suits and Flavor Flav clocks for decor.  That's where it ended with a cheese filled "Ice Ice Baby" to remedy their horrendous rap abilities.  The Uso's surprisingly were also not great at this.  This was a completely ridiculous,worthless segment.  Chalk this up as Ugly. 
Miz Promo (Shane McMahon and Miz vs. The Vegas Boys
Begging is just ridiculously over the top, especially in the current SmackDown setting.  It's cheap.  The Miz and Shane are both Good typically on the mic.  This was a smooth promo,however out of the blue Miz calls out a ref for a tag match.  This match was horrible.  Shane had more botches than I have ever seen.  This was absolutely Ugly all around.  Shane ended the debauchery by submission for the victory. 
Tally
Good:  4
Bad:  0
Ugly:  2
Final Results:  Good(ish)
Although the Good outweighed the Ugly on this one, we had some pretty Ugly moments.  More than I have seen on SmackDown in sometime.  This wasn't their strongest show among the past few weeks, but it worked. The highlight of the night was the Main Event!  TLC is Sunday and I would say thanks to SmackDown, we are ready to roll! 
How did you feel about this past SmackDown? Let us know on social media @theCHAIRSHOTcom and always remember to use the hashtag #UseYourHead!
Can a Queen of the Ring Event Work in Today's WWE?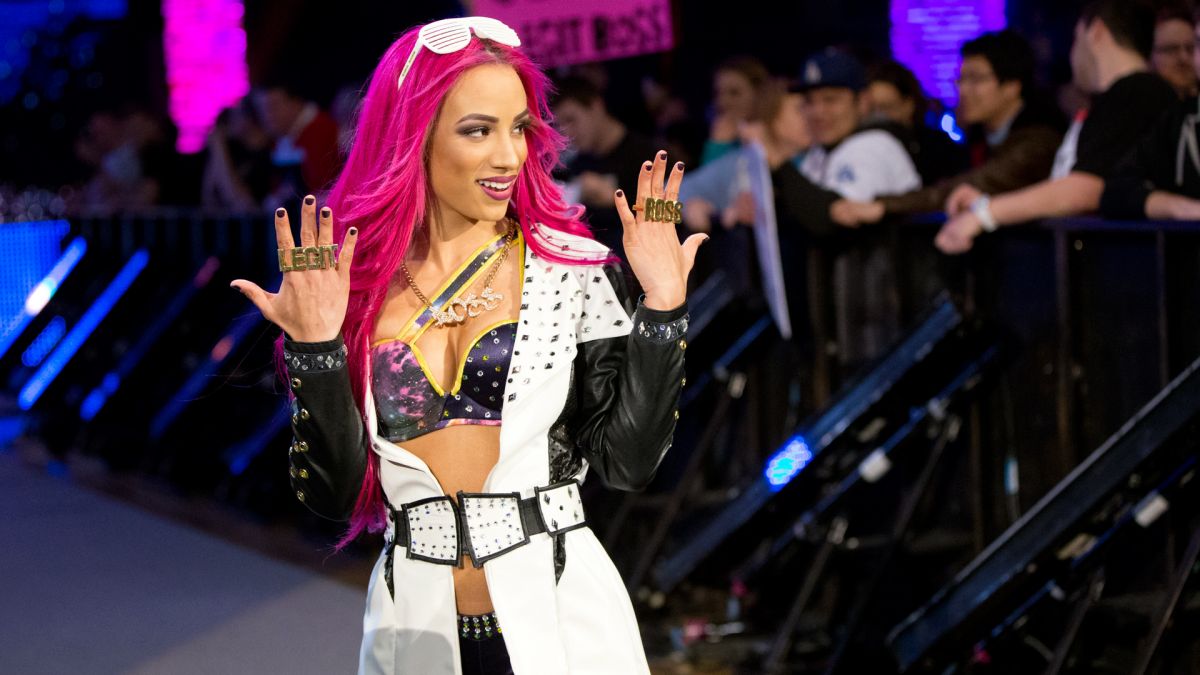 Rumors are swirling about WWE bringing back a throwback event for the next all-women's PPV.  A Queen of the Ring tournament sounds like a good idea as a focal point for the PPV considering the ever-evolving Women's Evolution.
Many fans remember the King of the Ring, which was considered one of the big five PPVs for WWE back in the 1990s.  King of the Ring had its ups and downs, but it was mostly known for the birth of Austin 3:16.  The iconic moment still stands the test of time twenty two years later, however others such as Owen Hart, Triple H, and Edge certainly benefited from the once-prestigious tournament.
After Brock Lesnar's win in 2002, King of the Ring slowly began to fade out. The last tournament was in 2015,where Bad News Barrett would later become King Barrett to celebrate the win. Before that was the infamous King Sheamus, who won the one prior back in 2010.
The allure and beneficial factor of King of the Ring definitely dissipated by the time it was brought back. King of the Ring used to be a big deal, meaning that the winner was definitely en route to a huge push or a WWE Championship opportunity down the road. The accolade was something that a few men could add to their list of accomplishments.
So let's fast forward to now with these Queen of the Ring ideas. Could this really work in today's WWE that is struggling to create lasting moments and new stars?
It depends on the commitment factor for the company; and that lies on the success and reception of the event if it did happen.  There is certainly use for it, as the tournament can be used to elevate talent such as Ruby Riott, Peyton Royce, or Sasha Banks.  On the flip side, it wouldn't be no surprise if someone such as Alexa Bliss or Mandy Rose could take the win to garner extra heat for their respective character.  That would certainly work, as Bliss is an example of someone who is very much over and the company seems to be completely behind her.
Consistency also matters, in which it is crucial to make the Queen of the Ring idea work. That goes hand in hand with the storytelling aspect that the company has been struggling with for some time now. Gaps in logic with missed opportunities have done more harm than good, and with Evolution's success, it wouldn't be fair to the women if Queen of the Ring was one and done thanks to those poor factors.
Queen of the Ring is a great idea that could certainly help the Women's Division.  Having the tournament at the Women's PPV would create interest for fans that want something to look forward to.  There is no doubt that the talent would shine during the Queen of the Ring – even the potential for possible Match of the Year candidates is high at an event such as this. 
WWE has all of the tools to make this a success if at all possible this is true.  Overall, it would be beneficial for the Women's Division, and it will help the Evolution become full circle –something that the Division is meant to be.
Let us know what you think on social media @theCHAIRSHOTcom and always remember to use the hashtag #UseYourHead!