Top 5: WWE Finishers That Actually Finish a Match (The First Time)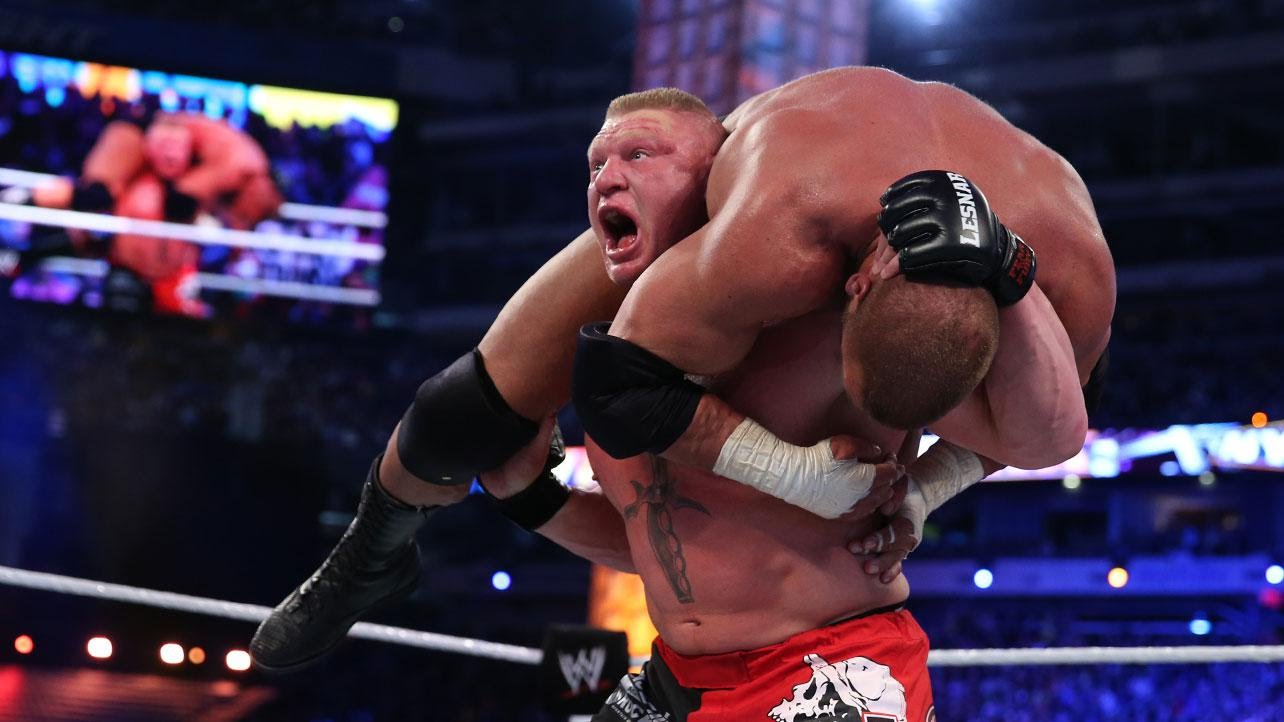 A major criticism of modern WWE is that finishers rarely finish a match when they are executed the first time. These days it takes two to three to put an end to an opponent. Cameron Shank looks at the Top 5 finishers that actually work on the first try!
John Cena normally hits four to five Attitude Adjustments before hitting one off the middle rope and he ends up still not winning the match. There are those select few, however, that actually lay out an opponent for the three count. Here are the top five finishers that actually finish people.
5. F5 (Brock Lesnar)
It may only be putting guys to rest for the last year or so but the names it has beaten is a who's who of men who would kick out of any other finisher. It toppled Samoa Joe at Great Balls of Fire, Roman Reigns at SummerSlam, Braun Strowman at No Mercy, and AJ Styles at Survivor Series. The finisher is likely being protected for a certain someone to kick out of it at WrestleMania, but even though Lesnar's recent run has been heavily criticized, one can't deny it's good to see a finisher that actually finishes big matches.
4. Coup de Grace (Finn Balor)
Despite fans being disappointed with Finn Balor's main event run after returning from injury, he's actually been a strong force on RAW (when he's not losing to Kane). Some of this is due to the strength of his finishing move. Let's face it, a man jumping off the top rope to stomp on your stomach and chest wouldn't be the most entertaining experience. A lot of Finn's move set also focuses on the midsection, which can soften the body up for the most apt name for a finisher.
3. Asuka Lock/Coquina Clutch (Asuka/Samoa Joe)
The only submission to make it on the list comes in the form of Asuka and Samoa Joe's choke, and both use the move to staggering results. If the legs are locked, there is no getting out of it, and if the opponent doesn't tap, they'll pass out instead. It's a devastating finisher with its victims struggling to break free only to find the hold cinched in tighter.  The hold was even a formidable threat against Brock Lesnar in the build up to Great Balls of Fire, and that isn't anything to sneeze at. Asuka also used it well, making Sasha Banks and Bayley submit to it. It if a weapon both women's champions should be weary of.
2. Lumbar Check (Cedric Alexander)
There might be a competition between the other cruiserweights to see who can get the most height after being hit with Cedric Alexander's finishing maneuver. It is possibly the best sold maneuver in WWE today, not to mention it simply looks devastating. It's a wonder how Cedric hasn't won the Cruiserweight Championship in the year and a half its been active, but perhaps this will change with the new cruiserweight tournament on 205 Live. Even if it takes him a while to reach the top, it doesn't hurt to have an effective finisher.
1. End of Days (Baron Corbin)
Not a single soul has kicked out of the End of Days, and while one day we'll likely see someone roll their shoulder off the mat, for now it is something Baron Corbin can hang his hat on. It's a beautiful move as, looking poetic in nature. It is most people's favorite thing about Baron Corbin, even to Baron Corbin fans. It is unfortunate that Baron hasn't seen the success we all thought he'd see, but there is still hope for the big man, and having a finisher like his is only going to help.