Top 5: WWE Finishers That Actually Finish a Match (The First Time)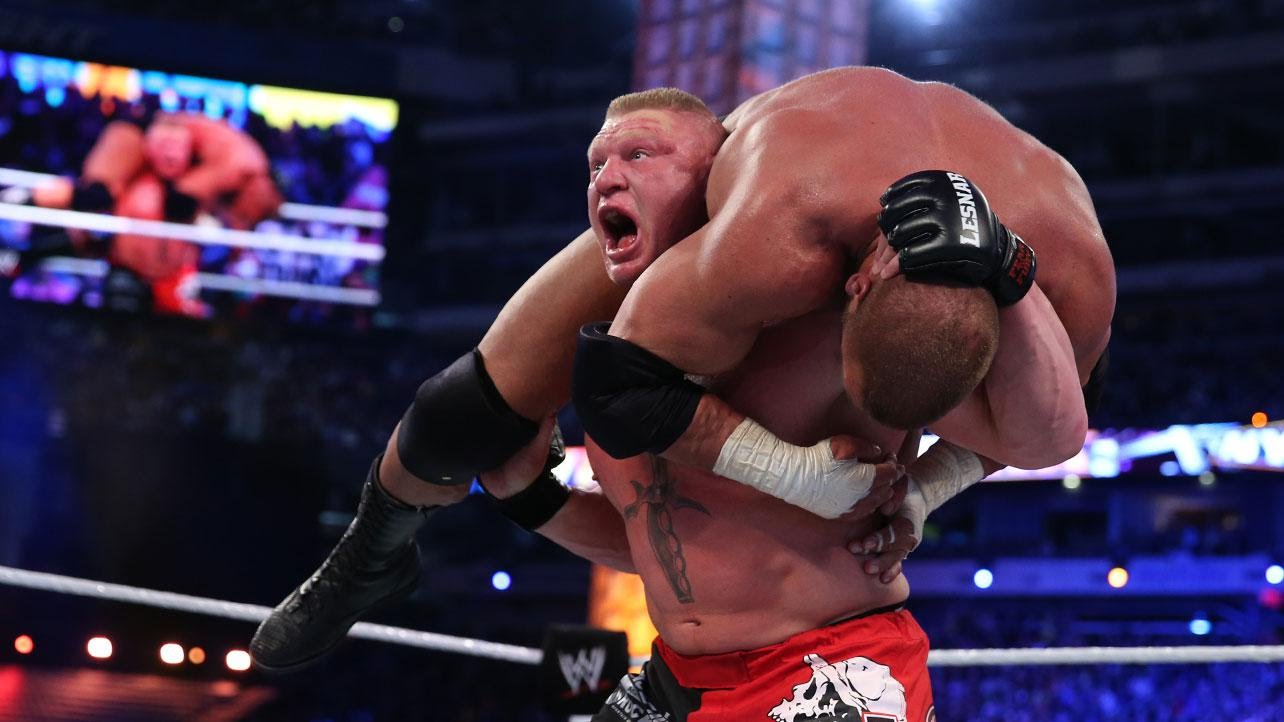 A major criticism of modern WWE is that finishers rarely finish a match when they are executed the first time. These days it takes two to three to put an end to an opponent. Cameron Shank looks at the Top 5 finishers that actually work on the first try!
John Cena normally hits four to five Attitude Adjustments before hitting one off the middle rope and he ends up still not winning the match. There are those select few, however, that actually lay out an opponent for the three count. Here are the top five finishers that actually finish people.
5. F5 (Brock Lesnar)
It may only be putting guys to rest for the last year or so but the names it has beaten is a who's who of men who would kick out of any other finisher. It toppled Samoa Joe at Great Balls of Fire, Roman Reigns at SummerSlam, Braun Strowman at No Mercy, and AJ Styles at Survivor Series. The finisher is likely being protected for a certain someone to kick out of it at WrestleMania, but even though Lesnar's recent run has been heavily criticized, one can't deny it's good to see a finisher that actually finishes big matches.
4. Coup de Grace (Finn Balor)
Despite fans being disappointed with Finn Balor's main event run after returning from injury, he's actually been a strong force on RAW (when he's not losing to Kane). Some of this is due to the strength of his finishing move. Let's face it, a man jumping off the top rope to stomp on your stomach and chest wouldn't be the most entertaining experience. A lot of Finn's move set also focuses on the midsection, which can soften the body up for the most apt name for a finisher.
3. Asuka Lock/Coquina Clutch (Asuka/Samoa Joe)
The only submission to make it on the list comes in the form of Asuka and Samoa Joe's choke, and both use the move to staggering results. If the legs are locked, there is no getting out of it, and if the opponent doesn't tap, they'll pass out instead. It's a devastating finisher with its victims struggling to break free only to find the hold cinched in tighter.  The hold was even a formidable threat against Brock Lesnar in the build up to Great Balls of Fire, and that isn't anything to sneeze at. Asuka also used it well, making Sasha Banks and Bayley submit to it. It if a weapon both women's champions should be weary of.
2. Lumbar Check (Cedric Alexander)
There might be a competition between the other cruiserweights to see who can get the most height after being hit with Cedric Alexander's finishing maneuver. It is possibly the best sold maneuver in WWE today, not to mention it simply looks devastating. It's a wonder how Cedric hasn't won the Cruiserweight Championship in the year and a half its been active, but perhaps this will change with the new cruiserweight tournament on 205 Live. Even if it takes him a while to reach the top, it doesn't hurt to have an effective finisher.
1. End of Days (Baron Corbin)
Not a single soul has kicked out of the End of Days, and while one day we'll likely see someone roll their shoulder off the mat, for now it is something Baron Corbin can hang his hat on. It's a beautiful move as, looking poetic in nature. It is most people's favorite thing about Baron Corbin, even to Baron Corbin fans. It is unfortunate that Baron hasn't seen the success we all thought he'd see, but there is still hope for the big man, and having a finisher like his is only going to help.
Rob: Kurt Angle Does Deserve Better
Kurt does deserve better–but it's not what you think.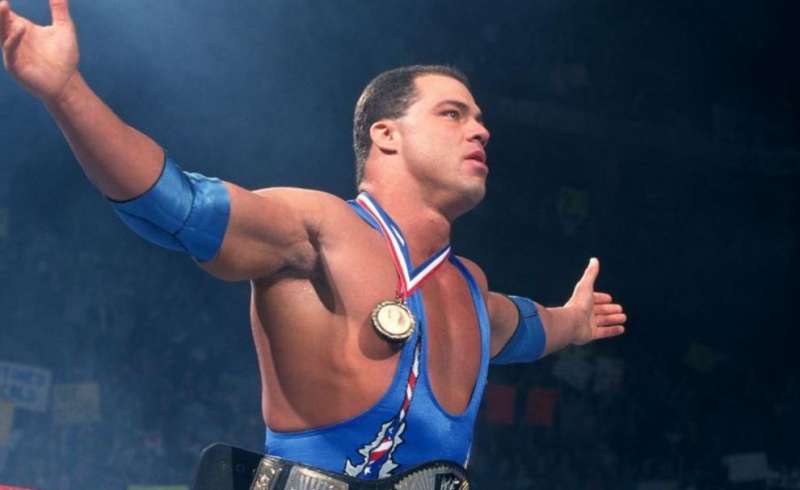 Rob Bonnette takes a dive into the final match for Kurt Angle at WrestleMania 35 and the choice of Baron Corbin as his opposition.
So we're less than two weeks away from WrestleMania 35 and as of right now Kurt Angle is still slated to face Baron Corbin in his farewell match on the show, which a lot of you are still upset about.  To a lot of you guys Kurt deserves a better opponent than Baron Corbin, because Baron Corbin sucks and all.  The name bandied around the most is John Cena, which makes sense given their history together and that Cena currently doesn't have a match on the show right now.  But I'm here to say that's not a good idea, and that you guys need to stop complaining about who gets to be Kurt's last opponent.  Now a few weeks ago I was right on board with having Kurt go out against one of his old rivals – Cena, Rey Mysterio Jr, or even Shawn Michaels if he felt like it. But after seeing Kurt's farewell tour the last few week and how he's struggled against Apollo Crews, Chad Gable, and this week Samoa Joe I am firmly entrenched on the other side of the fence of that argument.  The last thing we need is to see Kurt Angle out there trying to have one last big match in front of all those people.  And he doesn't need that, either.
But you're right, Kurt does deserve better – better than to be hung out to dry in a fifteen minute match against someone desperately trying to carry him across the finish line in 2019.  Have you seen him the last few weeks?  he was gassed in five minutes with Chad Gable and this week he could barely get up and over for a few simple suplexes against Samoa Joe.  Joe, who people were saying looked past his prime last year against AJ Styles and is usually protected in multiman matches, had to carry Kurt on Monday night.  To his credit he did a good job and we actually got a decent match, but that's exactly what's going to happen if Kurt gets a 'better opponent' than Baron Corbin at WrestleMania.  Do you really want John Cena full of ring rust to have to struggle to get Kurt through 15 minutes of not being to turn his head, or help with simple bumps, or even lift him up for some of his basic stuff?  By the time you read this Kurt will have struggled through six to eight minutes of AJ dumbing down his own offense to look pedestrian enough for Kurt to get a sympathy win over him on Smackdown, and next if I heard right it's gonna be Rey Jr.  Yeah, good luck.  I get the whole 'Kurt's greatest opponents tour' thing and that's fine, but that's for TV segments and not the biggest show of the year where looking bad will just be embarrassing on a whole other level.  He does not deserve to go out like Willie Mays at the end of his career or Dan Marino not even able to drop back to hand the ball off to a running back.  If you really love the guy you'll want him to go out looking as good as possible.
Which brings us to Baron Corbin.  Corbin is a real heel, someone who goes out to get booed and not to win snarky cool points from smart fans like Kevin Owens or who you refuse to boo because you relate to them too much, which is something that we could sure use more of today.  He's a full time wrestler so he's not rusty, and has enough energy and athleticism to help Kurt do things like…..pick him up for the Angle slam properly.  He also has a year long clip reel of back and forth with Kurt to play on the big screen for everyone who only comes to/watches WrestleMania every year.  As poetic as it would be for Cena to be Kurt's last opponent since Kurt was his first, if the goal is to give Kurt some kind of victory lap/greatest hits moment in either victory or defeat then Corbin is the way to go in my opinion.  Now may we get some kind of moment between he and Cena afterwards?  Sure.  But a match?  Come on, you guys can't be serious.  And look, I know that Ric Flair got Michaels to retire him and Shawn got the Undertaker….but go watch those matches, will you?  Ric at 58 years old was moving around better than Kurt is now.  I just watched that match and there were a few spots where Shawn clearly helped him but he mostly handled himself and could do his signature stuff without looking like he was dying in there.  Kurt is not there at all now.
In short, this sums up what I think is the right way to go for Angle at WrestleMania for his farewell match:
Folks just want a chance to shout "YOU SUCK" during Angle's music, see his pyro and than chant "THANK YOU KURT".

His opponent at #WrestleMania and the match itself is immaterial.

Give the old guy a break & just let him slap the Ankle Lock on Baron and go home.

— Will Mahoney (@HeelWillMahoney) March 19, 2019
That's it.  He can win or lose against Corbin and get all of that in.  Lose?  Yes.  Corbin can use the win to get more heat going forward and more material for his delusional heel promos.  Kurt can still put the ankle lock on him afterwards.  Very few people go out with a win.  Flair didn't, Shawn didn't, Austin didn't, etc.  So don't be surprised if Corbin gets the official victory and then Kurt gets his licks in after the bell.  Don't rule it out.  But anyhow, back to the matter at hand.  Kurt can't go out there like he could even a year ago.  If you want to see a final good performance from Kurt Angle at WrestleMania go watch the mixed tag match he and Ronda Rousey had against Triple H and Stephanie.  It was some great, fun sports entertainment and he did a good job there in his spots.  Don't go pushing it and hoping for some throwback to 2006 with Cena or someone else more 'on his level'.  Really, look at this will ya?
Y'all still out here thinking Kurt Angle can go at #WrestleMania?! #RAW pic.twitter.com/RgVv9yh4co

— Will Mahoney (@HeelWillMahoney) March 26, 2019
You want to see him fold up like that going over for an Attitude Adjustment from Cena, and then Cena have to roll off of him at the two count because Kurt probably wouldn't be to kick out on his own afterwards?  Really?  Look, Kurt is an all time great and arguably the best amateur to pro wrestler ever.  But he's real limited in what he can do, and should probably have done this two or three years ago if he was going to get a top level kind of match.  But now it's time to send him off in a way that does not make him look bad, and that's in a quick five minute deal with someone the crowd will have no problem booing against him.  That guy is Baron Corbin, as much as you think he sucks – which, if you do we got T-shirts here you can buy that say just that.
Elisa: Women Are Headlining WWE WrestleMania, And Will Deliver
The women are headlining, will they deliver?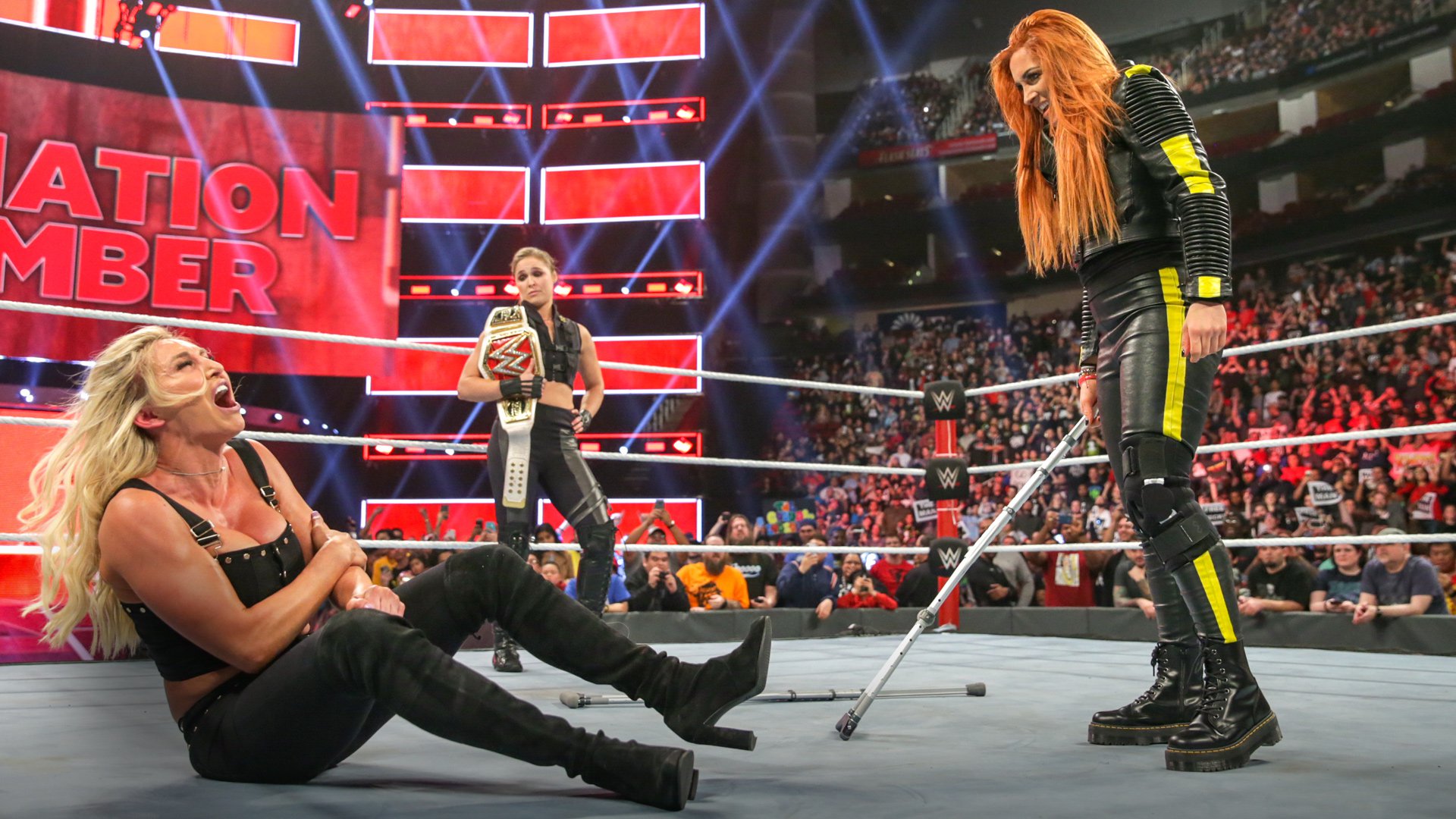 Elisa Maria shares in the joy that women are headlining WrestleMania, and why the women will deliver.
Even though wrestling fans kind of heard the rumors a few months ago, it became reality today when WWE announced that the main event of WrestleMania will be the triple threat match between Charlotte Flair, Ronda Rousey and Becky Lynch. For me as a fan growing up, I would have never thought this would be even remotely possible. It was a long time coming but this women's evolution, these group of women deserve it. They fought and proved that women can wrestle with the men, put on a show just like the men but have been doing it better than all the main roster combined. On a personal note, I am even more excited that I will be there to witness this spectacle. It's exciting!
There have been many things that have influenced me to open up my blog, but I must say a good chunk of it has been watching the whole women's revolution develop and flourish to become such a necessity that even ratings depend on it. If we were to look at this from the outside, WWE has survived the past year due to what the women on the roster has brought to the table not necessary the men. The chances and risks that these women have taken, it is unbelievable. They are taking chair shots, kendo stick shots, elimination chambers, and iron man matches, I mean – what haven't they done? Even their promos are way more interesting than what they men have put out there in recent months. One name to prove this is – Becky Lynch. She is just constantly dominating the promo and "talking shit" game that it reminds me of legends such as the Rock and Stone Cold Steve Austin during the attitude era, where "talking shit" was at it's finest. In the past, where it was damn near impossible to believe that a woman in wrestling can take the same force of a chair shot straight to her back like a male wrestler can – these group of women are doing it like nothing and I am proud.
Can these three extremely talented and gifted women put on a show worthy of a main event to close out this year's WrestleMania in the biggest city of them all, New York? Hell yeah they can! Let me explain why…
Let's get the stats going shall we. Ronda Rousey, the current WWE Raw women's champion, joined WWE in January 2018 after a groundbreaking career in the UFC, where she was the first UFC women's bantamweight champion. Not only was Rousey the first women's champion in UFC history, she also main-evented two of the top 10 UFC pay-per-view events (by buy rate) in that company's history. Next, Charlotte Flair, a seven-time WWE women's champion, and Lynch, a two-time SmackDown women's champion, helped foster dramatic changes in the WWE's women's division over the past six years. As part of a group that called itself the "Four Horsewomen" — a callback to Flair's father, Ric Flair, and his rotating quartet of industry-defining compatriots in the 1970s, '80s and '90s -Charlotte Flair and Lynch, along with Bayley and Sasha Banks, promoted a more physical style of performance.
The Four Horsewomen reshaped and built up NXT, WWE's training ground for upcoming superstars that has become a global brand of its own, through a series of "TakeOver" specials that redefined the style of women's wrestling on display in WWE. At WrestleMania 32, the women's championship belt was created to replace the existing Divas championship belt that was a huge symbolism for the direction of women's wrestling in the company.
If that is not proof enough that these women can outright perform, then re-watch last year's first women's pay per view Evolution and Survivor Series. For the Evolution pay per view, Becky Lynch vs. Charlotte Flair, considered as a brutal, violent and nearly perfect match performance. It was a memorable feud between two of WWE's most important members of its current "women's revolution," former best friends Lynch and Flair took things to an entirely new level. The duo set new standards in terms of high spots, physicality and outright carnage for a main roster women's match in what is undoubtedly in the conversation for best WWE match of 2018, regardless of gender.
Survivor Series saw Ronda Rousey vs. Charlotte Flair in another grade A+ match that had a great heel turn and one of the most brutal post-match beat downs I have ever seen. Flair looked like a woman possessed as she unleashed on Rousey, pummeling her with weapons and assaulting her on a level unlike anything she has ever experienced before. In the process, she set in motion the storyline in which Rousey, Flair and Lynch would clash in the biggest show in wrestling's history.
What Can We Expect During The Main Event At WrestleMania in MetLife Stadium?
I'll tell you what I expect: I expect that these three amazing women will go all out to not only entertain the fans but to show that women's wrestling is the REAL DEAL on the same stage and in the same building last occupied by The Rock and John Cena–think about that! This match will be a match to remember and probably in contention to be the match of the year for 2019. Whether you're a wrestling fan or not, you have to admit this is intriguing and exciting. Non- wrestling fans will probably tune into WrestleMania just to view this match and I would not blame them. I personally am appreciative of what all women in the WWE roster has brought to the table and for all women of sports. This could be the main event to rival all main events. In short, I am proud to be a woman, in a generation where we have Ronda Rousey, Becky Lynch and Charlotte Flair.
Until then Fans, farewell.
---
Follow Elisa Maria: