Official Chairshot Ratings & Review: NJPW The New Beginning in Osaka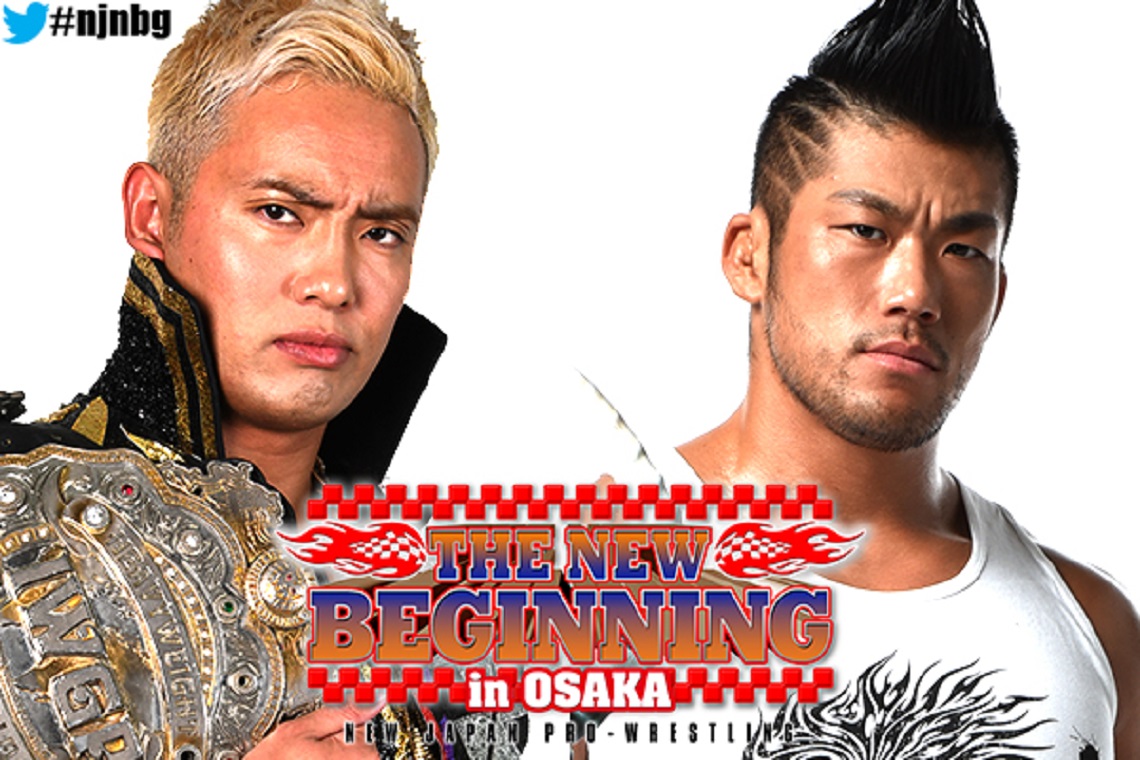 Welcome to the faction wars edition of The New Beginning! Osaka has had a nice lead in, with Chaos and LIJ establishing themselves as the top factions, but also fighting over who is number one. Neither of these two groups like each other, except Hiromu and Ospreay, they are the most cordial and adorable enemies outside of an anime. This event is headlined with Okada vs. Sanada, and there is no Bullet Club in sight.
The Osaka crowd tends to lean heavily towards LIJ, so has the booking gone towards making the fans happy? Will we see a split decision with the IWGP Heavyweight Title as the tie breaker, ala, WWE? Can Sanada beat Okada? It's questions like these, that make this show an important watch. So with all that said, it's time to see how it all shook out.
Yuji Nagata vs Katsuya Kitamura
Kitamura's sixth match, of his best of seven series. Even though he's 0-5 so far, the point isn't to win, the point is to prove where he's at in his ability before an excursion or staying on main roster.
The match itself contained a lot of stiff strikes and saw Kitamura being a little more reserved, and slowly started to strategize more and build confidence as the match went on. Sadly for Katsuya, he falls again and can't seem to overcome any of the legends or mid carders he's been faced up against.
Good opening match, and definitely showed a progression in Kitamura's approach after only a few matches.
Rating: ** 3/4 (Silver I)
Roppongi 3k vs El Desperado & Yoshinobu Kanemaru
Well this was a great match to set up a future title shot. Roppongi 3k has put on some athletically impressive matches with the Young Bucks, but Suzuki-Gun doesn't care about impressive moves.
Kanemaru and Desperado take numerous short cuts, and the fact that they softened up Sho's back, so he wasn't 100% played into the match. We saw the ending come with Kanemaru putting Sho in a Boston Crab and Desperado going crazy with CHAIRSHOTS since the ref wasn't watching him. If you're not cheating, you're not trying and Kanemaru and Desperado more than likely just got themselves a shot at the Junior Tag belts.
Decent enough match, but more of a story telling match. A few spots seemed mistimed, but nothing glaringly terrible, just kinda there.
Rating: ** 1/2 (Silver II)
Ryusuke Taguchi, Kushida, Michael Elgin & Togi Makabe vs TAKA, Taichi, Iizuka & Minoru Suzuki
Well as is the usual with Suzuki-Gun and most 8+ man matches, it begins with a big mess of a fight. Most of these men have stories with each other and they pair off as is expected.
Numerous weapons and heel tactics ensue, but eventually Makabe and Suzuki meet back up in the ring and we get some actual wrestling. The Intercontinental match that they're going to have will definitely be something to watch. You can see both men dislike each other and it shows in the strong style moments and body language.
Makabe gets the pinfall victory for his team on TAKA while staring down Suzuki to send a message. There was a small promo directly after the match, but you're going to have to find a translation since my Japanese isn't that good. The match progressed storylines decently, but as a match itself it was…passable?
Rating: ** 1/4 (Silver IV)
Henare, David Finlay & Juice Robinson vs Toru Yano, Tomohiro Ishii & Jay White
A few story threads in this one, mainly with Finlay / White and Henare trying to cut his teeth on Ishii. But this was another one of the usual decent multi-man tags, but nothing to write home about.
Finlay showed a little more aggression than usual, Jay took some punishment for a while, but it all ended up in a way to make a point. Jay hits the Blade Runner, cuts Henare open and then instead of pinning him, crucifixes the arms and lays in elbows until the referee stops the match.
*Biggest news so far after the match* Rey Mysterio shows up via video package and challenges Jushin Thunder Liger for Long Beach.
Rating: ** 1/2 (Silver II)
Gedo vs Bushi
So the story of the match was simply a grudge match where Gedo has taken every opportunity to unmask Bushi in the last two shows leading up to this. Bushi brought out hedge clippers as a way to say "You keep taking my masks, I'll take your beard".
But it was due to the set up, that the match was just weird. The wrestling was just a lead in to trying to get to a spot for Gedo to untie the mask. The most note worthy spot was Gedo took the loose strings of the mask and tied Bushi to the ropes so he couldn't get a hold of Gedo until a Young Lion brought the hedge clippers to cut him out (the spot took too damn long to set up though, Gedo needs to learn how to tie shoes better).
Since Bushi was playing the face in the match, it made sense for him to finally get vengeance. Bushi connects with the MX and wins via pinfall.
Rating: ** 1/2 (Silver II)
Yoshi-Hashi vs Tetsuya Naito
Yoshi-Hashi came out like a house on fire and attacked Naito during his ring entrance and stayed aggressive the entire match.
Even though the disparity in their resumes was even being mentioned by the English Commentary team, Yoshi made the match very close. There were numerous times when he had a believable chance to win the match, especially when Naito was stuck in the Butterfly Lock for over a minute. The match really was better than I think anyone anticipated.
However, logic paid off and Naito wins after back to back Destinos. The talking point comes from the fact that Taichi attacked Naito as he was exiting up the ramp and literally just dragged him away. I figure the Chris Jericho confrontation was coming soon, but Taichi is an unexpected wrinkle. Maybe they face each other at the Anniversary show March 6th?
Rating: *** 3/4 (Gold I)
IWGP Jr. Heavyweight Title Match: Will Ospreay vs Hiromu Takahashi
The opening video package…holy hell, watch it, it's hilarious. It has a cat narrate that Hiromu has the mind of a cat but Ospreay has the agility of a cat.
As for the match, I mean, Hiromu is amazing and Ospreay adds a lot of sizzle to his matches. Neither wrestler kept an edge for very long and Hiromu tried to focus on Ospreay's neck. A bunch of big and flashy moves, though the match wasn't without a few odd spots and a little repetition towards the end. Hiromu countering Ospreay's move into a Canadian Destroyer was an impressive highlight.
Still though, not a fan of that Beheading move, looks really corny. Damn good match, and easily the best of the night thus far, but not quite a classic.
Rating: **** 1/2 (Platinum III)
NEVER Openweight Title Match: Hirooki Goto vs EVIL
The beginning of this match was a little odd. EVIL wraps a chair around Goto's head and drives him into the ring post, and Red Shoes refuses to count (Japanese refs are instructed to avoid DQs and use their discretion). So there was about 30 seconds of Goto laid out on the floor, and the energy of the match came down to a halt.
With that said, both of these men are fantastic wrestlers, so a few stiff strikes and trading lariats back and forth woke everyone back up. We saw a lot of big moves, EVIL trying to use chairs repeatedly, but Goto stayed resilient. It was thanks to his resilience that we got to our ending sequence.
Both men reversed the other's finishing move 2 or 3 times, before Goto finally hits the GTR on EVIL for the pinfall victory. Good match, what you basically expect from a Goto match though. This match ties Chaos and LIJ at 2 wins a piece. So it all comes down to the final match, on which faction wins the battle and has the Heavyweight champion.
Rating: *** 3/4
IWGP Heavyweight Championship Match: Kazuchika Okada vs SANADA
The final faction match and also the final heavyweight standing between Okada and a clean sweep on LIJ.
Sanada maintained his usual persona for the early goings of the match, cold, seemingly disinterested and his usual too cool for school body language. It was as soon as Okada started kicking Sanada in the head mockingly, the crowd booed him loudly. The crowd was pro LIJ all night, but at that point Okada had the crowd hating him, and Sanada capitalized with a nice sequence ending in a dive to the outside that made the whole building erupt in cheers.
The expressions on Cold Skull were starting to show surprise and desperation when he found 2 innovative ways to apply the Skull End. First out of an Asai Moonsault from the corner, and then he basically did a Destino, but instead of a DDT, stopped at the end for the Dragon Sleeper and dropped down into Skull End. Even with how impressive Sanada looked, he was doomed as soon as the desperation took him over.
He cut the Skull End short and went for a Moonsault, in which he jammed his knee and got a 2 count. With no other idea what to do, he tried another moonsault, which Okada countered. This lead to the ending sequence where Sanada countered at least 3 Rainmaker attempts before he got caught by the Jumping Tombstone and then a Rainmaker finally connects for the pinfall victory. Also gives Chaos the 3-2 victory in the faction war.
Tremendous match, anyone who was unaware of Sanada's potential…this was his coming out party.
Rating: ***** (Diamond V)
Well this show was what most people expect from a Japanese show. A decent undercard, with title matches that deliver in bringing home a strong ending. There are two more pieces of news after Okada's match. Firstly, he challenged Will Ospreay for the March 6th Anniversary show. Second piece of business was he expressed an interest in participating in the New Japan Cup.
In the following press conference, Ospreay accepted the challenge; it will most likely be a "special" match where neither belt is on the line since there's a history of New Japan doing that for the Anniversary show. So has Okada finally transcended booking so far that he's going to find every opportunity to locate new opponents?
10 championship defenses, 600 days and counting, who in the bloody hell is going to beat Okada?
King's WrestleMania Rewind: Charlotte Flair vs. Asuka from WrestleMania 34
Chris king is back with one of the most underrated matches in WrestleMania history–Charlotte Flair vs. Asuka!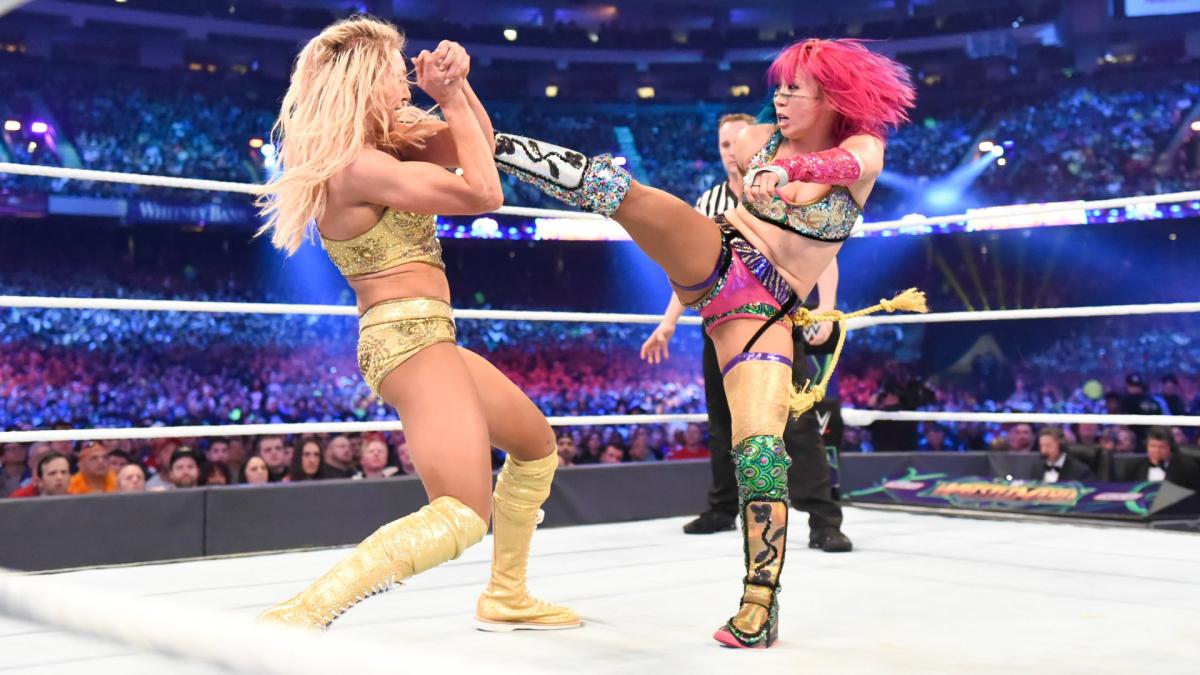 Chris king is back with one of the most underrated matches in WrestleMania history–Charlotte Flair vs. Asuka!
We look back at Charlotte Flair vs. Asuka at WWE WrestleMania 34. 'The Empress of Tomorrow' put her unprecedented and historic undefeated streak of 914 days on the line against 'The Queen's' SmackDown Women's Championship.
For years, this was considered a dream match while Asuka dominated the roster in NXT, while Flair won numerous championships on the main roster on both Raw and SmackDown. The Empress made her long-awaited debut on the September 11th episode of Raw and began to tear through the competition.
Asuka outlasted all twenty-nine other women in the historic first-ever Women's Royal Rumble match to challenge for the title of her choosing. At Fastlane, she made her choice.
The WWE Universe was so excited for this match myself included. Both superstars delivered a fantastic performance on the Grandest Stage of Them All executing counter after counter. Asuka showed off some nasty-looking kicks to her opponent, and Flair hit a thunderous Spanish Fly off the top rope. Flair was seconds away from defeat at the hands of The Empress but she locked in Figure Eight and Asuka was forced to tap out.
I can't even begin to explain how shocked I was at this outcome, as nearly everyone expected The Empress to continue her undefeated streak and walk away with the women's title. This controversial decision was the downfall of Asuka's momentum. She would ultimately win the SmackDown Women's Championship at the 2018 TLC pay-per-view in the triple-threat ladder match.
Fast forward to this year when Asuka has recently returned with her Japanese-inspired persona Kana. Kana is dangerous and ruthless and is heading into a championship with Bianca Belair at WrestleMania 39. The Empress has regained all her momentum and is highly favored to walk away with the Raw Women's Championship. Let's hope that Asuka and Belair can tear the house down and deliver an A+ grade match both women are fully capable of.
King: Dominik Mysterio Needs To Do This At WrestleMania
Chris King is here with what WWE should do with Dominik Mysterio at WrestleMania in his long-awaited match against his father Rey Mysterio Jr.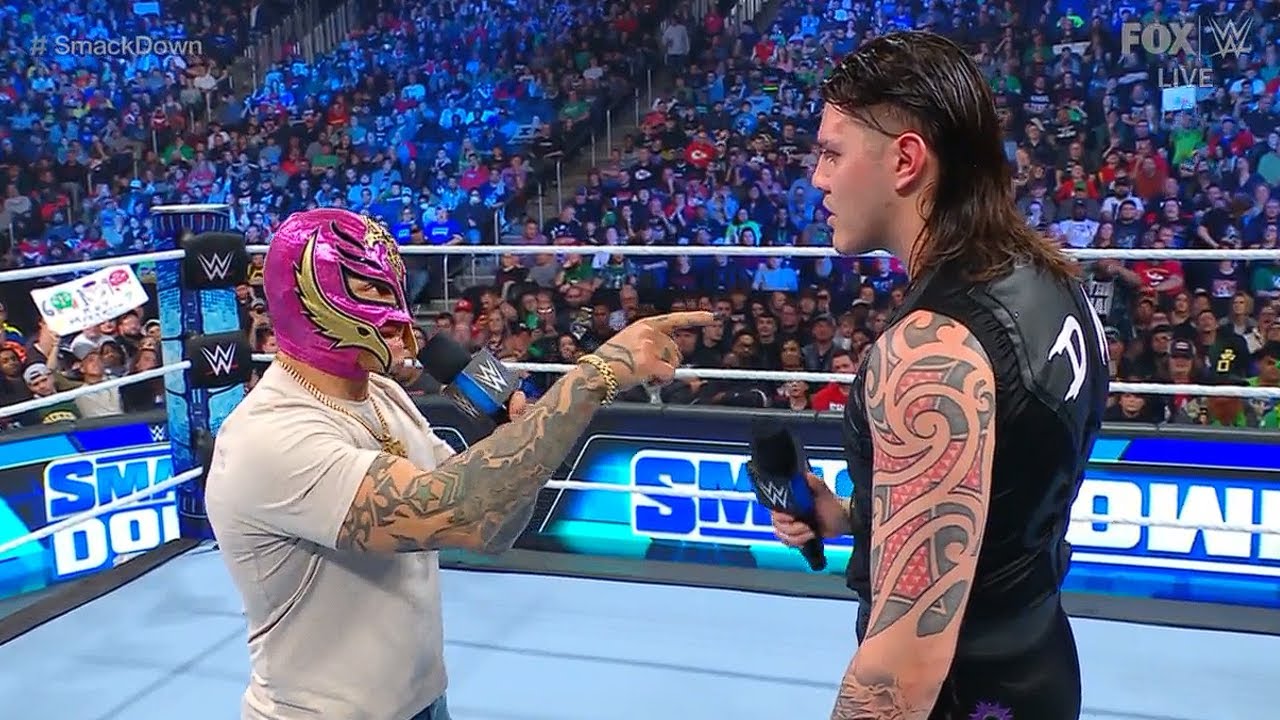 Chris King is here with what WWE should do with Dominik Mysterio at WrestleMania in his long-awaited match against his father Rey Mysterio Jr. 
On this week's episode of Friday Night SmackDown, Rey Mysterio finally snapped and beat some sense into his disrespectful punk-ass kid Dominik. The member of the Judgement Day came out to push his father again for a match on the Grandest Stage of Them All, this time with his mother and sister at ringside. The ungrateful punk told his mom to "Shut Up," as a father even I wanted to jump through the screen and whoop his ass.
Back in October of last year, Mysterio made the emotional decision to possibly quit the company but, instead, Triple H persuaded the Lucha libre superstar to move over to SmackDown to avoid his son. This came after Dominik shockingly turned on his father at Clash at the Castle. Mysterio did everything he could to refuse his despicable son's challenge for Mania but, a man can only be pushed so far. Mysterio will be inducted into the 2023 WWE Hall of Fame and I expect Dominik to embarrass his father during his speech to further this personal feud.
Yes, the WWE Universe hates Dominik and wants to see him get the ever-loving crap kicked out of him but, this feud is missing a special ingredient to capitalize on the biggest heat possible. Throughout this feud, Dominik has made mention of the legendary Eddie Guerrero on several occasions going back to the "iconic" 2005 feud.
I know WWE might not want to go this route but, Dominik MUST come out to Eddie Guerrero's theme at Mania. The disrespectful punk needs to come out in a lowrider to garner nuclear heat. It doesn't matter if The Judgement Day comes out and causes interference for Dominik to get the win, all that matters is that both superstars get the biggest payoff of this nearly year-long feud. Just imagine the Roman Reigns heat after he defeated The Undertaker and multiply that by ten. Dominik portrays the perfect heel and he truly is the missing ingredient that The Judgement Day needed to grow and evolve into a top faction.