Official Chairshot Ratings & Review: NJPW The New Beginning in Osaka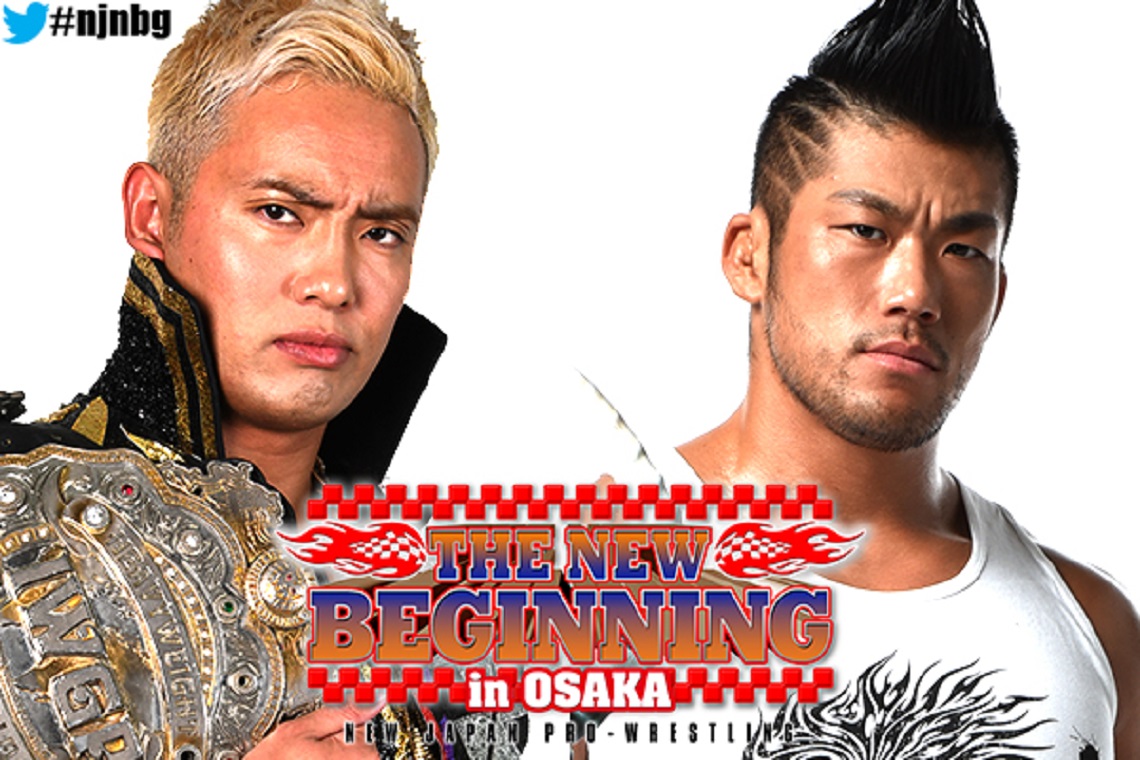 Welcome to the faction wars edition of The New Beginning! Osaka has had a nice lead in, with Chaos and LIJ establishing themselves as the top factions, but also fighting over who is number one. Neither of these two groups like each other, except Hiromu and Ospreay, they are the most cordial and adorable enemies outside of an anime. This event is headlined with Okada vs. Sanada, and there is no Bullet Club in sight.
The Osaka crowd tends to lean heavily towards LIJ, so has the booking gone towards making the fans happy? Will we see a split decision with the IWGP Heavyweight Title as the tie breaker, ala, WWE? Can Sanada beat Okada? It's questions like these, that make this show an important watch. So with all that said, it's time to see how it all shook out.
Yuji Nagata vs Katsuya Kitamura
Kitamura's sixth match, of his best of seven series. Even though he's 0-5 so far, the point isn't to win, the point is to prove where he's at in his ability before an excursion or staying on main roster.
The match itself contained a lot of stiff strikes and saw Kitamura being a little more reserved, and slowly started to strategize more and build confidence as the match went on. Sadly for Katsuya, he falls again and can't seem to overcome any of the legends or mid carders he's been faced up against.
Good opening match, and definitely showed a progression in Kitamura's approach after only a few matches.
Rating: ** 3/4 (Silver I)
Roppongi 3k vs El Desperado & Yoshinobu Kanemaru
Well this was a great match to set up a future title shot. Roppongi 3k has put on some athletically impressive matches with the Young Bucks, but Suzuki-Gun doesn't care about impressive moves.
Kanemaru and Desperado take numerous short cuts, and the fact that they softened up Sho's back, so he wasn't 100% played into the match. We saw the ending come with Kanemaru putting Sho in a Boston Crab and Desperado going crazy with CHAIRSHOTS since the ref wasn't watching him. If you're not cheating, you're not trying and Kanemaru and Desperado more than likely just got themselves a shot at the Junior Tag belts.
Decent enough match, but more of a story telling match. A few spots seemed mistimed, but nothing glaringly terrible, just kinda there.
Rating: ** 1/2 (Silver II)
Ryusuke Taguchi, Kushida, Michael Elgin & Togi Makabe vs TAKA, Taichi, Iizuka & Minoru Suzuki
Well as is the usual with Suzuki-Gun and most 8+ man matches, it begins with a big mess of a fight. Most of these men have stories with each other and they pair off as is expected.
Numerous weapons and heel tactics ensue, but eventually Makabe and Suzuki meet back up in the ring and we get some actual wrestling. The Intercontinental match that they're going to have will definitely be something to watch. You can see both men dislike each other and it shows in the strong style moments and body language.
Makabe gets the pinfall victory for his team on TAKA while staring down Suzuki to send a message. There was a small promo directly after the match, but you're going to have to find a translation since my Japanese isn't that good. The match progressed storylines decently, but as a match itself it was…passable?
Rating: ** 1/4 (Silver IV)
Henare, David Finlay & Juice Robinson vs Toru Yano, Tomohiro Ishii & Jay White
A few story threads in this one, mainly with Finlay / White and Henare trying to cut his teeth on Ishii. But this was another one of the usual decent multi-man tags, but nothing to write home about.
Finlay showed a little more aggression than usual, Jay took some punishment for a while, but it all ended up in a way to make a point. Jay hits the Blade Runner, cuts Henare open and then instead of pinning him, crucifixes the arms and lays in elbows until the referee stops the match.
*Biggest news so far after the match* Rey Mysterio shows up via video package and challenges Jushin Thunder Liger for Long Beach.
Rating: ** 1/2 (Silver II)
Gedo vs Bushi
So the story of the match was simply a grudge match where Gedo has taken every opportunity to unmask Bushi in the last two shows leading up to this. Bushi brought out hedge clippers as a way to say "You keep taking my masks, I'll take your beard".
But it was due to the set up, that the match was just weird. The wrestling was just a lead in to trying to get to a spot for Gedo to untie the mask. The most note worthy spot was Gedo took the loose strings of the mask and tied Bushi to the ropes so he couldn't get a hold of Gedo until a Young Lion brought the hedge clippers to cut him out (the spot took too damn long to set up though, Gedo needs to learn how to tie shoes better).
Since Bushi was playing the face in the match, it made sense for him to finally get vengeance. Bushi connects with the MX and wins via pinfall.
Rating: ** 1/2 (Silver II)
Yoshi-Hashi vs Tetsuya Naito
Yoshi-Hashi came out like a house on fire and attacked Naito during his ring entrance and stayed aggressive the entire match.
Even though the disparity in their resumes was even being mentioned by the English Commentary team, Yoshi made the match very close. There were numerous times when he had a believable chance to win the match, especially when Naito was stuck in the Butterfly Lock for over a minute. The match really was better than I think anyone anticipated.
However, logic paid off and Naito wins after back to back Destinos. The talking point comes from the fact that Taichi attacked Naito as he was exiting up the ramp and literally just dragged him away. I figure the Chris Jericho confrontation was coming soon, but Taichi is an unexpected wrinkle. Maybe they face each other at the Anniversary show March 6th?
Rating: *** 3/4 (Gold I)
IWGP Jr. Heavyweight Title Match: Will Ospreay vs Hiromu Takahashi
The opening video package…holy hell, watch it, it's hilarious. It has a cat narrate that Hiromu has the mind of a cat but Ospreay has the agility of a cat.
As for the match, I mean, Hiromu is amazing and Ospreay adds a lot of sizzle to his matches. Neither wrestler kept an edge for very long and Hiromu tried to focus on Ospreay's neck. A bunch of big and flashy moves, though the match wasn't without a few odd spots and a little repetition towards the end. Hiromu countering Ospreay's move into a Canadian Destroyer was an impressive highlight.
Still though, not a fan of that Beheading move, looks really corny. Damn good match, and easily the best of the night thus far, but not quite a classic.
Rating: **** 1/2 (Platinum III)
NEVER Openweight Title Match: Hirooki Goto vs EVIL
The beginning of this match was a little odd. EVIL wraps a chair around Goto's head and drives him into the ring post, and Red Shoes refuses to count (Japanese refs are instructed to avoid DQs and use their discretion). So there was about 30 seconds of Goto laid out on the floor, and the energy of the match came down to a halt.
With that said, both of these men are fantastic wrestlers, so a few stiff strikes and trading lariats back and forth woke everyone back up. We saw a lot of big moves, EVIL trying to use chairs repeatedly, but Goto stayed resilient. It was thanks to his resilience that we got to our ending sequence.
Both men reversed the other's finishing move 2 or 3 times, before Goto finally hits the GTR on EVIL for the pinfall victory. Good match, what you basically expect from a Goto match though. This match ties Chaos and LIJ at 2 wins a piece. So it all comes down to the final match, on which faction wins the battle and has the Heavyweight champion.
Rating: *** 3/4
IWGP Heavyweight Championship Match: Kazuchika Okada vs SANADA
The final faction match and also the final heavyweight standing between Okada and a clean sweep on LIJ.
Sanada maintained his usual persona for the early goings of the match, cold, seemingly disinterested and his usual too cool for school body language. It was as soon as Okada started kicking Sanada in the head mockingly, the crowd booed him loudly. The crowd was pro LIJ all night, but at that point Okada had the crowd hating him, and Sanada capitalized with a nice sequence ending in a dive to the outside that made the whole building erupt in cheers.
The expressions on Cold Skull were starting to show surprise and desperation when he found 2 innovative ways to apply the Skull End. First out of an Asai Moonsault from the corner, and then he basically did a Destino, but instead of a DDT, stopped at the end for the Dragon Sleeper and dropped down into Skull End. Even with how impressive Sanada looked, he was doomed as soon as the desperation took him over.
He cut the Skull End short and went for a Moonsault, in which he jammed his knee and got a 2 count. With no other idea what to do, he tried another moonsault, which Okada countered. This lead to the ending sequence where Sanada countered at least 3 Rainmaker attempts before he got caught by the Jumping Tombstone and then a Rainmaker finally connects for the pinfall victory. Also gives Chaos the 3-2 victory in the faction war.
Tremendous match, anyone who was unaware of Sanada's potential…this was his coming out party.
Rating: ***** (Diamond V)
Well this show was what most people expect from a Japanese show. A decent undercard, with title matches that deliver in bringing home a strong ending. There are two more pieces of news after Okada's match. Firstly, he challenged Will Ospreay for the March 6th Anniversary show. Second piece of business was he expressed an interest in participating in the New Japan Cup.
In the following press conference, Ospreay accepted the challenge; it will most likely be a "special" match where neither belt is on the line since there's a history of New Japan doing that for the Anniversary show. So has Okada finally transcended booking so far that he's going to find every opportunity to locate new opponents?
10 championship defenses, 600 days and counting, who in the bloody hell is going to beat Okada?
---
Always Use Your Head and visit the official Pro Wrestling Tees store for The Chairshot All t-shirt proceeds help support the advancement of your favorite hard-hitting wrestling website, The Chairshot!

---
When Will The Roman Reigns Experiment End In WWE?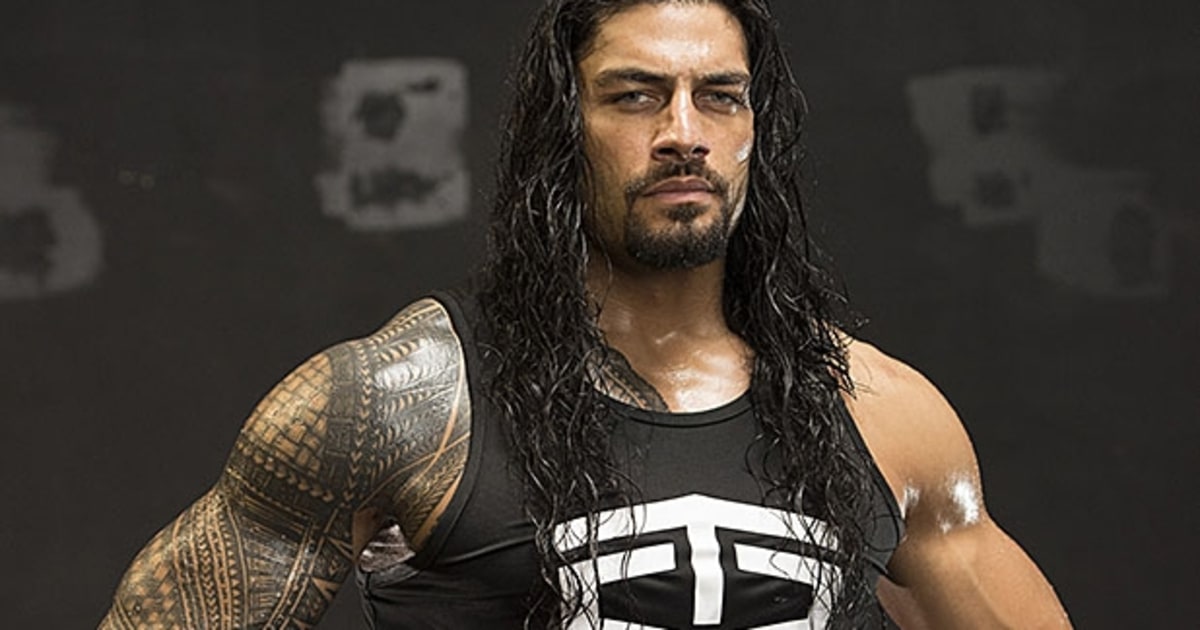 Two weeks ago, Roman Reigns walked in to the Mercedes Benz Superdome and thought he would walk out of WrestleMania 34 as the new Universal Heavyweight Champion.
Brock Lesnar's new deal with WWE ended those dreams as the current champion on Monday Night Raw destroyed the "Big Dog" and retained his title. Reigns gets another shot at glory at the Biggest Royal Rumble show in Saudi Arabia, but the chances of a different outcome may be slim of not possible at all. Still, WWE continues to push Reigns, a three-time WWE champion, as the future of the company. Watching him lose to Lesnar time after time hasn't endeared him to the fans, who would still rather see a new performer atop the leaderboard.
WWE's love affair with Roman Reigns must come to an end at some point, right? This isn't a soap opera where you can stop watching for a year, come back and see the same storyline, is it? Apparently, Vince McMahon wants to get as much out of the Reigns as he can.
The main event picture on Monday nights got a little more crowded with the arrival of Bobby Lashley last week. Reigns, Lashley and Braun Strowman figure to be front and center on this carousel while Lesnar walks in and out of the company's backdoor. The lure of WWE and UFC at the same time will leave the "Beast Incarnate" with deep pockets and decisions to make.
Having the Universal Champion on Monday nights showing off red gold would benefit everyone involved, including the man who has beaten The Undertaker and John Cena in the past year. If WWE wants to continue Reigns' path as the new leader of the company, it must put the strap on his waist soon. Fans have become restless and disengaged. Strowman gets the biggest pops on television. Seth Rollins is the Intercontinental Champion and could elevate himself to the main event.
Lashley will have fan support any time he gets in the ring.
It's a no-win situation for Reigns, who didn't ask for this kind of response. Had he beaten Batista in the 2014 Royal Rumble, this might be a different story – the kind where fans cannot get enough of the former Shield member. 
I almost feel sorry for Reigns. A big, strong wrestler born into the business with a look of a champion. He falls victim to the social media age of this business and fan sensibilities that change from day to day. If Reigns had been a champion in the 1980s, he and Hulk Hogan would have torn down Madison Square Garden. If he had been part of the Attitude Era, no doubt Steve Austin, Triple H and The Rock would have come knocking on his door.
Had he been part of the NWA in the early 1980s, I would have loved to see him in matches with Barry Windham, Lex Lugar and Ric Flair. This is the hand he has been dealt. For that reason, he and the fans must live with it.
As long as McMahon is pushing the button, Reigns will be the center of attention. Lesnar may hold the belt now and there are rumors Bobby Lashley may soon take it from the current champ. But front and center on the mind of WWE's "machine" is a way to finally get Reigns over as the champion of the red team and as a favorite with the steadfast fan base.
It's a relationship that will continue to remain toxic as long as Reigns is pushed down fans' throats.
---
Always Use Your Head and visit the official Pro Wrestling Tees store for The Chairshot All t-shirt proceeds help support the advancement of your favorite hard-hitting wrestling website, The Chairshot!

---
The NXT North American Championship Is A Good Thing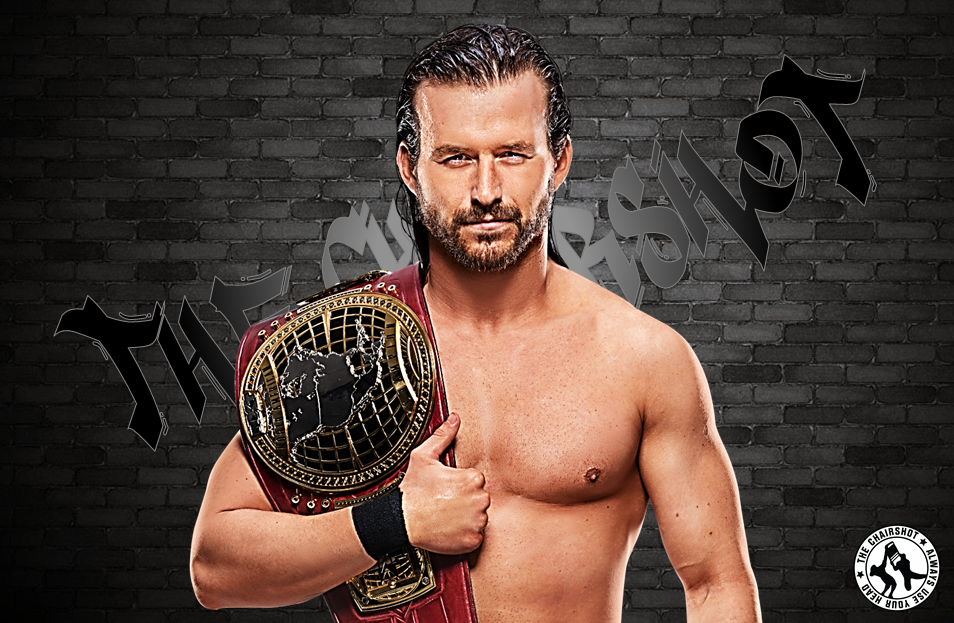 A few weeks ago William Regal announced that NXT would be unveiling a brand new championship at TakeOver: New Orleans. This lead to a six man ladder match to crown the first ever NXT North American Champion. A match I think we can all agree was excellent.
But the big question is though: Does NXT need another title?
Short Answer: Yes. Let me tell you why.
Now I know that a lot of people myself included like the clear structure of a TakeOver event. Just over 2 and a half hour show with just 5 matches allowing for more stories outside the title picture. This is good in theory but it doesn't always work. In the past we've had the odd match on a Takeover that while great from an in ring standpoint in terms of story had no reason to exist.
Perfect example of this is Kassius Ohno vs Velveteen Dream from TakeOver: Philadelphia. Not a bad match by any means but the story behind hit felt rushed because they need another match to fill the card. The North American title has already partly taken care of this problem as the ladder match had a clear story behind it. Each man involved wanted the right to be known as the first champion.
Congrats to SPLX alumni Adam Cole becomes the first ever NXT North American Champion!#TeamSPLX #NXTTakeOver #SPLX pic.twitter.com/4FOfEtq6hX

— SPLX Apparel (@SuplexWrestling) April 8, 2018
Now look at the first ever NXT North American Champion: Adam Cole Bay Bay!
Since picking up the win for his team at War Games, Cole hadn't won many big matches and was in danger of losing his appeal. Looking back he was the perfect guy to win it because he can lord over everyone like the cocky heel that he plays so well. His title win along with the inclusion of Roderick Strong into the Undisputed Era they once again feel like a dominant faction. Honestly they haven't felt this hot since their debut.
Cole isn't one who's been made to feel big by the belt, who watching the ladder match didn't feel like anyone in that match could have won? If you said you didn't you're a liar. He's already defended his title at Mania Axxess against Akira Tozawa and is set to defend it on next weeks NXT against Oney Lorcan.
Which brings up my next point: more championships means more opportunities.
NXT's roster is larger than most people realize. There are a lot of people who only work live events and have to wait months to get on TV. Even when they do it's mostly to get squashed by someone.
Oney Lorcan despite being a very talent worker and over with Full Sail crowd has unfortunately fallen into the role of jobber to the stars. This match with Adam Cole is his first real shot at a championship in NXT. Hopefully this means that more talent in NXT like Lorcan who don't get a lot of TV time get an opportunity.
You know most of them won't win but if they can put on a great match they can get over in defeat. Similar to John Cena's US open challenge. You knew he won't lose to Zack Ryder or Stardust but he still put on a really good match with them.
The North American title has already given us great matches with the ladder match even getting the full 5 stars from Dave Meltzer (our own Andrew Balaz gave the match 3.5 stars). WWE matches don't get those very often.
Finally as I said the NXT roster is quite vast meaning not everyone can win the top title. Before the North American title you had guys like Strong & Ohno wondering around the mid card aimlessly because if they weren't going to win the title there wasn't much else for them to do. Having a secondary belt gives certain superstars purpose. Instead of making Ohno a glorified jobber have him challenge for the North American title.
It's also a great proving opportunity for certain stars. Stars who a little younger or they're not sure if they're ready for the main title have them win the North American Title and see what they do with it.
They're way of saying "Here's an opportunity, sink or swim with it". It's for this exact reason I was sure Velveteen Dream was going to win it. He's incredibly over put maybe too young for the main title. In essence it could become what the Intercontinental Title use to back in the day. The up incoming guys like Bret Hart, Shawn Michaels and even The Rock got at least one run with the IC title before they were ready to become World champion.
You have to think this partly Triple H had in mind for this title as it's an old school concept and he clearly loves old school wrestling. You can tell with NXT's old territory set up and the design of the North American title itself.
With all that it's hard to see how the NXT North American Championship can't be a success. I see it possibly being on par if not bigger than the NXT Championship.
---
Always Use Your Head and visit the official Pro Wrestling Tees store for The Chairshot All t-shirt proceeds help support the advancement of your favorite hard-hitting wrestling website, The Chairshot!

---
Bray Wyatt Has Found His Niche With Woken Matt Hardy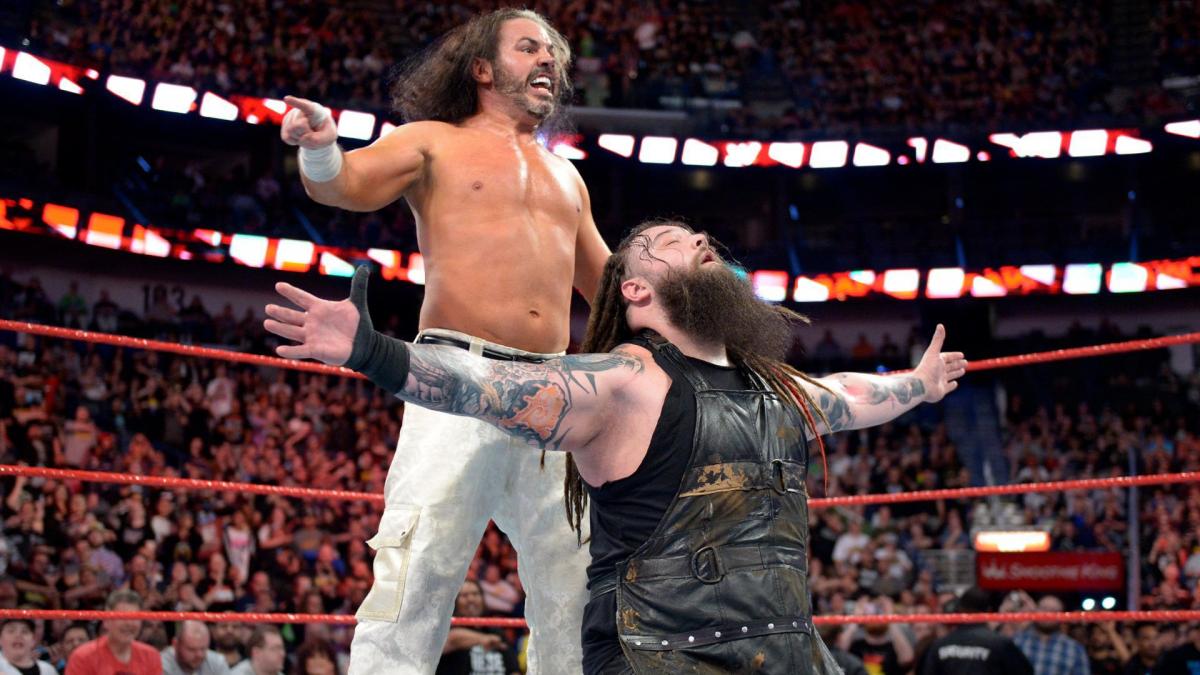 Matt Hardy is sharing his Woken wisdom with the world. The first man to fully accept that wisdom is Bray Wyatt and the two men are now a tag team in WWE. Many fans saw this coming, as Wyatt's character had peaked for the most part. There was only so much ground WWE could cover with him in his Eater of Worlds persona.
It was indeed time for a change and Hardy facilitated that change. Now the two men are sharing the same air without trying to destroy each other, which seemed to be their fate. Like Undertaker and Mankind, Matt Hardy and Bray Wyatt seemed destined to feud forever. But they are much better as a team.
That was perhaps not what fans expected. Though the signs of a potential partnership were there, no one could have predicted just how well they would mesh together. Fans watched them fight for so long that any union between them could have fallen flat.
But they are clicking together quite nicely at this point. Their personalities compliment each other and they have a great chemistry together. Wyatt has slid into the No.2 spot, which is a change of pace for him. He was always the man at the head of The Wyatt Family. He was always the one pulling the strings.
Therein lays the disbelief among many fans when it comes to this new team. Wyatt spent his entire WWE career as a heel. There was never any reason for anyone to trust him, because he was always playing mind games with everyone around him. He had no history as a babyface and he never really crossed into that area at any time during his run. He always had an agenda and that agenda was usually trouble for whoever crossed him.
Then there's the fact that he was such a twisted soul. Bray Wyatt was never really hated like other heels around him, but he was booed. At his best Wyatt was creepy and sometimes even frightening. At his worst, he was a babbling madman. Somewhere in the middle, he found his niche.
The WWE faithful often didn't understand what he was talking about but they knew it was psychological. Wyatt often seemed to talk above everyone's head, as if he was already three steps in front of them. Fans took what they wantd from his promos and though the point wasn't always clear, the intent was. Bray Wyatt wanted to be worshipped. He needed to be.
His character's existence needed validation. The only way he could get that was by controlling others and making them need him. They were subservient to him and he led the way. Wyatt's opponents wanted to shut him down but they were being played as well. Bray thrived on funhouse horror and expected everyone else to live that life with him. In that world, only he stood at the top.
So when fans now see him alongside Matt Hardy, they immediately have doubts. How could such a megalomaniacal figure like Bray Wyatt actually step aside and give control of his fate to a man that was beneath him? Wyatt did try to destroy Hardy and was convinced that he could do it. How could one brawl completely change his mind and indeed his very essence? Is that even possible?
In the world of WWE, Bray Wyatt is Marvel's Loki. Like his comic book counterpart, Bray is devilish and conniving, always ready to use others for his own personal gain. He is a trickster, a wolf in sheep's clothing, a man that wants to slide in and take whatever he wants before anyone knows he was there.
Neither man is concerned with obliterating everything around them; they would much rather rule it all. Complete power is intoxicating and both men are indeed addicted to it. Loki has betrayed his brother Thor numerous times in order to get that kind of power. Is it only a matter of time until Bray Wyatt betrays Matt Hardy for the same reason?
The biggest problem with that theory is fans just saw it happen. Randy Orton once followed Bray and then turned on him. It was obvious from the start that Orton was up to something; he's called The Viper for a reason. But no matter how many times it seemed as if Randy would leave Bray, he stayed. He even began to fit. Suddenly Randy Orton looked like he belonged with Bray Wyatt. Fans accepted it. But as soon as everyone relaxed, Orton made his move.
This could happen again of course. Wyatt could betray Hardy and leave him for dead in the middle of the ring. He could even take control of SAniTy and possibly even remake them in his own image. Many fans believe that would work and it quite possibly could. But is that the right move for Bray Wyatt?
Right now he and Matt Hardy are just getting started. Some guys are better enemies than friends but that just doesn't apply to this situation. Hardy and Wyatt have gone to war many times before. Fans have seen that. It was fun and it worked for them. But it was time for something new. The same is definitely true for Wyatt.
Bray needed a change. He may have the same look and he may have the same move-set in the ring but he has evolved. Wyatt reached his apex and needed to do something fresh in order to keep moving forward. That's exactly what he's done now. Wyatt was a compelling heel but he can be a dynamic character babyface. This is what he perhaps should have been all along.
Matt and Bray are not The Hardy Boyz. They're also not The Wyatt Family. These two Superstars are something more, something different. Hardy revitalized his pro wrestling career with his Broken and Woken personas. Bray Wyatt is now doing the same. The time for twists and turns may come. But now the time is right for this duo. Matt Hardy and Bray Wyatt are bizarrely fun together and that fun is just beginning.
---
Always Use Your Head and visit the official Pro Wrestling Tees store for The Chairshot All t-shirt proceeds help support the advancement of your favorite hard-hitting wrestling website, The Chairshot!

---