Does One Match Forecast The Future Of The Women of Honor?
It's tough not to be a little skeptical when you hear that Ring of Honor is placing an emphasis on women's wrestling. We've heard this song & dance before. ROH has talked about giving women more opportunity on their shows only to drop the whole idea a number of times throughout their almost sixteen years of existence. Out of all the current North American wrestling companies that we spend a lot of time talking about online, ROH has done the least with female performers.
To be honest, I'd say most of ROH's problems using women over the years come down to simple business principles.
Supply
There weren't as many women to book in 2002. With only so many options, fresh matches die off pretty quickly. I was a big fan of Lacey & Rain. I'm not sure I would have been had I seen them wrestle each other on every show for a year. The same goes for Krissy Vaine & Amber O'Neal. They were good, but they were two of very few women wrestling in the Southeast. Even if you brought those four together, you would run out of matches real quick.
Typically, the women ROH used over the years were convenient to book. Some were related to men ROH used on a regular basis. Others were involved with men ROH used on a regular basis. I don't wish to throw these women under the bus, but I'll go ahead & put CM Punk & Delirious under there since they were/are usually involved. There were a couple of occasions Punk was involved with a woman that suddenly stopped appearing in ROH once the relationship ended. Funny how that worked.
This practice hasn't gone away, and it never will as long as wrestlers find it easier to date each other than finding normal people. I get it. The only problem is that women that aren't dating people in these companies have a tougher time getting opportunities.
Demand
To be fair to ROH, a large part of why the Women of Honor concept has been on the back burner for years has to do with the fanbase. They never showed a great deal of interest in women's wrestling. Sure, there have been flashes of opportunity for women. Daizee Haze & Allison Danger were around for years with various acts. Sara Del Rey had matches here & there. Lacey was the most effective female character in the company's history due to her storyline with Jimmy Jacobs.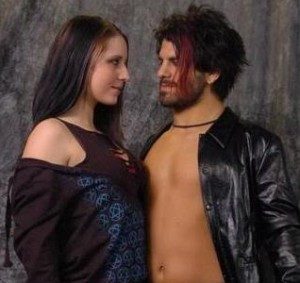 They were always side characters. Danger was at her most visible with the Prophecy & Christopher Daniels. Haze was seen alongside Matt Sydal, the Embassy & Delirious. Del Rey was window dressing for Sweet & Sour Inc. & the Kings of Wrestling. Lacey of course was with Jimmy. They rarely had their own issues to deal with.
This didn't change after Gabe Sapolsky left. Adam Pearce didn't seem inclined to book many more women than Gabe, & Jim Cornette has never been a proponent of women doing much in wrestling or anywhere else. In their defense, there was never much of a demand from ROH fans for more. Their complaints during Pearce's & Cornette's runs with the book had more to do with workrate than anything else.
Opportunity
Sinclair Broadcasting's purchase slightly changed the game. More Women of Honor matches were featured online. They were rarely featured on television. Once every few months the Women of Honor would get their own episode of ROH television. It was one of those things where it was kind of special, but also kind of a sign that ROH was between storylines.
The women persisted, and ROH finally has an official division. There's a belt that has roses & reminds me a little too much of the Divas Championship in color. There's also a tournament!
Official @Women_of_Honor Championship Tournament Brackets… who will become the first ever #WOH Champion? pic.twitter.com/hjAQLYzQKa

— Women of Honor (@Women_of_Honor) February 14, 2018
We know so far that Mandy Leon & Brandi Rhodes advanced to the second round. I haven't been keeping up with the spoilers, but it seems that Kelly Klein & Tenille Dashwood would be the favorites to move on & face Mandy & Brandi in their respective second round matches.
A match between Leon & Klein should be a really good indication of where ROH is going with the Women of Honor division. Don't get me wrong, I'm a fan of both ladies. It's just that making either of them the first Women of Honor Champion would send very different messages.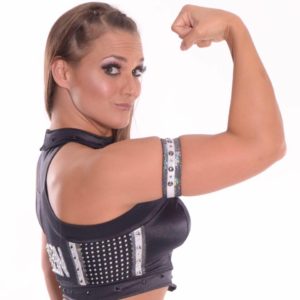 Kelly Klein has not been pinned since entering Ring of Honor. She hasn't submitted either, as her one singles loss was via a questionable countout decision. She's been presented as a dominant force that all the other Women of Honor have a tough time dealing with. Klein has been in pro wrestling for over a decade & it shows in her performance. She would be a great choice for the first champion, and the woman to knock her off the throne would attain a good amount of credibility in the process.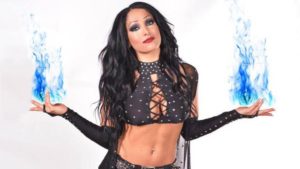 Mandy Leon is a product of ROH's Dojo. She gained familiarity with ROH fans through her work as host of Inside ROH on the weekly television show. I don't usually approve of self-given nicknames, but it was tough to argue with the "Exotic Goddess" moniker. Once ROH started booking more women's matches she became a focal point, most notably a feud with Taeler Hendrix that got a good reaction from fans. Unfortunately it was relegated to Internet coverage & not really featured on television.
While Klein has been the most pushed athlete in the Women of Honor division, Leon has been the most popular. Arguments can be made for either going over in their match & eventually on to the championship, but I think the choice is obvious.
Mandy is popular. She's a hard worker. I believe she'll make a fine champion someday. I don't think that day will come by the time this tournament is over. She's on her way, but still needs more polishing. I'd compare her to 1998 Sable. Better in the ring, but it's about the same drop-off from 2018's best women to Mandy as it was from 1998's best women to Sable.
Kelly is ready right now. Her as champion would bring a legitimacy that the WOH division will need immediately in order to be taken seriously. The first champion needs to be somebody that can be seen on the same level as North America's other women's wrestling champions. She doesn't have to be better than Charlotte Flair, but she at least has to be on the same level as Alexa Bliss or Laurel Van Ness. Kelly has been pushed as strong as these women, and the fans bought it.
Mandy would be best served working her way up through the ranks to eventually attain the championship. Winning the tournament and being given the honor of being the first champion before she's ready would send a message that ROH management needs to steer clear of.
It all depends on if ROH wants the Women of Honor to be a 2010s style women's division based on performance, or a 20th century style women's division based on popularity. The result of Leon vs Klein will tell us all we need to know.