Pin The Shoulders Podcast: Kennedi Copeland
Serious Brad and the crew on Pin The Shoulders talks WWE, independent wrestling, and more! This week Brad and company welcome Limitless Wrestling star Kennedi Copeland!
Pin The Shoulders takes PRIDE in supporting Independent Pro Wrestling and bringing as much of it as we can on a weekly basis to our listeners! This week we focus on the growing popularity of Maine Pro Wrestling and one of the biggest promotions it has to offer…Limitless Pro Wrestling.  And one of the MANY talented athletes that walk through their curtains is Kennedi Copeland!  Join us as we talk about her career thus far and what it means to her to be a woman in the industry today….and how she can keep her own with anyone who crosses her!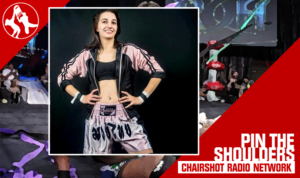 Live Wednesday nights and available anytime, all the time, on-demand at TheChairshot.com.
The Chairshot: Always Use Your Head.