POD is WAR 2/1/18: Ronda Rousey In WWE
The Chairshot brings you POD is WAR with Christopher Platt and Andrew Balaz.  You'll laugh, you'll cry, you'll be moved to the brink of insanity as POD is WAR debates the hottest topics of the wrestling world (along with some sports and pop culture sprinkled in).
Today's battle plan:
Royal Rumble review
Ronda Rousey
Bullet Club implodes?
Jeremy Borash
Cena…Hustle…Loyalty…Respect?
Tune in every Thursday evening, only on… thechairshot.com.
---
Always Use Your Head and visit the official Pro Wrestling Tees store for The Chairshot All t-shirt proceeds help support the advancement of your favorite hard-hitting wrestling website, The Chairshot!

---
Brock Lesnar Creates the Kind of Chaos WWE Does Not Need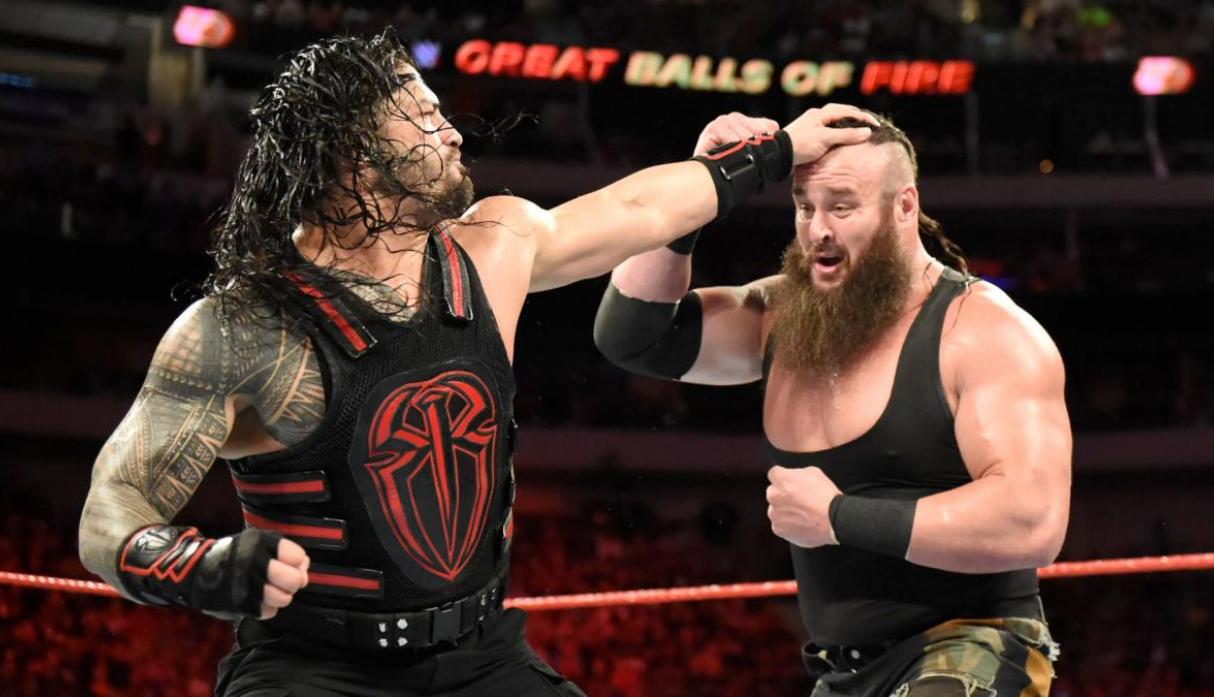 Here we go again. The main event scene on Monday Night Raw has once again become even more disturbing with the addition of Brock Lesnar.
The former Universal Heavyweight Champion entered the main event at Hell in a Cell, taking down both the current champion Roman Reigns and Braun Strowman in a  sad but predictable ending to a decent pay-per-view.
WWE cannot seem to get out of its own way in deciding what to do with the red brand's title. Or, maybe it's Lesnar who is holding the marionette strings of a company that has not moved on from the Beast Incarnate to forge a new identity of main event stars. The Hell in a Cell match between Reigns and Strowman was muddled with the arrival of Drew McIntyre and Dolph Ziggler and Seth Rollins and Dean Ambrose as it was.
Adding Lesnar to the chaos and disorder creates more problems than solutions for the creative team, Reigns and the title he wears around his waist.
The thought was once Reigns beat Lesnar to claim the belt, it would be the end of the line for the WWE and UFC star, who has made no secret he wants to dominate the octagon once again. It also opened the door for Reigns to finally assume his role as Vince McMahon's master plan of having the current Shield Member and four-time champion to step over Lesnar, John Cena and anyone else in his path as the company's new face.
I'm sure WWE's fans have finally succumbed to the notion Reigns isn't going anywhere. To steal a phrase from Ric Flair, "Whether you like it or don't like it, learn to love it…"
You get the idea.
So now, WWE has a three-headed monster fighting over the same belt it did only months ago with no end in sight. The notion of McIntyre stepping forward as the next opponent for Reigns looks to be squashed. Lesnar's contract, demands and lack of airtime while wearing the Universal Title finally pissed the fanbase off. Does putting the strap back around his waist make sense?
Now that Strowman has become an ally of Ziggler and McIntyre, how does this all play out? Does anyone care? Is the best thing to come out of the Hell in a Cell match is the return of Paul Heyman? It's still a tangled web WWE weaves with no ending point. It's status quo for poor booking.
It appears to be the norm, not the exception. We all just learn to deal with it, mainly because change does not seem to be a good thing in this promotion.
---
Always Use Your Head and visit the official Pro Wrestling Tees store for The Chairshot All t-shirt proceeds help support the advancement of your favorite hard-hitting wrestling website, The Chairshot!

---
WWE Women's Tag Team Championships?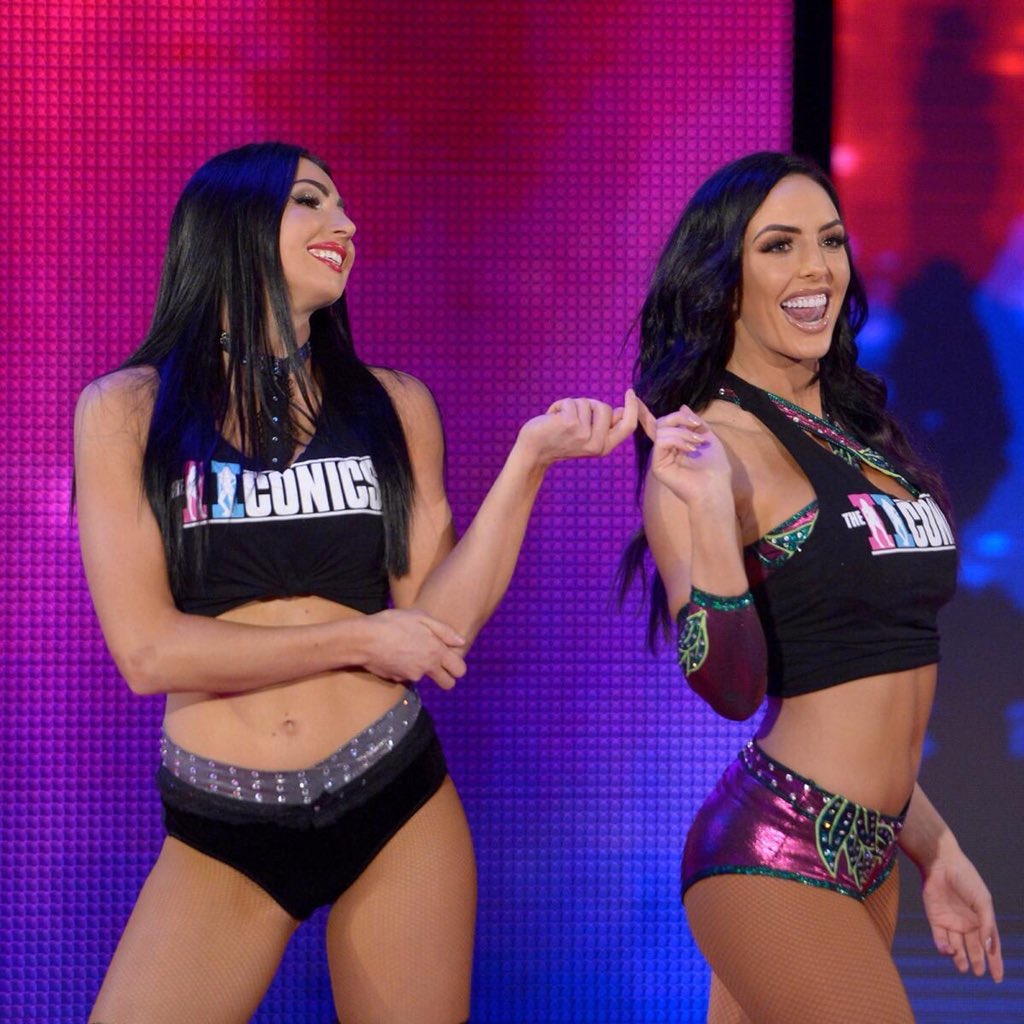 I don't want this title to be misleading. I'm not trying to break news or spread a rumor. This is just something I've noticed over the past several months.
As we all know, WWE's first all-female pay-per-view, Evolution, is set to take place in October.  In addition to the finals of the Mae Young Classic, an NXT Women's Championship match is supposed to take place. Alexa Bliss vs. Trish Stratus has also been announced.
We know a lot of talent is supposed to be present but we haven't heard much in terms of scheduled matches. This is one of the reasons I think we could see the debut of women's tag team titles.
Over the summer, WWE has been pairing up a lot of the women on their roster. Take Sasha Banks and Bayley for example. Many of us thought that was leading to a blood feud that was going to culminate at SummerSlam or Hell in a Cell.  But nothing happened. They made up and have been working tag matches together ever since. We've also seen the return of The Bella Twins who have been appearing on both Raw and SmackDown.
Teams like The IIconics and The Riott Squad were already present but let's look at the rest of the roster. When Paige left Absolution, Sonya Deville and Mandy Rose continued to make appearances as a team. Ronda Rousey and Natalya have been in each other's corner all summer. Alexa Bliss used to only be accompanied by Mickie James but now Alicia Fox has joined their stable. As previously stated, Alexa is supposed to wrestle with Trish so Mickie and Alicia can still partner together.
The same is occurring over on SmackDown Live. Naomi was feuding with both Peyton Royce and Billie Kay but Asuka has very recently joined forces with her. They even had a tag match against The IIconics on Tuesday.
On Raw the only women left without a team are Nia Jax, Ember Moon, and Dana Brooke. Carmella, Becky Lynch, and Charlotte are the only lone women on SmackDown Live. Zelina Vega and Lana are attached to their male associates so I don't expect them to be paired with another female talent in the near future. Carmella's partnership with R-Truth isn't as permanent and Tamina is still on the shelf with an injury. I wouldn't be surprised if we saw a mini Welcoming Committee reunion upon Tamina's return.
Again, this is all just personal speculation. I turn a blind eye to dirt sheets and leaked event cards so you may know more than I do on this subject. This is just something I've picked up on from watching the product. It may be my imagination but there were too many signs for me to ignore.
---
Always Use Your Head and visit the official Pro Wrestling Tees store for The Chairshot All t-shirt proceeds help support the advancement of your favorite hard-hitting wrestling website, The Chairshot!

---
Dear Smarks, The Saudi Arabia Show Has Nothing to Do With Evolution!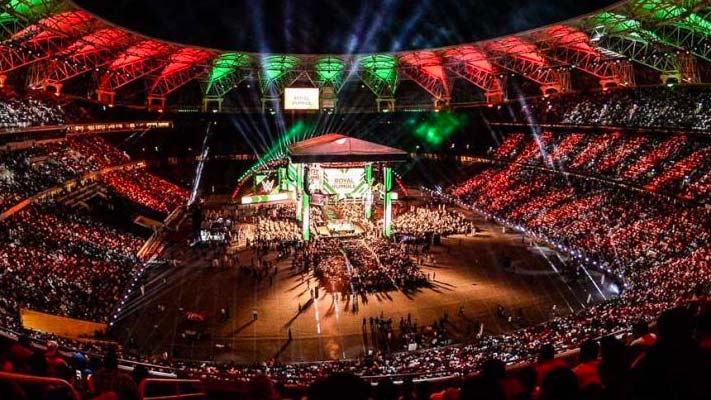 It's that time of year again. WWE is getting ready to go to the Kingdom of Saudi Arabia for a Network Special, and once again, the wrestling PC Police are up in arms about it. The rallying cry this time is about how AWFUL it is that WWE is doing a show in Saudi Arabia, where the Women's Division isn't allowed to compete, just days after the first all women's PPV. Obviously, this is a blatant attempt by WWE to undermine the Women's Evolution by doing this and that WWE should be ashamed to take 'blood money' from Saudi Arabia.
There's so much wrong with this argument, I'm not sure where to start. First of all, the scheduling of the Crown Jewel for November 2 would've happened if WWE had put No Mercy on instead of Evolution. The scheduling for both events was done long before either was formally announced.  Secondly, as I have stated before, WWE goes to the Middle East as part of their bi-annual overseas tour every year and have done so for decades, and every time, except for the match in Abu Dabai, the women have never gone on that leg of the tour because they weren't allowed to compete. This wasn't a secret, but no one cared until after the deal with Saudi Arabia was announced and Banks and Bliss had their history making match in Abu Dhabi.
Here's a question: How is doing TWO shows a year in Saudi Arabia undermining the Women's Division? Seriously. Do you HONESTLY, truly and honestly, think WWE is going to spend three years building the Women's Division, putting on two all-Women's tournaments, doing the first Women's Royal Rumble, Elimination Chamber, and WrestleMania Battle Royal, while secretly plotting to undermine it by doing two glorified house shows in a country where women are banned from participating in sports?
As for the 'blood money', oh where do I start? What brand of shoes do you have on? What brand of clothing are you wearing? Or your phone? Chances are pretty good that your clothes, shoes, and/or your phone, was made in an overseas factory by workers who get pay a very small amount and often work long hours in terrible conditions. Yet, companies stock these products and not a word is said about the business deals being 'blood money'.
Before anyone starts about Saudi Arabia's human rights violations, let me point out that Australia, site of the Super Show-Down and China, which will be getting it's own Network Special, BOTH  have their own recent histories of human rights violations. Australia has been HEAVILY criticized for its treatment of migrants and refugees, many of whom are from predominately Muslim countries, as well as the continued mistreatment of Aboriginal peoples. China's list of human rights violations is a pretty lengthy one, but they have also recent come under fire for its persecution of a Muslim minority, and yet, no one has complained about WWE doing shows there. No one has made nearly the same amount of noise about 'blood money'. So why is Saudi Arabia unacceptable while Australia and China are acceptable?
The bottom line is that WWE is a business, not the United States Government, or the United Nations. The deal with Saudi Arabia is a business deal that gives fans in the Middle East a chance to see a WWE show without having to stay up to the crack of dawn.
If the idea of WWE doing TWO shows a year without the women present bothers you that much, don't watch it and focus that energy on supporting women's wrestling and women's causes where you live. Cheer when the women's matches are on instead of going to the bathroom or changing the channel, watch the Mae Young Classic (it's great, I promise), plan to watch Evolution, buy merchandise to support the female superstars. The Women's Evolution is bigger than two house shows in Saudi Arabia, don't diminish it by making that the end all-be all.
---
Always Use Your Head and visit the official Pro Wrestling Tees store for The Chairshot All t-shirt proceeds help support the advancement of your favorite hard-hitting wrestling website, The Chairshot!

---