POD is WAR 2/1/18: Ronda Rousey In WWE
The Chairshot brings you POD is WAR with Christopher Platt and Andrew Balaz.  You'll laugh, you'll cry, you'll be moved to the brink of insanity as POD is WAR debates the hottest topics of the wrestling world (along with some sports and pop culture sprinkled in).
Today's battle plan:
Royal Rumble review
Ronda Rousey
Bullet Club implodes?
Jeremy Borash
Cena…Hustle…Loyalty…Respect?
Tune in every Thursday evening, only on… thechairshot.com.
It's Time For WWE To Reunite The Wyatt Family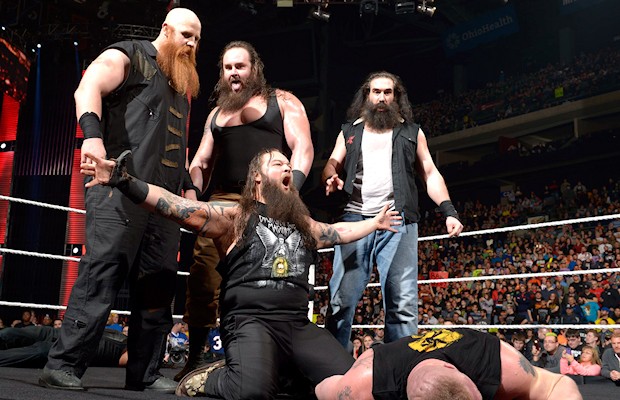 Given all of their strife over the past year, Carol thinks it's time for WWE to bring a family back together–The Wyatt Family!
Out of all the wrestling stables in recent years, The Wyatt Family stands out as one of the most intriguing groups. The trio consisting of Bray Wyatt, Luke Harper, and Erick Rowan made their main roster debut in the summer of 2013.
From the moment they stepped into the ring, the stable piqued the interest of the WWE Universe. Bray Wyatt was perfect as the menacing cult leader, who preached about saving the world from darkness. Harper and Rowan excelled in their roles as Bray's followers, doing whatever their leader commanded.
The group grew bigger when Braun Strowman joined the stable, making them a force to be reckoned with.
Yet, like many wrestling stables, The Wyatt Family soon disbanded. After their split, the four men have gone on to have decent singles careers with some ups and downs along the way.
Braun Strowman has been the member to have the best career.He's gone on to become one of WWE's top guys and has competed in numerous matches for the Universal Championship. While he hasn't won the coveted title yet, Strowman has won over fans, who are strong supporters of The Monster Among Men.
Bray Wyatt also achieved a great amount of success by becoming WWE champion along with two-time tag team champion. As for Harper and Rowan, they're run as singles competitors was a little rocky. But the two men would team up as The Bludgeon Brothers and became one of Smackdown's top tag teams.
Currently, all four men are out of action. Strowman, Harper, and Rowan are dealing with injuries. As for Bray, he hasn't been seen since July when he and Matt Hardy lost the RAW tag titles. But in recent days, he's been hinting at a return, promising a something different.
While Bray hasn't been on television in months, he did make an appearance during the Starrcade house show a few weeks ago, when he wrestled Baron Corbin. Bray's involvement at Starrcade has led to speculation that he'll be making his return at the upcoming TLC PPV during Braun and Corbin's match.
If Bray does return to help Braun, does that mean that a Wyatt Family reunion is in the works?
It seems possible and to be honest this could be the best thing to happen to the group.
As I stated earlier, the men have had ups and downs in their singles careers. Braun's momentum has faltered since losing his Universal Championship match against Brock Lesnar. Bray has been just one of the many wrestlers who've suffered at the hands of WWE creative team.
From a storyline point, you could have Bray come back to help Braun resurrect the monster that Strowman is. With Bray's guidance, Braun could gain back some of the momentum he's lost and become a dominant force among the roster.
As for Harper and Rowan, they too could benefit from a Wyatt Family reunion. The two have struggled following the disbanding of the group.Yet, with them part of the stable again, they'll be back in the spotlight as they take on their roles as Bray's enforcers.
There's no telling what WWE has planned for Bray, but with Wyatt's recent tweets and TLC coming up, it's going to be interesting to see if The Eater of Worlds makes an appearance and sets up a Wyatt Family reunion.
Let us know what YOU think on social media @theCHAIRSHOTcom and always remember to use the hashtag #UseYourHead!
Are We Really Even Fans Anymore?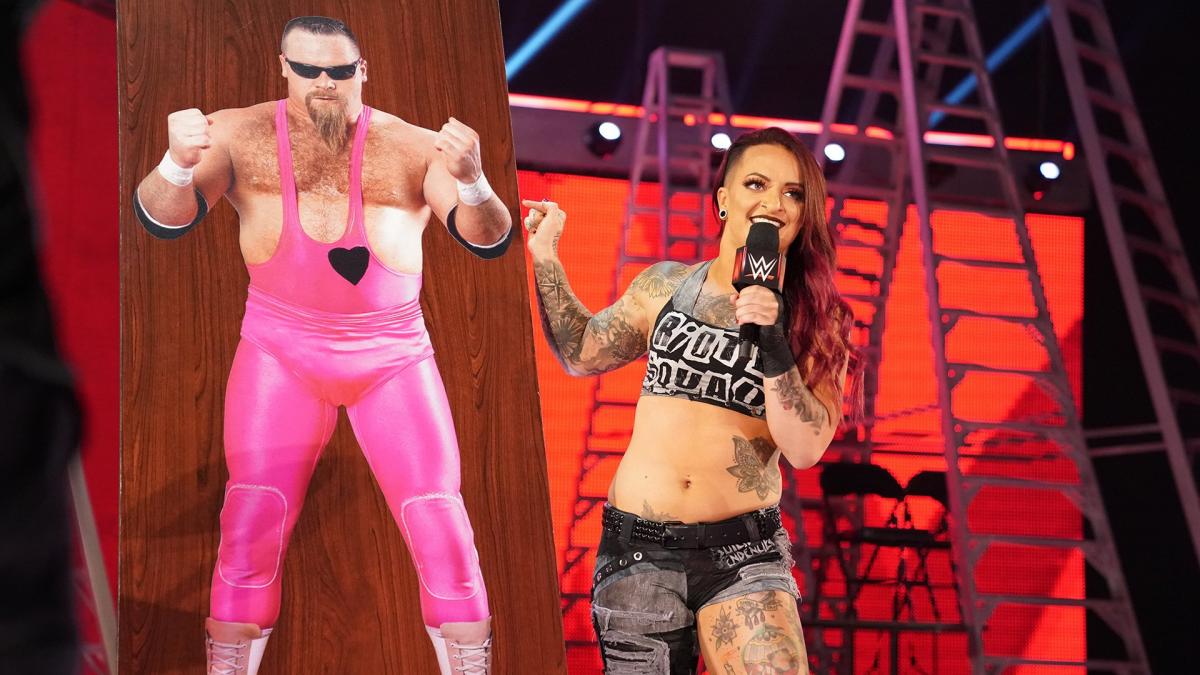 Rey Ca$h looks to speak some truth into your life about your hatred of WWE Raw!
On April 3rd, 2016, The Walking Dead went from the biggest show on television to one riddled with controversy.  This particular episode is the infamous one where Negan, the biggest of all the big bads, makes his debut and kills an unknown member of Rick's crew with Lucille, his barbed wire bat.  We don't see who it is and we are forced to wait 6 months to find out who died and what all happened.
Why am I talking about The Walking Dead on a wrestling website?  I bring up this show, and in particular this episode, for one major reason.  The fan reaction to it was vitriolic.  Some fans hated it.  Some loved it.  Everybody had an opinion.  But for a large number of fans, that was where the show crossed the line.  Funny thing is, if you read the comics that the show is largely pulled from, this was a paramount storyline that was always going to have to happen on the show.  So essentially, fans were told EXACTLY what was going to happen, even down to the smallest details, and they revolted.
Sound familiar?
You Hate Raw.
The vitriol spewed at the WWE currently, particularly Monday Night Raw, is stronger than ever.  The thing is, however, WWE has never lied about what type of show Raw is.  It's a variety entertainment hour featuring wrestling.  And yes, ratings are down, but they're consistently one of the top 5 shows watched every night on cable.  So, do the ratings really matter when nobody's watching anything else either?
I understand that we as fans have an intrinsic right to feel how we are led to about the product we are given.  For many, Raw is sub-par to terrible.  I get that and respect that.  I even echo that to a small extent.  But I've started to wonder one major question as of late – are we really even fans anymore?
I hate to go all literal on you guys, but Merriam-Webster defines fan in this particular respect as "an enthusiastic devotee (as of a sport or a performing art) usually as a spectator; an ardent admirer or enthusiast (as of a celebrity or a pursuit)."  We all know that the word fan is derived from the word fanatic, as these definitions allude to.  Have we thought, however, about how that really affects us?  Do we think about what type of fan we are?  How our fandom affects that which we are said fans of???
The WWE needs no sympathy.  They're a billion-dollar company, thriving in a business sense that was never before thought possible.  But these criticisms…if we think deeply into them, is it really because the show is that bad, or is it because we're not fans of what the product is anymore?  Let me give you an example.
Gregg Popovich, super successful and championship winning coach of the San Antonio Spurs, was in the news recently because he mentioned that he thinks the current NBA is not beautiful anymore.  The game, which has progressed from slower, more stylistic and cerebral play to quicker, more skill laden play, isn't what he's used to anymore.  Add to that the empowerment of the player in this generation and the rise of super-teams, and many fans tend to agree with Coach Pop.  The NBA has jumped the shark for many.  For others, however, it's the best it's ever been.  It's massively entertaining, it's breeding more stars than ever, and the skill is at an all-time high.
This reminds me of wrestling, WWE in particular.  This generation of fans seems to be primarily interested in in ring prowess and "workrate", choosing to focus on sequences of moves and characters that only resonate with them.  Older generations, however, were largely intrigued by the characters and the stories told, with promo ability being lauded even more than in ring ability.  A great match was only great because the story allowed it to be.  Neither side is wrong, but much like if you watch CZW, you can expect hardcore style wrestling, if you watch Monday Night Raw, you can expect story driven television.
But What Is Raw?
Let's take a look at the show from an analytical perspective.  We have to acknowledge, from the beginning, that 5 of the top 8 male stars on the brand are out for significant periods of time.  Roman Reigns is facing the fight of his life with leukemia, Braun has had his second surgery in years on his elbow, Kevin Owens and Sami Zayn will be out possibly past WrestleMania season because of major surgeries, and the Universal Champion Brock Lesnar is somewhere on his farm.  All criticisms must acknowledge this.
So, the major stories for the guys on the show revolve around Baron Corbin as General Manager Elect, and Seth Rollins and Dean Ambrose's blood feud revisited.  For the women, Ronda Rousey is locked in a heated feud with Nia Jax and her cousin Tamina, and Natalya is out for personal revenge against the dastardly Ruby Riott and her Riott Squad.  I ask you to think seriously about this question I'm about to ask you guys.  What do all four of those feuds have in common?
They're all story driven.
Corbin is drunk with power, abusing it to his whim.  As such, he's gained allies who want to be at the top, and are using Corbin's power to hold their enemies down.  Rollins and Ambrose have a near biblical feud, revolving around a very real and personal issue of betrayal.  Ronda Rousey faced her toughest challenge recently against Becky Lynch and Charlotte, and Nia, who broke Becky's face, wants to get back the title that she lost due to a cash in and beat the "Baddest Woman On The Planet" to prove her dominance.  Ruby Riott broke Natalya's late father, Jim "The Anvil" Neidhart's sunglasses, destroying a personal heirloom of Nattie's.  Natalya wants to get personal revenge for that and the multiple attacks that the Riott Squad have given her.
All four of those are Raw style stories.  They are largely told through promos and backstage vignettes, they are riddled with drama, and they are building to a crescendo.  The stories can always be told better, but are you sure you're not against the stories before they're even told to you because of your expectations?
Look at Dean Ambrose for example.  We've long salivated at the thought of a truly unhinged, heel Ambrose.  Instead, we get a germophobic, cerebral, emotional Dean.  In a sense, the emotionless lunatic has turned into the over emotional thinker.  And many fans are down on it.  Why???  The promos have been fantastic.  The cat and mouse game he's played with "The Architect" have been wonderful.
But, it's not what we expected.  And to add to that fact, it's not what we wanted.
That take is not only unfair, but it's a hindrance to everybody involved in telling that story.  The people with that take have essentially said that they refuse to let WWE tell them a story because it's not what they want.  That is MASSIVELY different than being told a story in full and not enjoying it.
I legitimately ask you all, which side are you on?  Not liking things because it's not what you wanted or expected, or reacting to what you're being given.  I'd bet good money it's the former.
My goal in this column is not to tell any of you that you're wrong in your opinions.  I'm not even trying to advocate for Raw – if you listen to Chairshot Radio or The Outsider's Edge, you'll see that I criticize the show just as much as you guys.  My point in this is simply to push you to step back and look at the big picture.  Re-evaluate what you think you want.  Ask yourself are you giving the show a legitimate chance, or are you already against the show before they get a chance to entertain you.  Then, maybe you'll realize that Raw doesn't need to change when they're being who they've always been.  Maybe them not changing isn't the problem.  Maybe you're the one who needs to change.  Maybe we all are.
FIN
Let us know what YOU think on social media @theCHAIRSHOTcom and always remember to use the hashtag #UseYourHead!