Top 5: Animals in Wrestling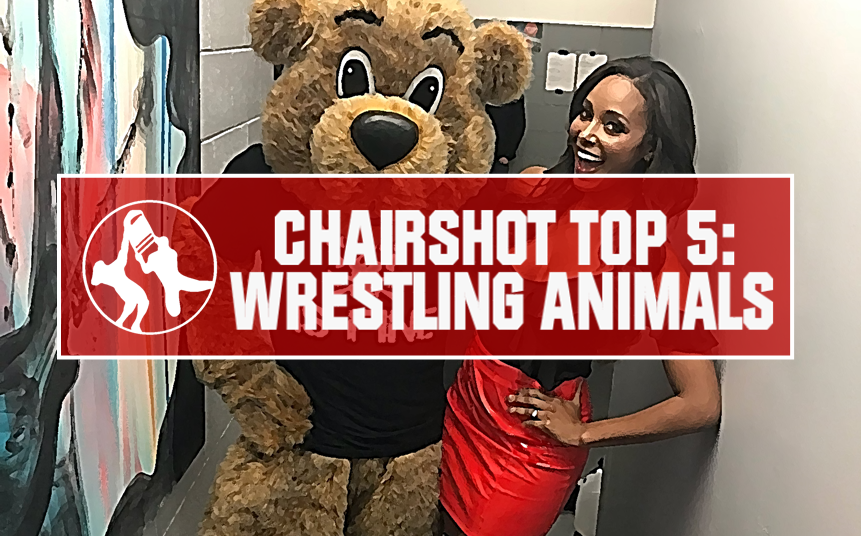 Professional wrestling is often referred to as a circus. It's a wide-ranging presentation of different acts designed to appeal to children of all ages. Wrestlers have spoken in cizarny language to each other for most of the art form's existence.
Every good circus needs animals.
When your best friend is a bear ? #BuryTheBear #BulletClub #BeingTheElite #DrugFree pic.twitter.com/qAexsBktvS

— Brandi Rhodes (@TheBrandiRhodes) February 11, 2018
Bury the Bullet Club Bear is just the latest involvement of animals (or people dressed like animals) in the history of our great sport. For many years, animals have been used to accentuate human performers. There was even a time when animals wrestled humans in special attraction matches. Here are Wrestling's Top 5 Animals.
5. Frankie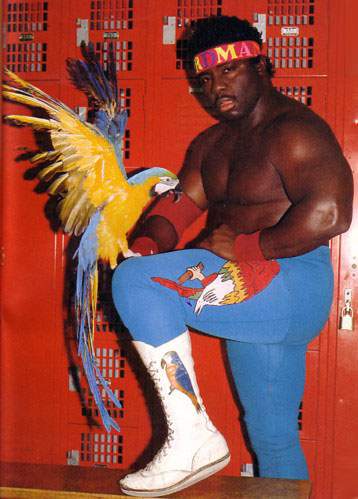 A macaw, Frankie served as Koko B. Ware's mascot from Koko's entrance into the World Wrestling Federation in 1986 until his tragic death in a fire in 2001. Frankie drove home Koko's "Birdman" persona & entrance music.
The only problem I had with Frankie was that he didn't exactly strike fear in the hearts of Koko's opponents. The 1980s WWF often ran angles where heels were afraid of babyface animals. Frankie really couldn't pull that off.
4. C.P. Munk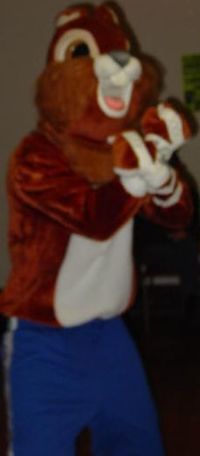 CHIKARA has seen several wrestlers in animal costumes appear in their ring, but none inspired the reaction of C.P. Munk. Munk's inspiration, C.M. Punk, actually appeared in the main event of the first CHIKARA main event. For whatever reason, he & CHIKARA's management had a falling out and that marked Punk's only appearance for the promotion.
August 13, 2005 marked the debut of C.P. Munk, a giant chipmunk with Punk's mannerisms, wrestling attire & entrance music (sped up, of course). He appeared a couple of more times in October before disappearing. Munk's return happened at CHIKARA's Tag World Grand Prix 2006, where he teamed with Colt Cabunny.
We found out that Necro Butcher was the man behind the C.P. Munk persona. It made perfect sense, Necro's typical character certainly wasn't family-friendly & he needed a way to get into CHIKARA.
3. Matilda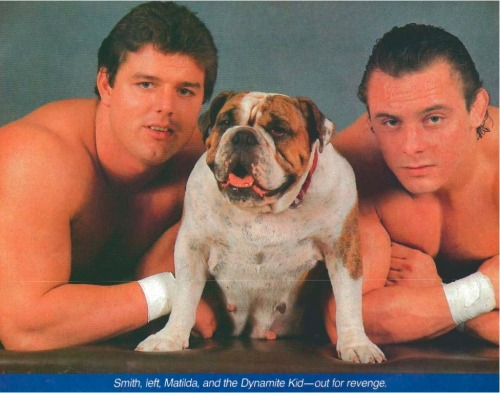 The British Bulldogs are still remembered as one of wrestling's greatest tag teams. Davey Boy Smith & Dynamite Kid certainly wrestled with the tenacity of bulldogs, but in the 1980s WWF you needed a little bit more than that to establish your persona. Enter Matilda. The bulldog showed up towards the end of the Bulldogs' tag team championship reign, and offered at least the same level of managerial expertise as their previous manager: Captain Lou Albano.
The highlight of Matilda's wrestling involvement happened when Bobby Heenan & the Islanders dognapped her. Fortunately, Vince McMahon hadn't yet considered the idea of having a wrestler feed another wrestler their own dog for dinner.
2. Terrible Ted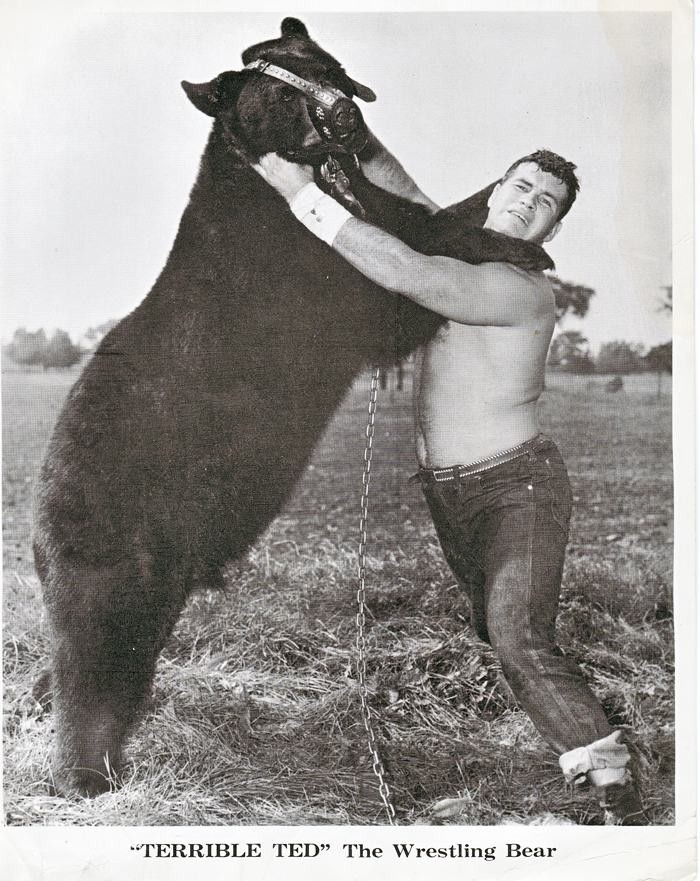 The wrestling bear was a tremendously popular attraction throughout the 1950s & 60s. Live gates would go up across the nation when a bear was advertised. The most famous of the wrestling bears was Terrible Ted.
Ted wasn't a bad worker from what I've seen. I imagine it had to be difficult from a mental standpoint for a human wrestler to get in there with him. Even if the bear looks like he's working, you never really know for sure. Of course, wrestlers don't need to worry about getting booked against bears now due to animal cruelty laws, liability laws & things like that. Daniel Bryan wanted to wrestle a bear at a recent WrestleMania, but there was no way he or a bear was getting cleared to compete in a WWE ring.
1. Damien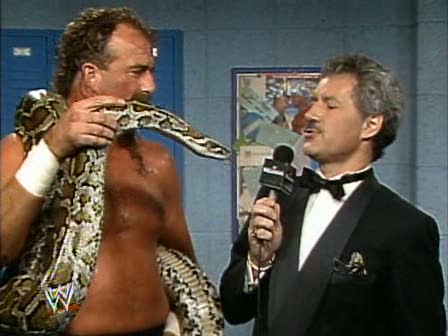 Jake Roberts had been known as "The Snake" ever since he started out in wrestling. It made sense on two levels: it rhymed with Jake's first name & it described his personality in & out of the ring. It only made sense to make it a key part of his persona when he arrived in the WWF.
There's definitely a fear factor when it comes to snakes. People are taught in Sunday School that they're evil. Jake used Damien as well as any wrestler has ever used a side character. Damien crawling on Jake's downed opponents was always a creepy moment that further established Jake as a sinister force. Even when he was a good guy, there was always something dangerous about Jake & Damien.
Damien was constantly involved in angles. Ted DiBiase kidnapped him. Earthquake sat on him. He was the only thing that Andre the Giant was afraid of. There was never a more important animal in the history of pro wrestling.
King's WrestleMania Rewind: Stone Cold VS. Scott Hall (WrestleMania X8)
Chris King is back with another WrestleMania Rewind, looking at the NWO's Scott Hall battling Stone Cold Steve Austin at WWE WrestleMania X8 from Toronto!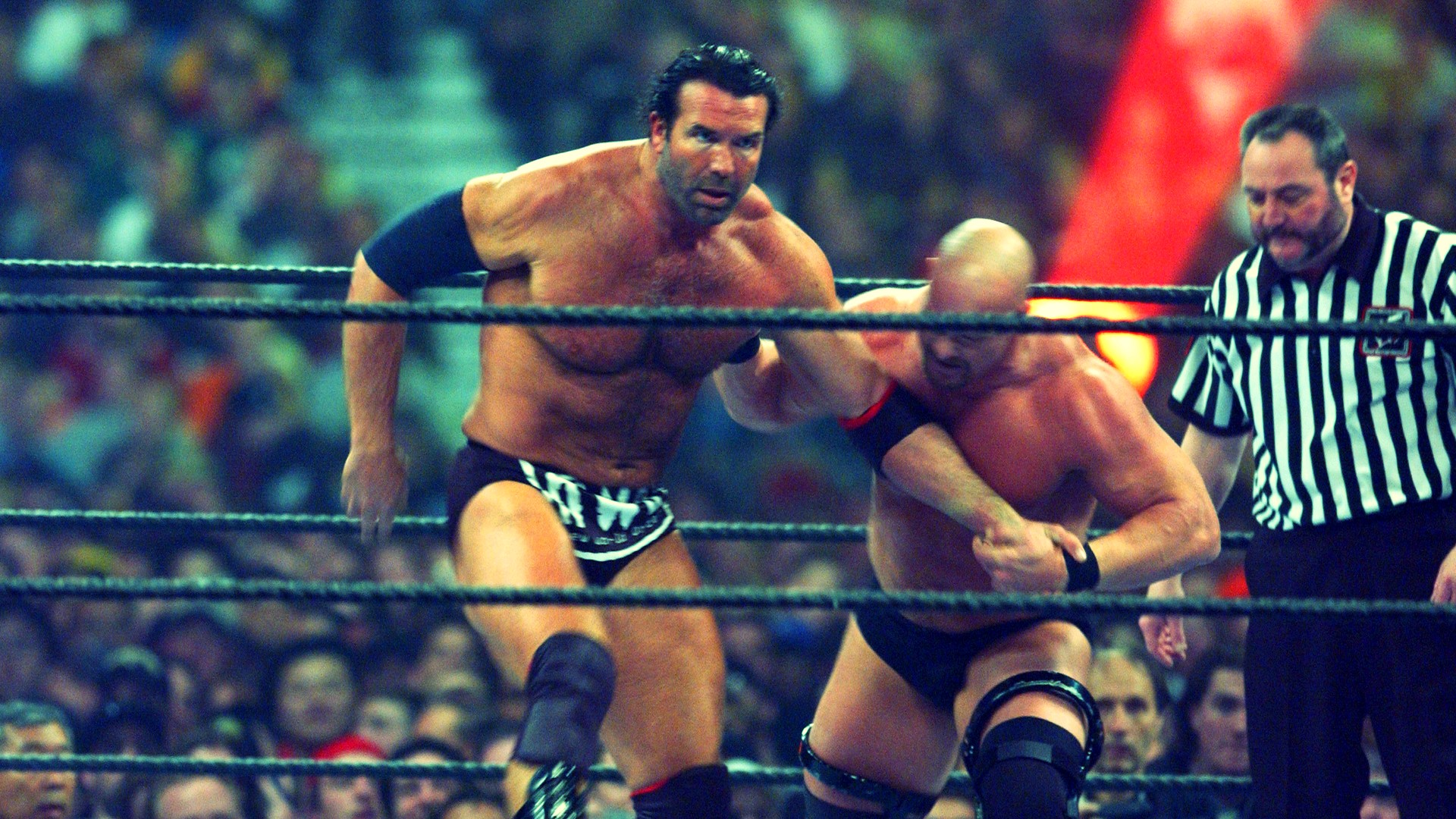 Chris King is back with another WrestleMania Rewind, looking at the NWO's Scott Hall battling Stone Cold Steve Austin at WWE WrestleMania X8 from Toronto!
Chris King is back this week with another edition of WrestleMania Rewind, where he is rewatching all the past Mania matches and feuds. This week you're in for a treat as we look back at 'Stone Cold' Steve Austin vs. Scott Hall at WrestleMania X8.
In late 2001, Vince McMahon bought out his competition WCW and acquired the rights to a plethora of talent including Booker T, Eddie Guerrero, Chris Benoit, and the iconic trio known as NWO. Hulk Hogan; Kevin Nash, and Scott Hall were hell raisers, and what better way to make a name for yourself than take out the two top superstars in the WWE The Rock, and Stone Cold?
The NWO cost Austin his chance at becoming the Undisputed Champion at No Way Out during his match with Chris Jericho. Adding insult to injury, the NWO spray-painted 'The Texas Rattlesnake' with their brand logo just like they did in WCW. As you can imagine, Austin was pissed and out for revenge against the group and primarily Scott Hall.
Hall would challenge Stone Cold to a match at WrestleMania 18. Both superstars beat the living hell out of each other leading up to this highly-anticipated match for who runs the WWE.
The glass broke and Stone Cold made his iconic entrance, and black and white NWO covered Halls' entrance alongside Kevin Nash. With the odds stacked against 'The Toughest S.O.B' could Austin or NWO prove their dominance? Sadly the NWO  broke up that very night when Hulk Hogan came to the aid of his adversary The Rock after their 'iconic' dream match. Stone Cold would ensure the victory with the Stunner. Hall would perform an Oscar-worthy sell over the finisher.
What a time to be a wrestling fan in the 2000s when nothing was impossible for WWE. Who would've thought WCW would go out of business and Hogan would make his long-awaited return to WWE?
King's WrestleMania Rewind: Seth Rollins vs. Kevin Owens (WWE WrestleMania 36)
Chris King takes a look at the most underrated WWE WrestleMania matches, and starts off with Seth Rollins battling Kevin Owens at WrestleMania 36!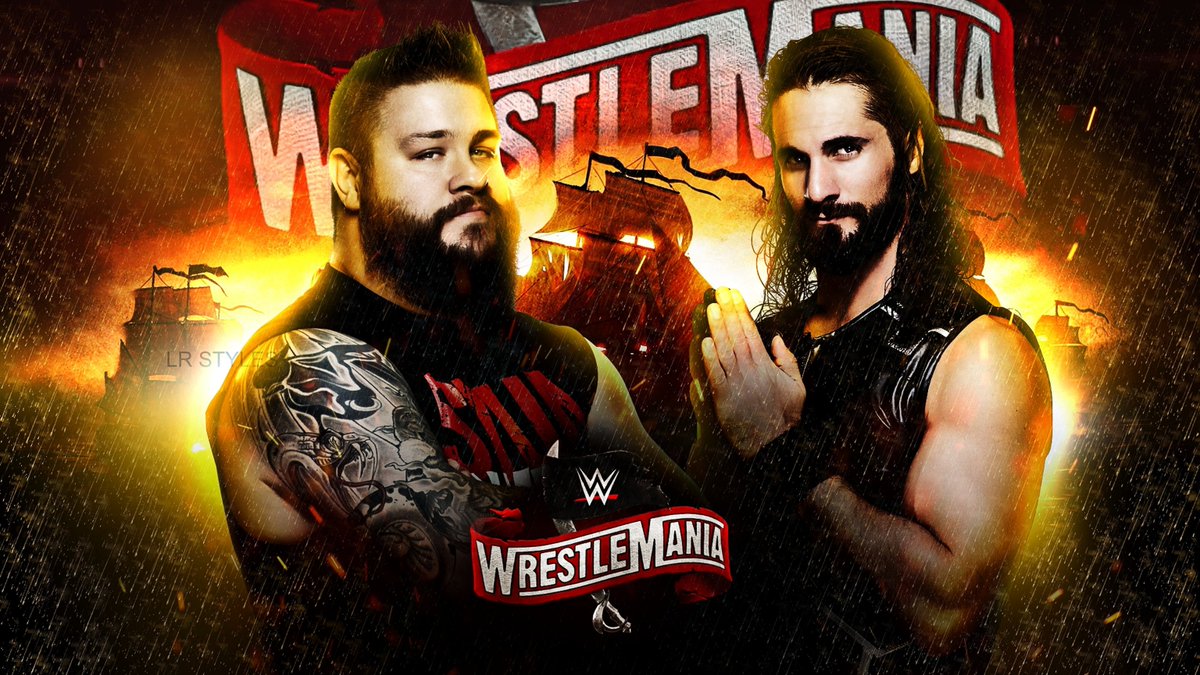 Chris King takes a look at the most underrated WWE WrestleMania matches, and starts off with Seth Rollins battling Kevin Owens in the WWE Performance Center at WrestleMania 36!
Chris King is starting a new series heading into WrestleMania season dubbed WrestleMania Rewind. Each week he'll be going back and sharing his insight over underrated matches at the Show of Shows. First up, is Kevin Owens vs. "The Monday Night Messiah" Seth Rollins at WrestleMania 36.
At the 2019 edition of Survivor Series, Rollins sacrificed himself during the men's traditional match allowing SmackDown to ultimately gain the victory. The following night the self-proclaimed Messiah, berated the whole roster but KO was not having any part of it. Owens quickly became a huge barrier in Rollins' cause for the greater good. The Authors of Pain attacked Owens with Rollins' character in question.
Owens finally had enough of his rival's mind games and torment and challenged Rollins to a match on the Grandest Stage Of Them All. Rollins mockingly accepted his challenge and the match was made official for night one of WrestleMania. Owens came out of the gate beating the holy hell out of the Monday Night Messiah trying to achieve his long-awaited moment at Mania but, Rollins tried to steal a disqualification victory by using the ring bell.
Owens hellbent on revenge provoked Rollins into turning their encounter into a no-disqualification contest where the fight could be taken all over the empty arena. The highlight of the match, was when KO used the WrestleMania sign to deliver a thunderous senton bomb through the announce table. Owens would secure the victory with a Stunner in an incredible match. Despite having no crowd during the pandemic era, both KO and Rollins put on an intense performance under the brightest lights.
In my personal opinion, this was a great feud that helped both superstars in their transformation as compelling characters for years to come.