Top 5: Childhood Wrestling Crushes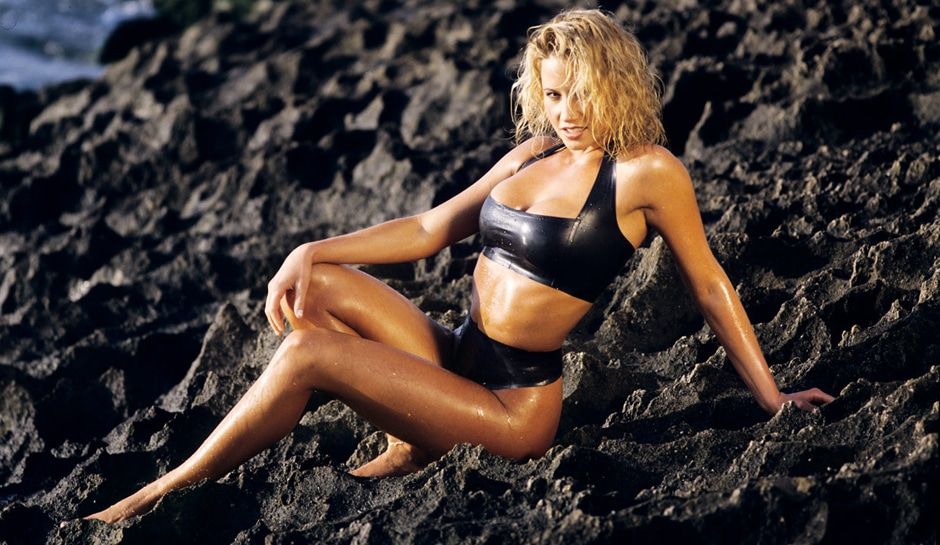 My friends at Off The Team got into an interesting discussion this week. The topic of childhood wrestling crushes came up. Most of the usual suspects from the era most of us grew up in were mentioned. It got me thinking back to those days & the women I was attracted to as a kid approaching puberty & introducing myself to the idea of girls not having cooties.
Here are my Top 5 Childhood Wrestling Crushes!
5. Madusa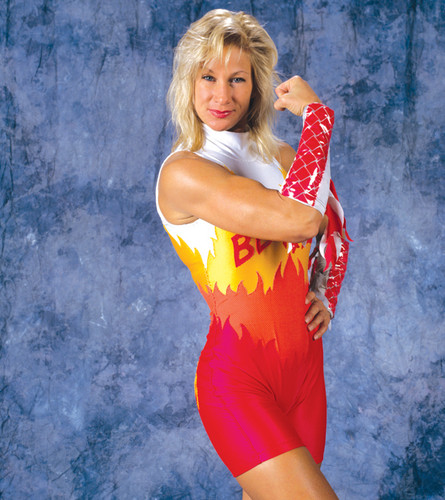 Whether she was Madusa in WCW or Alundra Blayze in the WWF, young me was a pretty big fan. Back in 1994 I had no idea that women actually wrestled, so the idea of a Women's Championship was interesting. Unfortunately, the WWF didn't do a whole lot with it, though Bull Nakano coming in for some matches was pretty cool.
I'm sure I didn't make the connection right away, but I was also a fan of Madusa from her days with the Dangerous Alliance. I was also a fan of Madusa's AWA work when I finally saw that twenty years after it happened. I don't know how many posters they sold, but I would have liked one.
4. Miss Elizabeth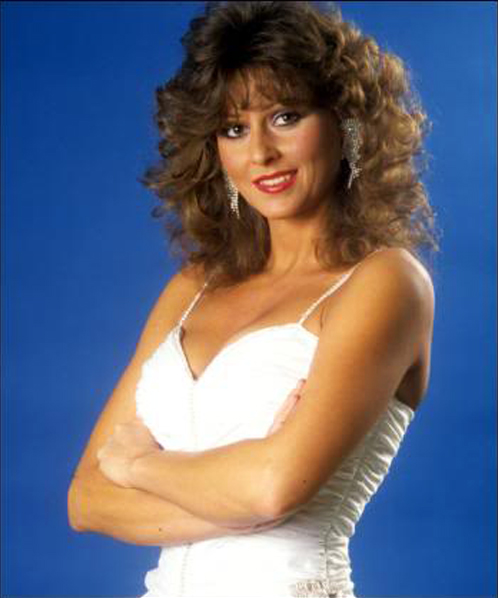 Elizabeth was sold as everything good in the world throughout her WWF run. I don't mind telling you that I haven't looked at love the same way since she & Randy Savage divorced a year after their SummerSlam 1991 wedding. Yes, I knew they were married before. Didn't change my outlook. If those two couldn't make it, what chance did I have?
Not much of one, from the way the past couple of decades have gone.
Elizabeth made her way to WCW a couple of years later, and while she didn't have the same innocent appeal that she did in the WWF, she still had plenty of other appeal.
3. Kimberly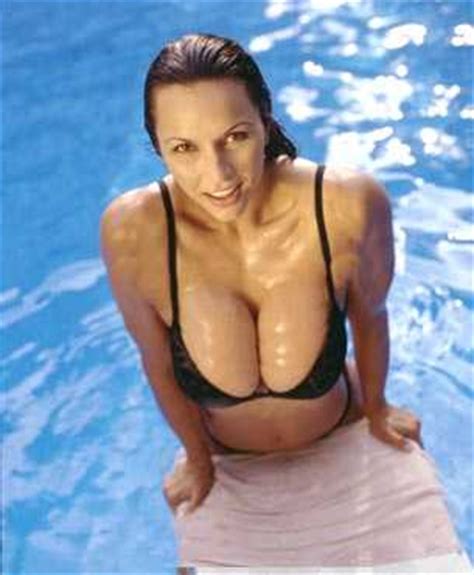 Before Diamond Dallas Page became one of WCW's top stars, he was largely known for having the Diamond Dolls in his corner. Eventually the number of Dolls whittled down to one, the then-wife of DDP. Kimberly was a sweet girl with an obnoxious man by her side, something which would eventually become a trend in my life.
Kimberly went on to be leader of the Nitro Girls, who were a highlight of the show for teenage me every single week.
2. Beulah McGillicutty

Watching ECW wasn't easy in mid-1990s Greater Cincinnati. It was carried on a low-powered UHF station. We only had one TV in the house that got it, a super-small black & white one. There was a lot of knob turning & antenna moving to pick the show up.
Beulah was worth the knob turning & antenna moving. She was a key part of the Tommy Dreamer/Raven angle & was involved in most of the controversial ECW moments that preteen me wondered how they made the air. Whenever Beulah was on my screen, good times were had by all.
Just don't get me started on the catfight with Francine.
1. Sunny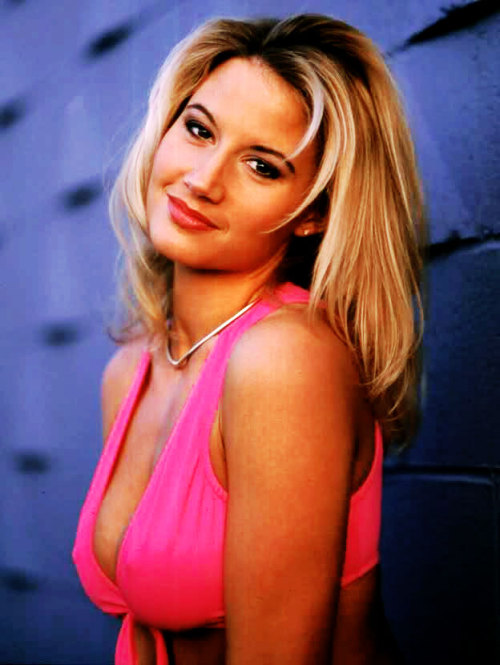 Did anybody NOT have a thing for Sunny when she arrived in the World Wrestling Federation in 1995? The Bodydonnas gimmick with Sunny & Skip was just as dumb as the rest of the WWF's gimmicks of the time period, but we were willing to put up with it because of Sunny.
Sunny eventually went off on her own, and while she didn't accomplish much in the way of getting her clients over, she certainly had a knack for getting attention. Especially from 11 year old boys that were starting to figure out the whole boy-girl dynamic. The only downside about Sunny's magazine pictorials that opened my eyes to a lot about the world was that I had to rely on my mom for money at the time. It was tougher to get her to buy a magazine with Sunny on the cover than most other wrestlers.
---
Always Use Your Head and visit the official Pro Wrestling Tees store for The Chairshot All t-shirt proceeds help support the advancement of your favorite hard-hitting wrestling website, The Chairshot!

---
Sami Callihan Strikes Again (Graphic Warning)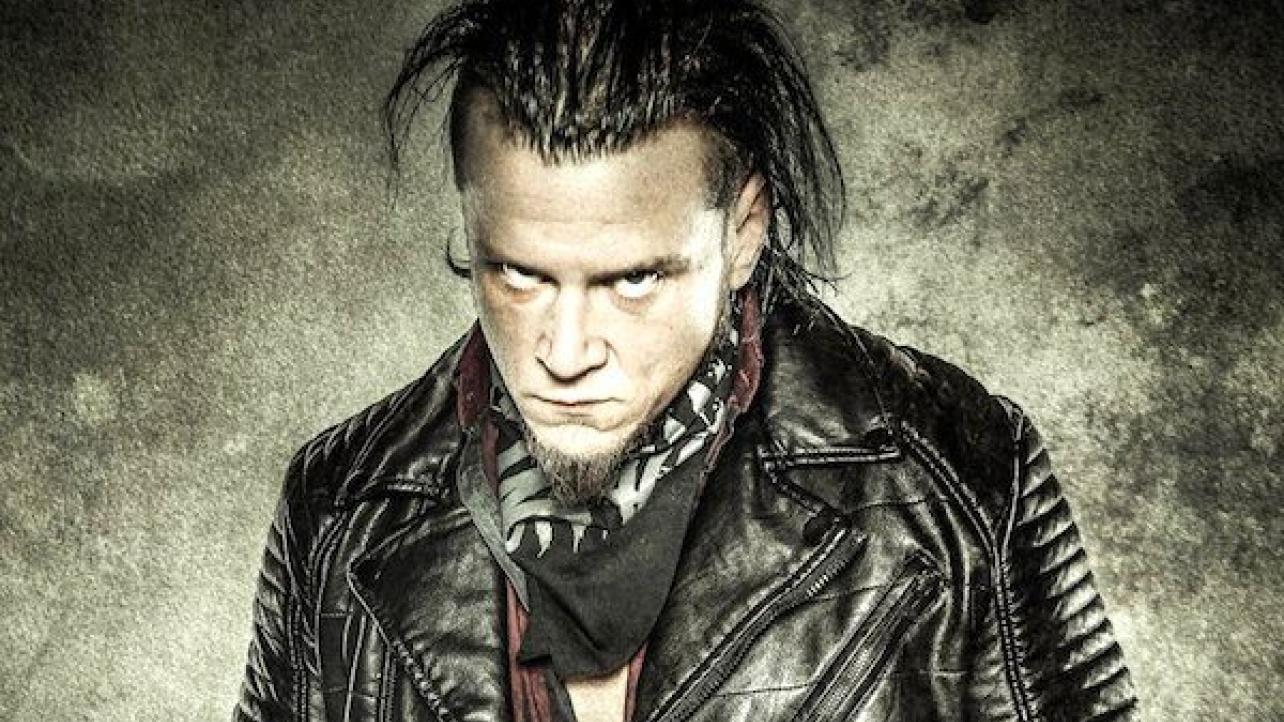 Sami Callihan has become a very outlandish and over the top heel since the infamous botched baseball bat incident that broke Eddie Edwards' face. Since the incident, Callihan has been very unapologetic and has shown no remorse for his actions against Eddie, even going as far as to rub it in his face.
"For our generation, by our generation."

The most controversial man in wrestling @TheSamiCallihan spoke to @TVInsider about everything the went down recently with Eddie Edwards ahead of THIS SUNDAY'S Redemption! #IMPACTonPop

HERE: https://t.co/F6HqCnpWe3 pic.twitter.com/WLyP0oZEoX

— IMPACT (@IMPACTWRESTLING) April 19, 2018
In a street fight on Wednesday night at Rockstar Pro Wrestling, Sami threw a chair at former NWA/WCW star and 68 year old Kevin Sullivan's head. Sullivan couldn't put his hands up in time to block the chair shot, suffering a large hematoma in the process.
Sami speaks about the incident at Rockstar Pro: https://t.co/urKwMpdEOC via @YouTube

— Rockstar Pro Wrestling (@RockstarProWres) April 20, 2018
Sami even had the audacity to post a graphic picture of the injury on his Twitter account, mocking Sullivan.
Kevin Sullivan wanted to run his mouth tonight @RockstarProWres… So he got his old ass beat. I don't care who you are, or what you've done. Just add his name to my list of victims. My give a fuck is broken. #TheDRAW #Unsafe pic.twitter.com/f0Q1ZoBXPb

— The DRAW (@TheSamiCallihan) April 19, 2018
In my opinion, Sami has taken his unapologetic character way too far since the baseball bat incident. I get that you are trying to get heat as a heel, but there is just a line that you can't cross and Sami has crossed numerous ones. Don't get me wrong, I'm enjoying his work on Impact Wrestling each and every Thursday, but it seems that Callihan has taken his character too seriously, blurring the lines between real and fictional. If I was Sami, I would tone it down because his actions have sent the wrestling world in an uproar and many wrestlers commented on the situation. So would I say he's a good heel? Yes, but you don't need injure people to heat.
---
Remember to always use your head. For more Impact Wrestling news follow @yorkjavon on Twitter and for all things wrestling follow @theCHAIRSHOTcom.
---
Always Use Your Head and visit the official Pro Wrestling Tees store for The Chairshot All t-shirt proceeds help support the advancement of your favorite hard-hitting wrestling website, The Chairshot!

---
WWE Superstar Shake Up: Did The Women's Division Get The Short End Of The Stick?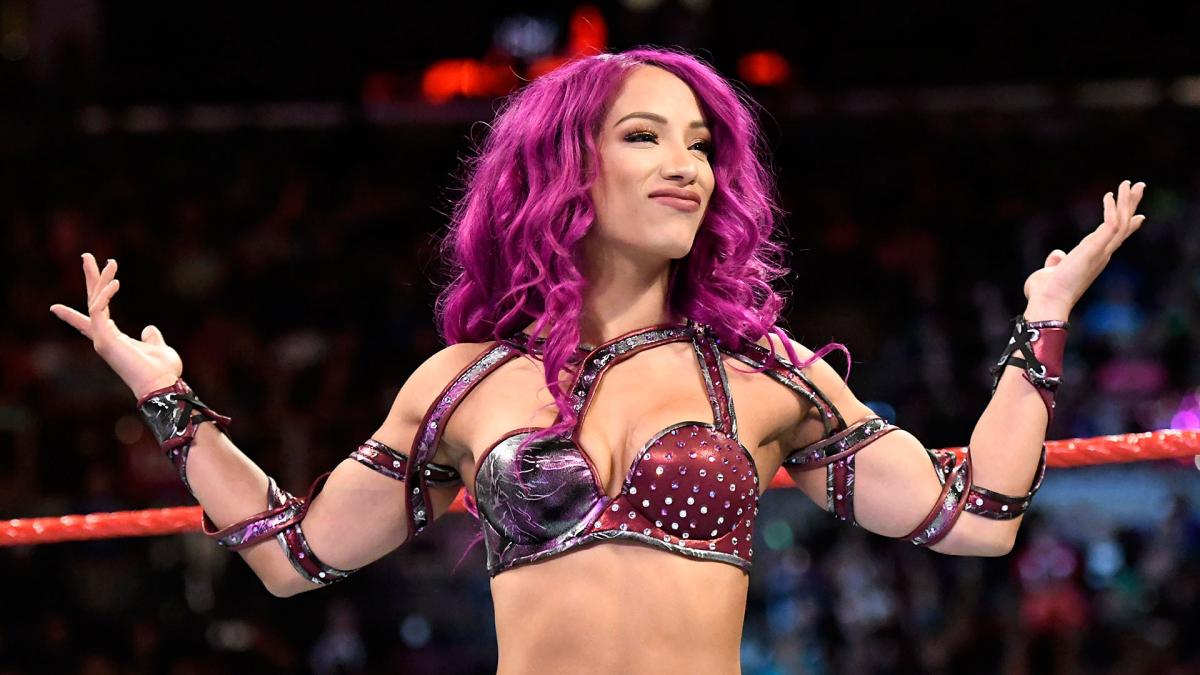 Obviously one of the big topics coming out of this week in WWE was the highly anticipated Superstar Shake Up.  With the Shakeup comes high expectation, in terms of surprise factor and building interest for future feuds.  And while WWE did deliver on surprise factors in Bobby Roode, Samoa Joe, and Drew McIntyre, perhaps it could have given the Women's Division some attention.
What I mean is that the Shake Up for the ladies was overall underwhelming.  Considering the complacency that someone like Becky Lynch is in, she could have benefited from the move this week.  In retrospect however, last week's events with Paige's retirement and the additions of Ember Moon and The IIconics gave way to what was to come for both Raw and Smackdown.  But for every woman who has a story is someone who is almost lost in the shuffle.  Naomi comes to mind as someone who currently doesn't have a story post-Shake Up.  Didn't she just win the WWE WrestleMania Women's Battle Royal?
Maybe it is fair play, but basically the big move coming out of the Shakeup is that the two factions in Absolution and The Riott Squad switched places.  The first thing that comes to mind is that Absolution is primarily Paige's faction, so there is the possibility that Paige will still be able to be the mastermind with her as Smackdown General Manager.  As far as The Riott Squad, it seems like they will be the catalyst that will bring Sasha Banks and Bayley back on the same page after weeks of squabbling and conflict.
And speaking of those two women, did anyone else felt mislead with their match on Raw Monday?  While there has been tension continuously building up between both Banks and Bayley, given their history it felt that the building rivalry this time around could have been done better justice.  Maybe that was the whole point behind it all – it's not over by a long shot.  I thought for sure that one of them was going to Smackdown given they were in the match on Raw.  Just the way they tore into each other, it was like they were fighting as if it was indeed their last night on Raw.  It was a great story for sure, and I was left wanting more.  On the positive side, apprehending the Riott Squad is a secondary feud that shows promise.  There is substance behind the former Women's Champions as they move from WrestleMania towards SummerSlam.  It doesn't mean that there's a throwaway feud, but perhaps a detour for now.
On the Smackdown side, there was no way Charlotte Flair was going to Raw after last week's brutal attack from the IIconics.  With Carmella taking advantage of Flair and successfully cashing in her Money in the Bank contract, Flair has her hands full seeking revenge from all parties.  Flair did gain assistance from Lynch and Asuka this past week.  The company built the appearance of Asuka as if it was shocking news.  Honestly, when she challenged Flair at WrestleMania it was all but set in stone she was going to Smackdown.  It was more of making the move official for the Empress of Tomorrow.
Another bright note from the Shake Up is Natalya moving to Raw.  With the rumors of the Queen of Harts becoming the first singles feud for Ronda Rousey, I am all over this if it gives Nattie some much needed shine.  She has been underrated for the longest time, and a high profile feud is something welcomed from this fan.  Stepping back and looking at these potential feuds on top of Alexa Bliss and Nia Jax, what looks underwhelming may just be what fans are looking for in terms of depth and screen time.
So while on the surface, again, the Shake Up for the women was underwhelming.  However, with some developments already previously established comes something much bigger.  Expectations were high, but after looking further into what is going on there is definitely more positives versus the negative.  It's not perfect, but the potential of a great summer for the Women's Division is there.  Just not the way many fans had envisioned.
---
Always Use Your Head and visit the official Pro Wrestling Tees store for The Chairshot All t-shirt proceeds help support the advancement of your favorite hard-hitting wrestling website, The Chairshot!

---
Did Smackdown Win The WWE Superstar Shake Up?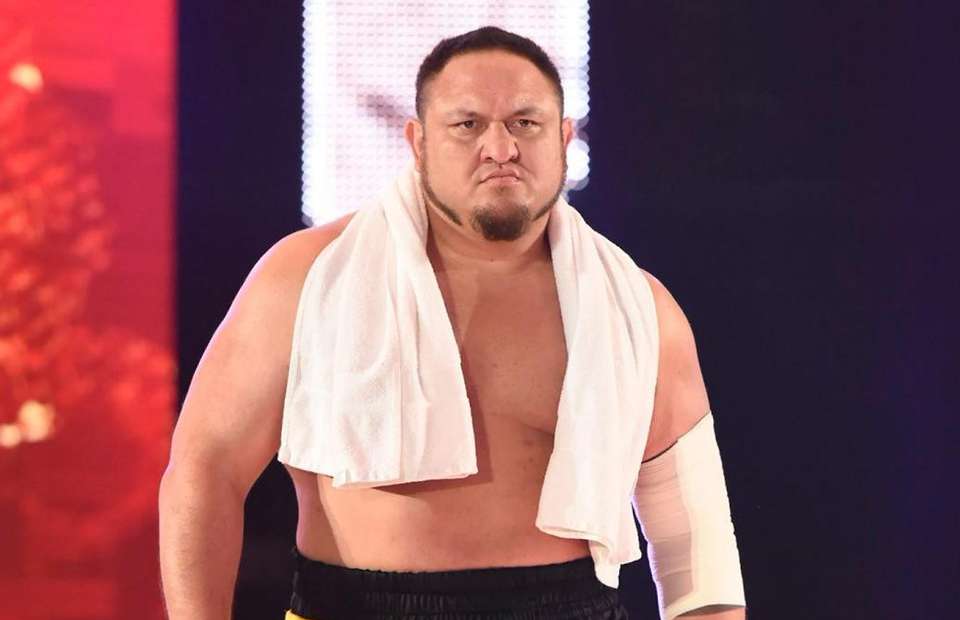 I don't ever think I have been this excited about a professional wrestling event that wasn't related to a pay-per-view. Watching the "Superstar Shakeup" this past Monday and Tuesday night had me glued to the television as it would for the NFL or NBA Draft. And now, I am excited SmackDown Live is on even footing with Monday Night Raw.
Before you all decide I need to get out more or worse come out of my mother's basement, please allow me to explain. Like most fans, I am a wrestling junkie. I grew up on Gordon Solie and the Jack Brisco fireman's carry take over. I believe in the bionic elbow of Dusty Rhodes and the spinning toe hold of Dory Funk, Jr. To me, that was wrestling. I couldn't wait until noon on Saturday's with my father and brother when I was seven to watch Championship Wrestling From Florida.
Today's wrestling is a far cry from collar-and-elbow tie-ups and a snap mare that left wrestlers on the mat. So, when something changes in this business, especially in WWE, it is must-see magic for me.
My name is David and I have a wrestling problem.
As I watched the events unfold of wrestlers moving cross brands, I was reminded how far this "problem" has come since my youth. That was 40 years ago and now I watch hoping to see a glimmer of the past. This week, I watched for something new. And when Samoa Joe walked out of the back on Tuesday night, I felt euphoria. The "Samoan Submission Machine" on the same brand with Daniel Bryan, AJ Styles and Jeff Hardy? In the immortal words of Jim Ross, business just picked up a bit, and for the better.
Even in his time with TNA, Joe has always been one of my favorite characters. With the defection of Kevin Owens and Sami Zayn, and the addition of The Miz and the former NXT champion, there is something I never thought I would see in WWE – balance. I was never a fan of brand extension. I understand it is a necessary evil given there are too many superstars and not enough titles to go around.
Seeing a Tuesday night roster than competes with Monday Night Raw gives me a peaceful easy feeling. WWE finally got it right. Joe wasn't the only solid move made for Tuesday night programming. Keeping the AJ Styles-Shinsuke Nakamura feud white hot, with the addition of Daniel Bryan as a full-time competitor allows the creative time to explore new rivalries and challenge the boundaries of what works and what doesn't make sense.
As a fan, I despised the notion that Monday Night Raw was always the big brother and SmackDown Live was the red-headed stepchild. While some of the players have changed, there is still plenty of chaos on the red brand. Roman Reigns is still pushed as "The Guy" to follow. Brock Lesnar is a part-time idiot that can walk away whenever he wants.
Seth Rollins and Finn Balor deserve a better fate than the mid card and Braun Strowman will never be a world champion with the McMahons still push Reigns as the man to beat. On and it appears Bobby Lashley will face Lesnar at SummerSlam.
Excuse me while I catch my breath. If anything, SmackDown Live has the advantage in programming because a two-hour show is a heck of a lot easier to plan, with tighter storylines and less self-promotion. It's the brand where wrestling matters.
Sorry, TNA. You weren't using the slogan anymore so I thought I would take some liberties.
If Samoa Joe is thrust into a main event program with either Jeff Hardy or Styles at SummerSlam, my heart will be happy. If he attacks Daniel Bryan and somehow defends the WWE Title as well, millions of fans will praise the wrestling gods. it's all about timing and proper booking.
WWE SmackDown Live now has the right performers at the right time. Things are just heating up for the blue brand. And this self-confessed wrestling junkie likes it just fine. If you need me on Tuesday nights, I'll be watching my new-found love. Not because it takes me back to a time of wrestling's past. But because it's new and a cause for excitement. Because that's what WWE should have been able to do all along.
---
Always Use Your Head and visit the official Pro Wrestling Tees store for The Chairshot All t-shirt proceeds help support the advancement of your favorite hard-hitting wrestling website, The Chairshot!

---