From guitar shots to on-air firings to MMA enthusiasm, Jeff Jarrett is bringing a slew of memorable moments with him to the WWE Hall Of Fame. Steve Cook looks at the best of the bunch in this Top 5!
We all know that Never Say Never is pro wrestling's mission statement. No matter what bridges are burnt between wrestlers, companies & promoters, they can be prepared if there's money to be made.
WWE has been Ground Zero for this in recent years. Pretty much everybody we said would never be back in the company's good graces has been welcomed back with open arms. Bruno. Bret. Warrior. Savage posthumously. The list goes on and on.
The latest addition to the list, however, is a shock even by wrestling standards.
Ain't he great?

Congratulations to @RealJeffJarrett on joining the @WWE Hall of Fame Class of 2018! #RAW #WWEHOF pic.twitter.com/h6GqgzU8mp

— WWE (@WWE) February 20, 2018
Jeff Jarrett, founder of TNA Wrestling & Global Force Wrestling. Even with that small fact in the way, there's also the matter of recent personal issues that led to his departure from Impact Wrestling for at least the fourth time off the top of my head. All of this has been put aside so Double J can take his place in the HOF.
Some wonder if he's deserving. Putting Jarrett's previous issues with WWE aside, his merits as a performer have been debated for decades now. Some think he's a solid hand that can be relied on for a good match & can be a main event guy in the right place. Others think he's never drawn a dime & never had a good match. There isn't much middle ground.
I wasn't a fan of Jeff Jarrett as perennial NWA Champion. I did think he was a solid worker that did a good job in his various personas. I was fine with him as a top heel in WCW & TNA, though not as dominant as he was often portrayed. Here are his Top 5 moments.
5. Getting Fired By Vince McMahon
March 26, 2001 was quite the fateful evening in pro wrestling history. It marked the final episode of WCW Monday Nitro and the acceptance of the WCW brand under the WWF umbrella. It was a fateful evening for Jeff Jarrett as well, as his potential future with the WWF was discussed by Vince McMahon.
Jarrett was cool with this as he was getting paid by Turner for months to come. While on holiday, he came up with something else to do. This segment also makes for a pretty cool story, as for years we've figured that it might have had something to do with Jeff creating TNA Wrestling. It very well may have even if Jeff now denies it. I'm not calling Jarrett a liar, but he's been known to stretch the truth here & there.
4. In Your House vs. Shawn Michaels
Jarrett has had a number of great matches during his career. His TNA run saw some really good stuff with the likes of Kurt Angle, AJ Styles, Raven & many others. The one that stands out in my mind is the final match of his first stint with the WWF.
It was In Your House. It was Jarrett's backyard of Nashville, Tennessee. He was defending the Intercontinental Championship against Shawn Michaels. Since it was 1995, Michaels was near the peak of his physical powers & ability to take crazy bumps. HBK was having outstanding matches with everybody at this point, and Double J could definitely bring it.
https://youtu.be/kl6qlLK2KxE
It was a star-making performance for Jeff Jarrett. The only problem was that he left the company right afterwards.
3. Vs. Women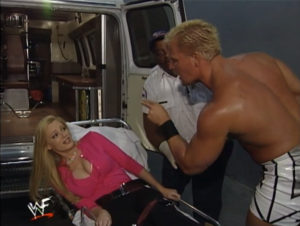 Don't get me wrong. There's no way in the world that WWE would green light a storyline with a male wrestler beating up random women at every opportunity in 1999. It's a good thing wrestling has moved past using this sort of thing to get heat.
However, I will defend the storyline of Jeff Jarrett beating up women leading to a match with Chyna where he got his comeuppance for one simple reason: he was the heel. Tommy Dreamer pile drove women in ECW all the time and those sick freaks in the audience cheered him for it. Here, Jarrett was beating up the likes of Cindy Margolis, Fabulous Moolah & other harmless women for no reason. It got the right reaction. Jarrett got tremendously over as a heel during this time & upped his star power. The only problem was that he left the company right afterwards.
2. With My Baby Tonight
You knew that this song would be playing at some point during Jarrett's induction announcement video. We later found out that the Double J providing vocals for this song was Jeff's Roadie, Jesse James. We still associate it more with Jarrett than the Road Dogg, as it was the focal point of his run as J-E-DOUBLE F HA HA HA J-A-DOUBLE R-E-DOUBLE T.
I for one think it holds up pretty well.
1. Double J Double M A
This was just wonderfully random. Jarrett was feuding with Samoa Joe late in 2010 after turning heel to join TNA's newest top heel faction, Immortal. After defeating Joe in a submission match, Jarrett decided that made him a mixed martial-arts expert. The logic was a bit dubious, but it led to some classic television, like the time he did an MMA demonstration on Impact.
It got even better, as the next week we were treated to footage of Jarrett training little kids at a dojo.
I'm not sure what it says about Jeff Jarrett that my fondest memories of him mostly involve defenseless people getting beaten up. In any event, the Double J Double M A era still ranks as one of TNA/Impact's best.