Top 5: Jeff Jarrett Moments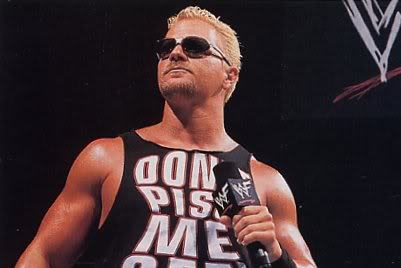 From guitar shots to on-air firings to MMA enthusiasm, Jeff Jarrett is bringing a slew of memorable moments with him to the WWE Hall Of Fame. Steve Cook looks at the best of the bunch in this Top 5!
We all know that Never Say Never is pro wrestling's mission statement. No matter what bridges are burnt between wrestlers, companies & promoters, they can be prepared if there's money to be made.
WWE has been Ground Zero for this in recent years. Pretty much everybody we said would never be back in the company's good graces has been welcomed back with open arms. Bruno. Bret. Warrior. Savage posthumously. The list goes on and on.
The latest addition to the list, however, is a shock even by wrestling standards.
Ain't he great?

Congratulations to @RealJeffJarrett on joining the @WWE Hall of Fame Class of 2018! #RAW #WWEHOF pic.twitter.com/h6GqgzU8mp

— WWE (@WWE) February 20, 2018
Jeff Jarrett, founder of TNA Wrestling & Global Force Wrestling. Even with that small fact in the way, there's also the matter of recent personal issues that led to his departure from Impact Wrestling for at least the fourth time off the top of my head. All of this has been put aside so Double J can take his place in the HOF.
Some wonder if he's deserving. Putting Jarrett's previous issues with WWE aside, his merits as a performer have been debated for decades now. Some think he's a solid hand that can be relied on for a good match & can be a main event guy in the right place. Others think he's never drawn a dime & never had a good match. There isn't much middle ground.
I wasn't a fan of Jeff Jarrett as perennial NWA Champion. I did think he was a solid worker that did a good job in his various personas. I was fine with him as a top heel in WCW & TNA, though not as dominant as he was often portrayed. Here are his Top 5 moments.
5. Getting Fired By Vince McMahon
March 26, 2001 was quite the fateful evening in pro wrestling history. It marked the final episode of WCW Monday Nitro and the acceptance of the WCW brand under the WWF umbrella. It was a fateful evening for Jeff Jarrett as well, as his potential future with the WWF was discussed by Vince McMahon.
Jarrett was cool with this as he was getting paid by Turner for months to come. While on holiday, he came up with something else to do. This segment also makes for a pretty cool story, as for years we've figured that it might have had something to do with Jeff creating TNA Wrestling. It very well may have even if Jeff now denies it. I'm not calling Jarrett a liar, but he's been known to stretch the truth here & there.
4. In Your House vs. Shawn Michaels
Jarrett has had a number of great matches during his career. His TNA run saw some really good stuff with the likes of Kurt Angle, AJ Styles, Raven & many others. The one that stands out in my mind is the final match of his first stint with the WWF.
It was In Your House. It was Jarrett's backyard of Nashville, Tennessee. He was defending the Intercontinental Championship against Shawn Michaels. Since it was 1995, Michaels was near the peak of his physical powers & ability to take crazy bumps. HBK was having outstanding matches with everybody at this point, and Double J could definitely bring it.
It was a star-making performance for Jeff Jarrett. The only problem was that he left the company right afterwards.
3. Vs. Women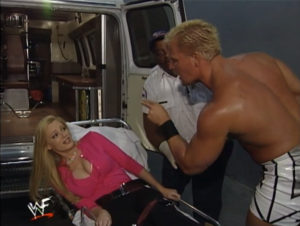 Don't get me wrong. There's no way in the world that WWE would green light a storyline with a male wrestler beating up random women at every opportunity in 1999. It's a good thing wrestling has moved past using this sort of thing to get heat.
However, I will defend the storyline of Jeff Jarrett beating up women leading to a match with Chyna where he got his comeuppance for one simple reason: he was the heel. Tommy Dreamer pile drove women in ECW all the time and those sick freaks in the audience cheered him for it. Here, Jarrett was beating up the likes of Cindy Margolis, Fabulous Moolah & other harmless women for no reason. It got the right reaction. Jarrett got tremendously over as a heel during this time & upped his star power. The only problem was that he left the company right afterwards.
2. With My Baby Tonight
You knew that this song would be playing at some point during Jarrett's induction announcement video. We later found out that the Double J providing vocals for this song was Jeff's Roadie, Jesse James. We still associate it more with Jarrett than the Road Dogg, as it was the focal point of his run as J-E-DOUBLE F HA HA HA J-A-DOUBLE R-E-DOUBLE T.
I for one think it holds up pretty well.
1. Double J Double M A
This was just wonderfully random. Jarrett was feuding with Samoa Joe late in 2010 after turning heel to join TNA's newest top heel faction, Immortal. After defeating Joe in a submission match, Jarrett decided that made him a mixed martial-arts expert. The logic was a bit dubious, but it led to some classic television, like the time he did an MMA demonstration on Impact.
It got even better, as the next week we were treated to footage of Jarrett training little kids at a dojo.
I'm not sure what it says about Jeff Jarrett that my fondest memories of him mostly involve defenseless people getting beaten up. In any event, the Double J Double M A era still ranks as one of TNA/Impact's best.
---
Always Use Your Head and visit the official Pro Wrestling Tees store for The Chairshot All t-shirt proceeds help support the advancement of your favorite hard-hitting wrestling website, The Chairshot!

---
Top 5 Matches: Week Ending 6/24/2018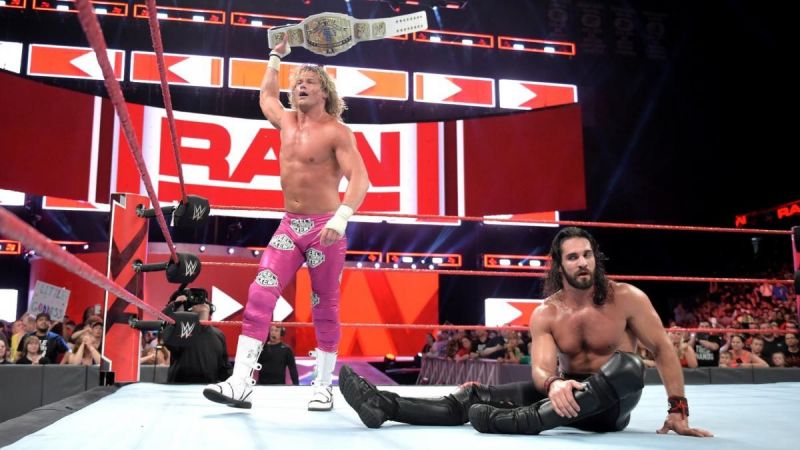 Another week, another Top 5. The winner from last week might come as a small surprise, but in a very close vote that was a 4-way tie for a while, finally we had a decisive winner. AJ Styles vs Shinsuke Nakamura at Money in the Bank, pulled off the win.
So even though there were 3 NXT matches, we see a main roster winner…I wonder if that says anything?
Well let's not read too much into things and just get to this week's matches. I didn't have as much time as usual, so I'll be doing a general overview instead of play by play style match descriptions.
5. Raw Intercontinental Championship Match: Seth Rollins (c) vs Dolph Ziggler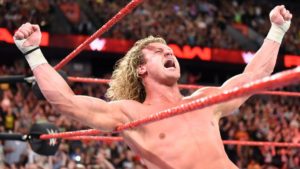 Seth comes off his first defense where he needed to visibly cheat, but maintains the 'fighting champion' ideal and declares an open challenge. Both Dolph and Drew McIntyre come out, but as we see, Dolph is the one to enter the match.
This was a fairly standard match for both, where they bumped hard and Ziggler focused on the injured knee that Rollins sold through most of the match. Ziggler managed to dodge the Blackout the entire match and it wasn't until McIntyre got on the apron, that we saw the interesting finish.
I'm only saying it's interesting because it was effectively the same way Rollins retained the previous night, but Karma bit him in the trunks. So it's not a Fame-Asser or Superkick that wins the match, it's a roll up with a handful of tights. And we have a title change on Raw!
Winner: Ziggler via Roll Up
Rating: *** 1/4
4. Jinsei Shinzaki 25th Anniversary Show Sendai Girls World Title Match: Chihiro Hashimoto vs DASH Chikaso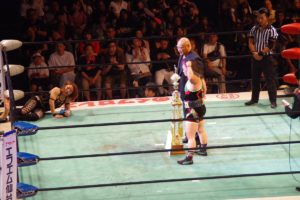 Jinsei (aka Hakushi in WWF) is the current President of Michinoku Pro and co-founder of Sendai Girls, so the show had a mixture of male and female wrestlers. This match is important because the Sendai Girls World Title got vacated after Ayako Hamada was arrested on the drug charges.
Now I'm not well versed in Sendai Girls, so I'm not sure why DASH got this shot, but Chihiro is a former champion, so it makes sense for her to be in this spot. However, even though DASH isn't a very decorated wrestler and seems to have been a tag team specialist for the first 10 or so years of her career, she put up a valiant effort in this match. The match was extremely competitive and aside from a couple hiccups, was very enjoyable.
DASH hit a rope assisted German Suplex from the corner, as well as numerous strikes and crucifix pin attempts. Thanks to my lack of exposure with this product, I can easily say the match could've gone either way, but once DASH looked to hit a point of desperation, I figured the more experienced wrestler would pull this off. After a damn good match, Hashimoto finishes the match with a German Suplex Hold, to win the vacant Sendai Girls Title.
Winner: Hashimoto via German Suplex Hold
Rating: *** 3/4
3. Lucha Underground Championship Match: Matanza Cueto vs Pentagon Dark (c)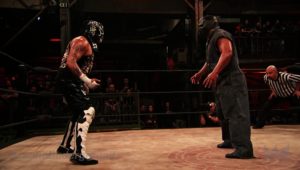 Antonio Cueto, seems to be trying to establish his control over the new temple by unleashing a threat onto the champion that he has yet to defeat. Pentagon is 0-2 against Matanza, does he finally break the losing streak?
We see a fairly well paced, and enjoyable match that starts out on the outside. Vampiro continues to make comments about how Pentagon needs to give into the Evil and stop pandering, and almost on cue, Pentagon misses a chop into the post to give Matanza an opening.
Matanza keeps the advantage for a while, just overpowering Pentagon. However, Mr. Cero Miedo doesn't care and slowly makes his comeback. Eventually hitting a few superkicks, into two Mexican Destroyers and finally stunning the monster long enough to end the match with his Package Piledriver.
Before Pentagon can collect his arm, Antonio walks out with some key, which gives Matanza enough of a second wind to get out of the ring and apologize to his father. I guess, more to come on that one…right?
Winner: Pentagon via Package Piledriver
Rating: *** 3/4
Honorable Mentions
Smackdown Gauntlet Match: Samoa Joe vs Rusev vs Daniel Bryan vs Big E vs The Miz
Winner: Rusev via Accolade
Rating: *** 1/4
MLW Fusion 20,000 Bounty Match: Brody King vs Shane Strickland
Winner: Strickland via High Knee Strike
Rating: ***
AJPW All Asia Heavyweight Championship Match: Ryoji Sai (c) vs Yoshitatsu
Winner: Sai via Sidmouth
Rating: ** 3/4
2. 205 Live Triple Threat: Buddy Murphy vs Hideo Itami vs Mustafa Ali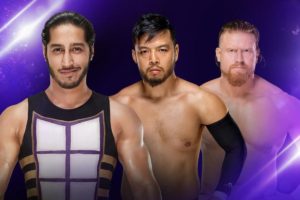 After interfering in the match two weeks ago, Mustafa and Buddy get the chance to exact some revenge on Hideo.
This match was a slightly different Triple Threat. We didn't see a lot of "getting rid of one person" and having a rotating series of 1 on 1s. There were quite a few times when all three were trying to get in offense, some even becoming the victims of a convenient duck out of the way. Buddy threw Mustafa over his head, so Hideo was on the receiving end of an X Factor and well as Buddy ducking under a Backfist, so Hideo makes contact with Mustafa's face.
A very fun and fast paced match, we see Ali land a Spanish Fly from the announce table to the floor on Murphy, but Itami manages to take the advantage. A well placed Hestiation Dropkick dazes Ali, so Itami can remove the bottom turnbuckle. Setting things up nicely for one more Hestiation Dropkick, and Murphy is still on the outside unable to break up the pin.
If Hideo gets a shot at the Cruiserweight Championship before his rumored date over in NOAH, that could be an interesting wrinkle if Itami gets a title run just to effectively show off success in WWE.
Winner: Itami via Hestiation Dropkick into Exposed Turnbuckle
Rating: **** 1/4
1. NJPW Kizuna Road IWGP Jr Heavyweight Championship: El Desperado vs Hiromu Takahashi (c)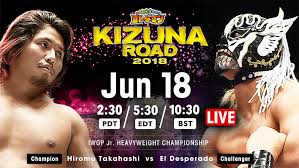 Hiromu's first defense as champion is an old rival, and someone who got a win on him in the BOSJ. So there's some nice history between these two, to add a layer.
We see Hiromu walk to the ring with a guitar case, and as a small swerve when he opens it up, it's got a bouquet of flowers, which he presents to Desperado. Despy was skeptical but eventually took them, and then hit Hiromu with them as soon as he turned around.
This match took a while to build up. They spilled outside fairly quickly, and repeated use of the guitar case,chairs, guardrails and Hiromu attempting his long running dropkick spot one too many times. Thankfully we all know by now that Japanese referees are very liberal with their decision to start to the 20 count. So we don't really get even a hint of count out possibility here, but it spills outside almost as soon as they get back in the ring.
We see multiple heel tactics employed by Desperado to try and pick up the win. Even his tag partner Yoshinobu Kanemaru shows up and slides in a chair. Funnily, this causes Bushi to come out to help Hiromu and that has to be the loudest pop I've ever heard for Bushi.
Either way, Hiromu fights through the multitude of short cuts taken by Desperado and manages to pull off a few big moves, into his Time Bomb, to retain.
Winner: Hiromu via Time Bomb
Rating: **** 1/2
Well this is a difficult week for me to vote. We've got a few promotions that aren't on the Top 5 often, as well as a bunch of familiar faces that have become almost synonymous with Top 5 work. So I guess I'll go with the match I found the most enjoyment out of, which would be, 205 Live Triple Threat: Buddy Murphy vs Hideo Itami vs Mustafa Ali. 
It was a nicely done Triple Threat, didn't follow the usual formula, and it's nice to see Itami get a little momentum.
So everyone else, make you opinion known, comment, e-mail, sky writing, Twitter trains of doom…I don't know. Just – Always Use Your Head
---
Always Use Your Head and visit the official Pro Wrestling Tees store for The Chairshot All t-shirt proceeds help support the advancement of your favorite hard-hitting wrestling website, The Chairshot!

---
Rude Awakening: Rick Rude From WWE Player To WCW Leading Man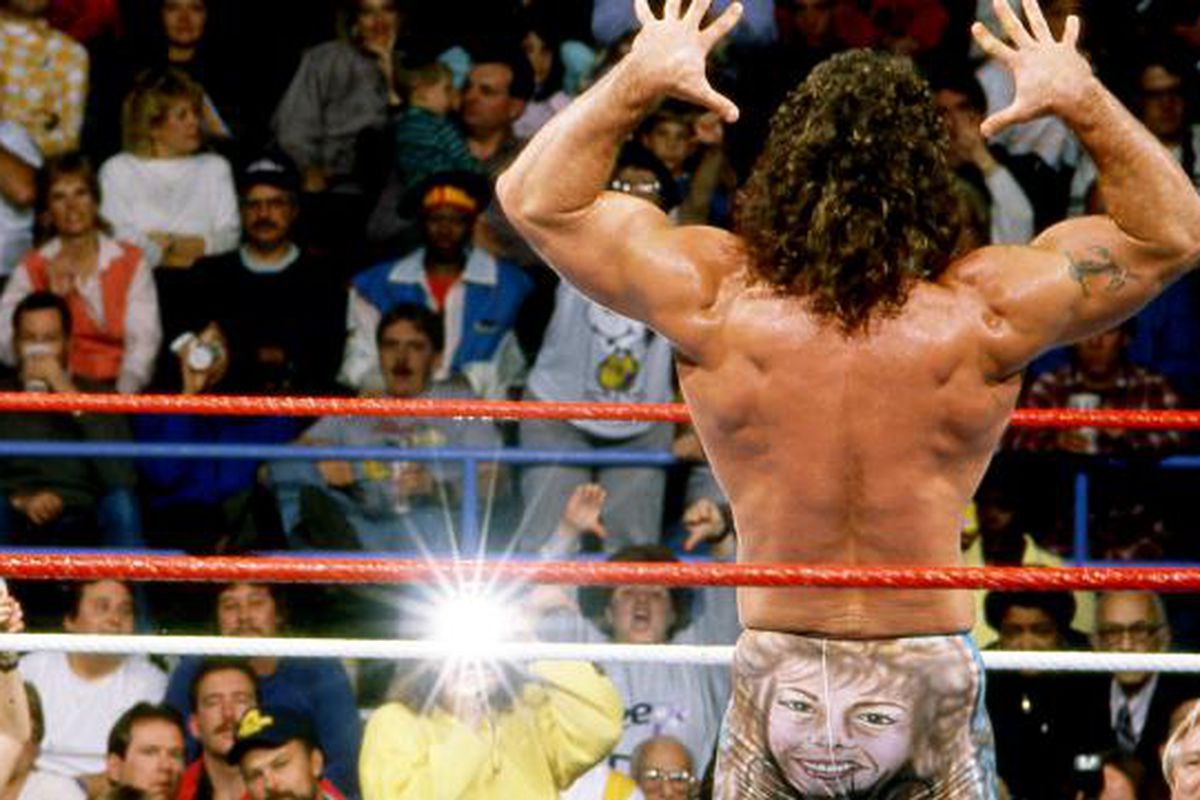 This article will discuss the wrestling career of the late Ravishing Rick Rude, focusing on the years when Rick Rude wrestled in the WWE from 1987 to 1990 and soon after in WCW from 1991 to 1994. The idea of this piece really captured my interest; it explores the types of success that Rick Rude found in these two contrasting promotions. I will not be covering any events before and after the '87-'94 timeline.
I was in my 'binge some old wrestling' moods the other day, so I pulled up the first Survivor Series from 1987 and skipped to the main event which featured Hulk Hogan, Bam Bam Bigelow, Don Muraco, Mr. Wonderful Paul Orndorff and Ken Patera against Andre the Giant, King Kong Bundy, Butch Reed, One Man Gang and Ravishing Rick Rude. While observing the talent in the main event, I began to think about the WWE's national expansion at that point and of the people that Vince McMahon headhunted from other organisations to join the WWE. Of the ten men that were headlining the '87 Survivor Series, Ravishing Rick Rude was the most recent to sign with the WWE. To be placed in a significant spot on the card with just having been in the company for four months is a big deal. Before joining the WWE, Rick Rude wrestled for NWA Jim Crockett Promotions where he was part of a successful tag team with Manny Fernandez. Known as the Awesome Twosome; Rude and Fernandez held the NWA Tag Team Titles for five months until Rude suddenly left the NWA for the WWE.
The way in which Rick Rude was brought onto WWE television was special; he was introduced as a member of the Heenan Family stable by his manager Bobby Heenan. Mr. Wonderful Paul Orndorff was a Heenan Family stablemate who shared similarities in personality and physique to Rude, though he was a bit older. As Heenan began to favour Rude over Orndorff, the two would end up feuding as Orndorff parted ways with the 'Family', this conflict concluded with Rude gaining the upper hand and Orndorff leaving the WWE shortly after.
At that time, I didn't think much of Rick Rude, it was difficult to see what Bobby Heenan appreciated about Rudes talent for notable reasons; I was a child and believed that the Ultimate Warrior and Hulk Hogan had better physiques; the WWE was in the midst of the big man era, so either most of the wrestlers had ripped bodies or they paled in comparison to the really big guys; another of Rudes stablemate Andre the Giant was the cornerstone of the Heenan Family and he was regarded as the biggest star in wrestling, standing at 7 feet and 4 inches. Rude and his stablemates stood out easily in a crowd, but their aura was usually overshadowed when Andre was inserted into the picture.
Rick Rude gained fame regardless of being overshadowed by Andre. Rude was known for his custom made tights, his gyrating, his post-match activities where he would select a woman from the crowd to be the recipient of a passionate 'rude awakening' kiss. In this era, Rudes wrestling ability was secondary to his antics, yet appreciated only by the colour commentary antagonist, Jesse Ventura. Perhaps if the protagonist on play by play had dropped the occasional endorsement, the young fans might have appreciated Rick Rudes wrestling skills. At first I thought that Rick Rude had a good career based on his three years in the WWE; his first major feud with Mr. Wonderful established Rick as the new 'bad boy'; the classic rivalry with Jake Roberts which Rude instigated when he unknowingly selected Jake's wife, Cheryl to receive a 'rude awakening'; winning the Intercontinental Title from the Ultimate Warrior at WrestleMania V and then resuming their war the following year as a never before focused Rick Rude aggressively pursued the Warrior for his WWE Championship. These are some awesome memories that could justify a deserving career, right? Well, I thought so, until years later when the internet through Youtube and other online means made it possible to gain access to a wealth of footage that we only read about in the magazines. I remember my first time watching wrestling online and going straight for the NWA/WCW stuff – like I was owed something.  If you are not a wrestling fan from New Zealand, understand this; we were deprived in the '90s. It was like being in the Walking Dead; the WWE was taken off our televisions in 1991, WWE PPVs arrived at the video shops months after they were broadcast in the US, the Apter magazines (also arriving months later) gave us hope that there were 'other communities'. It got better around 1997 when WWE and WCW were airing on television; nevertheless, the digital age allowed many fans from the 20th century to catch up.
I was clued onto Rick Rudes ventures after leaving the WWE and what he was doing in WCW. However, after watching videos and more videos of Rick Rude in WCW, the footage gave me a clear idea of how valuable Rude was to WCW and what it did for his career. His time with the WWE definitely established his fame, but it was his run with WCW that gave him a deserving career. If you don't watch wrestling at all and you're thinking "wrestling is fake, it's all a story", I suggest looking at it from this example: Andrew Lincoln is set to leave the Walking Dead series, there is an opportunity for a current cast member to take over the leading role. How confident are we that Norman Reedus will make a good lead? The viewers have only known the character, Darryl, to be an effective second in command. How can his character, Darryl lead when he barely speaks and only mumbles? Is Norman Reedus a good enough actor to pull it off? Assuming that Reedus does become the main star and if he (and the show) succeeds, then Norman Reedus may secure leading roles in future projects. You could apply this to Rick Rudes 'promotion' in WCW.
I had described the way Rick Rude was brought into the WWE as special, but the way that Rude was introduced onto WCW was "simply ravishing" (see what I did there?). Rick Rude debuted at the '91 Halloween Havoc pay-per-view under the mask of the WCW Phantom, a character that had been promoted to appear weeks prior to the event. There was not much known about the Phantom's presence until he got in the ring and demonstrated his skills. Jim Ross (who was WCW lead play by play announcer during this time period) commented on the Phantom size as being larger than his opponent Tom Zenk who stood at 6 foot, 2 inches. The Phantom's impressive display of aggression was greatly noted. I viewed the Masked Phantom as an opportunity for the fans to first recognise the wrestler's skills so that when Rick Rude did reveal himself, the people would realise his talent without the distraction of the Ravishing gimmick. His imposing manner and intensity were rarely highlighted in the WWE. The idea to put Rude under the mask was a genius move as it made wrestling skill a focal point.
In addition to being unmasked on pay-per-view, Rick Rudes appearance came with a manager and a 'Director of Covert Operations'; Paul E. Dangerously and Madusa! Following Rudes reveal, Dangerously announced that he enlisted Ravishing Rick Rude to eliminate Sting, the US Champion, and WCW's biggest star. This, of course, meant an immediate career push for Rude; with Ric Flair gone from WCW, the company needed a new villain, Rick Rude easily fulfilled that responsibility.  The month after Halloween Havoc, Rick Rude would win the US Title from Sting at the Clash of the Champions. This Rude/Sting match carried the COTC event, it served as a priority for the WCW product as the Word Title picture looked weak without a big name to challenge the champion, Lex Luger.
Rick Rude now has possession of the United States Championship; and four days later on WCW Saturday Night, Paul E. Dangerously introduces Ricks 'new family'; the Dangerously Alliance. Dangerously declares that the first phase of the Dangerous Alliance's hostile takeover is complete, and he introduces the first member – the cornerstone; Ravishing Rick Rude (who is escorted by Madusa); followed by Arn Anderson & Larry Zbysako, not far behind comes the break out star, the Television Champion 'Stunning' Steve Austin; rounded off with the inclusion of Bobby Eaton. This group was perfect for Rick Rude, he was backed by three reputable veterans and a rising star whose future would be realised later in his career. This fresh, new setting in WCW afforded Rick Rude the space to grow into a main eventer. What I noticed about the good guys in WCW was that most of them were young and blonde, and in some ways were portrayed as underdeveloped and inexperienced, in comparison to the villains who were manly veterans, Rick Rude was THE MAN of this group; tough, chiselled, no-nonsense, real and worldly. Rude possessed all of the qualities necessary to lead villain.
The United States Title also grew in prestige as the Alliance helped Rude fend off challenges from Sting, Ricky Steamboat, Dustin Rhodes and Ron Simmons. The WCW World Title in many cases looked secondary to the US as it was notably highlighted at special events: the majority of pre-match interviews at SuperBrawl II were based heavily around the Rude vs. Steamboat match, whereas the feel for the Sting/Lex Luger World Title main event came off as insignificant.
After a satisfying 14 month reign as US Champion, Rude went onto become a three-time WCW International Title; this was a championship that was shared between WCW and their partner New Japan Pro Wrestling.  The concept of this championship was to have it defended in WCW and NJPW. This gave Rick Rude another accolade with the opportunity to wrestle in a highly respected area like Japan. Rude began to conduct himself in a more 'leading' manner as he dressed in suits for interviews and press conferences, the presentation added a professional and subtle layer to his 'Ravishing' persona.
Unfortunately, due to injuries to the neck and then his back, Rude was stripped of his US title and again during his third International title reign.  Rudes back injury would lead him to retire from pro wrestling.  Prior to his injury, Rick Rude had just turned into a hero and was about to feud with Vader.  This would have been a really exciting time for Rude to transition into a good guy, and the reaction from the fans was obvious that they were ready to embrace the Ravishing One.  So here is a highlighted summary of Rick Rudes WCW accomplishments; Rick Rude held the United States Championship – the equivalent to the WWF's Intercontinental Championship. As opposed to his four-month reign as the IC Champion, Rude was the longest reigning US champion, a record that hasn't been surpassed to date (14 months), Rude was also a three-time International Champion, and the cornerstone of the incredible Dangerous Alliance, a stable consisting of the now who's who of pro wrestling.
To conclude, I believe that Rick Rude achieved a better run in WCW. WWE gave Rick Rude the exposure; the reach to be famous worldwide and a place in popular culture, this made him a valuable asset to WCW. However, it was Rick Rudes own merits that allowed him his accolades and sustain his standing in WCW. I very much doubt that Vince McMahon would have made Rick Rude a leading man had he stayed with the WWE.
---
Always Use Your Head and visit the official Pro Wrestling Tees store for The Chairshot All t-shirt proceeds help support the advancement of your favorite hard-hitting wrestling website, The Chairshot!

---
Pro Wrestling Is Fine; Pro Wrestling Fans Need Work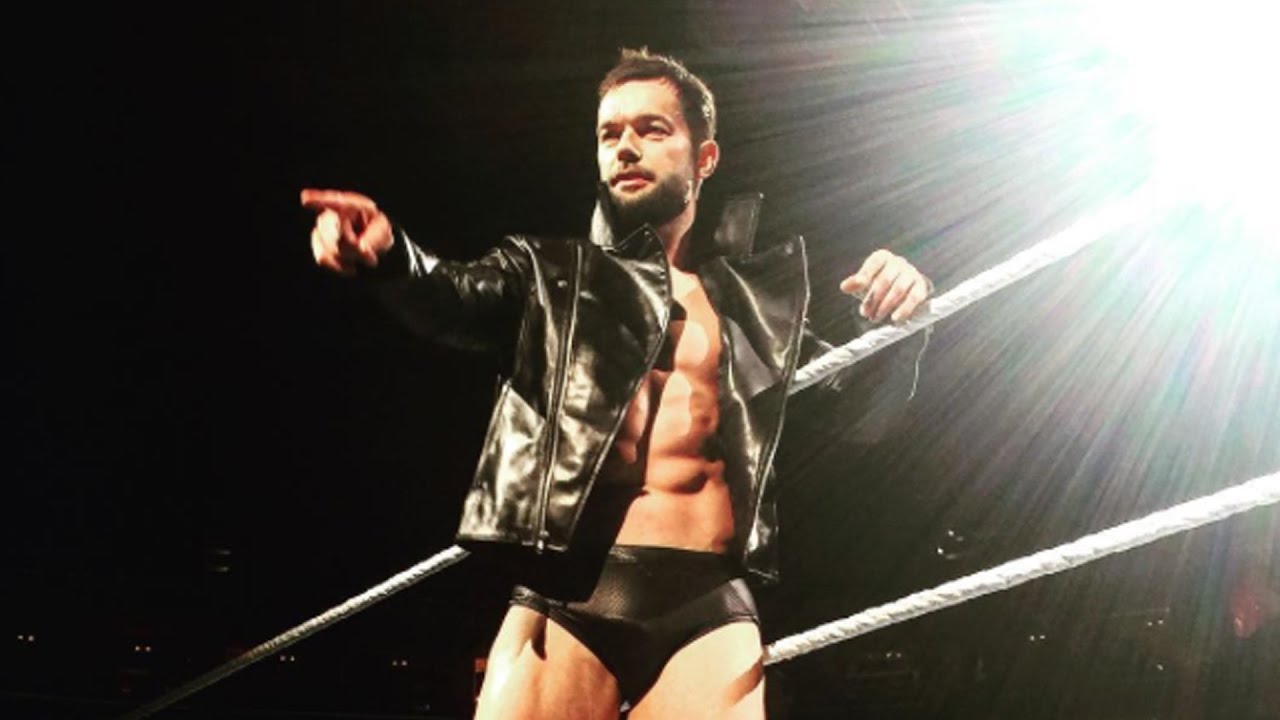 Gentle reader, I'm an old man. At 40 years of age, I'm proud to say I can claim 33 years of love and adoration for the awesome spectacle that is professional wrestling.
During this long run as a fan, I've seen plenty of would-be legends, plenty of true blue legends, plenty of technicians, high flyers, grapplers, monsters, and superheroes. I've seen some of the best talkers the world has ever known. I've seen bump machines, spot monkeys and monsters. I've seen little people and I've seen giants. Pro wrestling comes in thousands of different shapes and sizes, has thousands of different voices, and based on everything I've seen, I feel safe in saying I still haven't seen it all.
That's the true beauty of pro wrestling for me. Just when I think I've got it all figured out, it throws me a curveball that buckles my knees and completely surprises me. It's why I continue to watch, even with the knowledge I'm no longer the target demographic of the largest wrestling, er sports entertainment company in the world.
"Perfect" doesn't exist
From time to time, I'm as guilty as anyone of being too judgmental, despite my continued efforts to avoid acting in such a way. I don't know why it is, but we pro wrestling fans are entirely too nit-picky about the things we see and hear on television each week, aren't we? There are millions of us watching each week; we're not all gonna get to see exactly what we want all the time, yet we remain a whiny bunch. We're all seeking this mythological perfect show, as if such a thing ever existed. Go back and watch some old ECW or Attitude Era WWE programming. There was a ton of filler on those shows too. My point is, there's no such thing as "perfect".
I do my best to remind myself to sit back and enjoy the ride a little bit more. I mean, it's pro wrestling; it's okay to not take it so damned seriously. Personally, I don't ever wanna see The Great Khali come back and wrestle again, but I guarantee you, somewhere in the world right this second is a person who thinks that dude has "one more run with the strap" in him.
There are plenty of people out there perfectly happy seeing Brock Lesnar work 10 days a year.
Someone in reading this article while rocking a homemade Tamina Snuka t-shirt.
The thing many of you find objectionable about pro wrestling is the very thing that makes it so great: there's something for everyone.
Championships aren't participation trophies
For months I've read complaints concerning WWE's supposed indifference to anyone not named Roman, Braun or Brock.
"KO's being wasted!"
"It's Nakamura's time!"
"Finn Balor is being buried!"
"Anderson and Gallows should go back to Japan!"
Folks, not everyone is meant to carry a championship and they shouldn't be treated like participation trophies. Try and remember, as much as you might love a particular wrestler, as popular as they might be, that does not guarantee them a title run. Hell, when I was 10 years old, I thought Billy Jack Haynes shoulda been headlining WrestleMania III against Andre the Giant. See how wonderfully silly wrestling fandom can be?
Fans, find positives rather than dwell on negatives 
Pro wrestling is doing just fine. It's arguably doing better than it's ever done before, at least from the standpoint of variety. There are a multitude of successful promotions all across the globe, most of them now just a click away thanks to the greatness of online streaming services. WWE too kid-friendly for you? Try NJPW or ROH on for size. New Japan gotten too "mainstream" for you? Pro Wrestling NOAH and AJPW are there for the consuming. Don't like watching yoked up monsters wrestle? Give Dragon Gate a look. Progress, DDT Pro, Stardom, Impact, and a whole host of other promotions offer streaming services to showcase their particular brand of pro wrestling as well.
Rather than showing up every Monday and Tuesday to complain about what you're not getting from WWE, find a promotion more to your liking and rep the hell out of it. It's a far better use of your time and energy.
---
Always Use Your Head and visit the official Pro Wrestling Tees store for The Chairshot All t-shirt proceeds help support the advancement of your favorite hard-hitting wrestling website, The Chairshot!

---