Top 5: Jeff Jarrett Moments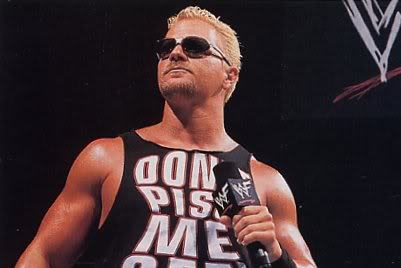 From guitar shots to on-air firings to MMA enthusiasm, Jeff Jarrett is bringing a slew of memorable moments with him to the WWE Hall Of Fame. Steve Cook looks at the best of the bunch in this Top 5!
We all know that Never Say Never is pro wrestling's mission statement. No matter what bridges are burnt between wrestlers, companies & promoters, they can be prepared if there's money to be made.
WWE has been Ground Zero for this in recent years. Pretty much everybody we said would never be back in the company's good graces has been welcomed back with open arms. Bruno. Bret. Warrior. Savage posthumously. The list goes on and on.
The latest addition to the list, however, is a shock even by wrestling standards.
Ain't he great?

Congratulations to @RealJeffJarrett on joining the @WWE Hall of Fame Class of 2018! #RAW #WWEHOF pic.twitter.com/h6GqgzU8mp

— WWE (@WWE) February 20, 2018
Jeff Jarrett, founder of TNA Wrestling & Global Force Wrestling. Even with that small fact in the way, there's also the matter of recent personal issues that led to his departure from Impact Wrestling for at least the fourth time off the top of my head. All of this has been put aside so Double J can take his place in the HOF.
Some wonder if he's deserving. Putting Jarrett's previous issues with WWE aside, his merits as a performer have been debated for decades now. Some think he's a solid hand that can be relied on for a good match & can be a main event guy in the right place. Others think he's never drawn a dime & never had a good match. There isn't much middle ground.
I wasn't a fan of Jeff Jarrett as perennial NWA Champion. I did think he was a solid worker that did a good job in his various personas. I was fine with him as a top heel in WCW & TNA, though not as dominant as he was often portrayed. Here are his Top 5 moments.
5. Getting Fired By Vince McMahon
March 26, 2001 was quite the fateful evening in pro wrestling history. It marked the final episode of WCW Monday Nitro and the acceptance of the WCW brand under the WWF umbrella. It was a fateful evening for Jeff Jarrett as well, as his potential future with the WWF was discussed by Vince McMahon.
Jarrett was cool with this as he was getting paid by Turner for months to come. While on holiday, he came up with something else to do. This segment also makes for a pretty cool story, as for years we've figured that it might have had something to do with Jeff creating TNA Wrestling. It very well may have even if Jeff now denies it. I'm not calling Jarrett a liar, but he's been known to stretch the truth here & there.
4. In Your House vs. Shawn Michaels
Jarrett has had a number of great matches during his career. His TNA run saw some really good stuff with the likes of Kurt Angle, AJ Styles, Raven & many others. The one that stands out in my mind is the final match of his first stint with the WWF.
It was In Your House. It was Jarrett's backyard of Nashville, Tennessee. He was defending the Intercontinental Championship against Shawn Michaels. Since it was 1995, Michaels was near the peak of his physical powers & ability to take crazy bumps. HBK was having outstanding matches with everybody at this point, and Double J could definitely bring it.
It was a star-making performance for Jeff Jarrett. The only problem was that he left the company right afterwards.
3. Vs. Women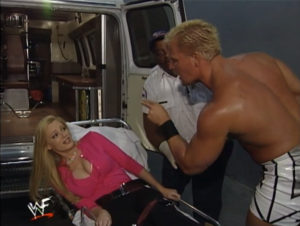 Don't get me wrong. There's no way in the world that WWE would green light a storyline with a male wrestler beating up random women at every opportunity in 1999. It's a good thing wrestling has moved past using this sort of thing to get heat.
However, I will defend the storyline of Jeff Jarrett beating up women leading to a match with Chyna where he got his comeuppance for one simple reason: he was the heel. Tommy Dreamer pile drove women in ECW all the time and those sick freaks in the audience cheered him for it. Here, Jarrett was beating up the likes of Cindy Margolis, Fabulous Moolah & other harmless women for no reason. It got the right reaction. Jarrett got tremendously over as a heel during this time & upped his star power. The only problem was that he left the company right afterwards.
2. With My Baby Tonight
You knew that this song would be playing at some point during Jarrett's induction announcement video. We later found out that the Double J providing vocals for this song was Jeff's Roadie, Jesse James. We still associate it more with Jarrett than the Road Dogg, as it was the focal point of his run as J-E-DOUBLE F HA HA HA J-A-DOUBLE R-E-DOUBLE T.
I for one think it holds up pretty well.
1. Double J Double M A
This was just wonderfully random. Jarrett was feuding with Samoa Joe late in 2010 after turning heel to join TNA's newest top heel faction, Immortal. After defeating Joe in a submission match, Jarrett decided that made him a mixed martial-arts expert. The logic was a bit dubious, but it led to some classic television, like the time he did an MMA demonstration on Impact.
It got even better, as the next week we were treated to footage of Jarrett training little kids at a dojo.
I'm not sure what it says about Jeff Jarrett that my fondest memories of him mostly involve defenseless people getting beaten up. In any event, the Double J Double M A era still ranks as one of TNA/Impact's best.
Chairshot Classics: The Streak Part 13 – Riding Into The Sunset (2017-2018)
The end of The Deadman's run at WrestleMania…?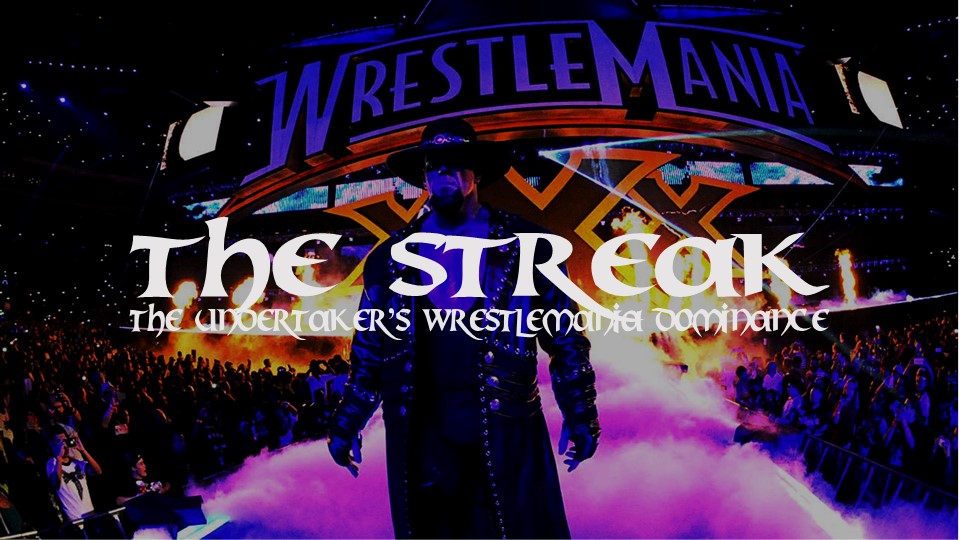 Tiffany takes a look back at The Undertaker competing at the last two WrestleMania events, against Roman Reigns and John Cena.
As 2017 dawned, it became clear to many WWE fans that the Undertaker's 30 year ride in the WWE seemed to be coming to a close. The Deadman was visibly slowing down, but his drive to remain the Big Dog in the Yard was as strong as ever. However, there were new and older dogs in the Deadman's yard now and they each wanted to stake their own claims on the Yard…and the WrestleMania Streak.
Roman Reigns, the controversial Guy of WWE, staked his claim when he eliminated the Undertaker at the 2017 Royal Rumble and refused to back down, even spearing the dreaded Deadman, vowing to be only the second man in history to beat the Undertaker at WrestleMania.
In 2018, John Cena, the long-time face of WWE, found himself on the Road to WrestleMania without an opponent after failing to capture the WWE Championship from AJ Styles. Determined to NOT miss the Show of Shows, he set his sights on getting the match that had always eluded him: The Streak.
WrestleMania 33 – Battle of the Big Dogs
The Undertaker vs. Roman Reigns
This battle for the yard started at the 2017 Royal Rumble. Taker and Reigns were entered when Reigns eliminated the Deadman, mouthing to the stunned Phenom that 'It's my yard now'. That seemed to be the end of until Taker attacked Roman a month later. The stage was set for a National Geographic level fight to see who would run the yard, Undertaker or Roman Reigns.
As a special surprise, this match was called by Good Ol' JR! Jim Ross hadn't been part of WrestleMania for a few years and it's great to see him back, especially since he'd just lost his beloved wife, Jan, a few weeks before. Ross got such a huge pop, you almost couldn't hear Jojo's announcing. JR was greeted by Cole and JBL with hugs and a good wishes from the the crowd.
Reigns came out to a LOUD chorus of boos, but didn't seem that concerned about it. He punched the ground and flames shot down the ramp and ignited the fireworks set up for him. It was announced that the match would be No Holds Barred. Reigns was the picture of cool confidence, seemingly unaffected by the huge match or the reaction of the crowd. However, as his music ends and we wait, the nerves began to set in.
The Deadman Cometh. There's been a little dispute about where Taker appeared from in his entrance, but it LOOKED to me like he rose from about halfway down the ramp, but didn't really matter, the entrance was still all the Undertaker in his creepy glory. Reigns had his 'Oh shit, here he comes moment' but was still stoic in the ring. It was time to decide who really owns this yard.
I'm going to be honest, this was the hardest match of the Streak for me, as a life-long Taker fan, to watch. WWE had been able to really disguise how limited Taker was becoming in the last couple of WrestleMania matches, especially the one with Shane, but there was no hiding it in this match. Taker could barely move, none of his signature moves, outside of a few moves were in this match. This was a fight, pure and simple. It was a fight straight out of a National Geographic documentary about lions fighting for dominance.
Roman Reigns took a LOT of heat from smarks about his performance, but watching it back after two years' time, it's clear that Roman was doing everything he possibly could to hide Taker's limited ability, but there's only so much you can do with a 52 year old man who needs a hip replacement.
Roman really got into this match after he speared Taker through the Spanish announce table. After Taker sat up, Reigns got MAD and just beat the shit out of Taker. Taker would turn it around with a Last Ride, but Reigns kicked out.
One of the things the smarks most complained about was a botched spot where Reigns tried to Tombstone the Undertaker, the ultimate act of disrespect that has been performed by almost every major rival of Taker's since Kane in 1998. However, watching that spot back a few times, I think I've figured out what went wrong: Reigns was exhausted and had taken quite a beating from Taker and couldn't quite get a grip on Taker and Taker couldn't help him as much as he normally would have.
Towards the end, Reigns begged Taker to stay down, but the old lion refused, forcing Reigns to beat Taker into submission with a steel chair and countless Superman Punches before finishing the match with a spear and becoming only the second man in WWE history to defeat the Undertaker at WrestleMania.
Roman Reigns vacated the ring, and the significance of what had just happened began to hit the audience. Undertaker was seemingly done. It took several minutes, but Taker got to his feet and put on his coat and hat, then slowly took them off, folding his coat and leaving it in the middle of the ring, along with his iconic hat and his gloves. The crowd chanted 'Thank you, Taker' as the Deadman made what seemed to be his final walk away from a WWE ring, pausing to kiss his wife, Michelle McCool, and taking one last look at the crowd that he'd entertained for nearly thirty years before disappearing in a wave of smoke.
Rating: 8/10 This match wasn't pretty by any stretch of the imagination, but it told a great story.
Hightlight: Taker sitting up. Reigns begging Taker to stay down. Taker's final farewell.
WrestleMania 34 – Be Careful What You Wish For
The Undertaker vs. John Cena
As the Road to WrestleMania 34 got underway, John Cena, the once untouchable face of WWE found himself sitting on the sidelines after failing to capture the WWE title from rival AJ Styles. Determined to not miss WrestleMania, Cena set his eyes on the one WrestleMania opponent that had always eluded him: The Undertaker. When Taker seemed deaf to Cena's pleading, the leader of Cenation resorted to taunting Taker like a petulant child who wasn't getting his way.
Finally frustrated that he didn't seem to be getting his way, Cena 'bought' a ticket to WrestleMania and sat in the audience, oohing and awing over the superstars of WWE pulling out all the stops. As Charlotte vs Asuka was finishing, one of the WWE refs approached and told Cena something and Cena went into the back. Mr. Cena was about to learn why it is always wise to be careful what you wish for, especially when dealing with the Undertaker.
Cena comes back to the ring later in the show, and unlike most people in the Streak, Cena seemed extremely excited by the prospect of facing the Undertaker. Then another ref comes and says something like Taker's NOT there or he changed his mind.  Poor Cena is dejected, but the crowd isn't giving up. As Cena leaves, the lights go out.
The Deadman Cometh. Wait, that's Elias. The crowd is FURIOUS over the trick, but Elias doesn't care, claiming that he's better than the person everyone wanted to see. The crowd gets even angrier and I can't repeats some of what they seemed to be saying. Enraged, Cena leaves while Elias mocks him in song. Finally sick of this, Cena beat Elias like he owed him money. Kudos to the kid smack talking Elias.
The crowd won't give up, even when Cena's music hits again. Frustrated, Cena prepares to take his leave, but then…the music stops and it takes Cena a moment to realize it and now…
The Deadman FINALLY Cometh. A spotlight hits the ring, revealing the folded hat and coat Taker left in the ring the year before and lightning strikes and the items are gone. It finally, FINALLY hits Cena just what he's getting himself into and it's too late to change his mind.
Out of the gates of Hell comes the Undertaker. Back to the arena where the Streak ended four years before. Cena's 'Oh Shit!' hits and it is time.
For all the anticipation, the years of waiting, and having to sit through Elias, this match was kind of an 'eh'. It was the shortest match of the Streak and I can't say it was a shining moment for either man. To give Cena his due, he sold the return of Undertaker like he should have. He LEGIT looked scared out of his wits to FINALLY be getting this match.
As if to exorcise the previous loss in New Orleans, and pay Cena back for his remarks, Taker dominated the match from the start. Taker did hit most of the greatest hits of his arsenal, almost like he'd never had a bad hip, including Old School. Still, this wasn't a great match by any stretch of the imagination, sadly. Though Cena tripping and falling when Taker sat up was hilarious. One tombstone later, and it was over. The dream match finally happened, but it could've been so much more.
Rating: 6/10 This match could've been so much more if it had happened a few years earlier, but it was an okay match for what it was.
Highlight: Elias getting cussed out by the crowd. Taker's entrance. Cena falling on his ass when Taker sat up.
Post-Script: As of 10pm, March 25, 2019, while I'm writing this final part to the Streak rewatch, Undertaker has not been scheduled for a match of any kind at WrestleMania. As of now, the match against Cena was the final match of the Streak and the Deadman walked off with his head held high. Thanks for the memories, Taker.
Steve Cook's Top 5 Pro Wrestling Tournaments
Wrestling's best tournaments?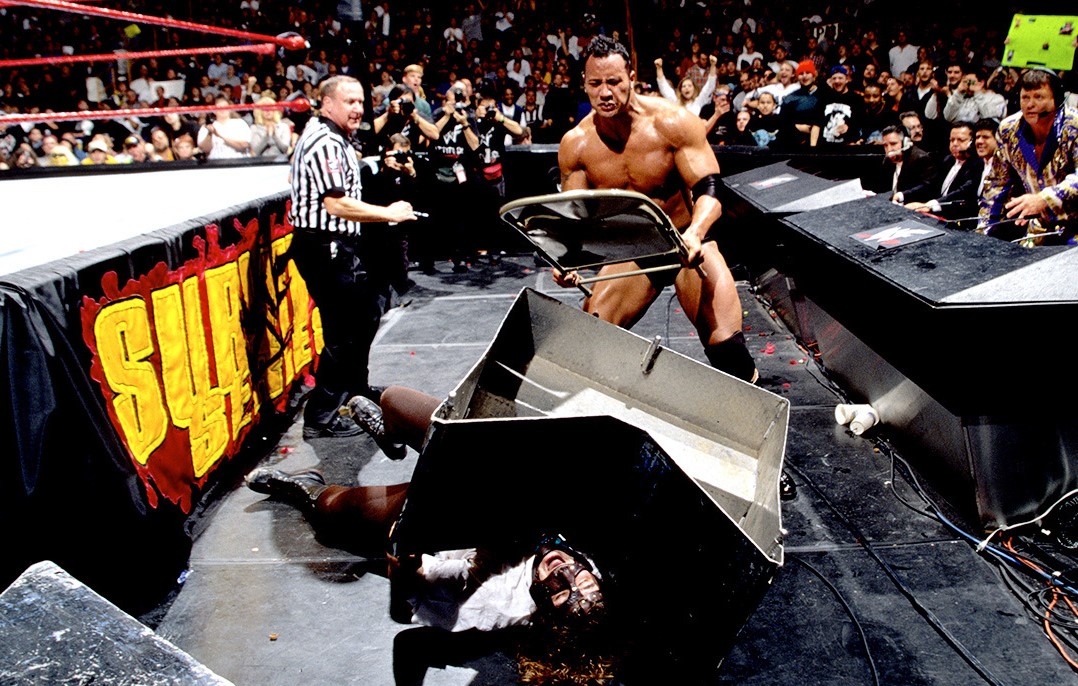 The NCAA Tournament is in full swing, and Steve Cook is inspired to take a look back at wrestling's tournaments!
Who doesn't love a good tournament? This is the time of year where we all become obsessed with brackets. March Madness is in full bloom, and we're all keeping track of who beat who and who's playing next. We all know that pro wrestling lends itself well to a tournament format… Do I need to go any further? Probably not. Here are the Top 5 Pro Wrestling Tournaments of all time.
5. Ultraviolent Tournament of Death II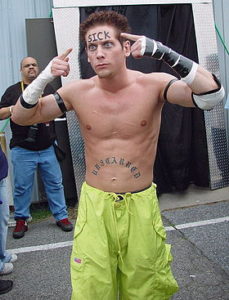 I know some people are not going to be happy with this pick. Thing is, I don't feel a list of American wrestling tournaments would be complete without a selection from the deathmatch genre. It was the bread & butter for many indy companies back in the day, and I'm sure there's still something of an audience for it now.
I'll admit it. There was a period of time where I was into guys getting hit with light tubes & thrown into barbed wire and fun stuff like that. I'm over it now, so I can't tell you if any of the tournaments over the past ten years have blown the stuff from the 2000s out of the water. What I can tell you is which deathmatch tournament was most memorable to me. The second TOD made "Sick" Nick Mondo a CZW legend. Dude got thrown off a building by Zandig! Mondo beat JC Bailey in a Light Tubes & Ladders match, Zandig in a 2 out of 3 fall Light Tube Log Cabins match, and Ian Rotten in a Barbed Wire ropes, 200 Light Tubes match.
Mondo became a star that night. Unfortunately it was his last night in the business, as injuries suffered during the evening made him think twice about the whole wrestling thing. Hey, at least give him credit for being smart enough to get out.
4. 2008 Battle of Los Angeles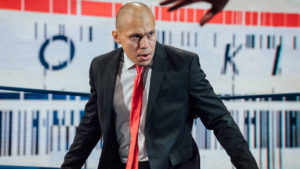 Pro Wrestling Guerrilla's strength over the years has been staying in their lane. Sometimes people would like to see the company get bigger, but they've spent most of their existence working around other promotions' rules. As long PWG they remained DVD-only, companies that had TV & PPV with not many other dates on the schedule were happy to let some of their guys get a payday out west.
Since 2005, PWG's Battle of Los Angeles tournament has featured pretty much anybody that ever made any kind of name on the indy wrestling circuit. Winners include the likes of Kenny Omega, Adam Cole, Kyle O'Reilly, Ricochet, and Sami Zayn's mentor El Generico (RIP). The best one I've seen, the 2008 edition was won by none other than Low Ki. It was when he wasn't jobbing to anybody, so the result was kind of obvious.
It was still a fun show with a ridiculously stacked roster. Ki, Nigel McGuinness, Bryan Danielson & Chris Hero made up the final four. Danielson had matches with Hero, T.J. Perkins & Davey Richards. Hero also had a Necro Butcher Rules match with Necro Butcher. The finals featured Ki & Hero working with only one rope…and having a pretty darn good match.
3. 1993 King of the Ring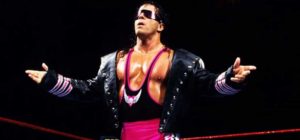 Every so often, fans clamor for the return of King of the Ring to WWE programming. It's like they forget King Sheamus, King Barrett and the other weak noblemen to rule over WWE's kingdom. The event definitely had its ups & downs, but it certainly got off to a good start in Dayton, Ohio.
Let's be honest, any show in 1993 that had Bret Hart wrestling three times was bound to be a good one. He went through Razor Ramon in the first round in a solid starter. Mr. Perfect awaited in the semi-finals, and the two men had a classic match like they always had with each other. Then Bret took on Bam Bam Bigelow in the finals, and overcame the odds against a bigger man that had the semi-finals off thanks to a Lex Luger/Tatanka draw.
Bret's goal on this evening was to prove that he was the best wrestler in the WWF, even if he had been taken out of the championship picture at the moment. He did just that, and put the KOTR tournament on the map in the process. Owen Hart following in Bret's footsteps and winning the next year meant so much because people remembered that performance.
2. 1987 Crockett Cup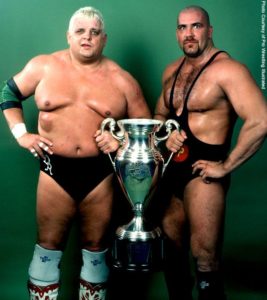 Going back to the days of Jim Crockett Sr., the Mid-Atlantic territory was always a tag team-heavy promotion. Fans in the Carolinas, Virginia & surrounding areas loved that style of wrestling. The tradition continued after Jim Sr's death, and when it was decided that a major show was needed between Starrcade & the Great American Bash tour, the idea of the Jim Crockett Sr. Memorial Cup Tag Team Tournament was hatched. The Crockett Cup featured most of the best tag teams in the world coming together for a twenty-four team tournament where the winners would split $1,000,000 & get a trophy.
Jim Crockett Promotions held three of these events from 1986-88. The first edition in the Superdome didn't draw much of a house, but Baltimore came out in full support in 1987. A who's who of tag teams from the Road Warriors to the Midnight Express & the Mulkeys were there, but at the end of the night it was the Super Powers, Dusty Rhodes & Nikita Koloff beating the Horsemen team of Tully Blanchard & Lex Luger to take the prize.
Even bigger than all that…Magnum T.A. made his first appearance in a wrestling arena since his car accident the previous year. There wasn't a dry eye in the house, and not a doubt that his friends Dusty & Nikita would win the main event.
1. The Deadly Game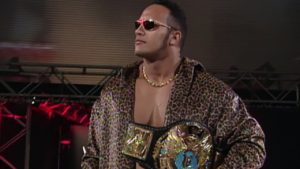 Survivor Series 1998 is one of those shows that people either really love or really hate. Workrate fans really hate it, as there wasn't a classic match to be found on the card. Fans that are more into characters & story really love it. To me, this night was Vince Russo's highpoint as a wrestling writer.
Stone Cold Steve Austin had lost the WWF Championship in September, getting pinned by both Kane & Undertaker. Austin refereed a match between Kane & Undertaker in October, where he knocked them both out & made the match a no-decision. Vince McMahon came up with the idea of a tournament after that, and his primary objective was to keep Austin from winning it. It became known as the Deadly Game…I'm still not sure why, but it gave us one of the best PPV theme songs of all time.
Mankind was thought to be Vince's favorite, while The Rock was seen as the next worst option for Vince other than Stone Cold. After a night of seemingly never-ending twists & turns, including Austin getting screwed yet again by a McMahon (Shane this time), Rock & Mankind met in the finals. And wouldn't you know it, a year after Survivor Series 1997, which Jim Ross kept dreading a reprise of all night with Mankind winning at the behest of Mr. McMahon, it turned out that Rock was the man locking in the Sharpshooter while Vince yelled to ring the damn bell.
Fourteen year old me couldn't have enjoyed the show more, even if Rock was my third choice behind Austin & Mankind. Yeah, this time period was tough for me as far as favorite wrestlers feuding went.