Top 5: Matches Of The Week (Ending 2/4/18)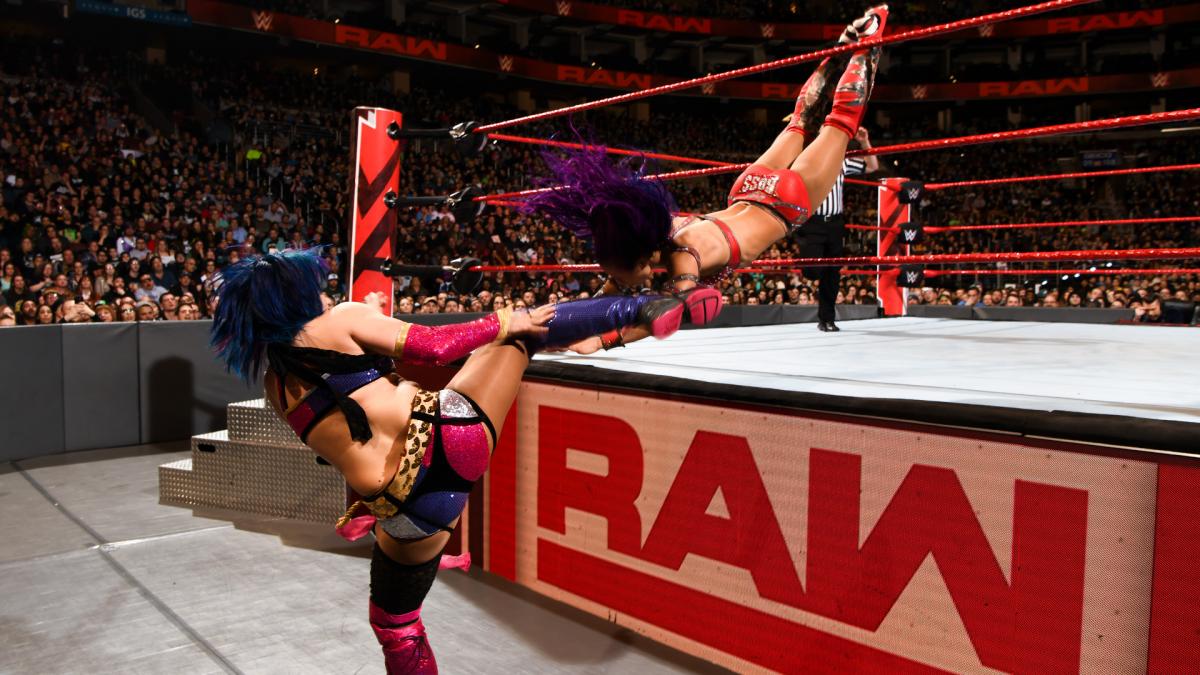 Oh ya, I have an article to write! Even though I wasn't personally invested in the Super Bowl, the game ending up being great. Who woulda thunk that the Eagles would pull off the upset?
Anyway, not the point, it's a wrestling article! Last week's match of the week went to…Andrade Almas vs Johnny Gargano, to no one's surprise. Now since more of this week was in February, this is the official start of the February pool. So that means this week will be two votes, Match of January, and Match of the Week.
January Pool:
Wrestle Kingdom 12: Chris Jericho vs Kenny Omega
NXT: Kyle O'Reilly & Bobby Fish vs Roderick Strong & Aleister Black
NWA: Tim Storm vs Jocephus
NXT Takeover: Andrade 'Cien' Almas vs Johnny Gargano
The January pool has 2 obvious favorites, so it should be interesting which way it goes. So with that, let's see what leads off February:
5. Impact: Moose & Johnny Impact vs EC3 & Alberto El Patron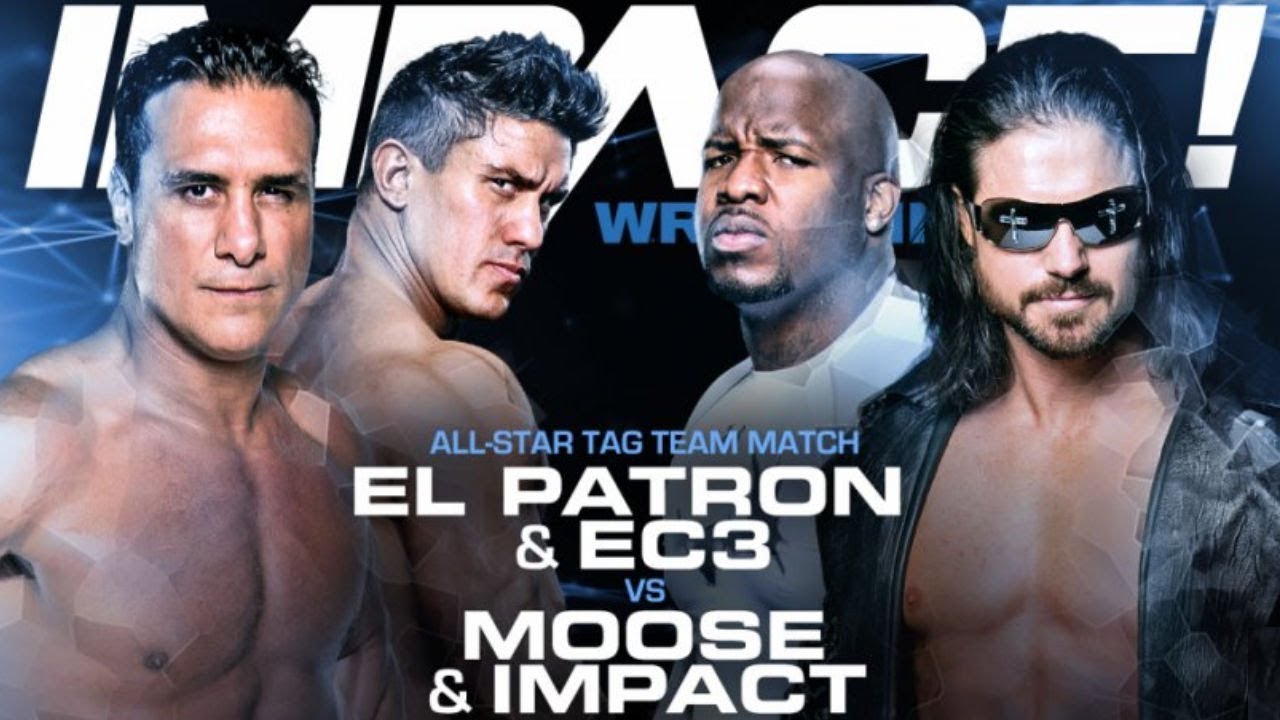 Billed as an All-Star Tag Match, it's the fabled main event faces vs main event heels for a feud filler match.
The match was filled with all four competitors' signature moves, a lot of well paced, hard hitting action. My highlight of the match is the fact that Johnny hit his Starship Pain perfectly, FINALLY, he only hits it well about 20% of the time, but this was perfect…and it wasn't the finish.
Good brawling, good spots and Moose gets the pinfall on Del Rio after a surprise discus lariat. So you can only assume that there will be some multi-man match (I haven't read spoilers) since Drake no longer has the Heavyweight Title, so that means all participants in this match are available for an opportunity.
Rating: *** 1/4 (Gold IV)
4. AJPW Yokohama Twilight Blues Special Triple Crown Championship Match: Joe Doering (c) vs Kai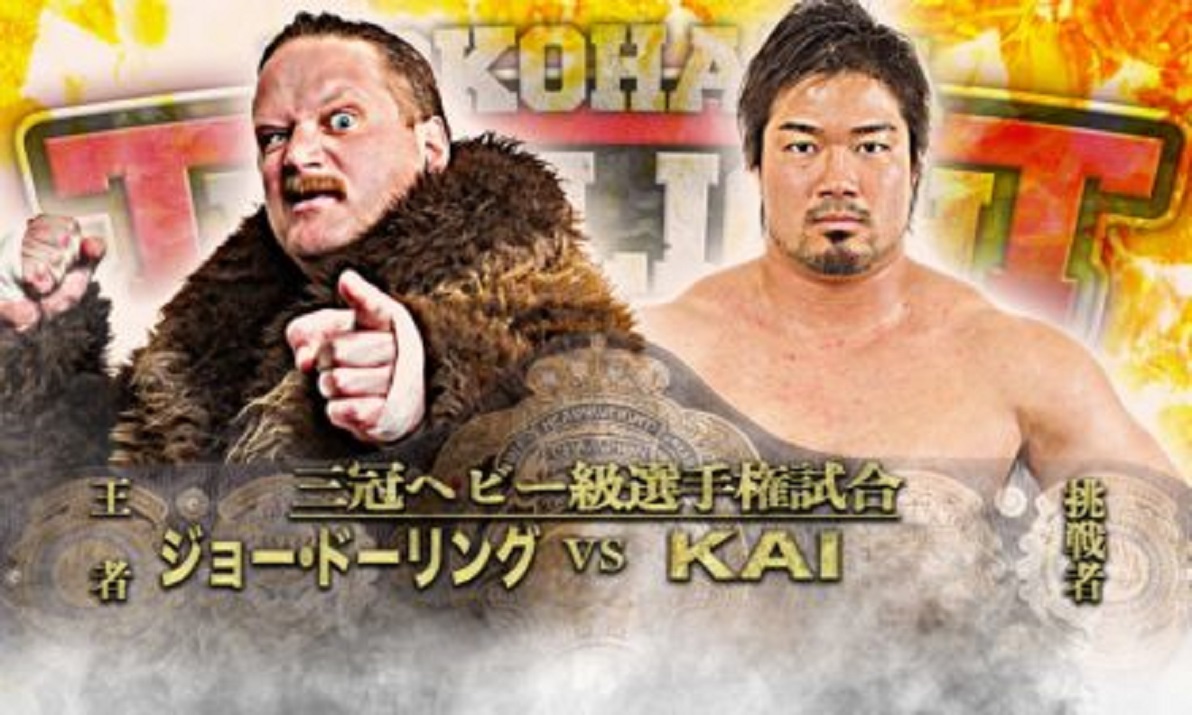 Doering's title reign has been weird from a western perspective. He's the big gaijin, who returned from a battle with cancer and built his way back up the ladder. But everyone he's faced aren't exactly top teir talent, since they've been enveloped in Tag storylines.
However, even with my less than glowing introduction, everyone Doering has faced, puts in good work. Kai had many good flurries even though he was at a large size disadvantage. There were a couple times it looked like he had a shot, and that's beautiful story telling. If you can ever make people buy into a lower card guy, upsetting the champion, that's what wrestling is about.
Doering wins on his second attempt for his spinning powerbomb, and then we see his next challenger. Kento Miyahara, the young Ace, looking to get his belt back. This match, will be a sight to behold. Regardless of who wins, a competitive match will do wonders for the main event scene.
Rating: *** 1/2 (Gold III)
3. Raw: Asuka vs Sasha Banks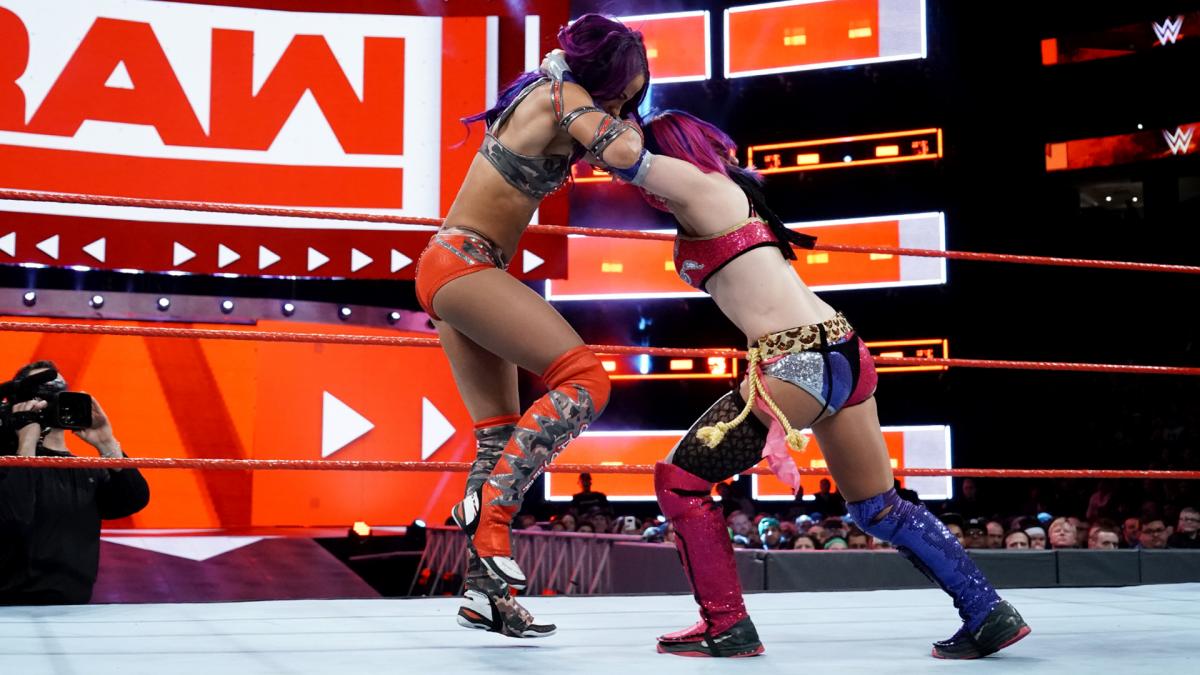 One of the most meme'd/gif'd matches of the last few years, and for all the wrong reasons.
Yes, even I brought up that Sasha needs to stop doing suicide dives before she kills herself, since this isn't the first time she's messed one up. Now, even with the botch, it still worked well and since Sasha didn't get seriously injured it added to the brutality of the match.
What we got was a top teir match, be it male or female, both women put on a clinic. This match can build a good Sasha story of turning heel since we saw a glimmer at Royal Rumble. If she starts cutting a few corners, she could see it as the edge needed to break Asuka's streak.
Anyone who says they wasted a WrestleMania match, doesn't realize that this match adds to a story, builds more heat between the two and will make a more engaging spectacle…whenver it happens.
Rating: **** (Platinum V)
Honorable Mentions:
Smackdown: Kofi Kingston vs Rusev vs Jinder Mahal vs Zack Ryder
Rating: *** (Gold V)
Raw Intercontinental Title Match: The Miz (c) vs Roman Reigns
Rating: *** (Gold V)
ROH: Matt Taven vs Cody
Rating: ** 3/4 (Silver I)
2. NXT UK Title Number 1 Contender Match: Roderick Strong vs Tyler Bate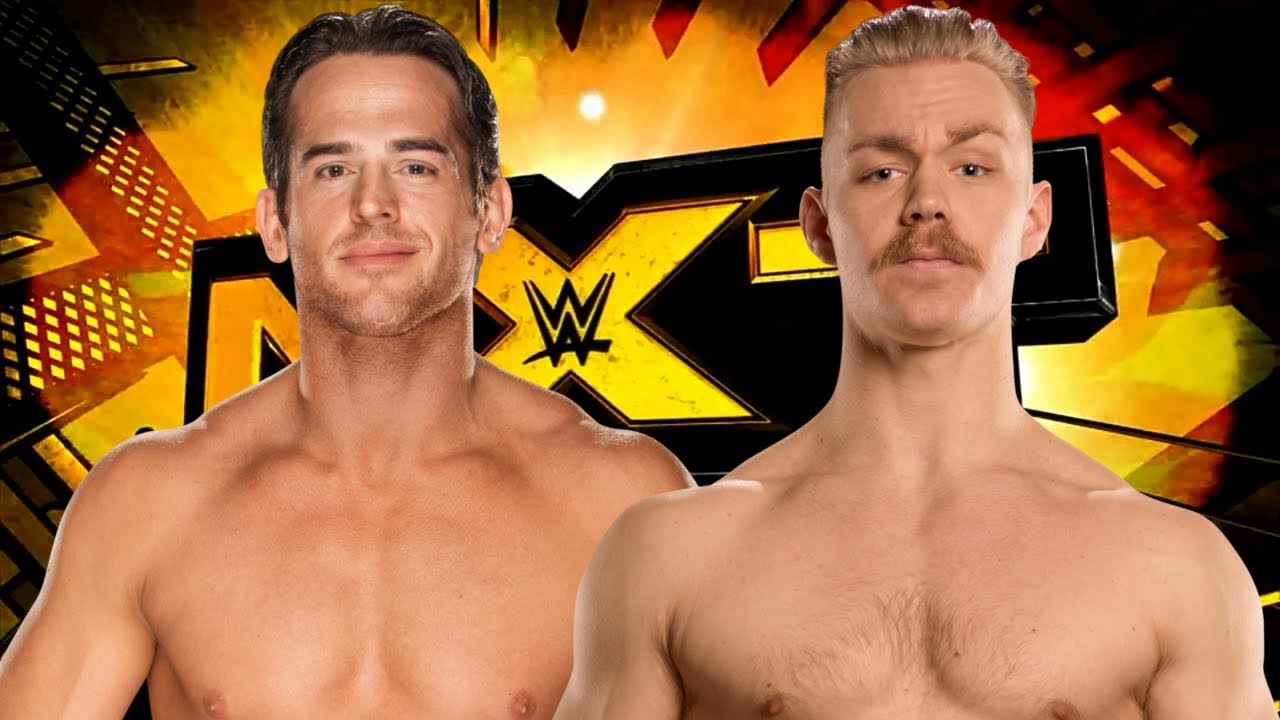 Both men are well known for quality matches, so this had a lot of hype leading in.
This was more of a chess match than a fight. Strong found a few interesting ways to catch Bate in back breakers, while Bate was trying to figure out ways to get his stuff in. That, could've been the difference between the two also. Bate stuck to his usual moveset, while Strong had a little more desperation in the way he was executing his gameplan.
His relentless focus on Bate's back (he is the Messiah of the back breaker, so yeah) played into things where it gave Strong the opening to his The End of Heartache and become the new number one contender for Pete Dunne's UK Championship.
Rating: **** (Platinum V)
1. AJPW Yokohama Twilight Blues Special World Tag Team Championship Match: Shuji Ishikawa & Suwama (c) vs Kento Miyahara & Yoshitatsu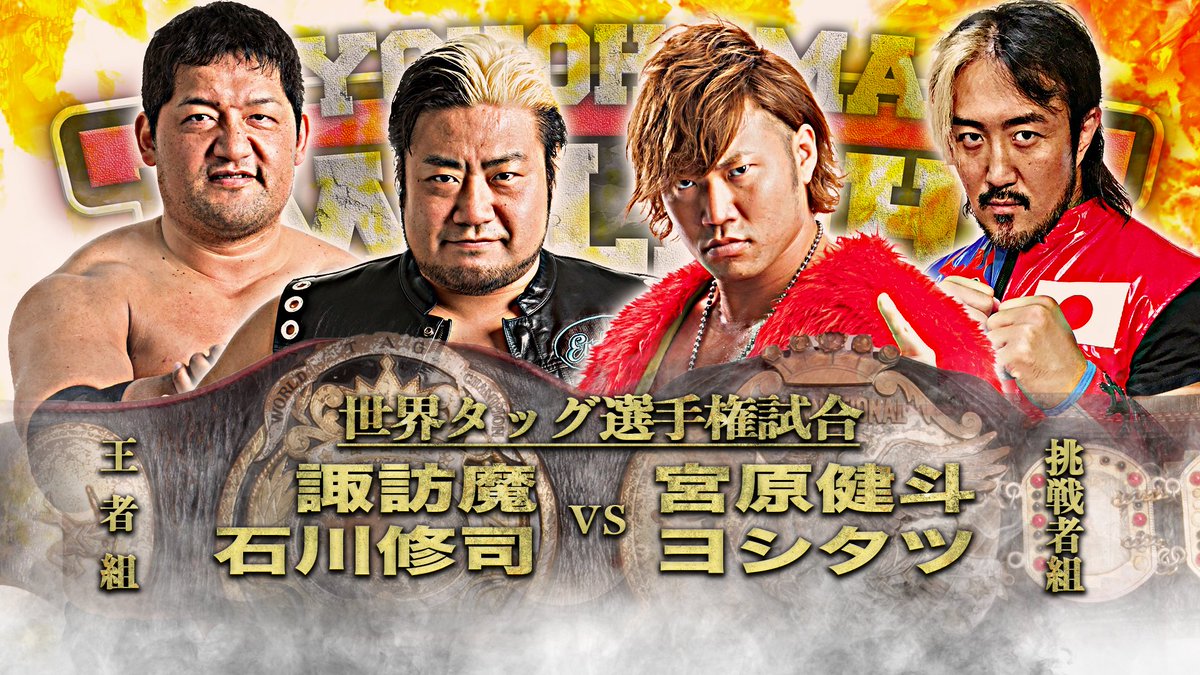 You've got a rematch of the semi-final from the last World's Strongest Tag League, as well as my highly rated match of the tournament ( the more things change, the more they stay the same).
This is one of those matches that's hard to summarize and best to watch. Everyone takes a few minutes to feel each other out, Yoshitatsu goes out of his way to demand Suwama square up with him. Speaking of him, since September, Yoshi has really tried to fix his broken image. He constantly tries to challenge the top talent, and it's finally paying off. Even though Miyahara picked up the win with his Shutdown Suplex Hold, Yoshi held his own.
So not only are Miyahara and Yoshitatsu the new Tag Team champions, Miyahara is challenging for the Triple Crown and Yoshitatsu it finally starting to look like he belongs. All in all I'd call that a successful night.
Rating: **** 1/4 (Platinum IV)
This is another one of those weeks where I'm pretty sure there is an overall favorite match. So due to that fact, I'm going to place my vote for, Violence Giant vs Miyahara and Yoshitatsu @ AJPW Twilight Blues Special, best match of the week, and NXT will get plenty of support from everyone else. As for the month, I'll go with Almas vs Gargano, as the match of January. 
So remember, reply to the article on Twitter or Facebook, or e-mail me at Andrewbalaz@thechairshot.com with votes, opinions, general disdain, it's all good. Until next time, try not to get trampled by "celebrating" Eagles fans.
Top 5: Animals in Wrestling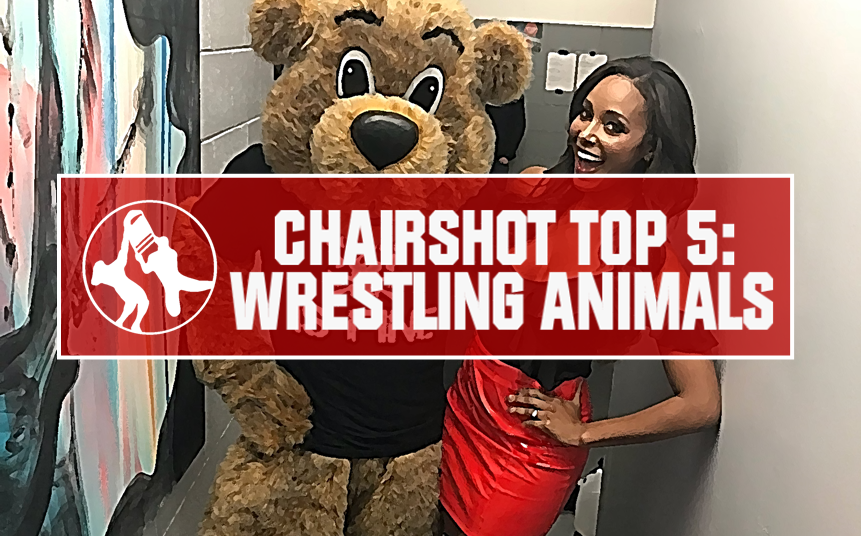 Professional wrestling is often referred to as a circus. It's a wide-ranging presentation of different acts designed to appeal to children of all ages. Wrestlers have spoken in cizarny language to each other for most of the art form's existence.
Every good circus needs animals.
When your best friend is a bear 🐻 #BuryTheBear #BulletClub #BeingTheElite #DrugFree pic.twitter.com/qAexsBktvS

— Brandi Rhodes (@TheBrandiRhodes) February 11, 2018
Bury the Bullet Club Bear is just the latest involvement of animals (or people dressed like animals) in the history of our great sport. For many years, animals have been used to accentuate human performers. There was even a time when animals wrestled humans in special attraction matches. Here are Wrestling's Top 5 Animals.
5. Frankie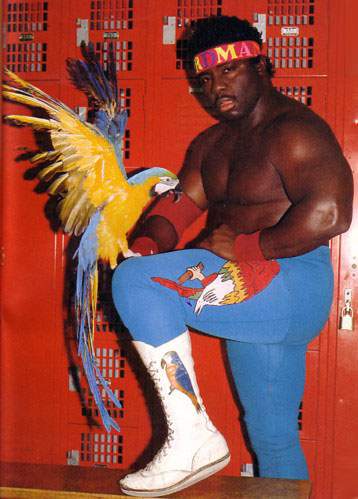 A macaw, Frankie served as Koko B. Ware's mascot from Koko's entrance into the World Wrestling Federation in 1986 until his tragic death in a fire in 2001. Frankie drove home Koko's "Birdman" persona & entrance music.
The only problem I had with Frankie was that he didn't exactly strike fear in the hearts of Koko's opponents. The 1980s WWF often ran angles where heels were afraid of babyface animals. Frankie really couldn't pull that off.
4. C.P. Munk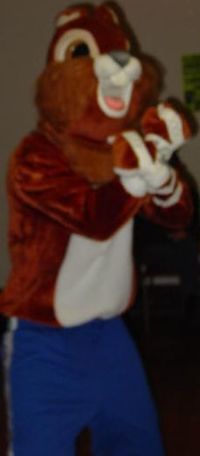 CHIKARA has seen several wrestlers in animal costumes appear in their ring, but none inspired the reaction of C.P. Munk. Munk's inspiration, C.M. Punk, actually appeared in the main event of the first CHIKARA main event. For whatever reason, he & CHIKARA's management had a falling out and that marked Punk's only appearance for the promotion.
August 13, 2005 marked the debut of C.P. Munk, a giant chipmunk with Punk's mannerisms, wrestling attire & entrance music (sped up, of course). He appeared a couple of more times in October before disappearing. Munk's return happened at CHIKARA's Tag World Grand Prix 2006, where he teamed with Colt Cabunny.
We found out that Necro Butcher was the man behind the C.P. Munk persona. It made perfect sense, Necro's typical character certainly wasn't family-friendly & he needed a way to get into CHIKARA.
3. Matilda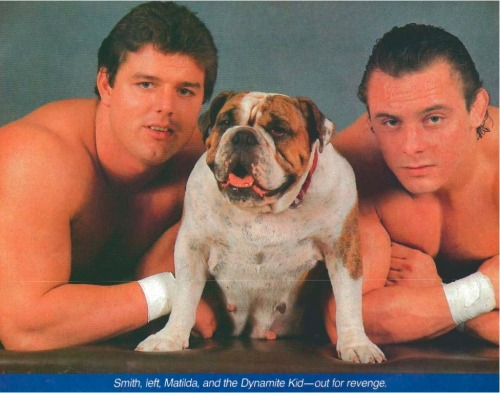 The British Bulldogs are still remembered as one of wrestling's greatest tag teams. Davey Boy Smith & Dynamite Kid certainly wrestled with the tenacity of bulldogs, but in the 1980s WWF you needed a little bit more than that to establish your persona. Enter Matilda. The bulldog showed up towards the end of the Bulldogs' tag team championship reign, and offered at least the same level of managerial expertise as their previous manager: Captain Lou Albano.
The highlight of Matilda's wrestling involvement happened when Bobby Heenan & the Islanders dognapped her. Fortunately, Vince McMahon hadn't yet considered the idea of having a wrestler feed another wrestler their own dog for dinner.
2. Terrible Ted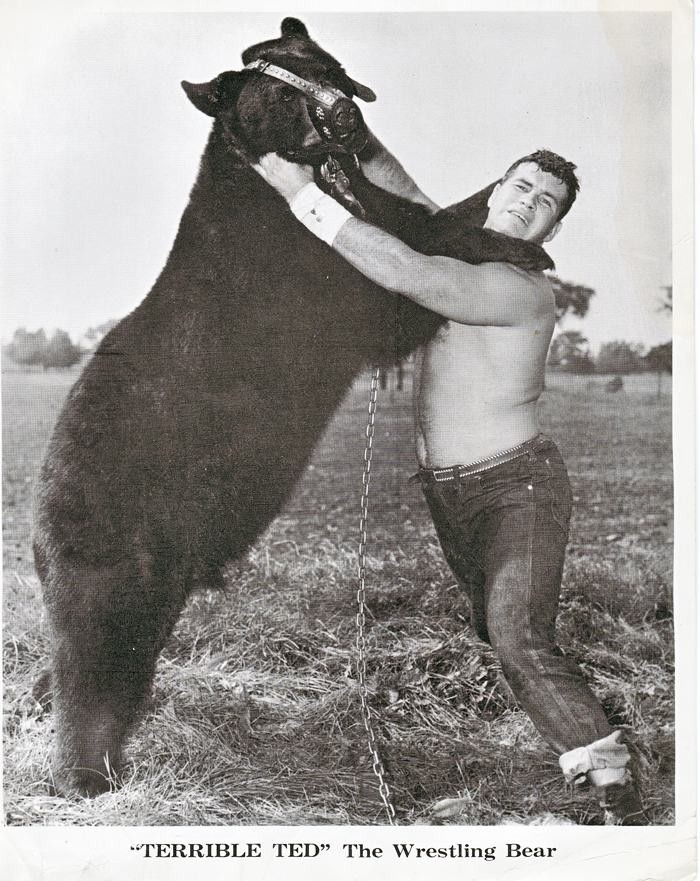 The wrestling bear was a tremendously popular attraction throughout the 1950s & 60s. Live gates would go up across the nation when a bear was advertised. The most famous of the wrestling bears was Terrible Ted.
Ted wasn't a bad worker from what I've seen. I imagine it had to be difficult from a mental standpoint for a human wrestler to get in there with him. Even if the bear looks like he's working, you never really know for sure. Of course, wrestlers don't need to worry about getting booked against bears now due to animal cruelty laws, liability laws & things like that. Daniel Bryan wanted to wrestle a bear at a recent WrestleMania, but there was no way he or a bear was getting cleared to compete in a WWE ring.
1. Damien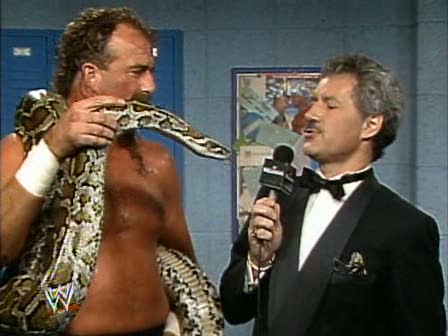 Jake Roberts had been known as "The Snake" ever since he started out in wrestling. It made sense on two levels: it rhymed with Jake's first name & it described his personality in & out of the ring. It only made sense to make it a key part of his persona when he arrived in the WWF.
There's definitely a fear factor when it comes to snakes. People are taught in Sunday School that they're evil. Jake used Damien as well as any wrestler has ever used a side character. Damien crawling on Jake's downed opponents was always a creepy moment that further established Jake as a sinister force. Even when he was a good guy, there was always something dangerous about Jake & Damien.
Damien was constantly involved in angles. Ted DiBiase kidnapped him. Earthquake sat on him. He was the only thing that Andre the Giant was afraid of. There was never a more important animal in the history of pro wrestling.
Power Rankings: New Japan Pro Wrestling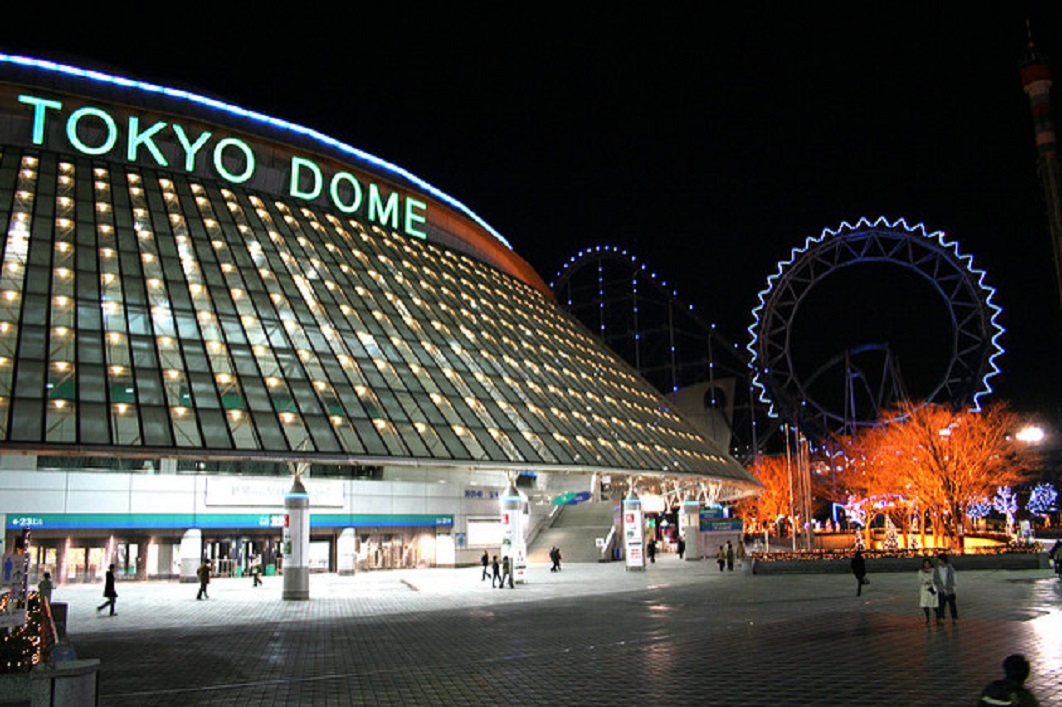 Well coming off the big New Beginning shows, there were some interesting events. Taichi kidnaps Naito, Sanada showed the world that he's a the real deal, Kitamura shows a great ability to learn and adapt, as well as, Yoshi-Hashi…well…not stinking up the joint.
Given the fact there's so much to chew on, it makes sense to try and Power Rank the current landscape of New Japan Professional Wrestling.
5. Tetsuya Naito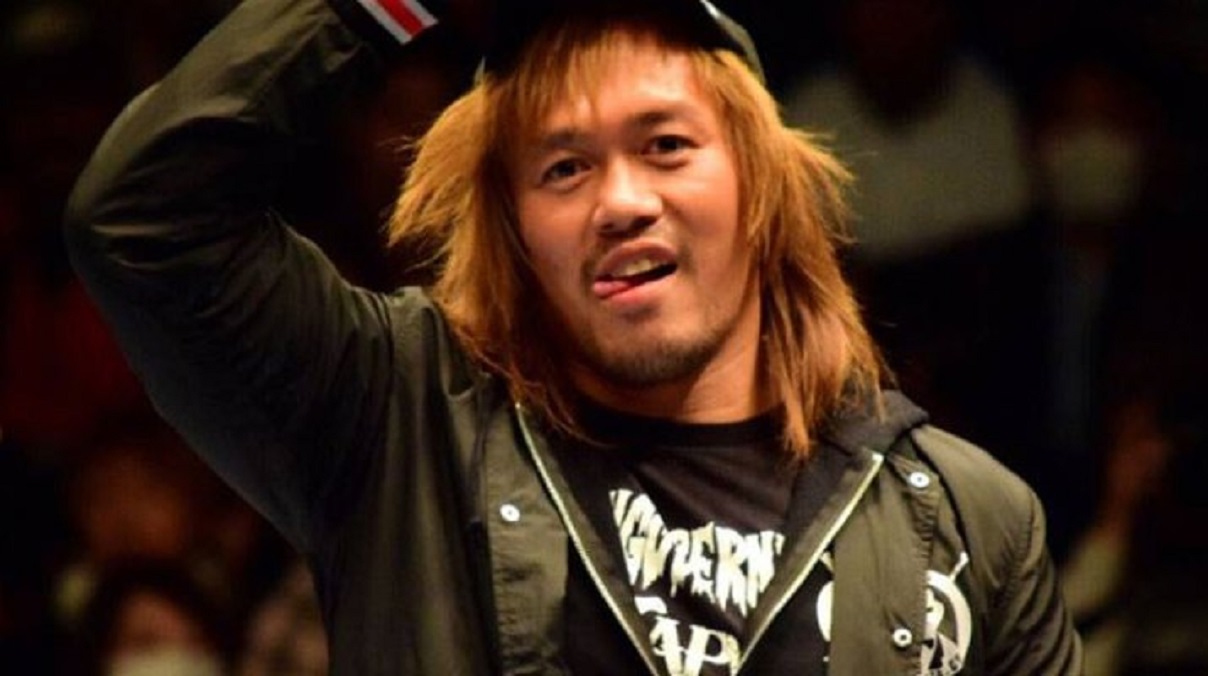 The leader of Los Ingobernables de Japon, the leading merchandise mover in Japan and forever the Stardust Genius. Accolades aside, he's been in a weird spot since losing his IWGP Championship shot at Wrestle Kingdom 12. He got jumped by Jericho, he got pushed around by Yoshi-Hashi and now Taichi is trying to make a statement with him. Not really sure why he's being saddled with the lower card guys of 2 other factions, and freelance Jericho is looming over his head. So with no real direction but, himself and LIJ are still the most over thing in NJPW, he deserves mention in the Top 5.
4. Will Ospreay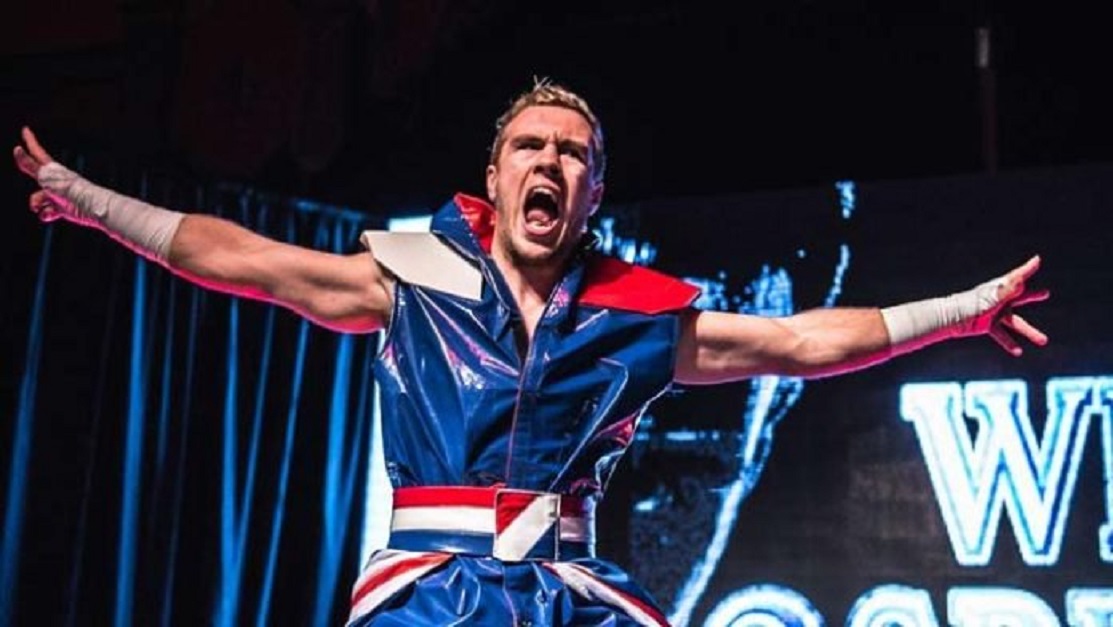 ELEVATED, EL-ELEVATED – oh, ya his theme song is catchy, shut up. Aside from a catchy theme, he's one of the premiere atheltes on the indie scene as well as New Japan. So given the fact that he's been towards the top of the Junior Division for the last 3 years, and a 2 time Champion in the last six months, it's hard to ignore him. The fans love him, Okada hand picked him for Chaos, and even hand picks him again for the Anniversary Show to reignite the tradition of the Junior Champion versus the Heavyweight Champion.
Starting off big, this proves to be a big year for Ospreay.
3. Minoru Suzuki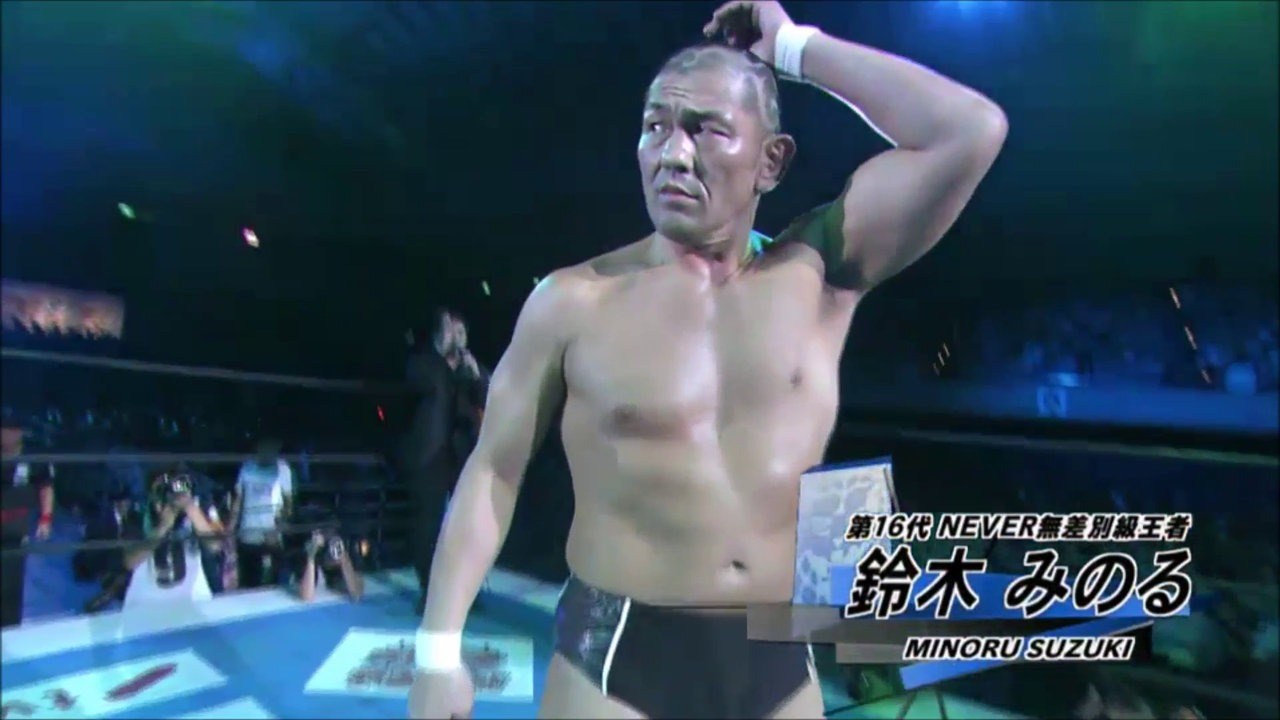 The Sadistic Surgeon, he literally tortured Hiroshi Tanahashi to the point where Red Shoes couldn't take anymore and took pity on the stubborn former Ace. Now he's the Intercontinental Champion after losing the NEVER to Hirooki Goto last month in a brutal match. He feels disrespected by the press, but the fans still love to hate him. Screaming Kaze Ni Nare at the right time, is still an arena wide tradition, and you can't help but eat up his brutal technical style.
Suzuki-Gun Ichiban.
2. Golden Lovers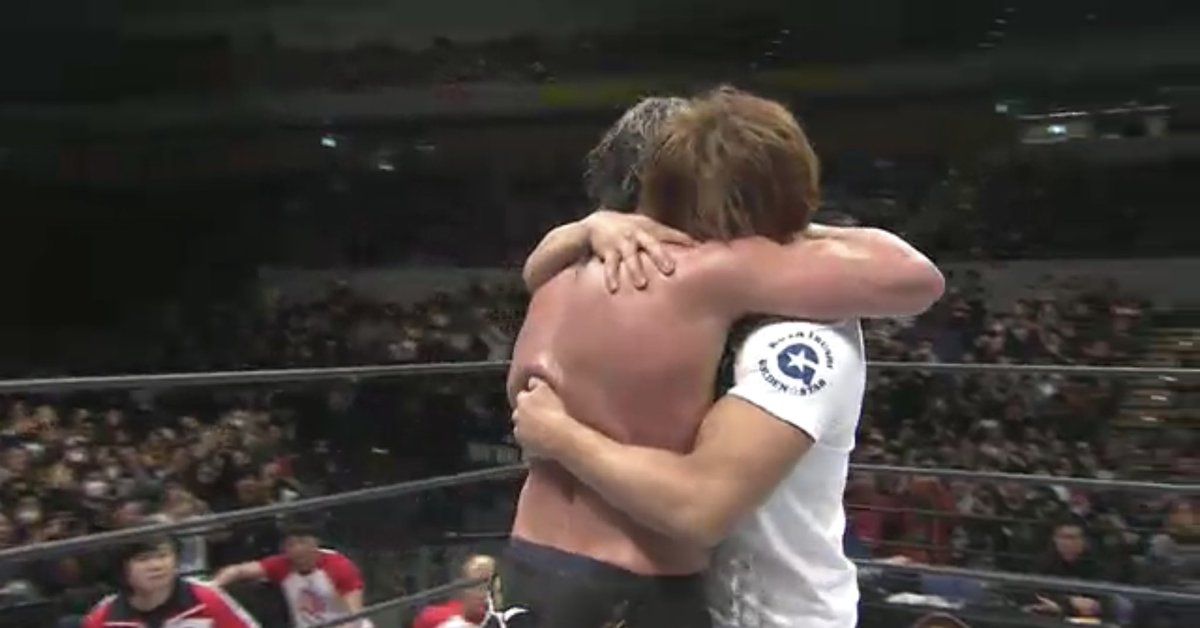 Well this one is a gimme. It's the reunion every new western fan wanted and even many Japanese fans were clamoring for this. Kenny Omega's possible split from the Bullet Club, time to go full Babyface with Kota Ibushi. Not only Bi-lingual…these guys will be a great story to keep fans engaged through the New Japan Cup and the usually smaller show of Wrestling Dontaku.
We know what they can both do, and now it's just a matter of seeing where they go. Some great matches can be had, but until we get confirmation on the Bullet Club, speculation is abound.
1. Kazuchika Okada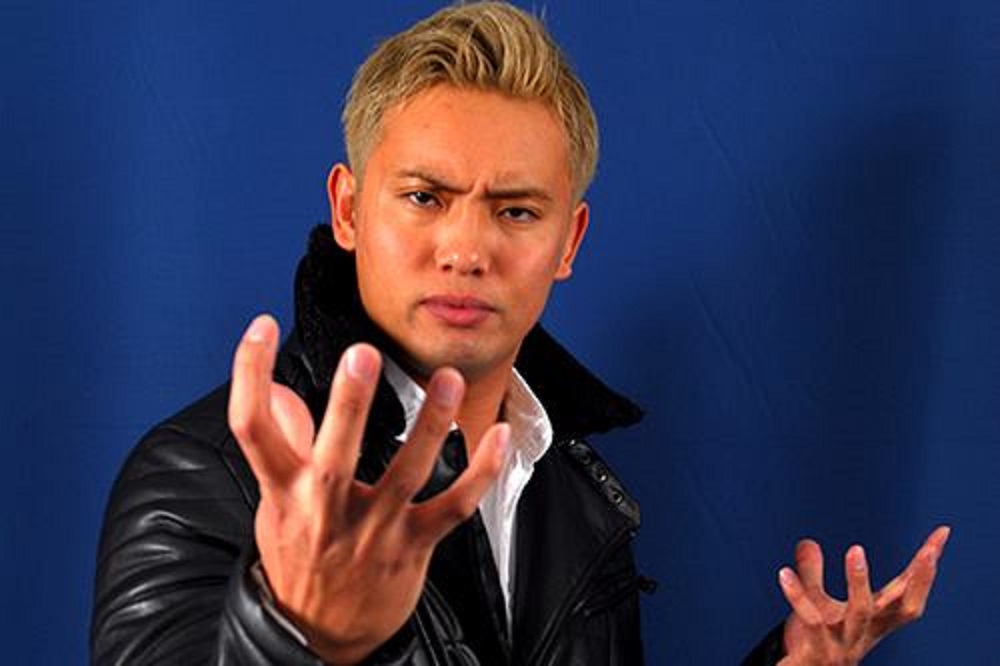 What can I really say? He's a 5 star machine, even more so than Omega. He's booked to be super human, looks like a million bucks, has a global footprint larger than most expected and still remains mostly humble on promos. Also New Japan's parent company Bushi Road has been using his boyish smile and look to help sell their products like Buddy Card Fight.
Even if your sick of him being champion, his matches are always put together in a way to make you believe the other wrestler has a legit chance, until Okada's resilience shines through. So unlike other "Pushed down our throat" talent, Okada remains humble to fans, looks fairly human, just has a more impressive reserve tank than most.
He will continue to rain money down on New Japan, even after Omega's eventually exit to WWE.
Well there we have it, Power Rankings for New Japan. Due to injuries, Hiroshi Tanahashi isn't on this list and due to being relatively new, Jay White hasn't quite captured the hearts and attention of people to believe he's a top talent.
Could there be a lot of changes amidst how the Anniversary Show, New Japan Cup, Strong Style Evolved and Wrestling Dontaku shake out? Of course! Makabe challenging for the Intercontinental Title, Jericho's eventual involvement and the next opponent for Okada could shift things. But until them, tranquilo and Bullet Club is fine, they're fine.
Top 5: WWE Elimination Chamber Competitors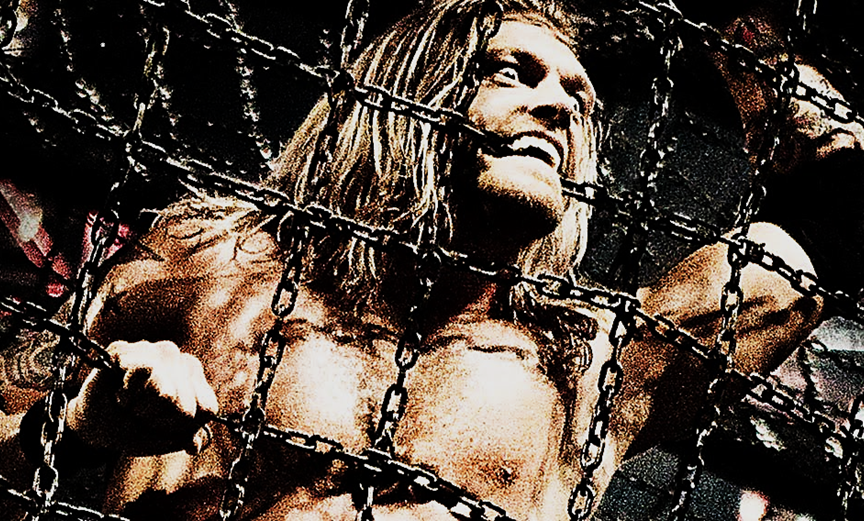 The Elimination Chamber is a match that still carries some weight with a number of fans. Unlike other gimmick PPVs the Elimination Chamber feels right at home as the biggest stop on the road to WrestleMania. Though the Chamber is known as one of the most dangerous matches there are some competitors who've managed to conquer it. Here are the top five competitors to ever step foot in the Elimination Chamber.
5. Chris Jericho
While Jericho does lay claim to the records of most Chamber appearances with eight and eliminations of all time with ten, Y2J only has one win within the confines of the steel structure. That of which came with interference from Shawn Michaels. Realistically, Jericho could be put on a worst competitors list considering his abysmal record, but he has had such an impact that it would be a shame if he wasn't a part of the list.
4. The Undertaker
The Undertaker is often associated with a handful of gimmick matches, from Hell in a Cell, to Casket, to Buried Alive matches. However it has seemingly gone under the radar that he does happen to be a standout performer in the Elimination Chamber. He may only possess one win inside the chamber, but the Phenom does have six eliminations under his belt in only three appearances. This is the best elimination to appearance ratio in the chamber's history. He is also one of the men to start from the first position to go on an win the match, and let us not forget he competed in one after getting severely burned by his pyro.
3. Edge
The Rated R Superstar doesn't exactly come to mind when taking about Elimination Chamber competitors, but the numbers don't lie. With two wins out of four appearances and averaging one elimination per outing, Edge is quite decorated when in comes to the chain mesh. He is also the only man to compete in two chamber matches in the same night, one of which he ended up winning.
2. John Cena
John Cena will make his seventh appearance inside the chamber come Feb 25, bringing him just under Jericho in overall appearances. If he manages to win, Cena will tie Triple H with the Elimination Chamber wins, however unlikely that may be. What's interesting, however, is two of Cena's wins would lead to a defeat moments later, one by Edge cashing in his Money in the Bank contract at New Year's Revolution 2006 and the other being Batista at the Elimination Chamber PPV in 2010.
1. Triple H
With four wins, seven eliminations, and six appearances, the Game certainly deserves to be king of the chamber. The first man to lose and retain a championship in the structure, as well as well as being the only man to win back to back chamber matches, and doing it twice, he has been an integral part of the match's history. It is safe to say Triple H won't be stepping inside the chamber to compete for gold in the later stages of his career, so someone may take over his top spot someday. But for now he sits atop the Elimination Chamber throne.