Top 5: Underdog WWE Champions
The result of Super Bowl LII seemed set in stone to most observers, myself included. The Philadelphia Eagles would give the New England Patriots a good game, but at the end of the night the dynasty would prevail once again. LOL Patriots Win, right? Didn't happen. Doug Pederson coached with cojones the size of grapefruits, Nick Foles made for a better wide receiver than Tom Brady did, and the Eagles shocked the world to win their first Super Bowl.
Underdogs have been a part of sports as long as one can remember. Pro wrestling has certainly seen its share. Here are the Top 5 Underdog Wrestling Champions.
Honorable Mentions: Bret Hart & Shawn Michaels
Here's the thing: Neither of these men were expected to be WWF Champion heading into the 1990s. The Championship had been dominated by large muscular men that were big in charisma & low on technical ability. Hart & Michaels were solid hands. They were part of successful tag teams & even made a dent in the Intercontinental title scene. The IC title was supposed to be their ceiling.
Circumstances changed & the times called for men that weren't walking steroid advertisements to lead the company. Bret & Shawn were perfect for that. As a young fan that had watched them develop, I wasn't shocked when Bret defeated Ric Flair, or when Shawn topped Bret in the Iron Man match at WrestleMania XII. They had proven themselves to me & many others as exceptional wrestlers, and the people standing in their way weren't exactly unbeatable giants themselves. They were only underdogs to people that weren't paying attention.
5. Rey Mysterio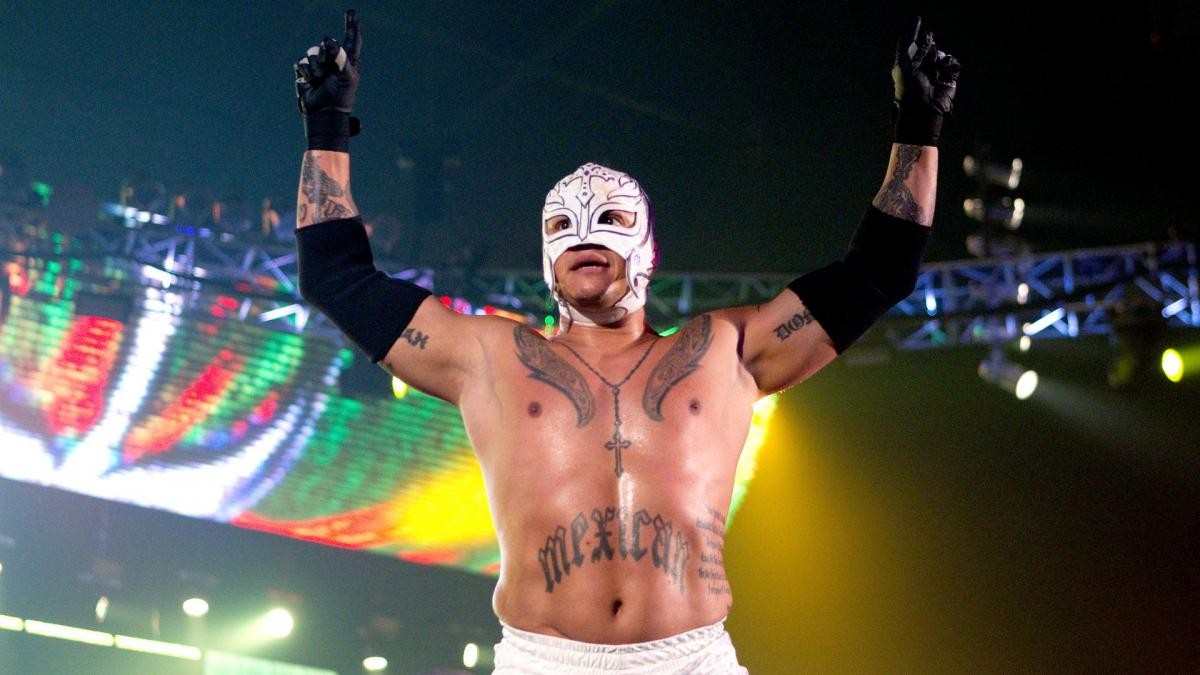 Speaking of smaller men, Rey took the wrestling world by storm in the mid-1990s. His brand of high-flying was something that had never been seen before. He immediately became one of WCW's most popular performers, and attained the same status in WWE upon his arrival in 2002. Even though the size barrier had been broken by 2006 & wrestlers were trending smaller on average, Rey was still considered way too small. His billed height at 5'6 was very, very generous.
Rey's time came at WrestleMania 22, where he beat Randy Orton & Kurt Angle in a triple threat match. Unfortunately for Rey, the title reign wasn't as well-received as it should have been. Many thought that he was only World Champion as a way of WWE paying tribute to his best friend. WWE did Rey no favors during his title reign, as he got beat like a drum by every big stiff employed by the company. It was intended to build up his underdog status, but had the effect of portraying him as undeserving.
In an ironic twist of fate, Rey was at his least popular when he was on top of the mountain. Some underdogs are better off in that role.
4. Jeff Hardy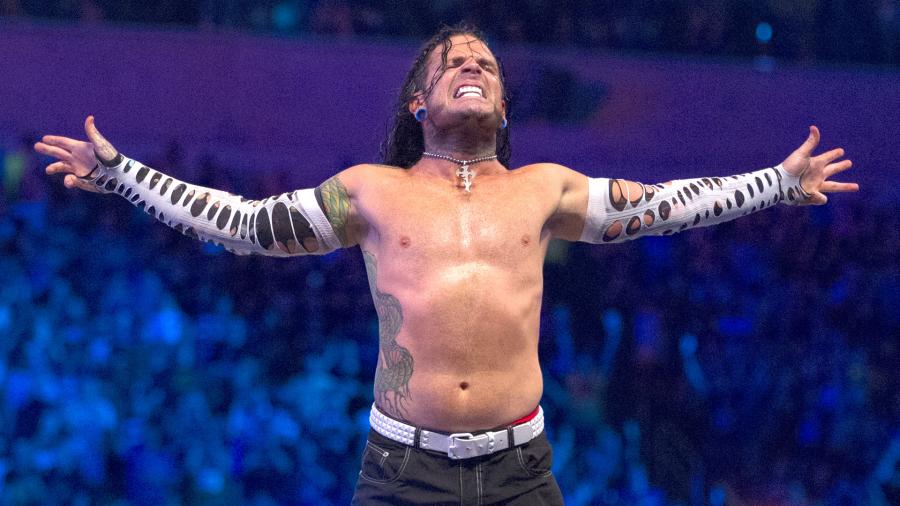 Jeff was always tremendously popular with WWE fans. His biggest obstacle in reaching the top of the company was himself. Drug issues threatened to derail his career on multiple occasions, and even after he reached the mountaintop of the WWE Championship he struggled to conquer his demons. That story, added in with the fact that like Hart & Michaels he was smaller & less conventionally charismatic than your typical WWE Champion, made it extra sweet for his fans when he finally won the Championship in December 2008.
In the eyes of many that never thought they'd see it happen, WWE Armageddon was a fitting title for a show featuring a Jeff Hardy world title victory.
Honorable Mention: Chris Benoit
Had the tragic events of June 2007 not taken place, there's no doubt in my mind that Benoit would be somewhere around this position on the list. He'd wrestled all over the world for nearly fifteen years and was considered one of the best in the ring. Nobody, not even his biggest fans, believed that WWE would ever put him on top. Even after he won the 2004 Royal Rumble & got placed in the Raw title picture, most figured that Shawn Michaels or Triple H would win at WrestleMania XX, even if Benoit made the most sense from a storyline perspective. At the time, it was a wonderful story of an underdog clawing his way to the top of WWE & winning a major championship.
3. Eddie Guerrero
At the same time Benoit was working his way to the top of Raw, his longtime friend took the world by surprise on SmackDown. Like Jeff Hardy, Eddie had waged a battle with his demons for most of his career. Like Rey Mysterio, Eddie was small even by the standards set by Hart & Michaels. Unlike any of these men, Eddie had the task of winning the WWE Championship from Brock Lesnar. Brock was & is the exact opposite of an underdog. On paper, Eddie didn't stand a chance.
The match at No Way Out 2004 told the story of an underdog that never said die against an unstoppable force who was annoyed that his opponent wouldn't just die. As far as a one-night story of an underdog reaching the top of the mountain goes, I don't think there's been a better one. Eddie's untimely demise less than two years later makes the story live on even more than it would have otherwise.
2. Mick Foley
Foley was a man of many personalities. Whether he was Cactus Jack, Dude Love or Mankind, at the end of the day wrestling fans could relate with him. Mick didn't have the look of a typical WWF Champion. He took some of the worst beatings in the history of the business. He cut some of the best promos. As talented as he was, championships didn't seem like they would come his way.
His victory over The Rock on a taped episode of Raw that aired on January 4, 1999 was such a monumental & crowd-pleasing moment that people wanted to see it even though WWF.com & WCW spoiled the result of the match before it aired. It was fitting that Mankind, the most downtrodden of Foley's personas, won the Championship. He had opened his heart to Mr. McMahon only to be rejected in favor of the younger, more charismatic & more cosmetically pleasing Corporate Champion. Fans could relate to Mankind's story & saw him as an ultimate underdog that would fight through any type of punishment.
Some still didn't get it. Even WCW tried to downplay it as somebody that worked for them before & couldn't get it done. Fans knew all that meant was that WCW didn't know what they had. One of the greatest underdogs of all time.
Honorable Mention: Steve Austin
It's hard to believe it now, but at the time of his first WWF Championship victory, the Rattlesnake was considered an underdog. He'd been fired by WCW, it was obvious that Vince McMahon didn't want him to be WWF Champion, and he talked about how it took him eight f'n years to get to the top of the business. In retrospect, the bit about eight f'n years was pretty ridiculous. It takes most top guys at least that long to attain their position. Once Austin reached the mountaintop, the only thing that could knock him off was injury.
The New England Patriots were underdogs at the beginning too.
1. Daniel Bryan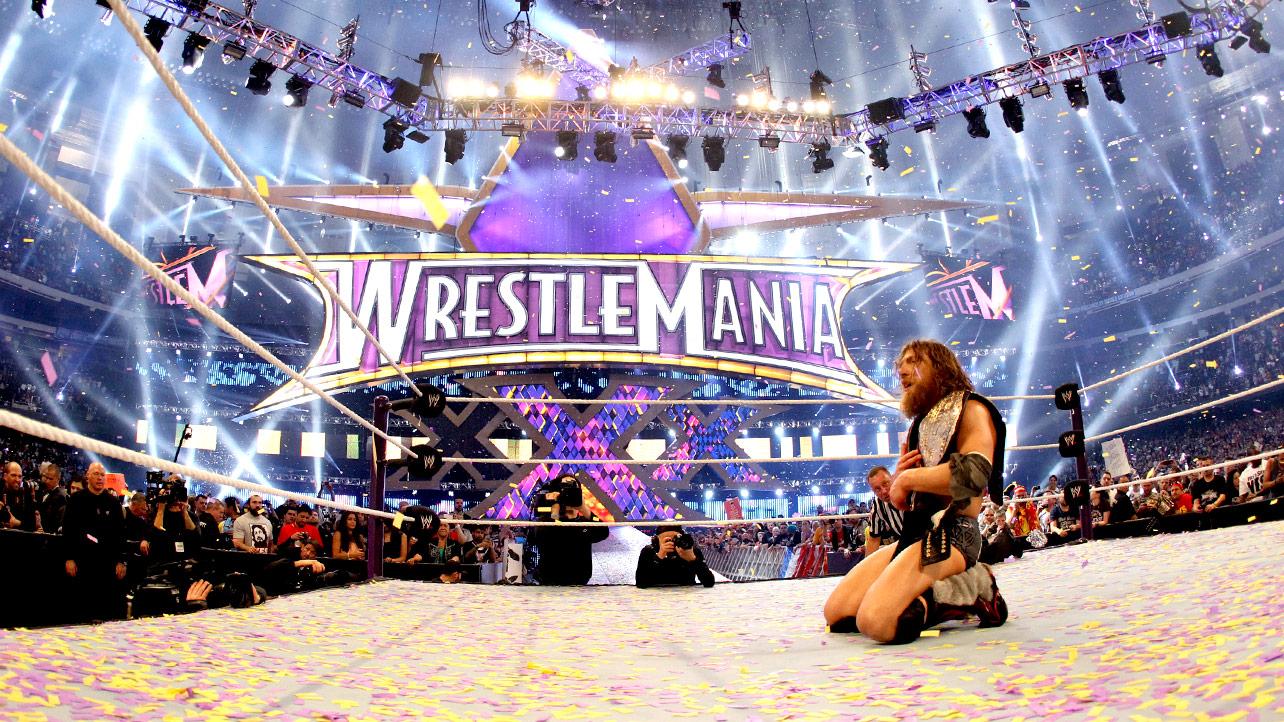 Underdog champions have a way of popping up at WrestleManias every ten years. Bret Hart avenged his defeat to Yokozuna at WrestleMania X. Benoit & Guerrero stood tall at the end of WrestleMania XX. WrestleMania XXX saw the crowning of possibly the least expected champion of all, Daniel Bryan.
Bryan's rise through the business was chronicled on the Internet. Ring of Honor, the company that he was associated with more than any other during the 2000s, was a niche product targeted towards Internet fans. Bryan seemed like the opposite of what WWE wanted in a wrestler when he arrived there, and he continued in that path during his time with the company. His charisma became more pronounced & he attained more of a connection with the audience. He won the World Championship on SmackDown, but was still marketed by WWE as a man that looked like a goat.
His loss of that championship in eighteen seconds to Sheamus at WrestleMania XXIX riled the fanbase. They were appalled by WWE's lack of respect for Bryan to job him out like that. Pro-Bryan chants dominated the rest of WrestleMania weekend. He went into SummerSlam against WWE Champion John Cena because Cena asked the fans who he should wrestle & Bryan was their answer. His loss of that championship to Randy Orton minutes after defeating Cena riled the fans up even more. Pro-Bryan chants dominated WWE programming for months afterward. News that Bryan was destined for a lower-midcard WrestleMania match combined with his lack of presence in the Royal Rumble Match made the chants even louder. By the time WrestleMania rolled around, it was obvious that there was only one way the event could end.
People still debate whether or not WWE intended the Daniel Bryan push to happen the way it did. That's the number one sign that it worked. Bryan was such a loveable underdog & had such a connection with the fans that we all felt like we were part of it. Whether we were or not is irrelevant.
---
Always Use Your Head and visit the official Pro Wrestling Tees store for The Chairshot All t-shirt proceeds help support the advancement of your favorite hard-hitting wrestling website, The Chairshot!

---
Top 5 Matches: Week Ending 7/22/2018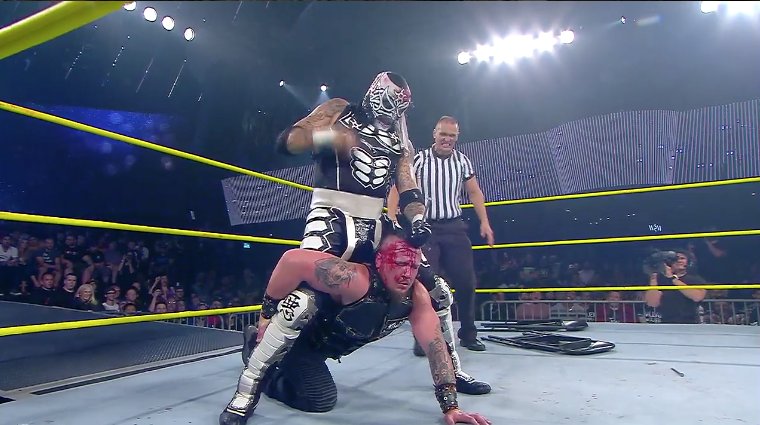 Well last week we had a mostly G1 Top 5, and the trend continues into this week. It's not for lack of trying, since there's over 15 Honorable Mentions this week, but Japanese tournaments are really hard to top without a PPV. With all of this being said, NXT put up a fight last week. Moustache Mountain vs Undisputed Era, lost to Omega vs Naito by a slim margin.
So with a G1 match taking down last week, and a good chance it might take down this week…that will make this month quite interesting. To all the WWE faithful, I apologize that you may not have seen any of these, but…you probably should.
Let's see what we're working with this week.
5. NJPW G1 Climax 28: Tomohiro Ishii vs Tetsuya Naito

We've seen this match numerous times and it tends to be a fairly even matchup. Trying to go over how many times they've wrestled is gonna take a long time, so let's just say, they know each other well.
Well this was another one for their scrap book. A solid outing of Naito trying to taunt Ishii or disrespect him, met with the stone demeanor and pure aggression of the Stone Pitbull. Naito slapped him, which just pissed him off and brings them to trading strikes…which Naito never really wins.
After a well timed Enzuigiri, Naito would try Destino but get it brushed off and an Enzuigiri in return. Naito drops Ishii on his head with Gloria, and attempts to Destino again, but that gets countered. Ishii goes for his Vertical Drop Brainbuster, but Naito hits the partial Destino counter. Both men try their finishers at least one more time before Naito manages to stagger Ishii after a well timed knee. Giving him the opening he needs to land a clean Destino and pick up the victory.
Winner: Naito via Destino
Rating: **** 1/2
4. Impact Slammiversary Hair vs Mask Match: Sami Callihan vs Pentagon Jr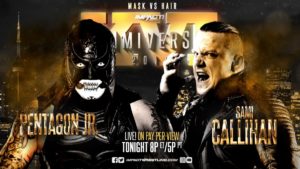 One of the bigger storylines that drove the Pay-per-View this year. Callihan has been harassing the luchadors, and once Pentagon got involved he took his mask at a different show. So that pissed off Pentagon to the point of demanding an old school Mexican stipulation of Hair vs Mask. Callihan accepted, and now we get to see what these two dream up.
Before this match we had a House of Hardcore and a 5150 match, neither of which compared to the violence of what we saw here. A few basic spots into the barricade and missing chops that hit the ring post, paled in comparison to the usage of chairs, powder, a baseball bat and tent stakes or spikes. Both men used different items to drive the spikes into the other's head to make an audible 'ding' to get the crowd to react. Even at one point, each had one stake and just kept driving it into the other's head before they both fell down.
After the afore mentioned powder was used on Pentagon, fun spot was that he couldn't see the ref and thought it was Callihan. So Pentagon breaks the refs arm, immediately regrets it when he can finally see, but hits a Pentagon Driver on Callihan. The ref yells that he can't count because his arm is broken, and I'm pretty sure I heard Pentagon say something like "El otro", which basically means "use the other arm". But that wasn't how it was going down, and Callihan takes advantage of the situation to hit Get out of Here on a chair, but still no referee.
Eventually Baby Referee appears and counts only to 2, and the match continues. The Crists attempt to interfere, but Pentagon fights them off, Callihan sets up four chairs to drive Pentagon through, but Pentagon counters and hits Fear Factor through the chairs.  One more Fear Factor, and the match is over, Pentagon wins and Callihan loses his hair.
Winner: Pentagon Jr via Fear Factor
Rating: **** 1/2
3. Dragon Gate Open the Twin Gate Championship Match: Big R Shimizu & Ben-K (c) vs BxB Hulk & YAMATO

YAMATO and Hulk are two of the older generation of Dragon Gate, as it seems there's a generational war in both NOAH and Dragon Gate currently. So given that, the younger champions will have their work cut out for them.
As with most tag matches we get a little bit of each competitor, but eventually YAMATO does the better portion of the heavy lifting. Which is taking nothing away from Hulk since he pulled off a few Backflip Kicks, and even a nice elbow to the stomach, kneeling Pele Kick at one point to Big R. This match was really a test of YAMATO's endurance since he absorbed, numerous Spears from Ben-K and even Big R's dumb looking Chokeslam.
After some time outside brawling with Ben-K, Hulk finally gets involved at breaking up pinfalls and trying to put something together. YAMATO and Hulk trade off finishers on Ben-K, but he still manages to kick out. Big R hits a modified Leg Capture Chokeslam on Hulk and then when he goes to finish YAMATO, he manages to counter and give them an opening.
YAMATO picks up Big-R for Gallaria and Hulk hits a First Flash style thrust kick to the back of Shimizu's head for the pinfall victory. So now we have new champions and I swear if Hulk tried as hard in the King of Gate tournament as he did in this match, I wouldn't have looked so far off picking him to win Block B.
Winner: YAMATO via Gallaria/First Flash Combination
Rating: **** 1/2
Honorable Mentions:
NJPW G1 Climax 28: Hirooki Goto vs Kenny Omega
Winner: Omega via One Winged Angel
Rating: **** 1/4
NJPW G1 Climax 28: Kazuchika Okada vs Hangman Page
Winner: Okada via Rainmaker
Rating: **** 1/4
Raw: Roman Reigns vs Finn Balor vs Drew McIntyre
Winner: Reigns via Spear
Rating: ****
Impact Slammiversary World Championship Match: Austin Aries (c) vs Moose
Winner: Aries via Brainbuster
Rating: ****
ROH Honor for All NWA World's Heavyweight Championship: Nick Aldis (c) vs Flip Gordon
Winner: Aldis via Kingsland Cloverleaf
Rating: ****
Dragon Gate Open the Dream Gate Championship Match: Shingo Takagi vs Masato Yoshino (c)
Winner: Yoshino via Sol Naciente Kai
Rating: *** 3/4
Impact Slammiversary 5150 Street Fight Tag Team Championship Match: LAX (c) vs OGz
Winner: LAX via Frog Splash on Thumb Tacks
Rating: *** 3/4
NJPW G1 Climax 28: Kazuchika Okada vs Togi Makabe
Winner: Okada via Rainmaker
Rating: *** 3/4
Impact Slammiversary: Fenix vs Petey Williams vs Johnny Impact vs Taiji Ishimori
Winner: Johnny via Starship Pain
Rating: *** 3/4
MLW Fusion MLW Heavyweight Championship Match: Shane Strickland (c) vs Low Ki
Winner: Low Ki via Switchblade Kick
Rating: *** 3/4
AJPW Summer Action: Jake Lee vs Naoya Nomura
Winner: Jake Lee via Seated Double Arm Facelock
Rating: *** 3/4
NJPW G1 Climax 28: Tetsuya Naito vs Juice Robinson
Winner: Naito via Destino
Rating: *** 3/4
Impact Slammiversary X Division Title: Matt Sydal (c) vs Brian Cage
Winner: Cage via Drill Claw
Rating: *** 1/2
ROH Honor for All: Cody vs TK O'Ryan
Winner: Cody via Cross Roads
Rating: *** 1/2
Lucha Underground Lucha Underground Championship Match: Pentagon Dark (c) vs Brian Cage
Winner: Pentagon via Package Piledriver
Rating: *** 1/2
SmackDown United States Championship Match: Shinsuke Nakamura (c) vs Jeff Hardy
Winner: Hardy via DQ
Rating: *** 1/4
NJPW G1 Climax 28: Hiroshi Tanahashi vs Hangman Page
Winner: Tanahashi via High Fly Flow
Rating: *** 1/4
NJPW G1 Climax 28: Bad Luck Fale vs Hiroshi Tanahashi
Winner: Tanahashi via DQ
Rating: *** 1/4
ROH Honor for All: Marty Scurll vs Vinny Marseglia
Winner: Scurll via Chickenwing
Rating: *** 1/4
NJPW G1 Climax 28: Toru Yano vs Zack Sabre Jr
Winner: Sabre Jr via European Clutch
Rating: ***
NJPW G1 Climax 28: Togi Makabe vs EVIL
Winner: EVIL via Everything is Evil
Rating: ***
ROH WOH Title Match: Sumie Sakai (c) vs Hazuki
Winner: Sakai via Smash Mouth
Rating: ***
2. NJPW G1 Climax 28: SANADA vs Zack Sabre Jr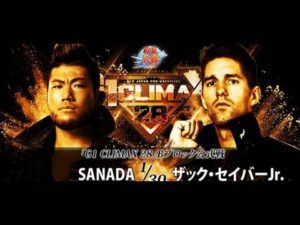 This is a rematch from the Semi-Finals of the New Japan Cup. Sabre tapped out SANADA with Orienteering with Napalm Death, so it's all up to SANADA to see if he learned how to combat Zack.
What we have here, is 11 minutes of pure technical mastery. It starts early with SANADA constantly reversing Sabre into a Full Nelson, just to frustrate him. Whatever Zack tries is mirrored and even a little more smoothly from SANADA.
Surprisingly for SANADA, aside from a couple Dropkicks, he stays mostly grounded, proving he can wrestle Zack's style. Both men go for submissions, but the other gets out of the position. SANADA manages to land Skull End, but Sabre rolls back and turns it into a pin via European Clutch. But we saw SANADA is familiar with this in his last match, so SANADA would reverse it into his own European Clutch for 2 points.
The growth SANADA showed, the technical mastery and the rub ins, by using a Sabre signature against him added to the story in this match.
Winner: SANADA via European Clutch
Rating: **** 1/2
1. NJPW G1 Climax 28: Hirooki Goto vs Tomohiro Ishii

These guys are no strangers to one another, however it has to be said that Ishii hasn't beaten Goto in 3 years. Coming off of his first single's loss all year, Goto looks to get back on the winning ways, while Ishii looks to finally put to bed some ghosts of the past.
Umm…okay words. This match was everything the NEVER division was built off of years ago with Makabe, Ishii and Shibata. It was just stiff strikes, full throttle, strong style. Everything people grew to love about Ishii, was on full display.
Some may wonder how an 18 minute fight gets a 5 Snowflake rating, but trust me, this match fits in so much action, it's just condensed nuclear fission. We saw Ishii counter Goto's forearm by just stepping in with a headbutt, hell at one point they both hit headbutts. An Avalanche Brainbuster, Reverse GTR, Shouten Kai and a few Sliding Lariats, but these men were still standing. This is the Strong Style that people say New Japan has lost, but it's alive and well, just needs some space to flourish.
Eventually, Ishii gets the best of the exchanges and as soon as we think Goto is gonna hit a GTR for the win, Ishii rattles off some offense and hits his Vertical Drop Brainbuster
Winner: Ishii via Vertical Drop Brainbuster
Rating: *****
As I already said, see, I tried pretty hard to find stuff this week since I figured the G1 was gonna dominate the Top 5. Oddly one other match was an even more obscure Japanese match, but hey, Impact snuck in there after a pretty damn good Slammiversary PPV.
However, that Goto vs Ishii match was just brutally beautiful. Goto has a tendency to get over shadowed, and Ishii isn't always seen as a main event player. Well this match should turn that narrative on it's head nicely. So much good wrestling this week, too bad they can't all be like this.
---
Always Use Your Head and visit the official Pro Wrestling Tees store for The Chairshot All t-shirt proceeds help support the advancement of your favorite hard-hitting wrestling website, The Chairshot!

---
Lashley. Reigns. Rollins. Ziggler. Are You Not Entertained?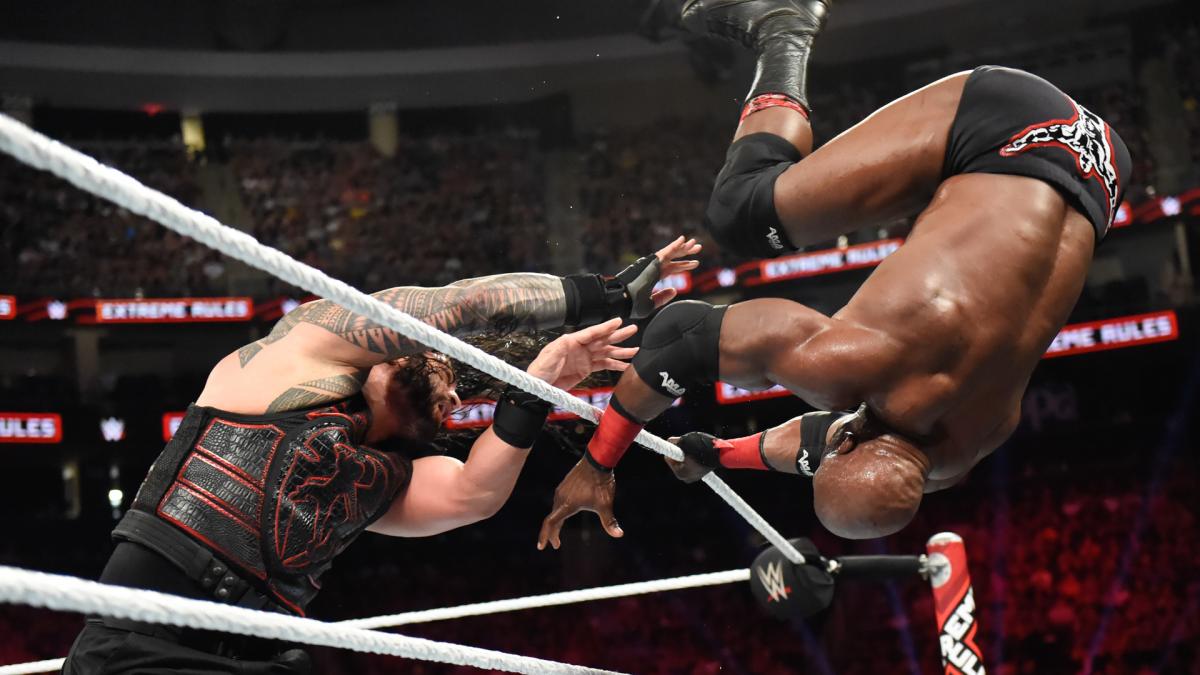 It was supposed to be everything wrestling fans had asked for. The night was last Sunday. The place was Extreme Rules. And the main event of the evening? Not Roman Reigns vs Bobby Lashley as most had predicted and groaned about, but instead a 30 minute Iron Man Match for the Intercontinental Title between Dolph Ziggler and Seth Rollins. It was exactly what the audience wanted. At least, it was what the internet told us that the audience wanted.
And what happened? An embarrassment on multiple fronts. A crowd that was either unappreciative or uninterested. Disrespectful chants. And two performers in Ziggler and Rollins, both deserving of this spot, probably seeing any future main event opportunities evaporating away.
The cringe worthy crowd response to the main event at Extreme Rules proves two truths in wrestling today, though uncomfortable as they might be to accept.
Number one, despite what the "Internet Wrestling Community" might tell you, they do not represent a majority of the WWE audience. Not only are they not a majority, they don't even comprise as large a percentage of the general crowd for a WWE show as they might want you to believe. In today's world, especially with the advent of social media, it would be easy to think that most wrestling fans in 2018 are "in the know." They scour the dirt sheets for news and rumors, are daily visitors to message boards, stalk wrestlers' Instagram accounts, and follow anyone and everyone related to the WWE on Twitter. If that were the case, the Extreme Rules main event would have went over like gangbusters!
"Roman Reigns Sucks."
"Bobby Lashley Sucks."
"Why Isn't The WWE Title the Main Event?"
"Seth Rollins Should Be Universal Champion."
"Seth Rollins vs Dolph Ziggler Is The Only Thing Good About RAW."
Every message board you might visit was littered with the same sentiments in the build up to Extreme Rules. If the keyboard warriors are to be believed, it is a dark time in wrestling right now. So what does Vince McMahon and the WWE do? They throw everyone a curveball and give them exactly what you wanted! Ziggler vs Rollins in the main event! Heck, Reigns vs Lashley was even in the mid card! It was a smart mark's dream. And how did these supposed wrestling purists react to this? By crapping all over it. Why? Maybe there weren't as many smart marks in the crowd frothing at the mouth for thirty minutes of Ziggler and Rollins as we thought there were. Perception isn't always reality.
The second truth that last Sunday revealed, and perhaps hardest for a longtime fan like me to accept, is that Vince McMahon is right- audiences don't know what they want. The highly vocal (though apparent minority) of wrestling fans will tell you that they want to go back to the days of true heels and baby faces. They want to see good, technically sound wrestling. They want to see developed storylines and feuds that last longer than two weeks and come to a decisive end. You had all of that in Ziggler vs Rollins! Ziggler is the cocky heel with the muscle in Drew McIntyre to back him up. Rollins is arguably the most popular face on RAW right now. They are two of the best workers in the company and had already had great matches between themselves previously leading up to this Iron Man blow off. Their feud had a background and a story, and was probably the longest running and most developed storyline of any match on the card at Extreme Rules. It was everything today's jaded fan would want wrestling to return to, and yet it didn't matter. If we are to believe that these were the things most wrestling fans yearn for, their reaction to getting exactly what they asked for was the biggest disservice they could have done for Ziggler, for Rollins, and for themselves. The crowd was more interested in getting themselves over than either of the superstars in the ring. And therefore, nothing got over. Nothing except for the notion that "Vince Knows Best."
I'm a fan of both Ziggler and Rollins. I was happy to see them get this spot and opportunity, and it was unfortunate that the crowd reaction was what it was. It's also unfortunate that so many wrestling fans today like to be negative just for the sake of being negative. It's perfectly OK to have your own opinions about what you like and don't like. But then when you are given an alternative to prove your cause and it is met with this kind of response, you are only assuring yourself of getting more of the status quo. But maybe, deep down, that's really what you want. Because if things were to change, then what would you have to complain about?
---
Always Use Your Head and visit the official Pro Wrestling Tees store for The Chairshot All t-shirt proceeds help support the advancement of your favorite hard-hitting wrestling website, The Chairshot!

---
Ranking Brock Lesnar's SummerSlam Matches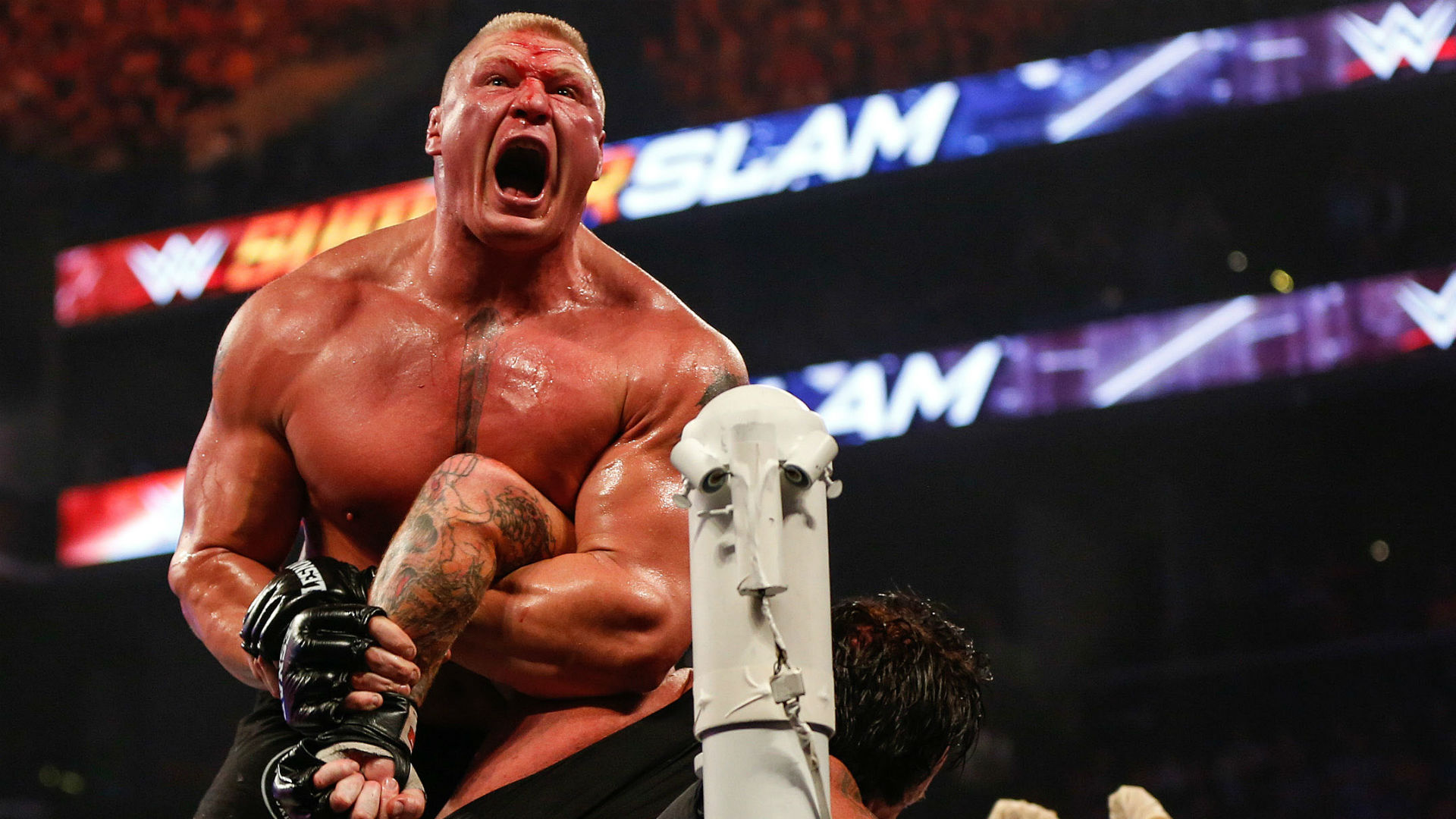 Even though Lesnar has been described as lazy in his latest run, SummerSlam seems to be where Lesnar shines. With that being said, with SummerSlam right around the corner now would be the best time to take a look at each of Lesnar's outings at the Greatest Party of the Summer.
8. Brock Lesnar vs. Randy Orton
While not the worst match ever, Lesnar vs. Orton was a contest with little to no stakes to it.  Aside from the ending where Orton was bleeding profusely from the head, the match is forgettable. With the second version of the brand split in effect, this match served as the first cross-promotional match of the New Era. Each competitor would appear on the other's respective shows and cause chaos, making for some entertaining segments. Even the match itself isn't bad, but compared to everything else on this list, it's clear which match brings up the rear.
7. vs. Triple H
A decent match, but when compared to other matches on this list there isn't much to shout home about. After Lesnar's loss to John Cena at that year's extreme rules, he needed a win over a big name. Triple H would become that man, as he and Lesnar would be put into a feud, where the two would fight three times, the first being at SummerSlam. Ever since Lesnar broke the Undertaker's Undefeated Streak, these three matches have become mute, and this isn't even the best of the bunch. Nonetheless, the match coined as the Perfect Storm is a fine match you can sit back and enjoy. But if you're looking fore something with a little more substance, I suggest you look elsewhere.
6. vs. The Rock
When I came up with the idea for this list, I figured I would be putting this match higher on the list than this. As Lesnar's first World Championship win, this match has gone down in history. However, that is the only truly memorable thing about it. Well, that and it main event what is considered to be the greatest SummerSlam of all time. Anyway, Rock was on his way out, and Brock was on his way up, so there was really only one outcome here. An outcome that turned Lesnar into a star, kicking off a dominating career and a run that made Lesnar a highlight of the early stages of the Ruthless Aggression Era.
5. vs. John Cena
One of the best squash matches we will ever lay witness to. The destruction of John Cena at the hands of Brock Lesnar was spectacular. Coming out of WrestleMania 30, there was no way Lesnar was walking out of the Staples Center without the WWE World Heavyweight Championship. It was the way Lesnar ripped the belts from Cena's hands, however, that makes the match such a spectacle. You won't find any technical wizardry or awe-inspiring athleticism on display. Rather, you'll find a slow paced beat don of one of WWE's top figures. While it was no conquering of the Streak, it was still an impressive feat, laying the groundwork for Suplex City
4. vs. Roman Reigns vs. Samoa Joe vs. Braun Strowman
As the only multi-man match on the list, it has the most variety. That being said, most of the match was big hits and big spots. Even so, it was very entertaining. While Lesnar retaining wasn't a shock at all, having him battle the three biggest threats to his reign was not a bad idea. Sure WWE may have overdid multi-person matches last year, but this was one of the better ones of 2017. Four power houses battering each other lead to some creative spots. It was also somewhat of a launching pad for Braun Strowman as he decimated Brock and nearly took home the belt. The only downside is that had we known Lesnar's reign would last as long as it is, the majority of fans would clamor for another victor. One can only hope his next SummerSlam match is as good as this one. Maybe then we can forget about his title reign, even if it is for a moment.
3. vs. Undertaker
There is no doubt in my mind that if this match had a different finish, it would be number one on this list. This brutal encounter was a return to form for the Undertaker after the Streak was broken at WrestleMania 30. Before that, The Undertaker was not stranger to having match of the night in every one of his appearances. It was clear from the start that the feud would be brutal, but little did we know we would be treated to a clinic in hard-hitting brutality. The best part going in was the unpredictability,  While the ending is screwy, what lead up to it was a great back and forth between the most dominant characters of the time.
2. vs. CM Punk
For many, this match is number one, and it is tough to argue. The Best vs. The Beast was nothing short of a dream match, and the two delivered and then some. Not only was there a nice in ring story flowing, but Punk's relationship with Paul Heyman helped it loads. Because of this, the interference from Heyman were that much more impactful. Looking back, there was no doubt the Beast would take the victory, as this was a continuation of Lesnar's momentum that would lead him to break the Streak. But at the time, there was no telling would would win. The aforementioned interference from Paul Hayman would tip the scales in Lesnar's favor, but it would be the last time Heyman would get involved physically in a Lesnar match.
1. vs. Kurt Angle
As I stated in the previous entry, number one and two can be interchangeable. And while that may be true, I'll go with Lesnar's match with Angle as his best SummerSlam match. The rivalry of Lesnar and Angel is well documented, with generation defining matches being fought every time they went toe to toe. In the midst of their historic feud, Angle and Brock would meet at that years SummerSlam, where Angle would successfully defend the WWE Championship. Lesnar would win the title a few weeks later in their Iron Man Match. That match, alongside their WrestleMania encounter, may have overshadowed this gem. Even so, this is arguably Brock Lesnar's greatest SummerSlam Match.
---
Always Use Your Head and visit the official Pro Wrestling Tees store for The Chairshot All t-shirt proceeds help support the advancement of your favorite hard-hitting wrestling website, The Chairshot!

---