WWE's newest Superstar is a familiar name to most sports fans. "Rowdy" Ronda Rousey was the fighter that solidified women's MMA as a focal point of UFC programming. Some of her fights were part of UFC's biggest PPV buyrates. Though her UFC career came to a screeching halt after two high-profile losses, Rousey still rates as the biggest draw in women's MMA history.
Her arrival in WWE was rumored for years before it finally happened. Ronda is a well-known wrestling fan that regularly attended WWE events & even checked out a PWG show or two. She got permission from the legendary "Rowdy" Roddy Piper to use his nickname as a mixed martial artist. Ronda & her training partners called themselves the Four Horsewomen with permission from Ric Flair & Arn Anderson. She loves sports entertainment & wants to give it a shot.
So she showed up at the Royal Rumble. Many were thinking that she would be in the Women's Rumble Match & win it. Instead, she came down after it was over & pointed at the WrestleMania sign.
We know she'll be at WrestleMania. The $64,000 question is what she'll be doing there. Will she be standing around backstage? Could she be hosting the show? Will she have a confrontation?
I might be a little bit optimistic, but I'm hoping she actually has a match. There are some obvious options based on Ronda's interactions with WWE at the Rumble & previous events. There's one rumor from the Meltz that's picking up some steam.
Let's break down the options & figure out what would be best.
Charlotte Flair
Why It World Work: The Horsewomen tension was teased during the Mae Young Classic. Charlotte is the best female performer in WWE right now in my opinion, & would be as likely to get a good match out of Ronda as anybody.
Why It Wouldn't Work: It's the kind of match you build to for awhile. You don't put it out there as Ronda's first match. Let her work her way up the ranks and then challenge Charlotte for the championship. It's the kind of match that could actually go on last at a WrestleMania in a couple of years. Just not this one.
Alexa Bliss
Why It Would Work: Alexa might be the best person to feud with Ronda. She'd be good at running down Ronda's accomplishments every week and making people think she had a chance to win. She's also the Raw Women's Champion, so if you want Ronda on Raw it makes sense.
Why It Wouldn't Work: Like Charlotte, Alexa is a champion. Rousey doesn't need to beat a champion on her first night. People might believe Alexa has a fighting chance until the stare-down, then it'd be an uphill climb.
Asuka
Why It Would Work: Asuka & Ronda exchanging kicks & strikes would be the closest thing to a fight that I can think of. It'd be fun to watch!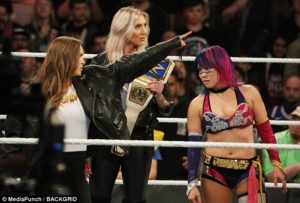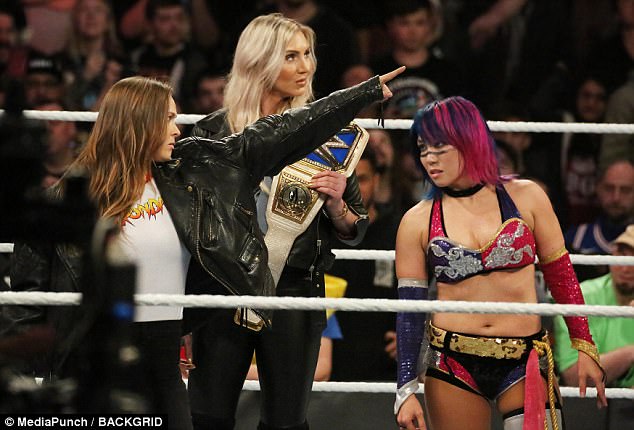 Why It Wouldn't Work: Asuka is scheduled to take on either the Raw or SmackDown Women's Champion. She won't turn that down just to wrestle Rousey. Also, having Rousey end Asuka's streak in her first pro wrestling match would be pretty anti-climatic.
Stephanie McMahon
Why It Would Work: If the match consists of Ronda putting Stephanie in an armbar, it'd get a huge pop & serve its purpose.
Why It Wouldn't Work: Anything more than that would be a waste of time. Stephanie doesn't need to be getting offense in a one on one contest with somebody that's legitimately one of the toughest women on the planet. She probably would anyway.
w/The Rock vs. Stephanie McMahon & Triple H
Why It Would Work: Hiding Ronda in a tag team match with two of wrestling's biggest stars makes perfect sense. It would get a large amount of mainstream attention and generate the most buys out of anything I can think of. There's also a built-in issue, as these four were involved in a confrontation at WrestleMania 31. Long-term booking!
Why It Wouldn't Work: Rock either might not be available or might not get cleared to wrestle.
So who would I pick?
I wouldn't go with any of those choices!
Hear me out. We're talking about a competitor making her in-ring debut. Professional wrestling is a whole different beast from MMA. MMA's easier in many respects, mostly because you're not expected to protect your opponent or execute pretty moves or put on a show to entertain the crowd. Rousey's friend Shayna Baszler has had a successful transition from MMA to wrestling, but she would admit that it didn't happen overnight.
Rousey's put some time in at the Performance Center. That doesn't replicate performing in front of 70,000 fans at the Superdome. She's going to need somebody she can rely on in the ring with her. An experienced veteran that's seen it all, that won't get lost in the WrestleMania Moment. It needs to be somebody that's willing to work with Ronda & make her look like a million bucks. Whoever wrestles Rousey won't be the focus of the match. They need to be ok with that.
The perfect opponent for Rowdy Ronda Rousey at WrestleMania might not be a household name. She's appeared on E! & has been on the main roster for nearly a decade. Most of her time with the company has been spent making her opponents look good. She would be the perfect woman for this spot. Oh, and she's been training with Ronda at the Performance Center.
Natalya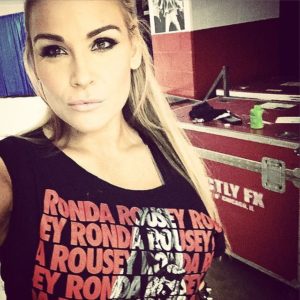 From a storyline perspective, it's a woman that grew up in the wrestling business defending the sport against a hotshot newcomer that thinks she can waltz in & be a Superstar. It's not going to be that easy. Ronda will have to prove herself against a seasoned competitor. You can't hand her a title match just because she's Ronda Rousey.
Once Ronda beats Natalya, then we can start talking about titles & authority figures and things like that. You have to learn to crawl before you can walk. Natalya will be a good teacher.