Why Should You Subscribe To AJPW?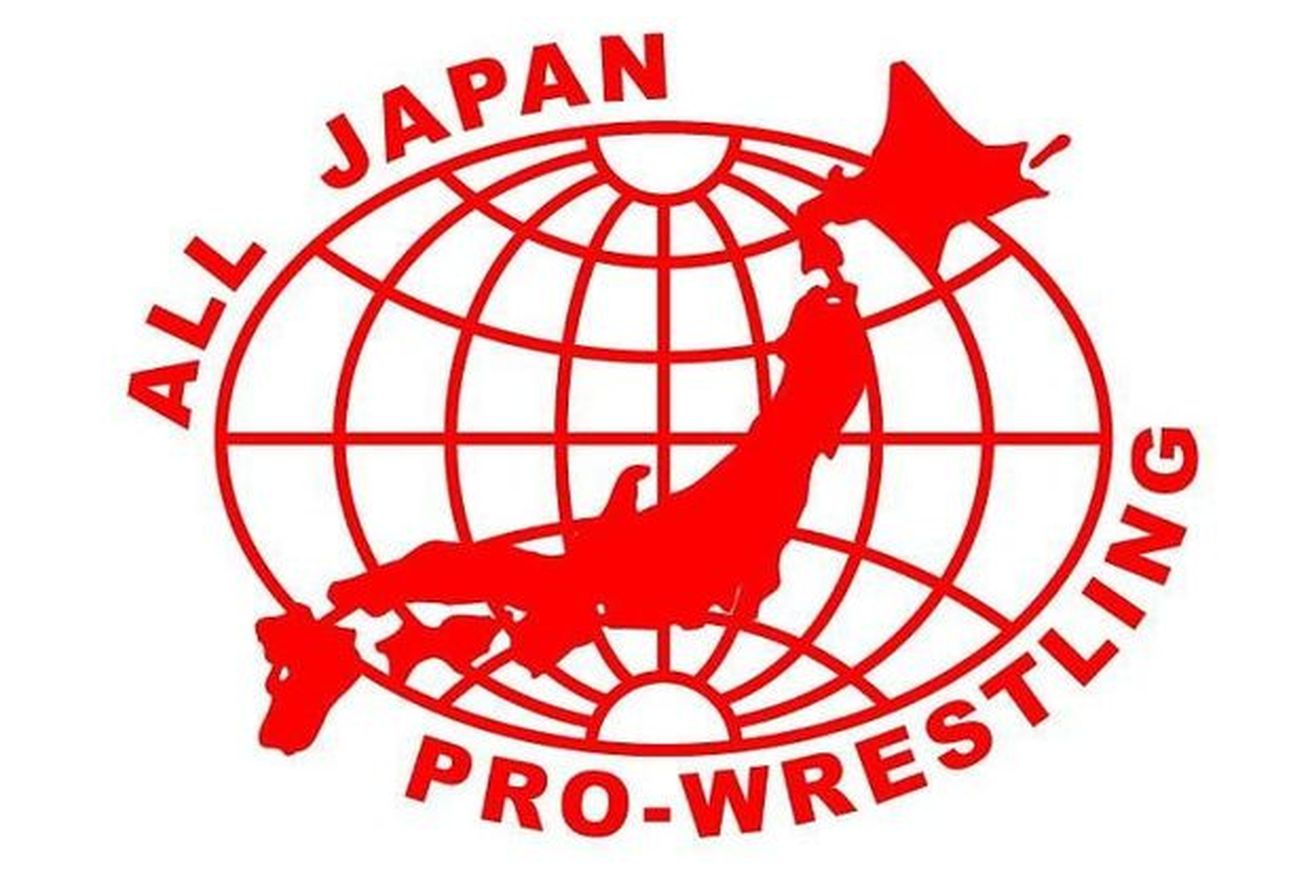 Japanese wrestling has been gaining more mainstream attention over the past few years as opposed to, the rarity of finding and trading tapes in the old school days of wrestling. This is mostly thanks to New Japan Pro Wrestling gaining more mainstream attention with their expansion to the west, giving fans more content to enjoy and also thanks to their streaming service called 'NJPW World'. Given the success of NJPW World, some Japanese companies like DDT, Stardom, and BJW have followed suit and have added their own streaming services as well.
Unfortunately not many fans know of Japanese wrestling or follow any beyond NJPW, unless they find clips on Youtube, Google Drive, or just websites that are lucky to have links to certain events. That all may change now that All Japan Pro Wrestling has decided to start their own streaming service named 'AJPW TV', which is set to go online in March for only 900 yen a month. So I'm here to tell you why you should subscribe to AJPW or at least follow them.
For those that don't know, AJPW has been around since October 1972 ,which was ten months after NJPW was formed  and was originally under the ownership of Giant Baba. Thanks to his name recognition, they were just as good, if not better than, NJPW in the early years with guys like Misawa, Kobashi, Kawada, Jumbo, Vader, Hansen, and a few other talents as well.
The company would start declining after the passing of Baba and most of the top talent leaving the company, which left Mutoh in charge of the company. While they had some moments, many were content with the company fading into the past, if it weren't for the rise of Suwama. A new Ace showing promise to the company, along with Jun Akiyama taking charge of the company in 2014, began to change perception.
Regarding AJPW, while it's not as big as it used to be, their shows still show quality in terms of actual puro style wrestling and have a vast variety of talent on the roster. Even utilizing a few veterans to intrigue viewer based off nostalgia, such as Dory Funk Jr, TAJIRI, and Ultimo Dragon. Some can still go and others can only draw a decent crowd, but they all pull their weight.
Now since I'm trying to convince to focus on AJPW, we should focus on the younger roster, instead of just the history. Anyway, each division, much like NJPW, feels important as they have a wide selection for tag, juniors, and of course the heavyweight scene, along with free agents and partnerships with other Japanese companies.
You have guys like Kento Miyahara who is the future of AJPW and recently lost the Tag Team Titles with Yoshitatsu, who I will get to later on, but Kento just does everything so smoothly. His matches are captivating, the fans love this guy, and he can be considered as one of the greatest of this generation. If he can continue to ride this momentum, he will be easily considered in the Okada category sooner rather than later. He is someone you should definitely keep an eye on and is always a treat to see whether he's in tag wrestling or singles.
Our current top gaijin in the company right now is Joe Doering, who recently made a huge comeback after battl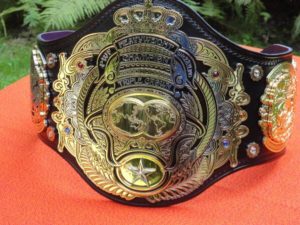 ing with cancer and ever since his return, he has been on fire with his brute strength seemingly never losing a step. As the current Triple Crown Champion, he has been a dominating champion, making quick work of all his opponents and still making the matches quality on top of everything.
The team of Suwama and Shuji Ishikawa, or the Violent Giants, is probably my favorite tag team currently. They were originally in a faction, bitter enemies, and then won the most recent World's Strongest Determination Tag League. They rode that momentum to a Tag Team Title reign before dropping them a couple weeks ago. They weren't hurt at all from the loss, beautiful chemistry, seamless in ring work and always present something special when you see them teaming up together.
While AJPW has been making new stars, they also helped revitalized careers, like Yoshitatsu, who has been in a slump ever since his neck injury and return to New Japan, where he was just a guy in the shuffle with no signs of improvement or quality in his matches. New Japan decided to let him go and All Japan picked him up to hopefully give him his make or break moment. At first it was a hard sell, he was doing average, there was still some signs of hope for him but business picked up once they partnered him up with Kento. It was exactly what he needed to show that he has a chance to succeed in the company and might have a future leading towards the Triple Crown Championship.
While I did say they have a solid roster, I will admit that the Junior division lacks a little bit of something. They do have enough people to build it up, it's just more trying to find the right people to lead the division instead of using guys like TAJIRI and Ultimo since while they can still go, they need someone to help lead the future of the division.
Still not convinced? Well, they have their own version of the G1 Climax coming up called Champion Carnival and lineup is a veritable All Star Game. With special entrants like NOAH's Naomichi Narufuji and Dragon Gate's Shingo Tagaki, who are two of some of the best in the Japanese scene right now, every match is both blocks, should have something worth watching.
The Carnival takes place in April and with the service coming up in March, it should give you plenty of time to explore around and get familiar with the product to see if they make you wanna keep watching. Plus, you have the prospect of the Carnival tournament, if you'd rather wait until April to dive into All Japan.
Recommendations for watching:
The 45th Anniversary show that took place last August and last year's Carnival would be two solid spots to start. Watch some of the guys that I've mentioned, just look around YouTube, Dailymotion or RuTube.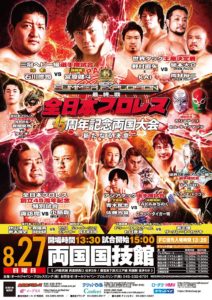 The service is only 900 yen a month and I'm definitely signing up once it goes live. I think you'll get your money's worth and this could lead to more companies doing the same thing. NOAH, Dragon Gate, Ice Ribbon, Sendai Girls, WAVE, Wrestle-1, Zero1, to name a few, should be watching this closely. There's a lot of Japanese wrestling out there that is just as good, if not better than NJPW. I hope this helps you out and I really do hope you consider giving it a follow and open your eyes to more wrestling on the Japanese scene.
NXT Minus 6: I Agree With Ciampa
From Ciampa & Thatcher to Kushida, from Joe to… Imperium? This week's NXT Minus 6 has it all. So read it. And enjoy!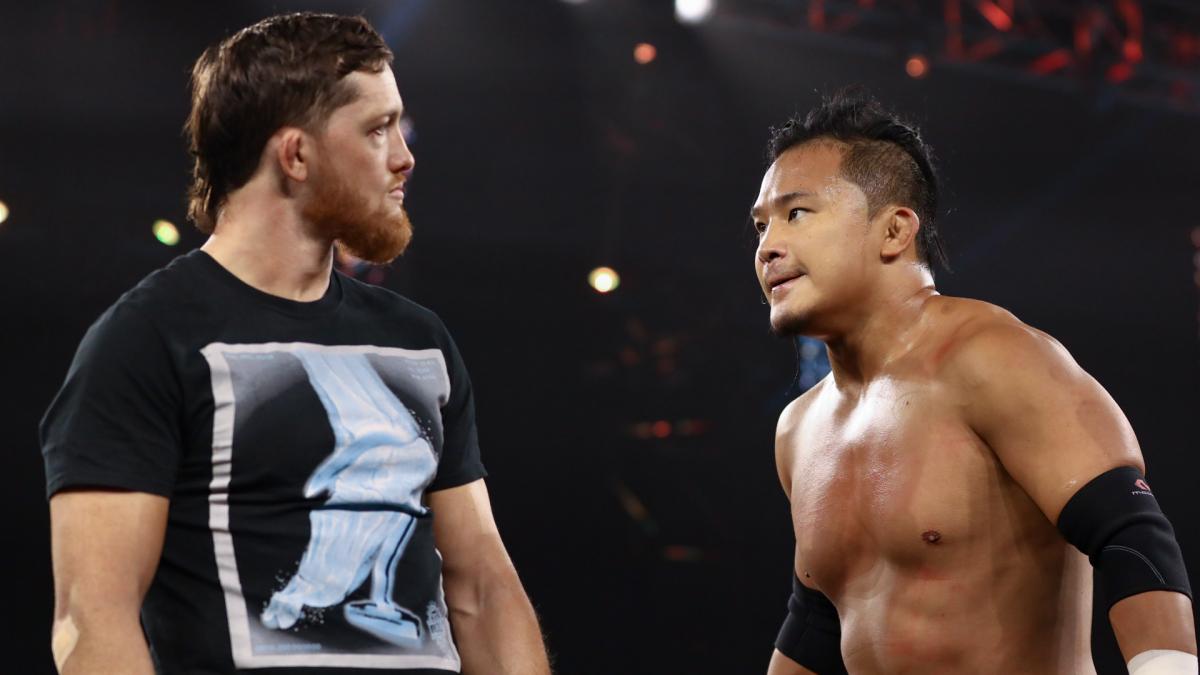 From Ciampa & Thatcher to Kushida, from Joe to… Imperium? This week's NXT Minus 6 has it all. So read it. And enjoy!
Leave it to Old Man Ciampa to say what we're all thinking.

6. I'm really hoping Samoa Joe is eventually cleared for an in-ring return. If he isn't, then teasing matches with everybody from Pete Dunne to Johnny Gargano is cruel and unusual punishment. Don't get me wrong. His start as William Regal's enforcer was great, but that's not why he came back. It's not Joe Will Threaten You And Make You Leave The Room. Joe…Will…Kill…You.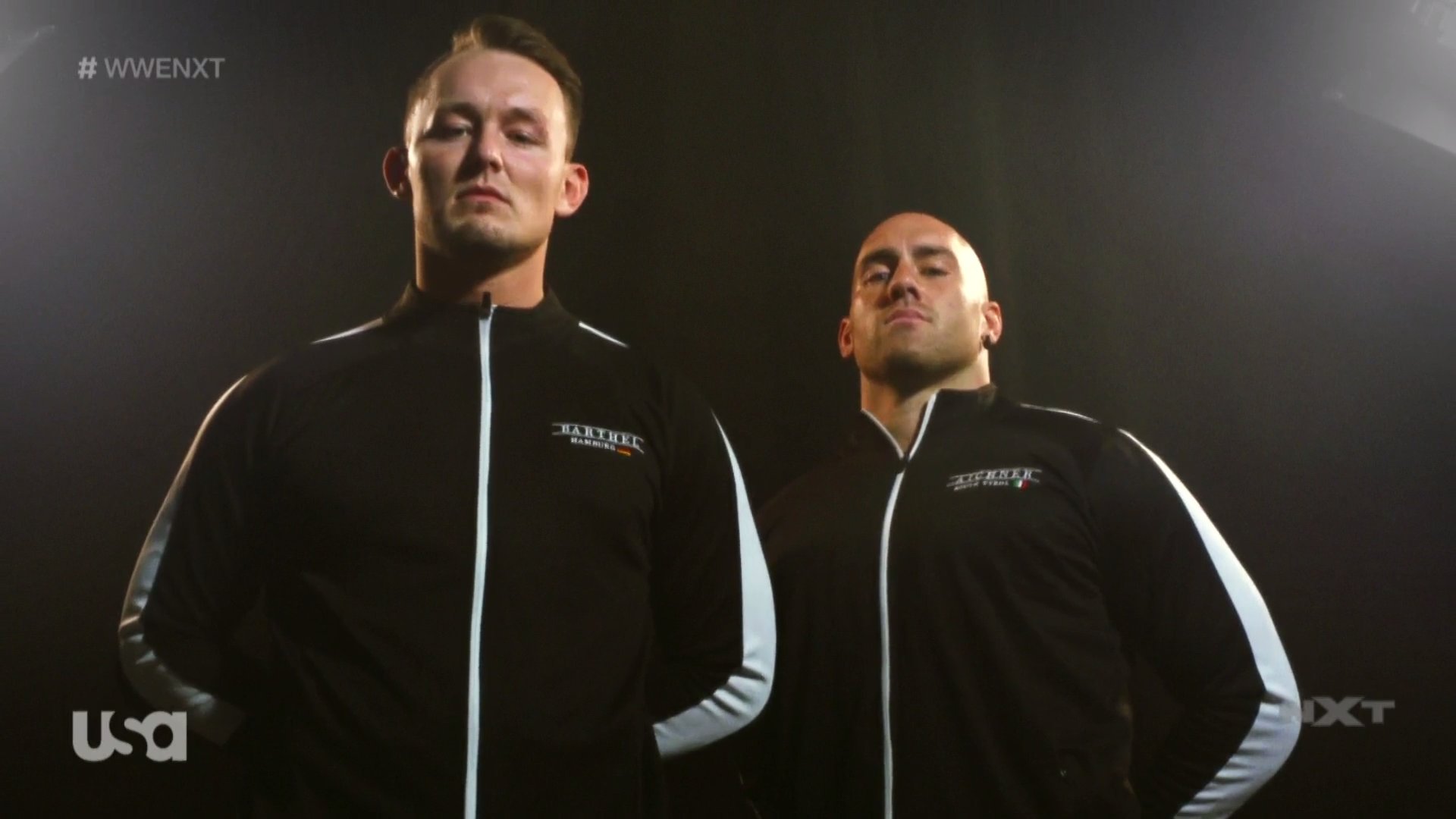 5. Is anybody else upset that Imperium is stuck in tag team no man's land? They are such a non-factor right now it feels like they are on the edge of a breakup. That would make me sad. I'm a big fan of Fabian Aichner and Marcel Barthel. I think they would do fine as individuals, but as a team they still have a lot to accomplish. 
4. Dear MSK, I've booked your July. You say tag team wrestling is the best division in NXT and the best tag team division anywhere, and you are going to prove it. Each week in July, you put the belts on the line against a different team. But wait…There's more. After you defeat everybody, those four teams get to compete in a fatal 4-way, winner gets a rematch at Takeover.   
3. After Tommaso Ciampa and Timothy Thatcher put the boots (more on that in a minute) to Grizzled Young Veterans, Ciampa looked at the camera and growled "This was my Takeover." I agree. That match was my Takeover, too. It was better than anything In Your House. Just a crazy, brutal match that I'm giving 4.7 stars. But it doesn't stop here. There's only one way to end this feud…the first ever tag team match in the Fight Pit.
2. Now about those boots. One of my biggest wrestling peeves is when a tag team doesn't have a proper name. It's clear that Thatcher & Ciampa are not a passing fad. They deserve a name. None of this half assed Thatcher-Ciampa Connection. I've always wanted to name a team The Boots, as in "We are going to put the boots to you boys." Honorable mention goes to Pit Boss. If you have something better, drop it in the comment section. 
1. This week's That's Why I Love Wrestling goes to…KUSHIDA! Specifically, KUSHIDA's floatover. I'm a big fan of any wrestler who can elevate a basic move into something special. KUSHIDA's floatover is a helicopter propeller. He looks like he could spin on his opponent's back until the end of the show. Mastery of the little things turns good to great. That is exactly why KUSHIDA is one of the greats. 
WWE Hell In A Cell: The End Of Main Event Bob?
Could WWE Hell In The Cell signify the end of Bobby Lashley's main event run? Read on to see if the odds are in Bob's favor.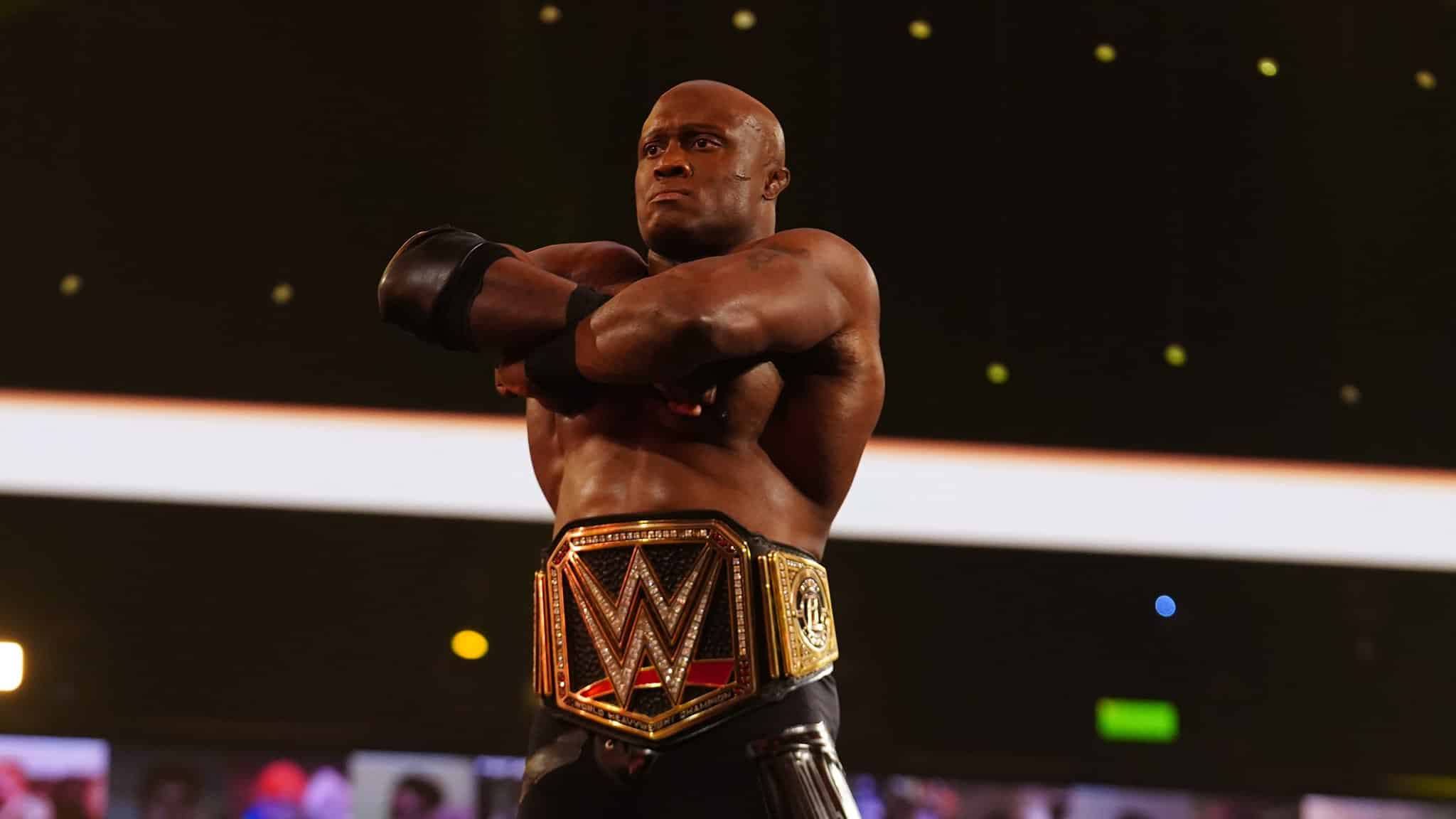 Could WWE Hell In The Cell signify the end of Bobby Lashley's main event run?
WWE Hell In A Cell takes place this Sunday on NBC Universal's Peacock, the former WWE Network (in the US), and on pay-per-view and other outlets all over the globe.
One of the highlighted matches features Bobby Lashley defending his WWE Championship against Drew McIntyre inside the demonic Hell In A Cell structure, keeping Drew within the WWE Championship picture for eighteen straight months now, a fact that isn't lost on most fans or even Drew himself.
But the looming question in my mind doesn't deal with Drew, but the reigning titleholder himself, Bobby Lashley.
Bobby Lashley's ascension to the top of the WWE comes at what is obviously the tail end of a 20-year wrestling career that has seen this phenomenal athlete compete for WWE itself, Impact Wrestling, AAA, even MMA sprints including Bellator, and ultimately WWE once again. His most recent run included feuds with Sami Zayn, Rusev and Lana, and a stint being managed by the now retired Lio Rush that are most remembered for all the wrong reasons. Before WrestleMania 37, where Lashley basically beat Drew McIntyre clean, he was essentially quashed by Finn Balor's Demon at WrestleMania 35 and lost to the since released Aleister Black at WrestleMania 36 (held in the WWE Performance Center, not the home of the Capitol Wrestling Center).
But at the start of the global pandemic, MVP entered the picture and created The Hurt Business, a vehicle that—at the time—helped the careers of Lashley, Shelton Benjamin, and Cedric Alexander. The Hurt Business was on top of the proverbial world, holding mid-card championships and being involved in high profile storylines. But it wasn't until the end of the Elimination Chamber build where The Miz "made a deal with the devil" to set Drew McIntyre up for his Money In The Bank cash-in. Months and years of hard work finally paid off—Bobby Lashley was WWE Champion.
After taking the Fastlane pay-per-view off, Lashley was headed to the WrestleMania 37 showdown with the main who carried the WWE back at the start of the pandemic. Drew McIntyre won the title from Brock Lesnar in front of no one at WrestleMania 36, leading many to believe that Drew could emerge victorious in Tampa Bay as a "make good" for his push not culminating in front of a WrestleMania stadium crowd. Many, including myself, were pleasantly surprised when Bobby Lashley left WrestleMania 37 as champion, doing so in relatively clean fashion.
Hell In A Cell is now the blow-off point for McIntyre and Lashley, with the rule that if Bobby Lashley loses, Drew McIntyre cannot challenge Lashley for the WWE Championship again. That begs a bigger question: Is this the end of the road for Bobby Lashley as a top guy in WWE?
According to the odds from SportsBettingDime, Bobby Lashley (-250) is expected to retain his championship in his match against Drew McIntyre. And I personally hope they're right!
I said it on this week's Babyface/Heel Podcast, I fully expect the loser of this match to end up on Smackdown after the next WWE Draft and be used as an opponent for Roman Reigns. Drew McIntyre is the most logical choice based on the hero/villain alignment, and him feeling like he has "unfinished business" with Roman after the 2020 Survivor Series.
Personally, I'd be betting on the side of the odds, with Lashley retaining. WWE has two full time brands, and Lashley fits at the top of the card. Despite his age (44) I think Bobby has another 2-3 good years left, and he is peaking as a character in a character driven environment. Raw is the perfect environment for Bobby Lashley to build babyface challengers and still walk out champion. Much like Roman Reigns, the best scenario is for Bobby to walk into WrestleMania 38 the same way he walked into WrestleMania 37—as WWE Champion.