WWE On FOX? It Could Happen, And It Could Work
The WWE TV deal is up for grabs in 2019, and FOX is already showing love for Raw & Smackdown. Could WWE have a new TV home?
There's something comforting about knowing when & where Monday Night Raw is going to be on every single week.
For most of the past twenty-five years, American viewers could find WWE's flagship show on the USA Network. WWE's relationship with USA goes back to 1983, when All American Wrestling replaced Joe Blanchard's Southwest Championship Wrestling. With the exception of five years where WWE took their programming to Spike TV, the company & USA have had a long & seemingly happy marriage.
The current deal expires in the fall of 2019. It might feel early to talk about it. You know that WWE's already thinking about it. They'd be crazy not to be. If they can't come to an arrangement with NBCUniversal, they need to have some backup options.
That's why it made all of the sense in the world to have a meeting with some high-ranking Fox executives when SmackDown was in Los Angeles Tuesday night. No wonder John Cena was there, right? The common sentiment is that Fox is interested in having either UFC or WWE programming, and will be tremendously interested in WWE programming IF they lose UFC when that company's deal expires at the end of this year.
The Fox effect?
When I first heard about Fox's interest in WWE, the first thing that popped in my head was the idea that every WWE show would start with this theme:
It's a good theme. I don't like hearing it on every single sport Fox covers, but it's one of those iconic sports themes. Wouldn't you rather hear something like this leading into Raw than the latest generic pop/rock song Kevin Dunn felt like dishing out money for?
Speaking of Kevin Dunn, I wouldn't mind seeing Fox employees take a crack at directing WWE programming. It's gotten to the point where the camera cuts are literally making viewers sick. WWE production is one of the biggest problems the company faces right now.
This clip from SmackDown lasts 34 seconds.

I counted 32 camera cuts.

I hate you, Kevin Dunn. pic.twitter.com/4yyxqt35yG

— Andrew Rich (@AndrewTRich) February 28, 2018
How can people watch this without getting motion sickness? Fox loves to have input on their productions. Old-school wrestling fans complain about networks getting too involved, but I feel like Fox getting involved here could only be a good thing.
And if the workers have to tighten things up a bit so their stuff doesn't look terrible on camera, that's good for the product & good for the fans.
Would the product change in other ways?
Some will point out that Fox is the "edgy" network, and speculate that a move by Raw to the Fox Network would lead to more adult-oriented storylines. Maybe that would be the case if Fox outright bought WWE. WWE didn't go PG because of pressure from USA. It was Vince McMahon's choice to tone things down and focus on drawing younger viewers. As long as Vince owns WWE, I don't see things going back to the days of Attitude.
I can see other changes, though. Should WWE programming make it on FS1, I wouldn't be shocked if it had more of a sports feel. The matches themselves could be hyped more. Instead of Raw being hyped on "ROMAN REIGNS RESPONDS TO BROCK LESNAR", the advertising could focus more on a match. "ALEXA BLISS DEFENDS THE RAW WOMEN'S CHAMPIONSHIP AGAINST SASHA BANKS" or something along those lines.
By the way, you better be ready for a lot of Ronda Rousey advertising if they get on Fox/FS1/FS2 or whatever channel. Rousey's an established commodity with Fox viewers, and she'll draw more interest from a non-wrestling fan that happens to have Fox on while watching the NFL than anybody else on WWE's roster.
Well, except Brock Lesnar, but it's not like he's going to be on the show.
Fox would be more open to cross-promotion & airing WWE on different networks. Remember when NBC was going to air WWE programming? Yeah, that didn't last long. John Cena occasionally hosting the 9AM hour of Today is the most exposure WWE gets on NBC. The speculation is that Raw would air weekly on Monday nights on Fox. That would be big time if it actually happened, as it'd be WWE's best network slot ever.
It could also answer our longtime complaints about Raw lasting three hours. Most Fox affiliates have news at 10PM, and that's not changing for anything less than Thursday Night Football. Maybe the third hour moves to FS1 after a Big East basketball game or whatever else finishes, which would be kinda novel. UFC has prelims on different channels than main shows all the time, so it wouldn't be unprecedented.
WWE enters The Herd.
Here's an unexpected side effect of all this WWE/Fox talk. I must admit I was surprised to hear that one noted wrestling hater was part of this summit.
First ever Smackdown @WWE pic.twitter.com/MuMwJfhlVF

— Colin Cowherd (@ColinCowherd) February 28, 2018
Cowherd has offered some commentary on pro wrestling in the past. Back in 2005, he reacted to the death of Eddie Guerrero by asking who cared, and stating that his obituary didn't belong in the sports page. Wrestling fans were not pleased, to which Cowherd replied by calling them booger-eaters. It's a term he's gone back to at times over the years.
Sorry if any of u wrestling fans misunderstood me b4. I didn't say you were Booger Eaters. I said you were lonely, pathetic Booger Eaters.

— Colin Cowherd (@ColinCowherd) August 9, 2012
Times change, however. Cowherd seemed impressed with what he saw on Tuesday night, and our Publisher Greg DeMarco tells me that WWE was repeatedly mentioned during his radio show on Wednesday. Like him or not, the guy's show airs on over a hundred radio affiliates across the nation & is shown on FS1. He knows how to work an angle as well as anybody, and ir's made him a lot of money.
I'm calling it right now: Should WWE take its programming to Fox, you'll see Colin Cowherd involved in some capacity. I'm not his biggest fan by any means, but I'd take Cowherd over Peter Rosenberg on a Kickoff Show panel in a heartbeat. He's got a personality that would work in wrestling. He's already got a lot of fans mad at him, so he'd be ideal as a heel analyst.
If Cowherd isn't available, there's another Fox stalwart that happens to have some wrestling experience: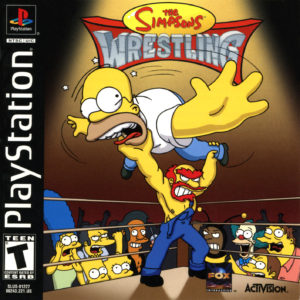 You know darn well that Homer would fit right in on the creative team.
I think I like it.
Yup, I'm talking myself into this WWE on Fox thing. I haven't even gotten into the potential crossover opportunities with Fox News. Self-styled political guru Dolph Ziggler would be all about it, and Kane would have something to do if the whole mayor thing doesn't work out. And who wouldn't be down with Braun Strowman beating the hell out of Sean Hannity?
As much as the idea of WWE being on USA Network forever warms my traditionalist heart, sometimes you have to change things up. USA has been a fine partner, but it feels like the urgency isn't there anymore. Things are too complacent. Perhaps WWE getting Foxy is just what the doctor ordered.