WWE SmackDown Top 10: What's The Point?
We here at The Chairshot aren't the only people that love putting wrestling-related lists together! Daniel Bryan loves lists so much that he enlisted the SmackDown Live Superstars to rank themselves in a Top 10. Criteria included most talented, most athletic skill, and locker room leadership. Bryan & Shane McMahon will use the list to make matches.
Here's the results of the first list:
10. Tye Dillinger
9. Randy Orton
8. Becky Lynch
7. The Usos
6. The New Day
5. Bobby Roode
4. Naomi
3. Shinsuke Nakamura
2. Charlotte Flair
1. AJ Styles
One thing that stands out right away is the lack of rulebreakers. No Kevin Owens. Sami Zayn's nowhere to be found. Not Jinder Mahal or even a Rusev. Obviously the SD locker room cares more about the third part of the criteria than the first two.
The second thing: It seems to me like it would make more sense to list male competitors, female competitors & tag teams separate. I know it's uncouth to argue "Separate But Equal" in 2018, but how am I supposed to decide who's better between Becky Lynch & Randy Orton? It's not like WWE is going to let them have a match.
The third thing: New Day over Usos? Who won that feud again?
Oh, and Tye Dillinger at 10 is really cute and hilarious. But the dude is never on TV & hasn't won a match on SD Live since October 3, 2017. Right when Bryan revealed him as number ten was when the list lost any sense of credibility.
You know what else doesn't help it? Dolph Ziggler or Baron Corbin getting a chance to be in the WWE Championship Match at Fastlane when neither is anywhere to be seen in the Top 10. Rolling out this list and ignoring it for the purpose of ranking contenders in the same night isn't a good look.
Will be @HEELZiggler or @BaronCorbinWWE who joins the @WWE Championship match at #WWEFastlane to make it a #Fatal4Way against @AJStylesOrg @FightOwensFight & @SamiZayn?! pic.twitter.com/TPgRPKo5YG

— WWE (@WWE) February 9, 2018
Remember when WCW had a Top 10? You could pick holes through the logic of who was rated where, and sometimes guys that weren't number one got title shots, but at least they tried to have it make a little bit of sense. It certainly had a purpose, which was to rank the top contenders for the World Championship.
We're not sure what the purpose of SmackDown's Top 10 is. It has nothing to do with merit & everything with who you know. Which might be an accurate representation of how some people get their push.
To be fair, SmackDown's Top 10 may end up being an interesting story device. The babyfaces can get jealous of each other over their spots. It may even facilitate a heel turn. Maybe eventually it will be used to determine who gets a title shot. Right now, it looks like a waste of time & resources. It seems pointless. Unfortunately, these same words can be used to describe SmackDown Live for much of the past year.
When I watch Monday Night Raw lately, I notice the sense of urgency the show has. It's WrestleMania Season, after all. It's time to build towards the biggest show of the year. Superstars are jockeying for position in the Elimination Chamber. You've got the Lesnars, Cenas & Reigns of the world staking their claim to the top of the card. There's also guys like Braun Strowman & Elias busting their butts to get there someday.
Not everything on Raw is a hit. They have their fair share of misses. But even the misses have a purpose. The goal is to get talent over & build towards Elimination Chamber & WrestleMania.
SmackDown doesn't have that same sense of urgency. It's been missing for awhile now. The brand used to be the Land of Opportunity, and now half of the roster is lucky if they get on TV every couple of weeks. We said at the time of the Superstar Shakeup that SD got the bad end of it, and they haven't been able to overcome their losses.
Champions don't need to point. #WrestleMania34 pic.twitter.com/bMYBj8vBvm

— Charlotte Flair (@MsCharlotteWWE) February 6, 2018
Getting Charlotte Flair in exchange for Alexa Bliss was an upgrade in a lot of ways, but a downgrade in some as well. Charlotte is better in the ring & has more credibility. Bliss is better on the microphone and does a better job of building up her opponents. People think Alexa can lose. Charlotte is nearly unbeatable. She isn't the division-killer Asuka is, but it's tough to buy the likes of the Riott Squad as legitimate threats.
The Miz was a huge loss for SmackDown on multiple levels. Not only did SmackDown lose their most effective heel talker, but General Manager Daniel Bryan lost a lot of his purpose on the show. He's been reduced to passive-aggressive melodrama with Shane McMahon that's either going nowhere or has drug out way too long to be properly effective.
Don't get me wrong, Bryan is still tremendously over. If or when he does return to active competition, it'll be a big deal. I'm not convinced that WWE can convince us that Shane McMahon is the proper opponent for Bryan's comeback. Miz was perfect for the spot. Shane, not so much.
Miz & Alexa's departure, along with their inability to be replaced, highlights the cancellation of Talking Smack, a tool that was used to give SD talent like them, Baron Corbin, the Usos & countless others more interview time & more chance to get over. Corbin especially benefitted from the extra exposure, and he hasn't been the same since Talking Smack disappeared. Less opportunity = less success.
This time last year, Corbin seemed destined for big things on SD. Technically he still could be, as he & Dolph Ziggler are facing off this week for a slot in the WWE Championship Fatal 4-Way at Fastlane. It's unclear what either man did to deserve a chance at the Championship. Especially Ziggler, who's fresh off of vacating the US Championship. Remember when we thought that could lead to something with Bobby Roode? Nope, apparently throwing belts down and taking vacations gets you opportunities on SmackDown.
If SmackDown management doesn't care that Dolph Ziggler made them look like fools, why should we? It comes back to a lack of urgency. Nothing on the show matters because nobody acts like it matters.
SmackDown's Top 10 could create urgency.
Theoretically, rankings systems add legitimacy to sports. College football & basketball largely revolve around rankings. Boxing & UFC championship contenders are decided based on rankings. Heck, even golf has a rankings system that increases importance of events.
Give your rankings some legitimacy. Don't leave your top contenders out because they aren't popular in the locker room. If they aren't seen as worthy of being ranked, why are they getting title shots all the time? It makes management look stupid for booking the matches. Have different rankings for the different championships.
Don't rank Tye Dillinger #10 just to be cute. Get the guy on TV if you actually want to push him. Don't present stuff just for the sake of filling time.
It's really not rocket science. SmackDown Live will matter when the writers present things as if they matter. As long as they don't, I'm happy the Nashville Predators have games most Tuesday nights.
---
Always Use Your Head and visit the official Pro Wrestling Tees store for The Chairshot All t-shirt proceeds help support the advancement of your favorite hard-hitting wrestling website, The Chairshot!

---
Top 5: Matches of the Week Ending 4/22/18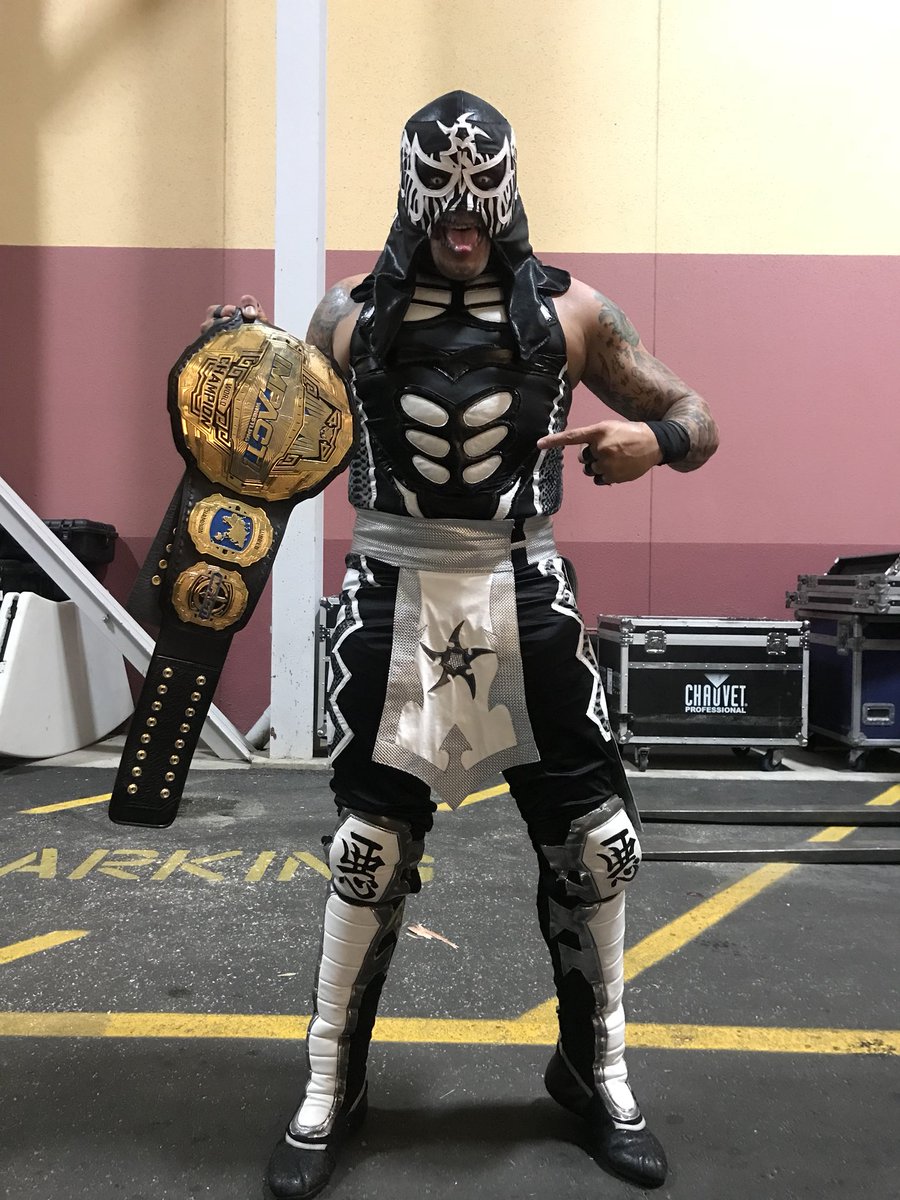 Okay well, thanks to Major League Wrestling having TV and Impact having something to prove, this is a surprisingly diverse list if we include the honorable mentions. Aside from that, our matches last week needed a vote winner even though it was dominated by AJPW. This is why the reader vote matters, since that heavily skewed the vote.
So the winner of last week was, Shingo Takagi vs Yuji Hino @ AJPW Champion Carnival! It may not win the April vote in general, but I love seeing a variety of companies in the vote.
Anyway, let's see what we've got to work with this week.
5. ROH: Kelly Klein vs Mayu Iwatani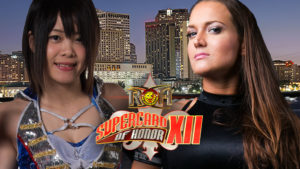 Now I'm aware this is the Semi-Finals match from Supercard of Honor. However, I didn't watch Supercard except for the Cody match, so I figured I'd count this one since it was on ROH TV.
Kelly is a beast that the women in ROH haven't been able to beat cleanly, and it shows in the match. Even though Mayu is a heavily decorated wrestler from Stardom, Kelly's size and power advantage make it seem unfair very early.
The match has a few attempts at back and forth, with Mayu wrestling from underneath nearly the entire time. Just when it looks like the smaller wrestler might pull it off, Kelly slaps on a submission and wins the match via referee stoppage. This match probably should've been the finals since both women brought some aggression, and the match was better than the women's matches involving Sumie Sakai.
Rating: *** 1/2
4. MLW Fusion: Austin Aries vs ACH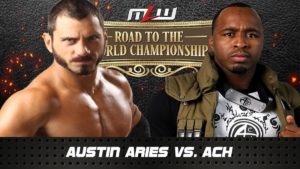 Now to kick off, I never realized ACH says he hails from the Planet Vegeta, that popped me for the Dragon Ball reference.Either way, we have two very well known Cruiserweights, and this is the kick off match.
When the match starts we see ACH has the right side of his ribs and his right upper thigh taped up. Aries and ACH shake hands to kick things off, and honestly, Aries never really tries to exploit the injured areas.
This match was the longest match of the night, and the two put on a clinic. ACH was hampered slightly because of his injuries, but both men got all of this signature moves in. Schiavone kept jumping at the opportunity to call the 450 Splash, and when ACH finally did it, he was met with Aries' knees.
After a Horns of Aries submission and the Discus Fivearm, Aries finally puts away ACH with the Brainbuster.
If this is a precursor for how they're going to pace out their shows, anyone who loves quality wrestling, will enjoy this program.
Rating: *** 3/4
3. Impact Wrestling Redemption X Division Championship: Matt Sydal (c) vs Petey Williams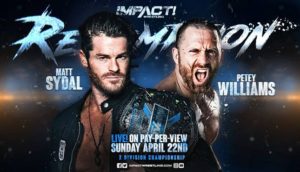 Williams got a Feast or Fired case, to cash in for an X Division Title shot. Since returning last year, Petey has had 2 or 3 opportunities and kept coming up short.
This was more of a wrestling match, then a high spot match. Petey focused on Matt's legs and lower back, while Sydal was favoring injuries throughout. Big pop/spot in the match was when Petey hits the Canadian Destroyer, but Sydal rolls out of the ring. After that, Petey gets desperate and tries to set up a Super Canadian Destroyer from the top turnbuckle.
Sadly for Petey, Sydal fights off the Destroyer, goes for a Shooting Star, Williams rolls out of the way and attempts one more Canadian Destroyer. Sydal slips through Williams' legs, and picks up the pinfall by a pump handle cradle. Damn good match.
Rating: ****
Honorable Mentions:
Impact Redemption House of Hardcore: Ohio Versus Everything vs Tommy Dreamer, Eddie Edwards & Moose
Rating: *** 1/2
AJPW Champion Carnival: Dylan James vs Yoshitatsu
Rating: *** 1/4
Raw US Championship: Jinder Mahal (c) vs Jeff Hardy
Rating: *** 1/4
MLW Fusion: Pentagon vs Rey Fenix
Rating: *** 1/4
Smackdown: Daniel Bryan & AJ Styles vs Rusev & Aiden English
Rating: ***
2. AJPW Champion Carnival: Zeus vs Naomichi Marufuji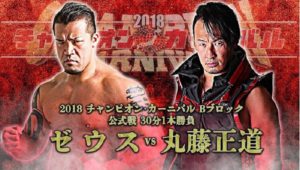 Zeus needs this victory to stay alive in the Carnival, and Marufuji has been riding an undefeated wave.
Zeus comes out with long pants and a rally towel, which isn't his normal attire, so I'm not sure if there's a story there. But the match itself was exactly what you expect from two high tier wrestlers.
They feel each other out by a test of power, trading chops and just generally seeing what the others' pain threshold is. Zeus dominates most of this match, even though Marufuji gets in everything from the Kawada kicks to his corner blitz. Both men get their finishers countered or slowed down a few times, so you are sucked in since either man has the prowess to win this.
Just when Marufuji gets some momentum, and looks to end it with the Shiranui, Zeus counters it with his signature Jackhammer and gets back on the winning track. Personally, this is my favorite match of the Carnival so far.
Rating: **** 1/4
1. Impact Redemption World Championship Triple Threat: Austin Aries (c) vs Fenix vs Pentagon Jr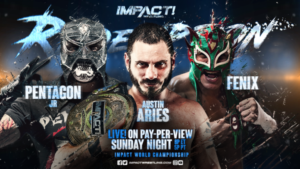 The thrown together main event because Alberto decided to no show during Mania weekend. It's also really a curious situation with Fenix and Pentagon being so visible to Americans within the last month. Both made their WrestleCircus debuts, MLW Fusion main event, ImpactvsLU special event and now Redemption.
Aries tried to take the fight to the brothers immediately, and we got a nice callback to the last triple threat, when Fenix and Pentagon went for the stereo superkicks, but Aries avoided it. After that, it was definitely a free for all. Pentagon had a lot of moments where he baited his little brother into moves, but Fenix had glimses of brillianc. He also had the same issue as other high fliers though, with the top rope. Fenix (and Aero Star in an earlier match) lost balance often, but Fenix is much smoother and made it look like an extended set up, opposed to an obvious botch.
From that point, we see Aries slowly gain momentum back, and keep each man in opposite corners, before they decide to team up. It's this point where the big brother tactics work wonders. Since it looks like Pentagon tells Fenix to pin him, then superkicks him. From that point Pentagon puts Fenix in a Gory Special and then also lifts Aries into a Package Piledriver, for an amazing combination move.
Pentagon then, breaks Aries' arm and hits his Pentagon Driver. AND NEW Impact Wrestling World Champion, Pentagon Jr! Even through the awkward spot with Fenix and the top rope, the match was hard hitting, had some call backs and showed a lot from all three men. Plus it's the first hiccup in Aries' "Belt Collector" gimmick, so that's a wrinkle we might not have been getting with Alberto.
Rating: **** 3/4
This is another hard choice, and even though this list contains my favorite Champion Carnival match, I'm gonna have to vote for, Austin Aries vs Pentagon Jr vs Fenix @ Redemption. With a bunch of fun twists, and numerous great matches, this triple threat was the cherry on top of the best Impact/TNA PPV in at least 5 years.
Last week should've been proof that your opinion matters. If you're reading this and you feel strongly one way or the other about the top 5, make your voice heard.
---
Always Use Your Head and visit the official Pro Wrestling Tees store for The Chairshot All t-shirt proceeds help support the advancement of your favorite hard-hitting wrestling website, The Chairshot!

---
AJPW Champion Carnival A Block Results & Review Part 4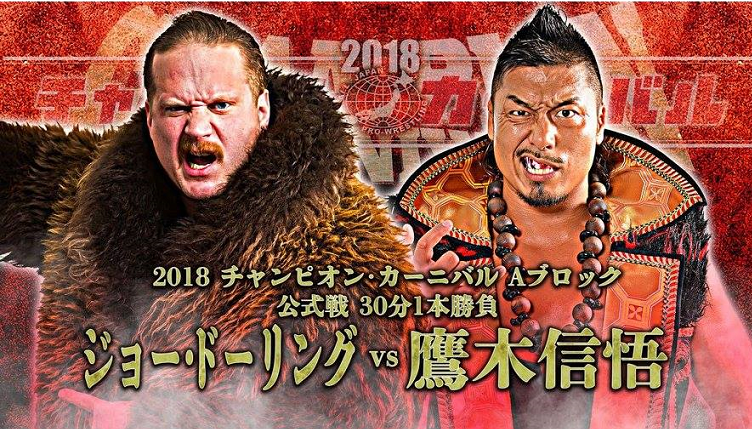 Welcome to Part 4 of our A Block coverage for the Champion Carnival. Before we begin, I wanted to inform you that Bodyguard starts competing again on the April 20th show.
However, he was scheduled to face Kento Miyahara on April 16th and since he was unable to compete, Kento received a BYE, meaning he has four wins and Bodyguard officially has four losses, which mathematically eliminates from winning. But, he could still take some wins to screw the scoreboard. Now that we got that out of the way, let's…dive right in.
4/16/2018
Champion Carnival 2018 Block A Match
Naoya Nomura vs. Shuji Ishikawa
Review: We get Shuji Ishikawa back in the race as he looks to keep his vow by not losing another match going forward, so let's see if he keeps his promise when he faces Naoya next. The beginning in the match is a bit humorous to me and even Shuji attempted to murder Naoya by taking him over to the stage from the outside and to Powerbomb him, but that fails and just gets pushed off basically. Shuji would just mostly control the majority of the match as the crowd tries to get behind Naoya to help him overcome this monster of a man. Naoya would come close a couple of times and even kicked out of the Fire Thunder, but he would fail as Shuji would still get the win with his Powerbomb called Splash Mountain, giving himself another win in his name.
Recommended: The match was average at best, so up to you if you wanted to watch it.
4/18/2018
Champion Carnival 2018 Block A Match
Ryoji Sai vs. Yuji Hino
Review: Hino right now has four wins in his name and is still undefeated as he goes into this match with a lot of confidence after defeating former Triple Crown Champions and some of the best in the Japanese scene, but now we need to see if our Asia Heavyweight Champion can try and stop his momentum and finally get a win in his name after losing his first two matches. Soon as the match starts, you can see Hino being a little too overconfident in his match with Ryoji even though they do go back and forth a few times, but you can tell Hino wasn't trying as much since he knew he was gonna win the match and has a chip on his shoulder for sure since he's been on a role since the Carnival started.
The match though was solid enough to get by as Hino and Ryoji still performed very well for themselves, and were able to provide a story for Hino and his progression in the tournament. Around near the ten minute mark, Hino attempts to go for the FUCKING BOMB to secure himself a possible final spot in A Block, but Ryoji would counter it into a roll-up and would get the surprise win, ending his undefeated streak! The crowd reaction may have felt a bit anti-climatic, but it was still an awesome spot and a huge win for Ryoji here to give him that much needed momentum.
Recommended: Fun match, worth at least one view.
4/20/2018
Champion Carnival 2018 Block A Match
Naoya Nomura vs. Ryoji Sai
Review: Both Naoya and Ryoji are back at it again and this time they'll be fighting each other as Naoya needs to win this match here or he will also be mathematically eliminated like how The Bodyguard is, while Ryoji would also be affected in the standings if he loses this match as well, so both of them really need the win here, but one of them is gonna have to lose. The two would work well in the beginning and both had enough offense in the bout to make each other look strong throughout the match. Naoya was explosive near the end of the bout as he would hit his Rolling Spear that would lead to a pinfall, but Ryoji would kick out at 2.5, but Naoya would attempt to pin him again after hitting a top rope Splash, but it still wasn't enough to take out the Asia Heavyweight Champion here. Before Naoya would attempt a second splash, Ryoji would get up in time to hit a Superplex, work on him a little bit before he hits his Arakawa Tekkyo to give himself his second win, leaving Naoya mathematically eliminated from the tournament.
Recommended: Fun solid match, give it a look.
Champion Carnival 2018 Block A Match
Joe Doering vs. Shingo Tagaki
Review: We get both Shingo and Joe competing this time in the tournament, which means that Shingo still has three matches left and could be enough for him to secure a spot in the finals if things work out in his favor near the end of it, but somebody has to lose first to get the slight advantage over the other. Before the bell has a chance to ring, Shingo would start to assault Joe right away to give himself a slight advantage over the Gaijin giant here, but it would be short lived as Joe would recover enough to strike back at him and his strikes are slightly better that I haven't yelled at my screen right away. Joe would showcase more of his power outside of his striking and you can see why the guy is so powerful and how he presents himself in his matches. Matches like these show why Shingo is considered one of the best since he has been one of the MVP's on A Block for me so far and I do still believe he might win to go to the finals or at least come close, but it all depends on how they book it here. Shingo would start to hit his Pumping Bomber and Last Falconry, but Joe would kick out of it and hit a Diving Body Press before he puts Shingo away with the Revolution Bomb, giving Joe his third win in the tournament and Shingo's second lost in a solid match.
Recommended: I really enjoyed the match and Shingo gets another match on the list for top A Block matches.
Champion Carnival 2018 Block A Match
Yuji Hino vs. The Bodyguard
Review: With Yuji Hino suffering his first loss in the tournament, he would need to defeat Bodyguard here to not only give his confidence back, but to also secure his spot on the top still since he only has one match left after this one and that is against Kento Miyahara, and Kento still has to fight Joe before he gets his match with Hino, so the outcome of the match here could help decide what the last couple of days could lead up to for the finals as the rest look like they might have a chance, except Bodyguard and Naoya who are mathematically eliminated from the tournament. Good to see that Bodyguard is back in action despite missing one match in the tournament due to the injury and I really wanted to see him and Kento fight again too, but nothing to do about it now except for Bodyguard to try and get a win to hurt Hino's momentum a little bit more. The match was hard hitting as they both played to their powerhouse strength mixed in with their wrestling, and Hino still has that chip on his shoulder despite losing his first match at the previous show. but he attempts to fix that mistake when he goes for the FUCKING BOMB on Bodyguard, but he would fall off of him and hits a Lariat to get the unsuspecting win over Hino!
I didn't expect Bodyguard to get the pinfall on Yuji, but now it will eventually start to get Hino annoyed due to losing two matches in a row and he only has one left, which hurt his chances to advance to the finals unless Kento could somehow lose to Joe Doering and cause him and Hino to tie up again before our duel.
Recommended: Match was alright when it starts, but the ending was average
Overall: While not as good as the ones I did in the previous article, it was still fun for what it was as the whole card was solid up and down as we have a couple of days left for A Block to see who will come out on top, and we have all but two of them slightly having a chance to win as well.
Favorite Match: Joe Doering vs. Shingo Tagaki
Least Favorite Match: Yuji Hino vs. The Bodyguard
Score: 7/10
Current Standings:
Kento Miyahara (4-1) (8 Points)
Yuji Hino (4-2) (8 Points)
Joe Doering (3-2) (6 Points)
Shingo Tagaki (2-2) (4 Points)
Shuji Ishikawa (2-2) (4 Points)
Ryoji Sai (2-2) (4 Points)
Naoya Nomura (1-4) (2 Points)
The Bodyguard (1-4) (2 Points)
---
Always Use Your Head and visit the official Pro Wrestling Tees store for The Chairshot All t-shirt proceeds help support the advancement of your favorite hard-hitting wrestling website, The Chairshot!

---
When Will The Roman Reigns Experiment End In WWE?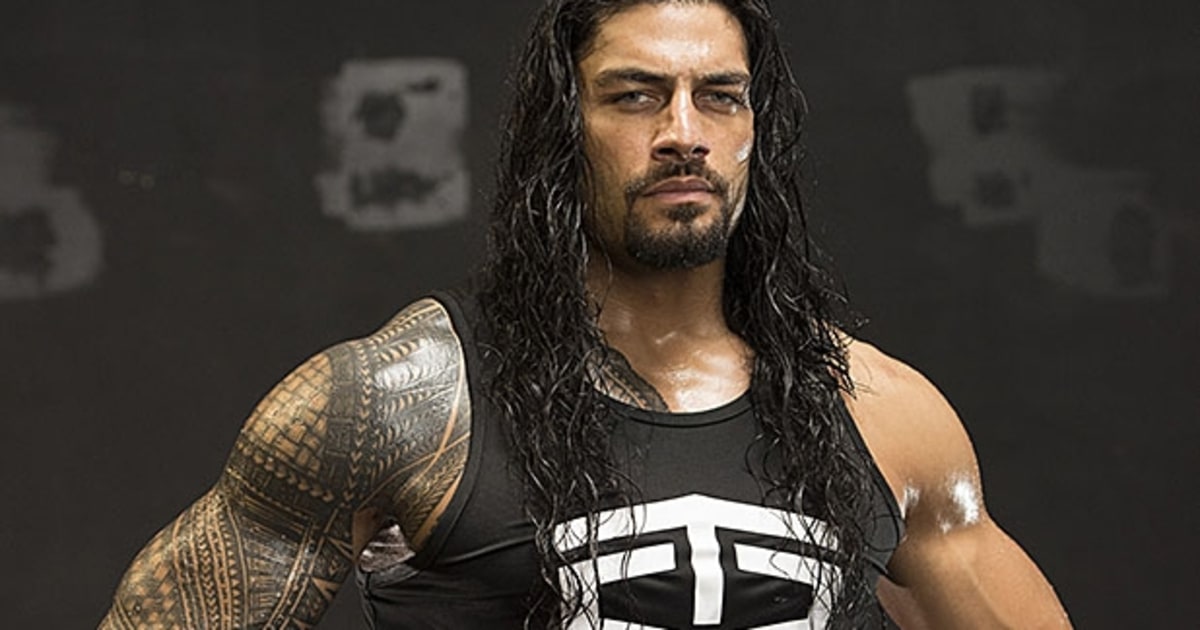 Two weeks ago, Roman Reigns walked in to the Mercedes Benz Superdome and thought he would walk out of WrestleMania 34 as the new Universal Heavyweight Champion.
Brock Lesnar's new deal with WWE ended those dreams as the current champion on Monday Night Raw destroyed the "Big Dog" and retained his title. Reigns gets another shot at glory at the Biggest Royal Rumble show in Saudi Arabia, but the chances of a different outcome may be slim of not possible at all. Still, WWE continues to push Reigns, a three-time WWE champion, as the future of the company. Watching him lose to Lesnar time after time hasn't endeared him to the fans, who would still rather see a new performer atop the leaderboard.
WWE's love affair with Roman Reigns must come to an end at some point, right? This isn't a soap opera where you can stop watching for a year, come back and see the same storyline, is it? Apparently, Vince McMahon wants to get as much out of the Reigns as he can.
The main event picture on Monday nights got a little more crowded with the arrival of Bobby Lashley last week. Reigns, Lashley and Braun Strowman figure to be front and center on this carousel while Lesnar walks in and out of the company's backdoor. The lure of WWE and UFC at the same time will leave the "Beast Incarnate" with deep pockets and decisions to make.
Having the Universal Champion on Monday nights showing off red gold would benefit everyone involved, including the man who has beaten The Undertaker and John Cena in the past year. If WWE wants to continue Reigns' path as the new leader of the company, it must put the strap on his waist soon. Fans have become restless and disengaged. Strowman gets the biggest pops on television. Seth Rollins is the Intercontinental Champion and could elevate himself to the main event.
Lashley will have fan support any time he gets in the ring.
It's a no-win situation for Reigns, who didn't ask for this kind of response. Had he beaten Batista in the 2014 Royal Rumble, this might be a different story – the kind where fans cannot get enough of the former Shield member. 
I almost feel sorry for Reigns. A big, strong wrestler born into the business with a look of a champion. He falls victim to the social media age of this business and fan sensibilities that change from day to day. If Reigns had been a champion in the 1980s, he and Hulk Hogan would have torn down Madison Square Garden. If he had been part of the Attitude Era, no doubt Steve Austin, Triple H and The Rock would have come knocking on his door.
Had he been part of the NWA in the early 1980s, I would have loved to see him in matches with Barry Windham, Lex Lugar and Ric Flair. This is the hand he has been dealt. For that reason, he and the fans must live with it.
As long as McMahon is pushing the button, Reigns will be the center of attention. Lesnar may hold the belt now and there are rumors Bobby Lashley may soon take it from the current champ. But front and center on the mind of WWE's "machine" is a way to finally get Reigns over as the champion of the red team and as a favorite with the steadfast fan base.
It's a relationship that will continue to remain toxic as long as Reigns is pushed down fans' throats.
---
Always Use Your Head and visit the official Pro Wrestling Tees store for The Chairshot All t-shirt proceeds help support the advancement of your favorite hard-hitting wrestling website, The Chairshot!

---