WWE SmackDown Top 10: What's The Point?
We here at The Chairshot aren't the only people that love putting wrestling-related lists together! Daniel Bryan loves lists so much that he enlisted the SmackDown Live Superstars to rank themselves in a Top 10. Criteria included most talented, most athletic skill, and locker room leadership. Bryan & Shane McMahon will use the list to make matches.
Here's the results of the first list:
10. Tye Dillinger
9. Randy Orton
8. Becky Lynch
7. The Usos
6. The New Day
5. Bobby Roode
4. Naomi
3. Shinsuke Nakamura
2. Charlotte Flair
1. AJ Styles
One thing that stands out right away is the lack of rulebreakers. No Kevin Owens. Sami Zayn's nowhere to be found. Not Jinder Mahal or even a Rusev. Obviously the SD locker room cares more about the third part of the criteria than the first two.
The second thing: It seems to me like it would make more sense to list male competitors, female competitors & tag teams separate. I know it's uncouth to argue "Separate But Equal" in 2018, but how am I supposed to decide who's better between Becky Lynch & Randy Orton? It's not like WWE is going to let them have a match.
The third thing: New Day over Usos? Who won that feud again?
Oh, and Tye Dillinger at 10 is really cute and hilarious. But the dude is never on TV & hasn't won a match on SD Live since October 3, 2017. Right when Bryan revealed him as number ten was when the list lost any sense of credibility.
You know what else doesn't help it? Dolph Ziggler or Baron Corbin getting a chance to be in the WWE Championship Match at Fastlane when neither is anywhere to be seen in the Top 10. Rolling out this list and ignoring it for the purpose of ranking contenders in the same night isn't a good look.
Will be @HEELZiggler or @BaronCorbinWWE who joins the @WWE Championship match at #WWEFastlane to make it a #Fatal4Way against @AJStylesOrg @FightOwensFight & @SamiZayn?! pic.twitter.com/TPgRPKo5YG

— WWE (@WWE) February 9, 2018
Remember when WCW had a Top 10? You could pick holes through the logic of who was rated where, and sometimes guys that weren't number one got title shots, but at least they tried to have it make a little bit of sense. It certainly had a purpose, which was to rank the top contenders for the World Championship.
We're not sure what the purpose of SmackDown's Top 10 is. It has nothing to do with merit & everything with who you know. Which might be an accurate representation of how some people get their push.
To be fair, SmackDown's Top 10 may end up being an interesting story device. The babyfaces can get jealous of each other over their spots. It may even facilitate a heel turn. Maybe eventually it will be used to determine who gets a title shot. Right now, it looks like a waste of time & resources. It seems pointless. Unfortunately, these same words can be used to describe SmackDown Live for much of the past year.
When I watch Monday Night Raw lately, I notice the sense of urgency the show has. It's WrestleMania Season, after all. It's time to build towards the biggest show of the year. Superstars are jockeying for position in the Elimination Chamber. You've got the Lesnars, Cenas & Reigns of the world staking their claim to the top of the card. There's also guys like Braun Strowman & Elias busting their butts to get there someday.
Not everything on Raw is a hit. They have their fair share of misses. But even the misses have a purpose. The goal is to get talent over & build towards Elimination Chamber & WrestleMania.
SmackDown doesn't have that same sense of urgency. It's been missing for awhile now. The brand used to be the Land of Opportunity, and now half of the roster is lucky if they get on TV every couple of weeks. We said at the time of the Superstar Shakeup that SD got the bad end of it, and they haven't been able to overcome their losses.
Champions don't need to point. #WrestleMania34 pic.twitter.com/bMYBj8vBvm

— Charlotte Flair (@MsCharlotteWWE) February 6, 2018
Getting Charlotte Flair in exchange for Alexa Bliss was an upgrade in a lot of ways, but a downgrade in some as well. Charlotte is better in the ring & has more credibility. Bliss is better on the microphone and does a better job of building up her opponents. People think Alexa can lose. Charlotte is nearly unbeatable. She isn't the division-killer Asuka is, but it's tough to buy the likes of the Riott Squad as legitimate threats.
The Miz was a huge loss for SmackDown on multiple levels. Not only did SmackDown lose their most effective heel talker, but General Manager Daniel Bryan lost a lot of his purpose on the show. He's been reduced to passive-aggressive melodrama with Shane McMahon that's either going nowhere or has drug out way too long to be properly effective.
Don't get me wrong, Bryan is still tremendously over. If or when he does return to active competition, it'll be a big deal. I'm not convinced that WWE can convince us that Shane McMahon is the proper opponent for Bryan's comeback. Miz was perfect for the spot. Shane, not so much.
Miz & Alexa's departure, along with their inability to be replaced, highlights the cancellation of Talking Smack, a tool that was used to give SD talent like them, Baron Corbin, the Usos & countless others more interview time & more chance to get over. Corbin especially benefitted from the extra exposure, and he hasn't been the same since Talking Smack disappeared. Less opportunity = less success.
This time last year, Corbin seemed destined for big things on SD. Technically he still could be, as he & Dolph Ziggler are facing off this week for a slot in the WWE Championship Fatal 4-Way at Fastlane. It's unclear what either man did to deserve a chance at the Championship. Especially Ziggler, who's fresh off of vacating the US Championship. Remember when we thought that could lead to something with Bobby Roode? Nope, apparently throwing belts down and taking vacations gets you opportunities on SmackDown.
If SmackDown management doesn't care that Dolph Ziggler made them look like fools, why should we? It comes back to a lack of urgency. Nothing on the show matters because nobody acts like it matters.
SmackDown's Top 10 could create urgency.
Theoretically, rankings systems add legitimacy to sports. College football & basketball largely revolve around rankings. Boxing & UFC championship contenders are decided based on rankings. Heck, even golf has a rankings system that increases importance of events.
Give your rankings some legitimacy. Don't leave your top contenders out because they aren't popular in the locker room. If they aren't seen as worthy of being ranked, why are they getting title shots all the time? It makes management look stupid for booking the matches. Have different rankings for the different championships.
Don't rank Tye Dillinger #10 just to be cute. Get the guy on TV if you actually want to push him. Don't present stuff just for the sake of filling time.
It's really not rocket science. SmackDown Live will matter when the writers present things as if they matter. As long as they don't, I'm happy the Nashville Predators have games most Tuesday nights.
---
Always Use Your Head and visit the official Pro Wrestling Tees store for The Chairshot All t-shirt proceeds help support the advancement of your favorite hard-hitting wrestling website, The Chairshot!

---
TIME AND FATE: NOAH'S GHC HARDCORE CHAMPIONSHIP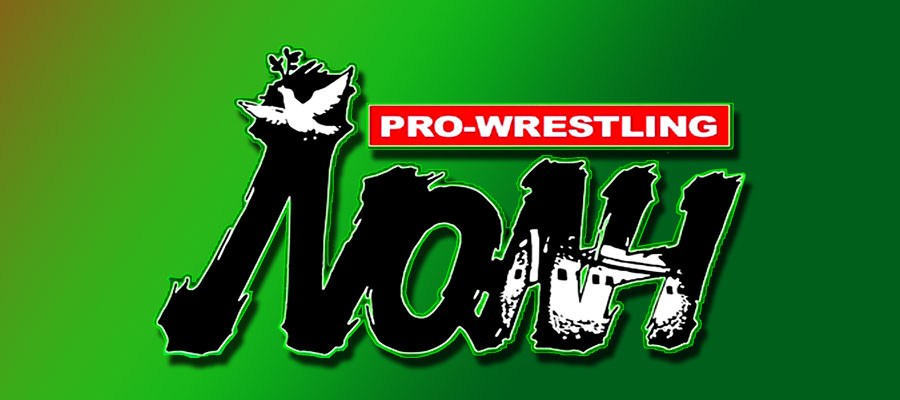 "It seems there was once a belt a long time ago I guess."
Hi69 (May 4th 2018 after a hardcore match with Daisuke Harada).
I hope to present here a brief history of what was known as the GHC Hardcore Championship.
NOAH is not a hardcore promotion that does deathmatches (although they did run one in May 2018 between Hi69 and Daisuke Harada, this was Harada's first time doing hardcore), so you weren't going to win this belt by lighttubes, blowing the ring up, electric barbed wire or stapling paper to your opponents head; although it was defended in some matches termed as "hardcore", or at least as hardcore as NOAH got in that era.
In this situation "Hardcore" meant that anyone could challenge for it regardless of division as it was openweight, you just had to survive and have incredible endurance. The title could be won by a count-out, and if the challenger was smaller than the champion and lasted fifteen minutes, the title could change hands. A win could only be gained by a pinfall, no submission was allowed.
The title could only be challenged for by NOAH wrestlers (or those working for NOAH at the time, such as Scorpio in 2005), not from anyone by an outside promotion.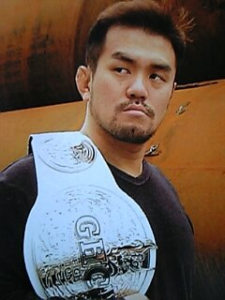 The title began in 2004 when Jun Akiyama came up with the idea. He felt the concept would be exciting as it would create matches regardless of weight and size and would be open to anyone of any division. Mitsuharu Misawa agreed to the idea, funded it, and the belt was created. For this reason Misawa was considered to be the chairman of the belt (in the same way that the GHC has its own committee who decide who gets it etc), and the belt was thought to be Jun Akiyama's as it was created in his style, the same way that the GHC Heavyweight is Misawa's.
The GHC Hardcore belt differed from the other GHC belts as the main belt was white (Jun Akiyama's colors) with the crest being silver, and for that reason it was sometimes known as "The White GHC".
In the beginning it was decided that the belt would only be defended outside of the Kanto area (outside of the metropolitan Tokyo district which included Chiba, Saitama etc), with a fan who won a competition reading out the match announcement (like Joe Higuchi did for championship matches). After the match they would have the honor of handing the belt to the winner, and posing for a commemorative photo afterwards. This didn't happen as the belt would be defended very much in Tokyo.
Immediately the rules caused confusion as in Jun Akiyama's first defense, Takuma Sano was put in a front necklock and passed out, the referee not hearing his "I quit". The belt then passed to Naomichi Marufuji who lost it to Mohammed Yone. NOAH held a rare deathmatch, where Yone faced Morishima in a "Chain Death Match" in Osaka in April 2005, it went to a double knock out. Yone's fourth defense was against Scorpio, who was taken to hospital after the match having injured his leg.
Scorpio lost the title to Kentaro Shiga in September 2006, and the title became a tag title as Shiga unified it with Kishin Kawabata after vacating the belt as he declared he wanted to make a tag with it, (although there were never two belts made for this purpose), and the belt was billed as the "GHC Openweight Hardcore Tag Team Championship". It was defended that December at Korakuen Hall in a "Lumberjack Deathmatch".
By late 2007, the championship belt was becoming sporadic as NOAH booking and NOAH fans were losing interest in it, compared to the turn around of roughly six months when the belt was first inaugurated, Kishin Kawabata made only four defenses in eleven months before losing it to Makoto Hashi in October 2008, he made only two in nine months before losing it to Kenta Kobashi in June 8th 2009 who defended it four times before vacating the title after becoming injured that December.
No one after this it seemed to have much interest in reviving the belt and NOAH had little interest in booking it. Simply put, the concept had run its course, and by late 2009 and early 2010, NOAH were facing serious problems with the death of Misawa and internal fighting about the company restructuring. In the following years talent walkout, scandal, a decline in business and money issues became a far more pressing problem than who held a little white belt with a silver crest.
As of August 2018 NOAH have announced no plans to bring the GHC Hardcore Championship back, and the belt is not listed on the site under a the list of championships.
---
Always Use Your Head and visit the official Pro Wrestling Tees store for The Chairshot All t-shirt proceeds help support the advancement of your favorite hard-hitting wrestling website, The Chairshot!

---
The Elite Should Not Join WWE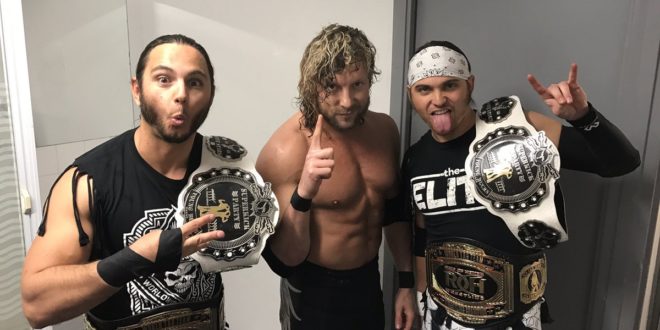 After both All In and The G1 Supercard were sold out, reports of Vince McMahon wanting to sign The Elite in a way to stop the rise of competition for his monopoly were reported everywhere. More than just The Elite rumors regarding a lot of Indy talent joining the ranks of WWE, thanks of these events and the next lucrative deals that WWE will receive in the coming years, gives credence to the speculation in all wrestling circles. The big problem that comes with The Elite joining WWE is that currently after all these years, the wrestling world is no longer a one place only to make big money. Promotions like ROH and NJPW have grown a lot in the last couple of years thanks to the efforts done by the The Elite to change the wrestling world.
If NJPW loses Kenny Omega to WWE, the promotion based in Japan will lose not only a top player but their ambassador of puroresu in the US. As we know, NJPW has big plans to expand into the American market, and those plans have Kenny Omega as the flagship of that expedition.
The Young Bucks will also face some serious problems if they were to go to WWE. The first problem is that as we all know, WWE and more specificly Vince McMahon, is not a fan of tag team wrestling and teams like Anderson and Gallows coupled with current booking, are a clear example of this. Creative will be bad for them and their creative minds will not be used to the extent we're familiar with. That would be a shame seeing how beloved their YouTube show is, Being The Elite.  Also let's not forget the case of the cease and desist letters sent to them because of the Too Sweet sign. Vince McMahon does not forget and could easily bury them in a way to punish them for the case of the situation of the letters and the fan's saying in the show he got free tickets like most people do to fill RAW
If The Elite stay for at least  2 or 3 years before joining WWE and help the wrestling world grow, the business will not only be good for the fans but to wrestlers not signed with WWE. Like we saw with Flip Gordon, who thanks to the Being The Elite show is a well known name already and his career is just beginning. If we're to believe the brand is as big as any brand in WWE right now, The Elite should stay away from WWE to preserve their phrase, ''Change the world'. If they leave, a big hole will be present in the indy scene and the wrestling world will go five years back in time. Further increasing the gap, in a bad way, between WWE and the rest of the wrestling world.
---
Always Use Your Head and visit the official Pro Wrestling Tees store for The Chairshot All t-shirt proceeds help support the advancement of your favorite hard-hitting wrestling website, The Chairshot!

---
Jim Neidhart: Remembering The Anvil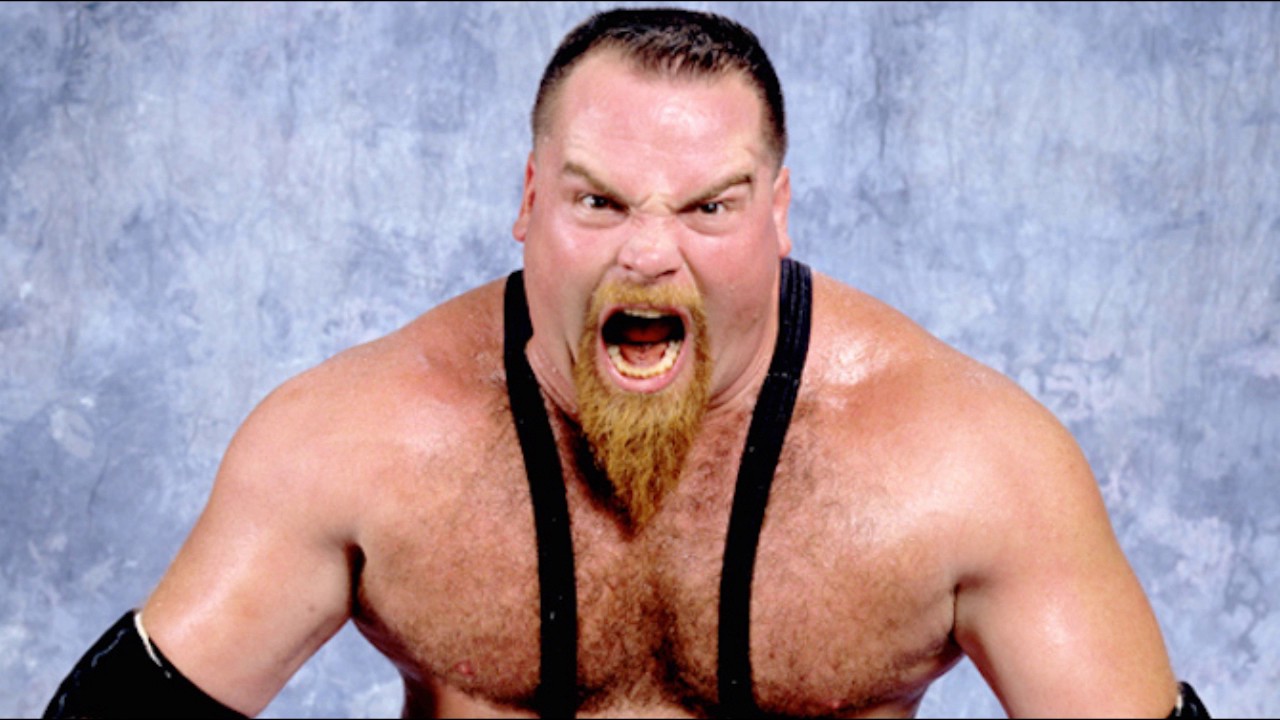 A piece of my childhood passed away.  Jim "The Anvil" Neidhart was known best as half of the 1980s tag team, the Hart Foundation.  Along with his tag team partner and brother-in-law, Bret Hart, the Hart Foundation were active between 1985 and 1991, and won the WWE Tag Team Titles in '87 and '90:  Then in 1997, the Hart Foundation was revived in the form of a stable. The group's line up consisted of family members and students of the Hart clan.
The Neidhart-Bret partnership mirrored a relationship between a big brother; protective over his younger sibling; this illustration became evident when the Harts switched from being villains to heroes, in 1988. An example of the brotherly relationship was demonstrated during their matches as Bret would take the brunt of their opponent's foul tactics while Jim; frustrated and concerned, waited reluctantly in his corner for Bret to escape their opponents and tag him in.
I believe that a lot of Hart Foundation's success and appeal is credited to Jim Neidhart's contributions. Bret was known as the cool member and 'technical wrestling' part of the team; Bret occupied the ring during most of their matches as Neidhart shouted moral support in the corner while waiting for his turn. When Bret was the recipient of their opponents' foul play, the fans depended on Neidhart as the 'big brother' to make the save.
Bret's appeal as the 'cool' guy was an element to the Hart Foundation's fan base; however, it was Neidhart's infectious and loud personality that transformed the Harts into an inclusive brand. The Hart Foundations interviews highlighted Neidhart's abilities to sell the group with his animated charisma. What Bret did for the team in the ring; Neidhart equaled while promoting the duo in their interviews.
RIP Jim "the Anvil" Neidhart
---
Always Use Your Head and visit the official Pro Wrestling Tees store for The Chairshot All t-shirt proceeds help support the advancement of your favorite hard-hitting wrestling website, The Chairshot!

---