How WWE's Tag Teams Became Relevant Again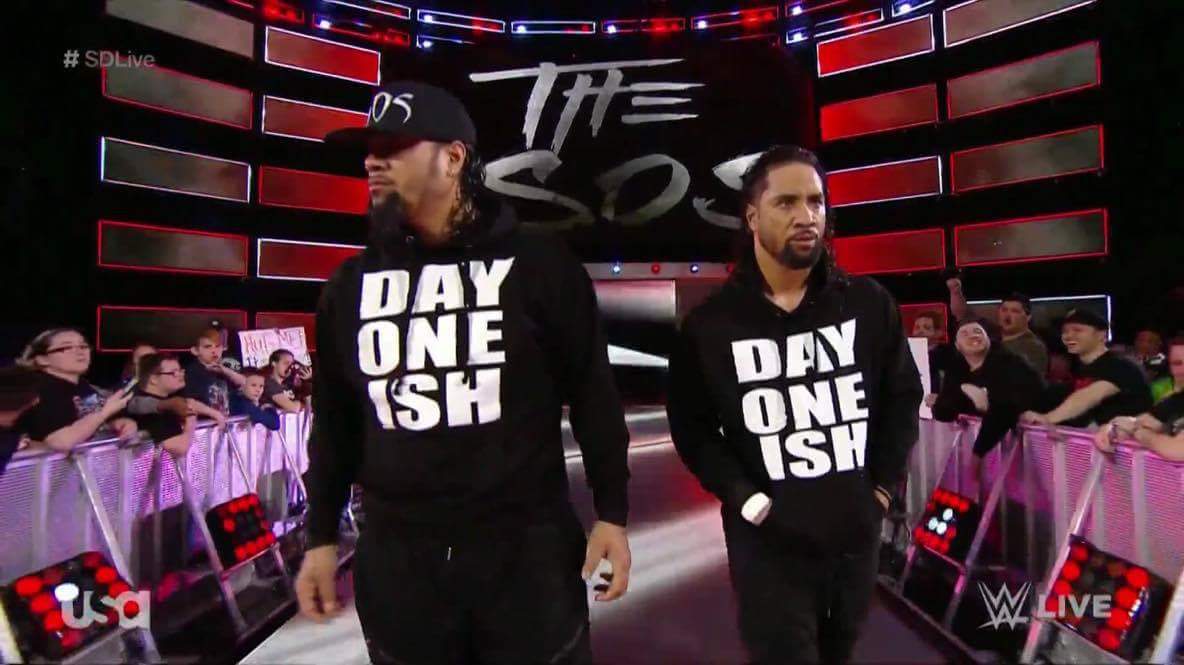 Cast your mind back to the late 90's and try to name the best tag team in the WWE. It's a struggle right ? At the time the division was thriving. The title picture of Edge & Christian, The Dudley Boyz and The Hardy Boys was incredible, with the 3 teams putting on classics virtually every time they stepped in the ring together and the fans couldn't get enough of it. On top of that we had some legendary teams like The Hart Foundation, Rock 'n' Sock Connection, New Age Outlaws, APA, DX, Brothers Of Destruction, Legion Of Doom, Stone Cold with… virtually everybody. I would quite literally be here all day if I were to list every great team from years gone by.
But then over the next decade or so, WWE seemed to treat the division as an afterthought, quite often using teams as a way to push singles stars – a great example being John Cena vs Batista in 2008 where Cena single-handedly squashed the reigning tag champions Cody Rhodes & Ted Dibiase Jr. We started seeing less believable champions such as The Bashams, The Corre and Santino Marella & Vladimir Kozlov with the latter being nothing more than a comedy act. No offence intended to the guys who held the titles over this period, but the calibre of teams simply didn't compare.
However, over the last few years the landscape has shifted again, resulting in another thriving tag team division. So how did WWE bring the glory days of tag team wrestling back? And what can be done to ensure we don't go through another blip?
Greats feuds, not just matches
For the longest time we were given tag team 'rivalries' which lacked any sort of intensity and story. We were expected to just blindly go along with it because we sort of liked the guys involved, but didn't really have a reason to become invested. Over the last few years however we have seen a lot more thought being put into feuds, such as The Shield and then The New Day vs The Wyatt Family, the rivalry and eventual forming of Cesaro & Sheamus, the brilliant build up and eventual success of Team Hell No, Seth Rollins and Dean Ambrose finally burying the hatchet, teams trying to stop The New Day from becoming the longest reigning champs in history … these were stories we cared about, backed up by fantastic wrestling.
WWE just need to keep going with the flow. We've seen in recent months that stories in the division have taken a backseat again while they've focused on the champions and challengers themselves, which is a shame because there are some great, charismatic teams on the roster who can sell you a story/rivalry. Imagine the gold WWE could strike by reuniting The Wyatt Family and having them feud with SAnitY once they are called up ? Or now that we have Balor Club together finally why not have a long standing feud with The Shield or Undisputed Era ? The division is full of so much potential right now with even more potential stars coming through the ranks, we just need a reason to care about them.
Stop screwing up great teams
Its all very well and good talking about how great the talent on the roster is, but one thing you can always count on in tag team wrestling is that just as the iron is hot, WWE and Vince will make the decision to split a team up and kill momentum/ruin lots of good build. lets look at some examples:
The Wyatt Family – Constantly fail to pull the trigger on a stable v stable feud, keep resorting to infighting and then let a part time The Rock bury them.
Enzo & Cass – Split them up while they're hot while never letting them capture the tag titles just to try and make a singles star out of Big Cass despite his lack of ability in ring and on the mic.
Slater & Rhyno – Another case of a team coming from nowhere to suddenly becoming insanely over, moving them to RAW where they barely feature was one of the most ridiculous decisions I've ever seen.
Gallows & Anderson – Used as fodder for The New Day to surpass Demolition's long standing record, never recovered, forced into humiliating matches and WWE Shop adverts.
American Alpha – Split up a great team with great chemistry and ability so we could have one of WWE's worst storylines of all time, then formed American Beta (great name, you're welcome) by replacing one athletic black guy (Jordan) with another (Benjamin) rendering the decision pointless.
DIY – To be fair this one was done really well for once, but regardless it was still an exciting partnership that could've gone on to achieve great things.
Lets face it, the only way you are gonna stay together as a tag team in WWE is if you can make the company big money from merchandise sales. None of those teams above, with the exception of Enzo & Cass, pulled in the big bucks. There's a reason WWE have never split up The New Day, Breezango or The Uso's. Money talks..
Big Names make big teams
The Hurricane & Rosey, La Resistance, Spirit Squad, The Colons … hardly a list of the all time greats is it ? While entertaining in their own right they simply were not championship material and were lightyears away from the star power of DX, The Hart Foundation and The Brothers of Destruction. The division really suffered for a long time due to this, most teams on the roster couldn't garner any real interest from the crowd and were treated as afterthoughts. It is a simple fact that we as fans want to see the best in the business hold the top titles.
In recent times WWE have chosen to elevate the tag team championships by having some of their top talent – Dean Ambrose/Roman Reigns & Seth Rollins, Sheamus & Cesaro, Bray Wyatt & Randy Orton, Kane & Daniel Bryan, The New Day, The Uso's – show just how important the division is. The signing of Luke Gallows & Karl Anderson while they were still hot, the amazing return of The Hardy Boys at WrestleMania 33 and the recent reuniting of The Shield show that WWE have finally realised the importance of the division and the impact that using top names can have. Regardless of the top names involved, RAW is still struggling in terms of how many teams they have at their disposal even with The Revival's recent… revival, but i'll get to that later on. Too many of their teams resemble the teams from those dark days previously mentioned… Titus Worldwide, Heath Slater & Rhyno… whereas SDLive have added yet more big names into their division with the likes of Rusev Day, The Blugeon Brothers, Shelton Benjamin & Chad Gable all helping to raise the bar in some phenomenal multi team matches in recent months.
New Day vs The Uso's
It's impossible to talk about the current tag team scene without mentioning these two teams. When The New Day first debuted they were generally hated amongst fans, a very stereotypical black power/exploitation/preaching sort of group who were booed out of the building every night and only became popular thanks to bright colours, funny catchphrases and silly props. A huge amount of credit goes to Xavier Woods for helping to get the group over with his stellar mic work, but there is no denying the group have a natural chemistry together. They're one of the best example of how to use the Freebird ruling to perfection, using typically heel tactics to gain victories while still remaining face.
The Uso's have always been a fun team to watch. They've always been known for their athleticism, high flying ability and since day one (ish) they engaged well with the crowd and had a distinctive look. Unfortunately for them they happen to be related to Roman Reigns, and suffered a knock on effect from the fans hatred for Reigns' perceived forced push into becoming the guy. Where most guys would have stagnated and never recovered, The Uso's used this negative reaction to reinvent themselves as heels, and they've arguably never been better. The Samoan tribal entrance and bright facepaint are both long gone, replaced by a thug-ish arrogance, a much more aggressive wrestling style and a new found confidence when it comes to promos.
The two teams clashed countless times on RAW, and while the matches were pretty good it did start to get a bit samey after a while. Fast forward to May 2017 when The New Day made their SDLive debut… I can't have been the only one thinking 'oh please god not this again !'. I'm a man of integrity and I will hold my hands up and say I couldn't have been more wrong. Their SDLive rivalry was far and away the highlight of 2017, with phenomenal matches that have saved poor PPV's (Battleground), hilarious promos from both teams (Rap Battle) and an incredible rivalry ending match at Hell In A Cell.
The two teams have consistently brought out the absolute best in eachother and after every match they essentially say to the locker room 'go ahead, top that'. This feud in my eyes was the closest we have come to replicating the quality of the E&C/Dudleyz/Hardys rivalry from the 90's. I just didn't want it to end.
More teams in the mix
This section is sort of both a good point and a bad one. Currently on RAW we have 7 tag teams but for months we've only really seen one rivalry taking place – The Bar vs Rollins & Ambrose/Jason Jordan. The Revival came back recently, bringing with them some real optimism as we were led to believe the division had some fresh legs and new competition… NOPE! Winning matches against local talent and being buried by legends at RAW 25 is not how you build interest in your tag division. Now SDLive… boy oh boy do they know how its done! Rusev Day v The New Day v Benjable (great name again, you're even more welcome) v The Uso's at Clash of Champions was incredible, one of the best matches of 2017 by far but it didn't just work because you had 8 guys involved, it worked because they had great chemistry together. I don't know how many more times I can bare to watch the same match again and again AND AGAIN on RAW regardless of how good the talent involved is.
If it wasn't for their top titles, RAW wouldn't even be the C show at this point. The most notable thing that two of their big stars – Gallows & Anderson – have done in recent months was their match against Heath Slater & Rhyno in a car crash of a Halloween match. This is one of the best tag teams in world not even being used on mid card feuds, the same team who have left a path of destruction everywhere they have been and won plenty of championships on the way. WWE have a veeeeery long history of acquiring as much talent as possible to get the upper hand on their competitors, but then wasting them due to not having the time or space for them. It's difficult to watch such talented guys be underutilized every single week.
Breezango have become arguably the most over superstars on in the whole company over the last year thanks to their hilarious Fashion Files segments, but WWE seemed to forget that these guys are actual wrestlers for a very long time. When they did eventually remember, what did they do? They had them lose a couple of squash matches to The Blugeon Brothers. Imagine how fun a feud between them and New Day could have been ? Or Rusev Day? They've also had run ins with The Uso's in the past which were always entertaining. They have huge potential but as long as Vince McMahon is getting a few extra bucks from t-shirt sales they probably wont get an opportunity.
Another concerning thing is that it's only a matter of time before teams like SAnitY and Authors Of Pain get their main roster call ups. Where exactly are they going to fit in ? WWE either need to make some major budget cuts or involve more teams into both shows title picture. It worked perfectly well at WrestleMania 33 with the Fatal 4 Way Ladder Match and it can work perfectly well again.
The Future
Not only do we have a fantastic tag team division right now but the future is also in very safe hands. Depending on the outcome of their feud with Aj Styles we may well see a proper tag team pairing of Kevin Owens & Sami Zayn, we have only scratched the surface of the insanely over Rusev Day, and we also have a wealth of talent ready to step up from NXT. The Undisputed Era, SAnitY, Authors Of Pain, TM 61, Street Profits… a whole host of great teams who can easily transition onto the main roster.
In SAnitY we essentially have a new Wyatt Family, a charismatic leader with loyal members around him ready to do his bidding. In Authors Of Pain we have a real powerhouse of a team who you can easily see dominating the division because while the current teams are fantastic at what they do we don't really have a team who can manhandle their opponents convincingly. In The Undisputed Era we have one of the hottest talents in the world, Adam Cole, who backs up my earlier point of big names making big teams. Let's just hope WWE don't out-WWE themselves… as long as they don't, the future is looking very bright Bay Bay !