How WWE's Tag Teams Became Relevant Again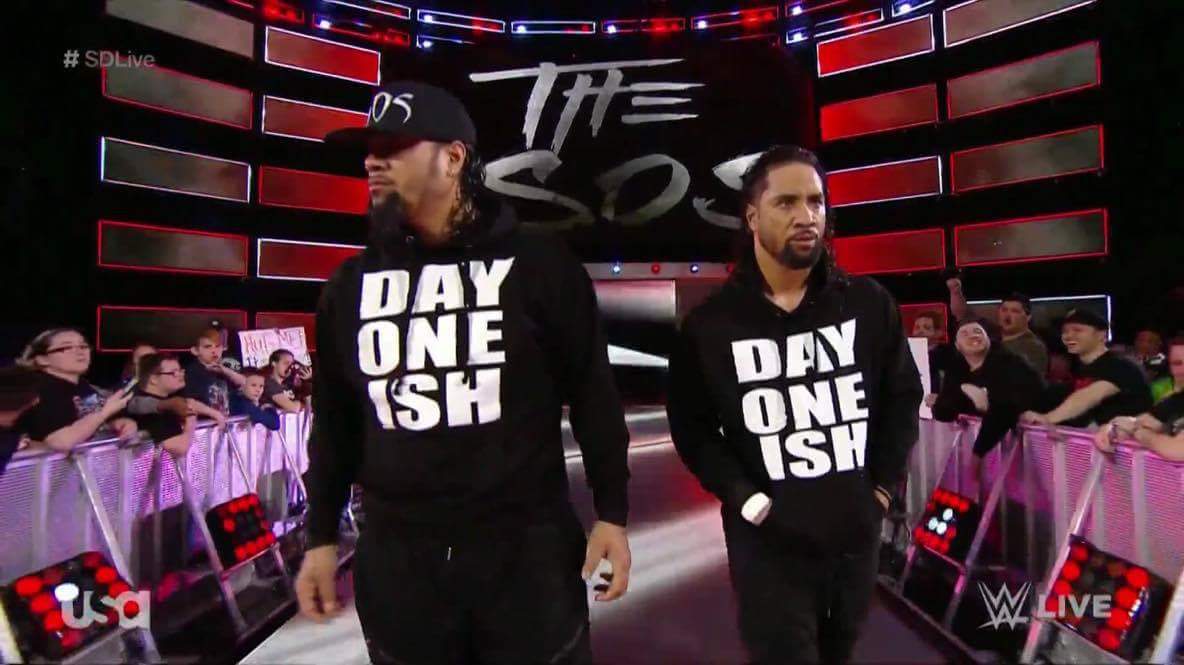 Cast your mind back to the late 90's and try to name the best tag team in the WWE. It's a struggle right ? At the time the division was thriving. The title picture of Edge & Christian, The Dudley Boyz and The Hardy Boys was incredible, with the 3 teams putting on classics virtually every time they stepped in the ring together and the fans couldn't get enough of it. On top of that we had some legendary teams like The Hart Foundation, Rock 'n' Sock Connection, New Age Outlaws, APA, DX, Brothers Of Destruction, Legion Of Doom, Stone Cold with… virtually everybody. I would quite literally be here all day if I were to list every great team from years gone by.
But then over the next decade or so, WWE seemed to treat the division as an afterthought, quite often using teams as a way to push singles stars – a great example being John Cena vs Batista in 2008 where Cena single-handedly squashed the reigning tag champions Cody Rhodes & Ted Dibiase Jr. We started seeing less believable champions such as The Bashams, The Corre and Santino Marella & Vladimir Kozlov with the latter being nothing more than a comedy act. No offence intended to the guys who held the titles over this period, but the calibre of teams simply didn't compare.
However, over the last few years the landscape has shifted again, resulting in another thriving tag team division. So how did WWE bring the glory days of tag team wrestling back? And what can be done to ensure we don't go through another blip?
Greats feuds, not just matches
For the longest time we were given tag team 'rivalries' which lacked any sort of intensity and story. We were expected to just blindly go along with it because we sort of liked the guys involved, but didn't really have a reason to become invested. Over the last few years however we have seen a lot more thought being put into feuds, such as The Shield and then The New Day vs The Wyatt Family, the rivalry and eventual forming of Cesaro & Sheamus, the brilliant build up and eventual success of Team Hell No, Seth Rollins and Dean Ambrose finally burying the hatchet, teams trying to stop The New Day from becoming the longest reigning champs in history … these were stories we cared about, backed up by fantastic wrestling.
WWE just need to keep going with the flow. We've seen in recent months that stories in the division have taken a backseat again while they've focused on the champions and challengers themselves, which is a shame because there are some great, charismatic teams on the roster who can sell you a story/rivalry. Imagine the gold WWE could strike by reuniting The Wyatt Family and having them feud with SAnitY once they are called up ? Or now that we have Balor Club together finally why not have a long standing feud with The Shield or Undisputed Era ? The division is full of so much potential right now with even more potential stars coming through the ranks, we just need a reason to care about them.
Stop screwing up great teams
Its all very well and good talking about how great the talent on the roster is, but one thing you can always count on in tag team wrestling is that just as the iron is hot, WWE and Vince will make the decision to split a team up and kill momentum/ruin lots of good build. lets look at some examples:
The Wyatt Family – Constantly fail to pull the trigger on a stable v stable feud, keep resorting to infighting and then let a part time The Rock bury them.
Enzo & Cass – Split them up while they're hot while never letting them capture the tag titles just to try and make a singles star out of Big Cass despite his lack of ability in ring and on the mic.
Slater & Rhyno – Another case of a team coming from nowhere to suddenly becoming insanely over, moving them to RAW where they barely feature was one of the most ridiculous decisions I've ever seen.
Gallows & Anderson – Used as fodder for The New Day to surpass Demolition's long standing record, never recovered, forced into humiliating matches and WWE Shop adverts.
American Alpha – Split up a great team with great chemistry and ability so we could have one of WWE's worst storylines of all time, then formed American Beta (great name, you're welcome) by replacing one athletic black guy (Jordan) with another (Benjamin) rendering the decision pointless.
DIY – To be fair this one was done really well for once, but regardless it was still an exciting partnership that could've gone on to achieve great things.
Lets face it, the only way you are gonna stay together as a tag team in WWE is if you can make the company big money from merchandise sales. None of those teams above, with the exception of Enzo & Cass, pulled in the big bucks. There's a reason WWE have never split up The New Day, Breezango or The Uso's. Money talks..
Big Names make big teams
The Hurricane & Rosey, La Resistance, Spirit Squad, The Colons … hardly a list of the all time greats is it ? While entertaining in their own right they simply were not championship material and were lightyears away from the star power of DX, The Hart Foundation and The Brothers of Destruction. The division really suffered for a long time due to this, most teams on the roster couldn't garner any real interest from the crowd and were treated as afterthoughts. It is a simple fact that we as fans want to see the best in the business hold the top titles.
In recent times WWE have chosen to elevate the tag team championships by having some of their top talent – Dean Ambrose/Roman Reigns & Seth Rollins, Sheamus & Cesaro, Bray Wyatt & Randy Orton, Kane & Daniel Bryan, The New Day, The Uso's – show just how important the division is. The signing of Luke Gallows & Karl Anderson while they were still hot, the amazing return of The Hardy Boys at WrestleMania 33 and the recent reuniting of The Shield show that WWE have finally realised the importance of the division and the impact that using top names can have. Regardless of the top names involved, RAW is still struggling in terms of how many teams they have at their disposal even with The Revival's recent… revival, but i'll get to that later on. Too many of their teams resemble the teams from those dark days previously mentioned… Titus Worldwide, Heath Slater & Rhyno… whereas SDLive have added yet more big names into their division with the likes of Rusev Day, The Blugeon Brothers, Shelton Benjamin & Chad Gable all helping to raise the bar in some phenomenal multi team matches in recent months.
New Day vs The Uso's
It's impossible to talk about the current tag team scene without mentioning these two teams. When The New Day first debuted they were generally hated amongst fans, a very stereotypical black power/exploitation/preaching sort of group who were booed out of the building every night and only became popular thanks to bright colours, funny catchphrases and silly props. A huge amount of credit goes to Xavier Woods for helping to get the group over with his stellar mic work, but there is no denying the group have a natural chemistry together. They're one of the best example of how to use the Freebird ruling to perfection, using typically heel tactics to gain victories while still remaining face.
The Uso's have always been a fun team to watch. They've always been known for their athleticism, high flying ability and since day one (ish) they engaged well with the crowd and had a distinctive look. Unfortunately for them they happen to be related to Roman Reigns, and suffered a knock on effect from the fans hatred for Reigns' perceived forced push into becoming the guy. Where most guys would have stagnated and never recovered, The Uso's used this negative reaction to reinvent themselves as heels, and they've arguably never been better. The Samoan tribal entrance and bright facepaint are both long gone, replaced by a thug-ish arrogance, a much more aggressive wrestling style and a new found confidence when it comes to promos.
The two teams clashed countless times on RAW, and while the matches were pretty good it did start to get a bit samey after a while. Fast forward to May 2017 when The New Day made their SDLive debut… I can't have been the only one thinking 'oh please god not this again !'. I'm a man of integrity and I will hold my hands up and say I couldn't have been more wrong. Their SDLive rivalry was far and away the highlight of 2017, with phenomenal matches that have saved poor PPV's (Battleground), hilarious promos from both teams (Rap Battle) and an incredible rivalry ending match at Hell In A Cell.
The two teams have consistently brought out the absolute best in eachother and after every match they essentially say to the locker room 'go ahead, top that'. This feud in my eyes was the closest we have come to replicating the quality of the E&C/Dudleyz/Hardys rivalry from the 90's. I just didn't want it to end.
More teams in the mix
This section is sort of both a good point and a bad one. Currently on RAW we have 7 tag teams but for months we've only really seen one rivalry taking place – The Bar vs Rollins & Ambrose/Jason Jordan. The Revival came back recently, bringing with them some real optimism as we were led to believe the division had some fresh legs and new competition… NOPE! Winning matches against local talent and being buried by legends at RAW 25 is not how you build interest in your tag division. Now SDLive… boy oh boy do they know how its done! Rusev Day v The New Day v Benjable (great name again, you're even more welcome) v The Uso's at Clash of Champions was incredible, one of the best matches of 2017 by far but it didn't just work because you had 8 guys involved, it worked because they had great chemistry together. I don't know how many more times I can bare to watch the same match again and again AND AGAIN on RAW regardless of how good the talent involved is.
If it wasn't for their top titles, RAW wouldn't even be the C show at this point. The most notable thing that two of their big stars – Gallows & Anderson – have done in recent months was their match against Heath Slater & Rhyno in a car crash of a Halloween match. This is one of the best tag teams in world not even being used on mid card feuds, the same team who have left a path of destruction everywhere they have been and won plenty of championships on the way. WWE have a veeeeery long history of acquiring as much talent as possible to get the upper hand on their competitors, but then wasting them due to not having the time or space for them. It's difficult to watch such talented guys be underutilized every single week.
Breezango have become arguably the most over superstars on in the whole company over the last year thanks to their hilarious Fashion Files segments, but WWE seemed to forget that these guys are actual wrestlers for a very long time. When they did eventually remember, what did they do? They had them lose a couple of squash matches to The Blugeon Brothers. Imagine how fun a feud between them and New Day could have been ? Or Rusev Day? They've also had run ins with The Uso's in the past which were always entertaining. They have huge potential but as long as Vince McMahon is getting a few extra bucks from t-shirt sales they probably wont get an opportunity.
Another concerning thing is that it's only a matter of time before teams like SAnitY and Authors Of Pain get their main roster call ups. Where exactly are they going to fit in ? WWE either need to make some major budget cuts or involve more teams into both shows title picture. It worked perfectly well at WrestleMania 33 with the Fatal 4 Way Ladder Match and it can work perfectly well again.
The Future
Not only do we have a fantastic tag team division right now but the future is also in very safe hands. Depending on the outcome of their feud with Aj Styles we may well see a proper tag team pairing of Kevin Owens & Sami Zayn, we have only scratched the surface of the insanely over Rusev Day, and we also have a wealth of talent ready to step up from NXT. The Undisputed Era, SAnitY, Authors Of Pain, TM 61, Street Profits… a whole host of great teams who can easily transition onto the main roster.
In SAnitY we essentially have a new Wyatt Family, a charismatic leader with loyal members around him ready to do his bidding. In Authors Of Pain we have a real powerhouse of a team who you can easily see dominating the division because while the current teams are fantastic at what they do we don't really have a team who can manhandle their opponents convincingly. In The Undisputed Era we have one of the hottest talents in the world, Adam Cole, who backs up my earlier point of big names making big teams. Let's just hope WWE don't out-WWE themselves… as long as they don't, the future is looking very bright Bay Bay !
The Broken Road: Plans for Matt Hardy at WrestleMania 34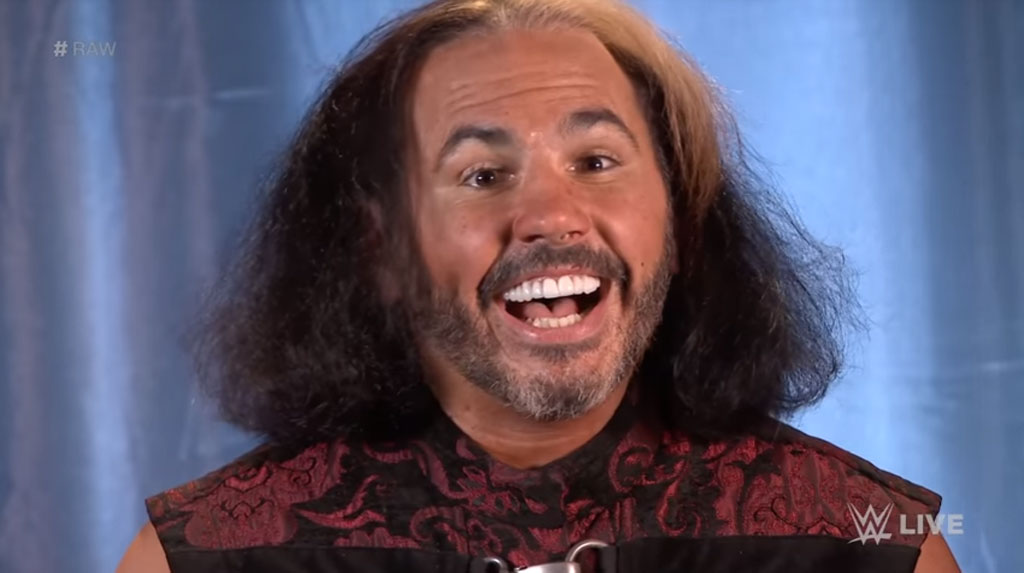 Matt Hardy is still Woken, still bent on deletion and still not reaching his full potential. In the past few months, Woken Matt Hardy has not gained any character development, nor has he done much other than laugh at the camera once in a while. This made me wonder what exactly WWE is going to give Matt Hardy at WrestleMania this year. Unfortunately, judging by the lack of creative direction with the character, it looks as if it could be nothing. Or worse, it could be another three months of the static feud with Bray Wyatt.
Bray Wyatt and His Booking
The Matt Hardy and Bray Wyatt feud has been in effect for a very long time on WWE programming. Possibly too long. The beginning was fiery hot with all sorts of fun promos and an introduction to Woken Matt, but it slowly began to fizzle out when WWE would continuously deny it a proper payoff. The main problem with Matt Hardy and Bray Wyatt was the problem in most Bray Wyatt feuds: a lack of progression.
Bray Wyatt's feuds seem to be a flavor of the month. They're fun and exciting for a few weeks and then they slowly become repetitive and overdone. There is such a thing as too many jumbotron promos. His matches may deliver sometimes, but it seems that WWE gets excited about a new Bray storyline only to forget about it a week later, providing it with no clear direction. Look at Bray Wyatt vs. Finn Balor, they had a few decent matches and there was no incentive to keep the feud going. Sister Abigail was supposed to make her appearance at TLC 2017, but Bray was out for an illness that day and WWE has not pulled the trigger since. Granted it may have gone poorly, but it was something to spice up a dead feud.
In addition, they were granted their first match against each other at Raw 25, which seemed like a big deal, but it really only brought an anticlimactic match finish with no indication of where to go next. They've been thrown in bouts together since then such as the Royal Rumble (where they eliminated each other at the same time) and a recent fatal five way match on Raw where Wyatt ate the pin. Other than those instances and costing each other matches though, what has changed?
The Solution: Storyline Progression
Nothing in this feud is exciting anymore because it is already played out. However, since I do not see any other way for Matt Hardy to get on the WrestleMania card, I believe the feud is salvageable. In order to get this feud to the top of Raw, WWE needs to frame it differently and give it more air time. They should frame it as an eternal struggle between two equal powers. They've already planted seeds of this, but in order to expand they need it to translate to the ring.
I like what they did at the Royal Rumble where they eliminated each other, but I say take it a step further. This needs to be like a bad movie, and to do that it needs some smidge of creativity and over-dramatization from all parties involved. Hardy and Wyatt should have a few matches before a big WrestleMania rubber match, but here's the kicker: there should never be a winner in any of their matches until the April spectacular. I want all the stops pulled. Double count outs, double pins, dual disqualifications, almost as if they know what each other's thinking every single match. That would really ramp up the humor that this feud desperately needs. Of course it cannot be overly repetitive, but each match needs to have a unique stalemate ending.
The Final Payoff
In order to end the rivalry once and for all, they should then have a match at WrestleMania – a falls count anywhere match in order to determine the true superior. To book this, Matt Hardy should go over, therefore recruiting Bray Wyatt to his Woken Wisdom. This would then take the relationship into a whole new direction as Bray can exercise his other creative abilities and not be hamstrung to the same nonsensical character. This could lead to a tag title run and much much more for the two, and Bray Wyatt would officially be Woken (and maybe get Senor Benjamin in there too?).
This storyline needs more layers and depth to become the thing that WWE wants it to be. By taking the correct steps and giving it the time it needs, this feud has the potential to be the most unique thing on WWE television. Until then though, I guess we'll just be hearing laughs.
205 Live Holds The Key To The Future Of WWE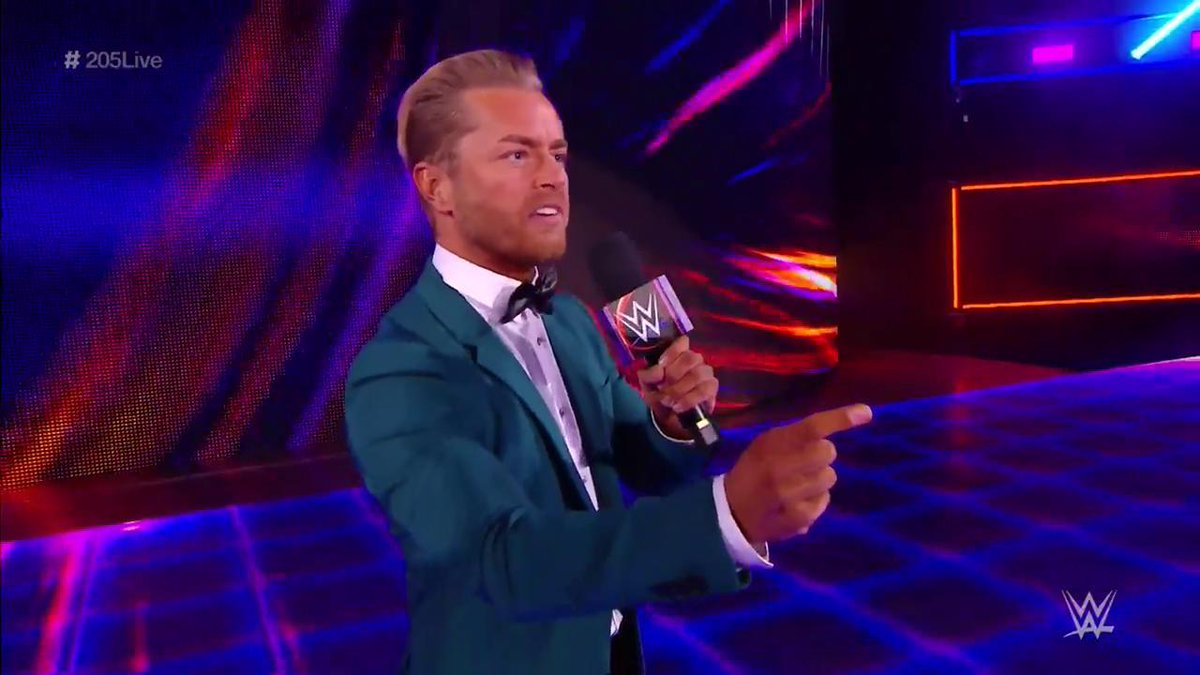 In advance of its debut, WWE 205 Live was promoted as the company's innovative and exciting brand. Sixty-four episodes later, it's living up to that billing and more. What's the "more?" As of today, I'll argue that WWE 205 Live is the company's most important brand.
Since its inception, 205 Live has been a hot topic of conversation among internet wrestling fans. The brand represented so much hope and potential, but also always seemed to be lacking something while living in the shadow of its predecessor, the WWE Cruiserweight Classic.
205 Live: Then
The cruiserweight brand was exciting, but it lacked attitude. The solution seemed to walk through the door when Neville showed up. Neville represented the cross-section between the main roster and 205 Live. He offered a character unlike any on the brand, and it led him to the best work of his WWE career. Neville showed up as the King Of The Cruiserweights, and most seemed to buy in before he even won the championship.
Neville engaged in a feud with Austin Aries, one where many expected the men to at least trade the belt back and forth once. That didn't happen, with Neville always getting the better of Aries in the end. The result of the feud was Aries' departure from WWE, but the bigger surprise was title wins for Akira Tozawa and Enzo Amore over Neville, and the king's untimely departure from the purple brand that followed.
In his absence, a new king emerged. The king of both swing AND talk—but mostly talk—Enzo Amore took the reigns of the brand as Cruiserweight Champion. It represented the "then" more than anything. Enzo is character first, more talk than action, and brought about the brand's biggest departure from the Cruiserweight Classic yet.
After winning his feud with Kalisto, Enzo was on a collision course with new top contender Cedric Alexander. While many fans weren't split on the desired outcome, they were split on what would actually happen. It was unknown if Cedric would be the one to shut Enzo up once and for all.
The answer never came, as the brand's third major personality (along with Neville and Aries) saw an unexpected and abrupt departure from the brand, and in his case, the company.
205 Live: Now
With no champion, 205 Live seemed to be a brand without a direction. After the their first 30-minute episode on January 16, Smackdown General Manager Daniel Bryan revealed that 205 Live would get its direction from an unexpected source: its own general manager.
A week later that general manager was revealed to be a familiar face, albeit one with a new name. Drake Maverick, the former Rockstar Spud, made his 205 Live debut, and immediately took the brand back to its roots. He announced a 16-man tournament to crown a new WWE Cruiserweight Champion at the sport's biggest stage: WrestleMania.
Sound familiar?
This move brought back a focus on the in-ring performers, but it didn't do it at the sake of storytelling. 205 Live instead returned to it's true form of storytelling, that which happens inside the squared circle.
On one episode, the brand was seemingly "fixed" in the eyes of so many. But it took more than one man. It took several, but three are most prominent.
Triple H
Many want to be "in the know" and refer to him as Paul Levesque, but we know Triple H from the ring and our televisions. We don't get to sit in the boardrooms (despite most of wanting to), and that's probably a good thing.
It's been widely reported that Triple H has taken over the reigns of the cruiserweight brand, and it's easy to see the effect. The show has adopted an easy to follow format, simple but in a way that accentuates its biggest strength: the in-ring action.
205 Live follows a fantastic formula: get to know the competitors, watch them compete, and celebrate the winner. From the start, 16 competitors are doing just that with one common goal in mind: winning the Cruiserweight Championship at WrestleMania.
Much like NXT, the Cruiserweight Classic, the United Kingdom Championship Tournament, and the Mae Young Classic, winning matters on 205 Live. It matters more on that brand than any other. The one similarity between each entity listed? Triple H.
Adam Pearce
The one position that many internet fans don't quite understand is the producer. Every show has a direction—or more accurately a vision. It takes a producer, and in Pearce's case a Lead Producer, to make sure that vision translates in the ring. Since the 205 Live "reboot," you can't give Pearce any grade other than an "A+."
Pearce's performance behind the scenes with 205 Live (among WWE's other televised properties) shouldn't be a surprise to an educated fan. For several years he traveled the globe carrying on the legacy of the NWA World's Heavyweight Championship. He can be credited with restoring the prestige of the famous "Ten Pounds Of Gold" through his actions.
You might also know Adam Pearce as the former booker for Ring Of Honor, where he led the product's transition from Gabe Sapolsky into the Sinclair Broadcast era, and infused the missing element of storytelling along the way.
Storytelling is where Pearce is a master. Regardless of the setting, or even the medium, Adam Pearce is a storyteller. It should come as no surprise that some of the most compelling in-ring action takes place on 205 Live, where Adam Pearce serves as the Lead Producer.
Drake Maverick
The aforementioned General Manager is so much more than a figurehead. The man formerly called "Rockstar Spud," a name the announce team hasn't shied away from reminding us about, is more than just a matchmaker. A cruiserweight himself, Drake Maverick serves as the man championing the brand itself.
Everything decision, every declaration, every statement, everything Drake Maverick does is presented in a way to make 205 Live better. Much like everything with 205 Live, this is done with the lowest level of complexity and the highest level of effectiveness.
205 Live: Forever
The journey of 205 Live is much like that of WWE itself. "Then" the company relied on characters to get by, even going so far as to push the importance of in-ring competition to the background.
The phrase "Sports Entertainment" is often met with disdain by hardcore fans, but the moniker shouldn't be shunned. Professional wrestling is the sport, but the spectacle and presentation creates the sense of "sports entertainment" that has influenced a "legitimate" sports promotion such as the UFC.
The phrase "evolve or perish" has been used many times by Triple H, and 205 Live is proof that the spirit of the phrase is alive and well. The cruiserweight brand has a vision through WrestleMania, and it's what happens after that will determine the long-term success of this crew.
This is the future of the WWE televised product, where larger than life characters meet consequential in-ring competition.  The stakes—both storyline and real life—have never been larger. With Triple H, Adam Pearce, and Drake Maverick at the helm, 205 Live (and ultimately WWE) is in very good hands.
How Should WWE Book Ronda Rousey?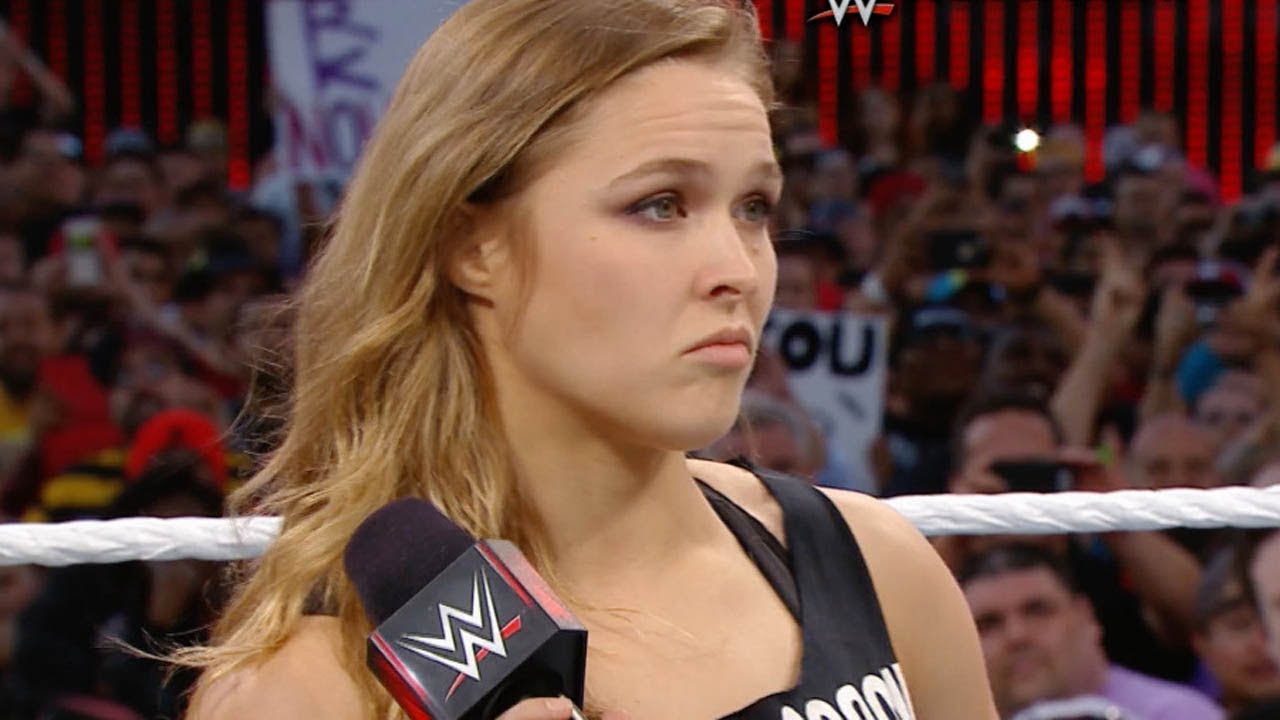 Ronda Rousey joining the WWE was one of the worst kept secrets in recent years, and it was one met with many conflicting opinions. Who would she face? What show does she join? Will she be a full timer or just another Brock Lesnar? Why is she even here? Lets not beat around the bush, her acquisition is a HUGE deal for WWE, despite her UFC career going down the pan she is still one of the most recognisable sportswomen in the world and will undoubtedly bring in more of that sweet dolla dolla that makes Vince McMahon sleep easy at night. But what direction should WWE take with her and how can she be booked without alienating the fans and half of the locker room? Let's take a look at some of the best and most viable booking options…
Four Horsewomen of WWE v Four Horsewomen of MMA
Let's start off with the one which makes the most sense. At this exact moment in time we know how good Rousey in inside the Octagon of UFC, but we have no idea how well she will be able to adapt to the choreographed, dramatic showmanship which WWE prides itself on. Therefore, putting her in the ring with 7 other women would be the best way to paint over the cracks and hide any flaws she might have early on, as the last thing WWE would want is their biggest signing in years looking stupid and having the crowd shit all over her big moment.
This booking also makes sense because of who would be involved in the match. While the crowd may not be overly invested in the MMA ladies (Shayna Baszler, Jessamyn Duke and Marina Shafir) seeing four of the WWE's best female stars compete together for the first time would certainly be a WrestleMania moment and keep the fans interested throughout. There's no doubting the talent and experience of WWE's femme fatale's – Sasha Banks, Charlotte, Becky Lynch and Bayley – and any one of them would be able to help Ronda look good and like a legitimate badass.
Rousey's debut in a WWE ring, and even more so her debut at WrestleMania, needs to be treated like the huge deal which it undoubtedly is. Millions of eye's all over the world will be glued to the event to see what Ronda can bring to the table, so the mainstream appeal of this match makes it the ideal booking for everyone involved and also means that we get to see all of our favourite women involved without necessarily having to have Charlotte defending her title.
Going for the gold
The next most viable option would be Ronda going after one of the Women's Championships… but which one? A lot of this comes down to what WWE choose do with Asuka, we're no closer to finding out who she will be challenging after her historic win at the Royal Rumble and it's a really tricky one to call. Asuka challenging Alexa Bliss, with the potential of Nia Jax joining to set up a triple threat, would free up Rousey to challenge Charlotte over on SDLive. This would arguably be the best 1 v 1 match available, Charlotte has proven time and time again how ridiculously good she is in the ring and she desperately needs legitimate competition after a few months of not exactly setting the place on fire, and she has really struggled to come even close to her fantastic rivalry with Sasha Banks. She has also improved substantially on the mic, which is the area Rousey will likely struggle the most, so Charlotte should be able to carry the feud in terms of promo's with ease.
The other potential match up could be Rousey v Asuka, and a lot of people are getting behind this one but there's one major flaw here… who wins? WWE have built Asuka to be the most invincible force we've ever seen, and while the streak has to come to an end eventually can you imagine the backlash if Rousey was the one to break it? It's going to take a long time for her to settle in and be seen as a legitimate superstar so to have her defeat a fan favourite who made history and happens to have a record breaking undefeated run would do her more harm than anything. At the same time, can you really see Rousey losing at Mania? WWE need to find her someone she can beat with everyone accepting it, or have her involved in a match where she doesn't win but also finishes the match without being the person to take the loss.
For me that could quite easily come in the form of a fatal 4 way for the RAW Women's Championship. We still have nearly 2 months until Mania and plenty of opportunities to shoe horn Rousey in to the title picture by having her ambush various superstars. Not only does this get her on TV and help to build the storyline, it also means she doesn't necessarily need to have a 1 v 1 match in the build up and can save that moment for Mania. Now that we know she is signing her contract during Elimination Chamber, I would have her interfere in the Nia Jax v Asuka match so that Kurt Angle is forced to have all 3 women face Bliss at Mania. Rousey can dominate the match, clean house but be ganged up on by all 3 women and roll out of the ring for a while. Bliss eventually takes the pin from Asuka who wins clean. Everyone is happy. WWE get Rousey bringing in viewers at the biggest event of the year, Nia and Rousey don't look bad in defeat and Asuka continues the streak and wins the gold. BOOM. Book it. Money.
Ladies and Gentlemen…
This one might just be wishful thinking on my part but hear me out for a minute. I've made no secret of my admiration for Paul Heyman (as seen here), the man can spin gold on the mic and gets us so much more invested into Brock Lesnar's rivalries than we really ought to be. But with Lesnar likely to leave WWE when he drops the Universal Championship to Roman Reigns at Mania, what is there left for Heyman to do? Joining forces with Rousey, essentially the female Lesnar, has huge potential. I've heard Rousey speak at press conferences and seen her act in movies and it's a little bit … let's say uninspiring. That's not a dig at her by any means, not every great superstar has been incredible on the mic and she's entering a world in which she has no experience at all, but having the incomparable Heyman working as her mouthpiece is best for business. Lesnar has always been horrible on the mic, so WWE did the right thing by pairing him with Heyman and its didn't exactly do Lesnar any harm now did it?
I can even picture the perfect way for the pairing to be introduced. Rousey enters the ring to sign her contract at Elimination Chamber with Kurt Angle already in the ring. After a little bit of pandering to the crowd and saying how happy she is to be here, Stephanie McMahon comes down to the ring because GOD FORBID she should stay off TV for more than a couple of months. She enters the ring and talks some rubbish about women's revolutions and making history. Steph comments on what happened at Mania 31 (we'll get to that later). Rousey goes to sign the contract but hesitates, grabs the mic and says that she isn't comfortable signing the dotted line without someone there to give it a once over first. She needs her advisor… her trusted accomplice… her advocate.
Regardless of who she faces at Mania, Heyman's inclusion in the program would make it must see TV. The hype he could generate would certainly get people to rally behind Rousey, in the same way they have with Lesnar, when before they may have been sceptical after the way she was introduced at the Rumble, taking away from Asuka's win and the horribly awkward interaction which followed.
Do you smell what The Rock & Ronda are cooking?
This seems like the least likely of the bunch but its still worth mentioning. The WWE Universe will forever love The Rock, and with good reason, so he would be another prime candidate to get the fans to rally behind Rousey. The whole premise of this one would be as a continuation of the interaction which saw R&R (Rubbish I know but I'm sticking with it) take HHH and Stephanie down a peg or two at Mania 31. These are the McMahon's we are talking about here so no doubt some day they will be looking for retribution after being humiliated publically.
Frankly I hope this one doesn't happen, and I struggle to see it coming to fruition regardless of my feelings towards it. The Rock seems to care less and less about WWE now, and in a sense I cant blame him. WWE need The Rock, The Rock does not need WWE. When he first started off in Hollywood it was expected that he would still make the odd appearances and have the odd short term program, such as when he came back to face John Cena. However now that he seems to be in a new movie every other week, what would even be in it for him anymore? It would be a throwaway match that the majority of fans wouldn't care about, and takes up a slot which more deserving superstars could be utilizing.
So to summarise… it doesn't need to happen. It would be a waste of a match/slot on the card. Talented superstars would be overlooked. Most fans wouldn't care. It would only serve to boost Stephanie and Trips humongous ego's. So… you can almost guarantee it'll happen then. because WWE that's why!