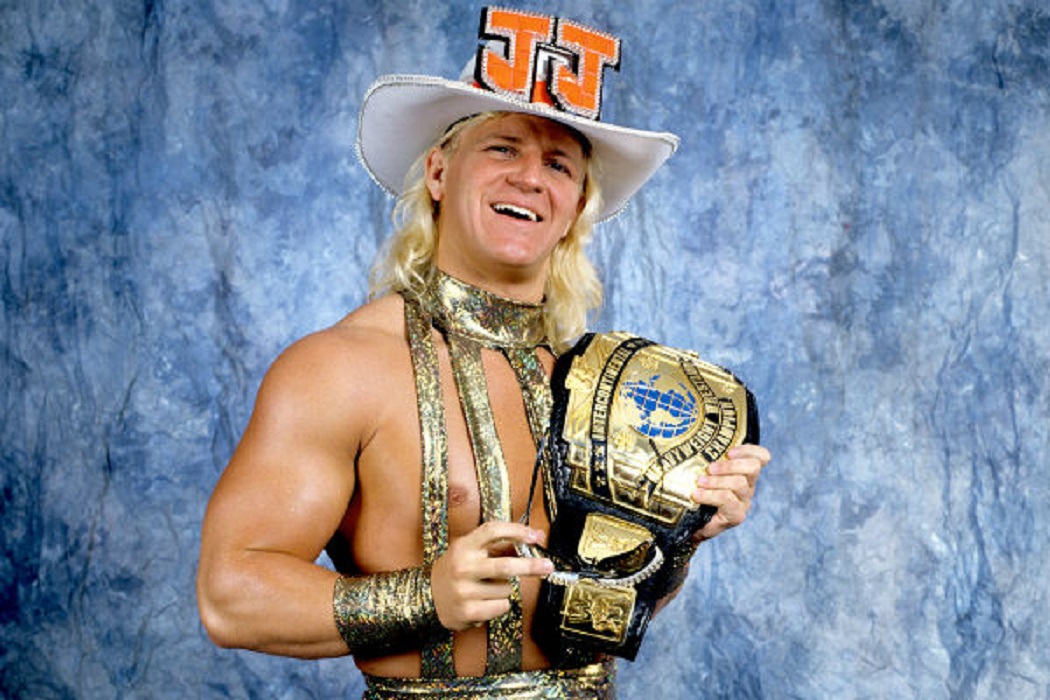 When it was announced that Jeff Jarrett would be inducted into the WWE Hall of Fame class of 2018, I personally saw a lot of online backlash. I myself didn't really understand why he was selected as an honoree. I mean, this guy left the WWE high and dry twice during the Monday Night Wars. Even during the Nitro/Raw simulcast, Mr. McMahon specifically called him out as being 'gone'. Then he also started the company that would become Impact Wrestling, and tried to compete with WWE.
I assumed that Jeff was on that short list of those who blew up the bridge, never to return. Well, it's a good thing I'm not a betting woman, because I would have lost out big on this one. As we get closer to the induction ceremony, I found myself pondering what his qualifications were. So, let's get with the evidence, shall we?
The Beginning
Jeff is a third-generation worker in the wrestling business and began his career in 1986. In the beginning he did just work in his dad's promotions, but he did gain the interest of Vince McMahon. When he debuted in 1993, he was the picture of a 1980's matinee idol. He had the long, luscious blond hair and baby blue eyes. However, I think the best twist was Vince and company had him be a heel. Boy, he was damn good at it too. We would see a similar character development later in the 90s with the debut of Kurt Angle. Kurt, like Jeff, on paper was the biggest white meat babyface. He was so good and pure though, that in the infancy of the Attitude Era, he was a heel.
Jeff's character was a wrestler who also happened to be an aspiring country music singer. His grand plan was to use the WWF as the stepping stone to launch his music career into the stratosphere. In addition to the big hair and blue eyes, he had the lighted flashing hat and entrance garb, did the Jackie Fargo strut, and spelled his name out condescendingly. "J-e double f, J-a- double r – e – double t! Ain't I great?" The cherry on the sundae was the ha-hah! at the end. It was so easy to hate. I remember this vividly from my childhood.
Memorable Moments – First Run
When I went to really think about the actual performance by Double J, I really couldn't remember anything significant from this era. So, I went back and watched the opening match to WrestleMania XI in 1995. He challenged Razor Ramon for the Intercontinental Championship. This match surprised me. I didn't expect to be drawn into a Jeff Jarrett match, and I found that I enjoyed it quite a bit. There was fire, there was emotion and intensity, the work was pretty damn good. The crowd was even super into it. Dave Meltzer is famous for his ratings, and while I don't know what he rated this match, I decided to come up with my own rating system. I give this one 3 out of a possible 5 diamonds.
The major storyline for Double J was he was a country singer, so they introduced his now infamous song, 'With My Baby Tonight'. The storyline payoff never happened on air, sadly, as Jeff left the WWF after the 1996 Royal Rumble. The Roadie (played by Brian 'Road Dogg' James) left along with him, however he returned before Jarrett and did the big reveal that he was the one who actually sang With My Baby Tonight. I really do wish we had been able to get the Battle of the Double J's, as it would have been Jeff Jarrett versus Jesse James, to see who the "real" Double J was. Bruce Prichard covered this extensively in his podcast on Jeff Jarrett in the WWF, which is episode number 65. Highly recommend it as well.
Memorable Moments – Second Run
When Jeff first returned back to the WWF, he resumed his old Double J character, this time with the addition of a manager. Tennessee Lee was at his side, and people mostly remember his other character in wrestling, Col. Robert Parker. There was the failed NWA 'invasion' angle, and then the addition of Southern Justice as Jarrett's bodyguards. Like with Lee, people more remember Southern Justice as other characters. They had been the hog farmin' Godwinns, as well as Tex Slazenger and Shanghai Pierce. Aside from this, I really don't remember any significant character storylines, save one. The rather infamous man versus woman angle he did in the last angle of his second WWF tenure with Chyna. I did like him teaming with Owen Hart, as Owen elevated his stock which was already substantial as far as his in-ring work is concerned.
The Next Chapter?
And as far as TNA goes, I think we all know the TNA story almost too well now. I will give him credit though, for trying to create a new promotion to offer an alternative to WWE. There were many ups and downs and I daresay the story of TNA is better than any roller coaster ever. It's very easy to sit at our devices and play armchair quarterback and give quips, tips and insults. It's an entirely different can of worms when it's your company, your work and your money on the line. Then there's also Global Force Wrestling, which I don't know if anyone knows what is going to happen there. So I will take Jeff Jarrett, good and bad, and congratulate him on a pretty damn good career, and hopefully there is another chapter.
Jeff Jarrett Destroys Fabulous Moolah With A Guitar! pic.twitter.com/bYtnVrow3D

— Brian The Guppie (@briantheguppie) March 13, 2018