Chairshot Classics: NWA Starrcade '83 – A Flair For The Gold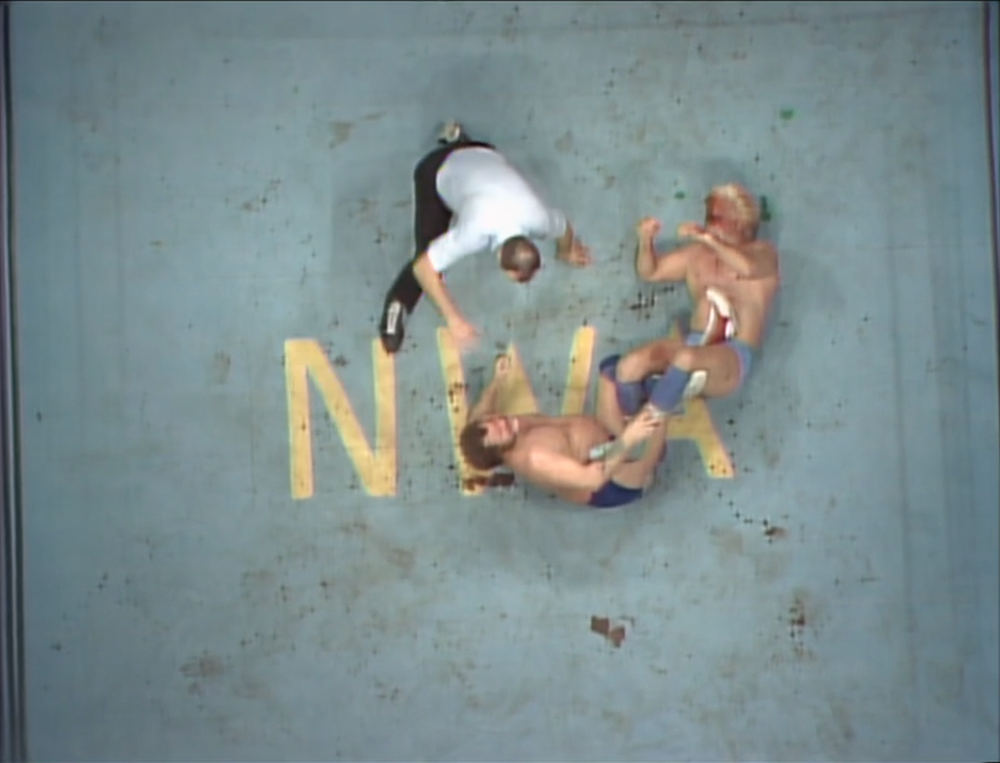 Let the nostalgia begin with the start of this new series covering classic NWA and WCW pay-per-views! We will be opening things up where it all really began, the first ever "supercard" produced by the National Wrestling Alliance and Jim Crockett Promotions. This event was actually before the advent of what we know today as "pay-per-view" and the broadcast was mostly only available in southern states through closed circuit television. For those wanting to see it live, you'd buy tickets to show up at local arenas and watch on a big screen. Quite a far cry from today where everything we get is streamed directly into our homes and honestly, crazy to think you'd ever have to do that with all of our current luxuries.
There's nothing showy, we get no pomp and circumstance to begin the show and head directly into the ring where the combatants for our first match-up are ready to go…
Match #1: The Assassins (#1 & #2) w/Paul Jones vs. Bugsy McGraw & NWA Mid-Atlantic Champion Rufus R. Jones
Bugsy and Assassin #1 start things off. They lock up, #1 with a side headlock, irish whip into the ropes and shoulder knockdown on Bugsy. Back to the ropes, Bugsy with a hip-toss. He misses an elbow, but #1 misses one of his own and Bugsy hits a body slam. He goes for the mask, but #1 rolls out of the ring and takes a breather. The ref only gets to 3 before #1 is back in the ring. Another lockup, as #1 takes the advantage with a knee. Irish whips Bugsy into the ropes, Bugsy ducks a backhand and hits a jumping elbow knocking The Assassin down. He goes for the mask again, both men back up and we get a slugfest with Bugsy getting the better end of it. #1 is down and he makes the tag to #2. They lockup and go into the same spot that started the match except Bugsy ends it with another body slam followed by a hip toss.
Tag into Rufus R. Jones and he's a house of fire, connecting with rights, chops and an elbow while shucking and jiving. Irish whips #2 and connects with a big gut punch that gets a 2 count. Rufus picks #2 back up, hits a hip toss and follows with a wrist lock. #2 tries to break free with a right hand to no avail. Rufus keeping the pressure on tags Bugsy back in who maintains the wrist lock. #2 gets in some rights before backing Bugsy into his corner and tagging in #1. Bugsy fights off a double team with rights and an elbow. They lock up and #1 grasps Bugsy in a wrist lock. Bugsy counters with one of his own and tags Rufus back in who keeps the wrist lock going. He keeps working the arm with headbutts. Rufus breaks it and a knockdown on #1. Backs #1 into the corner and a big irish whip to the opposite corner takes #1 down. #1 able to gain an advantage with some eye rakes.
He tags in #2 who continues to go after the eyes. Right hands on Rufus, but he shakes them off and mounts a comeback with rights and headbutts. Rufus crawls to his corner and makes the tag to Bugsy who goes to work on both Assassins with rights and elbows. Big right on #2 knocks him down and now #1 and Rufus jump into the ring and we get a brawl. Bugsy with an atomic drop on #2 as Rufus shoulders #1 back out to the apron. Bugsy with an irish whip followed by a back body drop on #2. #1 comes into the ring from behind with a schoolboy roll-up on Bugsy and gets a 3 count for the win.
Winners: The Assassins (Assassin #1/Schoolboy)
EA's Take: I'm going off the assumption that anyone reading this is not overly familiar, if at all, with either of these duos. Not unless you watched late-1980's/early-1990's WCW when one of The Assassins was a manager. In a time before the big, bold characters that the WWF would present, Bugsy plays some of that role and serves as the entertainment for this contest. There was some decent action throughout with McGraw really pushing the pace early. Rufus wears one of the most forgotten about titles in history and comes off as a poor-man's version of Junkyard Dog if this is your first time seeing him. A lot of striking fills out Rufus' move-set (which there will almost certainly be a lot of throughout the show) and the inevitable, but confusing, switch from The Assassins gets them a win. Which literally happened right in front of the official.
Match #2: Johnny Weaver & Scott McGhee vs. Kevin Sullivan & Mark Lewen w/Gary Hart
Sullivan and McGhee start us off. Sullivan with a waist lock takedown. They quickly go into the ropes, Sullivan goes for a back body drop, but McGhee hops over and hits consecutive dropkicks. Sullivan tags in Lewen. They lock up and Lewen backs McGhee in the corner, but he ducks an elbow and escapes. Lewen tags Sullivan back in. They lock up, McGhee with a side headlock as he tags in Weaver. Weaver continues with a side headlock. Sullivan irish whips Weaver to the ropes and they go into a criss-cross. Weaver feigns a big right, but Sullivan hangs onto the ropes to avoid it. Tag back into Lewen. Lewen and Weaver lock knuckles with Lewen applying a wrist lock only to be countered by Weaver into one of his own. He works Lewen's arm with a couple elbows and tags in McGhee.
Double axe handle to Lewen's arm and McGhee continues the wrist lock. Lewen with a brief counter into one of his own, but McGhee escapes. They lock up and Lewen with a top headlock tags in Sullivan. Sullivan with a snapmare into a wrist lock and he works over McGhee's arm. He tags Lewen back in who connects with a chop to McGhee's arm and goes back into a wrist lock. Another quick tag to Sullivan who comes in with a running knee to McGhee and goes back to a wrist lock. Another tag to Lewen and he applies a version of a bow and arrow. McGhee makes a tag, but Sullivan had the ref distracted and he sends Weaver back out. Sullivan and Lewen with a double team behind the ref's back with Sullivan nailing a nice looking jumping knee. Sullivan comes in without making a tag and goes back to a wrist lock. They're really working that arm of Scott McGhee.
Tag back to Lewen who hooks a front face lock. Yet another tag to Sullivan. McGhee tries to mount a comeback, but is stopped by a headbutt from Sullivan. Tag to Lewen who rakes the back of McGhee and then applies a nerve hold. McGhee crawls to his corner to tag, but Lewen stops him by grabbing the hair and pulling him back to his own corner. Another tag to Sullivan. Sullivan goes to ram McGhee's head into the turnbuckle, but he blocks it and rams Sullivan. He makes the hot tag to Johnny Weaver who knocks around Sullivan and Lewen with right hands. Into the corner and Weaver hits a running bulldog on Sullivan for a 2 count. Lewen breaks it up.
Weaver goes for another running bulldog, but Sullivan counters and pushes him off. Lewen in with a couple kicks on Weaver before heading back to the apron where Sullivan tags out, making Lewen the legal man. Lewen with a few kicks and he tags Sullivan back in. Wrist lock on Weaver and another tag to Lewen who maintains the wrist lock. Tag to Sullivan, still maintaining the hold and we get a brief double team wrist lock on Weaver. McGhee comes in to stop the double team, but distracts the ref which allows it to continue. Lewen with a top rope knee drop on Weaver while Sullivan holds the arm. Lewen goes for the cover and gets 3 for the victory.
Winners: Mark Lewen & Kevin Sullivan (Lewen/Top Rope Knee Drop)
After The Bell: Scott McGhee comes in and attacks the heels, hitting a dropkick on Gary Hart in the process. Hart pulls something out of his boot and Sullivan and Lewen go to town on McGhee's head, busting him open. Angelo Mosca comes in to help, but he gets lacerated with the object as well. McGhee is bleeding profusely as Lewen and Sullivan continue the beating until Mosca gets back to his feet and clears the ring.
EA's Take: Clearly, Kevin Sullivan is the most remembered name in this contest and was very well known at this time for his dark persona, mostly in Florida. One thing you will continue to see a lot of in comparison to what the WWF would be doing is the pacing. I mentioned it in my take for the first match and we saw some more of the same early before it would slow down. Beginning with two straight tag matches is a bit of a puzzler, but you'll also notice the classic tag team tactics which seem to be lost at times on today's talents. You know, the kind of stuff that The Revival is always badgering on about!
Match #3: Carlos Colon vs. Abdullah The Butcher
Collar and elbow tie up with Abdullah getting Carlos into the corner. Abdullah appears to have pulled a foreign object from his tights already and he lays Carlos out with it. Abdullah with rights and headbutts followed by a choke in the corner. More rights and headbutts with Carlos unable to get anything going. Irish whip to the ropes and Abdullah hits a clothesline and follows with an elbow drop for a count of 2. Abdullah with a throat shot and he rakes at Carlos' face. Carlos finally able to mount some offense with a series of rights, backing Abdullah into the corner. Carlos grabs the foreign object from Abdullah and gives him a taste of his own medicine.
Carlos works Abdullah over with it, busting him open. More rights to the cut and he even bites Abdullah on the forehead. Carlos is really beating Abdullah with that object, making Abdullah the proverbial crimson mask. Irish whip to the ropes and Carlos knocks Abdullah down with a big right to the gut. Jumping leg drop and elbow drop to Abdullah for a 2 count. As Abdullah kicks out he throws Carlos onto the referee. With Carlos still on top of the ref, Abdullah goes for an elbow drop, but Carlos moves and Abdullah nails the referee. Referee is laid out as Carlos hits a succession of right hands followed up with a drop kick, taking Abdullah down. Carlos now working on Abdullah's knee and he applies a figure four. Somebody just entered the ring and smashed Carlos. It was Hugo Savinovich. Abdullah crawls over for the cover and gets the 3.
Winner: Abdullah The Butcher (Interference)
EA's Take: From the "shining star" of the Caribbean comes the WWE Hall Of Famer Carlos Colon, father to Primo and Carlito, uncle of Epico. This is a classic rivalry in Puerto Rico where Carlos is essentially the embodiment of pro wrestling. It makes sense that the NWA would want this a part of their "supercard". The kind of violence it presented, albeit a little tame compared to their work on the island, is not common place (Yes, I realize we've already seen this is now multiple blade-jobs. Different matter altogether). Do yourself a favor and peep some highlights of any Butcher/Carlos matches from Puerto Rick if you can find them. You'll see the difference.
Match #4: Chief Wahoo McDaniel & Mark Youngblood vs. Dick Slater & Bob Orton Jr.
Wahoo and Slater begin the match. Collar and elbow tie up the corner with Slater getting a small advantage. Wahoo whips him into the corner and Slater hops up over the corner to the apron. Back in the ring another collar and elbow tie up. Slater with a wrist lock, but Wahoo counters into one of his own and drags Slater to his corner to tag in Youngblood. Youngblood with a leg drop to Slater's arm and he applies a wrist lock. Slater counters with an irish whip, but Youngblood then counters and hits a body slam. Back up, Slater with a double leg takedown rolls over into a cover for a 2 count. Both men up and we get a standoff. Collar and elbow tie up into a hammer lock by Slater, countered into one by Youngblood. Slater picks the leg, but Youngblood kicks him off and over the top rope to the apron. Slater wants a DQ for going over the top, but the ref won't give it to him. Youngblood and Slater lock knuckles as Slater gets the advantage and executes a Russian leg sweep on Youngblood.
Front facelock as he backs into his corner and tags Orton in. Orton off the ropes with a big knee to Youngblood. Orton grabs Youngblood in a military press and drops him down into a backbreaker, tossing Youngblood away like a rag doll. Wahoo begins to come in, but is quickly stopped by the ref. Orton with a snapmare and he hits the ropes looking for an elbow drop, but Youngblood moves. Orton slides to the outside and Youngblood gives chase. Orton off the ropes, but Youngblood with a hip toss. Orton with a quick strategy session with Slater in the corner. Collar and elbow tie up into a side head lock by Orton. Irish whip into the ropes and they go into a short criss-cross with Orton making a blind tag to Slater.
Orton with a backbreaker as Slater enters the ring and hits an elbow with Orton propping Youngblood up. Slater hits some big punches followed by a gutwrench suplex for a count of 2. Slater throws Youngblood to the outside where Orton takes advantage and works him over with boots. Wahoo tries to intervene, but again the ref stops him. Orton grabs Youngblood into a backbreaker over the steel barricade. Wahoo checks on Youngblood who gets into the ring with Slater laying in wait. Slater with a headbutt and a boot, then tags Orton in who applies a crossface type move. Youngblood is able to get out with shots to the gut and hits the ropes for a shoulder knockdown on Orton. Back to the ropes, but Orton counters with a big boot to the mush, knocking Youngblood back down. Orton with a side head lock tags in Slater. Youngblood with a short comeback, but is prevented from making the tag by Orton.
Slater sends Youngblood to the ropes and hits a big elbow. Slater follows it up with a vertical suplex for a 2 count. Slater attempts a piledriver, but Youngblood counters with a back body drop. Youngblood into the ropes and he runs into Slater, colliding heads. Both men are down, as Youngblood crawls towards his corner to try and tag. Orton comes in to stop it, but he's too late and in comes Wahoo McDaniel. Big chops to Orton and Slater, followed by a noggin knocker. Irish whip to Orton in the corner followed by a big gut shot. Inverted atomic drop on Orton and Wahoo is really cooking now. Irish whips Orton and hits a body slam for a 2 count. Orton is able to get to his corner and tag in Slater who stops the onslaught by Wahoo. Slater and Wahoo exchange rights with Wahoo gaining the advantage until taking a shot to the gut by Orton on the outside.
Slater hits a belly to back suplex for 3 consecutive 2 counts. Tag back to Orton for a double team back elbow. Orton driving the point of his elbow and knee onto a prone Wahoo for a 2 count. Tag to Slater who goes to the top while Orton holds Wahoo. Wahoo moves and Slater nails Orton. Wahoo with an atomic drop on Slater, sending him flying into the wrong corner where Youngblood is waiting with right hands. Tag to Youngblood and he and Wahoo hit a double team chop on Slater. Orton comes in with a knee to Wahoo's back sending him to the outside as Youngblood works on Slater.
Slater gets a tag to Orton who slows Youngblood down, but not for long as he hits multiple dropkicks to Slater and Orton. Slater and Wahoo brawl on the outside as Youngblood irish whips Orton into the ropes. Youngblood goes for another dropkick, but Slater grabs Orton from the outside which prevents Youngblood from connecting. Slater jumps in and he and Orton double team Youngblood, propping him onto the turnbuckle. Orton goes up with Youngblood and hits a superplex, followed by a cover and a 3 count giving his team the win.
Winners: Bob Orton Jr. & Dick Slater (Orton Jr./Superplex)
After The Bell: Wahoo is in going to work on Slater and Orton. Slater gains the advantage on Wahoo and they double team him. Slater holds Wahoo's arm under the bottom rope as Orton climbs the turnbuckle and hits a knee onto Wahoo's arm on the outside.
EA's Take: That's three tag matches out of the four to start the show, an interesting route to take to say the least. If you're going to have a "supercard" however, I guess you want to get as many guys on the show as possible. Seems to me like they should be a little more spread out though. Also, the heels have now one four straight…possible foreshadowing? Regardless, I'd find it hard pressed for anybody to not take notice of Slater, but more particularly Orton. Dick Slater is certainly a forgotten star and a guy who could really do it all. Orton on the other hand, even being a WWE Hall Of Famer, is still vastly underrated in my eyes (Do I smell a future Underrated Files? Perhaps). Of course he would be most known for playing Roddy Piper's sidekick in years to come, but he is about as smooth in the ring as they get. Just watch everything Orton Jr. does here and you will clearly see that his son, Randy, did not get his gifts from the man upstairs, but from his family.
Match #5 is a Title vs. Mask Match for the NWA Television Championship: 'Downtown' Charlie Brown vs. NWA Television Champion The Great Kabuki w/Gary Hart
Charlie Brown is actually Jimmy Valiant for those that are not aware. Charlie kicks it off with big rights sending Kabuki to the outside. He slams Kabuki into multiple ring posts and then goes to work on Kabuki with a chair. Rolling Kabuki back in, Charlie wraps Kabuki's legs around the post and crotches him on it. He drags Kabuki by the legs to the center of the ring and connects with a low blow behind the refs back. Irish whip into the ropes and Charlie locks on a sleeper on Kabuki. Charlie has it locked on good as Kabuki appears to be going out before escaping with a rake of the eyes. Charlie ducks a chop by Kabuki and goes right back into the sleeper, dropping Kabuki down to the mat again.
Gary Hart reaches into the ring and rakes Charlie's eyes behind the refs back to help Kabuki escape the hold once again. Both men up and Kabuki nails a couple martial arts kicks before sending Charlie into the ropes and applying a claw hold. Charlie gets out of it as both men go into opposite ropes with Charlie hitting multiple back body drops before Kabuki ends the run with a martial arts kick. Kabuki to the second rope and he comes down on Charlie with another claw hold to the head. Kabuki really has it locked in. Charlie finally fights back to his feet before hitting right hands and a boot. Irish whips Kabuki into the corner and follows him in, but Kabuki hits a boot to stop the threat. Kabuki up to the top rope comes down on Charlie with yet another claw hold. The ref checks Charlie's arm and it hits the mat twice. Ref gets a count of 2 before Charlie kicks out.
Kabuki lets go of the claw, climbs the top rope and comes down with a chop to the head for another 2 count. Kabuki is going for Charlie's mask, but the referee stops him. Both men up, but Kabuki with a knockdown off another martial arts kick. Kabuki with rights, but Charlie starts to come back as he hits the ropes and gets a knockdown off a right hand. Charlie irish whips Kabuki into the corner, but Kabuki reverses sending Charlie in. Kabuki tries to follow with a kick, but Charlie moves and Kabuki hits the mat. Charlie off the ropes with an elbow drop on Kabuki and he picks up the pinfall and the W.
Winner: New NWA Television Champion 'Downtown' Charlie Brown (Elbow Drop)
EA's Take: Very unique stipulation to this match with the TV Title being on the line against the mask, but only for the first fifteen minutes if I understood the ring announcer correctly. I suppose that doesn't matter since we finish up around the ten-minute mark. So here's the spoiler alert of the century; Charlie Brown is Jimmy Valiant, who had previously come up short in a Loser Leaves Town match against Kabuki. Thus, we get Valiant in a mask and everyone who has working eyes is aware it's him. This gives the match a little bit of entertainment value because of the over-the-top charisma from Charlie Brown. The in-ring work's not great and the finish is a bit confusing since you don't really know if there was a title change with no time updates from the announcer.
Match #6 is a Non-Title Dog Collar Match: 'Rowdy' Roddy Piper vs. NWA United States Champion Greg Valentine
Both men have a leather collar around their necks with a steel chain attaching to one another. They start off with a tug of war of sorts using just their necks before starting to pull in on the chain. Piper with a quick shot on Valentine with the chain and they back off to opposite corners again. Both men coming in close again and Valentine misses multiple shots on Piper with the chain before they both back off once again. Standoff in the center of the ring and they exchange rights before backing off again. Both men creep in before Piper hits a chain shot pushing Valentine into the corner. Multiple rights and chain shots on Valentine. Valentine gets tangled with the chain going between his legs, Piper picks up the slack real quick delivering a low blow on Valentine. Another chain shot to Valentine and he falls to the mat. Back up and Valentine takes control with rights, elbows and chain shots. Snapmare on Piper with the chain and Valentine wraps the chain around Piper's face, dragging it across his eyes.
Valentine with a couple shots in the corner, but Piper counters with the chain and a knee lift. Snapmare on Valentine and now Piper wraps the chain around Valentine's mouth. Piper over to the corner and he wraps the chain around the post, using it like a winch choking Valentine in the corner. Piper is vicious right now with right hands and even biting Valentine in the corner. Valentine's been busted open, but he comes out of the corner with a vengeance, choking Piper with the chain. Both men to the outside and they start to whip each other with the chain. Piper up on the apron and he takes the tension up on the chain, hanging Valentine by the neck. Valentine is able to counter with a chain shot that catches Piper in the ear, but also knocks down the referee.
Still out on the apron and Valentine is going to work on Piper's ear using right hands, the chain and even the steel ring post. Piper's bleeding bad from his ear. Valentine rolls back into the ring as Piper has trouble standing on the outside. Valentine pulls Piper back in the ring and continues working on the bloodied ear of Piper with the chain. Piper finally gets back to his feet only to be pummeled by Valentine on the ear in the corner. Valentine sets Piper up for a suplex, but Piper counters with the chain wrapped around his hand. It's a short comeback as Valentine goes back to the ear, laying Piper out again. Valentine with an elbow drop gets a count of 2. Another elbow and another 2 count. Valentine goes for a third elbow, but Piper tightens up on the chain and drops Valentine.
Piper back to his feet charges Valentine and tackles him to the mat, following it up with a flurry of right hands and boots. Piper sees the blood coming from his ear and begins to go berserk on Valentine with the chain. Valentine goes back to the ear, but Piper comes back with more rights to stop Valentine in his tracks. Valentine back up wraps the chain around Piper's neck. Irish whip and Valentine knocks Piper down with a clothesline. Big knee drop by Valentine for back to back 2 counts. Valentine goes for a suplex, but Piper counters into one of his own and they double down. The ref gets to 8 before both men are up and we get a slugfest. Valentine whips Piper into the corner and follows it up with a sleeper hold. Piper wraps the chain around his fist while in the sleeper and connects on Valentine to break the hold. Valentine up to the second rope comes down with an elbow. Valentine up to the second rope again, but this time Piper pulls him off using the chain, lasso's Valentine's legs up and covers for a count of 3.
Winner: 'Rowdy' Roddy Piper (Chain-Assisted Pinfall)
EA's Take: Aside from the main event, this is by far the most remembered match from the inaugural Starrcade and if you were to introduce someone new to wrestling with a list of matches to check out, this should be on there. A little unusual that the title's not on the line, but it was about more than that. The issues between Piper and Valentine were personal and this brutal dog collar match fully encompassed that. In case you don't know the story, Valentine legit busted Roddy's ear drum and lose at least 50% of his hearing. Valentine was quoted in the WWE Roddy Piper documentary as saying, "Roddy Piper is a tough guy. He may not look it, but that is a tough guy". Piper would also add, "To do another one of those man…whew, that's tough". For the younger readers out there who may wonder why Greg Valentine is a Hall Of Famer, I present to you Exhibit A. Also, this is a perfect example of how to have a hardcore-like match and still tell a great story.
Match #7 for the NWA World Tag Team Championships w/Special Referee Angelo Mosca: Jay Youngblood & Ricky Steamboat vs. NWA World Tag Team Champions The Briscos (Jack & Jerry)
Steamboat and Jack kick it off with a collar and elbow tie up, with Steamboat backing Jack in a corner and getting a clean break. Another collar and elbow with Jack putting Steamboat into a side head lock. Irish whip into the ropes and Steamboat with a couple of hops over Jack before going for a chop, but Jack saw it coming and hangs onto the ropes. Another lockup and Jack with a wrist lock, tags in Jerry who keeps the wrist lock on before a drop toe hold by Steamboat. Jerry quickly tags Jack back in who gets control with a hammer lock. Steamboat gets out by flipping backwards over Jack and hits an arm drag. Jack back tags Jerry in. Another lockup and Jerry gets the advantage, backing Steamboat in the corner and hitting right hands. Mosca in between to break it up, but Jerry back in with a front face lock on Steamboat. Mosca gets in the middle of it again to break it up.
They lockup in the center with Jerry whipping Steamboat in the corner. Steamboat counters and hits a couple chops before a side head lock on Jerry and a tag to Youngblood. Youngblood with a side head lock takedown on Jerry and then they get backed into the corner before Mosca breaks them up. They lock knuckles and Youngblood gets a hammer lock on Jerry. Jerry goes for a body slam, but Youngblood hangs onto the arm and gets a 2 count before dragging Jerry over to tag in Steamboat. Youngblood has the arm as Steamboat climbs to the top and hits a big chop. Another quick tag back to Youngblood who hits a chop off the top of his own for another count of 2. Into the opposite corner, Youngblood knocks down Jack on the apron before ramming Jerry into the turnbuckle and tagging Steamboat.
Steamboat charges Jerry, but he counters with boots before tagging Jack. Jerry holds Steamboat for Jack to hit some right hands. Jack has Steamboat over his shoulder and throats him across the top rope. Rear chin lock by Jack on Steamboat. Steamboat fights back to his feet, before getting out of it with a couple elbows. Shoulder knockdown on Jack, Steamboat into the ropes again as Jack leapfrogs him and then hits a back body drop. Jack tags Jerry who comes in and hits a double underhook suplex. He follows it up with a waist lock into a bridge for consecutive 2 counts on Steamboat. Steamboat back up again, but Jerry with a hip toss into a key lock. Steamboat gets up to his feet and he uses brute strength to lift Jerry off the mat into a slam to escape the hold. Jerry tags Jack and tries to prevent Steamboat from tagging, but he gets there anyway and in comes Youngblood.
Youngblood really working over Jack, goes for a suplex but Jack counters and hits one of his own. Tag to Jerry and we get a double team, irish whipping Youngblood into the ropes for a double shoulder tackle. Jerry comes in and gets a 2 count, but Youngblood's foot was on the ropes. Jerry with a vertical suplex for another 2 count. A couple left hands by Jerry, then into an abdominal stretch pinning combination for a count of 2. Jerry is upset with the referee, Angelo Mosca, so he gives him a shove. Mosca doesn't appreciate it and shoves Jerry back, knocking him to the mat. This gives Youngblood a chance to recover and make the tag to Steamboat.
Steamboat to the top with a chop to Jerry. Jack comes in, but he catches a right hand for his troubles and Steamboat goes back to work on Jerry. Irish whip into the ropes and Steamboat nails Jerry with a double chop. Tag to Youngblood and they double up on Jerry, sending him into the ropes for tandem chops. Tag back to Steamboat, they send Jerry into the ropes. Steamboat picks Youngblood up for a dropkick on Jerry, before Youngblood goes back on the apron. Chop to Jerry and another tag to Youngblood. Steamboat with a body slam to Jerry, Youngblood hits the ropes and Steamboat picks him up into a military press over Jerry's prone body. Steamboat drops his partner into a splash onto Jerry and Youngblood gets a count of 3 and we have new champs.
Winners and NEW NWA World Tag Team Champions: Jay Youngblood & Ricky Steamboat (Youngblood/Combo Press-Splash)
After The Bell: Jack comes in and attacks everyone except for his brother Jerry, including referee Angelo Mosca. The Brisco's double team Mosca, sending him into the steel post. Jerry locks a figure four onto Steamboat while Jack hits a big splash. Jack now up to the top goes for another big splash, but Mosca is back up and catches Jack in the air. Youngblood is back in the ring, now he and Steamboat go to town on The Briscos and clear the ring.
EA's Take: The recipe for wrestling goodness; you take some Ricky Steamboat, add a pinch of the lesser known ingredient called Jay Youngblood, then top it off with a helping of The Briscos. Three out of four Hall Of Famers comprise the combatants and if it weren't for his unexpected, premature death, Youngblood had a shot at being one too. Steamboat's accolades speak for themselves, but not many are familiar with how good of a tandem he formed with Youngblood. They meshed perfectly with the veteran Briscos, both of whom were winding down their in-ring runs. Jack and Jerry aren't completely done after a post-match ambush, but two former NWA World Champions just put over two younger stars. That's how it should be!
Match #8 is a Steel Cage Match for the NWA World Heavyweight Championship w/Special Referee Gene Kiniski: 'Nature Boy' Ric Flair vs. NWA World Heavyweight Champion Harley Race
We're finally set for the main event of the evening. Collar and elbow tie up and Flair takes the advantage with a side headlock takedown. Race escapes and we get a brief standoff. They lockup with Flair taking control with another side headlock. Race backs him into the ropes and Kiniski forces a clean break. Another lockup and Flair hits a knee followed by a snapmare into a rear chin lock. Race turns into it, making it a side headlock. He whips Flair into the ropes and hits a jumping knee, knocking Flair down. Race goes for his patented falling headbutt, but Flair moves, hits a chop and gets a cover for a 1 count. Flair in control again with a side headlock takedown as he grounds Race. Race rolls Flair over into a pinning predicament, but only gets a 1 count before Flair rolls back over putting the pressure back onto Race.
Flair floats over and gets a 2 count, before turning it into a front face lock. Race counters and hits a vertical suplex for a count of 2. Race with an attempt at an elbow drop, but Flair moves. Flair goes for a body slam, but Race shifts his weight into a pin and gets another 2 count. Race starts working over Flair with knees and a choke until Kiniski grabs Race and pulls him away. Race rams Flair into the turnbuckle and hits some clubbing blows before going back to the choke. Kiniski again gets involved, shoving Race off of Flair. Race sets up Flair for a piledriver and he hits it. Elbow drop on Flair followed by a cover and a 2 count. Race with a swinging neck breaker only gets a 2 count again. More knees to the head of Flair, then Race lets Flair up only to ram him face first into the cage. Race picks Flair up and hits a slam for another 2 count.
Flair starts to fire back with gut shots, but Race stops him with a head butt, followed by a falling headbutt to a laid out Flair. Flair gets smashed into the cage multiple times and now he's been bloodied. Race is choking Flair in the corner, but Kiniski pulls Race out of the corner once again which allows Flair to get a couple shots in. To the other corner and now Kiniski pulls Flair out, which lets Race get a shot in and take the advantage. Race with a whip into the corner, but Flair reverses sending Race into the cage. Now Race is busted open and Flair starts his assault with shots to the cage. Snapmare on Race, followed by Flair's knee drop.
Flair with a piledriver of his own, but he only gets a count of 2. Flair with a neck twist, then a double underhook suplex for a 2 count. Race goes face first into the cage a couple of times and Kiniski is getting involved yet again, which gives Race time to gain control. He drags Flair's face across the cage like a cheese grater before Kiniski drags Race off. Flair is sent into the cage yet again, but this time he gets a rush of adrenaline and fights Race off. Flair gets a 2 count before going to town with right hands on Race and giving us a "Woo!" followed by a strut. Flair gets Race in the center of the ring and locks in his patented figure four leg lock. Race is able to turn it over, switching the pressure onto Flair, before Flair rolls it back and they're in the ropes. Kiniski breaks the hold and both men are back up now. Race goes for a vertical suplex, but Flair switches the momentum landing on top of Race for a 2 count.
Race stalls Flair with a headbutt, then heads to the second rope and connects with his trademark diving headbutt for a count of 2. Vertical suplex on Flair, but he only gets 2 again. Race is getting frustrated as he begins to pummel Flair with left hands to the forehead. Flair attempts a comeback, but being rammed into the cage stops him in his tracks. Race with a choke on Flair and Kiniski grabs Race by the hair to break it. Race goes for another vertical suplex, but Flair blocks and connects with his own. Race gets a side head lock on Flair, but Flair pushes him off and Race rams heads with Kiniski. Kiniski goes down, as Flair and Race battle in the corner. Flair with rights and chops gets Race to back off. Flair to the top rope hits a cross body, as Race falls backwards over the referee. Kiniski rolls over and counts 3 as we have a new World Champion.
Winner and NEW NWA World Heavyweight Champion: 'Nature Boy' Ric Flair (Top Rope Crossbody)
After The Bell: All the babyfaces jump in the ring and we get a big celebration for Ric Flair in his home state. Flair cuts an emotional promo about how much the night meant to him and the show comes to a close.
EA's Take: That is all the pageantry we're going to get with those entrances and if you couldn't tell by him getting fireworks AND music over the defending champion, Flair has the proverbial "rocket pack" strapped to his back. The stories of Harley and his toughness are that of legend, but the future King Of The WWF's best days are quickly coming to an end and he knew it. It's not Flair's first go-around with the strap, but he's even admitted that he wasn't ready and with a stamp of approval from Race this time around, he was a made man. This was the finale of a long build to get The Nature Boy there and it doesn't take a physicist to figure out that it was certainly the right call anointing him the "flag bearer". The match is a bit lethargic at times with bursts of speed, eventually breaking into a slugfest with the cage finally coming into play. If you want great Flair matches then this is good because of its significance in history and his career, but there is absolutely better work to come. Space Mountain is officially open for business.
EA's Finisher: As with most firsts, there are always things to improve on. Too many backstage segments involving the same people, too many meaningless fan interviews asking who they thought would win. This was in North Carolina, of course they all wanted Flair to win! Most of the matches had little to no build-up as the whole show was almost completely built around the Flair/Race match. It WAS entitled 'Starrcade '83: A Flair For The Gold' after all. Was there ever any doubt that Flair would not win? Aside from the main event and the tag team title match, Piper and Valentine quite possibly stole the show. That was a really vicious bout that a lot of people had never seen the likes of. This event that was the brainchild of Dusty Rhodes was the first of its kind and through tech issues like some audio and kinks to be worked out, without it there may have never been a WrestleMania (or at least a blueprint for it to follow). This was still a historic night, but admittedly some of it can be hard to get through. Don't expect offensive innovation, just the dawn of an era and one of the greatest (if not THE greatest) performers the business has ever seen.
Top Three To Watch
1 – Roddy Piper vs. Greg Valentine
2 – Ric Flair vs. Harley Race
3 – Dick Slater & Bob Orton vs. Wahoo McDaniel & Mark Youngblood
---
Always Use Your Head and visit the official Pro Wrestling Tees store for The Chairshot All t-shirt proceeds help support the advancement of your favorite hard-hitting wrestling website, The Chairshot!

---
Chairshot Classics: WWF Royal Rumble '95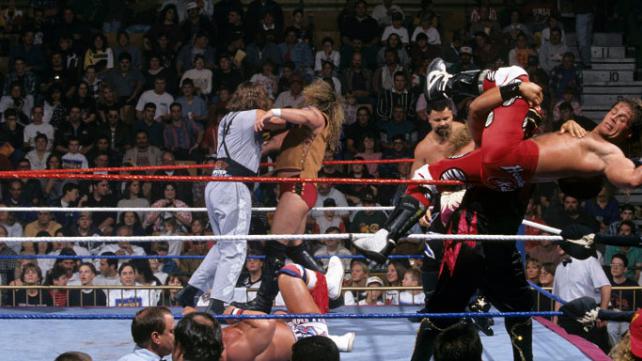 The 2MB Wrestling Podcast is being re-branded, so Sunday the Top Of The Morning Podcast will be trying its hand at a watchalong live with the 1995 Royal Rumble match! Obviously being most remembered for Shawn Michaels' epic and controversial victory, what else happened that night? Let's find out and watch with Top Of The Morning live, Sunday at 9AM EST!
Open: A limousine pulls into the back of the arena and out steps Pamela Anderson. The WWF Superstars are there to meet her with open arms, but she shrugs them off and enters her locker room.
Match #1 for the WWF Intercontinental Championship: 'Double J' Jeff Jarrett w/The Roadie vs. WWF Intercontinental Champion Razor Ramon
A loud "Razor" chant breaks out, The Bad Guy throws his toothpick in The Roadie's face at ringside, Double J tries to take the opening to attack from behind, misses with a clothesline and gets decked by big right hands. The champion shoots him to the corner and follows in, Jarrett hops up-and-over, stuns Ramon with a fist, hits the ropes for a crossbody, but gets caught in mid-air for a fallaway slam. Razor plants him with a chokeslam and the challenger rolls outside for a breather, The Roadie tends to Double J and he slowly steps back inside, toweling himself off. Collar & elbow tie-up sees Jarrett score with an arm drag, he struts around, go back in for another tie-up, Double J ducks under into a waistlock and hits another arm drag before strutting again.
They lock back up and the challenger goes to a wristlock, The Bad Guy counters to one of his own, switches to a top wristlock then a hammerlock, Double J reverses to a hammerlock, Ramon counters right back, but gets taken down by a drop toe hold and Jarrett slaps him on the back of the head, backing into the corner and having a good laugh. Another tie-up and Double J gains a side headlock, gets pushed off to the ropes, the champion drills him with a haymaker, clotheslines him to the outside and the challenger takes another little stroll to gather himself before heading back in. Jarrett asks for a test of strength, Razor gets the upper-hand and starts working over the shoulder, wrenching away at the joint, slaps on an armbar and returns the favor with slaps to the back of the head.
He whips Jarrett to the ropes for a right hand, Double J ducks under it, connects with multiple dropkicks, The Bad Guy crawls up to the 2nd rope, the challenger with a seated senton to the back, hits the ropes for a flying clothesline and covers for a count of 2. He sends Ramon hard into the turnbuckles from corner-to-corner, looks for a boot to the breadbasket, the champion blocks it, avoids an enzuigiri attempt and tries an elbow drop, Double J rolling out of harm's way and gets another 2 count. Jarrett grounds Ramon now with a rear chinlock, The Bad Guy finds his way to a standing position and hits the ropes, the challenger tries a hip toss that's blocked, Razor looks for one of his own to no avail, but hooks the challenger for a backslide that gets 2.
Jarrett quickly levels him with a clothesline for another 2 count, irish whip to the ropes is reversed, the champion ducks his head for a back body drop, Double J counters with a sunset flip, but it's blocked and the champion drops down for a near fall. The challenger with a roll-up for his own 2 count off the kick-out, quickly lays Razor out with a dropkick, hooks the leg, but still only finds a count of 2. He whips the champion to the ropes and hops on his back with a sleeper hold, The Bad Guy shoots him off to the ropes and misses with a wild right hand, the challenger slides through the legs, gets sent back to the ropes, Ramon again tries a back body drop, but gets planted by a swinging neckbreaker, Jarrett putting his feet on the ropes for multiple 2 counts.
Irish whip to the corner is reversed, Razor charges in and slides to the outside, sweeps the legs and yanks Jarrett into the ring post to crotch him, steps back into the ring, climbs to the 2nd rope and hits a reverse bulldog for a near fall. The champion calls for a clothesline and builds a head of steam, Double J side-steps him and throws him over the top to the floor, Ramon pulls himself up favoring his leg, Jarrett distracts the official and The Roadie chopblocks The Bad Guy's knee, the referee putting the count on and reaches 10.
Winner: 'Double J' Jeff Jarrett (Count-Out)
After The Bell: Jarrett grabs a mic and doesn't want Razor to get away this easily, stating he didn't come all this way to not walk away with the title. He thinks if the champion accepts that decision then he's proving he is a coward, The Bad Guy taking the bait and heading back to the ring to restart the match.
Ramon hobbles back into the squared circle and the bell rings to restart it, Double J charges at him and gets driven into the turnbuckles, the champion quickly goes to a schoolboy and gains a near fall. Jarrett pops back up and goes after the injured knee with kicks, picks him up for a slam, The Bad Guy counters with a small package, but still only gets 2. The challenger back up quick and again goes to the bad leg, connects with a kneebreaker, drives the leg down into the canvas numerous times, then sets it on the bottom rope and drives down all of his body weight. Double J goes to the well one-too-many times and the champion kicks him over the top rope, the challenger pulls himself up and goes right back to the leg, dragging it over the apron and ramming it down into the mat.
He slides back inside and hooks on the Figure Four, The Bad Guy hanging on and breaks the hold with big right hands, Double J hits the ropes for shots of his own, but the champion blocks and scores with more fists. He ducks a clothesline and props the challenger on the top turnbuckle, climbs up for a super back suplex, Jarrett turns over in mid-air for a cover, Ramon rolls through into a lateral press and nearly puts it away. The champion flattens Double J with a clothesline, drags himself up and calls for the Razor's Edge, his leg gives out on him, Jarrett goes to a small package and we have a new champion.
Winner and NEW WWF Intercontinental Champion: 'Double J' Jeff Jarrett (Small Package)
EA's Take: Great opener, Razor is still white hot and knew how to perfectly use his position to help get rising starts over, such as Jarrett. There was not a lot too this rivalry heading into the night, however this was merely just the beginning with The Bad Guy seeking revenge and his championship heading into WrestleMania, especially given the circumstances of The Roadie playing a part in furthering damaging the left knee. Many fans will recognize The Roadie who was portrayed as a stagehand for Double J as Jarrett's character was now looking to become a country music singer. The Roadie wouldn't be sparingly seen in the ring at this time, mainly serving as a heater for the new IC Champ.
Backstage: Stephanie Wiand is standing by awaiting the arrival of Jeff Jarrett and throws it to Todd Pettengill who is with Pamela Anderson in her dressing room. Pamela is surrounding by gifts from the WWF Superstars, Todd wonders where his gift is, but it's nowhere to be found. We head back to Stephanie who is now joined by the new WWF Intercontinental Champion Jeff Jarrett & The Roadie, Double J claiming this will be the biggest celebration ever tonight, stating he doesn't have time for an interview because Pamela is waiting for him.
Match #2: Irwin R. Schyster w/'Million Dollar Man' Ted DiBiase vs. The Undertaker w/Paul Bearer
The Deadman stalks Irwin at the bell and IRS hangs out on the apron until the official creates separation, Paul gives some final instructions, Schyster sneaks in behind Taker and delivers a dropkick. The Phenom absorbs it, Irwin is stunned and quickly rolls outside for a conference with DiBiase, then takes his time sliding back into the squared circle. IRS avoids a right hand, ducks under another and starts getting confident, Undertaker stalks him in the corner, once again Schyster exiting the ring to take a walk. He has some words for Bearer, Taker climbs out behind him, chses Irwin back inside and IRS cuts him off with stomps and right hands.
Irish whip to the ropes is reversed, Schyster ducks under a right hand, The Deadman comes back with a big boot to the chops, then drives him head-first multiple times into the top turnbuckle. He shoots IRS hard back-and-forth from corner-to-corner, grabs him by the tie to lift him to his feet, then tosses Irwin across the ring by it. Undertaker in full control now, grabs a wristlock and scales the corner to the top rope, walks out to the middle and comes off with a clubbing blow to the back, prompting DiBiase to climb up on the apron. The Phenom grabs The MDM, Irwin sneaks up from behind to deliver a punch, Taker side-steps it, DiBiase gets clocked and Undertaker tosses IRS to the outside.
Schyster and DiBiase have a brief little dust-up, The MDM calls out to the back, a couple of druids make their way out to ringside and all seems to be well again with Irwin. The druids surround the ring, one climbs up to the apron, IRS slides in behind Undertaker and charges in, The Deadman cutting him off with a back elbow. He clobbers Irwin with uppercuts, grabs a wristlock and again looks to scale the corner to the top rope, one druid jumps on the apron to distract the referee, DiBiase and the other druid hop up on the other side, shake the ropes and it allows Schyster to drag The Phenom all the way down to the mat. Taker sits back up before Irwin can recover, scores with more uppercuts, Taker sends him to the ropes for a back body drop, IRS counters with a kick, then clotheslines him over the top to the floor. The Phenom lands on his feet and grabs both druids by the neck, Irwin comes off the apron from behind with a double axe, then deposits Taker into the steel steps.
He rolls into the ring and the druids get in some cheap shots, throw Undertaker back in, Schyster puts the boots to him, slaps on an abdominal stretch and uses the ropes for extra leverage. The official finally catches Irwin, Taker powers out with a hip toss, delivers a powerslam, hits the ropes for an elbow drop, but nobody's home. IRS whips him to the ropes for a back elbow, Undertaker staggers, Schyster goes back to the ropes, flattens him with a clothesline, then drops multiple elbows followed up by a leg drop. The Tax Man goes back to the ropes for a splash that's off the mark, The Deadman with uppercuts, irish whip to the ropes is reversed, he ducks a shot, both guys come running back out and they collide heads, falling to the mat. DiBiase grabs the ref's attention and one of the druids enters the ring, drags IRS on top of Undertaker, the official turns around and counts, but only to 2.
The druid hops back up to the apron, The Phenom sits up, gets him by the neck, Irwin hits the ropes and rushes in from behind, Taker side-stepping out of harm's way. IRS runs himself into the druid to knock him to the floor, Undertaker picks him up for a Tombstone, the druids hop back on the apron only to get kicked back down. The Deadman drops Schyster, The Tax Man goes into the ropes from behind, Taker turns around and gets leveled by The Write-Off. IRS can't capitalize on it and stumbles to his feet, The Undertaker sits up again, Irwin with kicks, sends him to the ropes for a clothesline that misses wildly, The Phenom delivers a Chokeslam, crosses the arms over the chest and gets the 1-2-3.
Winner: The Undertaker (Chokeslam)
After The Bell: The druids hit the ring and ambush The Deadman, send him to the ropes for a double clothesline, Taker avoids it with kicks, plants one with a Chokeslam, then floors the other with a clothesline to clear the ring. King Kong Bundy would head out, step into the ring and go eye-to-eye with The Phenom, IRS attacks Bearer of the outside, swiping the urn in the process. Undertaker would turn his attention to Irwin, Bundy takes the opening to ambush him, sends him to the ropes and squashes The Deadman with the Avalanche. The Walking Condominium hits the ropes for an elbow drop, follows with multiple splashes, leaving The Phenom laying.
EA's Take: Solid bout, nothing really spectacular. First time I can recall The Undertaker winning a match with something other than a Tombstone for what that's worth. After he disposed of Yokozuna at Survivor Series, Undertaker's rivalry with DiBiase was revisited as The Million Dollar Man was now leading a stable of Superstars with his Million Dollar Corporation. In my opinion, it was hard to take IRS as a legit threat to defeat Undertaker, so the use of the druids were used to help suspend that disbelief as DiBiase portrayed them as a couple of Taker's druids that he had paid off. Ultimately, the identity of them would never be revealed and it was a short-lived angle. This was all really leading to a Bundy/Taker match at WrestleMania, sticking to the formula of giving The Deadman "monster" challenges.
---
Always Use Your Head and visit the official Pro Wrestling Tees store for The Chairshot All t-shirt proceeds help support the advancement of your favorite hard-hitting wrestling website, The Chairshot!

---
Chairshots Classics: SummerSlam 2008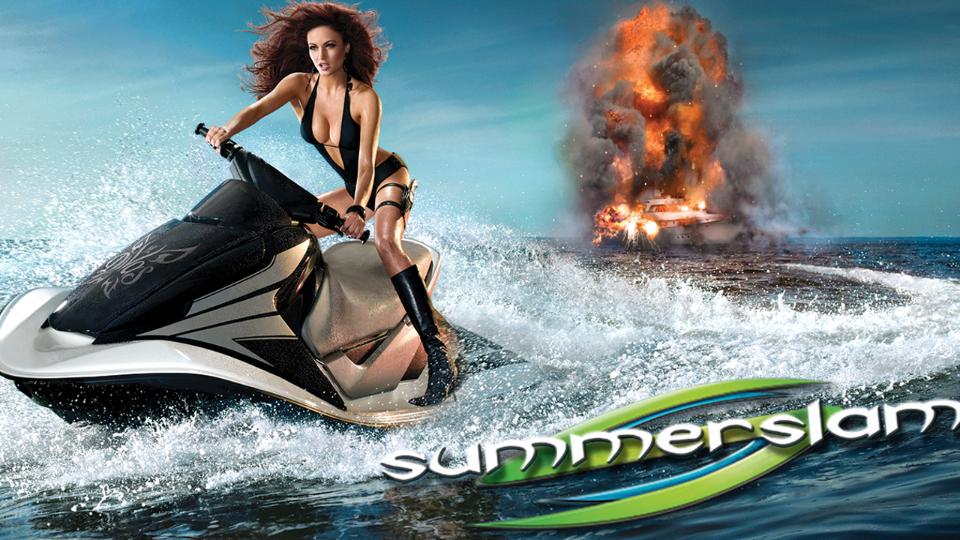 SummerSlam 2008 gives us The Undertaker and Edge in a Hell in the Cell match.  CM Punk and JBL go face-to-face for the World Heavyweight Title,  Matt Hardy squares up with Mark Henry for the ECW Championship and on the WWE side of the Strap we get Triple H and The Great Kahli….all this and so much more in this edition of The Chairshot Classic.
Today we will spend the evening in The Conseco Fieldhouse, home of the Indiana Pacers, in Indianapolis, Indiana. The show is sold-out with 15,997 in attendance and another 447K tuning in on PPV at home. The theme song for the night will be "Ready to Roll" by Jet Black Stare and the event is sponsored by the 20th Century Fox film "Street Kings". On a sidenote this is a great movie that stars Keanu Reeves and Forrest Whitaker. Its the story of crooked cops and one mans journey to bring it all down. Check it out. This is also the first PPV after the WWE went to a PG rating, the last one of the PG-13 era being The Great American Bash. Let's head to the arena and see if this effects the overall product as it's time for "The Biggest Blockbuster of the Summer"!
The show opens with a movie trailer that is done to make SummerSlam seem like the Blockbuster event of the Summer. It goes on to show Vickie Guerrero reinstate The Undertaker and grant him his Hell in a Cell match with Edge. This a feud that carried over from WrestleMania and Taker and Edge were the first to Main Event both events in the same year. This is a well done package and ranks up there in best opens at SummerSlam for sure.
After the package ends Jim Ross welcomes us into the sold-out show and he introduces the other announcers, Jerry "The King" Lawler and Michael Cole. The three men run through the nights card and the first competitor of the night is introduced. Jeff Hardy enters and he gets the usual love from the fans. Or as a JR says "A Michael Phelps-like welcome."  JR is tasked with calling the first match and his partner is Tazz. I wish they would move past this mutli-brand announcing as I am a fan of just one announce crew, not three. Montel Vontavious Porter, or MVP is next out for what looks to be a good opening bout.
As soon as the bell sounds, MVP goes for a big opening kick but Hardy dodges it. This opens a window of opportunity for Jeff to land a series of haymakers to the midsection. MVP rolls from the ring to recover and Hardy is quick to follow him. MVP uses this to his advantage and slides right back into the ring, hoping to get the upper hand. This backfires, and Jeff pulls him back out of the ring by his feet. Hardy then slams MVP into the security wall getting the first nice pop of the night. After high-fiving some fans, Hardy bounces MVP off the apron and returns him to the ring. A springboard leg drop and a pin attempt follow, but MVP gets his foot on the rope to break the count. An armbar is next, and when Hardy transitions into a standing variety of the hold, MVP is able to find the ropes. Hardy keeps the advantage for some time but it starts to shift after MVP hits the charging Hardy with a belly-to-belly toss into the turnbuckle. MVP tries for a cover but Hardy gets the shoulder up at two. MVP works Hardy with an armlock next and every time Hardy is close to escaping, Porter nails him with strikes to keep the hold applied. This eventually leads to Jeff Hardy being put in the camel clutch in the center of the ring. Jeff manages to escape it, but MVP is quick to put him into a variation of  a single leg crab. Hardy finally finds the ropes and the official is forced to break the hold.
Hardy rolls to the apron to escape the stomps of MVP and tries to springboard back into the ring. This doesn't go as planned and MVP catches Jeff, mid springboard, with a right hook. The crowd have a little "MVP" chant here as he brings Hardy back into the ring. Porter tries for a cover and is shocked when he is only rewarded a near fall. An Alabama slam is next, and this leaves Hardy suspended in a tree of woe position. After a quick argument with the official, MVP slams Hardy to the mat and goes for another cover. He is again only gets a near fall and pick Hardy back up. He puts Jeff into a Razor's Edge like set-up but Hardy escapes with the backslide and catches MVP with a reverse neckbreaker. Hardy lands the mule kick and this sends MVP into the corner. When Hardy charges him, MVP pulls off the ropes for momentums and dropkicks Hardy square in the chest. This had some nice impact and sends Hardy sailing across the ring. MVP is quick with another cover attempt, but for the fourth time he only gets the two count. MVP then whips Jeff into the corner, and when he bounces back out, MVP sends him right back into it with a dropkick. MVP tries for the Drive-by Kick but Hardy explodes from the corner and catches him with a slingblade. Both men lay prone as the ref starts his count. They both slowly return to their feet at the count of seven and Hardy gets the advantage with a Russian leg sweep. Hardy tries for the leg drop cover but it's MVP's turn to kick-out. Hardy explodes into a springboard Whisper in the Wind and so does the crowd when this happens. Hardy is quick to return to the top rope, and when he gets up there we see Shelton Benjamin appear at ringside. Hardy crossbodies him and returns right to the top rope. Jeff tries for the Swanton Bomb, but the interference allows MVP to roll from harms way. Hardy hits the mat hard and this allows MVP to hit the Drive-by Kick. When MVP makes the cover, this time he gets the three count and the victory. This was a decent match but I expected better from these two. Not a must watch by any stretch of the imagination and could be skipped over. Match Time-10:21
Next we get an interview with two of the competitors in the next match that is an inter-gender bout with the Intercontinental and Women's Championships on the line. This is team Glamerella, which is made up of Beth Phoenix and Santino Marella. Maria Kanellis interviews the two and this is all really lame stuff here. We re-enter the arena after this tragedy and Lillian Garcia tells us that this is a winner takes all tag-team bout for the IC and Women's Titles. I find this quite offensive to one of my all-time favorite Titles, The Intercontinental Championship. Out first is the Women's Champion Mickie James, who receives a nice pop from the fans. The IC Champ is out next and the crowd has even more pop for Kofi Kingston. Glamerella is out next and incase you're to young to remember this name was a play on the common theme of combined celebrity names at the time. Most famously was the couple of Brad Pitt and Angelina Jolie, or Brangelina, if you will.
The Glamazon and Mickie James start the bout and the collar and elbow leads to a side headlock for Mickie. She tries to hip toss Phoenix, but she is overpowered and Phoenix tosses Mickie off of her. Phoenix is soon kneeling after James dropkicks her knee out from under her. James then hits the ropes and lands another dropkick, this time to the face of Phoenix. Phoenix reverses into a backdrop and this allows her to tag in Marella. As this is a inter-gender match Mickie James isn't forced to come out and lands a kick to the back of Marella's head. She avoids a clothesline from him and this gives her the opportunity to tag in her partner. After the tag is made, Kingston enters the ring via the top rope and nails Marella with a crossbody. Kofi lands a few flipping maneuvers before he sends Santino Marella flying from the ring with a European uppercut. Phoenix starts to yell at her partner and this is when James enters the ring and sends Phoenix sailing off the apron with a dropkick to the back. The crowd pops for this and Beth picks Santino up, as to protect him, because it looks like Kofi is coming out of the ring with a suicide dive. Kofi instead dives into the top rope, intentionally, and bounces back into the ring. Cool stuff here from Kingston.
Marella returns to the apron and when Kofi tries to pull him into the ring Marella hotshots him with a reverse neckbreaker. After Marella does a little more offense and delivers a thumb to the eye of Kingston, he tags Beth Phoenix back in. After a quick kick to the midsection of Kofi, she tags her partner right back in. Marella hits a snap suplex and goes for the cover. Kofi kicks it out at two. Marella responds to this by sitting on the back of Kofi and wrenching on the IC champ's neck. Kofi eventually stands this up and both men hit the ropes. The two collide in the middle and it looks as though they accidently bumped heads. Marella makes the tag and Kofi is able to do the same. Mickie comes in hot and nails the Glamazon with a series of forearms. Mickie then hits the ropes and takes Phoenix off her feet with a slingblade. She hits a second slingblade and when Marella tries to enter the ring James dropkicks him off the apron. After a hurricanrana, Mickie heads to the top rope and hits Phoenix with the Lou Thesz press from the air. She goes for the cover but Marella enters the ring to break it up. James hits him with a cool tornado DDT but this allows Phoenix to attack her from behind. Phoenix hits James with the Glam Slam and makes the cover. The ref counts the three and Beth Phoenix and Santino Marella are new Title holders. This is the first time the IC Title changed hands at SummerSlam since 2002 when Rob Van Dam beat Chris Benoit. (More on that here.) If you have taken the time to read about this match do yourself a favor and DON'T watch it. Pure trash and a disgrace to a Title that has been carried by some of the greatest bell-to-bell performers of all-time. Match Time-5:35
---
Always Use Your Head and visit the official Pro Wrestling Tees store for The Chairshot All t-shirt proceeds help support the advancement of your favorite hard-hitting wrestling website, The Chairshot!

---
Chairshot Classics: WCW WrestleWar '91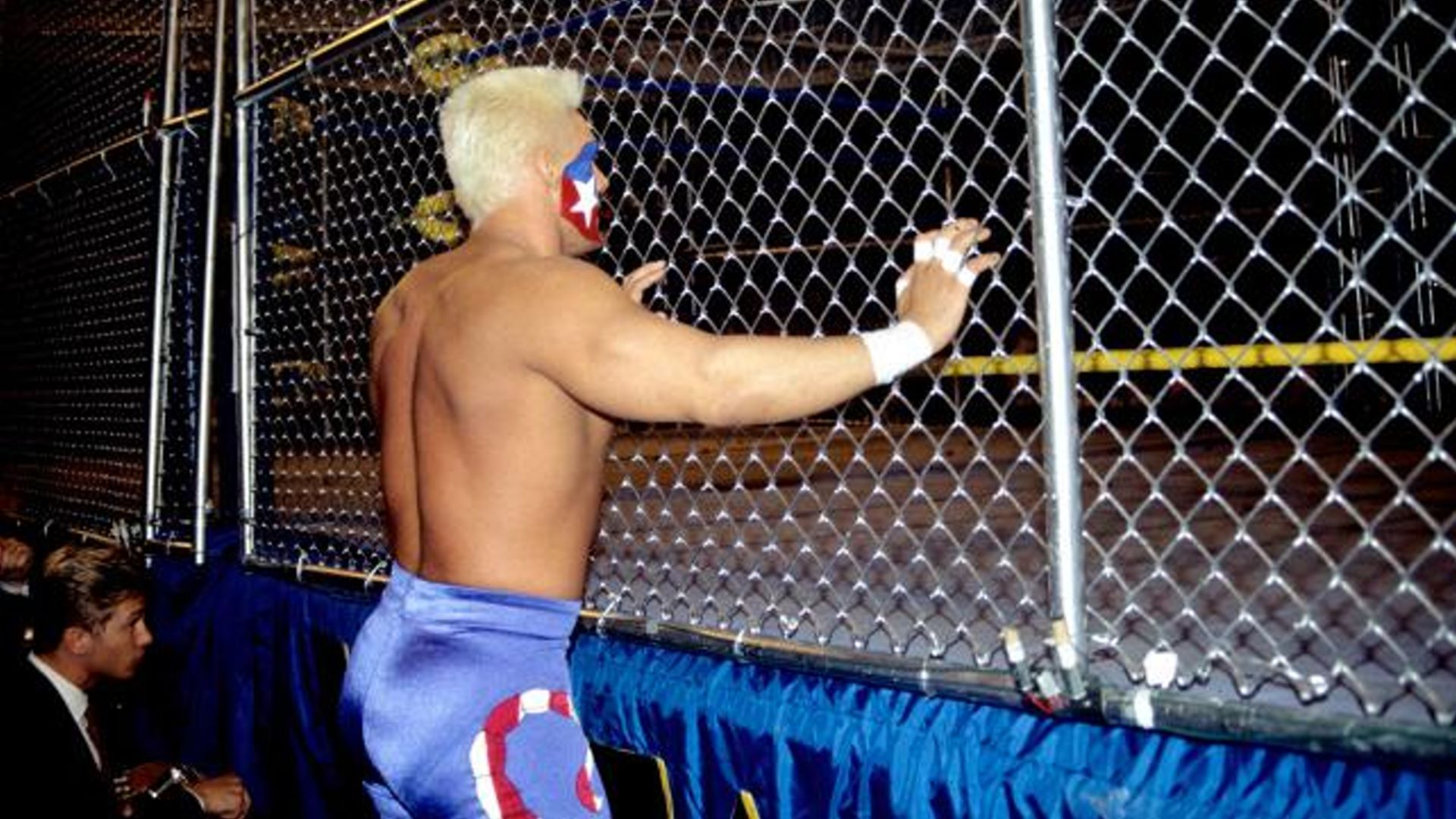 For the first time, WCW holds a pay-per-view fully on their own, as they continue their slow split with the National Wrestling Alliance. This event is not under the NWA banner any longer, but brings back the WarGames for the continued fallout from Starrcade. 'The Nature Boy' is also the new World Champion again, ending Sting's reign roughly a month and a half prior. Sting has now fielded his squad to even the odds with The Four Horsemen, but can his patchwork team match the cohesion of Ric Flair's men?
Match #1 for the WCW World Six-Man Tag Team Championships: WCW World Six-Man Tag Team Champions Junkyard Dog, Ricky Morton & 'Wildfire' Tommy Rich vs. The State Patrol (Lt. James Earl Wright & Sgt. Buddy Lee Parker) & Big Cat
Cat and JYD start the action. The two big men exchange rights and JYD catches his jaw. JYD ducks a clothesline and hits one of his own. He headbutts Big Cat who quickly tags in Wright. Side headlock and a tag to Morton. Wright sends Morton, but Ricky avoids contact and sends him down with a hiptoss and an armdrag. More arm drags from the RnR man. Tag is made to Rich and they double clothesline Wright. Wristlock into an armbar on Wright. He fights out of the hold and sends Rich to the ropes.
Wildfire reverses the offense and scoop slams him. Wright moves away from an elbow but Rich doesn't pull the trigger. An arm drag into a wristlock by Rich, Wright breaks it up with a poke to the eyes. He slams Rich and tags in Parker. Parker misses an elbow and is sent over with an arm drag and gets caught in an arm bar. Shoulder blocks to the midsection from Parker who sends Rich to the ropes. Shoulder tackles by Rich, who then reverses a hiptoss into one of his own. Another arm drag by Rich. Tag is made to Morton and Parker powers him into the corner. Morton reverses an Irish whip and delivers an inverted atomic drop. Wright rushes the ring and has the same fate. Arm drag by Morton and he pulls his opponent up, tagging in JYD. Snapmare and a stomp by the big man. A headbutt from JYD and Big Cat is tagged back in.
JYD looks for a test of strength, Big Cat has the early advantage but JYD reverses it with a back heel trip. They exchange head butts and Big Cat drops an elbow for two. Parker is tagged back in, he strikes JYD with no effect. JYD fights back and tags in Morton. They run the ropes and Morton is hit in the mid section. Wright is tagged in and the Patrol double teams Morton. More double team work by State Patrol after another quick tag. Big Cat is tagged in. Drop toe hold/elbow combo from the partners. Lateral press but Morton kicks out. Morton is sent and gets a dropkick by the big man. Cat headbutts him to the ground and kicks him into the corner. He slams Morton down but Ricky moves from the big elbow. Parker is tagged in and he exchanges rights with Morton. Powerslam in midair from Parker but Morton kicks out.
Another quick tag and a bulldog/elbow combo from the Patrol. Yet another quick tag and Morton is reeling from double team work. Big Cat is in. Morton tries a cross body but is caught with a back breaker. Big Cat gets some heat on his opponents and with the ref's back turned, Morton is triple teamed. Parker is tagged in and applies a reverse chinlock. Irish whip, but Morton moves and Parker hits the turnbuckle. Wright is tagged in, but Morton somersaults over and tags in big JYD. He goes right to work and hits Parker with the Big Thump. Cat breaks up the pin attempt as all participants rush the ring. JYD gets up and knocks Cat out of the ring and Morton jumps on the laid out Parker and picks up a three count.
Winners and STILL WCW Six-Man Tag Team Champions: JYD, Morton & Rich (Morton/Thump)
EA's Take: Well, I guess you don't have to be the legal man to pick up the win. I've seen he idea of a 6-Man Title in WWE being tossed around by some on social media and I can't even begin to imagine how much of an abortion that would be. Nevertheless, this one was just a way to just cluster mid-card guys together and the championships don't even last a calendar year in WCW. It just doesn't have the appeal and excitement you'd think outside of Mexico. I've never seen the need for it.
In The Arena: Tony Schiavone is standing by with Terry Taylor and Alexandra York. York explains that thanks to Taylor's in-ring success, the York Foundation is flourishing. They have been using computers to scientifically determine their opponent's weakness. York predicts Taylor will win in less than 15 minutes and 28 seconds, Taylor predicts pain.
Match #2: Brad Armstrong vs. 'Beautiful' Bobby Eaton
Eaton blindsides Armstrong right off the bat. Armstrong fights back and they run the ropes. Headscissor, dropkick and an arm drag by Armstrong. He hangs on for an armbar. Back to a vertical base, wristlock by Armstrong. It's broken in the corner and Eaton slaps Armstrong across the face. A reversed Irish whip, and Armstrong monkey flips Eaton and goes right back to the arm bar. He keeps the pressure on the arm. Back to their feet and Eaton breaks it with a knee before dumping Armstrong to the floor. He gives chase and Randy Anderson starts the count. Armstrong drives Eaton into the rail and ring post. Both men back to the ring and Armstrong returns to the arm.
He holds a wrist lock before transitioning back to the armbar. Eaton gets over to the ropes to break it. Tempers flare and they shove one another, Eaton cowers back to the ropes again. Eaton calls for a test of strength and Amrstrong obliges. Kick to the mid section by Eaton and Armstrong drops to his knees. Back to a vertical base for Armstrong. He disorients Eaton by climbing up over his shoulders, running up the turnbuckle and turning around with a flying cross body and a two count. Arm drag/Armbar combo once again for Armstrong. Back to their feet and to the corner, Eaton hits a cheap right. Eaton slingshots Armstrong over the ropes but it's reversed.
Armstrong with a right to the abdomen and goes back to work on the wrist and arm. Eaton reverses a waist lock and hits a huge clothesline. Eaton is slow to cover and only gets two. He sends Armstrong and lifts him for a back breaker. He leans in but Armstrong kicks out again. Scoop slam by Eaton  followed with an elbow, he can still only get two. Reverse chinlock by Eaton. Armstrong hits elbows but Eaton stops the breakup with a knee to the face. Slingshot backbreaker by Beautiful Bobby. He goes for the pin and Armstrong kicks out.
Eaton applies a modified Camel Clutch. The crowd gets behind Armstrong who works to his feet. Shots to the midsection, but Eaton counters the attempt with an elbow and he kicks Armstrong out to the floor. Bobby hotshots him across the railing and heads back to the ring. Armstrong is slow to return but he beats the count. An abdominal stretch is applied by Eaton who uses the ropes for leverage. Randy Anderson crawls in between Armstrong's legs to catch Eaton cheating and breaks it up.
The two exchange blows, Irish whip but Armstong moves and Eaton goes legs first into the turnbuckle. Drop kick followed by a side Russian leg sweep by Brad but Eaton is too close to the ropes to get the pin. Irish whip by Armstrong but Eaton reverses with a neck breaker. Eaton heads to the top rope and he lands a flying leg drop which earns him the win.
Winner: 'Beautiful' Bobby Eaton (Alabama Jam)
EA's Take: Cornette and Lane have both departed the company at this point. I miss The 

Midnight

 Express, but I'm happy to see Eaton putting on great singles matches. Unfortunately for him, we'd find out there was a reason why he was always in a tag team as he can't really talk well or change his look with the times. The Armstrong family has to be one of the most underrated families in wrestling. When I started watching WCW religiously in the mid 90's, Brad was doing a lot of jobs, but there's no doubt the guy could work. It's just too bad he was never able to show his personality on-camera, then later gets saddled with a gimmick blatantly ripping off his own brother.
---
Always Use Your Head and visit the official Pro Wrestling Tees store for The Chairshot All t-shirt proceeds help support the advancement of your favorite hard-hitting wrestling website, The Chairshot!

---