Cheap Shots: Odd Readings From The Odometer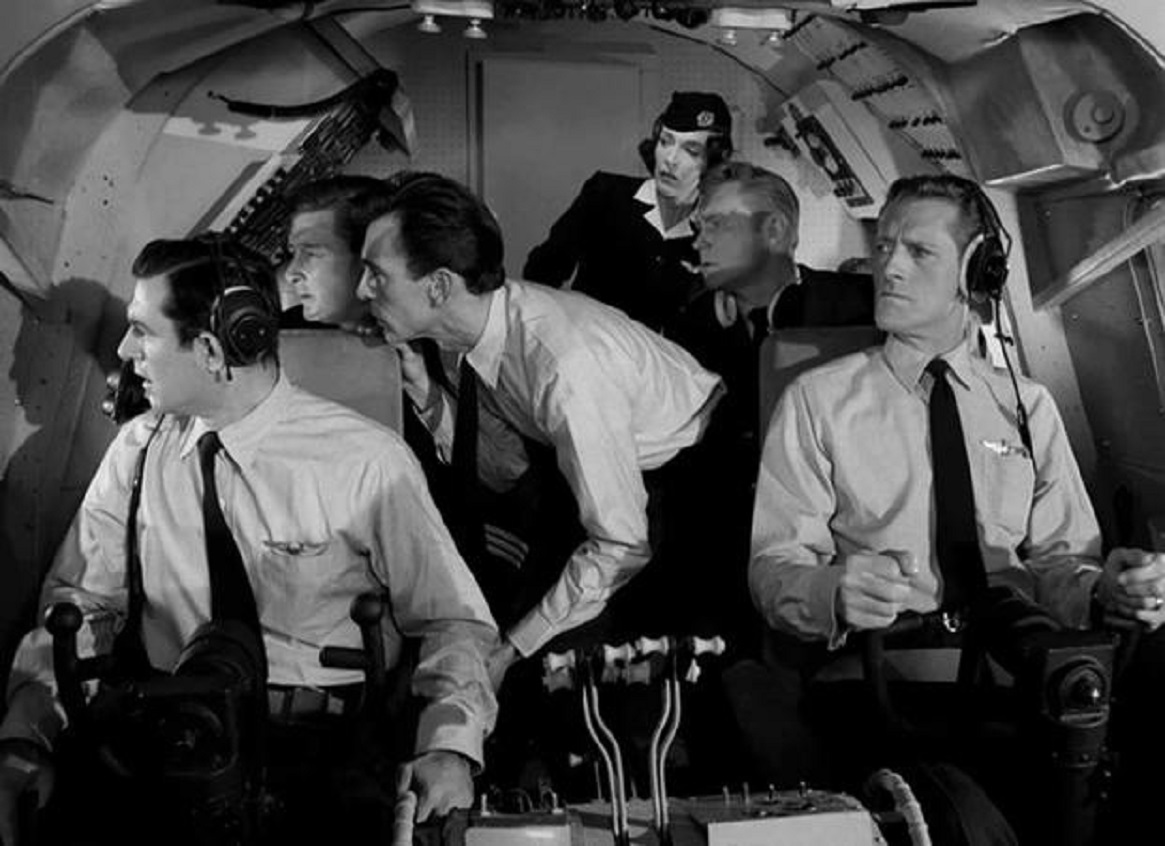 Cheap Shots are unfiltered, uncensored opinions, and those opinions reflect only the author!


Mad Man avoiding jet wash as I hit the proper cruising altitude above The Motor City, in the shadow of Cobo Hall. Don't worry, no blades or fire balls showed up last night. Let's Rock'N'Roll! The initial segments should have clued us in to a very strange night ahead. Kurt Angle opens Monday Night Raw with a quick promo reminding us of The Main Event at WrestleMania. The other three participants in the match were not in the building. We would find out relatively quickly that this number would increase even more than smart marks were thinking. Turns out, Kurt could've stayed in the back after five minutes.
I'm curious if anyone else heard The Twilight Zone Theme embedded under the action last night? Once The Olympic Gold Medalist mentioned Brock Lesnar, Bradbury was easily found throughout the show. An utterance of The Beast's absence when his presence was promised in Motown last week drew an irate Roman Reigns from behind the curtain. Wait, people in the art form lie? Yes Roman; even you lie, and I'll prove it.
If the next 20 minutes weren't proof that WWE scripting promos is pointless, I can run a marathon. Sheep were back to being themselves as Roman says Brock is disrespecting both he and they once again. He tells us that he found out from Kurt's show intro about Lesnar skipping out, as opposed to Vince McMahon letting him know. After all, Vince was in the back. "Anybody else does what Brock's done in another job: they get fined, suspended, or fired. He gets special treatment" No s*** Sherlock…We knew he could roid up when they brought him back!
"It's one thing to be disrespected by Brock Lesnar…" whom he called. "Vince's Boy," "I will NOT be disrespected by Vince McMahon!" Quick, anybody know the definition of irony? They even hang the one baby face they're not trying to kill, and nobody tries to stop them? Roman stomps to the curtain a hot mess. Magically, Vince appears in the back. Fourth Wall Alert: Most the time, the old dude calls the show from a production truck. Reigns almost gets physical as the two men go to an office to talk.
Shortly afterward, a walking teleprompter sticks a mic in Roman's face, and gets nothing as he leaves. Vince follows: "Brock does get special treatment, he's earned it." No, you GAVE it to him. Anything else, you talking caricature? "Roman has to know his role…He is temporarily suspended." Are we allowed to go through our TVs and smack him? STOP IT! This is why fans are pissed! Vinnie, you have shoved this man and this Mania match down our throats for over a year. Break The Fourth Wall already, He's not suspended, and he is your boy!
On to our regularly scheduled programming: Early recess, first of multiple women's segments, yay! Absolute Yawn accompanies Sonya Deville. They await Lady Banks and The Human Elmo. Sasha's Bossed Out, but Bayley left her gimmick at home. She looks like someone stole her dog. Physical match as always with The Female Dragon involved. Bayley made sure Sasha got the win after she pulled Mandy Rose off the apron. She left Sasha alone post-match to get a beat down from Absolute Yawn. Hey Hug Life, if she snaps, it's gonna take all 3.5 of you to beat The Boss at Mania!
Appropriate that MIZ TV followed Absolute Yawn, as I welcome everyone to the "giving away a PPV match for free" portion of the show. Prior to their one-on-one match, The Move Set Twins did everyone a huge favor by knocking The Miz out of the ring. Hey Mike, can you not make it look so obvious when you're taking a bump over the top rope? Just curious, I promise you can keep stealing money if it's too much to ask. Balor and Rollins had a solid match with fluid movement as always. The 8-Pack Irishman won when Rollins waited a beat too long in his suplex combination. Someone actually won a match ala Steamboat at Mania III!
The latest Raw in Seger's House felt like promo and vignette central. The wow moment of the night? No one breaks The Fourth Wall like Big Match John. Started simple enough. John came out his normal self. Said his new plan to get to Mania was to buy a ticket and go as a fan. He started one of his 50/50 chants and said he was ready to not hear it at Mania. Wait, he stops to ask: "How many people wanna see The Undertaker kick my ass?" "If you were done, you wouldn't be posting workouts…" Whole promo's worth a Youtube search
Other than Cena, most non-ring work fell into the WTF category. Elias showed up for a gig but was too battered to play: Lights, Guitar, Stool: "This is all your fault." Braun cut a bright letter promo gloating about pianos. More on him later. The Bar asked Kurt Angle to be traded to SmackDown Live. More on them later. Do I really have to tell you if Woken Matt Hardy or Bray Wyatt made sense? There will be a Women's Battle Royal at Mania named for The Fabulous Moolah. Everybody needs to flood social media and protest this to get it changed. There is a reason it's The Mae Young Classic. Moolah's treatment of those she trained, including her daughter, was hideous. Given my feelings about ladies in the art form, I am sickened those in Stamford gave her such an honor. Research? Ask any of these gentlemen: @wrestlerweekly, @mikeleotis, @SethHanson1982.
Okay, off my soapbox, and back to recess. Asuka starts an in-ring promo and gets one word in before Little Miss Math Class Goes Full Mean Girl. Bliss says Asuka is smart and made the right choice. The Rising Sun Mystic Says Charlotte is the better champion! Bliss and Mickie James start laughing. They think Nia Jax is coming out. She doesn't show. Mickie attacks The Japanese Ace. They have a very physical contest. This included Asuka hurting her leg. The Empress is still unbeaten thanks to an Asuka Lock. Alexa leaves ringside to go ask Nia where she was. Angle put her in a squash match, she was prepping. Bliss keeps feeding her backhanded compliments. Despite this, Nia promises to back her up against Asuka next week. Big Girl handles her match. She is still in the ring when a camera and boom mic in their locker room turn on at the wrong time! Alexa proved how much of a B**** she was in five minutes and bolted faster than Mysterio. Miss Nia is pissed, and Little Miss Math Class is DEAD come Mania!
Earlier in the night, The Bar was scheduled for a match versus The Miztourage. The Europeans have been talking trash long enough to infuriate every team on RAW, so every team jumped them in the ring. Kurt Angle thought he had a fix for this. A Tag Team Battle Royal sounded solid in theory, until Braun Strowman blew those plans up. The Big Man stormed to the ring alone and destroyed every team. Technically Braun won, but we have no idea what that means since one performer has never won the tag belts. As I sit on the tarmac amongst The Great Lakes, I reflect on a weird show. Vince does some things that make a smart mark cringe while opening up interesting possibilities elsewhere. Sometimes though, it feels like the good stuff is there to counteract the stupid. Most of us wish there was no stupid at all. Hopefully, there is less stupid on our next trip over Fly Over Country. Come with me, won't you?
---
Always Use Your Head and visit the official Pro Wrestling Tees store for The Chairshot All t-shirt proceeds help support the advancement of your favorite hard-hitting wrestling website, The Chairshot!

---
CheapShots: WWE Is Suffocating the RAW Women's Division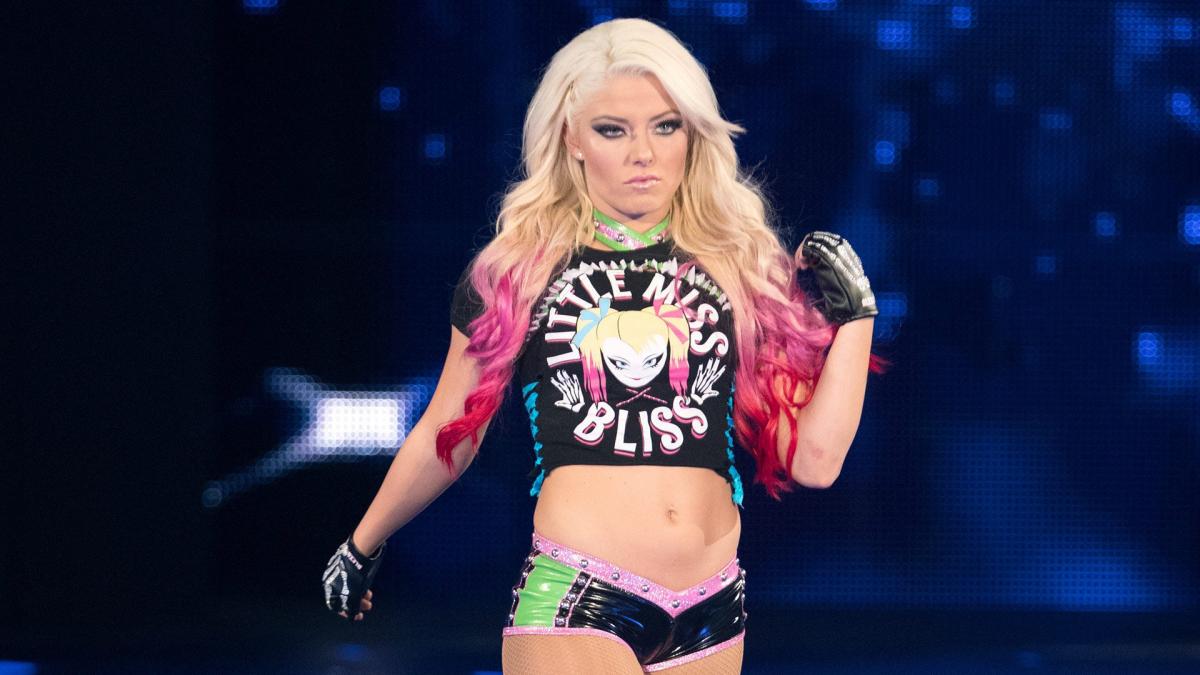 Let me say this upfront: I have nothing against Alexa Bliss either in the ring or in real life. She's got a great look and a lot of talent and in real life, she seems like a very nice person. However, WWE is running the risk of suffocating the Women's Division on RAW by constantly putting the belt on her.
Bliss won the Women's Championship in a rematch against Sasha Banks in August and has basically been champion for a year. There was no reason for her to be in Money in the Bank, never mind winning it or cashing in. If this keeps up, WWE runs the risk of smothering the RAW Women's Division by having a champion that keeps getting the title back instead of pushing the other women.
WWE's made this mistake before with Charlotte Flair. Charlotte won every PPV she had a match on for over a year and anytime she lost the title on TV, she got it back at the next PPV. By the time she finally lost a PPV match to Bayley in 2017, the RAW Women's Division had stagnated because fans were getting tired of constantly seeing Charlotte win.
When Charlotte was traded to SmackDown and was kept out of the title picture for awhile, it turned out to be a godsend for her and the SmackDown Women's Division because it gave women like Naomi time to shine. By the time Charlotte took the title off Natalya in November, the fans were excited and ready for her to be champion again. WWE needs to do this with Bliss.
What WWE is doing with Alexa and what they did with Charlotte isn't unusual if you look at the Men's Division, the problem is that the Women's Division is much smaller and so it is much more noticeable that only one person is getting the title runs and there are no secondary titles or tag titles to give the rest of the roster something to work with.
No, I'm not saying Alexa can't get a shot at the title, but she shouldn't be champion for awhile. Put her in non-title feuds and put over people like Ember Moon or someone from Riott Squad for six months or so and give her, the division, and the fans a breather.
Who could Alexa feud with? Well, let's take a look!
Ember Moon: This could be a really great feud. Ember is a great athlete, but she's barely been seen on RAW since her debut after WrestleMania. A feud between these two is a win-win on paper, Ember gets a top talent feud, Alexa gets someone new to work off of and they can take each other to the next level.
Sarah Logan: Logan is rough around the edges, but she could be a breakout star if given the right feud and Alexa could be that feud.
Liv Morgan: I'm very fond of Liv Morgan and would love to see her get some more time in the spotlight, something she doesn't get a lot of in the Riott Squad. Like Logan and Riott, Liv has the potential to be a major star in WWE, and a feud with someone like Alexa would definitely help.
Dana Brooke: Dana Brooke is someone who has suffered from bad luck and minimal direction during her time on the main roster, having a feud with Alexa might not be ideal for Alexa fans, but it would give Dana something more to do than be the numbers cruncher for Titus Worldwide.
Sasha Banks: I hesitated to include Sasha in this since she's supposed to be in a feud with Bayley, but since that feud seems to be moving at a snail's pace, I might as well include her. Plus, I prefer that Sasha be in the Women's Division title picture, but she and Alexa had a great feud last summer and made history in December by being the first women allowed to compete in the Middle East, so a return of this feud wouldn't be a horrible idea.
Bayley: No. Just…NO!
Again, I'm not bashing Alexa or her talent by saying that she needs to be taken out of the title picture and put in a feud with any of the women mentioned above, but WWE is risking the same situation that they had with Charlotte before Charlotte went to SmackDown, and having the Women's Division being smothered and stagnate because one woman kept getting title runs. There's other women in this division who are equally talented and sell merchandise and could be getting a push. If Alexa is as over as her fans believe, not being in the title picture won't hurt her standing. Let the RAW Women's roster breathe.
---
Always Use Your Head and visit the official Pro Wrestling Tees store for The Chairshot All t-shirt proceeds help support the advancement of your favorite hard-hitting wrestling website, The Chairshot!

---
CheapShots: A Letter To WWE Fan Boys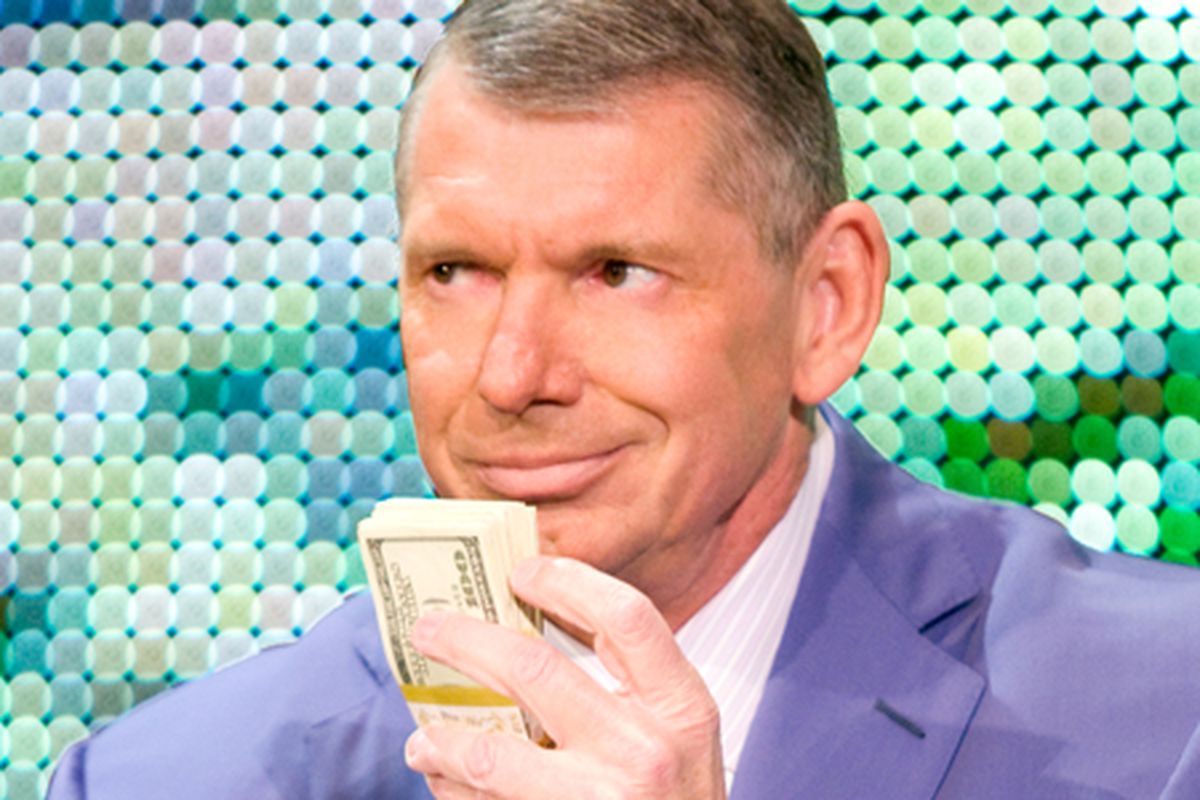 Stop. Just stop it. The over-positivity towards the WWE product is ridiculous. WWE is not the greatest thing on the planet right now. It is not all golden flowers and rainbows. Before I dive deep into all this let me say that I am a fan of WWE. But, I have enough sense to know that if it walks like a duck, talks like a duck, then guess what, it's a duck. I have no problem on calling them on the BS and craziness that goes on from time to time. No, the product in not the best it has ever been. Scripted promos alone are enough to make me want to vomit. The stale characterization of the characters and the fact that they are all basically the same cookie cutter version of what a WWE superstar should be is ridiculous. Here are a few things that I am sick of hearing every single day.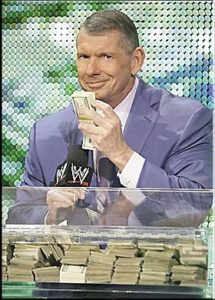 Money, Money, Money.
WWE is a money making machine, there is no denying it. One thing that I am constantly hearing is "Oh well WWE is making more money now then they have ever had, so that means the product is the best ever!" Well…no…when a company goes public, and are the only wrestling game in town of course they are making money. You need to understand how business works. Do a quick search of WWE and just look into all the divisions of the company. Look at the subsidiaries that they own, along with the companies that they have invested in such as owning 50% of the brand TapOut. Wrestling is not there only sourcing of income, hence the entertainment in their name. WWE is constantly expanding, evolving, and venturing into other things that make money, hence why they are making more money now than ever before. Yes, they got a ton of money for Smackdown. But, you have to take into account that it was bought from a company that is selling their movie division and only have TV as a source of income. With less and less people streaming everything and no one watching TV anymore, of course stations are going to foam at the mouth to get a TV show that has been on as long as Smackdown has any type of ratings, and the sponsors that come along with it. That is just good business, but that does not justify the wrestling product that they are currently putting out.
Greatest Roster Ever
"The roster now is the best roster we have ever had in WWE." Wake up Alice cause this is not Wonderland. Do you not remember the greatness that was the WWE roster of 2002, or were you even born yet? Here is a bit of that Roster, Hulk Hogan, Stone Cold, The Rock, Chris Jericho, Edge, Kurt Angle, Chris Benoit, Eddie Guerrero, Booker T, RVD, Rey Mysterio, Undertaker, Shawn Michaels, HHH, John Cena, Randy Orton, DDP, Ric Flair. I will just leave this here and wait for you to retract your ridiculous statement.
If you don't like it then don't watch it
Boy, am I sick and tired of hearing this poor attempt of retort. What are you 10? You can complain about something and guess what still watch it. I have never watched anything and never had only positive things to say about it. I can watch a NJPW match, and talk about how bad WWE is in comparison. Why? Because, it's not a matter of me not liking WWE, Just because someone puts something down that you eat, sleep, and breathe doesn't mean they don't like it. The main reason people compare a NJPW match to what WWE is doing, isn't just to bash it, but it is because we know how great WWE can be. Honestly, it sucks to see WWE out done, and I wish they would get their heads out of their asses and put on consistently great matches.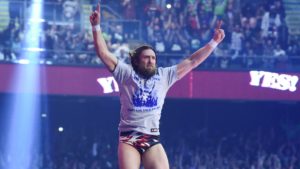 Stop being a Yes man.
You don't have to hate on every aspect of WWE, positivity is a good thing. But when you like every single thing that WWE does you need to get your head checked. You need to utilize that WWE network subscription and go back and watch something other than the current product. There is good and bad in every generation of wrestling, but we are not living in the renaissance age, witnessing the 2nd coming of wrestling. So take a breath, and try to dislike something of the current product and stop being a corporate robot.
---
Always Use Your Head and visit the official Pro Wrestling Tees store for The Chairshot All t-shirt proceeds help support the advancement of your favorite hard-hitting wrestling website, The Chairshot!

---
Are McIntyre, Lashley, And Roode WWE Top Guy Material?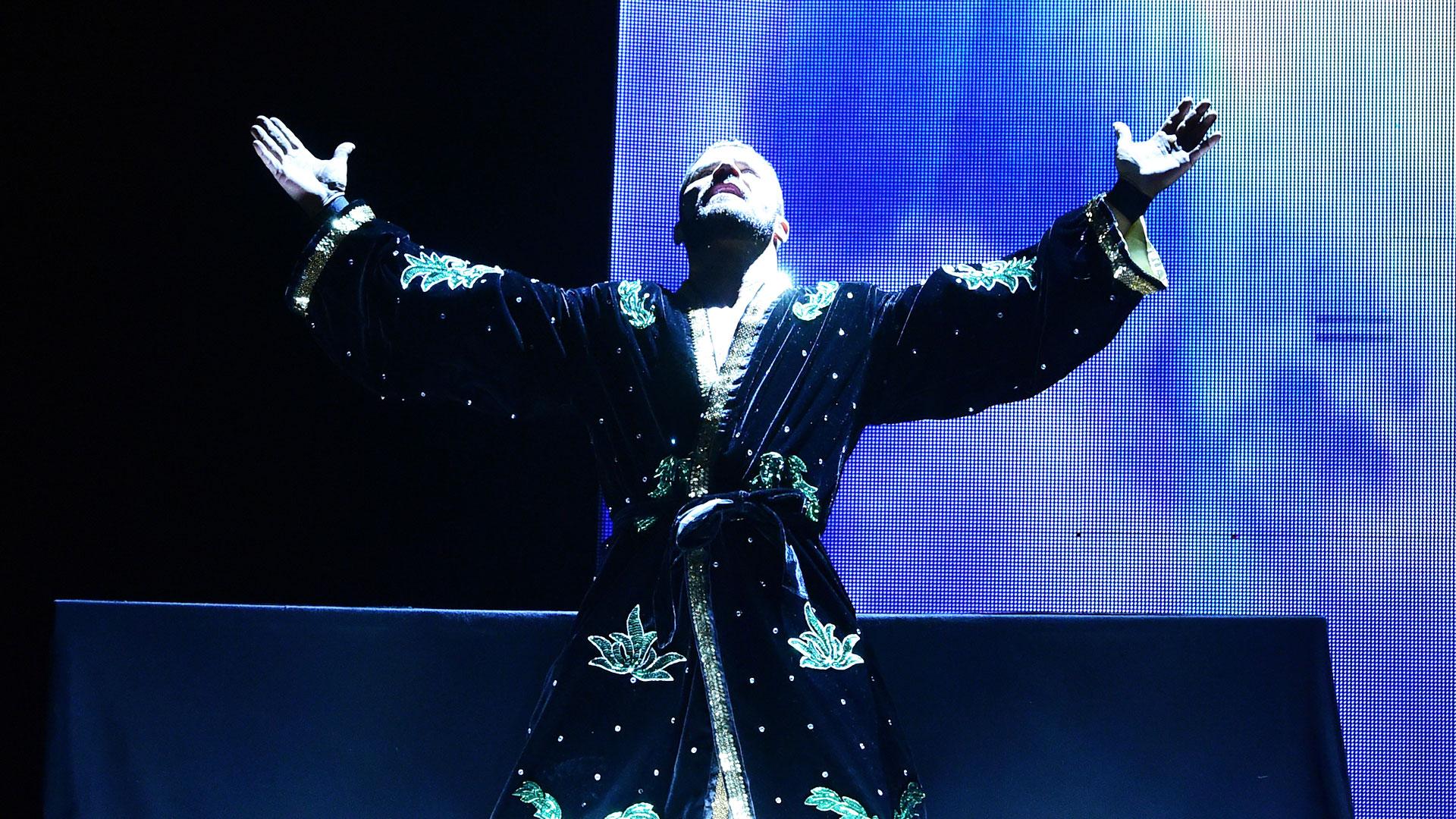 So there was a lot of buzz about Drew McIntyre and Bobby Lashley making their debuts on the Main Roster after WrestleMania. A lot of people have been predicting that McIntyre and/or Lashley were going to be Universal Champion before the year out, and even predicted that Lashley would be the one to unseat Brock Lesnar. The same has been said, to some degree, about Bobby Roode. Here's the problem: The only way any of these guys going to get close to the Universal Title is if WWE has another plague of injuries.
Now, before you all get mad, hear me out. I'm not saying that McIntyre, Lashley, and Roode aren't talented, because they are and their records speak for themselves. The problem is that WWE has a huge pool of talented guys on its Main Roster and a lot of established stars, which means McIntyre, Lashley, and Roode are likely going to spend their careers in the mid-cards, at least on RAW. They might have slightly better luck on SmackDown, but I wouldn't bet everything on that pony either.
Let's look at each guy and see what could possibly hold them back in WWE.
Drew McIntyre: McIntyre has a lot to recommend him, at least on paper. He's got a great look and a lot of talent. His promos leave a little to be desired, but that's not a dealbreaker on its own. The problem with McIntyre is that his gimmick hasn't changed that much from his first run in WWE. His look isn't that unique compared to other guys on the roster and neither is his moveset.
Bobby Lashley: Lashley's pros are many: Great look, lots of talent, but his cons are going to be a real problem sooner than later. The biggest con is his total lack of a personality. He seems like a nice guy, but there is no real discernible personality that I can detect and that's going to be just as big a problem now as it was back during his first WWE run.
Bobby Roode: Of the three guys in this article, Bobby Roode has the most sterling record. He's a multi-time World Champion and Tag Champion before he came to NXT. He's got a great look and a ton of talent, and he's good on the mic. The problem with Roode is 1. His age, he's 41. and 2. Roode is not a good WWE babyface. In TNA, he was at his best as a heel or tweener in singles and tag team, but I'm also not sure that turning him heel is going to help in WWE.
'Wait' I can hear you saying 'All three of these guys were World Champions outside of WWE and/or in NXT. How can they not be destined to be Universal Champion or WWE Champion?'. Well, the simple answer is that the indy scene, NXT, and TNA have smaller pools of top tier talent, which makes it easier for talented guys that are usually relegated to the mid or low card in WWE to leapfrog straight to the top. Cody Rhodes is a prime example of that.
Again, I'm not denigrating the talents of any of these guys, or the guys coming up that are going to be in the same boat. What I am saying is that WWE has a top tier talent rich pool on RAW and SmackDown and guys like McIntyre, Lashley, and Roode are likely not going to get close to the top spot like they easily could outside WWE.
---
Always Use Your Head and visit the official Pro Wrestling Tees store for The Chairshot All t-shirt proceeds help support the advancement of your favorite hard-hitting wrestling website, The Chairshot!

---