CheapShots: Cleveland Impersonates A Wrestler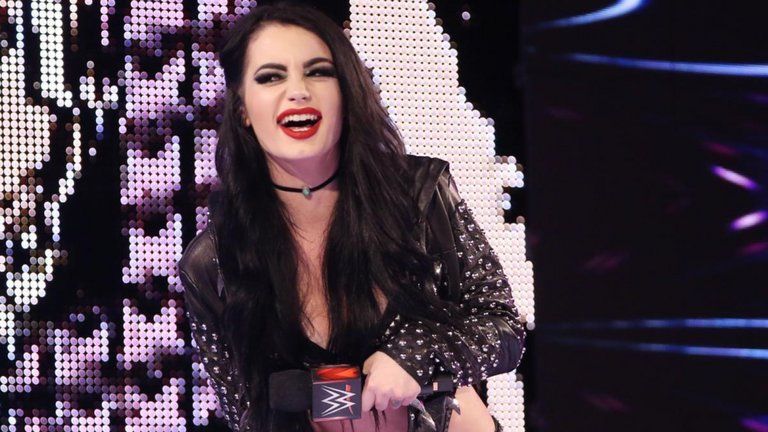 Cheap Shots are unfiltered, uncensored opinions, and those opinions reflect only the author!

To my passengers, Twitter Followers. Fans and Friends. This will be my only article this week. I am having wisdom teeth pulled tomorrow, I should be back at full strength next week. Keep me in your thoughts and prayers. I have a blast doing this for everyone every week. To my editors and colleagues, remember I have a bigger chair than all of you, and I will be back!
Mad Man on a northern flight path as my radar begins to freeze up. None of my other instruments are compromised. Thankfully, I am close enough to ground level to read three gigantic billboards specific to one place in my brother's home state. The first piece of signage shows a yellow background and the outline of a ring roped in black. Six words; three above and three below the ring are clearly visible. Rockstar Pro Wrestling & The Road Home. The second bit of advertising is a sign for WrestleMania. Finally, I see a life-sized mural asking royalty to stay. After a blink to think, the local geography lines up in my head. I am in the most desperate sports city in America. Let's hit cruising altitude and head to LeBron's Apartment.
The Derek Jeter addition of Monday Night Raw before WrestleMania opens with Paul cutting an in-ring promo with his roided-up ape doing nothing as usual. Mr. Heyman is laying down cement that won't set when he says he is the best orator in WWE history. With no respect at all Sir, I see you Jim Cornette and raise you Bobby Heenan. Neither were scripted and even you gotta know the writer feeding you that line is full of s***! Then, Paul starts running down The Samoan Dynasty saying they trained Roman Reigns to be a wrestler, a fighter and a badass. Though, they never trained him to be a man. Nice original material. Heyman attempts to shatter the internet, telling us Roman's suspension was lifted, and he wasn't there last night. Epic fail Paul. I can walk…HE WAS NEVER SUSPENDED! Two minutes after a horrible CNN impression; The Samoan Hype Machine comes slowly through the crowd, selling last week's injuries. His physical ability to perform cannot be questioned. Despite having a steel chair and landing a few haymakers, Lesnar destroys Reigns with a suplex on the floor and an F5 on the steel stairs. Can any marks or performers out there verify as a shoot if they are actually steel? I've always been curious.
Early recess this week as Mickie James came out intending to soften up Nia Jax for Alexa Bliss, who was at ringside to support her BFF. Nia has opened up so much as a character in recent months. Right now, her unfiltered emotion and rage are clear and should be, given Alexa's treatment of her. This match felt relatively quick, but storytelling was still good. Mickie went after Nia's knee throughout. However, Big Fine is just too strong, using a Press Slam and Samoan Drop to fold James in half for the pin. Bell rings, Nia hasn't even gotten up yet. Little Miss Math Class jumps in for one cheap shot. Nia looks at her as she scatters out of the ring and up the ramp to avoid detention.
I'm not sure if it's due to WrestleMania Season, but there seem to be a larger number of vignette and promo packages within WWE programming lately. The next one sees a grizzled Triple H and Ice Queen Stephanie McMahon sitting in what looks like a darkened gym, cutting a heel promo over their workout tape. Paul says Kurt Angle brought this himself. The Gold Medalist wanted attention. Daddy's Little Girl Says Ronda Rousey is the biggest signing in WWE history. They have big plans for Ronda. She's in their world now. She works for Steph, and Steph owns the ring, BLAH, BLAH, BLAH!
Hey Steph, I'll just leave your little genie in a bottle down at NXT. It's obvious to you, and every smart mark paying you that Piper's Namesake is NOT Sting at 55 years old. Otherwise, your little genie in a bottle wouldn't be with NXT. We know about your back pocket. The question is: When are you gonna open it? Back to last night. The Olympic Duo responded with an in-ring promo after Ronda's classic baby face entrance, (still cool). Kurt says he's prepared for a number of Mania matches, and he's seen others prepare for Mania Matches. He says Rousey's ready. Sssshhh, I say she's getting better on the mic! Ronda says Stephanie is tough. Trust fund tough. Limousine tough, and personal trainer tough.
Excuse us? What's this? Absolute Yawn's music hits. Paige in the middle of something? NO! The Pale Rider and her back up come to the ring to make things interesting. Paige says Ronda could use some friends and offers her a spot in the group. The Rowdy One turns the invitation down, reminding Paige that she has Angle watching her back. Goth chicks don't do anything half-assed. Pretending to leave, Paige sends her girls from outside in, looking for a fight. In case we forgot, Ronda Rousey is a badass! She gave Sonya Deville what appeared to be a VERY stiff clothesline to avoid being jumped. Poor Mandy Rose caught the biggest thorn of her life. She tried a kick, but Ronda caught her leg and went for an overhead throw. Sonya was supposed to be closer behind them but missed her spot by three steps. Deville's arm and shoulder cannot be feeling good today. Speaking of which, Mandy almost had hers broken. Folks, she wants to be here and she's getting better. RONDA RATTLED THE RING again!
Full disclosure here, I have not seen Rockstar Spud since he joined WWE. Yes Vince, I'm using his name from another organization just to piss you off. Deal with it! I certainly like his look. Thankfully, they have not done much to change his personality or gimmick, which in Stanford's case is saying a ton. In my opinion, there may be two handfuls of roster talent who should be given total freedom from scripting promos. The colorful representative of The Union Jack is on the short list. He just might bring a pulse to the cruiserweights. Spud's introduction to the flagship show was designed to shine a light on the WrestleMania Match between Mustafa Ali & Cedric Alexander for The Cruiserweight Gold. They teamed together and won a contest only notable for Spud's commentary. Congratulations on your arrival to New York lad. I sincerely hope you didn't sell your soul for complete anonymity.
Back to back segments that normally implore me to sleep are usually not good. Miz shows up, it is not uncommon to find me mid REM, dreaming of meeting Mercedes President. This time though, she would have to wait because Mike's segment was actually interesting. Dissention in The Miztourage; work or shoot, is always fun to ponder. Curtis Axel and Bo Dallas each have lineages within the art form. Both need an excuse to grow a set of balls. The Miz is arguably the luckiest p**** on the whole WWE roster. Never mind the fact that he's had backup for a good portion of his run. Unfortunately, this was a work that even smart marks bought for around ten minutes, DAMMIT! The segment was designed to attack The Move Set Twins. It ended with Fake Hollywood crawling away, Seth Rollins getting knocked out, and Finn Balor holding The IC Gold. Have no fear, The Good Brothers of Fake Bullet Club Number Who Knows came out later to beat The Miztourage in a tag match.
Time for the most pointless stretch of the night. My apologies in advance for lumping them together. First, Mr. Jacobs, we know they brought you back to move a storyline forward. We don't care! This isn't 2005 to 2010. As much as WWE has connected you to The Undertaker; both in the past and for current reasons, you are not him. You are 50 years old. Go run for Mayor. Now that we have seen you in a suit, talking with a former VJ on MTV, (Google it kids), you scare no one outside of politics! With all due respect to her and her family because TV exposure is still a big deal in the art form. Some Indie performer made $1000.00 for cutting a promo and letting Asuka kick her in the head. Good for her, Then Michael Cole thought he was opposite Jerry Lawler again. He criticized The Final Deletion as obnoxious. Out-dated? Done better somewhere else? Yes on both counts. Did I mention scripted announcer outrage pisses me off? At least Woken Matt cut a decent promo, confirming he would enter The Andre The Giant Memorial Battle Royal.
Did someone say something about being pissed off? Quoting Little Rock: FINALLY, Sasha and Bayley BLEW UP! It took months, and a backstage promo in Cleveland of all places. Started with a text and mutual personal attacks. Hey Elmo, don't go for The Dragon's throat unless you want residence in the burn unit! You go after her because Vince can't do math? How much Gold have you held? Ended with pulled hair and flying fists on a concrete floor. Would someone in that incompetent family PLEASE make this match for the big stage in New Orleans? Quick aside: Good luck to The 8-Pack Irishman and Lady Banks in The Finals of The Mixed Match Challenge tonight. Ms. Charlotte, we know how this would've ended tonight, don't we?
Braun Strowman and Shamus went one-on-one with the stipulation that if The Celtic Warrior won, The Big Man would have to tell The Bar who his tag partner was in the title match at Mania. The Irish Mohawk did not win. Elias made fun of Cleveland and won a squash match with Ryno. When we finally got to Big Match John and The Big Red Machine in a No DQ to end the night, it felt anti-climactic with the exception of Cena mimicking The Undertaker trying to draw him out. Despite knowing Kane would not win. I had flashbacks of Shawn Michaels coming out of the casket prior to his WrestleMania Rematch. That part was cool. As for afterward and BMJs questions: The answer is simple John, Cleveland is not Atlanta. Roman got shook, Ronda rattled some bones and we roll on The Road to WrestleMania. I am a better guitar player than The Honky Tonk Man. Now if you'll excuse me, I have to get air sick on the way to Flair Country, and the most important go home show of the year. Wheels up, let's fly!
---
Always Use Your Head and visit the official Pro Wrestling Tees store for The Chairshot All t-shirt proceeds help support the advancement of your favorite hard-hitting wrestling website, The Chairshot!

---
CheapShots: Kazuchika Okada,The Best In The World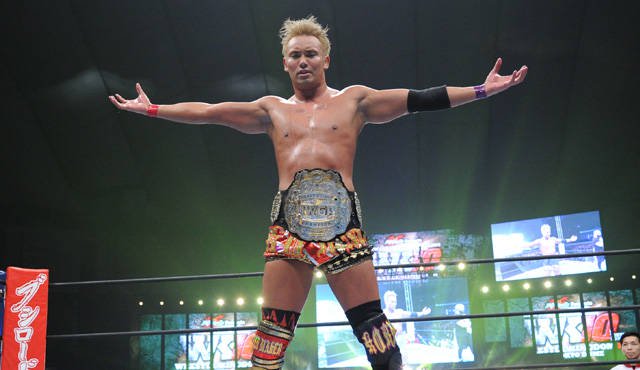 Kazuchika Okada, is the best wrestler there is today. Period. There are no ifs, ands, or buts about it. Yes I said it, if you don't agree with me you are wrong. If you don't agree, then you need to get off of the Kenny Omega Bandwagon, and stop only watching WWE, and go watch Okada's matches. Is my statement bold and out of left field? No. There are many people who believe this same thing. How do I know that Okada is the best wrestler there is today? Allow me to tell you the ways.
Shades of Flair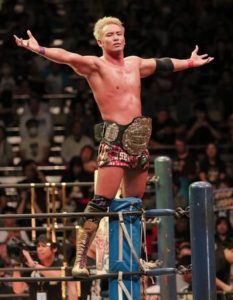 Now is it ballsy of me to compare Okada to Ric Flair? Yes. But, there is no one who reminds me so much of Flair than Okada. It's not that he is copying Flair in any way. It is Okada's ability in the ring that reminds me so much of Flair. I believe that Okada is doing something in wrestling today that I believe has not been seen since the days of Ric Flair. Okada is a champion, who has held the title for over 600 days, and puts on 60 minute matches. Have you ever tried to sit down and watch a 60 minute wrestling match? Some just drag on and on. There are very few people who can put on a 60 minute match consistently and keep it entertaining. Flair is one, Okada is the other.
He echoes shades of Ric Flair who made his rounds during the NWA territory, and early WCW days. Flair wasn't the biggest, wasn't the fastest, but his in ring ability, and his ability to tell a story in the ring is what makes Flair great, Okada is doing this same thing. One of the other things that make Flair the greatest of all time, was his ability to make anyone he wrestle look like they belong in the ring with him. Okada does the same thing, but elevates it. He makes them look like they belong in a Heavyweight Title match, and will also wrestle their style of wrestling. His match against Zack Sabre Jr. proved that he doesn't just have the Strong Style Wrestling ability. He wrestled a match that showcase Sabre's style, and at the end of the match it showed that yes Okada beat him, but he beat him at his own game, proving why he is the champion.
Okada was picked to be the face of NJPW, and he hasn't let them down, showing why he deserves that top spot. (Something WWE could learn from.) He being the face of NJPW is a reason why we will never see him in WWE. And we really don't need to see him in WWE. I fear it would hurt his wrestling ability. He is known for 60 minute, barn burning matches for him to have a 15min spot on the card would be insulting. But, every time he wrestles he shows why he is the champion and the face of NJPW. He is charismatic, he is a big guy, but also agile. His ability in the ring isn't the flashiest, but he is polished. I am not going to talk about star ratings cause I think one man's opinion shouldn't be taken as gospel. But, if you are into that kind of thing, then yes Okada does have a few of these matches.
Conclusion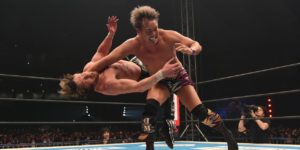 I truly believe that once his career is said and done (which will be a long time from now cause he is still young), Okada will be considered one of the greatest wrestlers who has ever laced up his boots. If you aren't watching Okada wrestle, or haven't seen him wrestle, then I implore you, to drop what you are doing and start watching. My ramblings don't do him justice. All I can say is, see it for yourself, you won't be disappointed. If you are a fan of Pro Wrestling and not "Sports Entertainment" as Vince calls it, then do yourself a favor, and get in on history in the making.
---
Always Use Your Head and visit the official Pro Wrestling Tees store for The Chairshot All t-shirt proceeds help support the advancement of your favorite hard-hitting wrestling website, The Chairshot!

---
CheapShots: Winners and Losers Of The WWE Superstar Shake-Up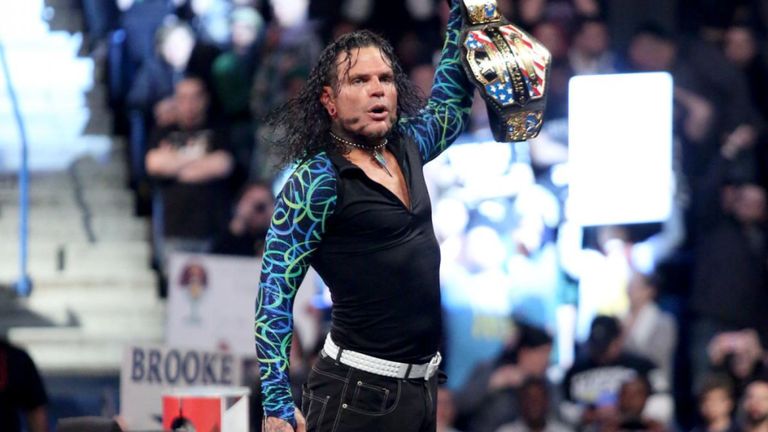 Cheap Shots are unfiltered, uncensored opinions, and those opinions reflect only the author!

The Superstar Shake Up of 2018 has come and gone and we're all left wondering:  Which roster, out of all the WWE shows, was really dealt the winning hand?
Monday Night Raw started off with Kurt Angle being interrupted by The Single Singh brother and introduced the US Champion, Jinder Mahal. Jinder is not on everyone's favourite wrestler list, but him going from jobber to main roster talent is an important shakeup. I think because he has had that main roster success this leaves a lot of opportunity for him to grow into a mid- to sometimes main-card status. Jeff Hardy, came out in a surprising matchup as Jinder made some demands of Kurt and offered a title match to anyone who would accept his challenge. The unexpected twist really got me invested in the match and watching Hardy counter the Coloss, hit the twist of fate, and land a swanton bomb made the match incredibly intense. After being crowned the new US Champ it was clearly expected that Jeff would be traded to Smackdown the following night.
The Miz had Kevin Owens and Sami Zayn on Miz TV where it was announced that Kevin Owens and Zayn have been signed to Raw. This was announced after an email was read by Zayn to Kurt Angle, that read that Stephanie McMahon had decided to move Owens and Zayn and undermines GM Kurt. Not willing to back down, Kurt countered by sending The Miz to Smackdown, one of the biggest storyline draws for WWE out of all of the superstar trades and call ups. The feud between Daniel Bryan and The Miz had some heated promos between one another. The Miz took Bryan's signature YES kicks and turned them into IT kicks, something that taunts Bryan inside and outside of the ring. Things between the two of them will definitely flare up now that Bryan is cleared to wrest and The Miz is on Smackdown.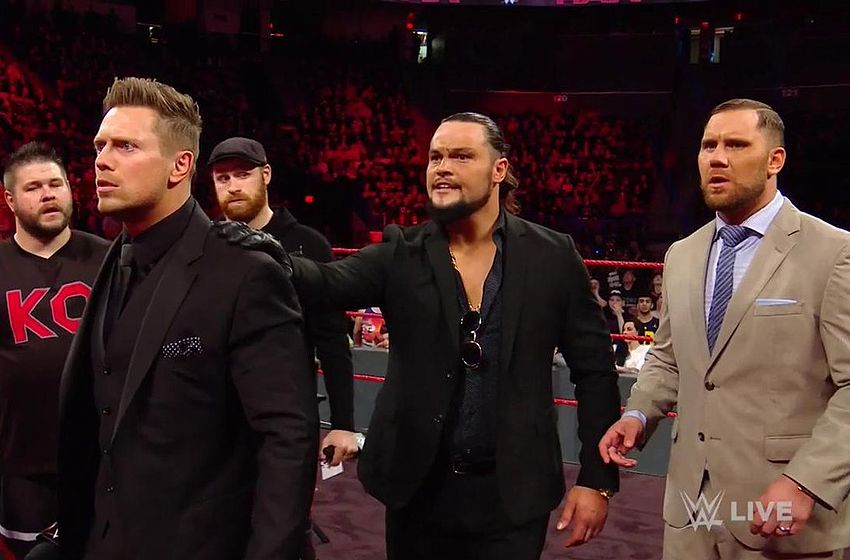 Backstage we learn that Breezango are now on Raw and issue citations to The Bar. I think with the addition of Breezango, AoP and the Woken Lovers, the Raw tag team division is starting to shape up a lot better. With the addition of AoP and the alliance between Bray Wyatt and Woken Matt the tag team division seems to be more fleshed out. More competition involved and more storylines to be draw upon.
Natalya has moved from Smackdown to Raw after having match after match with her long time rival, Charlotte. The feud has gone on for as long as it can and her addition to Raw breathes some new life into the women's division.. I'm excited to see where this goes because she's a great heel and gets a lot of heat from the audience when she does her promos. So it should be good to see what the women's division on Raw pulls out with her on their roster. Natalya's was also paired off against Absolution's Mandy Rose. She got the win and was ambushed by Sonya Deville. In an unexpected twist, Ronda Rousey saved Natalya which I suspect will lead to an eventual Feud between Natalya and her one-time saviour, Ronda.
​Not every part of the Raw side of the shakeup made sense to me though. Dolph Ziggler was introduced as the newest Raw member during a Titus World Wide Skit (hey! Apollo got his last name back!). In a move that drew "HOLY SHIT!" chants from the crow, Dolph turned down the offer to join the Raw roster and was joined by Drew McIntyre. Together they beat down Titus and Apollo Crews. The alliance between Dolph and Drew doesn't make a lot of sense because Dolph is, ultimately, an overpaid jobber. He was a former MITB winner and former World Champion with a great feud against The Miz, but after that he disappeared. He has no storyline that can save him and comes across like he's just here for the paycheck. On the opposite end of the spectrum you have Drew McIntyre. He has countless accomplishments on the indie scene as well as in TNA and has had a redemption tour of sorts by coming back to the WWE as a recreated and legitimate main card, main event wrestler. Winning the NXT championship and having his feud that ultimately led to his injury and loss of the championship and move to main roster status is great, but why with Dolph? If creative thinks that this might help Ziggler I doubt it or if Dolph could help Drew I strongly doubt that.
Bobby Roode, the last member of the WWE Superstar Shakeup that was announced, joined Raw this time around in another confusing choice. While Roode is clearly talented, he has been poorly booked as of late since joining the main roster. Maybe this shift to Raw's roster will help get him out there and in the ring more.
Shelton Benjamin had a heel moment against his former partner Chad Gable, who is now on Raw and says he [Benjamin] wants competition. Out comes Randy Orton, but as he is making his way to the ring, Jeff Hardy the newly crowned US Champ comes out and faces Benjamin. So it makes one wonder if we are going to get an Orton vs Hardy feud for the US Championship from this point. Jeff hits the twist of fate and a swanton bomb to win the match. I think it was a good move to have Jeff on Smackdown the WWE has always pushed Jeff in terms of single matches to be that it guy in the ring as his brother Matt and his "Woken" gimmick, is more of a story teller with his promos and Jeff tells a story with his in ring ability.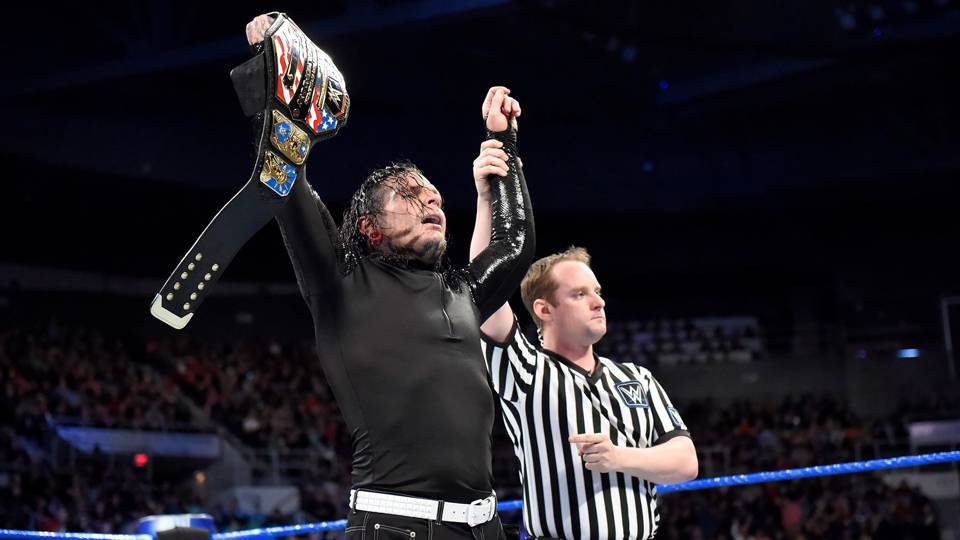 We had the next member of the shake up, Samoa Joe, in a match against Sin Cara. Joe beat Sin Cara fairly quickly and then cut a promo calling out AJ Styles and Randy Orton. Later he boasts he's going to beat Seth Rollins for the IC title in Saudi Arabia and then he's going to take down Reigns for the Universal Championship. This has been one of the few impactful moves that was done and it's a great addition for Smackdown but a loss for Raw. There are a lot of match ups that fit nicely with Joe as he can create heat with anyone. There's a dream matchup in the lengthy history between Joe and Styles from their days in TNA. I hope creative reignites this for the WWE Championship as it would help showcase the long careers these two have.
It was also announced that Sanity minus Nikki Cross. While this made me quite hesitant about the call up, I am curious to see what NXT do with Cross without Sanity by her side. I think Smackdown could have benefited from Cross being called up because the Smackdown Women's division is a little sparse, but we can draw back to Carmella being left in NXT when Big Cass and Enzo Amore were called up to the main roster and what that did for her.
Carmella had her, "Mellabration" after beating Charlotte last week and cashing in her MITB contract to win the WWE Smackdown Women's Championship. Carmella really put herself over by silencing the "YOU DESERVE IT" chants by stating that now she is THE woman to beat now. Charlotte comes out and talks up a storm before The Iconics, Billie Kay and Peyton Royce attack Charlotte. Becky Lynch comes out to save her BFF Charlotte. This then leads to a match between Billie Kay vs Charlotte. Charlotte wins with the figure 8, but is attacked by Kay, Royce and Carmella before we are introduced to the newest member of Smackdown, Asuka.
It's a good move for Asuka because she's beaten and done almost everything and everyone on Raw, except winning the Raw women's title. On Smackdown Asuka has a new roster of woman to beat and there is still in ring tension between her and Charlotte that has spilled over from their WrestleMania 34 match.
It's also announced that The Club is being reunited as Anderson and Gallows are joining Smackdown. I don't know about this move because Anderson and Gallows have been booked poorly since making their debut, even though they aren't really the powerhouses they were in NJPW. I thought they were making strides by joining Finn Balor at one point and maybe turning Finn heel as well, but maybe a reunion between Anderson, Gallows, and AJ Styles. It's also revealed that The Bar are going to Smackdown.R-Truth is also joining Smackdown Live as well as the former NXT Champion Andrade "Cien" Almas with Zelina Vega will be joining. Almas has always been a draw in regards to matches. I have rarely seen him have a poor match, but Zelina has added more to his overall character and really given him the push he needs to be considered main roster talent in the way she presents Almas.
Now, who in my opinion won the shakeup?  I think Smackdown had the better luck in terms of trades and call ups. Raw is slightly weakened by the shakeup without Samoa Joe or The Bar. Joe has chemistry with anyone he is paired up with and while I think the addition of Drew Mcintyre as a newly turned heel will help with that void. it is hard to replace such an well rounded wrestler as Joe. Same can be said for The Bar. Both wrestlers as individuals have great backgrounds and great chemistry with whoever was opposite of them in the ring and they have really come together as a tag team. You cannot take away the experience these two have and while I think AoP can help in that situation, they are new to the main roster and are new in comparison to Sheamus and Cesaro in terms of wrestling. While Raw did have the better showing of new Wrestlers I think Smackdown will have the advantage overall with the utilization of the new talent.
---
Always Use Your Head and visit the official Pro Wrestling Tees store for The Chairshot All t-shirt proceeds help support the advancement of your favorite hard-hitting wrestling website, The Chairshot!

---
CheapShots: Impact Quickie #5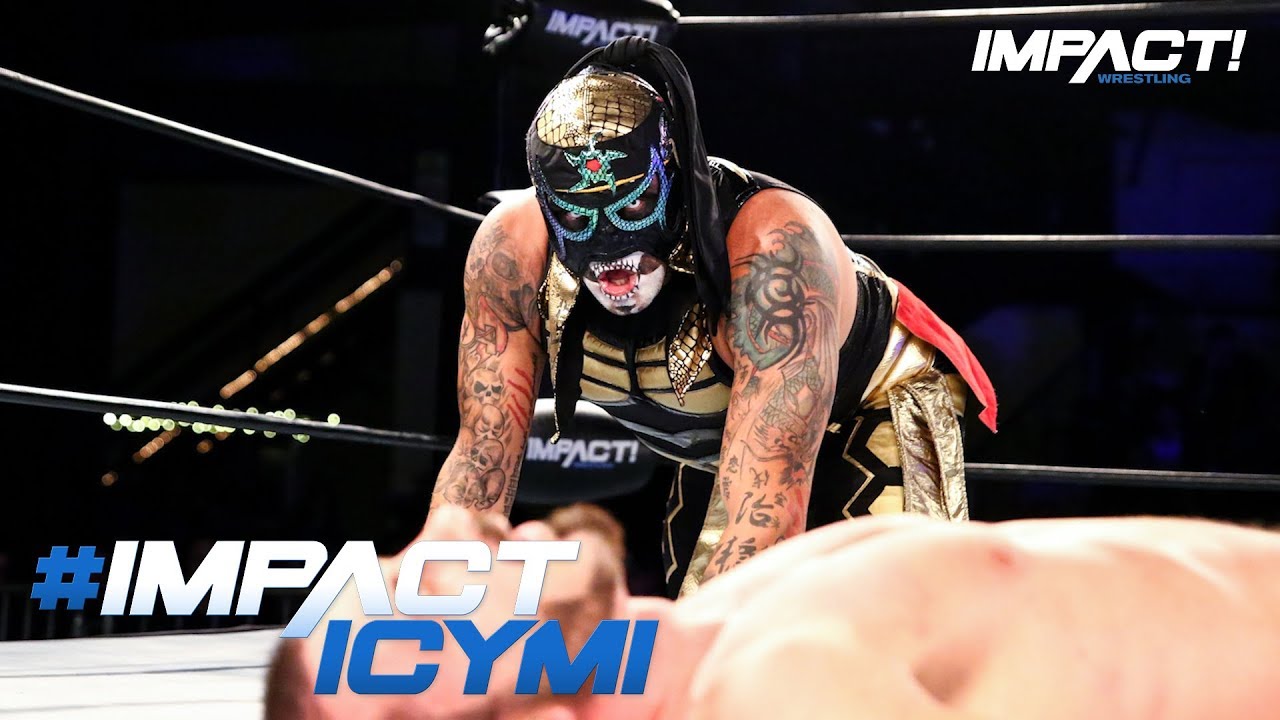 Cheap Shots are unfiltered, uncensored opinions, and those opinions reflect only the author!

My robot friends and I are here to dissect The Go Home Show for the next Impact PPV. We bring the microscopes out for the first match of the night. A partial recess primer to spotlight the showdown for Knockouts Gold. PC Little Dragon is already booted up. "Mr. Scrambled Brains and The Dead Angel Rip Off." The Odd Couple has an interesting challenge. Fallah Bahh is accompanied to the ring by an athlete named Kiera Hogan. As soon as both parties were between the ropes, AI Hercules asks: "Are we watching what I think we're watching?" I give tacit confirmation, as I'm unsure myself.
Smaller promotions have these matches regularly. Sabotage in Texas comes to mind. I hadn't seen an intergender match on a bigger stage until Thursday night. My boys were laughing their asses off at some of the spots here. Bad camera angle? Check! A wide shot caught Braxton Sutter jumping off the second rope to the mat. He landed on his feet right in front of the big man, so he could be taken over with a Belly-to-Belly Suplex. PC Little Dragon screams: "AT LEAST JUMP FAR ENOUGH FOR HIM TO CATCH YOU!" Fake Kendo Stick Shot? Check! Su Yung didn't even hit Fallah Bahh. Impact continues to make The Three Stooges look like Shakespeare. The Undead Bride went over her female counterpart with a Panic Switch. Hogan certainly has potential. Who knows if Orlando is planning to keep her? Corporate flexibility does not appear to be a choice for Anthem's Circus Division.
"That was interesting. Could've been presented better." Little Dragon is not wrong. After the bell, Knockouts Champion Allie fires the next shot at Su Yung, attacking her on the ramp. It's gonna take all of Allie's emotional strength and positive energy to overcome this challenge, and she knows it. Weirdly, Braxton Sutter appeared torn between both ladies while pulling them apart. I doubt this was intentional. Given his erratic behavior, few sheep would buy a face turn right now. Most would be very surprised if The Second Bride Gimmick in recent Impact history doesn't leave Redemption with Knockouts Gold.
Even for a show under these circumstances, there were tons of promos and recap material. The rehash fest began with a scene from the LAX clubhouse. Konnan is warning the crew about Scott Steiner's volatility. "This dude can sell anything, including a 50-year-old relic." After AI Hercules picked up the mic, we cut to Eli Drake doing some self-aggrandizing because of his dual briefcases. Ham Cube shows up mid-way through his promo; running down The Mexican Ace, saying all he did in The NWO was carry bags. Bless your heart Scott. Next was a vignette recounting the Eddie Edwards/OVE angle along with its pending 6-man resolution at Redemption. Our last sleeping pill comes in an infomercial for The Indian Sub-continent, as Matt Sydal continues to lie about his third eye in preparation for his X-Division Title Match with Petey Williams.
We wake up to a relevant interview as Jimmy Jacobs and Kongo Kong remind us that Johnny Impact's opportunities have increased thanks to his good looks. Dragged Out Disco parrots that monsters like Kongo Kong must take opportunities when they present themselves. Johnny Gorgeous would have some empathy after Jimmy's Giant Stutter got his hands on The Captain of Starship Pain. It's very difficult to move a pissed off brick wall. For now, this program is meant to mimic a windshield and bug encounter. Despite Mr. Morrison's professionalism, PC Little Dragon notices negligence from some of his co-workers. "Either the cameraman shot this from the wrong angle, or Impact has terrible editors." Jacobs' monster set up the ring steps on the apron. Kong carried Johnny into his crude weapon face-first. His hand was clearly going up; both to cushion the blow and hide the obvious blading. Seriously Impact? This episode has been canned for weeks and THAT'S the best you've got? Betting my chair swinging supervisors could find a more usable shot.
Unfortunately, additional filler closed the show. Before we got there, KM was issuing his "open challenge" in the ring. Brian Cage enters and squashes the heel as a billboard for the 6-way X-Division match at Redemption. Apparently, bookers in Orlando have been watching RAW under cover. They replayed the entire Main Event from a tandem show with Lucha Underground at WrestleCon in New Orleans. The only problem with doing this is that the exact same match is The Main Event Sunday, Austin Aries Promotional Gold will be in the balance though. Don't misunderstand, it was a very good match and I enjoyed learning the backstory of Pentagon Jr. & Fenix. Why cut the buy rate to a PPV on purpose? Who honestly believes either of the masked siblings is walking out of the reset with the strap? If owl suits need assistance with talent and creative process, my boys and I know a weather-related couple not far from the Parent Company who could help with both. We will see everyone soon. Time to recharge!
---
Always Use Your Head and visit the official Pro Wrestling Tees store for The Chairshot All t-shirt proceeds help support the advancement of your favorite hard-hitting wrestling website, The Chairshot!

---