Chris Deez's WWE FastLane Predictions
So, it's that time of the month where I bury my head in the sand and try to pretend that wrestling doesn't exist. You guessed it… it's a SmackDown Live PPV! I won't beat around the bush here, the blue brand has been pretty poor for a good few months now and the polar opposite of where it was 12 months ago. Fastlane is just a few days away and is your typical 'final stop on the road to Wrestlemania' PPV, with a below average card, two matches with great potential and a few which have been hastily thrown together to fill time.
So, with that said… who is going to win? Who is taking a giant step towards WrestleMania? And who even cares anymore?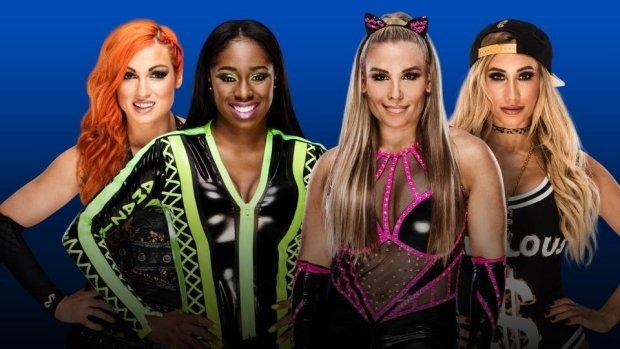 Becky Lynch and Naomi vs. Natalya and Carmella
Erm… what? I have no idea where this match has even come from and it's a clear attempt to fill time and keep Carmella relevant while WWE continue to tease her Money in The Bank cash in which seems to have been going on FOREEEEEEEVER. At this point I feel I should point out that I've not bothered watching SDLive for the last two weeks, I can't bring myself to anymore, so for all I know this match could have had Austin v Rock at Mania 17 levels of hype and build up. But I imagine it was put together as a result of 6-woman tag matches and various clusterfuck pile up run ins. Becky Lynch and Naomi deserve better… Naomi was champion less than 12 months ago and Becky is one of the most talented women wrestlers of the last decade. Bleugh
Prediction – Becky and Naomi win in this thrill a minute match of the year. 5 Star Meltzer star rating incoming.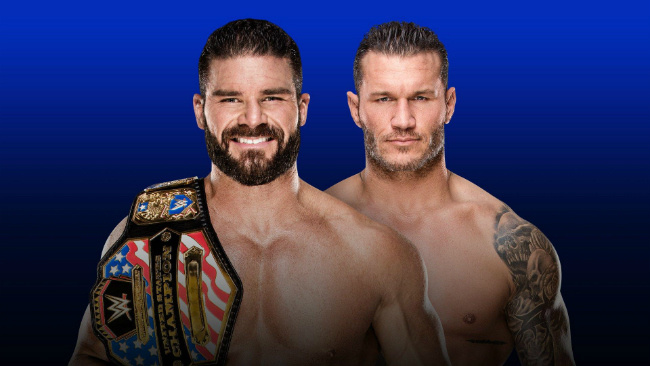 United States Championship Match: Bobby Roode (c) vs. Randy Orton
I absolutely LOVED Bobby Roode in NXT. We all did. He was a heel but by god he was a fantastic heel. Main roster Roode has been weak in comparison, with WWE trying to cash in on the GLORIOUS gimmick for far too long. Randy Orton is another case altogether. Despite winning the Royal Rumble, becoming WWE Champion and being billed as a top guy… he continues to be completely irrelevant and hang on to a living off the back of one move. The mid card on SDLive is so uninspiring it hurts to watch, and they continue to waste Rusev despite him being the most over guy on the entire roster and potentially the entire company.
I fully expect golden boy Orton to pick up the much undeserved win here because the commentary team wont shut up about the US Championship being the only one missing off his CV. I'm gonna go out on a limb here and say he might…. MIGHT win with an RKO. Crazy right? Rusev absolutely HAS to be given an opportunity after this, the only issue being he has already suffered through a dull as dishwater feud with Orton only a few months ago. Christ almighty, SDLive needs some new talent post Mania desperately.
Prediction – RKO. Because RKO. Oh RKO? Yeah…RKO. Hahaha, RKO!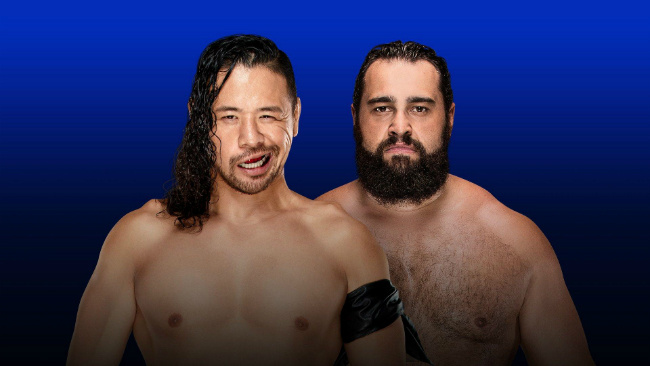 Shinsuke Nakamura vs. Rusev
Poor RuRu. Out of absolutely nowhere, he became on of the most over talents in recent memory, struck up a hilarious partnership with Aiden English and was part of some phenomenal Fatal 4 Way matches alongside the Uso's, The New Day and Benjable (Chad Gable & Shelton Benjamin). FINALLY, his stock was rising again, as he finally got rid of the unsavoury taste left from being buried by John Cena and being part of the cringeworthy love square storyline with Dolph Ziggler, Lane and Summer Rae. If you weren't watching SDLive at the time and missed it all go down, do yourself a favour… don't go back and watch it. Avoid it like the plague.
But anyway, I digress. With all of that behind him, surely Rusev is being booked like a monster now right? Tearing through the roster? Nah, don't be silly, this is SDLive. He is booked in for a match against Shinsuke Nakamura, the winner of the Royal Rumble, which he will quite predictably lose. I used to love WWE when you genuinely had no idea who wold come out victorious, but in this match we find Rusev booked against a guy who is going on to main event WrestleMania against AJ Styles. Oh, and he's also doing it to avenge his best friend English who was injured at the hands of Nakamura. You couldn't make this shit up if you tried.
Prediction – Nakamura wins because the Bulgarian/Russian markets aren't nearly as profitable as the Asian market.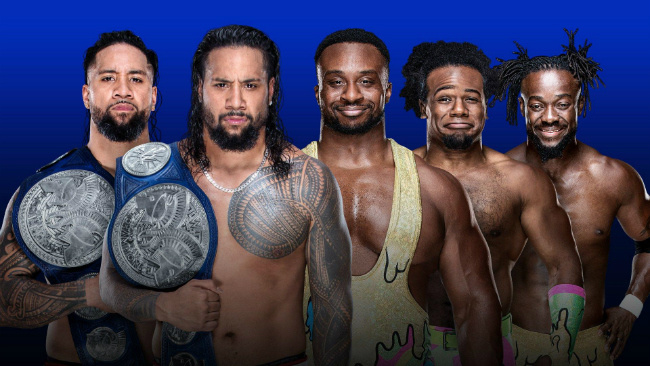 Smackdown Tag Team Championship Match: The Uso's (c) vs. New Day
Don't get me wrong, this match will more than likely be fantastic and could well be the match of the night. But damn, do we really need to see it again? Hell in A Cell was meant to be the final act in what was hands down the rivalry of 2017, but since then we've seen the teams clash while involved in the title scene towards the end of 2017 and now we find ourselves in familiar territory again despite there being at least two more teams who could be challenging right now. I absolutely LOVE these two teams, am a huge fan of everything New Day related and between the two of them they've completely revolutionized tag team wrestling, but this is yet another unnecessary throwaway match.
There's no chance in hell The Uso's will lose this one. The going plan seems to be the Blugeon Brothers challenging for the titles at WrestleMania and inevitably capturing the gold because they are big men and Vince McMahon LOOOOVES big men. I would expect Harper and Rowan to make their presence felt during this match with a post victory beat down on the victorious brothers.
Prediction – The Usos and nobody else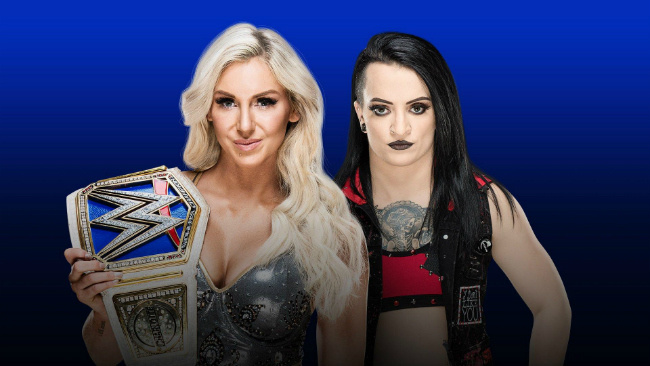 Smackdown Women's Championship: Charlotte Flair (c) vs. Ruby Riott
Now, call me a cynic, but hasn't the SDLive women's division been hot garbage for quite a while now? Charlotte is absolutely one of the best female wrestlers of all time, but she is being wasted in a massive way on the blue brand. Her rivalry with Sasha Banks on RAW is a huge part of the reason that the women of WWE find themselves finally earning the respect they thoroughly deserve, but on SDLive Charlotte is in desperate need of a rival who brings out the best in her. The Rock had Stone Cold. HBK had Bret Hart. Ric Flair had Sting. Charlotte has… Ruby Riot? Lord give me strength. This is in no way an attack on Riot as she has certainly impressed since stepping up from NXT, though next to Liv Morgan and Sarah Logan she was always going to look incredible, but she is in no way close to Charlotte's level yet. The other thing making this lose all relevance is WWE's insistence on having Charlotte operate as a babyface. Her in ring style and mic work has always suited her to being a dirty heel just like her daddy Ric, but SDLive don't have many great faces anymore and have forced Charlotte into a role that makes her look less imposing, dominating or legitimate.
Could this be the night when we finally see Carmella cashing in? No. Absolutely not. That is something we want to see; therefore WWE won't allow it to happen yet. At this point a lot of people have probably forgotten she even has the briefcase anymore, and even if she cashes in at Mania it will be a short-lived title reign as she is absolute trash still. WWE need to sort out the women's divisions urgently before they slip back into the dark days of being a sideshow. But hey… 3v3 matches are exciting right? Guys? GUYS…!?
Prediction – Riott Squad attempt to interfere, Charlotte's mates come to save her, and she picks up the win. Because god forbid we should have a good 1v1 women's match when we could instead have 8 of them involved in a botch filled mess.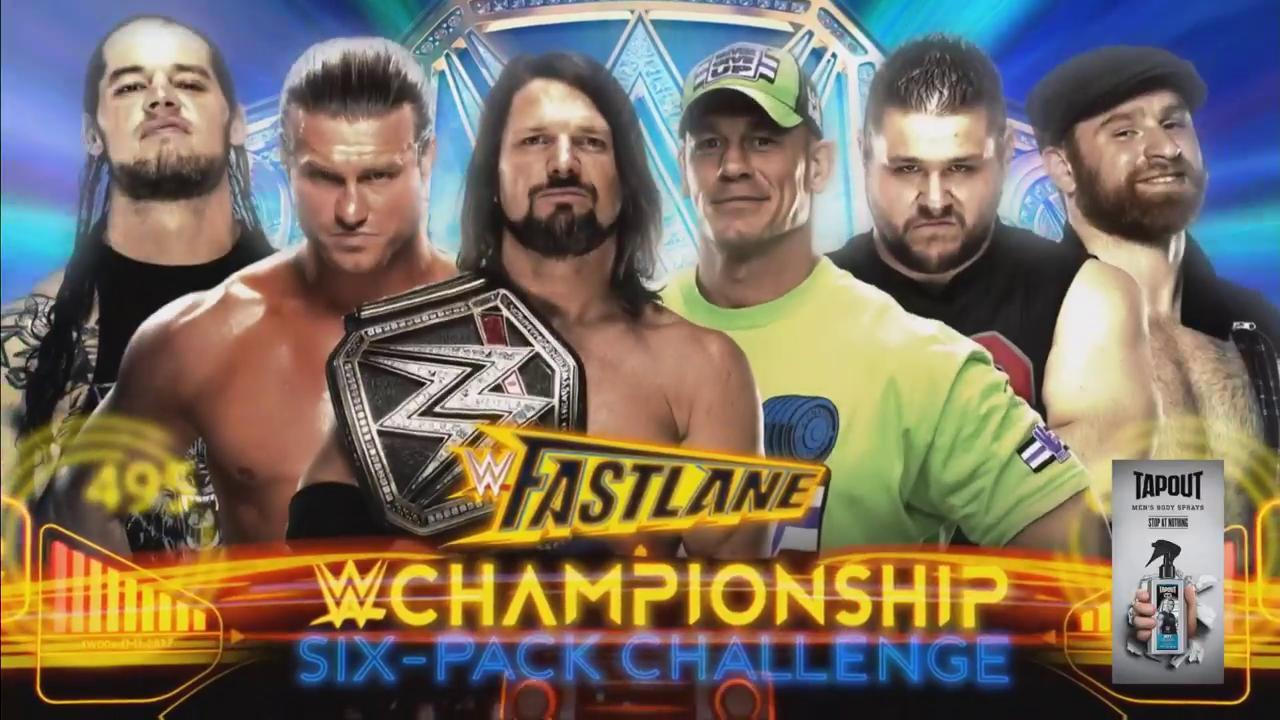 Six-Pack Challenge for the WWE Championship: AJ Styles (c) vs. John Cena vs. Kevin Owens vs. Sami Zayn vs. Baron Corbin vs. Dolph Ziggler
Why invest time into multiple great feuds with your top talent and flesh out the show when you can instead stick them all into one match? On paper this looks great and I'm sure they'll be some good spots, but its just yet another sign of how far SDLive has slipped in terms of great storytelling. Prime example being Dolph Ziggler and Baron Corbin. Dolph wins the US Championship out of nowhere from Corbin. Relinquishes the title two nights later and 'quits'. A tournament is set up to determine a new champion. Corbin loses in the first round. Dolph comes back at spot 30 in the Royal Rumble. Doesn't go back after the US Championship. Both men gave singles matches which they win and get entered into this match for the top title. I mean… who is telling Road Dogg that he is doing a good job? Lazy writing like I have never seen before.
Then to ramp up the lazy writing a notch or 10, lets chuck John Cena in there too! And better yet, lets have him defeat the current champion and best wrestler in the world to gain entry! Way to make your champion look less credible guys! The only positive thing going on with this title scene at the moment is that Shane McMahon and Daniel Bryan seem to have nothing to do with it anymore and we focus on the actual superstars as should have always been the case.
I've no idea how this one is gonna play out. The best-case scenario would be to see Kevin Owens and Sami Zayn split up and feud until Mania, with Styles keeping the belt and going on to face Nakamura in potentially the match of the night at Mania. The only other possibility I see here is Cena winning, becoming the all-time record holder for championship reigns, Styles invoking his rematch clause and we see a phenomenal triple threat on The Grandest Stage of Them All.
Prediction – AJ retains in a messy match full of spots and just general nonsense.
I, like many fans right now, have no interest at all in this PPV. Probably wont even watch it to be fair. It's a predictable and unnecessary step before Mania which will likely do nothing to impact the landscape leading up to that fateful day in April. WWE's decision to go back to one PPV per month from May onwards was definitely the correct one, even if it means extending the run time of the event itself.
Please can it just be WrestleMania already?