Chris Deez's WWE FastLane Predictions
So, it's that time of the month where I bury my head in the sand and try to pretend that wrestling doesn't exist. You guessed it… it's a SmackDown Live PPV! I won't beat around the bush here, the blue brand has been pretty poor for a good few months now and the polar opposite of where it was 12 months ago. Fastlane is just a few days away and is your typical 'final stop on the road to Wrestlemania' PPV, with a below average card, two matches with great potential and a few which have been hastily thrown together to fill time.
So, with that said… who is going to win? Who is taking a giant step towards WrestleMania? And who even cares anymore?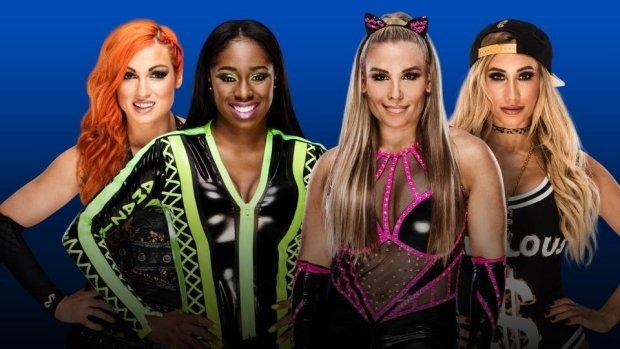 Becky Lynch and Naomi vs. Natalya and Carmella
Erm… what? I have no idea where this match has even come from and it's a clear attempt to fill time and keep Carmella relevant while WWE continue to tease her Money in The Bank cash in which seems to have been going on FOREEEEEEEVER. At this point I feel I should point out that I've not bothered watching SDLive for the last two weeks, I can't bring myself to anymore, so for all I know this match could have had Austin v Rock at Mania 17 levels of hype and build up. But I imagine it was put together as a result of 6-woman tag matches and various clusterfuck pile up run ins. Becky Lynch and Naomi deserve better… Naomi was champion less than 12 months ago and Becky is one of the most talented women wrestlers of the last decade. Bleugh
Prediction – Becky and Naomi win in this thrill a minute match of the year. 5 Star Meltzer star rating incoming.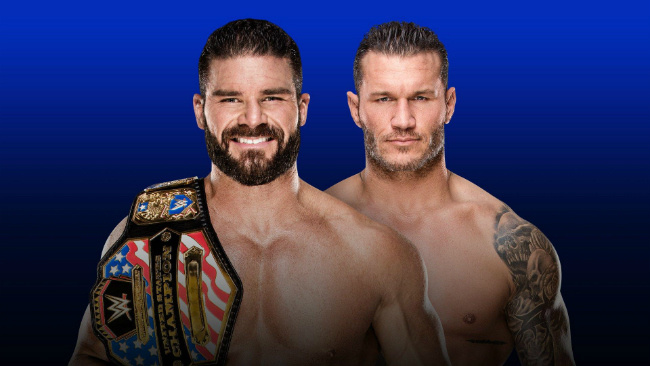 United States Championship Match: Bobby Roode (c) vs. Randy Orton
I absolutely LOVED Bobby Roode in NXT. We all did. He was a heel but by god he was a fantastic heel. Main roster Roode has been weak in comparison, with WWE trying to cash in on the GLORIOUS gimmick for far too long. Randy Orton is another case altogether. Despite winning the Royal Rumble, becoming WWE Champion and being billed as a top guy… he continues to be completely irrelevant and hang on to a living off the back of one move. The mid card on SDLive is so uninspiring it hurts to watch, and they continue to waste Rusev despite him being the most over guy on the entire roster and potentially the entire company.
I fully expect golden boy Orton to pick up the much undeserved win here because the commentary team wont shut up about the US Championship being the only one missing off his CV. I'm gonna go out on a limb here and say he might…. MIGHT win with an RKO. Crazy right? Rusev absolutely HAS to be given an opportunity after this, the only issue being he has already suffered through a dull as dishwater feud with Orton only a few months ago. Christ almighty, SDLive needs some new talent post Mania desperately.
Prediction – RKO. Because RKO. Oh RKO? Yeah…RKO. Hahaha, RKO!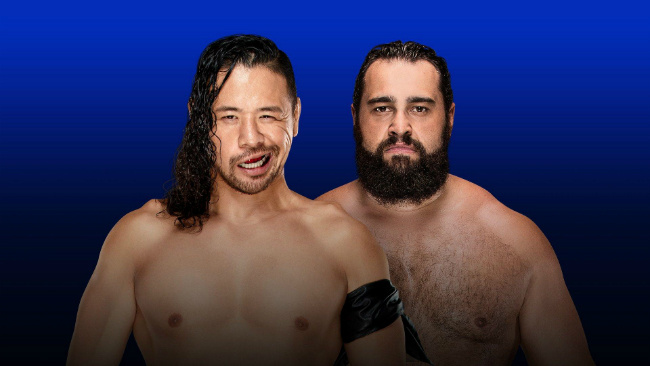 Shinsuke Nakamura vs. Rusev
Poor RuRu. Out of absolutely nowhere, he became on of the most over talents in recent memory, struck up a hilarious partnership with Aiden English and was part of some phenomenal Fatal 4 Way matches alongside the Uso's, The New Day and Benjable (Chad Gable & Shelton Benjamin). FINALLY, his stock was rising again, as he finally got rid of the unsavoury taste left from being buried by John Cena and being part of the cringeworthy love square storyline with Dolph Ziggler, Lane and Summer Rae. If you weren't watching SDLive at the time and missed it all go down, do yourself a favour… don't go back and watch it. Avoid it like the plague.
But anyway, I digress. With all of that behind him, surely Rusev is being booked like a monster now right? Tearing through the roster? Nah, don't be silly, this is SDLive. He is booked in for a match against Shinsuke Nakamura, the winner of the Royal Rumble, which he will quite predictably lose. I used to love WWE when you genuinely had no idea who wold come out victorious, but in this match we find Rusev booked against a guy who is going on to main event WrestleMania against AJ Styles. Oh, and he's also doing it to avenge his best friend English who was injured at the hands of Nakamura. You couldn't make this shit up if you tried.
Prediction – Nakamura wins because the Bulgarian/Russian markets aren't nearly as profitable as the Asian market.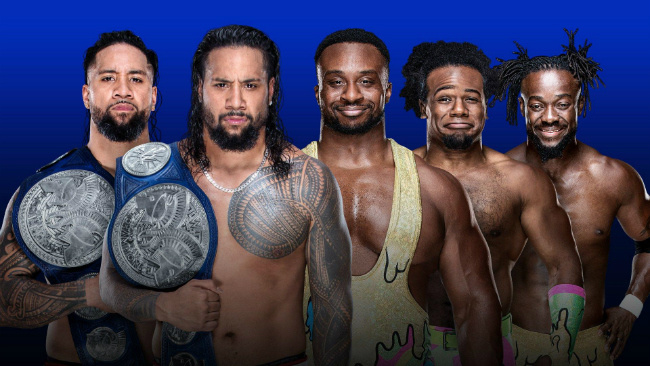 Smackdown Tag Team Championship Match: The Uso's (c) vs. New Day
Don't get me wrong, this match will more than likely be fantastic and could well be the match of the night. But damn, do we really need to see it again? Hell in A Cell was meant to be the final act in what was hands down the rivalry of 2017, but since then we've seen the teams clash while involved in the title scene towards the end of 2017 and now we find ourselves in familiar territory again despite there being at least two more teams who could be challenging right now. I absolutely LOVE these two teams, am a huge fan of everything New Day related and between the two of them they've completely revolutionized tag team wrestling, but this is yet another unnecessary throwaway match.
There's no chance in hell The Uso's will lose this one. The going plan seems to be the Blugeon Brothers challenging for the titles at WrestleMania and inevitably capturing the gold because they are big men and Vince McMahon LOOOOVES big men. I would expect Harper and Rowan to make their presence felt during this match with a post victory beat down on the victorious brothers.
Prediction – The Usos and nobody else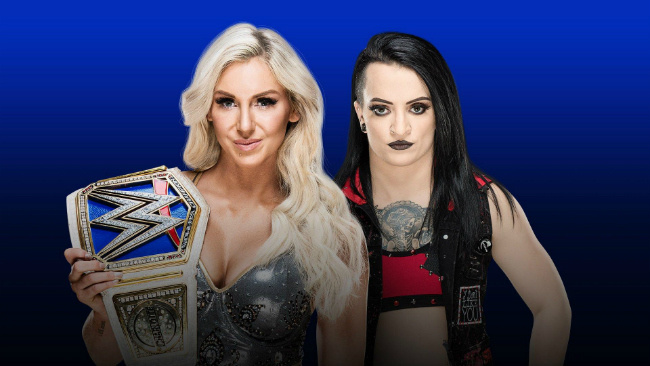 Smackdown Women's Championship: Charlotte Flair (c) vs. Ruby Riott
Now, call me a cynic, but hasn't the SDLive women's division been hot garbage for quite a while now? Charlotte is absolutely one of the best female wrestlers of all time, but she is being wasted in a massive way on the blue brand. Her rivalry with Sasha Banks on RAW is a huge part of the reason that the women of WWE find themselves finally earning the respect they thoroughly deserve, but on SDLive Charlotte is in desperate need of a rival who brings out the best in her. The Rock had Stone Cold. HBK had Bret Hart. Ric Flair had Sting. Charlotte has… Ruby Riot? Lord give me strength. This is in no way an attack on Riot as she has certainly impressed since stepping up from NXT, though next to Liv Morgan and Sarah Logan she was always going to look incredible, but she is in no way close to Charlotte's level yet. The other thing making this lose all relevance is WWE's insistence on having Charlotte operate as a babyface. Her in ring style and mic work has always suited her to being a dirty heel just like her daddy Ric, but SDLive don't have many great faces anymore and have forced Charlotte into a role that makes her look less imposing, dominating or legitimate.
Could this be the night when we finally see Carmella cashing in? No. Absolutely not. That is something we want to see; therefore WWE won't allow it to happen yet. At this point a lot of people have probably forgotten she even has the briefcase anymore, and even if she cashes in at Mania it will be a short-lived title reign as she is absolute trash still. WWE need to sort out the women's divisions urgently before they slip back into the dark days of being a sideshow. But hey… 3v3 matches are exciting right? Guys? GUYS…!?
Prediction – Riott Squad attempt to interfere, Charlotte's mates come to save her, and she picks up the win. Because god forbid we should have a good 1v1 women's match when we could instead have 8 of them involved in a botch filled mess.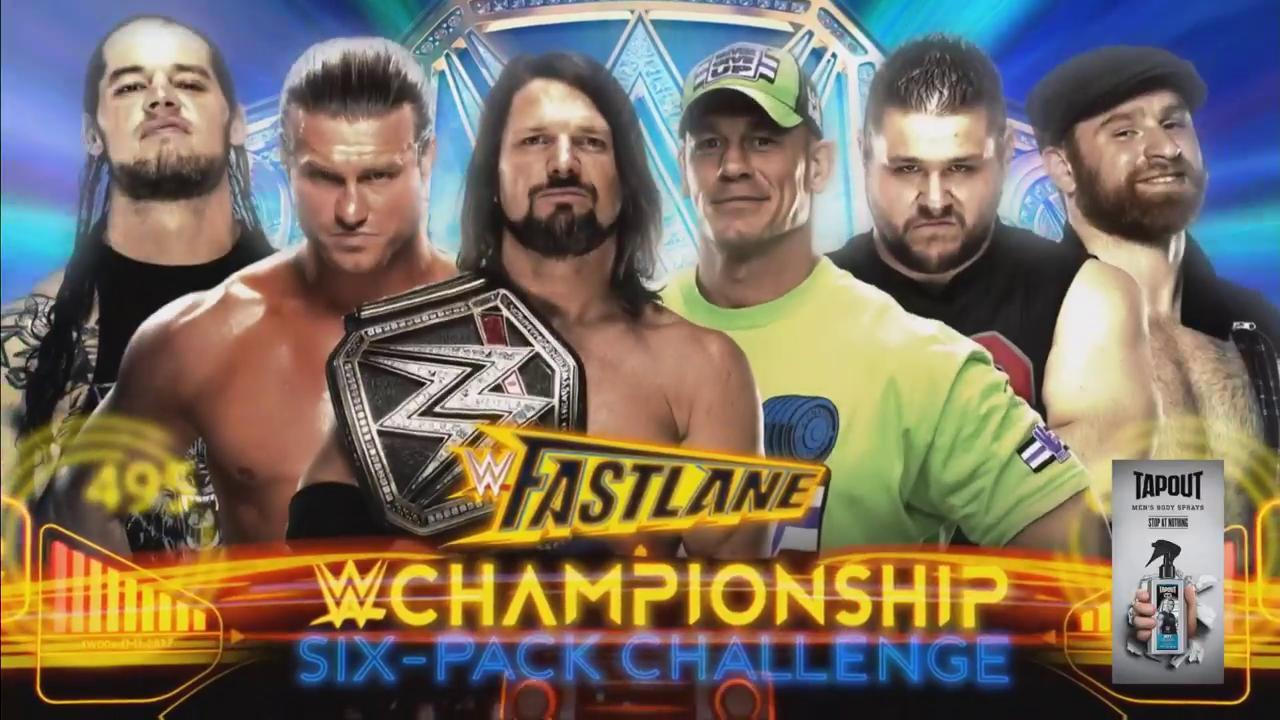 Six-Pack Challenge for the WWE Championship: AJ Styles (c) vs. John Cena vs. Kevin Owens vs. Sami Zayn vs. Baron Corbin vs. Dolph Ziggler
Why invest time into multiple great feuds with your top talent and flesh out the show when you can instead stick them all into one match? On paper this looks great and I'm sure they'll be some good spots, but its just yet another sign of how far SDLive has slipped in terms of great storytelling. Prime example being Dolph Ziggler and Baron Corbin. Dolph wins the US Championship out of nowhere from Corbin. Relinquishes the title two nights later and 'quits'. A tournament is set up to determine a new champion. Corbin loses in the first round. Dolph comes back at spot 30 in the Royal Rumble. Doesn't go back after the US Championship. Both men gave singles matches which they win and get entered into this match for the top title. I mean… who is telling Road Dogg that he is doing a good job? Lazy writing like I have never seen before.
Then to ramp up the lazy writing a notch or 10, lets chuck John Cena in there too! And better yet, lets have him defeat the current champion and best wrestler in the world to gain entry! Way to make your champion look less credible guys! The only positive thing going on with this title scene at the moment is that Shane McMahon and Daniel Bryan seem to have nothing to do with it anymore and we focus on the actual superstars as should have always been the case.
I've no idea how this one is gonna play out. The best-case scenario would be to see Kevin Owens and Sami Zayn split up and feud until Mania, with Styles keeping the belt and going on to face Nakamura in potentially the match of the night at Mania. The only other possibility I see here is Cena winning, becoming the all-time record holder for championship reigns, Styles invoking his rematch clause and we see a phenomenal triple threat on The Grandest Stage of Them All.
Prediction – AJ retains in a messy match full of spots and just general nonsense.
I, like many fans right now, have no interest at all in this PPV. Probably wont even watch it to be fair. It's a predictable and unnecessary step before Mania which will likely do nothing to impact the landscape leading up to that fateful day in April. WWE's decision to go back to one PPV per month from May onwards was definitely the correct one, even if it means extending the run time of the event itself.
Please can it just be WrestleMania already?
---
Always Use Your Head and visit the official Pro Wrestling Tees store for The Chairshot All t-shirt proceeds help support the advancement of your favorite hard-hitting wrestling website, The Chairshot!

---
Top 5 Matches: Week Ending 10/14/2018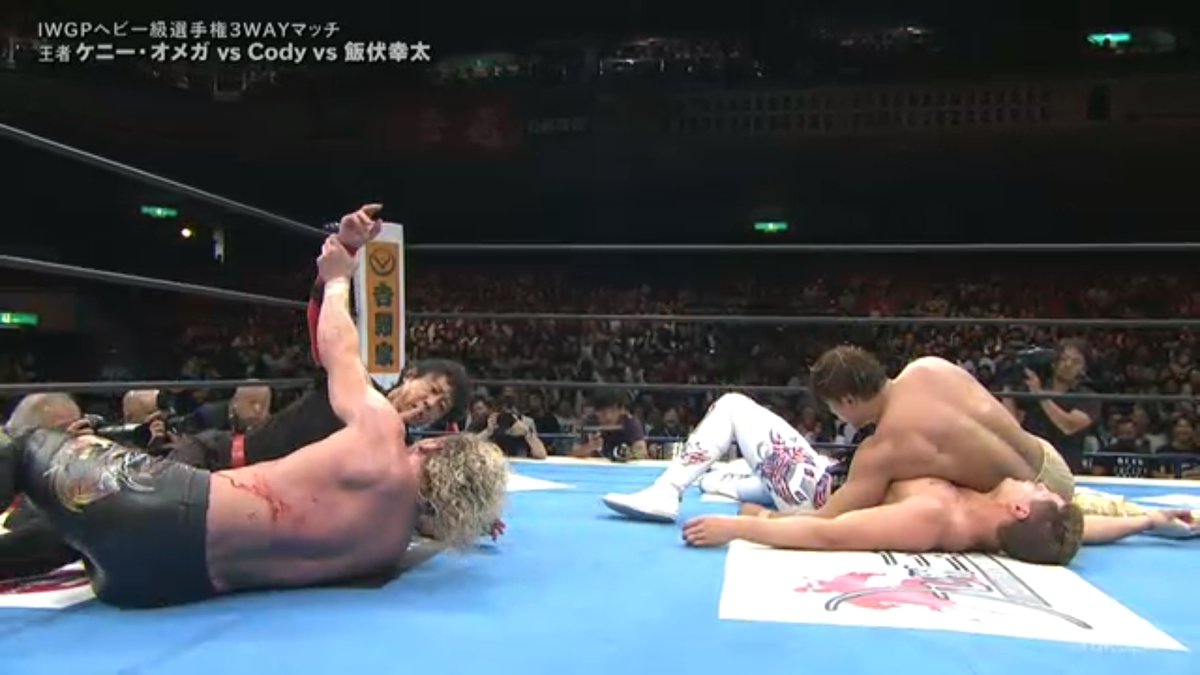 Well in a weekend of cray matches, crazy football games and overall crazy entertainment, this isn't a very WWE friendly list.
Before we get to the Top 5 Matches, we need to go over the two votes we had last week. Firstly, our September winner:
January – NXT Takeover Philly: Johnny Gargano vs Andrade Almas
February – New Beginning in Osaka: Kazuchika Okada vs SANADA
March – Strong Style Evolved: Golden Lovers vs Young Bucks
April NXT Takeover NOLA: Andrade Almas vs Aleister Black
May – WWE Backlash: Seth Rollins vs The Miz
June – NJPW Dominion: Kazuchika Okada vs Kenny Omega
July – G1 Climax 28: Hirooki Goto vs Tomohiro Ishii
August – G1 Climax 28 Finals: Hiroshi Tanahashi vs Kota Ibushi
September – All In NWA Championship Match: Cody vs Nick Aldis (c)
It's not the kind of match the IWC usually goes crazy for, but this proves that good story telling and emotional investment still leave an impression on people. As for last week, that's more par for the IWC course. WWE Super Show-Down Cruiserweight Title Match: Cedric Alexander (c) vs Buddy Murphy, got most of the votes last week.
Now that we see what the MOTY pool is shaping up to be, let's see what else joins the Cruiserweight match.
5. NJPW King of Pro Wrestling IWGP Heavyweight Championship Triple Threat: Kenny Omega (c) vs Cody vs Kota Ibushi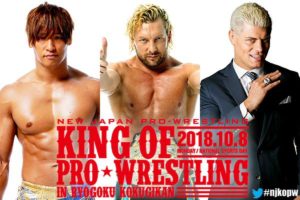 Only the third IWGP Heavyweight Triple Threat, and I suppose it doesn't have a high bar to live up to. The first was effectively a match just to make Brock Lesnar look like a beast in 2005. The second was at ROH War of the Worlds in 2014, and…well…we don't speak of that. So yeah, low bar, so if they all have a mediocre match, it'll still be the best Triple Threat in the history of the IWGP Championship.
To be succinct, Omega was right in his post match promo. It was a little bit of a Cody match, Ibushi match and Omega match…but that also made the pacing a little awkward. It was mostly a formulaic WWE style of Triple Threat where one person gets dumped out and two focus on each other for a few minutes and then, switch.
It had some flashy spots, like Cody going through the announce table. Also a nice subtle statement from Cody during the match was interesting, when he said, "I'm your friend too! Help me too!". Omega's bias was an interesting underlying theme in the match.
As a match, it was pretty good, it felt weird given it was in New Japan and Ibushi sold more frustration and emotional struggle than Kenny once again. The fact Kenny doesn't think twice about landing moves on Ibushi and then tries to put him over in the post match promo, just makes this whole relationship feel like Stockholm Syndrome.
I'm not going into moves, but the match is fine, if you aren't a puro purist, you'll probably be okay with it. But the match wasn't a classic that will last more than the next couple months in most memories.
Winner: Omega via One Winged Angel (on Ibushi)
Rating: **** 1/4
4. Impact Bound For Glory Knockout's Title Match: Tessa Blanchard (c) vs Taya Valkyrie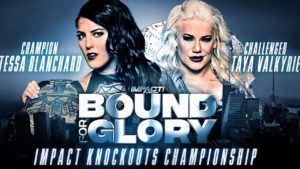 There's not really much else to lead into this then: They both are alpha females, they kick ass…so let's see who wins this.
Hard hitting from both and they had pretty solid chemistry together. We saw from both women they can wrestle any style needed, while staying resilient and imposing.
Tessa hits the Buzzsaw DDT, but Taya manages to kick out to Tessa's surprise. Taya then rocks Tessa pretty hard, so Tessa tries to powder out and grabs the ring skirt. When Taya drags her back in, Tessa drags the skirt with her and the ref goes to readjust the ring. Taya hits Road to Valhalla during the distracted referee moment, and him being out of position allows Tessa enough time to kick out.
We see Tessa get to the top rope and leaps about halfway across the ring to hit Taya with Magnum. Finally picking up the pinfall and retaining her championship.
Yes I gave a very abridged edition, but that's mainly because you should watch this. Many writers, reviewers and casual fans shit on women's wrestling, but these two women are special. We've seen them both go up against men and more than hold their own, and they prove that when they have time, they know how to put on solid matches.
Winner: Tessa via Magnum
Rating: **** 1/2
3. Impact Bound for Glory World Heavyweight Championship Match: Austin Aries (c) vs Johnny Impact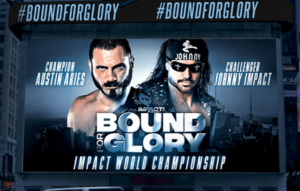 Well this match certainly got personal all of a sudden. Aries basically calling out the hypocrisy of 'short jokes' still being acceptable when other genetic short comings, difference or handicaps are seen as taboo, got blown way out of proportion. Yes he worded his stance in a harsh way, but that also proved exactly what he meant. So ya, worked shoots, shoot Tweets and TMZ made this an interesting build.
The match started off like a shoot. Both men were posturing and attacking like they were trying to expose the other instead of work a match. If that was intentional, very good, cause I know the group of people I was watching with couldn't tell where the truth and lie blurred.
Either way we had a lot of jawing back and forth between the Hennigans and Aries, and we even got both men to grab the ropes after each one's finishers. So obviously they were working together enough, and I'd be lying if it didn't add a nice layer to the match. Hell there was even an early spot where they were on a narrow side, outside of the ring, Aries charged and Johnny jumped up balancing on the barricade and apron perfectly and then hitting a moonsault/flip kick…something like that, shut up it looked cool.
Unreal @TheRealMorrison! #BFGCOMDA

➡️ https://t.co/2AEuPvrsmg pic.twitter.com/rImIXwLSD9

— TDE Wrestling (@totaldivaseps) October 15, 2018
Aries plays the jaded heel up until the end, even doing a dive to the outside straight on to Taya. Johnny goes right after Aries instead of checking on Taya, lands a brainbuster for rub ins and then one more Starship Pain, for the pinfall.
Nearly immediately after the bell, Aries gets up, effectively no sells the finish, curses at Don Callis and walks up the ramp flipping off the crowd. He could be heated that he was painted as the bad guy when logically his stance made sense. So I'm more interested to see the ramifications or if this is just another case of Aries' ego showing him the door.
Damn good match, finish makes future episodes or news releases from Impact a little more interesting.
Winner: Impact via Starship Pain
Rating: **** 1/2
Honorable Mentions:
NJPW King of Pro Wrestling IWGP Jr Heavyweight Championship Match: Kushida vs Marty Scurll
Winner: Kushida via Back to the Future
Rating: ****
Impact Bound for Glory Concrete Jungle Death Match: OGz vs LAX
Winner: LAX via Street Sweeper
Rating: *** 3/4
Impact Bound For Glory: Rich Swann & Willie Mack vs Matt Sydal & Ethan Page
Winner: Swann via Middle Rope Phoenix Splash
Rating: *** 3/4
AJPW Raising an Army Memorial Series AJPW World Junior Heavyweight Championship Match: Shuji Kondo (c) vs Hikaru Sato
Winner: Kondo via King Kong Lariat
Rating: *** 3/4
Impact Bound For Glory: oVe vs Fenix, Pentagon & Brian Cage
Winner: oVe via 14 Superkicks (pinning Cage)
Rating: *** 3/4
NOAH Global Junior League Final Day Finale: YO-HEY vs Kotaro Suzuki
Winner: Suzuki via Requiem
Rating: *** 1/2
AJPW Raising an Army Memorial Series All Asia Tag Title Match: Takao Omori & Black Menso-re vs Yuma Aoyagi & Naoya Nomura (c)
Winner: Nomura via Maximum
Rating: *** 1/2
ROH Glory by Honor ROH World Title Match: Jay Lethal (c) vs Silas Young
Winner: Lethal via Lethal Injection
Rating: *** 1/2
NJPW King of Pro Wrestling IWGP Jr Tag Team Title Match: El Desperado & Yoshinobu Kanemaru (c) vs Jushin Thunder Liger & Tiger Mask
Winner: Despy via Pinche Loco
Rating: *** 1/4
ROH Glory by Honor 6 Man Tag Title: Young Bucks (c) & Cody vs SoCal Uncensored
Winner: Cody via Crossroads
Rating: *** 1/4
Raw: The Shield vs Dogs of War
Winner: McIntyre via Claymore
Rating: ***
AJPW Raising an Army Memorial Series: Jake Lee vs Yusuke Okada
Winner: Jake via High Angle Back Body Drop
Rating: ***
AJPW Raising an Army Memorial Series: Dylan James & Kotaro Suzuki vs Koji Iwamoto & Ryoji Sai
Winner: James via Chokeslam
Rating: ***
2. NJPW King of Pro Wrestling G1 Briefcase Rights Match: Hiroshi Tanahashi vs Jay White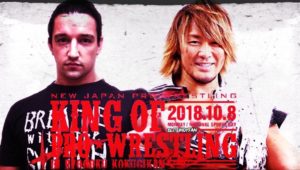 We know the lead in to this. Jay beat Tanahashi during the G1, and because of that, he is granted a shot at claiming the briefcase for himself.  We've seen White become even more of a heel, getting Gedo to turn on Okada and splinter off from Chaos. So will the Ace stay ahead of the young heel Switchblade, or has Switchblade matured enough to overtake the Ace?
Another Tanahashi classic where pacing is important. Unlike his time seconding Okada, Gedo got involved on numerous occasions during the match. Tanahashi took him out at one point which gave White multiple openings. The match is well wrestled and got across both characters. Tanahashi trying to preserve wrestling in his image and complete his comeback tour. Jay playing the foil of the heel that will do literally anything to win.
After two High Fly Flows, Gedo pulls Red Shoes out of the ring. Jay low blows Tanahashi, but Tanahashi returns the favor at some point. Jay introduced the chair, Tanahashi tried to slam Jay on it and then hit one more High Fly Flow, but hits all chair. Jay hits Tanahashi with the chair and then has Gedo go revive Red Shoes.
Just as we think Jay White is going to win with Blade Runner, after soo much cheating, Tanahashi counters it into a Small Package, and picks up the pinfall victory.
Fallout after the match is noteworthy since Gedo and White beat down Tanahashi, Okada comes out to make the save. Jado tries to calm down Okada and then the Bullet Club OGs show up, surround the ring and effectively jump Okada. White joins in and it turns out Gedo, Jado and Jay White are all part of the Firing Squad version of the Bullet Club now.
So it's very much like nWo Wolfpack and Hollywood now, but hey, people like it, so why the hell not?
Winner: Tanahashi via Small Package
Rating: **** 1/2
1. NOAH Global Junior League Final Day GHC Heavyweight Championship Match: Takashi Sugiura (c) vs Katsuhiko Nakajima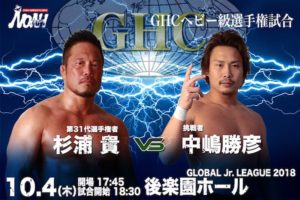 Sugiura has had the best reign of any world champion in 2018. His defenses have all been different and bring out different feelings and layers in not only his opponents but also the crowd. Nakajima had Sugiura's number last time he was champion in 2016, and he's only gotten better. So will the shameless old man hold on, or do we see the cocky Nakajima take it again?
This match was unlike any other match Sugiura's had all year, and I can't even think of a similar one in quite a while. Nakajima outright dominated this match. He played coy, aloof and just straight arrogant. Every time Sugiura tried to hit him, he'd dodge and strike back. This was the classic story of egotistical youngster trying to make the old dog look bad, because he's faster, better, etc.
Sugiura got in a small flurry when he was able to land a Spear off a misdirection move. But then Nakajima established himself as just being five steps ahead. Katsuhiko is known as the Genius of the Kick, and he light up Sugiura. Standing Round Kicks, a flurry of Thrust Kicks to the chest and head in the corner, Soccer Ball kicks to his chest, punting Sugiura's head so well I'm pretty sure Randy Orton blushed somewhere. Nakajima put on a clinic, but Sugiura was mostly resilient.
I say mostly, because there was a moment after the second or third punt to the head, that Sugiura appeared knocked out. Nakajima puts his foot on his chest for the cocky cover, 1-2, and then he lifts his foot off and grins. Nakajima wanted to continue to embarrass the old man, instead of just win the match and be done with it. This would ultimately prove to be his downfall.
Nakajima got progressively more lazy with his kicks. The man has great form, but he was sacrificing torque just to be cute. Sugiura kicks out of the Vertical Spike and eventually puts a little offense together but Nakajima kicks out of the Olympic Slam. One of those lazy kicks finally bites the arrogant genius in the ass, and Sugiura locks in an Ankle Lock. After pulling back into the center of the ring twice, he grapevines the leg, and Nakajima is forced to tap out.
A well wrestled match, with gorgeous character work and ring psychology make this match special. Definitely worth watching for anyone with a half hour to kill.
Winner: Sugiura via Ankle Hold
Rating: *****
Thoughts:
As I usually mention when something obscure takes the top spot, I don't expect it to win the vote, but it deserves the attention. Also just to throw this out there, Glory by Honor was a pretty awful show. Looked like the venue was at least one third empty, the matches were uninspired and the things that even made Honor Mention are well below average level for the participants. Couple that with Bound for Glory being a solid show mixing good wrestling with solid sports entertainment, it's just a bad look for ROH.
Anyway! Back to the Top 5, my vote will go for the match that topped the list. I gushed a little in the description, because it's so many professional wrestling tool utilized beautifully. Tessa vs Taya would be my second choice, but that's not how this works.
So either way, hopefully you saw a couple of these. Make your opinion heard and let us know which one you think is the best of the 5. And remember, Always Use Your Head.
---
Always Use Your Head and visit the official Pro Wrestling Tees store for The Chairshot All t-shirt proceeds help support the advancement of your favorite hard-hitting wrestling website, The Chairshot!

---
Booking the Entirety of Smackdown 1000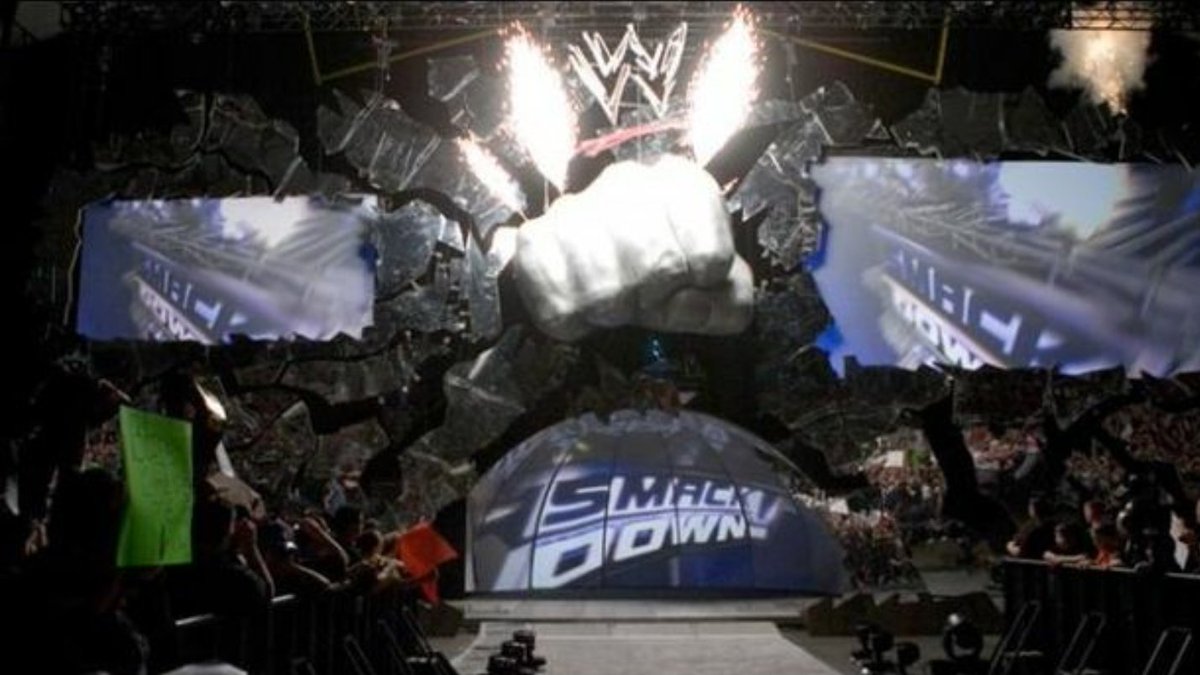 The 1000th episode of Smackdown is this Tuesday and it's been a highly anticipated show for weeks now. The reunion of all four members of Evolution is going to happen and Rey Mysterio vs Shinsuke Nakamura was just announced last week. There's sure to be more returns and surprises so let's see if I can make the most out of those within a two hour show. My goal here is to reminisce on the times and superstars we cherish while still making new stars.
John Cena's Open Challenge
He doesn't currently have a championship but John Cena made his WWE debut as a result of Kurt Angle's open challenge. That's why I would have John Cena open the show with an open challenge to all the current and former stars in the locker room. The man that answers the call is none other than Kurt Angle. When rumors of Kurt Angle returning to WWE started to surface a couple years ago I wanted him to answer John Cena's United States Championship Open Challenge as his method of return. Since that is no longer possible, Tuesday feels like the best way to revisit that historic segment from 2002.
Evolution segment sets up giant main event
For the Evolution segment I'd have all four members go to ring and cut a promo. They would be interrupted by New Day, who would then be interrupted by The Club (Gallows, Anderson, and AJ Styles). All three teams are going back and forth on the mic when the lights go out. Sanity's music hits and they decide they want in on the action. This now sets up the giant 12-man main event: Evolution (w/ Ric Flair) vs The Club vs New Day vs Sanity. Teddy Long can make the announcement of the tag team match because that's what he does best.
Becky Strikes Again
As the segment concludes and is about to go to commercial, Becky Lynch attacks Ric Flair from behind. This is just the next way for Becky to get under Charlotte's skin. Charlotte comes in to stop it but Paige needs to preserve their title match for Evolution. Paige announces that she's recruited a former women's champion to humble Becky. Beth Phoenix makes sense but Molly Holly is more synonymous with the Smackdown brand. We saw Molly return at the Royal Rumble so this isn't out of the realm of possibility. Becky Lynch defeating a legend one on one would further cement her current status as champion.
Evolution (cont.)
During the main event my plan would be for Sanity to win. At Raw 25, the Revival got utterly humiliated by DX so here's a chance to rectify that. If they're not ready to give Sanity that kind of a clean win, Undertaker can cost Triple H and Evolution the match. They're in the middle of a feud and there is no Smackdown celebration without an appearance from The Undertaker.
Eddie Guerrero Tribute
My original plan was for Andrade "Cien" Almas to pay tribute to Eddie but I eventually thought against it since he is his own person. Instead, after a commercial, a video montage should play of Eddie's best Smackdown moments. WWE is usually really good with their video packages and Eddie is one of Smackdown's most significant talents of all time. As the montage fades, Rey Mysterio's music hits to signal his match with Nakamura. Since Rey was his close friend, it would be really special to see some sort of tribute to Eddie on his ring gear or maybe he wins the match via Frog Splash. Perhaps we see Vickie Guerrero play a role in this instead. She's a former Smackdown General Manager so she deserves a spot in the show for multiple reasons.
Samoan Supremacy
I'm not sure if The Rock is scheduled to make an appearance but I need him for this segment. When looking back at the earliest memories of Smackdown, The Rock is all over them. I'd have him come down to the ring and talk about those memories and his legacy – saying it wouldn't have been possible without his Samoan ancestors. That's when Samoa Joe's music would hit. He'd make the obvious remarks of The Rock's Hollywood status and what not. Joe would then go on to say that the reason WWE brought him in was because they were tired of The Rock's and Roman Reigns' bloodline and needed a fresh start. After all, he has been one of main the faces of Smackdown for all of 2018. After another insult to The Rock's family, a fight would ensue which would require both guys to get pulled apart. The Rock could even take a shot at Joe's freshly injured knee before the scrap concludes.
A New Giant Emerges
One of the most iconic moments in Smackdown history is when Brock Lesnar's superplex to Big Show collapsed the entire ring. Since Big Show returned last week, he could stand in the ring while the clip of that match plays on the Titantron. Big Show lost in his return last week so his promo would have a reflective and somber tone. He would have the audience believe that he's about to retire. This would be the show to do it on, after all. However, before Show can conclude his speech, Lars Sullivan debuts. Sullivan declares that he won't allow Show to walk out until he puts him down himself. Lars wins via superplex and a star is born.
Edge and Christian's Cutting Edge Peep Show
I had a few big stars left over and this was the way to squeeze everyone in. Daniel Bryan is a guest on the Cutting Edge Peep Show. Edge and Christian are congratulating him on his recently earned WWE Championship match. Christian says him and Daniel Bryan are similar in the sense that they were once underdogs. Edge says he sympathizes with Daniel because he also had to retire early. Miz is annoyed and decides to crash the party. He cuts the promo of a lifetime of everyone in the ring and puts over Miz TV as the superior talk show.
A certain Rattlesnake in the back has heard enough. Glass shatters. Dads everywhere toss their children in the air out of excitement. Stone Cold Steve Austin is walkin' and talkin' all the way down to the ring. He is clearly fed up. Miz tries to talk over the entrance music and audience ovation to no avail. Austin gives a Smackdown-sized stunner to the Miz and the microphone goes flying. Austin, Bryan, Edge and Christian all celebrate in the ring as Miz lays lifeless. Miz tries to get up toward the end of the celebration but receives another stunner for his troubles. Everyone is happy heading into the main event.
Miscellaneous
The Fist
When lifelong wrestling fans think of Smackdown, they immediately think of the giant fist that used to be centered at the top of the stage. Tuesday is the ideal time to bring it back for one night.
Commentary Team
I'd like to hear some of the voices of Smackdown's past. Michael Cole and Tazz on commentary with Tony Chimel as the special guest ring announcer would be quite the nostalgia trip.
Hardy Boyz vs The Usos
The Hardy Boys are clearly one of the most crucial elements to the early success of not only Smackdown, but the history of the tag division. In a down year for Smackdown, the Jimmy and Jey Uso were considered by many as the MVPs of the brand in 2017. To my knowledge, these pairs of brothers have never actually squared off in the ring. Let's make it happen on Tuesday.
Missed Opportunity
As much as I loved King Booker's return to introduce New Day into the 5-Timer's Club, I wish there would have been a way to save Booker T for Tuesday night.
Opening Theme
I saw a poll going around Twitter asking for everyone's favorite Smackdown opening theme of all time. This got me thinking that it would be a fun idea to open the show with a mash-up of all the past themes and short clips of all the past title sequences edited together. It'll be a quick trip down memory lane to start the night.
---
Always Use Your Head and visit the official Pro Wrestling Tees store for The Chairshot All t-shirt proceeds help support the advancement of your favorite hard-hitting wrestling website, The Chairshot!

---
Repetition And Familiarity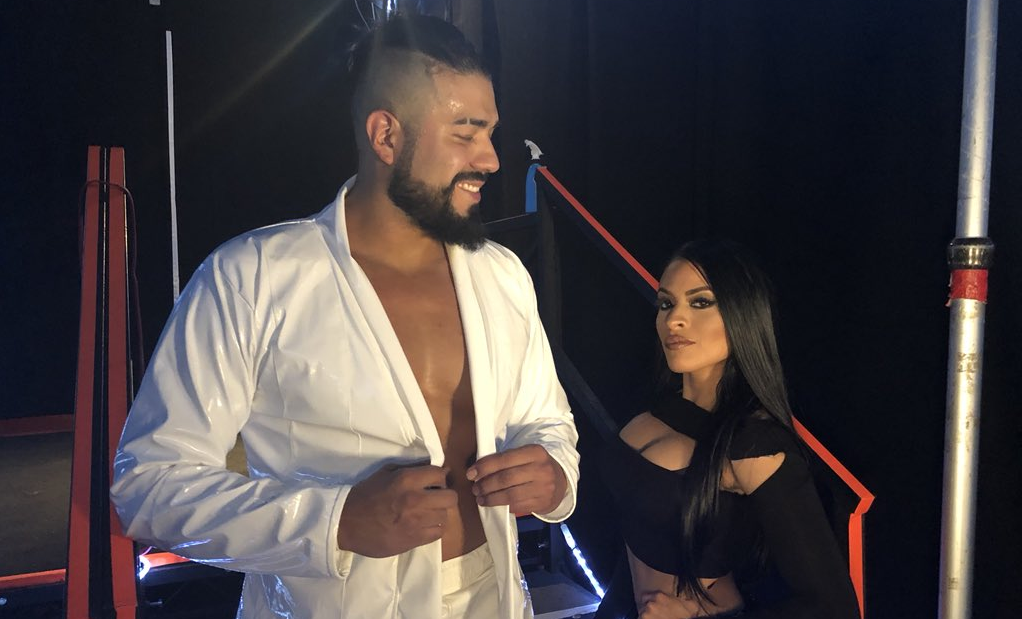 In our microwave society where we want everything right now, the last thing a lot of us want is to have to watch and wait something get built upon over time.  Now sometimes there's a legitimate fear that the building won't amount to anything (as a New York Knicks fan this is literally a perpetual mood), but sometimes our fears are overblown and unfounded.
I've spent several weeks here criticizing fans for what I believe are various infractions that make it difficult for not just other fans but even the people who work in the business; I know to some it sounds like I'm fansplaining (and to degree I probably am) but it's hard to sit still while bad takes are being served up over and over by people who consider themselves smarter than the average fan because they spend time on Reddit forums and such.  So in the interest of staying in this lane while not being as cranky I figure I'd get to something else: the importance of repetition.  Repetition is a key to what makes a lot of things work in wrestling.
Why?
Because what helps establish those memorable moments is people doing a few things well over and over until they gets parked in our memory banks, so that all the other things that come off of them – swerves, counters, etc – get that emotional response they're looking for.
For example the Kurt Angle battle royal segment struck the chord that it did because of a few things:
Several weeks of Baron Corbin acting like a jerk towards everyone, especially booking himself favorably so much
Corbin and Stephanie McMahon talking down to Kurt for several weeks, culminating when Stephanie sent him on vacation
Corbin looking like he was finally going to have a plan work out in his favor
Our memories of all of Angle's signature moves so that when the Conquistador started pulling them out it triggered our recollections
That was weeks and months of small, sometimes mundane, sometimes annoying stuff that went into setting up what was a fun moment in October.  When you ask for longer, more layered storylines you gotta be patient and go for the ride through a bunch of points that may seem tedious or downright pointless until it's payoff time.  Corbin getting appointed Constable, overruling and undermining Kurt, getting Kurt sent home, and then putting himself into big matches to get things for himself all led to one of the best segments of the year on TV.
If you give it a chance and let them work their way through you can get a moment where you can just mark out and be happy for a bit.  On the other hand when you constantly armchair quarterback and demand that they give you what you want RIGHT NOW you can lose any chance for a good story, and any chance for getting any real memories out of it.  And that's no fun at all in the long run.
But that's not the only example this week.  The likelihood of Kevin Owens turning face has hit about 100 percent probability after his beatdown from Bobby Lashley, who is apparently going heel in the process (turns out that's going to be delayed, as Owens is going out for knee surgery and will be out a while).  As their match went on you could hear the crowd getting more and more behind Kevin in a real sympathetic way.  But it takes more than one match to make that a thing.
The first seeds were planted earlier this year, when Owens was getting killed by Braun Strowman every week.  While the crowds didn't turn on Braun, over time his antics went from humorous just desserts to a despicable human being in Owens to downright extreme like tossing him off a cage even though it meant losing the match.  Now when he comes back he's poised to get a big face reaction especially if Sami Zayn is by his side again.  But it will all be sweeter with some kind of buildup rather than the kind of instant turn some may have wanted because they think KO is one of the best people on the roster.
Next up is the Authors of Pain.  When they first got called up from NXT, they squashed some jobbers then went into a short program with Titus Worldwide, which immediately drew some impatience.  'Why are they wasting their time with a comedy act?  They're getting misused just like everyone else from NXT!'  Then they got a new manager in Drake Maverick and went back to squashing jobbers again for several weeks, which is exactly what they needed.
Why?
Because the Raw audience doesn't really know these guys since most of them don't watch NXT.  How are they supposed to know if these two big guys are a dominant force or just a bunch of oafs without seeing how good they are?  And lo and behold, after a few weeks of that they got in the ring with the Shield in a RAW main event and looked like they belonged there.  A four week angle between Bobby Roode & Chad Gable vs The Ascension was used as a setup to further drive home this point.  While we were complaining how weird and tedious it was, the payoff was Authors of Pain coming in and obliterating both teams after the match to make it clear that Authors of Pain are superior to the other tag teams.  Now when they eventually win the tag team titles it will be a big deal.
Finally we have Andrade "Cien" Almas over on Smackdown.  Like the AoP he got a quick introductory feud, with Sin Cara, which again prompted some 'why are they wasting him?' comments.  Since then he had another mini run with Rusev, then some matches with Daniel Bryan and AJ Styles.  And while he's lost to the latter two the matches have served a purpose.  And that is to show us that he can go with two of the best in ring workers in the business.
Despite all the internet talk about how great he is, the Smackdown audience hasn't much of a clue because most of them don't watch NXT (or CMLL where he first hit it big) either.  He's just a guy with a beautiful business manager in Zelina Vega, and they don't know if he's to be a World title contender, a future US champion, or a guy that puts over the top guys but never wins anything significant.
And they won't know until you show them.  As much as you may want him to win all the things now because he's so good, it will matter more if he does that next year after everyone has had a chance to see how good he is and how good he and Vega are as a duo.  And that the dreaded casuals have seen him work now in early 2019 the real promotion, with maybe a US Title run, can begin.
Those are just a few examples of how to get it right; there are other examples of how to do it wrong.  Sanity came up and got a couple of quick wins over New Day before the regular Smackdown audience learned anything about them, and now they're in limbo because quite frankly there hasn't been any reason established why they should be beating teams like New Day or the Usos or the Bar.
And 'they were good in NXT' isn't a good enough reason.  If I don't watch NXT I don't give a damn what they did there. They're just a guy (or gal) who's now on the show I do watch, and I need a reason to care about them and believe they are worthy of big things today.  Which means I need to be shown what's so impressive about them before they're put in a big match and before they get promoted up the ladder.  Just like I need to know what someone's big moves are so that I know we're at a turning point in the match when they go for them.
Ducking Roman Reign's Superman Punch is a big deal because we know it's an important move of his and the setup to his finisher.  When Seth Rollins starts stomping his foot when his opponent is prone, we know it's important because that's been established as the signal that he's going for the curbstomp.  If we didn't know those things from seeing them a million times those spots wouldn't matter and wouldn't trigger any kind of reaction.
At WrestleMania 6, the finish worked because it had been set up for years – Hogan's opponent hits their finisher, he kicks out, Hulks up, three punches, big boot, legdrop, 1-2-3.  So when the Warrior hit his finisher late in the match it was like the Bat Signal being lit in Gotham City.  Kick out, Hulk up, three punches, big boot…..but when Hulk went for the legdrop, Warrior moves, hits a splash and wins instead!  And it's such a big deal some 28 years later because that ending had been drilled in our heads so much that the twist struck all the right chords when it came.  That's the value of repetition.
---
Always Use Your Head and visit the official Pro Wrestling Tees store for The Chairshot All t-shirt proceeds help support the advancement of your favorite hard-hitting wrestling website, The Chairshot!

---