Chris Deez's WWE FastLane Predictions
So, it's that time of the month where I bury my head in the sand and try to pretend that wrestling doesn't exist. You guessed it… it's a SmackDown Live PPV! I won't beat around the bush here, the blue brand has been pretty poor for a good few months now and the polar opposite of where it was 12 months ago. Fastlane is just a few days away and is your typical 'final stop on the road to Wrestlemania' PPV, with a below average card, two matches with great potential and a few which have been hastily thrown together to fill time.
So, with that said… who is going to win? Who is taking a giant step towards WrestleMania? And who even cares anymore?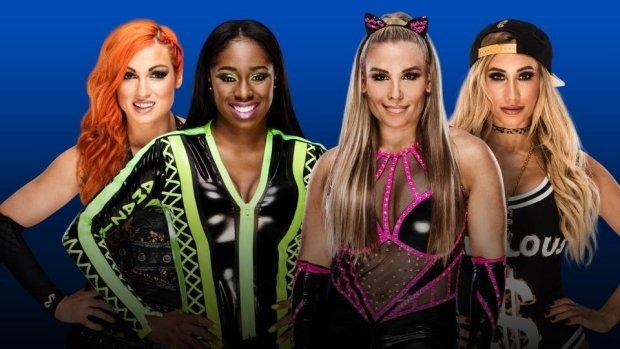 Becky Lynch and Naomi vs. Natalya and Carmella
Erm… what? I have no idea where this match has even come from and it's a clear attempt to fill time and keep Carmella relevant while WWE continue to tease her Money in The Bank cash in which seems to have been going on FOREEEEEEEVER. At this point I feel I should point out that I've not bothered watching SDLive for the last two weeks, I can't bring myself to anymore, so for all I know this match could have had Austin v Rock at Mania 17 levels of hype and build up. But I imagine it was put together as a result of 6-woman tag matches and various clusterfuck pile up run ins. Becky Lynch and Naomi deserve better… Naomi was champion less than 12 months ago and Becky is one of the most talented women wrestlers of the last decade. Bleugh
Prediction – Becky and Naomi win in this thrill a minute match of the year. 5 Star Meltzer star rating incoming.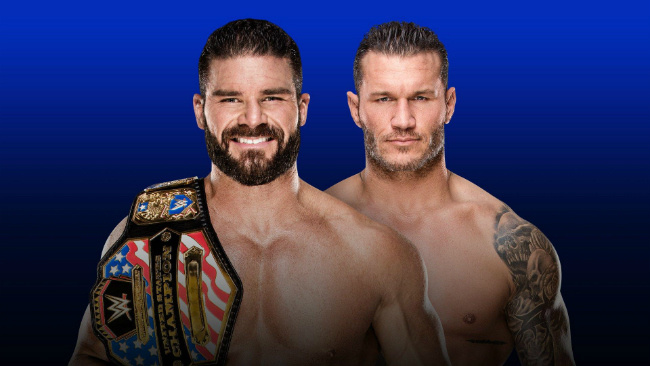 United States Championship Match: Bobby Roode (c) vs. Randy Orton
I absolutely LOVED Bobby Roode in NXT. We all did. He was a heel but by god he was a fantastic heel. Main roster Roode has been weak in comparison, with WWE trying to cash in on the GLORIOUS gimmick for far too long. Randy Orton is another case altogether. Despite winning the Royal Rumble, becoming WWE Champion and being billed as a top guy… he continues to be completely irrelevant and hang on to a living off the back of one move. The mid card on SDLive is so uninspiring it hurts to watch, and they continue to waste Rusev despite him being the most over guy on the entire roster and potentially the entire company.
I fully expect golden boy Orton to pick up the much undeserved win here because the commentary team wont shut up about the US Championship being the only one missing off his CV. I'm gonna go out on a limb here and say he might…. MIGHT win with an RKO. Crazy right? Rusev absolutely HAS to be given an opportunity after this, the only issue being he has already suffered through a dull as dishwater feud with Orton only a few months ago. Christ almighty, SDLive needs some new talent post Mania desperately.
Prediction – RKO. Because RKO. Oh RKO? Yeah…RKO. Hahaha, RKO!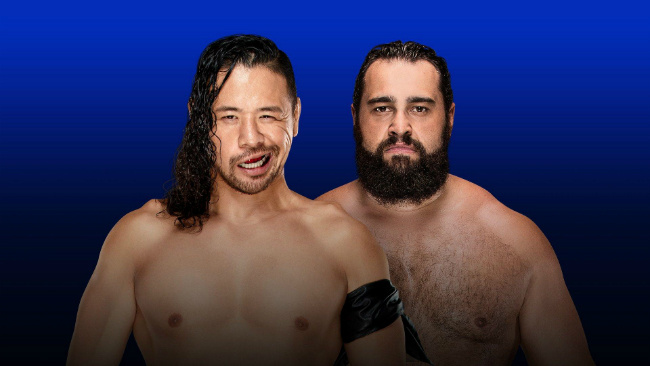 Shinsuke Nakamura vs. Rusev
Poor RuRu. Out of absolutely nowhere, he became on of the most over talents in recent memory, struck up a hilarious partnership with Aiden English and was part of some phenomenal Fatal 4 Way matches alongside the Uso's, The New Day and Benjable (Chad Gable & Shelton Benjamin). FINALLY, his stock was rising again, as he finally got rid of the unsavoury taste left from being buried by John Cena and being part of the cringeworthy love square storyline with Dolph Ziggler, Lane and Summer Rae. If you weren't watching SDLive at the time and missed it all go down, do yourself a favour… don't go back and watch it. Avoid it like the plague.
But anyway, I digress. With all of that behind him, surely Rusev is being booked like a monster now right? Tearing through the roster? Nah, don't be silly, this is SDLive. He is booked in for a match against Shinsuke Nakamura, the winner of the Royal Rumble, which he will quite predictably lose. I used to love WWE when you genuinely had no idea who wold come out victorious, but in this match we find Rusev booked against a guy who is going on to main event WrestleMania against AJ Styles. Oh, and he's also doing it to avenge his best friend English who was injured at the hands of Nakamura. You couldn't make this shit up if you tried.
Prediction – Nakamura wins because the Bulgarian/Russian markets aren't nearly as profitable as the Asian market.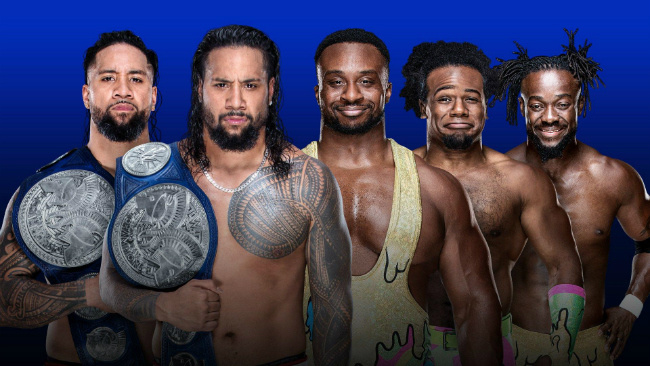 Smackdown Tag Team Championship Match: The Uso's (c) vs. New Day
Don't get me wrong, this match will more than likely be fantastic and could well be the match of the night. But damn, do we really need to see it again? Hell in A Cell was meant to be the final act in what was hands down the rivalry of 2017, but since then we've seen the teams clash while involved in the title scene towards the end of 2017 and now we find ourselves in familiar territory again despite there being at least two more teams who could be challenging right now. I absolutely LOVE these two teams, am a huge fan of everything New Day related and between the two of them they've completely revolutionized tag team wrestling, but this is yet another unnecessary throwaway match.
There's no chance in hell The Uso's will lose this one. The going plan seems to be the Blugeon Brothers challenging for the titles at WrestleMania and inevitably capturing the gold because they are big men and Vince McMahon LOOOOVES big men. I would expect Harper and Rowan to make their presence felt during this match with a post victory beat down on the victorious brothers.
Prediction – The Usos and nobody else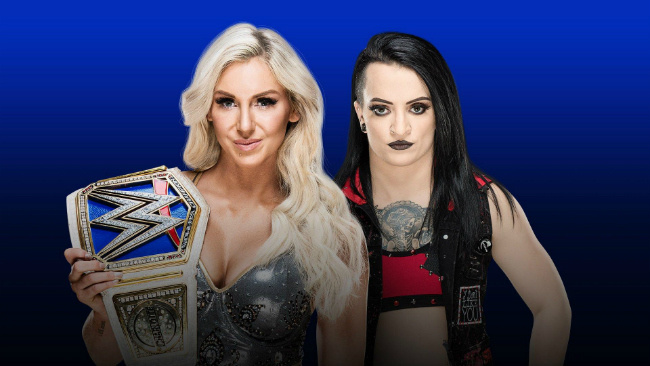 Smackdown Women's Championship: Charlotte Flair (c) vs. Ruby Riott
Now, call me a cynic, but hasn't the SDLive women's division been hot garbage for quite a while now? Charlotte is absolutely one of the best female wrestlers of all time, but she is being wasted in a massive way on the blue brand. Her rivalry with Sasha Banks on RAW is a huge part of the reason that the women of WWE find themselves finally earning the respect they thoroughly deserve, but on SDLive Charlotte is in desperate need of a rival who brings out the best in her. The Rock had Stone Cold. HBK had Bret Hart. Ric Flair had Sting. Charlotte has… Ruby Riot? Lord give me strength. This is in no way an attack on Riot as she has certainly impressed since stepping up from NXT, though next to Liv Morgan and Sarah Logan she was always going to look incredible, but she is in no way close to Charlotte's level yet. The other thing making this lose all relevance is WWE's insistence on having Charlotte operate as a babyface. Her in ring style and mic work has always suited her to being a dirty heel just like her daddy Ric, but SDLive don't have many great faces anymore and have forced Charlotte into a role that makes her look less imposing, dominating or legitimate.
Could this be the night when we finally see Carmella cashing in? No. Absolutely not. That is something we want to see; therefore WWE won't allow it to happen yet. At this point a lot of people have probably forgotten she even has the briefcase anymore, and even if she cashes in at Mania it will be a short-lived title reign as she is absolute trash still. WWE need to sort out the women's divisions urgently before they slip back into the dark days of being a sideshow. But hey… 3v3 matches are exciting right? Guys? GUYS…!?
Prediction – Riott Squad attempt to interfere, Charlotte's mates come to save her, and she picks up the win. Because god forbid we should have a good 1v1 women's match when we could instead have 8 of them involved in a botch filled mess.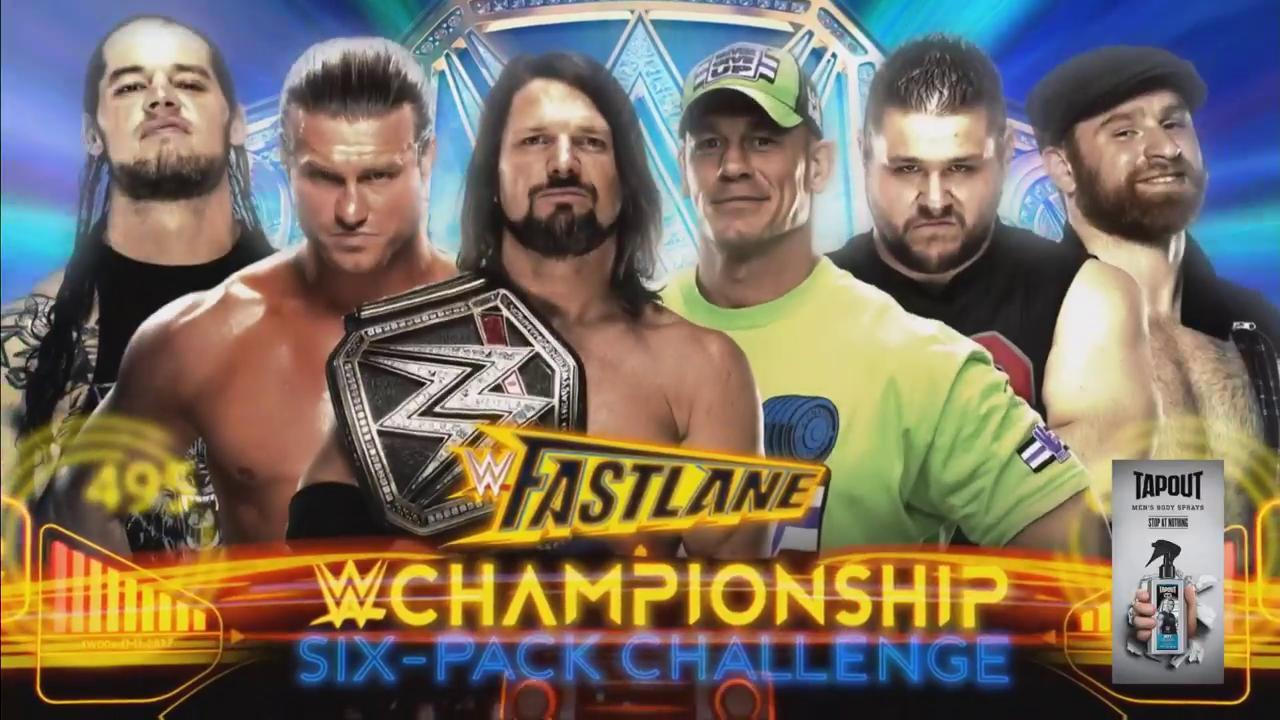 Six-Pack Challenge for the WWE Championship: AJ Styles (c) vs. John Cena vs. Kevin Owens vs. Sami Zayn vs. Baron Corbin vs. Dolph Ziggler
Why invest time into multiple great feuds with your top talent and flesh out the show when you can instead stick them all into one match? On paper this looks great and I'm sure they'll be some good spots, but its just yet another sign of how far SDLive has slipped in terms of great storytelling. Prime example being Dolph Ziggler and Baron Corbin. Dolph wins the US Championship out of nowhere from Corbin. Relinquishes the title two nights later and 'quits'. A tournament is set up to determine a new champion. Corbin loses in the first round. Dolph comes back at spot 30 in the Royal Rumble. Doesn't go back after the US Championship. Both men gave singles matches which they win and get entered into this match for the top title. I mean… who is telling Road Dogg that he is doing a good job? Lazy writing like I have never seen before.
Then to ramp up the lazy writing a notch or 10, lets chuck John Cena in there too! And better yet, lets have him defeat the current champion and best wrestler in the world to gain entry! Way to make your champion look less credible guys! The only positive thing going on with this title scene at the moment is that Shane McMahon and Daniel Bryan seem to have nothing to do with it anymore and we focus on the actual superstars as should have always been the case.
I've no idea how this one is gonna play out. The best-case scenario would be to see Kevin Owens and Sami Zayn split up and feud until Mania, with Styles keeping the belt and going on to face Nakamura in potentially the match of the night at Mania. The only other possibility I see here is Cena winning, becoming the all-time record holder for championship reigns, Styles invoking his rematch clause and we see a phenomenal triple threat on The Grandest Stage of Them All.
Prediction – AJ retains in a messy match full of spots and just general nonsense.
I, like many fans right now, have no interest at all in this PPV. Probably wont even watch it to be fair. It's a predictable and unnecessary step before Mania which will likely do nothing to impact the landscape leading up to that fateful day in April. WWE's decision to go back to one PPV per month from May onwards was definitely the correct one, even if it means extending the run time of the event itself.
Please can it just be WrestleMania already?
---
Always Use Your Head and visit the official Pro Wrestling Tees store for The Chairshot All t-shirt proceeds help support the advancement of your favorite hard-hitting wrestling website, The Chairshot!

---
The Good, Bad and Ugly: SummerSlam 2018 Post Show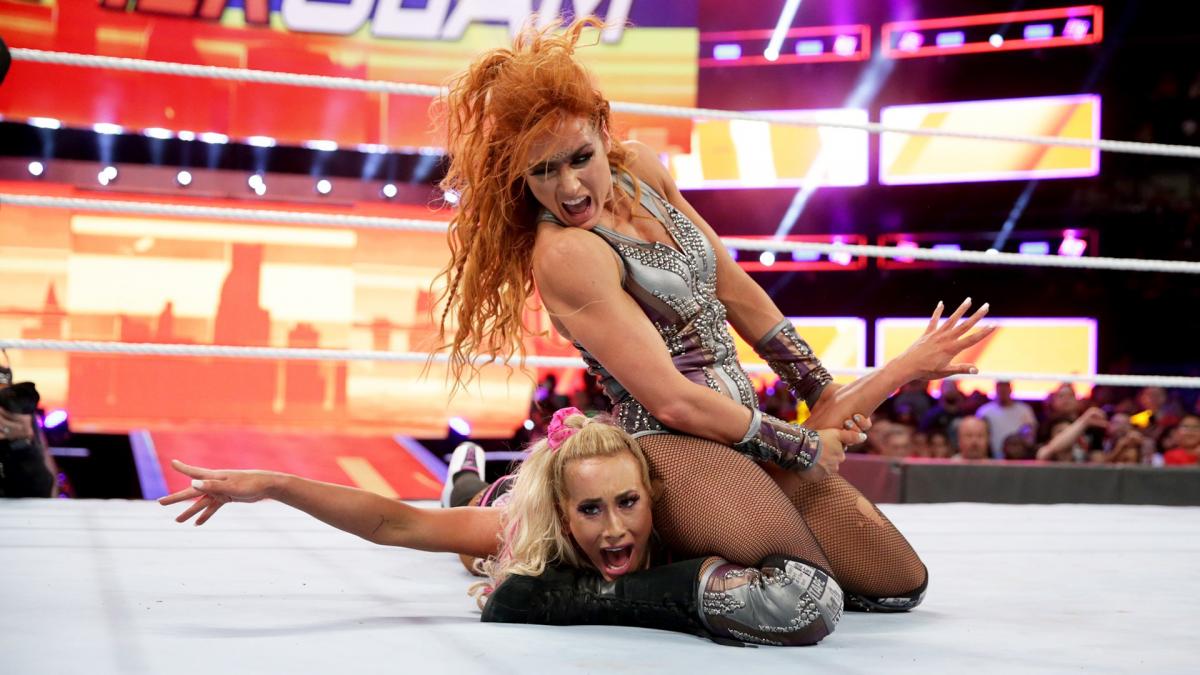 Bobby is back with his Good, Bad, and Ugly look at WWE SummerSlam 2018!
The Good
Let me start with the best, a match I greatly looked forward to, Smackdown Women's Championship Carmella (c) vs. Becky Lynch vs. Charlotte.  All 3 competitors looked incredible.  The constant head games by Champion Carmella and the intense, tight in ring action between frenemies Becky Lynch and Charlotte were entertaining.  This was a solid showing by great athletes, and one of the better Woman's Matches I have seen in a long time many high moments, and fluid action.  The ending was also unpredictable and incredible, making Charlotte Flair 7 time Heavyweight Champion.  I couldn't be any happier with Becky Lynch's heel turn, and absolutely love the crowd's reaction to it.
Andrade "Cien" Almas & Zelina Vega vs. Rusev & Lana on the Kickoff Show was quite the match. Rusev is so over, he really could do almost anything at this point and the crowd will get hot.  Cien and Rusev are very natural with each other, tonight was no different.  What ruins a great match is putting hype ads up during the action, and if that isn't bad enough they do it hyping the show we all are about to watch.  It really is garbage and completely wrong.  Surprisingly Lana and Vega looked very comfortable tonight, had great energy and held their own.  Even though the ending was cheap, this was at the least entertaining.  Given it was a Pre-show however I would have given our Hero's the nod on Rusev Day, but this crew went from Ugly too Good to this Fan.
The Cruiserweight Championship Match Cedric Alexander (c) vs. Drew Gulak was placed poorly on the Kickoff Show.  It also had some actual old school technical wrestling which by the reaction of the half-filled kickoff crowd, enjoyed.  Gulak and Alexander are unbelievably talented, and are a treat for us.  Having said that, again WWE shamelessly plugging Summerslam to those who already know, imo is a completely tasteless and disrespectful move all around to the fantastic talent in the ring.  Pay attention kiddos, this was a solid match as expected on an unfortunate spot of the card, but these professional's owned it as always and gave us more than ours money's worth.  Congrats to Alexander on retaining in a fantastic match.
The Raw Tag Team Championship saw The B-Team (c) defend against Revival, I labeled Bad in the pre-show edition because I am salty about the placement of the match on the usually easily forgotten Kickoff Show.   These 4 guys are tremendously talented, and being put on an ill-fated spot of the night, will in no way inhibit their unbelievable talent.   Each showing great technical prowess, working a body part and staying with it, is no doubt a product of the years of expertise these teams have.  What does WWE do, to reward this?  Advertise during the match. "B" Team is far from their name sake, with so many false hopes, and psychology next to none this was yet another Good point of the night, even with all odds stacked against them deservingly retaining their titles and showing that "luck" is on their side.  Bravo on a making the "B"est of it.
Before I get into the Intercontinental Championship Match with Dolph Ziggler (c) vs. Seth Rollins which I predicted would be Good, let me just reiterate how over Ambrose is, Rollins too for that matter.  The crowd was hot for this one the minute Ambrose's music hit.  This had a retro feel in the very best way.  The gear, the buildup, and for a change, a match worthy of the IC Title's history.  Although the play back and forth with Ambrose and McIntyre served its value, nothing out of the ordinary seemed ahead.  There were a lot of rest spots, and awkwardness in the pace at times, with little bits of pop sprinkled in.  Then, like a bomb, spot after spot, they turned it on, and it showed.  The crowd woke up and took off!  They showed us why they are where they are.  Bloody, beaten, laying it all out there, Rollins victorious.
Now for the Money in the Bank Match Braun Strowman (h) vs. Kevin Owens for the Briefcase of Dreams, although The Monster is one of my personal favorites, and Owens is a natural, I had very low expectations of this match and referred to it as a waste in my pre-show article.  WWE must have heard because this was a squash match.  I enjoyed it due to the fact that it was what it should be.  Therefore this "bad" match is labeled Good.  Old School straight up beat down, and now we wait and see if the Monster in the Bank will make a 2nd appearance tonight!
Finn Balor vs. Baron Corbin I am going into this with a bad taste, as I hate Corbin and feel that there are so many more deserving people of his spot on tonight's show.  Finn Balor is a top guy and he is facing this clown.  Finn Balor's entrance was incredible, I loved it, and it was a great surprise to come out as the Demon.  The hologram above the ring was mesmerizing.
The save sake for me is that it was quick, and one sided.  I am glad this ridiculous feud is over, and now Finn Balor can go onto something better.  A decisive win for the Demon.
Our United States Championship match saw Shinsuke Nakamura (c) vs. Jeff Hardy, and it could have gone either way.  The talent is outstanding, the following for both competitors is vast.  I knew coming in that if WWE let's these 2 do what they know how we would have a classic on our hands.  The strikes were great, the taunting was done well, and the crowd was into it.  The risk when Jeff Hardy is in a match is expected but let me say as someone who knows how much this hurts.  That was high risk bump on the apron was painful to watch.  This was a good match and we were saved from the usual cheesy WWE take on it.  A clean finish in a respectable U.S. Title Match.  Congrats to both men for a job well done, and Nakamura for a hell of a defense.  I even didn't mind seeing Orton just leave after his seemingly unnecessary appearance after the match.  Anything he would have added would have been cheap.
Prior to the Match, it was great to see Nattie. We all loved the Anvil, and it was a great show of respect.  The Raw Women's Championship match featured Alexa Bliss (c) vs. Ronda Rousey. I absolutely love Alexa Bliss, she started off perfect throwing shade to the Bella's and having little to no respect for her inferior fans.  Rousey as always was fired up, and looked incredible.  She is a warrior and has an appropriate look as such.  She is so intense, and I knew this was going to be a winner.  The crowd was hot for this one and rightfully so.   Bliss played her role as the heel Champion to perfection and Rousey our gallant hero.  I loved the constant heat and taunting from Rousey.  This was a squash match, and I would have never in my life, guessed that Bliss would ever have lost so quick without a fight.  It was fun to watch, Congrats to the Baddest Women Champion on the Planet Ronda Rousey.
Your main event, for the Universal Championship, Brock Lesnar (c) vs. Roman Reigns started off on fire.   I couldn't be happier with Strowman's presence.  Followed up with insane offense on Roman's part. The match was action packed and the crowd was hot.  They kept Strowman out with a vicious F5, making him a non-factor.  It was done right: quick and Roman finally got the belt back.
---
Always Use Your Head and visit the official Pro Wrestling Tees store for The Chairshot All t-shirt proceeds help support the advancement of your favorite hard-hitting wrestling website, The Chairshot!

---
Three Stars of The Night: WWE Monday Night Raw (August 20, 2018)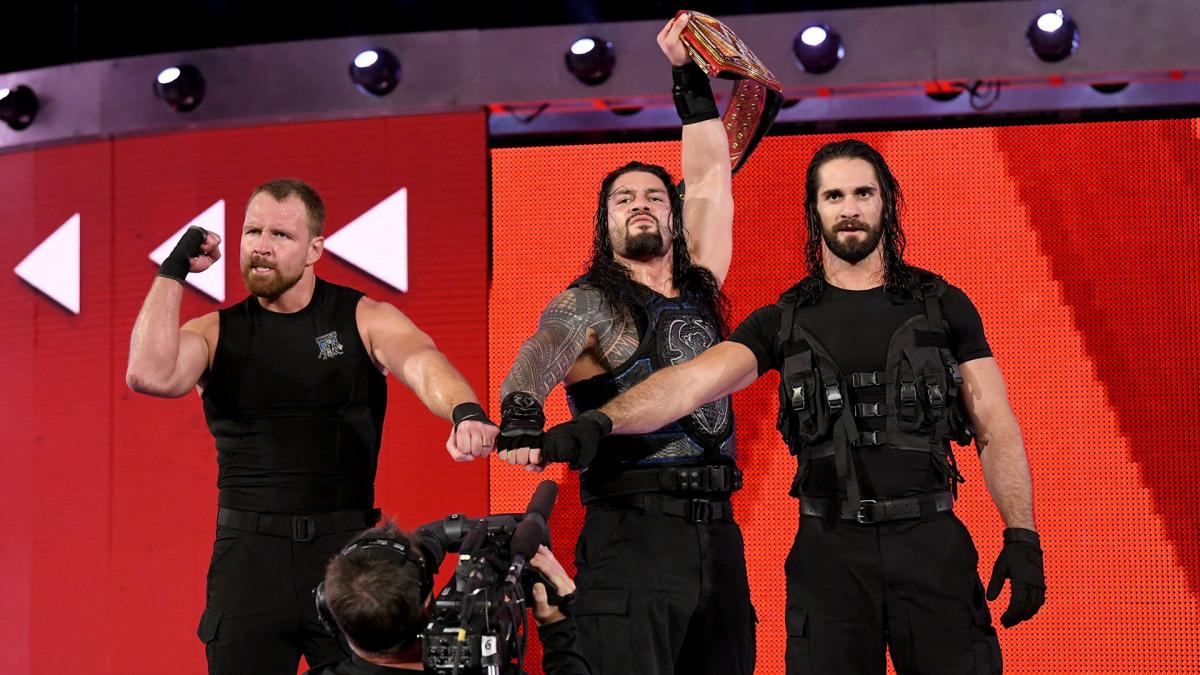 A look at the Three Stars Of The Night for the August 20th edition of WWE Monday Night Raw!
Tonight was the much anticipated RawAfterSummerSlam!
Okay, maybe not. But it was a the Raw that aired after SummerSlam, and if you look closely you'll see the company already planting the seeds for WrestleMania 35. But that road is a topic for another day, as tonight we have to bring you the Three Stars!
The Third Star:
Ember Moon
On multiple occasions I've said Ember Moon wasn't the type of character to have a great run through NXT, that Ember Moon was a "main roster character." And when given the chances, she's proving me right on Raw.
Tonight was no exception. Ruby Riott and Sasha Banks are world class talents, Liv Morgan and Bayley are great. But in her spots, Ember Moon exhibited a fire and passion that was unmatched in this match. The woman is a star, and she's going to be a fixture of the main roster for a long time.
The Second Star:
Drew McIntyre
Sounds crazy, right? The guy was but a second for Dolph Ziggler, who fell in defeat to Dean Ambrose. But Drew McIntyre is the real deal, and Brooklyn wanted to see him.
The people want to see him.
He accomplished more by removing his jacket and daring Seth Rollins to hit him, setting up a feud that can easily end up with Drew McIntyre as Intercontinental Champion. And that sounds great to me.
Other Honorable Mentions:
Triple H, Constable Baron Corbin
And now… a distinction usually reserved
for the top performer of the night …the first star!
The First Star:
The Shield (Roman Reigns, Dean Ambrose, and Seth Rollins)
"Dean Ambrose turns heel." That was the prevailing prediction for SummerSlam, or the Raw after, upon the Lunatic Fringe's return to a WWE broadcast. The Shield reuniting was another thought, but not right away. Not around SummerSlam, that's for sure.
Fast forward to Monday's Raw, and Roman Reigns is already a fighting champion–giving Finn Balor the championship opportunity he deserves. Enter Braun Strowman, ready to cash in his Money In The Bank briefcase. The crowd was a absolutely on fire, but the alarms were answered by a very familiar sound.
"Sierra – Hotel – India – Echo – Lima – Delta … SHIELD."
The Shield, back together again, and it already feels better than last year.
All three men were the stars tonight, together AND separate. Roman Reigns controlled the entire crowd when he gave Finn Balor his title shot. Dean Ambrose had a hell of a return against Dolph Ziggler, with Seth Rollins in his corner. WWE is better when The Shield around, and tonight was proof of that point.
---
Who are your Three Stars of WWE Monday Night Raw? Comment on social media @ChairshotGreg, @theCHAIRSHOTcom, and use the hashtag #UseYourHead!
---
In hockey, a game's "Three Stars Of The Night" represent the top three performers of the night. For more clarification, I defer to this Pittsburgh Gazette explanation:
"The tradition dates to the 1936-37 season, when Imperial Oil became the principal sponsor of Hockey Night in Canada radio broadcasts and was seeking a way to promote one of its products, Three Star gasoline. The idea of doing so by selecting the top three performers in a particular game purportedly came from a Canadian advertising agency.
Many clubs do recognize the player with the most three-star selections with an award or trophy, usually in conjunction with a corporate sponsorship, at the end of the season (or sometimes, each month). All six Canadian franchises, for example, have an affiliation with a well-known brewery.
The NHL keeps track of its own Three Stars Of The Night selections, but that is done on a league-wide basis. The league employs a system that awards 30 points to a first star, 20 to a second star and 10 to a third – a running total can be found on the league's website – but it does not present an award based on them."
In hockey tradition, the first star represents the best of the three, but all three are considered to be receiving a high honor.
---
Always Use Your Head and visit the official Pro Wrestling Tees store for The Chairshot All t-shirt proceeds help support the advancement of your favorite hard-hitting wrestling website, The Chairshot!

---
WWE Week In Review With SummerSlam and TakeOver: August 12-18, 2018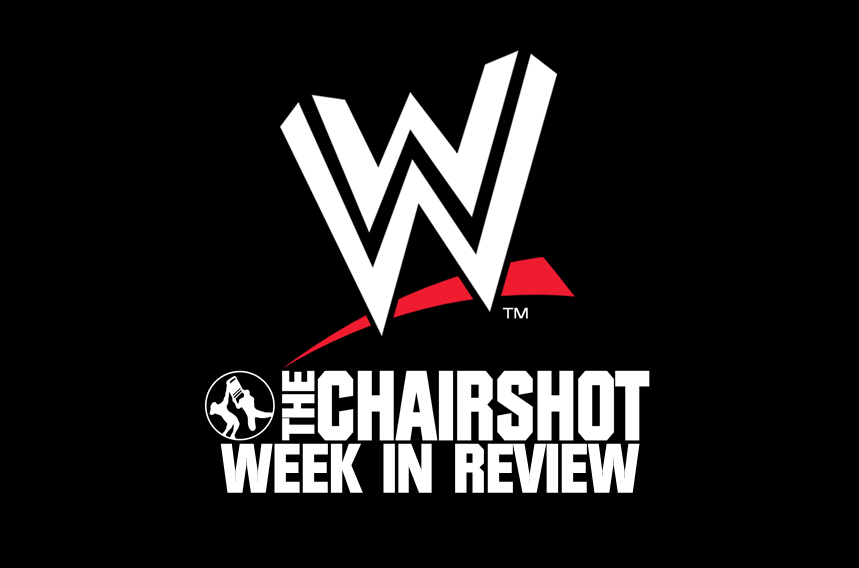 It is finally here! It's time for SummerSlam and the Biggest Party of the Summer seems be shaping up to be a blockbuster! Will the party live up to the hype or fall flat because someone forgot to bring the drinks?
Raw
Universal Championship: Remember the rumors of Lesnar and Heyman splitting up? Yeah, that was a total ruse. Reigns cut a promo on his match on Sunday against Lesnar and was interrupted by Heyman, who seemed to be deciding that his best bet for future employment was to offer his services to Reigns.  When Reigns took the piece of paper Heyman was handing him, Heyman showed his true colors by shooting mace into Reigns' face, leaving him open to an attack by Brock Lesnar who choked Reigns out and hit several F-5s.  Lesnar was the last man standing on Monday, but it could be another story come Sunday night.
SummerSlam: It finally happened. After four years, four matches, one successful cash in, and a controversial finish, Roman Reigns FINALLY defeated Brock Lesnar. It looked like Fate was going to give the Big Dog another swerve when Braun Strowman came out to cash in his Money in the Bank contract. Strowman didn't want to be a coward and tried to make the match a Triple Threat. Unfortunately for Strowman, Lesnar wanted to finish his business with Reigns one-on-one and chucked the Briefcase. The match was short and to the point and ended with Reigns vanquishing the Beast and becoming Universal Champion. Have fun in UFC, Brock. 
WWE Intercontinental Championship: Dolph Ziggler and Seth Rollins were scheduled for a contract signing on Monday, but Seth Rollins hadn't appeared yet, due to travel issues. However, they discovered that Rollins was allowed to add in the proviso that he would be allowed to have someone in his corner at ringside. Ziggler and McIntyre weren't happy about this, but the alternative was McIntyre would not be allowed at ring side for the match.
Seth Rollins would finally show up for the contract signing, but not until AFTER Ziggler signed the contract, and we discovered that the 'travel issues' weren't his, the travel issues involved his second at SummerSlam: Dean Ambrose!!!!! Ambrose is sporting a new look, a buzzcut and he's put on some muscle, but he looked healthy and ready for action. The two Shield brothers descended on the ring and took care of business. Ambrose hit his trademark Dirty Deeds on McIntyre and the two brothers were standing tall. Dean made sure Rollins signed his contract and the Intercontinental Match for SummerSlam is official!
SummerSlam: What a difference a friend makes, especially when that friend is Dean Ambrose! The Lunatic Fringe came back last week as a second to his Shield brother, Rollins, to counteract the numbers game Dolph Ziggler's been enjoying due to the presence of his buddy, Drew McIntyre. Dean did the job he needed to, making sure McIntyre didn't get involved, which helped Seth, put Ziggler away in an amazing match that is going to require rewatching.
RAW Women's Championship: Ronda Rousey opened the show and announced that Nattie's father had passed away and expressed her sadness over her friend's sudden loss and how much Nattie and Nattie's friendship meant to her and how much she looked forward to beating Alexa Bliss at SummerSlam for Nattie.
Since Nattie wasn't able to be at RAW due to her sudden loss, Ember Moon was introduced as Alexa's opponent for RAW. Alexa cut a promo and continued to say that she wasn't scared of Rousey and was going to beat her at SummerSlam, which is going to be a tall order since Bliss has come out on the short end of one on one encounters with Rousey. Bliss also demanded a security escort to the ring, despite Rousey already being in the ring. Needless to say, the security guards didn't last long.
Bliss and Moon had a really good match tonight, Bliss looking to gain some momentum heading into SummerSlam. Unfortunately, Bliss made the mistake of  attacking Rousey from behind after a distraction by Alicia Fox, which Moon the opening she needed. The match ended in a DQ, but Rousey was the last woman standing, but whether or not she'll be the Women's Champion on Sunday remains to be seen.
SummerSlam: After months of ducking and fading, Alexa Bliss finally faced Ronda Rousey, and to no one's surprise, it was not a Moment of Bliss. Rousey tore Bliss apart, winning her first championship in WWE after forcing Bliss to tap out, backed by her friend, Nattie, who arrived after the death of her father, sporting his jacket from SummerSlam 1990. They were joined by the Bella Twins, who also helped Rousey get ready for WWE and the four women basked in Ronda's triumph.
RAW Tag Team Championship: We learned another thing about the B Team, they aren't math majors, though they did get their odds right.
B-Team, Deleter of Worlds, and the Revival met in a Triple Threat Match for the RAW Tag Titles tonight and the odds were definitely not on the side of the B Team. The B Team would sneak out the win, much to the dismay of their opponents.
However, it was announced that the B-Team would face the Revival at SummerSlam on the kickoff show.
SummerSlam: The dream keeps living, B-Team managed a stupid win over the Revival due to an error by the ref. Understandably, the Revival are NOT happy. I foresee the titles changing hands on Monday.
Sasha and Bayley: Sasha was in singles action against Ruby Riott on Monday. Both competitors were accompanied by their respective partners. As expected, they put on a great show, but Riott would pull out the win by rollup and Bayley was unable to help Sasha due to the remaining Riott Squad members.
Finn Balor vs Baron Corbin: Corbin and Balor were in action on Monday. Corbin face Tyler Breeze in singles' competition. Corbin's match was pretty much a squash, which was disappointing for Breeze fans.
Balor was saved from Corbin's decision to book him in a handicap match against Mahal and Owens by GM Angle, who made the match a tag match and gave Balor Braun Strowman as a partner. Strowman and Balor would win the match, but Corbin would hit attack Balor and hid End of Days.
SummerSlam: Corbin really should've stopped while he was ahead. His constant attempts to humiliate and belittle Balor unleashed the Demon and the Demon was in the mood to fight. In the second squash match of the night, Darth Demon King absolutely destroyed Corbin, who never got in any offense.
Kevin Owens vs Braun Strowman: Owens and Strowman would meet in tag team action, but Owens managed to avoid Strowman, leaving Mahal to get his ass kicked. Strowman would get the win for his team. Owens got chased to the back by Strowman, leaving Balor to be attacked by Corbin.
SummerSlam: To call what happened to Kevin Owens a squash is putting it mildly. Owens was absolutely CREAMED in one of the most one-sided matches in SummerSlam history. Strowman is still the Money in the Belt holder and it remains to be seen if he'll cash in or not.
Elias and Bobby Lashley: Elias' music career hasn't been going on for long, but he's already got a huge fan: Ricky Roberts (oh, dear). Young Mr. Roberts introduced his idol. Elias was again interrupted by Lashley who came into the ring and got a guitar broken over his back by Ricky Roberts, who learned the folly of his decision pretty quickly. As of the end of RAW, no match had been announced for these two, but Elias will be performing at SummerSlam.
SummerSlam: Elias tried to perform a song for Barclay's Center, and they were unimpressed. Unfortunately, his guitar broke prematurely and Elias snapped, destroying his set.
Titus Worldwide vs Authors of Pain: Titus Worldwide and Bobby Roode were in action against Authors of Pain and Mojo Rawley. Roode picked up the win for his team, so these two feuds will likely not be featured at SummerSlam.
Kurt Angle vs Baron Corbin: Angle seems to be reaching his limit with Corbin going over his head to Stephanie McMahon, especially when Corbin tried to put Finn Balor in a handicap match against Kevin Owens and Jinder Mahal.
SmackDown
WWE Championship: Paige certainly had her hands full keeping her SummerSlam Main Event intact. She had planned for Samoa Joe and AJ Styles to do their final promos separately, but neither man seemed all that interested in waiting until Sunday. Joe even scoffing at Paige's attempt to make him act like a professional, stating that he'd do what he wanted and there was nothing she could do about it.  Fortunately for Paige's peace of mind, AJ made a promise to his wife to be civil to Joe until Sunday.
Styles called himself blessed to have the near 20 year career he's had and getting to compete all over the world. He's also said that he's learned a lot, like the pressure that comes with being WWE Champion. He again called out Samoa Joe for stabbing him in the back and ending their decade long friendship. He said that Joe's comments about Styles' family took him (Styles) to a dark place where all he wanted to do was rip Joe's head off. Fortunately, Styles' wife, Wendy, talked him out of it and told him that he could lose his cool because he had to stay focused.
Samoa Joe interrupted and called Styles a liar and claimed to have a letter from a member of the WWE Universe. The letter writer claimed that Styles never wanted children or a wife and that Styles' willingness to sacrifice everything for wrestling. Joe then claimed that the writer hoped Styles lost so he could know what losing everything felt like. To add insult to injury, Joe claimed that the letter was from Wendy Styles, AJ's wife.
After the show, an absolutely BALLISTIC Styles was held back by security from attacking Joe. Joe definitely got to Styles, but we won't know until SummerSlam if his mind games are going to get him the championship or not.
SummerSlam: This match straight from TNA just a few years ago, started off with a war of words, with Joe dragging AJ's family, specifically his wife and daughter, into the argument. Unlike the Nakamura match, this match lived up to hype. Styles and Joe tore each other apart and set a high bar for the rest of the show. Joe made the mistake of dragging Styles' family into the mess one time too many and Styles SNAPPED.  Joe found himself the recipient of a brutal beatdown by a bloody and enraged AJ Styles while his wife and daughter looked on. Styles retained his title, but this story isn't over.
WWE United States Championship: Jeff Hardy was in action against Shelton Benjamin. Jeff would pull out the win, but would be accosted by his SummerSlam opponent, Shinsuke Nakamura. Nakamura would get the jump on Hardy, thanks to an assist by Benjamin, but would fall victim to the Twist of Fate and Swanton Bomb. Hardy would make his way to the back, closely watched by Randy Orton.
SummerSlam: The second encounter between Hardy and Nakamura went a lot longer than the first one. Both men took it to each other, showing very good chemistry that should've been there from the start. Nakamura would pull out the victory after avoiding a Swanton Bomb on the apron. After the match, Orton came out to pick the bones, but decided better of it.  No idea where this story is going now.
SmackDown Women's Championship: The three women involved in this Sunday's Triple Threat match were in the ring and things got heated. Carmella mocked both her opponents, while it was suggested that Carmella was a Diva living in a Woman's World (Ouch.).
Paige came out and said that her job as GM of SmackDown is to insure that the fans get to see the best competition at SummerSlam, which was way Charlotte was given a chance at the Women's Championship. She also stated that her job was also to ensure the best competition for SmackDown, so why wait until Sunday to see them do what they do best, and since Carmella's talent seems to be talking, she was sent to commentary, while Charlotte and Becky were put in a tag match against Sonya Deville and Mandy Rose.
Team Tea-Generation X would get the win, but it remains to be seen if their friendship will survive on Sunday or if Carmella will find a way to survive again. Backstage, the BFFs celebrated and wished each other luck, but it's clear things are not going to be good on Sunday, and judging by Charlotte's face after Becky left, Charlotte might be planning to channel her father's moniker of 'Dirtiest Player in the Game'.
SummerSlam: Few things ruin friendships faster in pro-wrestling than titles and that got proven tonight. Charlotte and Becky fought each other and Carmella. Charlotte would win by pinning Becky with Natural Selection while Becky had Carmella in the Dis-Arm-Her and became a 7x Women's Champion, tying Trish Stratus' record. The realization that she'd been screwed out her moment by her best friend…AGAIN, was the straw that broke the camel's back for Becky. After appearing to want to hug Charlotte, Becky brutally attacked the new Women's Champion and left Charlotte in a heap at ringside, much to the delight of the WWE Universe. No telling what's going to happen on Tuesday, but it's safe to say that Charlotte has two pissed off women gunning for her.
SmackDown Tag Team Championship: The Bludgeon Brothers were in action against a three man team of jobbers. Suffice to say, the match was quick and brutal.
Their opponents, New Day, were also in action against Sanity. Despite their own unique brand of chaos, Sanity would fall to New Day, leaving a big question as to who has more momentum heading in to SummerSlam.
SummerSlam: Despite giving it everything they got, the New Day will have settle for a moral victory without the belts because the Bludgeon brothers are leaving with the tag belts due to getting themselves disqualified by using one of their hammers on Big E.
Miz vs Daniel Bryan: This week, we got a recap of the eight year feud of Daniel Bryan and Miz, from Bryan's time in the original incarnation of NXT through to their war of words on Talking Smack and Bryan's being cleared to wrestle again earlier this year.
SummerSlam: After eight years of feuding, the hype was high for Miz vs Bryan and the match didn't disappoint. They tore the house down. Miz would get the victory, but not without some help. This is another story that isn't done.
Rusev & Lana vs Andrade "Cien" Almas/Vega: Aiden English was in action against Almas in a bid to redeem himself to Rusev and Lana. Despite English's best efforts, Almas would come out on top. Flush with victory, Vega and Almas cut a promo mocking their SummerSlam opponents. Lana and Rusev would come out and vow victory on Sunday because SummerSlam is on Rusev and Lana Day.
 SummerSlam: So, Rusev and Lana Day was celebrated with a mixed Tag match at SummerSlam against Almas and Vega. The match was almost all Rusev and Almas, with Lana and Vega not getting much ring time. Lana and Vega did a good job with the time they did have in the ring, though Lana's decision to have super long hair extensions is a little baffling. Vega would again get the victory with a roll up, rendering the point of this match a little moot.
205 Live
WWE Cruiserweight Championship: We got the final promos for SummerSlam from Gulak and Alexander with Gulak citing his work in 205. He claims that Alexander is a loner, entitled, and complacent.
Alexander, for his part, admits that Gulak is dangerous, especially with Gallagher and Kendrick backing him. Alexander says that he's always ready and that he's a man of action, while Gulak loves to talk. Alexander also cites his great matches with Murphy, Kalisto, and Itami, among others.
Alexander and Gallagher had a great go-home match with both guys looking fabulous. Alexander would get the pinfall victory, but was jumped from behind by Brian Kendrick and Gallagher, before Gulak would attack him from behind and lock in the Gu-Lock. Gulak was standing tall, but that doesn't mean anything on Sunday.
On Saturday, GM Maverick announced that Brian Kendrick and Jack Gallagher would be banned from ringside during the match, which means Gulak's going to have to win it on his own.
SummerSlam: Drew Gulak's mission to 'save' 205 from Cedric Alexander's 'complacent' reign suffered a major setback. Despite Gulak's best efforts and planning, Alexander proved why he is a great champion, taking everything Gulak could dish out before pinning Gulak and getting the three before Gulak even knew what happened.
Lio Rush vs Akira Tozawa:  A very sulky Rush came out and cut a promo on the crowd, saying that despite living in a garbage town in an embarrassing, they get to watch the Man of the Hour do his thing.
This was a very good match. Tozawa seemed to have Rush's number but Rush would ultimately pull out another victory, which seems to have defeated the purpose of building up Tozawa getting a rematch.  Time will tell if Tozawa will get another rematch or if Rush will move on to bigger things.
We get an update on Mustafa Ali, who collapsed after a hard-hitting match against Hideo Itami. GM Maverick announced that Ali is suffering from extreme exhaustion and that he'll recover from it. Maverick blamed himself for what happened and vowed that Ali will come back when Maverick is 100% certain he's okay.
Hideo Itami vs Trent Newman: After his part in the temporary removal of Ali from 205 live, Hideo Itami was in action against Trent Newman. Itami showed no remorse for what happened to Mustafa Ali, in fact, he seemed quite happy about it.
To say this was a squash is putting it mildly. Newman looked like he really had no idea what he was getting himself into, though he got in a shot or two, which only pissed off Itami. But if you thought Itami would end it quickly, you were wrong, Itamai would break the three count himself in order to inflict more punishment on Newman before Chioda stopped the match.
Lucha House Party vs. Party Crashers: Maverick talks to Nese and Murphy about their tag team victory last week and congratulates Nese on getting a pinfall victory over Kalisto. However, he points out that Murphy being in the ring illegally is what gave Nese the win, because illegal men helping their partners NEVER happens in WWE. Maverick says that, to make it up to the upset Lucha House Party, next week the Lucha House Party will face the Party Crashers in a tornado tag match.
Noam Dar vs. TJP: Next week, we get these two in a singles match to settle their issues.
NXT
NXT Championship: Well, it is officially official: Aleister Black is out of TakeOver after being attacked last week after NXT went off the air. The NXT Championship match will now be between Johnny Gargano and Tommaso Ciampa in Brooklyn on Saturday in a Last Man Standing Match.
We see some more footage of Black being found in the parking lot and it seems like everyone and their brother was in the parking lot when Black was found, but no one seems to have seen the attacker or attackers.
We also get a recap of the issues between Gargano and Ciampa, but since this show was taped a month before TakeOver, any live footage of the three competitors has been cut.
TakeOver: Traditionally, Last Man Standing matches have been violent and brutal, they have to be. Add in two men with a long and nasty rivalry and you have the makings of a bloodbath. The blood didn't flow, but it came darn close. Ciampa and Gargano kicked each other's asses from pillar to post. Ultimately, Ciampa would be the last man standing, but it wasn't from a lack of effort by Gargano. Is this rivalry over? Hell no, it hasn't even hit its peak.
NXT North American Championship: During Undisputed Era's group promo, Adam Cole again refuted Ricochet's claim that he was a coward, claiming that Adam Cole doesn't hide behind anybody, even though he was standing (hiding) behind the rest of the Undiputed Era during the interview and says he won't hide from Ricochet either at TakeOver.
Ricochet has his own interview and repeats that Cole is a coward and hides behind the Undisputed Era and that the North American Championship needs to be on someone who will defend it with honor.
TakeOver: We have a new North American Champion, Bay Bay! After an amazing barn burner of a match, Ricochet is the NEW North American Champion! The crowd loved the match and both guys looked like a million dollars. Great show by both men, but I have the feeling that this feud isn't over by a long-shot.
NXT Women's Championship: Kairi Sane was in action tonight against Aliyah, who got some advice from Shayna Baszler, who has a vested interest in Sane getting beat up before TakeOver.
Aliyah did her best, but Kairi Sane was too determined to show off her killer instinct to Shayna Baszler, who was on commentary during the match. Ultimately, Sane would make Aliyah tap to the Anchor Lock, but not before three InSane elbow drops. Time will tell whether or no Sane will be able to take down Baszler.
TakeOver: The Queen of Spades got buried! Okay, she didn't get buried, but she did lose her NXT Women's Championship to Kairi Sane in a match that not only lived up to its own hype, but took its place in the pantheon of epic Women's Title matches at TakeOver: Brooklyn. With multiple InSane Elbows and a roll through pin, the Pirate Princess vanquished the Queen of Spades.
NXT Tag Team Championship:  Roderick Strong was in action against Tyler Bate. In a pre-recorded interview, the Undisputed Era mocked Moustache Mountain and the War Raiders, who aren't even in the match.
In a TakeOver preview, Bate and Strong tore the house down and made each other look great in the process. Bate would pull out the victory, but it was as much about luck as skill since he and Strong were pretty evenly matched. There were a lot of sloppy spots, but it was a really great match.
TakeOver: Despite their best efforts and an amazing match, Moustache Mountain would fall to the Undisputed Era at TakeOver. However, as UE was celebrating, they were attacked by their next opponents: War Raiders, who wasted no time intaking out Strong and O'Reilly.
EC3 vs Velveteen Dream: Dream and EC3 would have their final face off before TakeOver. Dream wasn't happy about being dumped into the pool last week and says that 3 made an enemy out of the Dream.
EC3 comes out and mocks Dream's fanny pack and warns him not to start because 3 knows that Dream is trying to get into his head, but 3 says that he (EC3) lives in people's heads and sets up suburbs in it. Both men vow victory over the other and the segment ends with EC3 hitting the 1% TKO on Dream and is left standing tall.
TakeOver: So much for his mental real estate empire. EC3 fell to Velveteen Dream at Takeover after a match that went all over the place.
Street Profits vs The Mighty:
 The Street Profits faced the Mighty tonight in tag team actions. Even though these teams won't be on the TakeOver card, that didn't stop them from showing why we will probably see them on the next TakeOver card. The Profits would pull out the victory and celebrate with the crowd, but it's safe to say that the Mighty are not happy.
We see some footage of Bianca Belair's road to recovery after injury.
For next week's show, Pete Dunn will defend the UK Championship against Zack Gibson.
Overall Comments
WWE sometimes has a problem creating go-home shows that build enough excitement and PPVs that live up to their hype and they did both this week. The go-home shows gave plenty of reasons to watch and both TakeOver and SummerSlam lived up to their hype. Even the matches that didn't have the outcome I wanted gave me something I wanted, usually.
Worst Match of the Week: I have to go with Rusev/Lana vs Almas/Vega. I don't see the point in having Vega sneak out victories over Lana on TV if Lana doesn't get the PPV win.
Best Match of the Week:
Raw: Rollins vs Ziggler – SummerSlam
SmackDown: AJ Styles Vs Samoa Joe – SummerSlam
205: Cedric Alexander vs Jack Gallagher
NXT: Ricochet vs Adam Cole – TakeOver
 Women's Division:
RAW: Sasha and Bayley vs Riott Squad
SmackDown: Charlotte vs Carmella vs Becky – SummerSlam
NXT: Shayna Baszler vs Kairi Sane
Moment of the Week: Dean Ambrose returning to be in Seth Rollins' corner.
Final Thoughts: I really enjoyed WWE SummerSlam and the weeks leading up to Hell in a Cell should be really interesting.
---
Always Use Your Head and visit the official Pro Wrestling Tees store for The Chairshot All t-shirt proceeds help support the advancement of your favorite hard-hitting wrestling website, The Chairshot!

---