CheapShots: Bryan's Return And the Second Step in Texas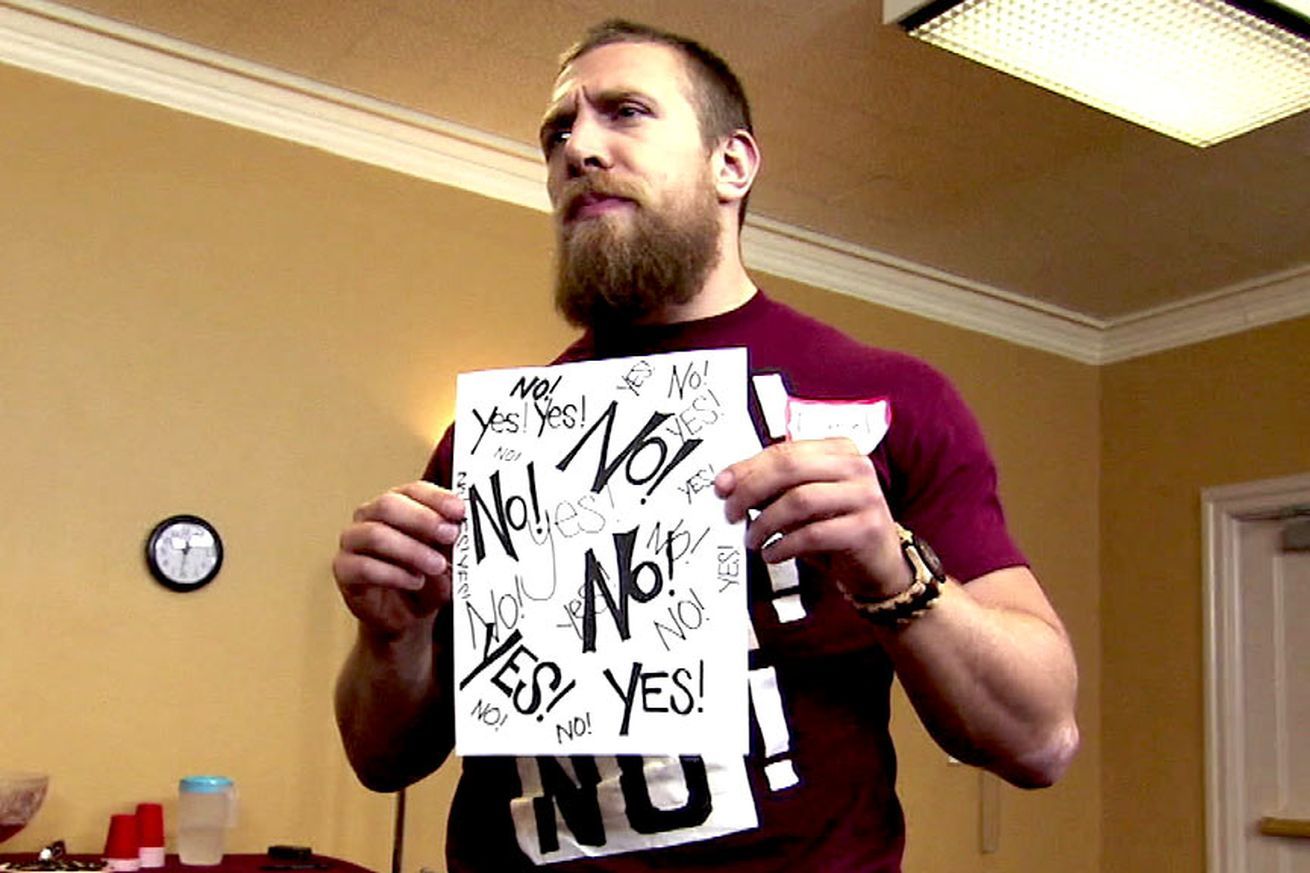 Cheap Shots are unfiltered, uncensored opinions, and those opinions reflect only the author!

I sit in a hovering pattern over Von Erich Country and begin to pick up decades old vibrations only sent by fans who frequented The Sportitorium, or wished they had done so. Outside of geographical correlation, goosebumps like these make no sense. After all, WWE is incapable of creating such a raucous reaction themselves, beyond the upcoming event in less than three weeks. I glide in for a closer look. A Stamford crowd, in full throat and unison; chanting one word, and pointing skyward can only mean one thing. I can count on one hand the performers who can burn through the well-earned cynicism of these sheep. The American Dragon tops the list. However, this reaction felt elevated. Rivaling those Kevin, Kerry and David got weekly almost 40 years ago. Daniel Bryan is BACK in the ring to compete! Even for a smartass like me, that is a great thing. Sometimes, the art form is very real!
Good luck coming down from that open. Here we go. In-ring action begins with Rusev tangling with Shinsuke Nakamura with Aiden English outside the ring and AJ Styles at commentary. Both athletes put on a typical physical match. Each held the advantage for a time. Rusev is over organically to the point where Vinnie is both pissed and scared. Hence, the reason he is in this needless foil position, as opposed to the US Gold picture replacing Jinder Mahal. Nakamura got the pin thanks to some quick chain wresting. The Songbird jumped in the ring to join The Bulgarian in a tandem attack. The Phenomenal one was excessively slow in helping the artist fend them off. Turns out, Nakamura didn't need help. Backstage, Shinsuke had fun when AJ kept interrupting him. "You need more confidence…" Despite the language barrier, the dude oozes charisma.
Baron Corbin and Tye Dillinger worked for what felt like the 30th time this year. The only thing that woke me up during this contest was a botched finish from Corbin, who won after a fast redo of The End of Days. There is a gif floating around of a victorious Lone Wolf shouting: "I'm so good, it's not funny." If The Heel With No Pulse honestly believes that, I can walk. Now that we all got through a very painful group project, it's time for today's first recess session involving A Hart, A Flair, and A Blondie Circus. This has gotten personal, and that's hilarious.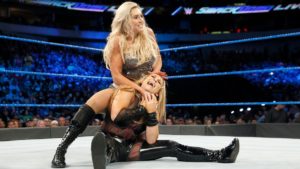 Charlotte and Nattie cut a strained promo which saw The Queen of Hearts claim Charlotte couldn't beat Asuka in New Orleans. Second Nature's response? "Beat me tonight." Let's go! Echoing Bruce Prichard's sentiments on both families: These ladies could both wrestle a broomstick and make it look good. They put on a rock-solid match despite its ending where Carmella came down and pretended to cash in her shield, I mean her briefcase, costing The Queen a win. Okay class, who remembers the confrontation I mentioned in my last article? Anybody else get someone in their WWE Twitter fortress to come out of hiding? Just me? Awesome! The cheerleader got irritated with lil' old me for saying the obvious. Slightly zealous? Absolutely, outside of the previous two weeks, can anyone think of when she even had her last singles match? Even dudes who win the contract have singles matches. She "won" the reset before SummerSlam. Vince, I know sheep don't matter to you. In that case, the burden of proof is on YOU! Pardon some of us who have seen enough. A briefcase by itself does not get someone over. Sir; next time you do this, make sure the girl can work alone.
That was a Big Show sized soapbox and a hell of a jump. Back on solid ground. Millennial marks, take a screen shot of the following statement. In the case of The Usos, The New Day, and The Bludgeon Brothers: a triple threat not only works, it is necessary. After a borderline baby face promo, there is no doubt who the heels in this math problem are. Harper took on Jimmy Uso one-on-one with each man's partner at ringside. A very physical encounter ensued involving all four men. The Samoans pushed themselves from underneath, but Harper went over with a discus clothesline.
The US Gold triple threat match; on the other hand, is a typical case of lazy WWE booking. "I'm Indian, hate me and put me over regardless of my talent!" Until Rusev beats him up and takes his place, we are stuck with Jinder Mahal. The only redeeming quality of this snooze-fest took place when Randy Orton flat out told The Indian Brooklyn Brawler he sucked. Thanks Randall, we've been saying that for over five years. Pardon the mini-recess interjection. The Glow Worm and The Lass Kicker beat two-thirds of The Riott Squad. I'm calling my shot now, if there is a baby face in the group, Sarah Logan will be the one to turn. She is very physical and has a great look.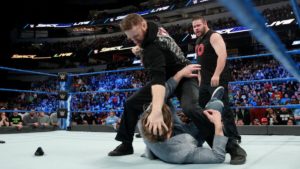 Entering the final segment, Daniel Bryan had to deal with what Kevin Owens and Sami Zayn did to Shane McMahon last week. The Canadians were late to the show and Bryan instructed them to meet him in the ring. They worked happiness over his return and thought smoothing things over would be simple. The bearded one reminded them of the threesome's connected legacy and said that they did not need to beat Shane up because he gave them what they wanted on two fronts. He was taking a leave of absence after giving them a face-to-face match at WrestleMania. Though, due to their actions last week, they are both fired! Owens and Zayn went ape on Bryan, ultimately gaining a replay of the previous SmackDown Live. Before putting them over, he got several corner dropkicks and yes kicks off. The man hasn't lost his fire, toughness or speed. We all know how firings work in WWE. I'm betting on a tag match pitting The SmackDown Brass against Owens and Zayn. Given the magnitude of Daniel Bryan's competitive return, this show was fabulous! Hell, I know at least one Free Bird was proud last night, weren't you Michael? Plane's ready, our next departure is fast approaching. Thanks to all my passengers, and God Bless Texas!
Dear Smarks: WWE Does Listen To Fans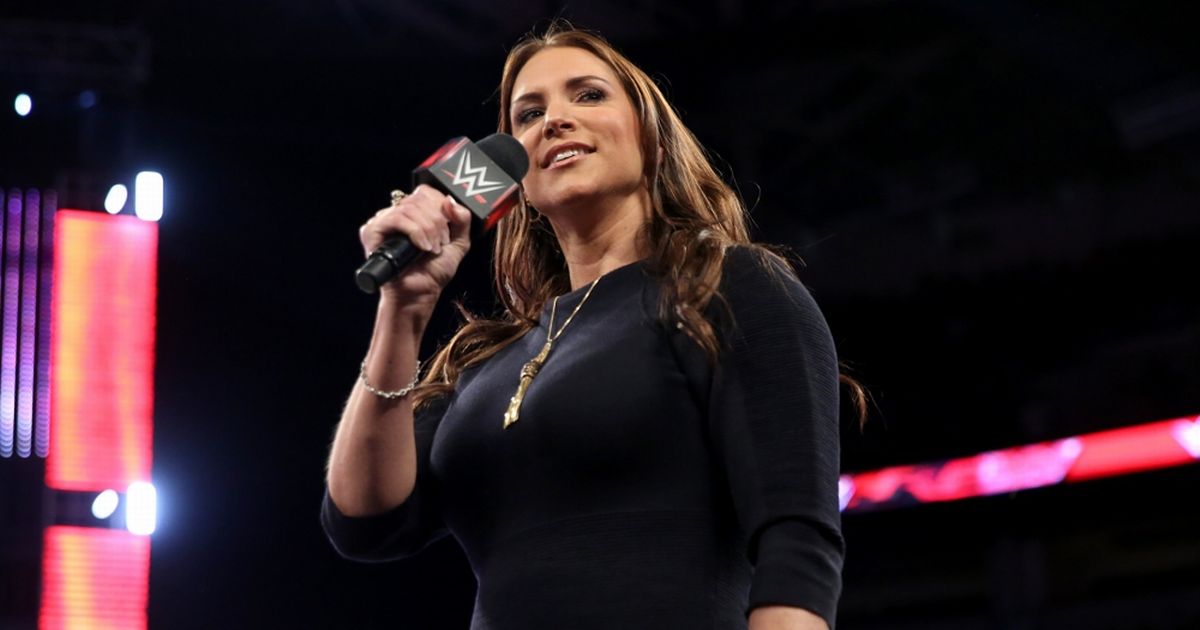 Either last week or earlier this week (my days are running together so I don't remember), Stephanie McMahon was at a summit called 'Game Changer' and she made the following comment: 'We're successful for one reason only – we listen to our fans.'
The internet smarks ROASTED Stephanie over this comment, mocking her for claiming that WWE listens to their fans when, in their minds, that is clearly not the case. Why? Because Roman Reigns, not Braun Strowman is champion, among other things. Clearly, any company that makes Roman Reigns champion over Braun Strowman isn't listening to their fans, or at least, their REAL fans. You know, the all-knowing, smark community who know how to run a multi-billion dollar business better than the people who work there do.
I've tackled this 'Real fan' nonsense in the past and I'm really not in the mood to do it now and the issue of Braun Strowman being champion is an article unto itself. However, let's be clear here: WWE DOES listen to their fans and the fans they listen to are the fans that buy stuff.
WWE first, last, always, and forever, is a business. They need money to survive and being a publicly traded company, they need money to keep the shareholders happy, that means they have to know who and what makes the money to keep the shareholders happy and keep the company afloat and who is making them the most money is Roman Reigns.
Don't give me that look. Don't roll your eyes at me and grumble about him being over pushed and/or shoved down your throat. I can name several people in WWE not named Roman Reigns that are over pushed. The bottom line is that Reigns moves merchandise, his stuff sells and sells really well. Having been to a few WWE TV/PPV tapings, I can tell you that Reigns' stuff can get a little tough to find and is usually the most requested item.
Now before any of you make snide comments about Reigns having more stuff to sell, I checked WWE's shop are and compared the number of Roman Reigns shirts to the number of shirts for AJ Styles, in terms of shirts including: T-shirts, tank tops, hoodies and what's available for both genders, Roman Reigns had thirteen shirts available while Styles had twenty. Thirteen different shirt designs to twenty and that doesn't include hats, gloves, or the non-wearable stuff available.
Oh, Reigns' stuff is bought by women and kids, so it shouldn't count? Here's my question: So what? It's still money that SOMEONE is spending on merchandise. If WWE didn't want women and kids to buy their stuff, they wouldn't be marketing stuff for women and kids. Why? Because women and kids are FANS!
For those of you still grumbling, here's some food for your thoughts: Why should WWE listen to their 'real' fans? No, I'm serious. Why should they listen to fans who cheer something one week, boo it the next, demand that indy darlings get pushed despite getting mediocre pops from Main Roster audiences, and pay more attention to beach balls and time clocks than the matches? Why should they listen to people who BRAG about spending a lot of money on tickets just to boo one person they don't like?
WWE is like any company, they listen with their bottom line, and what they're hearing from fans is that the fans like Reign because that's the stuff that sells the best. And before you say one thing about about Reigns' stuff being more available at TV tapings and Live Events, I've been to a RAW taping, a RAW PPV, and a SmackDown/205 taping and while Reigns stuff was at SmackDown, there was also a lot of Styles and Cena stuff available at RAW events and I'm not hearing any complaining about that.
Maybe the problem isn't that WWE isn't listening, it's just that your views aren't the what the majority paying fans think or want. WWE is catering to what most of their fans want, not just the small minority that can't seem to make up their minds about what they want.
Cheap Shots: Should Finn Balor Quit WWE?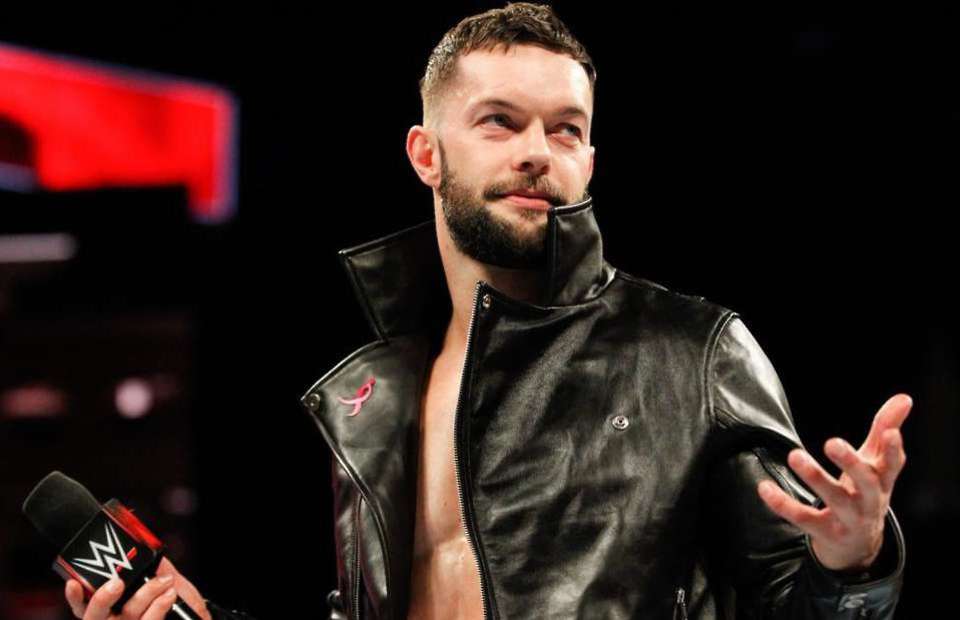 Why Finn Balor should "Quit" The WWE
After seeing KO burst into tears on Monday night RAW two weeks ago and "quit" there were a slew of videos about why KO "quit". The biggest one was to revitalize his character. So in playing the devils advocate why not have the first Universal Champion quit? Here's why!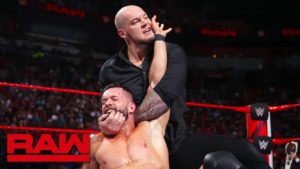 After Balor won and "lost" the title after 2016 SummerSlam he's had and up and down career in the main roster. The once longest reigning NXT champion was a phenomenon when he joined the NXT, but once he hit the main roster, while fan support is still there it is fleeting. He had a brief reunion with Gallows and Anderson which might've singled a heel turn to fans, a feud with Rollins for the IC title and has had back to back to back matches against Baron Corbin. None of which have done anything for the superstars character. A heel turn might have helped a few months ago, but the repetitive booking has kind of killed that momentum. 
With Finn away from the scene for a while it might help the WWE reevaluate the talent that is Finn Balor, it might also give Finn time to figure himself out too. With a WIN to his name against Elias, it seems like the co-founder of the Bullet Club may either turn to his alter ego The Demon, or perhaps a superstar shakeup is in order and he should be in place to get Balor back in the limelight. Right now, Raw seems packed full of main card talent that is either starting a faction of sorts I.E. Braun, Drew and Dolph or is turning on The Shield.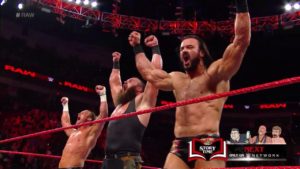 Listen, while SmackDown Live is producing the better show, it is not like the talent on there is being utilized any better. Nakamura is in limbo with the U.S. title, Aj and Joe are having a great feud in terms of promos, but not in the squared circle. The only thing that brings SmackDown Live as the A show is really their tag division and the Charlotte Flair/Becky Lynch feud. 
So maybe a frustrated Finn goes away, and comes back as The Demon on SmackDown Live and interjects himself in the feud between AJ and Joe, maybe he causes friction between The Club and AJ and they "screw over" AJ during a title match, the possibilities are endless moving Balor to team blue, but what this boils down to is WWE needs to make this move while Balor is still a fan favourite and what I mean by that is that he will always have the crowd behind him, but even the loyalist fans can get bored.